Ent Family
The Case-Dilts Farm
Once again, I return to Egbert T. Bush's article, "Sandy Ridge Long a Farm Community." He wrote:
By Marfy Goodspeed in Bodine Family, Butterfoss, Delaware Township, E. T. Bush, Ent Family, Historians Revisited, Sandy Ridge, Sharp 2 Comments Tags: early settlers, houses, land titles, proprietors
This article continues my exploration of the neighborhood of Sandy Ridge by presenting the first half of Egbert T. Bush's article "Sandy Ridge Long a Farm Community." There could be no better expert on the subject than Mr. Bush, who lived in Sandy Ridge for many years and taught at the old Vandolah School.
By Marfy Goodspeed in Ent Family, Families 2 Comments Tags: family trees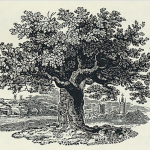 Hendrick Endt is said to have traveled from Rotterdam to America in 1733. He was accompanied by Rev. John Naas of the Amwell Brethren Church, his sons Valentine and Daniel, and a Catherine Endt who may have been his daughter. I do not know where he settled or when he died.
Many of the families that the Ents married into have family trees of their own published here, or else they are on my list of trees to publish in the future. I have included the children of female Ents, but not their grandchildren.