A Guest Post by Pamela Jean Milam
Great Granddaughter of Jane Bell Lockerbie Wilson
Last April, I received an email from a reader, Pamela Milam, describing a tragic incident in her family's history. I was struck by how unusual and dramatic it was and encouraged her to write it up. But she knew it needed more research, so she set to work. Each version she sent me was better than the previous one, and in time she finished the story, as it is presented here. I hope Pamela's experience will encourage others to consider writing up a chapter of their own family history. It can be very rewarding.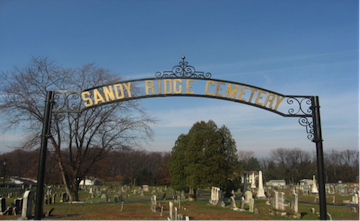 In the Sandy Ridge Cemetery, in Delaware Township, Hunterdon County, New Jersey, lie the eight-month-old twins Jeanie Lockerbie Wilson and Aggie Simpson Wilson. They were the first daughters of Jane Bell Lockerbie and John Simpson Wilson. Beside them lie 8 year-10-month old Nellie Lockerbie and her 2 ½ year old sister Katie, two children of Jane's brother, Robert Lockerbie and his wife, Catherine Ruthven. Their two matching headstones, carved by Robert himself, stand protectively over them. Only the names and dates are different.  A close look at those dates reveals that they died in 1890, only 3 months and one day apart.
Jeanie and Aggie Wilson would have been aunts to my mother, Jean Davis McNutt, had they lived. Jean was Jane Lockerbie Wilson's granddaughter. Their deaths were not spoken of in the family. As a child, Jean only heard vague references to infant twins who had died when their carriage had rolled into a river. Somewhere along the way, she also discovered that two other children in the family had also drowned, around the same time. No one would answer her questions, about these children, which made her even more determined to learn their stories.
She had few clues until my grandmother, Agnes Ruth Wilson McNutt, died in 1957. At that time, she found a letter and a small clipping, worn with age, among her mother's belongings. The letter was the most interesting, though it did not explain the four girls' deaths. It had been written by Robert Lockerbie and his wife Kate to Jane Bell Lockerbie and her husband, John Simpson Wilson. It detailed the inscriptions he was engraving for the four girls' cemetery stones. The Wilson twins shared one grave and their cousins another.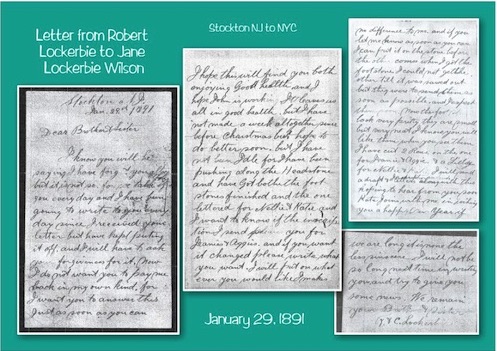 The letter reads as follows:
Stockton NJ
Jan. 29th 1891

Dear Brother and Sister

I know you will be saying, I have forgot you all together, but it is not so, for we talk of you every day and I have been going to write you every day, since I received your letter but have kept putting it off, and will have to ask your forgiveness for it. Now I do not want you to pay me back in my own kind for I want you to answer this just as soon as you can. I hope this will find you both enjoying good health and I hope John is working. It leaves us all in good health, but I have not made a week altogether since before Christmas but hope to do better soon. But I have not been idle for I have been pushing along the headstone and have got both the footstones finished and the one lettered for Nellie and Katie and want to know if the inscription I send pleases you for Jeanie and Aggie's and if you want it changed please write what you want. I will put on whatever you would like. It makes no difference to me and if you let me know just as soon as you can, I can put it on the stone before the other comes. When I got the footstone, I could not get the other till it was sawed out but they were to send them as soon as possible and expect them soon. Now the footstones look very pretty. They are small but very neat. I know you will like them when you see them. I have cut 2 Roses on the one for Jeanie and Aggie and a Lilly for Nellie and Katie. I will send a draft and inscription letters along with this hoping to hear from you soon. Kate joins with me in wishing you a happy New Year.  If we are long it is none the less sincere. I will not be so long next time in writing you and try to give you some news.

We remain your Brother and Sister

R. & C. Lockerbie
The little clipping gave details of Nellie's and Katie's deaths.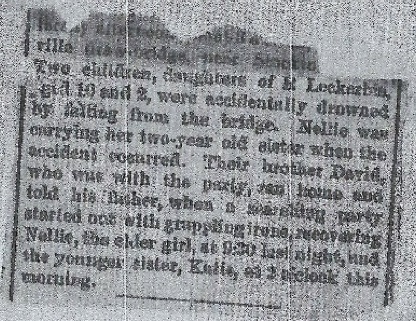 Once Jean had those two items in her possession, she never let go of her desire to discover what could have happen to those four little girls. The article gave sparse information about the two Lockerbie children, and I have found no mention in the newspapers about the Wilson twins. Over the years Jean wrote relatives trying to discover even a tiny detail that would lead to the full story.  During my childhood she often told me what she knew of the story, and I became as determined as she was to know the answers. I think we both felt that it was hopeless. There were no personal computers in those days.
In 1992, over a hundred years after the death and burial of the four children, my mother Jean and my father Winston took the letter and clipping to Stockton in Hunterdon County, New Jersey. She had learned from relatives that Robert Lockerbie had settled there, when he immigrated to the United States in the early 1880's. After driving to Hunterdon County, they began their inquires in the Stockton First Presbyterian Church, where the Lockerbie family would have worshipped. They first inquired about the location of records from the 1880's and 90's.
They were instantly disheartened by the answer. It appeared that years before, in 1905, a fire had wiped out an entire block of buildings, along the riverfront.  They were told that those buildings had contained the records, which might have held the answers they were seeking. The fact that I am writing this account is proof that there were records elsewhere, but my parents had no way of knowing that.
With that disappointment fresh in their minds, they inquired about cemeteries which might possibly hold the stones that Robert had described in his letter. One woman, who had been teaching a group of children in the church, directed them to several possible cemeteries in the area. She also pointed out the Stockton school, where Nellie would have been a pupil before her death.
They chose to visit the Holcombe Riverview Cemetery, first. It was a stroke of luck, for in that cemetery, Jean found the footstones, carved just as Robert had described them, in his letter. Nellie and Katie Lockerbie's footstone stood in the new section of the small cemetery. Aggie and Jeanie Wilson's was located in the old section, along the riverbank.  Jean reported that the twins' footstone was in danger of falling into the river, just as the girls had themselves. I've worried about that little stone for years. Did it wash away, or does it still stand? I'd like to think that someone rescued it.
I recently called the man in charge of the Holcombe Riverview Cemetery. While we were speaking, he went down to the basement where the records were stored and ran through them with me. There were no records for the two footstones. They were not officially there. Someone had placed them in the cemetery on their own.
My mother drew a sketch of the little cemetery.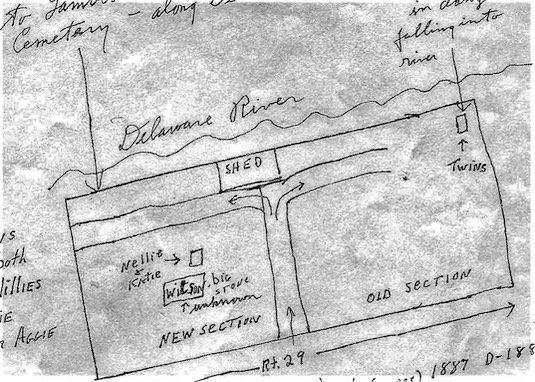 She also took photos of the footstones.
For his children's footstone, Robert carved two lilies and the words "Little Lockerbies."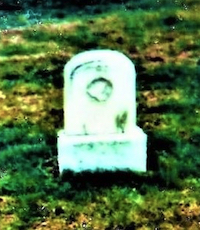 Nellie Lockerbie 8yrs 10 mos.          Katie Lockerbie 2 yrs 5 mos.
Born: June 21, 1881                            Born: Nov. 1, 1887
Died: April 6, 1890                             Died:  April 6, 1890
On the footstone for his sister's twin girls, he carved two Roses and the words "Our Infant Twins."
Aggie Simpson Wilson & Jeanie Lockerbie Wilson
Born: November 26,1889   Died: July 7, 1890
Having found the footstones, the trip could have been considered a success. The truth was that, in addition to the footstones they had also uncovered a further mystery. There were no headstones for the four children in the Holcombe Riverview Cemetery. Jean would have searched further that day, but knowing my father, he felt his duty had been done. He was ready to go home. My mother complied.
It was not until after 2010 that I began my computer search for the two headstones. Thanks to "Find a Grave," an online collection of cemetery information, I discovered the four girls had been buried in the Sandy Ridge Cemetery, and that photos of their headstones had been provided. The footstones should have been there, and I wondered why they had never been moved to Sandy Ridge. For that matter, I wondered why they had they been placed in the Holcombe Riverview Cemetery, in the first place. It was another mystery to be solved.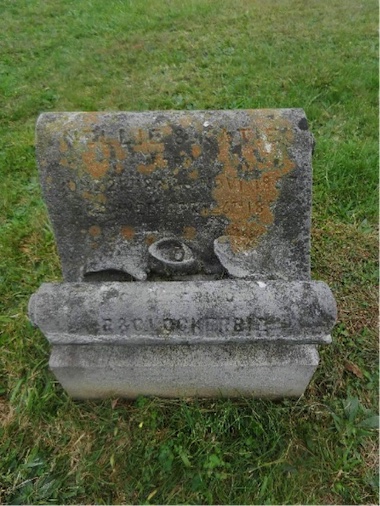 Nellie & Katie
Born: June 21, 1881    Died:  April 6, 1890
Born: Nov. 1, 1887     Died:  April 6, 1890
Daughters of R & C Lockerbie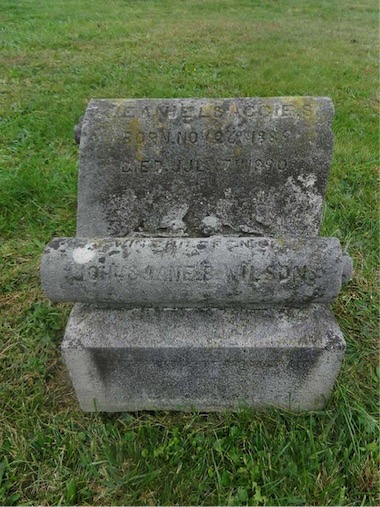 Jeanie L. & Aggie S.
Born November 26 1889        Died July 7 1890
Daughters of
John S & Jane B Wilson
I now knew the location of the headstones and the footstones, but I still wanted to know WHY they were in different cemeteries.
I began to discover more information about the family of Robert and Kate Lockerbie. I was surprised to find that they had had ten children in all. Eight of those were born in New Jersey.
In 1883, poor Catherine was expecting her third child when she traveled, on her own, from Scotland to New York with two toddlers in hand. On the New York Passenger List for the ship Anchoria, bound from Glasgow, Scotland to New York, New York, Catherine Lockerbie, age 25, is listed as Mrs. R. Lockerbie.
It must have been a trying experience, and she still had the trip on to New Jersey, and her new home in Hunterdon County to endure, once Robert met them in New York. Robert had been traveling back and forth between Scotland and New Jersey and was in New Jersey when Catherine and the children arrived.
Catherine had arrived in New York on September 4, 1883, with two- year-old Nellie and eleven-month-old David. Nellie had been born on the 21st of June 1881, and David about the 11th of October of 1882 in Edinburgh, St. George, Scotland. Catherine, also known as Kate, was pregnant with a third child, but would soon lose the baby, a daughter they named Elizabeth.
In May of 1884, twins Maggie and Jennie would be born. Jennie would live, but Maggie would die at three months of age. In 1886 a second Maggie would be born, and she would live. In early November of 1887, Katie was born, and in November of 1889, William arrived. Despite the loses, which would have been common during the 1800's, times were hard, but hopeful. They had a family of seven.
Two and a half years later, on April 6, 1890, a major tragedy would strike their family. On this Sunday, which began with a family trip to church, David and Nellie took Katie with them to play in the countryside. They were off on their own, and Nellie and David made a foolish decision. I'm sure they had been warned numerous times about the dangers of many things, including bridges. This day, however, for whatever reason, they attempted to cross the Brookville railroad bridge near their home in Brookville.
Nellie, age 8 years and 10 months, was carrying 2-year and 5 mo.-old Katie. Nellie tripped, and both girls plunged into the canal below. David took off running for home to get help. A search party rushed to the scene, but it was too late. It was likely too late the moment the girls had hit the water. The search was on, and Nellie was pulled out with a grappling hook at 9:30 that evening. Katie's body was recovered at 2:00 in the morning.
On the 8th of April the Trenton Times published this article.
On the 6th, Nellie and Katie eldest and youngest daughters of Robert and Catherine Lockerbie accidentally drowned, when falling from the Brookville Bridge. Funeral will take place from the 1st Presbyterian Church at Stockton, N J at two o clock.
The incident was also reported in the Hunterdon Republican on April 9, 1890:
"Two children of Robert Lockerby of Brookville, a small village near Stockton, were drowned in the canal at that place on Sunday evening. The two children, aged respectively 9 and 2, attempted to cross the railroad bridge that spans the canal at that place, the elder child, Nellie, carrying her little sister in her arms, when she stumbled and both fell into the water and before assistance could reach them, they were drowned. Word was immediately sent to Lambertville and the canal was searched until two o'clock Monday morning, the bodies were found about 500 yards from the scene of the accident."
The clipping my mother had (the newspaper not identified) appears to say the girls fell from the drawbridge near Stockton. This raises an interesting question–why would the death certificate say Trenton if they died near Stockton? It makes me think one must take death certificates with a grain of salt. The information is only as good as the person who provides it. It could be that whoever did was not being too careful.
With one foolish decision, made by two inexperienced children, two lives were lost. The family was devastated. Robert did what people do at such times. He contacted relatives. Robert's sister, Jane Bell Lockerbie and her husband, John Simpson Wilson came from Manhattan to mourn with the family, attend the funeral and help out in general. With them, came Aggie Simpson Wilson and Jeanie Lockerbie Wilson, their first-born children. The girls were four-month-old twins.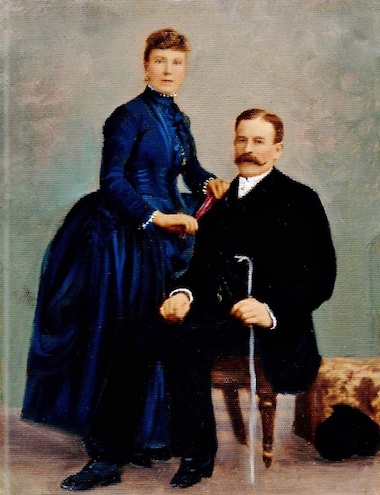 Jane and John must have found Robert's family in chaos. Kate was pregnant and close to term. The children, except for eight-year-old David, were ages 5 and under. They didn't understand about death. They wanted to know where Katie and Nellie were and when they would come home. David's guilt about the decision to cross that bridge was exacerbated by the tragic results, and there was a funeral to arrange.
Once the funeral had been held, a new incident occurred on June 16th of 1890. Kate's baby was born and would live only long enough to be baptized. She died the following day, June 17, 1890. She was their only unnamed child. She was referred to, in the records as "Female" or "Daughter" Lockerbie.
In the end, Jane and John stayed for three months. They might have stayed longer, but on the 7th of July of 1890, exactly three months and 1 day after the deaths of Nellie and Katie Lockerbie, came another tragedy. I have found no record of how this could have happened. I have only information extrapolated from death certificates saying when and where they died: July 7, 1890 in Delaware, Hunterdon County, New Jersey. The newspapers appear to have missed it entirely. Or maybe I have missed an entry in some paper somewhere.
However, this was the one thing my mother did know from her family. The girls, now aged 7 months, were arranged comfortably in their carriage and placed on the bank of the Delaware River to get warm sun and fresh air. Sometime later, when their carriage rolled down the bank and into the Delaware River, no one could save them. The twins drowned, as had their cousins. The person in charge of them at the time is unknown, at least to the living. It was never spoken of. For years afterwards, the family would speak of neither tragedy. It was just too painful to remember. The answer to how the twins could have died this way, I will never know.
There was a second funeral, and the twins were laid to rest beside their Lockerbie cousins. Stones were ordered for their grave and Jane and John returned immediately to New York City, heartbroken. As the footstones never made it to the Sandy Ridge Cemetery, I have wondered if the Wilson's ever returned to see the graves after the stones were completed.
I do know that Jane was already pregnant with her 3rd child, Ethel Simpson Wilson, when the twins died. Ethel was followed Marjorie Cecilia, Agnes Ruth, John Albion, James Simpson and David Lockerbie Wilson.
Agnes Ruth, who was named for the twin Aggie, was my grandmother. She told my mother many times that her father cried every time he heard her name. It was not surprising that when she was older, she began to go by her middle name, Ruth.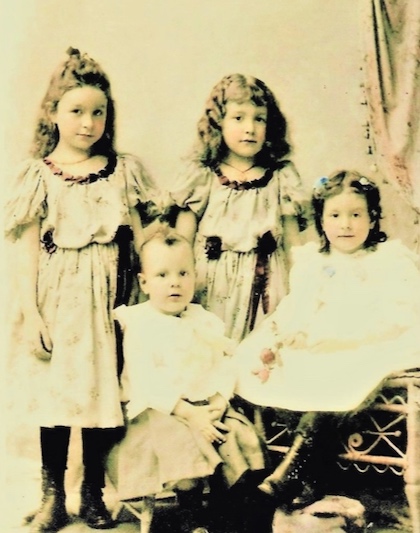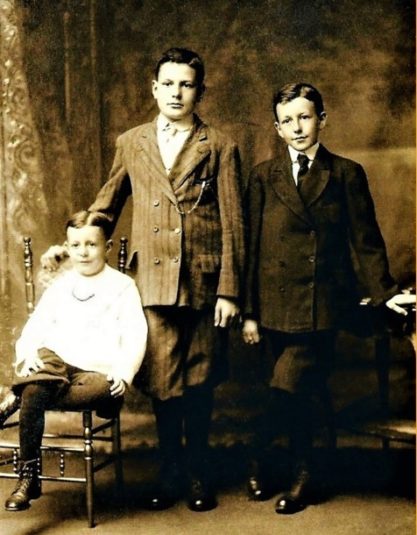 The third picture, below, is of Jane Bell Lockerbie Wilson and some of her grandchildren.
With what I knew, I should have been satisfied, but I continued searching for something that would explain why Robert Lockerbie had never moved the footstones to the Sandy Ridge Cemetery. There is no doubt that the footstones in the Holcomb Riverview Cemetery were meant to be at Sandy Ridge. Nothing else made sense. Why had Robert never moved them? He had, after all, finished them, and it would have been important to both he and Catherine, that they reach their destination.
I spoke with an extremely helpful Paul Cronce, at the Holcombe Riverview Cemetery, and he went through the cemetery records for me. There is no record of those footstones in that cemetery. They do not belong there. I did learn one interesting fact, that only I may find fascinating. Some of the cemetery records he was looking through had been written with a quill pen.
As I searched on, I found what I was looking for. Robert had died on the 17th of September in 1892. I searched everywhere for his cause of death but could not find one. Nothing but the date was available. With all the other deaths by drowning, I wondered about that as a cause of death. I finally gave in and bought the official Death Certificate. It cost me $40.00, and it was pretty much a xerox copy, but it had the information that I had wanted so badly.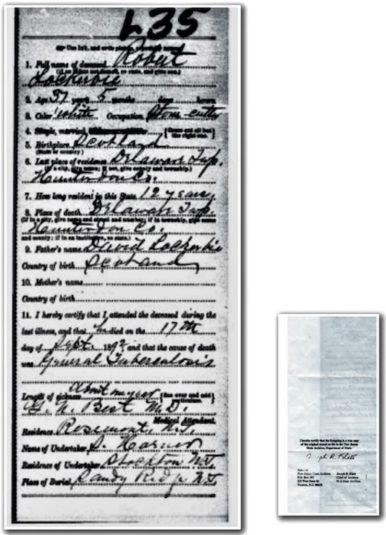 Robert Lockerbie had literally run out of time. His death certificate stated that Robert had died of General Tuberculosis on September 17th of 1892. In addition, it stated that he had been sick for one year before his death. He was to be buried in the Sandy Ridge Cemetery, where five of his children had come to rest, before him.
After Robert's death, Kate buried her husband and completed her packing. She would be returning to Scotland with her five remaining children. On the day the Servia sailed, onboard would be Kate age 35; David 10; Jennie 8, Maggie 6; William 3; and Lizzie 3 months. The passenger list claimed that Kate was 45. She may well have felt ten years older, but she was, in truth, only 35
After weeks of traveling, they debarked in Liverpool, England on the 7th of November 1892. They were headed to Kate's family's residence at Edinburgh, Lady Glen Orchy, Midlothian, Scotland. There she would raise her children, with her parents help as long as they lived.
In 1881, Kate had gone from a position as "domestic help" in Scotland, into a marriage with Robert Lockerbie. She had followed him to the United States to live. She had borne him ten children, in eleven years of marriage, and in the end, nursed him for a full year until he died of TB.
The amazing thing to me is that she did this last while caring for the children and pregnant with her last child. Yes, 3 months and 1 day before Robert died, Elizabeth was born. They chose to name her after the daughter they had lost in 1883. They called her Lizzy.
In Scotland, Kate would work at cleaning jobs to support herself and her children. In 1901, I found her working at Pubbing Boles, as a cleaner. Elizabeth was 9 then, and the older children were no longer at home. On a 1914-1915 voters list, Kate was listed as a charwoman.
It's not that I believe that her life in New Jersey was, in any way, easier than her life in Scotland. In America, however, she had had her husband, and they had had a dream, and believed it could come true. Now, the dream was gone, and her husband was gone. Now, she had neither, so she did what she had to do, for herself, and for her children.
Catherine died in 1920.
If you have questions or comments you wish to share with the author, you can email her at  <bkconcannon@gmail.com>.