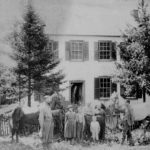 The genealogy of Hunterdon and West New Jersey families is endlessly fascinating. Particularly those families that arrived here in the late 17th and early 18th centuries, and left many descendants here. These families keep recurring in my various posts, some more than others. For the most frequently cited families, I offer the list below.
Some families get more attention than others. As of the spring of 2018, I have begun publishing family trees for the first five or six generations. In the list below, the family names whose trees have been published are in caps, and links to the family tree pages added.
Gradually more and more family trees will be published, and more family names will be added to the list. One of the purposes of these family trees is to help readers understand the relationships between family members that I write about. It can get confusing at times. Another purpose is to provide a place for researchers of Hunterdon families to get in touch. If you are such a person, add your contact information in the comments sections to whatever family you are interested in. Perhaps you will find other family members there.
If you wish to see articles in which these families are featured, go to the Families section in the right-hand column. Clicking on the drop-down menu will reveal corresponding links and the number of articles in which each family is featured. If you search for the family name in the upper left-hand search space, you will get all of the articles in which that name is mentioned.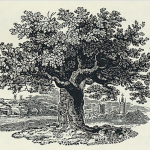 The oak tree depicted here is by one of my favorite artists, Thomas Bewick. It will show up with every family tree.
There are many more families described in my posts than are listed here. If you do not see a name you are interested in, please use the search option at the top of the page.
P.S. I have added some family names to the list that do not yet have tags. But by seeing the names here, you will know that searching on the names will be fruitful.
Abbott, Akers, Allen, ALLER, Amerman, Anderson, Armstrong, Apgar, ARNWINE 
Bake, Baker, BARBER, Barcalow, Barcroft, Barnes, Bartles, Bartolette, Bateman, BEARDER, Beavers, BELLIS, BESSON, Biddle, Bird, Bishop, Blackwell, BODINE, Bond, BONHAM, Bonnell, Bosenbury, Boss, Bowne, BRAY, Brewer, Britton, BUCHANAN, Bull, Burd, BUTTERFOSS
Cain, Capner, Carman, CARRELL, Carver, Case, Chamberlin/Chamberlain, Cherry, Clark, Clifford, Cline, Coat/Coates, Colvin, Conklin/Conkling, Conover/Covenhoven, Cooley, Corle, Corson, CORYELL, Cowin, Cramer, Cronce, Curtis
Dalrymple, Davis, Deats, Deremer, DILTS, Duckworth, Dunham, Durling
Eicke, Ellicott, Ely, Emery, Emley, Emmons, ENT, Everitt, Ewing
Farley, FAUSS, FISHER, Fleming, Flomerfelt,  FOX, Fritts, Fulper
Gary, Geary, Gelvin, German, GODOWN, GORDON, Grandin, GREEN, Griggs, Groff, Guild, Gulick
Hagaman, HAINES, Hall, Hann, Hart, Hartpence, Hawk, HEATH, HIGGINS, HILL, HOAGLAND, Hockenbury, Hoff, Hoffman, HOLCOMBE, HOPPOCK, Horn/Horne, Horner, Housel, HOWELL, Hudnit/Hudnut, Huffman, Hull, Hummer, HUNT
Ingham, Johnes, JOHNSON, Johnston, Jones
Kennedy, Kerr, King, KITCHEN, Kline, Kugler, Kuhl, Kyple
Lair, LAKE, LAMBERT, Lanning, Larason, Larew/Larue, Large, LARISON, LaTourette, LAWSHE, Leonard, LEQUEAR, Lewis, Little, Loman, Lowe
Marsh, Martin, Mathews/Matthews, Mattison, Maxwell, McPherson, Mettler, MOORE, Myers
Naylor, Neighbor, Nevius
Parke, Pegg, Peoplesdorf, Pettit, Phillips, Pickel, Pidcock, Pierson, Polhemus, POULSON, Prall, Price, Primmer, Pyatt
Quick, QUINBY 
Race, RAKE, Rea, READING, Ringo, Risler, RITTENHOUSE, Roberson, ROBINS/ROBBINS, Robinson, ROCKAFELLER/Rockafellow, Rockhill, Romine, ROUNSAVELL, Rouser, Runk, Runkle, Runyan/Runyon
Saxton, Scarborough, Schamp, Schenck, Scott, SERGEANT, Servis, Severns, Sharp, Shepherd/Shephard, Sherman, Shurts, SINE, Slack, Slater, Smith, Snook, Snyder, Srope, Stevenson, STOCKTON, Stout, Strimple, Stryker, Sutphin, SUTTON,  SWALLOW
TAYLOR, THATCHER, Thompson, Tomlinson, Trimmer, TROUT, Tunison
Vail, VanAtta, Vanderbilt, VANDOLAH, Vansyckle, Venable, Voorhees
Wagner, Warford, Warman, Warne, Waterhouse, Welch, Werts, West, Williams, WILLIAMSON, Wilson, WOLVERTON/WOOLVERTON, Wood, Woolley, Wright, Wyckoff
Yard, Young