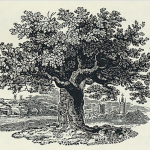 Larison or Larason. It all depends. There doesn't seem to be too much of a hard and fast rule. And as often happens with other names having alternate spellings, the same person would sometimes use both spellings, or else a clerk would make his own choice of spelling. I tend to use the spelling most commonly used by each individual.
First Generation:
(1) James Larison (c.1695 – 1792) & Keziah Parke (1713 – 1788) of Hopewell
James Larison settled on a tract of 250 acres on the Stony Brook in Hopewell Township, later owned by Ralph Ege. After Keziah's death, he conveyed most of it to his sons David and Elijah, also residents of Hopewell.
Second Generation:
(1) James Larison & Keziah Parke
|    (2.1) John Larison (1737 – 1805) & Mary Pelton
|    (2.2) Andrew Larison (1739 – 1800) & Lavinia Severns (1741 – 1821) of Amwell
|    (2.3) William Larison (1741 – 1816) & Francina Anderson (1748 – 1811)
|    (2.4) Anne Larison (1743 – 1835)
|    |    |  m. 1) Judge Jared Sexton (1737 – c.1785)
|    |    |  m. 2) Benjamin Parke (1743 – )
|    (2.5) Roger Larison (c.1745 – 1812) & Leanor Leanah (c.1750 – 1819) of Bethlehem Twp.
|    (2.6) Elizabeth Larison (1747 – ) & Aaron Runyan (1742 – )
|    (2.7) Catharine Larison (c.1750 – ) & Aaron Young (c.1750 – )
|    (2.8) Achsah Larison (1752 – 1777) & John Humphrey (c.1748 – 1829)
|    (2.9) Elijah Larison (1754 – c.1822) & Eleanor Stout (1749 – 1828)
|    (2.10) David Larison (1757 – 1800) & Jerusha Smith (1759 – 1800)
|    (2.11) Rachel Larison (c.1760 – )
Third Generation:
(1) James Larison & Keziah Parke
|    (2.2) Andrew Larison & Lavinia Severns
|    |    (3.1) Sarah Larison (c.1760 – c.1843) & Robert Naylor Sr. (c.1760 – c.1828)
|    |    (3.2) Benjamin Larison (1761 – 1779)
|    |    (3.3) James Larison (1765 – 1848) & Keziah Holcombe (1767 – 1854)
|    |    (3.4) Mary Larison (c.1768 – 1850) & William Boss (1760 – 1834)
|    |    (3.5) George Larison (1770 – 1847) & Catharine Lambert (1774 – 1864)
|    |    (3.6) Hon. Andrew Larison (1776 – 1861) & Mary Wilson (1778 – 1856)
|    |    (3.7) Benjamin Larison (c.1780 – 1845) & Sarah Vansant (c.1785 – )
|    (2.3) William Larison & Francina Anderson
|    |    (3.1) Pamelia Larison (1779 – 1839)
|    |    |    |  m. 1) John Rowland Parke (c.1775 – bef. 1809)
|    |    |    |  m. 2) Jonathan Hunt (1779 – 1857)
|    (2.4) Anne Larison & 1) Judge Jared Sexton
|    |    (3.1) Sarah Sexton (c.1770 – ) & Moses Quick (1767 – )
|    |    (3.2) Margaret Sexton (1775 – 1864) & William Houghton (1757 – 1835)
|    |    (3.3) Achsah Sexton (c.1778 – 1852) & Charles Stout (1770 – )
|    |    (3.4) William Sexton (c. 1780 – 1801)
|    |    (3.5) Anne Sexton (1782 – 1815) & William Stout (1780 – 1811)
|    (2.5) Roger Larison & Leanor/Leanah
|    |    (3.1) Theodore Larison (1773 – 1857) & Elizabeth Updike (1785 – 1811)
|    |    (3.2) Margaret Larison (c.1777 – ) & Fitch
|    |    (3.3) Elizabeth Larison (c.1778 – 1885) & Neil McGill (c.1775 – 1814)
|    |    (3.4) James Larison (1779 – 1885)
|    |    (3.5) Rachel Larison (c.1780 – ) & John Case (c.1771 – 1856)
|    |    (3.6) Rebecca Rebekah Larison (~1785 – )
|    |    (3.7) Catharine Larison (c.1790 – ) & John Barnet (c.1790 – )
|    |    (3.8) John R. Larison (c.1795 – ) & Catharine Quick (c.1800 – )
|    (2.6) Elizabeth Larison & Aaron Runyan
|    |    (3.1) Andrew Runyan (c.1770 – )
|    |    (3.2) John Runyan (c.1775 – )
|    |    (3.3) Aaron Runyan (c.1780 – )
|    |    (3.4) Achsah Runyan
|    (2.8) Achsah Larison & John Humphrey
|    |    (3.1) John Humphries (1776 – 1870) & Experience Dunn (1781 – 1821)
|    (2.10) David Larison & Jerusha Smith
|    |    (3.1) Charles Larison (1793 – 1841) & Lena Fitch (1796 – 1881)
Fourth Generation:
(1) James Larison & Keziah Parke
|    (2.2) Andrew Larison & Lavinia Severns
|    |    (3.1) Sarah Larison & Robert Naylor Sr.
|    |    |    (4.1) Mary Naylor (1809 – 1857) & Theodore Titus (1812 – 1881)
|    |    |    (4.2) Isaac J. Naylor (c.1812 – ) & Ann (c.1816 – )
|    |    |    (4.3) William A. Naylor (c.1814 – 1896) & Amelia Pamelia Barrick (c.1812 – 1887)
|    |    |    (4.4) Phoebe Naylor (c.1816 – )
|    |    (3.3) James Larison & Keziah Holcombe
|    |    |    (4.1) Lavinia Larison (1788 – after 1850) & Samuel Britton (1786 – 1841)
|    |    |    (4.2) Rachel Larison (1791 – 1851) & John Vansyckle (1786 – 1864)
|    |    |    (4.3) Kezia Larison (1811 – ) & John Carhart (1804 – )
|    |    (3.4) Mary Larison & William Boss
|    |    |    (4.1) Samuel Boss (1785 – 1868)
|    |    |    (4.2) Andrew Boss (c.1789 – )
|    |    |    (4.3) Levinia Boss (1792 – 1864) & Andrew Lair (1787 – 1855)
|    |    |    (4.4) Joseph Boss (1794 – 1860) & Azubah Kitchen (1794 – 1870)
|    |    |    (4.5) John Boss (c.1796 – )
|    |    |    (4.6) Kezia Boss (1799 – 1865)
|    |    |    (4.7) Benjamin Boss (c.1800 – )
|    |    |    (4.8) Mary Boss (1806 – 1833)
|    |    |    (4.9) James L. Boss (1808 – 1855)
|    |    |    (4).10 William Boss (c.1810 – 1858) & Sarah Young (1812 – 1872)
|    |    (3.5) George Larison & Catharine Lambert
|    |    |    (4.1) John Lambert Larason Sr. (c.1795 – 1866) & Sarah Dean (c.1798 – c.1865)
|    |    |    (4.2) Mary Maria Larison (1798 – 1882) & Francis Tomlinson iii (1794 – 1854)
|    |    |    (4.3) Lavinia Larison (1802 – 1827) & Samuel Carhart (1799 – 1851)
|    |    |    (4.4) James Larison (1807 – 1855) & Emma Sergeant (1803 – 1856)
|    |    |    (4.5) Gershom L. Larison (1812 – 1849) & Cornelia B. Sharp (c.1813 – 1885)
|    |    (3.6) Hon. Andrew Larison & Mary Wilson
|    |    |    (4.1) Sarah Larison (1798 – 1883) & Aaron C. Wilson (1797 – 1864)
|    |    |    (4.2) Jane Larison (1800 – 1800)
|    |    |    (4.3) John Wilson Larison (1801 – 1889) & Maria L. Fisher (1803 – 1886)
|    |    |    (4.4) Andrew Larison (1803 – 1885) & Mary Ann Phillips (1816 – 1903)
|    |    |    (4.5) Benjamin Larison (1805 – 1892) & Hannah Ann Holcombe (1809 – 1869)
|    |    |    (4.6) Abraham D. Larison (1810 – 1815)
|    |    |    (4.7) Lavinia Levinia Larison (1811 – 1886) & Samuel R. Holcombe (1811 – 1875)
|    |    (3.7) Benjamin Larison & Sarah Vansant
|    |    |    (4) Mary Larison (c.1835 – ) & John Matthews (c.1835 – )
|    |    |    (4) William Larison (c.1840 – ) & Mary Jane Burrell (c.1840 – )
|    (2.3) William Larison & Francina Anderson
|    |    (3.1) Pamelia Larison & 2) Jonathan Hunt
|    |    |    (4.1) Francenia Hunt (1811 – 1888)
|    |    |    |    |  m. 1) Charles M. Jewell (c.1810 – 1832)
|    |    |    |    |  m. 2) Stephen Blackwell (1808 – 1883)
|    (2.5) Roger Larison & Leanor Leanah
|    |    (3.1) Theodore Larison & Elizabeth Updike
|    |    |    (4.1) Anna Larison (1803 – ) & Cornelius Colbaugh
|    |    |    (4.2) Jacob Larison (1805 – )
|    |    |    (4.3) John Larison (1808 – )
|    |    |    (4.4) Louis Larison (1810 – )
|    |    (3.8) John R. Larison & Catharine Quick
|    |    |    (4.1) Abraham Larison (c.1820 – ) & unknown Waldron (c.1820 – )
Fifth Generation:
(1) James Larison & Keziah Parke
|    (2.2) Andrew Larison & Lavinia Severns
|    |    (3.3) James Larison & Keziah Holcombe
|    |    |    (4.1) Lavinia Larison & Samuel Britton
|    |    |    |    (5.1) J. L. Britton (c.1820 – ) & Julian Ann (c.1820 – )
|    |    |    |    (5.2) Frances Fanny Britton (1809 – 1851) & Samuel Carhart (1799 – 1851)
|    |    |    (4.2) Rachel Larison & John Vansyckle
|    |    |    |    (5.1) Catharine Vansyckle (1809 – 1890) & Adrian Kinney (1804 – 1863)
|    |    (3.5) George Larison & Catharine Lambert
|    |    |    (4.1) John Lambert Larason Sr. & Sarah Dean
|    |    |    |    (5.1) Catharine Larison (1822 – 1907) & Hon. Ambrose Barcroft (1817 – 1878)
|    |    |    |    (5.2) Levina Larason (1825 – ) & Fletcher Bray (1820 – )
|    |    |    |    (5.3) Sarah Jane Larason (1830 – 1889) & Lewis C. Dilley (1825 – 1907)
|    |    |    |    (5.4) John L. Larason Jr. (c.1834 – )
|    |    |    |    (5.5) Joseph D. Larason (c.1836 – ) & Mary (c.1837 – )
|    |    |    (4.2) Mary Maria Larison & Francis Tomlinson iii
|    |    |    |    (5.1) Charles Tomlinson (1819 – 1875) & Margaret Barcroft (1818 – 1872)
|    |    |    |    (5.2) Catharine L. Tomlinson (1821 – 1860)
|    |    |    |    (5.3) Amy Ann Tomlinson (c.1825 – ) & John Kugler Johnson (1818 – 1845)
|    |    |    |    (5.4) George L. Tomlinson (1827 – 1870)
|    |    |    |    |  m. 1) Amy S. Fox (1828 – 1856)
|    |    |    |    |  m. 2) Phebe Snyder (c.1835 – )
|    |    |    |    (5.5) Lavinia L. Tomlinson (1830 – 1851)
|    |    |    |    (5.6) Rachel Tomlinson (c.1837 – ~1855) & Spencer Lawshe (1826 – 1911)
|    |    |    (4.3) Lavinia Larison & Samuel Carhart
|    |    |    |    (5.1) Lavinia Carhart (1826 – after 1880)
|    |    |    (4.4) James Larison & Emma Sergeant
|    |    |    |    (5.1) George Larison (c.1831 – )
|    |    |    |    (5.2) Charles Larison
|    |    |    |    (5.3) Mary Larison
|    |    |    |    (5.4) Josephine Larison (1840 – 1864) & George Agnew (1836 – 1916)
|    |    |    (4.5) Gershom L. Larison & Cornelia B. Sharp
|    |    |    |    (5.1) Mary Catherine Larison (1836 – 1881) & Samuel Ege (1829 – 1872)
|    |    |    |    (5.2) Emma M. Larison (1839 – 1878) & Asher Phillips Ege (1832 – 1875)
|    |    |    |    (5.3) Gershom M. Larison (1845 – 1856)
|    |    (3.6) Hon. Andrew Larison & Mary Wilson
|    |    |    (4.3) John Wilson Larison & Maria L. Fisher
|    |    |    |    (5.1) George Larison (1823 – 1892)
|    |    |    |    |  m. 1) Sarah S. Holcombe (1828 – 1855)
|    |    |    |    |  m. 2) Mary A. Paxson (1825 – 1910)
|    |    |    |    (5.2) Lucretia Ann Larison (1824 – 1886) & Augustus Blackwell (1822 – 1874)
|    |    |    |    (5.3) Jacob F. Larison (1828 – 1895) & Clarinda Dilts (1830 – 1915)
|    |    |    |    (5.4) Catharine Larison (1831 – 1831)
|    |    |    |    (5.5) Abraham W. Larison (c.1849 – 1850)
|    |    |    (4.4) Andrew Larison & Mary Ann Phillips
|    |    |    |    (5.1) John P. Larison (1839 – 1846)
|    |    |    |    (5.2) David W. Larison (1843 – 1934)
|    |    |    |    |  m. 1) Sarah A. Wilson (1843 – 1895)
|    |    |    |    |  m. 2) Rhoda Frances Drake (1841 – 1935)
|    |    |    (4.5) Benjamin Larison & Hannah Ann Holcombe
|    |    |    |    (5.1) George Holcombe Larison (1831 – 1892) & Sarah Quick Fisher (1837 – 1907)
|    |    |    |    (5.2) Lucilla Ann Larison (1833 – 1910)
|    |    |    |    (5.3) Cornelius Wilson Larison (1837 – 1910) & Mary Jane Howell Sergeant (1837 – 1917)
|    |    |    |    (5.4) Mary Catherine Larison (1839 – 1915) & Thomas Carr Johnson (1839 – 1901)
|    |    |    |    (5.5) Rev. Andrew B. Larison (1841 – 1872) & Katherine Bloomfield Brown (~1840 – 1926)
|    |    |    |    (5.6) Sarah L. Larison (1844 – 1920) & Samuel Reading Bodine (1845 – 1920)
|    |    |    |    (5.7) John Deremer Larison (1846 – 1907) & Delia Catherine Bodine (1850 – 1930)
|    |    |    |    (5.8) Hannah Ellen Larison (1849 – 1914)
|    |    |    |    (5.9) Cornelia Jane Larison (1852 – 1909) & Hawley Rittenhouse Crum (1885 – 1976)
|    |    |    (4.7) Lavinia Levinia Larison & Samuel R. Holcombe
|    |    |    |    (5.1) Sarah J. Holcombe (c.1836 – )
|    |    |    |    (5.2) Thomas Holcombe (1837 – 1848)
|    |    |    |    (5.3) Samuel Holcombe (1843 – 1848)
|    |    |    |    (5.4) Mary Holcombe (c.1840 – )
|    |    |    |    (5.5) Andrew L. Holcombe (c.1842 – )
Sixth Generation:
(1) James Larison & Keziah Parke
|    (2.2) Andrew Larison & Lavinia Severns
|    |    (3.5) George Larison & Catharine Lambert
|    |    |    (4.1) John Lambert Larason Sr. & Sarah Dean
|    |    |    |    (5.1) Catharine Larison & Hon. Ambrose Barcroft
|    |    |    |    |    (6.1) Sarah L. Barcroft (1846 – 1905) & Asa Robbins Smith (1830 – 1901)
|    |    |    |    (5.3) Sarah Jane Larason & Lewis C. Dilley
|    |    |    |    |    (6.1) Sarah Catharine Dilley (c.1853 – 1936) & George Washington Arnett (1851 – 1921)
|    |    |    |    |    (6.2) Ellen Dilley (1857 – ) & Samuel S. Vanhorn (1848 – )
|    |    |    |    |    (6.3) Elizabeth Dilley (c.1859 – )
|    |    |    |    |    (6.4) Caroline Dilley (c.1864 – )
|    |    |    |    |    (6.5) Samuel Dilley (c.1868 – )
|    |    |    |    (5.5) Joseph D. Larason & Mary
|    |    |    |    |    (6) John L. Larason (1862 – 1905) & Mary Louisa Trout (1860 – 1958)
|    |    |    |    |    (6) George T. Larason (c.1867 – ) & Eva Stains
|    |    |    (4.5) Gershom L. Larison & Cornelia B. Sharp
|    |    |    |    (5.1) Mary Catherine Larison & Samuel Ege
|    |    |    |    |    (6.1) Horatio M. Ege (1856 – 1927) & Hannah E. Pettee (1861 – 1936)
|    |    |    |    |    (6.2) Gershom Larison Ege (1859 – 1922) & Clara Dunn Atchley (1860 – 1926)
|    |    |    |    |    (6.3) Wilford L. Ege (1864 – 1885)
|    |    (3.6) Hon. Andrew Larison & Mary Wilson
|    |    |    (4.3) John Wilson Larison & Maria L. Fisher
|    |    |    |    (5.1) George Larison & 1) Sarah S. Holcombe
|    |    |    |    |    (6.1) Cornelius B. Larison (c.1847 – )
|    |    |    |    |    (6.2) Elwood Larison (1848 – 1927) & Martha J. Snyder (1853 – 1936)
|    |    |    |    |    (6.3) James Larison (c.1850 – )
|    |    |    |    |    (6.4) John W. Larison (c.1852 – )
|    |    |    |    |    (6.5) Sarah Maria Larison (c.1855 – c.1855)
|    |    |    |    (5.1) George Larison & 2) Mary A. Paxson
|    |    |    |    |    (6.6) Thomas H. Larison (1857 – 1905) & Elizabeth Holcombe (1861 – 1938)
|    |    |    |    |    (6.7) George Larison (c.1859 – ) & Etta Sanders
|    |    |    |    |    (6.8) Jacob S. Larison (1860 – 1939) & Mary Teufel (1864 – 1936)
|    |    |    |    |    (6.9) Mary Elizabeth Larison (1862 – 1928)
|    |    |    |    |    (6.10) Clara B. Larison (1864 – 1920) & George B. Fritts (1869 – 1909)
|    |    |    |    |    (6.11) Lucretia Ann Larison (1864 – )
|    |    |    |    |    (6.12) Sarah S. Larison (1866 – 1948) & John R. Holcombe (1863 – 1949)
|    |    |    |    |    (6.13) Jane S. Larison (1869 – 1941) & Henri Guiletts
|    |    |    |    (5.2) Lucretia Ann Larison & Augustus Blackwell
|    |    |    |    |    (6.1) John W. Blackwell (1850 – 1851)
|    |    |    |    |    (6.2) William Frederick Blackwell (1852 – 1861)
|    |    |    |    |    (6.3) Charles Bloomfield Blackwell (1853 – 1915) & Sarah M. Fisher (1856 – 1951)
|    |    |    |    |    (6.4) Anna M. Blackwell (1856 – 1928)
|    |    |    |    (5.3) Jacob F. Larison & Clarinda Dilts
|    |    |    |    |    (6.1) Clarinda Larison (1852 – 1852)
|    |    |    (4.4) Andrew Larison & Mary Ann Phillips
|    |    |    |    (5.2) David W. Larison & 1) Sarah A. Wilson
|    |    |    |    |    (6.1) Mary C. Larison (1867 – 1964) & Charles Ellsworth Holcombe (1862 – 1945)
|    |    |    |    |    (6.2) John P. Larison (c.1869 – )
|    |    |    |    |    (6.3) Cora May Larison (1872 – 1972) & John Clifton Lambert (1866 – 1958)
|    |    |    |    |    (6.4) Howard W. Larison (1875 – 1958) & Martha W. Mathews (1875 – 1960)
|    |    |    (4.5) Benjamin Larison & Hannah Ann Holcombe
|    |    |    |    (5.1) George Holcombe Larison M.D. & Sarah Quick Fisher
|    |    |    |    |    (6.1) Helen Larison (1860 – 1860)
|    |    |    |    |    (6.2) Francis Wayland Larison (1860 – 1924)
|    |    |    |    |    |    |  m. 1) Nancy Cordelia Larison (1862 – 1901)
|    |    |    |    |    |    |  m. 2) Mabel I. Johnson (c.1874 – )
|    |    |    |    |    (6.3) Anne Farley Larison (1862 – 1869)
|    |    |    |    |    (6.4) Sarah Maria Larison (1869 – 1869)
|    |    |    |    (5.3) Cornelius Wilson Larison M.D. & Mary Jane Howell Sergeant
|    |    |    |    |    (6.1) Mary Polly Larison (1871 – 1954) & Harry S. Blackwell (1869 – 1945)
|    |    |    |    |    (6.2) Benjamin Larison (1876 – 1935)
|    |    |    |    (5.4) Mary Catherine Larison & Thomas Carr Johnson
|    |    |    |    |    (6.1) Osie Holcombe Johnson (1867 – 1940) & William Josiah Molleston (1865 – 1941)
|    |    |    |    |    (6.2) Benjamin L. Johnson (1871 – 1925) & Mary Elizabeth Sperling (1873 – 1938)
|    |    |    |    (5.6) Sarah L. Larison & Samuel Reading Bodine
|    |    |    |    |    (6.1) Mary Hannah Bodine (1874 – 1943)
|    |    |    |    |    (6.2) Lucy L. Bodine (1876 – 1951)
|    |    |    |    (5.7) John Deremer Larison & Delia Catherine Bodine
|    |    |    |    |    (6.1) Andrew Butterfoss Larison (1873 – 1941) & Estella V. Moore (1877 – 1974)
|    |    |    |    |    (6.2) William Bodine Larison (1877 – 1954) & Mary H. Crum (1880 – 1976)
|    |    |    |    |    (6.3) Anna M. Larison (1882 – 1962) & Edward Thomas Venable (1878 – 1970)
|    |    |    |    |    (6.4) Carman Wilson Larison (1884 – 1942) & Anna Poulson (1890 – 1969)