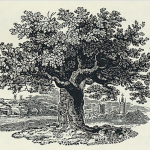 The Vandolah's were Dutch. Their name was often spelled Van Dolah, but Vandolah seems to have been used the most. The family showed up early in Hunterdon County, but their exact origins are not known. Hubert G. Schmidt, in his book Rural Hunterdon (pp. 31-32), wrote of the many Dutch families who came to Hunterdon in the early 18th century:
"Another basic element in the early population [of Hunterdon County] was that of the Holland Dutch. In some cases Dutch families intermingled with the English before coming to this county. . . . Henry Vandolah, who settled in Sandy Ridge in 1725, probably came in with English acquaintances. At any rate, he took root far from the main body of his countrymen." The same was true of the Hoagland family.
What strikes me as odd is that of the five children of Hendrick and Sarah Vandolah, only one chose to remain in the county: Garret Vandolah.
First Generation
(1) Hendrick Vandolah (c.1700 – before 1743) & Sarah Garrison (c.1705 – before 1756)
Second Generation:
|     (2.1) Garret Vandolah (1726 – 1807) & Catharine ? (1723 – 1800)
|     (2.2) Anna Vandolah (c.1728 – ?) & ? Wilgus
|     (2.3) John Vandolah (c.1730 – c.1758)
|     (2.4) Charity Vandolah (c.1735 – ?) & ? Hausman
|     (2.5) Peter Vandolah (c.1740 – 1815) & Hester ? (c.1738 – after 1804), left Hunterdon
Third Generation:
|     (2.1) Garret Vandolah & Catharine1
|     |     (3.1) Sarah Vandolah (c.1759 – 1850) & William Wilson (c.1755 – after 1799)
|     |     (3.2) Henry Vandolah (1766 – 1815) & Catherine Taylor (1778 – 1854)
|     |     (3.3) Aremina Vandolah (1762 – 1839) & Isaac Francis Swallow (1763 – 1841)2
Fourth Generation:
|     (2.1) Garret Vandolah & Catharine
|     |     (3.1) Sarah Vandolah & William Wilson
|     |     |     (4) Garret Vandolah Wilson (1781 – 1876) & Mary Butterfoss (1783 – 1863)
|     |     |     (4) Daniel Wilson (c.1785 – ?) & Mary Taylor (c.1783 – after 1815)
|     |     |     (4) Catherine Wilson (c.1787 – 1843) & Daniel Larew (c.1768 – 1849)3
|     |     (3.2) Henry Vandolah & Catherine Taylor
|     |     |     (4.1) Mary Vandolah (1795 – 1890) & Amos P. Hunt (1798 – 1870)
|     |     |     (4.2) Henry Vandolah (c.1796 – 1845) never married
|     |     |     (4.3) Garret Vandolah Sr. (1797 – 1877) & Sarah Romine (1806 – 1862)
|     |     |     (4.4) William Taylor Vandolah (1799 – 1875) & Maria Sergeant (c.1806 – 1890)
|     |     |     (4.5) Catherine Vandolah (1802 – 1874)
|     |     |     (4.6) John Vandolah (1804 – 1885) & Grace Opdycke (1807 – 1881)
|     |     |     (4.7) Elizabeth Vandolah (1811 – 1886) & George W. Sharp (1812 – 1876)
|     |     |     (4.8) Cyrus Vandolah (1806 – 1891)
|     |     |     |     m. 1) Mary Elizabeth Lawshe (1816 – 1863)
|     |     |     |     m. 2) Elizabeth Ann Hice (1808 – 1884)
|     |     |     (4.9) Amy Vandolah (1809 – 1901) & Joseph Lair (1809 – 1886)
|     |     |     (4.10) Sarah Vandolah (1814 – 1815)
|     |     |     (4.11) Henrietta Vandolah (c.1816 – 1903) & Oscar Dunreath Runkle (1818 – 1886)
Fifth Generation:
|     (2.1) Garret Vandolah & Catharine
|     |     (3.1) Sarah Vandolah & William Wilson
|     |     |    (4.1) Garret Vandolah Wilson & Mary Butterfoss
|     |     |     |     (5) Rev. William Vandolah Wilson (1811 – 1908)
|     |     |     |     |     m. 1) Lydia Seabrook (1805 – 1852)
|     |     |     |     |     m. 2) Martha Seabrook (1810 – 1890)
|     |     |     |     (5) Sarah Wilson (1817 – 1879) & Watson J. Rittenhouse (1810 – 1894)
|     |     |     |     (5) Esther Hettie Wilson (c.1820 – ?) & N. B. Johnson, no information
|     |     |     |     (5) Rev. Charles E. Wilson (c.1825 – ?)
|     |     |     |     |     m. 1) Theresa ?
|     |     |     |     |     m. 2) Margaret Sergeant (c.1845 – ?)
|     |     |     (4.3) Catherine Wilson & Daniel Larew
|     |     |     |     (5) John Larew (c.1806 – 1848)
|     |     (3.2) Henry Vandolah & Catherine Taylor
|     |     |     (4.1) Mary Vandolah & Amos P. Hunt (See The Hunt Family Tree)
|     |     |     |     (5) Jacob Hunt (1820 – )
|     |     |     |     (5) Henry Vandolah Hunt (1820 – 1884) & Amy Butterfoss (1821 – 1895)
|     |     |     |     (5) Joseph Hunt (1822 – 1912)
|     |     |     |     (5) Sarah Catharine Hunt (1823 – 1889)
|     |     |     |     (5) Harriet Hunt (1824 – 1913)
|     |     |     |     (5) William V. Hunt (1829 – 1905) & Rebecca Gray (1838 – 1894)
|     |     |     |     (5) Mary Hunt (1831 – 1868)
|     |     |     |     (5) Ruth Hunt (1833 – ) & James W. Emery (~1830 – )
|     |     |     |     (5) Ann Elizabeth Hunt (1836 – 1867)
|     |     |     (4.3) Garret Vandolah, Sr. & Sarah Romine
|     |     |    |     (5) George Vandolah (c.1832 – ?)
|     |     |     (4.6) John Vandolah & Grace Opdycke
|     |     |     |     (5) Asher Vandolah (1832 – 1905)
|     |     |     |     (5) Mary Catherine Vandolah (1835 – 1868) & Henry Fisher Trout (1829 – 1872)
|     |     |     (4.7) Elizabeth Vandolah & George W. Sharp
|     |     |     |     (5) Sarah G. Sharp (1837 – 1851)
|     |     |     |     (5) Ann Elizabeth Sharp (1841 – 1916) & Watson Rittenhouse Bodine (1844 – 1919)
|     |     |     (4.8) Cyrus Vandolah & Mary Elizabeth Lawshe
|     |     |     |     (5.1) Julia Ann Vandolah (1838 – 1911) & George Prall Wilson (1838 – 1920)
|     |     |     |     (5.2) Mary Catherine Vandolah (1839 – 1911) & Lemuel Howell Wilson (1838 – 1901)
|     |     |     |     (5.3) Henry Lawshe Vandolah (1840 – 1901)
|     |     |     |     |     m. 1) Louisa Wilson (1845 – 1869)
|     |     |     |     |     m. 2) Rachel B. Rittenhouse (1846 – 1922)
|     |     |     |     (5.4) George S. Vandolah (1842 – 1862)
|     |     |     |     (5.5) Rachel Green Vandolah (1844 – 1881) & Solomon H. Blackwell (1841 – 1882)
|     |     |     |     (5.6) Harriet A. Vandolah (1846 – 1913) & Reuben Taylor Bissey (1845 – 1896)
|     |     |     |     (5.7) Cyrus Vandolah (1852 – 1931) & Hannah H. Runkle (1858 – 1910)
|     |     |     (4.9) Amy Vandolah & Joseph Lair
|     |     |     |     (5) Pvt. John Lair (1836 – 1915) & Mary A. Hart (1843 – 1913)
|     |     |     |     (5) Pvt. William H. Lair (1840 – 1916) & Martha Reading (1847 – 1905)
|     |     |     |     (5) Samuel Howard Lair (1842 – 1866)
Sixth Generation:
|     (2.1) Garret Vandolah & Catharine
|     |     (3.2) Henry Vandolah & Catherine Taylor
|     |     |     (4.6) John Vandolah & Grace Opdycke
|     |     |     |    (5) Mary Catherine Vandolah & Rev. Henry Fisher Trout
|     |     |     |     |     (6) G.W. Melville Trout (1858 – 1872)
|     |     |     |     |     (6) Mary Louisa Trout (1860 – 1958) & John L. Larason (1862 – 1905)
|    |     |     (4.8) Cyrus Vandolah & Mary Elizabeth Lawshe
|     |     |     |     (5.1) Julia Ann Vandolah & George Prall Wilson
|     |     |     |     |     (6) Elma C. Wilson (1862 – 1940)
|     |     |     |     |     |     m. 1) Frederick B. Holcombe (1862 – 1888)
|     |     |     |     |     |     m. 2) Frank R. Titus (1849 – 1937)
|     |     |     |     |     (6) Mary Ann V. Wilson (1864 – 1942) & Asher L. Lambert ( 1864 – 1942)
|     |     |     |     |     (6) George Wilson (1870 – 1871)
|     |     |     |     |     (6) Katie Wilson (1872 – 1872)
|     |     |     |     |     (6) Bertha Blackwell Wilson (1874 – 1958) & Arthur B. Totten (1869 – 1918)
|     |     |     |     |     (6) Julia Wilson (1878 – 1971) & Charles Wm. Tamme (1883 – 1956)
|     |     |     |    (5.2) Mary Catherine Vandolah & Lemuel Howell Wilson
|     |     |     |     |     (6) Linda H. Wilson (1861 – 1938)
|     |     |     |     |     (6) Mary Theresa Wilson (1863 – 1923) & William N. Morrison (c.1860 – ?)
|     |     |     |     |     (6) Eugene H. Wilson (1868 – 1912) & Anna ? (1867 – ?)
|     |     |     |     |     (6) Albert V. Wilson (1869 – 1917)
|     |     |     |     (5.3) Henry Lawshe Vandolah & Louisa Wilson
|     |     |     |     |     (6) George Lawshe Vandolah (1867 – 1868)
|     |     |     |     (5.5) Rachel Green Vandolah & Solomon Holcombe Blackwell
|     |     |     |    |     (6) Isadora Blackwell (c.1866 – 1891) & Israel S. Bateman (1856 – 1939)
|     |     |     |     (5.6) Harriet A. Vandolah & Reuben Taylor Bissey
|     |     |     |     |     (6) Cyrus Jesse Bissey (1873 – 1942) & Eva Lulu Dean (1874 – 1939)
|     |     |     |     |     (6) Mary E. Bissey (1875 – 1905)
|     |     |     |     |     (6) Rachel B. Bissey (1879 – 1911)
Footnotes: