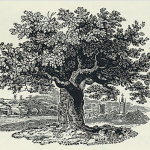 The Carrell family of Hunterdon County begins with Daniel Carrell and Elizabeth Arnwine. Daniel was the son of James & Sarah Carrell of Tinicum, Bucks County, Pennsylvania. He was born there, but in 1809 he settled on land in Delaware Township, the same year that he married Elizabeth Arnwine, when he was in his 40s. For more information on the Carrells of Bucks County, see Ezra Patterson Carrell, The Descendants of James Carrell and Sarah Dungan, his wife, Hatboro, PA, 1928.
Elizabeth Arnwine was the daughter of John Arnwine, Sr. and Elizabeth Opdycke, and therefore the granddaughter of John Opdycke, Esq. and Margaret Green. The Arnwine Family Tree is also published today.
Keep in mind that I list the children of daughters, but not their grandchildren. Additions and corrections are welcome. Please add them to the Comments section below.
First Generation:
(1) Daniel Carrell (1765 – 1817) & Elizabeth Arnwine (c.1789 – 1867) (see Arnwine Tree)
Second Generation:
|     (2.1) John Arnwine Carrell (1810 – 1895) & Amy Myers (1813 – 1888)
|     (2.2) Sarah Carrell (1811 – 1882) &
|     |     m. 1) Isaac M. Larew (c.1800 – 1838)
|     |     m. 2) Henry S. Kline (1815 – 1897)
|     (2.3) James Carrell (1812 – 1874) & Frances Fanny Opdycke (1813 – 1896)
|     (2.4) Samuel Arnwine Carrell (1814 – 1861) & Sarah Ann Williamson (1809 – 1853)
|     (2.5) Daniel Carrell Jr. (1815 – 1899) & Keturah H. Bird (1824 – 1903)
Third Generation:
|     (2.1) John Arnwine Carrell & Amy Myers
|     |     (3.1) Sarah Carrell (1834 – 1906) & Wilson B. Cline (1827 – 1903)
|     |     (3.2) Rebecca Jane Carrell (1837 – 1924) & Matthias Pegg (1836 – after 1905)
|     |     (3.3) George W. Carrell (1839 – 1882) & Elizabeth Wolverton Fauss (1847 – 1911)
|     |     (3.4) John Myers Carrell (1840 – 1910), unmarried
|     |     (3.5) Elizabeth Carrell (1842 – 1929)
|     |     (3.6) Joseph Carrell (1844 – 1930) & Mary Eliza Ruple (1854 – 1935)
|     |     (3.7) David Carrell (1846 – 1939) & Permelia Moore (1853 – 1900)
|     |     (3.8) Solomon Carrell (c.1847 – bef. 1860)
|     |     (3.9) Salome Carrell (1848 – 1910) & James Green (1844 – 1922)
|     |     (3.10) Amy Carrell (1850 – after 1920) & Gideon C. Moore (1854 – 1920)
|     |     (3.11) Mary Ann Carrell (1852 – 1931) & Levi Hoffman (1845 – 1933)
|     (2.2) Sarah Carrell & 1) Isaac M. Larew
|     |     (3.1) Jacob Moore Larew (1831 – 1835)
|     |     (3.2) Elisha Warford Larew (1833 – 1833)
|     |     (3.3) Sgt. Peter Moore LaRue (1835 – 1908) & Mary Boss (1837 – 1903)
|     (2.2) Sarah Carrell & 2) Henry S. Kline
|     |     (3.4) Margaret Kline (1840 – 1934) & Jeremiah Gary (1835 – 1928), left H.C.
|     |     (3.5) Elisha Warford Kline (1842 – 1920)
|     |     |     m. 1) Hannah Lugar (c.1847 – c.1870)
|     |     |     m. 2) Elizabeth Vanorman (1843 – )
|     |     (3.6) Benjamin F. Kline (1843 – ) & Sarah H. Bryan (1845 – 1923)
|     |     (3.7) Mary Ann Kline (1845 – 1912) & Henry Smith (1821 – 1903)
|     |     (3.8) Elizabeth Kline (1847 – 1903)
|     |     (3.9) Samuel Carrell Kline (1849 – 1913) & Catherine Sheridan (c.1863 – bef. 1905)
|     |     (3.10) Sarah Jane Kline (1853 – after 1920) & Thomas J. Yorks (1851 – after 1920)
|     |     (3.11) Deborah Kline (1851 – 1864) and Rachel Kline (1851 – 1865), twins
|     |     (3.12) Josephine Kline (1853 – 1859)
|     |     (3.13) Emma Jenice Kline (1855 – 1944) & George Smith (c.1850 – 1883)
|     |     (3.14) Frances Kline (1858 – ?)
|     (2.3) James Carrell & Frances Fanny Opdycke
|     |     (3.1) Mary Elizabeth Carrell (1837 – 1870) & Peter M. Srope (c.1835 – bef.1870)
|     |     (3.2) Margaret Jane Carrell (1839 – aft 1910) & Hugh Andrew Frazer (1831 – 1898)
|     |     (3.3) Julia Ann Carrell (1847 – after 1910)
|     |     |     m. 1) George M. Dallas Coryell . (1844 – 1928) divorced;
|     |     |     m. 2) John LaRue (1845 – 1926)
|     (2.4) Samuel Arnwine Carrell & Sarah Ann Williamson (see Williamson Family Tree)
|     |     (3.1) Sarah Elizabeth Carrell (1838 – 1923) & Alpheus Bonham (1821 – 1898)
|     |     (3.2) Micah Williamson Carrell (1839 – 1899) & Lewis Cline (1826 – 1908)
|     |     (3.3) Cornelius Williamson Carrell (c.1840 – c.1840)
|     |     (3.4) Mary Ann Carrell (1843 – 1886) & Moses Bonham (1828 – 1898)
|     |     (3.5) Samuel A. Carrell Jr. (1843 – 1911) & Mary Jane Hawk (1833 – 1900)
|     |     (3.6) Patience M. Carrell (1844 – bef. 1850)
|     |     (3.7) Margaret Arnwine Carrell (1845 – 1928)
|     |     (3.8) Asher Williamson Carrell (1848 – 1923) & Elizabeth B. Sutton (1850 – 1917)
|     |     (3.9) Rachel Jane Carrell (1850 – 1933)
|     |     (3.10) Elisha Warford Carrell (1851 – 1851)
|     (2.5) Daniel Carrell Jr. & Keturah H. Bird, moved to Chicago
|     |     (3.1) Peter Smith Carrell (1842 – 1893)
|     |     (3.2) Orphalina Ann Carrell (1844 – 1940) & William Henry Harrison (1838 – 1921)
|     |     (3.3) Rachel Margaret Carrell (1846 – 1915) & Isaac Harrison (1839 – 1915)
|     |     (3.4) Henry Burd Carrell (1849 – 1861)
|     |     (3.5) Mary Elizabeth Carrell (1852 – 1925)
Fourth Generation:
|     (2.1) John Arnwine Carrell & Amy Myers
|     |     (3.2) Rebecca Jane Carrell & Matthias Pegg – no grandchildren
|     |     |     (4.1) James W. Pegg (1858 – 1858)
|     |     |     (4.2) William C. Pegg (1859 – 1939) & Isabella Snyder (1860 – 1940)
|     |     |     (4.3) Emma J. Pegg (c.1867 – bef. 1900)
|     |     |     (4.4) Amy Jennie Pegg (1868 – 1893) & Runkle Rea Jr. (1847 – bef.1900)
|     |     (3.3) George W. Carrell & Elizabeth Wolverton Fauss (see Fauss Tree)
|     |     |     (4) Infant Carrell (1872 – 1873)
|     |     (3.6) Joseph Carrell & Mary Eliza Ruple
|     |     |     (4.1) Sarah Carrell (1874 or 1879 – 1910) & Rutan Heath (1868 – 1944)
|     |     (3.7) David Carrell & Permelia Moore, removed to Newark
|     |     |     (4) William John Carrell (1874 – 1900) & Ida Ruth (1872 – )
|     |     |     (4) Mary Belle Carrell (1877 – 1904)
|     |     |     (4) Edith Carrell (1880 – 1900)
|     |     |     (4) Isaac Cramer Carrell (1881 – 1882)
|     |     |     (4) Olive Carrell (1883 – 1884)
|     |     |     (4) Maud S. Carrell (1884 – after 1915)
|     |     |     (4) Bertha Carrell (1886 – 1889)
|     |     |     (4) Son Carrell (c.1888 – c.1888)
|     |     |     (4) Florence Carrell (1890 – 1978) & Stanton M. Pascal (1886 – 1956)
|     |     (3.9) Salome Carrell & James Green (see Green Family Tree)
|     |     |     (4.1) Mary H. Green (1876 – 1896) & Harrie T. Hunt (c.1875 – ?)
|     |     |     (4.2) George Carrell Green (1885 – 1974) & Jennie Day (1886 – 1980)
|     |     (3.10) Amy Carrell & Gideon C. Moore (see Moore Family Tree)
|     |     |     (4.1) Elizabeth Carrell Moore (1870 – after 1955) & Edward Niece Danley (1867 – after 1940)
|     |     |     (4.2) John William Moore (1871 – ?)
|     |     |     (4.3) Charles Wolverton Moore (1878 – 1903)
|     |     (3.11) Mary Ann Carrell & Levi Hoffman
|     |     |     (4.1) John C. Hoffman (1874 – 1948) & Anna Sheets (1874 – 1933)
|     |     |     (4.2) Stella M. Hoffman (1877 – 1921)
|     (2.3) James Carrell & Frances Fanny Opdycke
|     |     (3.1) Mary Elizabeth Carrell & Peter M. Srope
|     |     |     (4) Elmer Carrell Srope (c.1862 – ?)
|     |     (3.2) Margaret Jane Carrell & Hugh Andrew Frazer, left Hunterdon
|     |     |     (4) James Carrell Frazer (1867 – 1911) & Leila Jessie Cropp (1869 – 1897)
|     |     |     (4) Frances E. Frazer (c.1868 – ?)
|     |     |     (4) Mary Minnie Frazer (1869 – after 1900) & Frederick A. Tolhurst (1866 – 1923)
|     |     |     (4) Hugh Newton Frazer (1878 – 1910)
|     |     (3.3) Julia Ann Carrell & 1) George Miflin Dallas Coryell
|     |     |     (4.1) Ingham Coryell (c.1869 – 1875)
|     |     (3.3) Julia Ann Carrell & 2) John LaRue
|     |     |     (4.2) Blanche LaRue (1888 – ?) & John R. Frickey [questionable]
|     |     |     (4.3) Harry B. LaRue (1892 – 1930) & Amy Templeton (1894 – 1946)
|     (2.4) Samuel Arnwine Carrell & Sarah Ann Williamson
|     |     (3.1) Sarah Elizabeth Carrell & Alpheus Bonham (see Bonham Family Tree)
|     |     |     (4.1) Henry Bonham (c.1863 – after 1880)
|     |     |     (4.2) William Carrell Bonham (1867 – 1939) & Mary Jenice Kline (1881 – 1931)
|     |     |     (4.3) Mary Jane Bonham (1870 – 1967) & William Edward Opdycke (1868 – 1955)
|     |     (3.2) Micah Williamson Carrell & Lewis Cline
|     |     |     (4.1) Mary Jane Cline (1863 – 1894) & John McKinney Warne (1863 – 1932)
|     |     |     (4.2) Emaline Cline (1864 – 1901) & I. Newton Search (1863 – 1942)
|     |     |     (4.3) David R. Cline (1865 – 1950) & Emma K. Morris (1862 – 1958)
|     |     |     (4.4) Anderson Cline (1867 – 1891) & Carrie Dalrymple (1877 – 1918)
|     |     |     (4.5) Wilson B. Cline (1868 – 1964) & Carrie Dalrymple (1877 – 1918)
|     |     |     (4.6) Margaret Maggie Cline (1870 – ) & William Banes Search (1868 – 1929)
|     |     |     (4.7) Erva Irwin Cline (1876 – 1964) & Annie Belle Butterfoss Coates (1873 – 1964)
|     |     |     (4.8) Susannah Cline (1877 – 1924) & Theodore Niece (1877 – 1956)
|     |     |     (4.9) George W. Cline (1879 – 1885)
|     |     (3.4) Mary Ann Carrell & Moses Bonham (see Bonham Family Tree)
|     |     |     (4.1) Frank Bonham (1880 – 1880)
|     |     |     (4.2) Samuel Carrell Bonham (1882 – 1905)
|     |     (3.5) Samuel A. Carrell Jr. & Mary Jane Hawk
|     |     |     (4.1) Cora Belle Carrell (1865 – 1917) & William B. Snyder (1862 – 1929)
|     |     |     (4.2) Samuel A. Carrell (1877 – 1878)
|     |     (3.8) Asher Williamson Carrell & Elizabeth B. Sutton (see Sutton Tree)
|     |     |     (4.1) John W. Carrell (1880 – after 1940), never married
|     |     |     (4.2) Anna Catharine Carrell (1884 – 1884)
Fifth Generation:
|     (2.1) John Arnwine Carrell & Amy Myers
|     |     (3.6) Joseph Carrell & Mary Eliza Ruple
|     |     |     (4.1) Sarah Carrell & Rutan Heath
|     |     |     |    (5.1) Laura Heath (1892 – 1990) & Martin Voorhees Opdycke (1892 – 1973)
|     |     (3.7) David Carrell & Permelia Moore
|     |     |     (4.9) Florence Carrell & Stanton M. Pascal
|     |     |     |    (5.1) Irving Stanton Pascal (1911 – 1982) & Mary Elizabeth
|     |     |     |    (5.2) Maxine Florence Pascal (1912 – 1981) & Hugh P. Feeley (1908 – 1983)
|     |     |     |    (5.3) Donald D. Pascal (1918 – 2013) & Lois Dyer (1918 – 2017)
|     (2.4) Samuel Arnwine Carrell & Sarah Ann Williamson
|     |     (3.5) Samuel A. Carrell Jr. & Mary Jane Hawk
|     |     |     (4.1) Cora Belle Carrell & William B. Snyder
|     |     |     |    (5.1) Harvey Olden Snyder (1887 – 1923)
|     |     |     |    (5.2) Harold Ellsworth Snyder (1891 – 1960) & Edna May Search (1893-1992)
|     |     |     |    (5.3) Opal M. Snyder (1907 – 1911)