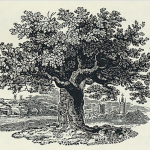 It is necessary to identify the top of this tree because there are other Williamson trees. One of those other trees (not yet published) is the William Williamson & Gattelyntje Gulick tree, Gattelyntje being the sister of Grietje. Their parents were Willem Williamson & Mayken Wyckoff.
Although previous generations of Williamsons are known, the family of Cornelius Williamson and Grietje Gulick is the first generation to appear in Hunterdon County. Grietje Gulick was the daughter of Joachem Gulick and Jakementie Van Pelt of Somerset County, NJ. Cornelius Williamson was the son of Willem Williamson and Mayken Pieterse Wyckoff of Gravesend, NY. Most of his siblings did not settle in Hunterdon except for his brother Nicholas Williamson. However, the only child of Nicholas that had a family I am aware of is daughter Maria (c.1736-1798) who married Hendrick Gulick in 1754. And since I know so little about this family, I am leaving them off this tree. Another branch of the family to settle in Hunterdon was headed by Peter Williamson and Catherine Broach. That also is a family I have not thoroughly researched.
The family I have focused on in the past is that of 2d generation William Williamson and Patience Hull. You will find their story in "Pine Hill Cemetery" and "Pine Hill Cemetery Revisited."
As with all other family trees, I am including the children of daughters but not their grandchildren. Surnames of in-laws who have trees published on this website are highlighted in green. Additions and corrections are always welcome, either in comments below or by email.
The Cornelius Williamson-Grietje Gulick Tree
First Generation:
(1) Cornelius Williamson (c.1672 – 1772) & Grietje Gulick (c.1680 – ?)
Second Generation:
|     (2.1) William Williamson Sr. (c.1708 – 1765) & Patience Hull (1713 – 1787)
|     (2.2) Samuel Williamson (c.1710 – )
|     (2.3) Cornelius Williamson (c.1712 – 1767) & Elizabeth (c.1715 – after 1768)
|     (2.4) Jakementie Jemima Williamson (c.1715 – ) & George Duckworth (1710 – 1767)
|     (2.5) Abraham Williamson (c.1720 – ?) & Hendrikje
Third Generation:
|    (2.1) William Williamson Sr. & Patience Hull
|    |    (3.1) Margaret Grietje Williamson (1732 – 1812)
|    |    |    |   m. 1) Daniel Larew (c.1725 – 1762)
|    |    |    |   m. 2) John Hull (c.1730 – 1794)
|    |    (3.2) Cornelius Williamson (c.1735 – c.1807) & Bernice Unknown (c.1740 – bef. 1806)
|    |    (3.3) Samuel Williamson (c.1737 – c.1821)
|    |    |    |   m. 1) Margaret Grethe DeHart (c.1740 – bef. 1782)
|    |    |    |   m. 2) Eleanor Williamson (c.1743 – 1818), widow of Gesbard Gulick
|    |    (3.4) William Williamson (c.1739 – 1820) & Elizabeth Russell
|    |    (3.5) John Williamson (c.1741 – 1823) & Ann Nancy Wells
|    |    (3.6) Abraham Williamson (c.1743 – 1781)
|    |    (3.7) Moykee Moicah Williamson (c.1745 – 1831) & Richard
Heath

(c.1724 – 1769)
|    (2.3) Cornelius Williamson & Elizabeth
|    |    (3.1) Eleanor Williamson (c.1743 – 1818)
|    |    |    |   m. 1) Gesbard Gulick (1735 – 1779)
|    |    |    |   m. 2) Samuel
Williamson

(c.1737 – c.1821)
|    |    (3.2) Bartholomew Williamson
|    (2.4) Jakementie Jemima Williamson & George Duckworth
|    |    (3.1) George Duckworth (1741 – 1822) & Mary (c.1743 – 1840)
|    |    (3.2) John Duckworth (1742 – 1822) & Jane
Wolverton

(1745 – 1822)
|    |    (3.3) Margaret Duckworth
|    (2.5) Abraham Williamson & Hendrikje
|    |    (3.1) Eleanor Neeltje Williamson (c.1754 – )
|    |    (3.2) Derrick Dirck Williamson (c.1756 – )
Fourth Generation:
|    (2.1) William Williamson Sr. & Patience Hull
|    |    (3.1) Margaret Grietje Williamson & 1) Daniel Larew
|    |    |    (4.1) James Larew (c.1755 – 1822) & Unknown (c.1760 – bef. 1817)
|    |    |    (4.2) Abraham Larew (c.1755 – after 1792) & Hannah Hull (c.1758 – )
|    |    |    (4.3) Catharine Larew (c.1760 – ) & Thomas
Lake

(1758 – c.1821)
|    |    |    (4.4) Mary Larew (c.1760 – )
|    |    (3.1) Margaret Grietje Williamson & 2) John Hull
|    |    |    (4.5) Moicah Hull (c.1770 – ) & Jacob Boughner (c.1770 – )
|    |    (3.2) Cornelius Williamson & Bernice Unknown
|    |    |    (4.1) Patience Williamson (1768 – bef. 1782)
|    |    |    (4.2) William Williamson (1769 – 1848)
|    |    |    (4.3) Cornelius Williamson (1771 – 1835) & Sarah
Hoppock

(1779 – 1813)
|    |    |    (4.4) Bernice Williamson (1775 – 1868) & Jacob

Hoppock

(1775 – 1866)
|    |    |    (4.5) Asher Williamson [Sr] (1777 – 1860)
|    |    |    (4.6) Joseph Williamson (1780 – after 1831)
|    |    |    (4.7) Patience Williamson (1782 – ) & George Walldrof (c.1780 – after 1831)
|    |    |    (4.8) Moykee Williamson (1785 – 1868)
|    |    (3.3) Samuel Williamson & 1) Margaret Grethe DeHart
|    |    |    (4.1) William Williamson (1759 – 1835) & Helena Lena Terhune (1763 – 1842)
|    |    |    (4.2) Cornelius Williamson (c.1761 – 1818)
|    |    |    |    |   m. 1) Styntje Demott (c.1757 – after 1797)
|    |    |    |    |   m. 2) Elizabeth Pittenger (c.1775 – 1841)
|    |    |    (4.3) Peter Petrus Williamson (1763 – 1844)
|    |    |    |    |   m. 1) Charity Gulick (1765 – 1804)
|    |    |    |    |   m. 2) Jane Britton (1787 – 1854)
|    |    |    (4.4) Maycke Williamson (1766 – 1845) & Abraham Terhune Jr. (c.1760 – 1854)
|    |    |    (4.5) Anne Antje Williamson (1768 – 1846) & Daniel Terhune (1758 – 1843)
|    |    |    (4.6) John Williamson (c.1777 – )
|    |    |    (4.7) Jacob Williamson (c.1780 – )
|    |    (3.3) Samuel Williamson & 2) Eleanor Williamson
|    |    |    (4.8) Margaret Williamson (1783 – 1865) & Abraham Deats (1782 – 1869)
|    |    |    (4.9) Elizabeth Williamson (1785 – 1858) & Gideon Hendrickson (1785 – 1872)
|    |    |    (4.10) Eleanor Williamson (1788 – )
|    |    |    (4.11) Ann Williamson (c.1790 – after 1825) & Andrew McClary (c.1790 – )
|    |    (3.4) William Williamson & Elizabeth Russell
|    |    |    (4.1) John Williamson (c.1770 – 1824)
|    |    |    (4.2) Abraham Williamson (c.1775 – )
|    |    (3.7) Moykee Moicah Williamson & Richard
Heath


|    |    |    (4.1) Richard Williamson Heath (1770 – 1850) & Susan E.

Rittenhouse

(1782 – 1837)
|    (2.3) Cornelius Williamson & Elizabeth
|    |    (3.1) Eleanor Williamson & 1) Gesbard Gilbert Gulick
|    |    |    (4.1) Sarah Gulick (1763 – ) & Cornelius
Williamson

(1764 – )
|    |    |    (4.2) Charity Gulick (1765 – 1804) & Peter Petrus

Williamson

(1763 – 1844)
|    |    |    (4.3) Cornelius Gulick (1767 – after 1818) & Mary ( – after 1818)
|    |    |    (4.4) Derrick Gulick (1769 – 1779)
|    |    |    (4.5) Anna Gulick (1771 – )
|    |    |    (4.6) Henry Gulick (1773 – 1816) & Rachel Hartman (c.1775 – 1859)
|    |    |    (4.7) Peter Gulick (1776 – 1779
|    |    |    (4.8) Abraham Gulick (1779 – ) & Mary Young (1772 – )
|    |    |    (4.9) Catherine Gulick (1771 – )
|    |    (3.1) Eleanor Williamson & 2) Samuel

Williamson


|    |    |    (4.10) Margaret Williamson (1783 – 1865) & Abraham Deats (1782 – 1869)
|    |    |    (4.11) Elizabeth Williamson (1785 – 1858) & Gideon Hendrickson (1785 – 1872)
|    |    |    (4.12) Eleanor Williamson (1788 – )
|    |    |    (4.13) Ann Williamson (c.1790 – after 1825) & Andrew McClary (c.1790 – )
Fifth Generation:
|    (2.1) William Williamson Sr. & Patience Hull
|    |    (3.2) Cornelius Williamson & Bernice Unknown
|    |    |    (4.3) Cornelius Williamson & Sarah
Hoppock


|    |    |    |    (5.1) Catharine Williamson (1803 – 1891) & John

Buchanan

iii (1800 – 1890)
|    |    |    |    (5.2) Bernice Williamson (1804 – )
|    |    |    |    (5.3) Anna Williamson (1805 – )
|    |    |    |    (5.4) Cornelius Williamson (1806 – 1890) & Mary

Hoppock

(1806 – 1887)
|    |    |    |    (5.5) Peter Williamson (1808 – )
|    |    |    |    (5.6) Sarah Ann Williamson (1809 – 1853) & Samuel Arnwine

Carrell

(1814 – 1861)
|    |    |    |    (5.7) William W. Williamson (1811 – 1901) & Sarah Young (c.1823 – after 1880)
|    |    |    |    (5.8) Asher Williamson [Jr.] (1812 – )
|    |    |    (4.4) Bernice Williamson & Jacob
Hoppock


|    |    |    |    (5.1) Cornelius Williamson Hoppock (1803 – 1879) & Mary Philipina Snyder (1809 – 1887)
|    |    |    |    (5.2) Mary Hoppock (1806 – 1887) & Cornelius

Williamson

(1806 – 1890)
|    |    |    |    (5.3) Patience Hoppock (1808 – 1869)
|    |    |    |    (5.4) John Williamson Hoppock (1810 – 1874) & Elizabeth Sassaman (1822 – 1871)
|    |    |    |    (5.5) Sarah Hoppock (1812 – 1894) & Tobias Walter (1818 – 1901)
|    |    |    |    (5.6) Moykee Hoppock (~1816 – 1845) & Jacob Morgan Vanderbelt (1817 – 1883)
|    |    (3.3) Samuel Williamson & 1) Margaret Grethe DeHart
|    |    |    (4.1) William Williamson & Helena Lena Terhune
|    |    |    |    (5.1) Samuel Williamson (1785 – )
|    |    |    |    (5.2) John Williamson (1787 – 1877) & Jemima Dalrymple (1788 – 1847)
|    |    |    |    (5.3) William Williamson (1792 – 1874)
|    |    |    (4.2) Cornelius Williamson & 1) Styntje Demott
|    |    |    |    (5.1) William Williamson (1782 – 1854) & Jacamintie Jemima Vroom (1792 – 1872)
|    |    |    |    (5.2) John W. Williamson (1785 – 1820) & Anna M. Hagerman (1782 – 1859)
|    |    |    |    (5.3) Anne Williamson (1788 – 1846)
|    |    |    |    (5.4) Rev. Abraham Williamson (1790 – 1869) & Sarah W. Hedges (1796 – 1874)
|    |    |    |    (5.5) Mary Williamson (c.1792 – bef. 1846) & Peter Coxe (1784 – 1850)
|    |    |    |    (5.6) Cornelius Williamson (1795 – 1854) & Ann Creveling (1789 – 1851)
|    |    |    |    (5.7) Richard Williamson (1797 – 1876) & Catherine Gulick (1797 – 1886)
|    |    |    (4.2) Cornelius Williamson & 2) Elizabeth Pittenger
|    |    |    |    (5.8) Eliza Williamson (c.1812 – 1857) & Joseph P. Boss Jr. (1803 – 1888)
|    |    |    (4.3) Peter Petrus Williamson & 1) Charity Gulick
|    |    |    |    (5.1) John Williamson (1785 – bef. 1843) & Anna Bellows (c.1785 – )
|    |    |    |    (5.2) Gilbert Williamson* (1787 – 1865)
|    |    |    |    |    |   m. 1) Elizabeth Ann
Rounsaville

(1791 – 1841)
|    |    |    |    |    |   m. 2) Hannah (c.1797 – )
|    |    |    |    (5.3) Samuel Williamson (1789 – after 1850) & Elizabeth Bird (c.1790 – after 1850)
|    |    |    |    (5.4) Margaret Williamson (1792 – after 1870) & John Hanna (1774 – 1823)
|    |    |    |    (5.5) Cornelius Williamson (1793 – 1852) & Mahala Bishop (c.1797 – 1870)
|    |    |    |    (5.6) Eleanor Williamson (1795 – 1893) & Jared Golden (1791 – 1872)
|    |    |    |    (5.7) Mahlon Williamson (1798 – after 1860) & Margaret Stout (c.1800 – 1861)
|    |    |    |    (5.8) Amy Williamson (1800 – ) & George Cobb (c.1801 – 1870)
|    |    |    |    (5.9) Elizabeth Williamson (1800 – ) & William West (c.1795 – bef. 1860)
|    |    |    |    (5.10) Charity Williamson (1804 – 1806)
|    |    |    (4.3) Peter Petrus Williamson & 2) Jane Britton
|    |    |    |    (5.11) Charity Williamson (1809 – 1891) & Dea. Cornelius

Myers

(1806 – 1891)
|    |    |    |    (5.12) Peter Williamson (1812 – ) & Henrietta Nutt
|    |    |    |    (5.13) Phoebe Williamson (1815 – ) & George Huffman (c.1795 – )
|    |    |    |    (5.14) Britton Williamson (1818 – )
|    |    |    |    (5.15) William Williamson (1820 – )
|    |    |    |    (5.16) Jane Williamson (1823 – ) & George C. Vancamp (c.1832 – 1902)
|    |    |    |    (5.17) Abraham D. H. Williamson (1826 – )
|    |    |    (4.4) Maycke Williamson & Abraham Terhune Jr.
|    |    |    |    (5.1) Samuel Terhune (c.1789 – )
|    |    |    |    (5.2) Mary Terhune (c.1791 – )
|    |    |    (4.5) Anne Antje Williamson & Daniel Terhune
|    |    |    |    (5.1) Margaret Terhune (c.1788 – )
|    |    |    |    (5.2) Mary Terhune (c.1791 – )
|    |    (3.3) Samuel Williamson & 2) Eleanor Williamson
|    |    |    (4.9) Elizabeth Williamson & Gideon Hendrickson
|    |    |    |    (5.1) Eleanor Hendrickson & Henry
Hoagland

(c.1815 – )
|    |    |    (4.11) Ann Williamson & Andrew McClary
|    |    |    |    (5.1) Sally Ann McClary (c.1820 – ) & Jacob Cooke (c.1815 – )
|    |    |    |    (5.2) Mary McClary (c.1810 – ) & Elijah Hummel Jr. (1808 – )
Sixth Generation:
|    (2.1) William Williamson Sr. & Patience Hull
|    |    (3.2) Cornelius Williamson & Bernice Unknown
|    |    |    (4.3) Cornelius Williamson & Sarah
Hoppock


|    |    |    |    (5.1) Catharine Williamson & John

Buchanan

iii
|    |    |    |    |    (6.1) Sarah Ann Buchanan (1826 – 1901)
|    |    |    |    |    |    |   m. 1) Benjamin Franklin German (c.1825 – bef. 1860)
|    |    |    |    |    |    |   m. 2) Daniel Bloom (1822 – 1899)
|    |    |    |    |    (6.2) Cornelius W. Buchanan (1828 – 1902) & Amy Brittain Lewis (c.1830 – 1906)
|    |    |    |    |    (6.3) Elizabeth Furman Buchanan (1829 – 1926) & Napoleon Bonaparte German (1813 – 1856)
|    |    |    |    |    (6.4) John Hoppock Buchanan (1830 – 1907)
|    |    |    |    |    |    |   m. 1) Elizabeth Carkhuff (1833 – 1870)
|    |    |    |    |    |    |   m. 2) Editha Bush (1850 – 1923)
|    |    |    |    |    (6.5) Harriet Susan Buchanan (1832 – 1885) & John C. Hillier (1828 – 1883)
|    |    |    |    |    (6.6) Catherine B. Buchanan (1834 – 1926) & Edward Hillier (1833 – 1906)
|    |    |    |    |    (6.7) Euphemia Fanny Buchanan (1836 – 1838)
|    |    |    |    |    (6.8) Amy Buchanan (1839 – 1904)
|    |    |    |    |    |    |   m. 1) Izer Isaiah G.

Rake

(1837 – 1875)
|    |    |    |    |    |    |   m. 2) William

Swallow

(1820 – 1908)
|    |    |    |    |    (6.9) Margaret Buchanan (1842 – 1917) & Gershom McPherson (1842 – 1906)
|    |    |    |    |    (6.10) Peter D. Buchanan (1843 – 1922) & Angeline

Moore

(1835 – 1925)
|    |    |    |    |    (6.11) George Buchanan (1845 – 1856)
|    |    |    |    |    (6.12) Mary Buchanan (1848 – 1856)
|    |    |    |    (5.4) Cornelius Williamson & Mary
Hoppock


|    |    |    |    |    (6.1) son Williamson (1838 – 1838)
|    |    |    |    |    (6.2) Bernice Williamson (1839 – 1864)
|    |    |    |    |    (6.3) Asher Voorhees Williamson (1841 – 1926) & Anna Jane Hummer (1842 – 1929)
|    |    |    |    |    (6.4) Jacob H. Williamson (1844 – 1906)
|    |    |    |    |    (6.5) Cornelius Williamson (1846 – 1915) & Mary J. (~1842 – )
|    |    |    |    |    (6.6) Israel P. Williamson (1850 – 1932)
|    |    |    |    (5.6) Sarah Ann Williamson & Samuel Arnwine
Carrell


|    |    |    |    |    (6.1) Sarah Elizabeth Carrell (1838 – 1923) & Alpheus

Bonham

(1821 – 1898)
|    |    |    |    |    (6.2) Micah Williamson Carrell (1839 – 1899) & Lewis Cline (1826 – 1908)
|    |    |    |    |    (6.3) Cornelius Williamson Carrell (~1840 – ~1840)
|    |    |    |    |    (6.4) Mary Ann Carrell (1843 – 1886) & Moses

Bonham

(1828 – 1898)
|    |    |    |    |    (6.5) Samuel Arnwine Carrell Jr. (1843 – 1911) & Mary Jane Hawk (1833 – 1900)
|    |    |    |    |    (6.6) Patience M. Carrell (1844 – <1850)
|    |    |    |    |    (6.7) Margaret Arnwine Carrell (1845 – 1928)
|    |    |    |    |    (6.8) Asher Williamson Carrell (1848 – 1923) & Elizabeth B.

Sutton

(1850 – 1917)
|    |    |    |    |    (6.9) Rachel Jane Carrell (1850 – 1933)
|    |    |    |    |    (6.10) Elisha Warford Carrell (1851 – 1851)
|    |    |    |    (5.7) William W. Williamson & Sarah Young
|    |    |    |    |    (6.1) John William Williamson (1844 – 1930) & Sarah Reed (1849 – 1932)
|    |    |    |    |    (6.2) Joseph Williamson (1847 – 1901) & Matilda Myers (1851 – 1911)
|    |    |    |    |    (6.3) Sarah Ann Williamson (1849 – )
|    |    |    |    |    (6.4) Moyke Williamson (1855 – 1930)
|    |    |    |    |    |    |   m. 1) John K. Shurts (1856 – c.1900)
|    |    |    |    |    |    |   m. 2) Erva McLain
|    |    |    |    |    (6.5) Cornelius Williamson (1861 – 1919) & Anna Pernia Bacorn (1877 – 1925)
|    |    |    |    |    (6.6) Peter Williamson (1865 – 1940) & Bertha Alvina Franklin (1868 – 1932)
|    |    |    |    |    (6.7) Theodore H. Williamson (1866 – 1908) & Cora May VanPelt (1878 – 1951)
|    |    (3.3) Samuel Williamson & 1) Margaret Grethe DeHart
|    |    |    (4.1) William Williamson & Helena Lena Terhune
|    |    |    |    (5.3) William Williamson & unknown
|    |    |    |    |    (6.1) James H. Williamson (1831 – 1906)
|    |    |    (4.2) Cornelius Williamson & 1) Styntje Demott
|    |    |    |    (5.1) William Williamson & Jacamintie Jemima Vroom
|    |    |    |    |    (6.1) Elizabeth Williamson
|    |    |    |    (5.6) Cornelius Williamson & Ann Creveling
|    |    |    |    |    (6.1) Jacob C. Williamson (1824 – 1909) & Susan Ewing (1820 – 1892)
|    |    |    |    |    (6.2) Charles Williamson (c.1832 – )
|    |    |    |    (5.7) Richard Williamson & Catherine Gulick
|    |    |    |    |    (6.1) John H. J. Williamson (c.1833 – )
|    |    |    |    |    (6.2) Ellen Eleanor Williamson (c.1835 – ) & Thomas Reading Hibbs (c.1836 – )
|    |    |    (4.2) Cornelius Williamson & 2) Elizabeth Pittenger
|    |    |    |    (5.8) Eliza Williamson & Joseph P. Boss Jr.
|    |    |    |    |    (6.1) Peter Boss (1838 – 1917) & Henrietta H. Biddle (1838 – 1924)
|    |    |    |    |    (6.2) Abraham Williamson Boss (1842 – 1914) & Helen Marsh Stansbury (1849 – )
|    |    |    |    |    (6.3) Emily Boss (c.1842 – ) & Robert B. Hummer
|    |    |    |    |    (6.4) A. Victor Boss (c.1848 – 1880)
|    |    |    (4.3) Peter Petrus Williamson & 1) Charity Gulick
|    |    |    |    (5.2) Gilbert Williamson & 1) Elizabeth Ann
Rounsaville


|    |    |    |    |    (6.1) Lambert Williamson
|    |    |    |    |    (6.2) Mahlon Williamson (1819 – 1905) & Lydia Ford (1833 – 1924)
|    |    |    (4.3) Peter Petrus Williamson & 2) Jane Britton
|    |    |    |    (5.11) Charity Williamson & Dea. Cornelius
Myers


|    |    |    |    |    (6.1) Sarah Jane Myers (c.1836 – ) & Hiram Stout
|    |    |    |    |    (6.2) Ephraim R. Myers (1837 – 1924) & Cornelia A.

Fox

(1837 – 1910)
|    |    |    |    (5.16) Jane Williamson & George C. Vancamp
|    |    |    |    |    (6.1) Thomas Vancamp (c.1856 – )