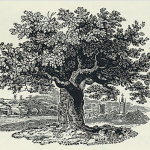 The Arnwines of Hunterdon County begin with the immigrant, Jacob Arnwine and his son John Arnwine, who immigrated from Holland. For more on this family, see "Bridge To The Past," a four-volume family history, written about 1989, by Aimee Berniece Wilson, which includes "The Arnwine History" by Rev. K.E. Irvin.
Keep in mind that I list the children of daughters, but not their grandchildren. And additions and corrections are welcome. Please add them to the Comments section below.
First Generation:
(1) Jacob Arnwine (c.1710 – after 1767)
Jacob Arnwine's spouse is not known. In 1767 he went into debt and his property was sold at a sheriff's sale. I do not know what happened to him after that.
Second Generation:
|     (2) John Arnwine Sr. (c.1735 – 1819) & Elizabeth Opdycke (1738 – 1837)
Elizabeth Opdycke was the daughter of John Opdycke and Margaret Green. It was John Opdycke who purchased Jacob Arnwine's farm of 119.75 acres at the Sheriff's sale of Arnwine's property.
The next four children left Amwell Township. I have no further information on them.
|     (2) Albertus Arnwine (c.1746 – ?)
|     (2) __ Arnwine (c.1748 – ?) & __ Pursel
|     (2) Conrad Arnwine (c.1750 – c.1819) & Juliana Sabercool (c.1755 – 1799)
|     (2) Jacob Arnwine (c.1757 – 1809) & Catherine Julian Weltz (c.1760 – c.1851)
Third Generation:
|     (2) John Arnwine Sr. & Elizabeth Opdycke
|     |     (3) John Arnwine (c.1760 – 1831), died unmarried
|     |     (3) Samuel Arnwine (c.1762 – c.1821) & Sarah Jones, no information
|     |     (3) George Arnwine (1772 – 1832)
|     |     |     m. 1) Catherine White (c.1775 – bef. 1837)
|     |     |     m. 2) Margaret (c.1795 – 1861) – not sure if she was a wife or a daughter
|     |     (3) Mary Arnwine (1775 – 1818) & Elisha Warford (1785 – 1872)
|     |     (3) Margaret Arnwine (c.1779 – 1855)
|     |     |     m. 1) John Case (c.1775 – c.1801)
|     |     |     m. 2) Samuel Buchanan (c.1764 – 1846)
|     |     (3) Jacob Arnwine (c.1782 – aft 1850) & Elizabeth Skillman (c.1780 – bef. 1850)
|     |     (3) Elizabeth Arnwine (c.1789 – 1867)
|     |     |     m. 1) Daniel Carrell (1765 – 1817)
|     |     |     m. 2) Elisha Warford (1785 – 1872)
Fourth Generation:
|     (2) John Arnwine Sr. & Elizabeth Opdycke
|     |     (3) Samuel Arnwine & Sarah Jones
|     |     |     (4) Nancy Arnwine (c.1790 – ?) no further information
|     |     (3) George Arnwine & Catherine White
|     |     |     (4) Charles Arnwine (c.1800 – 1829) & Mary L. Waterhouse (c.1806 – 1850)
|     |     |     (4) Frances Arnwine (1813 – 1880) & Peter Stryker (c.1810 – ?)
|     |     |     (4) Opdycke Arnwine (1810 – 1884) & Sarah Bethany Trimmer (1826 – 1896)
|     |     |     (4) Jacob Arnwine (c.1815 – ?) & Catharine E. Buchanan (c.1819 – ?) no further information
|     |     |     (4) George T. Arnwine (1817 – 1892) & Nancy Opdycke (1817 – 1874)
|     |     (3) Mary Arnwine & Elisha Warford
|     |     |     (4) Rachel Warford (1807 – c.1808)
|     |     |     (4) James Warford (1809 – c.1810)
|     |     |     (4) Mary Ann Warford (1815 – 1892) & Benjamin Harvey Ellicott (1809 – 1863)
|     |     (3) Margaret Arnwine & Samuel Buchanan
|     |     |     (4) Jacob Fulper Buchanan (1804 – 1894) & Mary Gordon (1807 – 1882)
|     |     |     (4) Jane C. Buchanan (1809 – 1893) & Asher Fulper (1810 – 1895)
|     |     |     (4) Catharine Buchanan (1807 – 1889/90) & John P. Yawger (1801 – 1858)
|     |     (3) Jacob Arnwine & Elizabeth Skillman
|     |     |     (4) Margaret Arnwine (c.1807 – ?) no further information
|     |     (3) Elizabeth Arnwine & 1) Daniel Carrell – See The Carrell Family Tree
|     |     |     (4) John Arnwine Carrell (1810 – 1895) & Amy Myers (1813 – 1888)
|     |     |     (4) Sarah Carrell (1811 – 1882)
|     |     |     |     m. 1) Isaac M. Larew (c.1800 – 1838)
|     |     |     |     m. 2) Henry S. Kline (1815 – 1897)
|     |     |     (4) James Carrell (1812 – 1874) & Frances Fanny Opdycke (1813 – 1896)
|     |     |     (4) Samuel Arnwine Carrell (1814 – 1861) & Sarah Ann Williamson (1809 – 1853)
|     |     |     (4) Daniel Carrell Jr. (1815 – 1899) & Keturah H. Bird (1824 – 1903)
|     |     (3) Elizabeth Arnwine & 2) Elisha Warford
|     |     |     (4) Rachel Margaret Warford (1822 – c.1830)
Fifth Generation:
|     (2) John Arnwine Sr. & Elizabeth Opdycke
|     |     (3) George Arnwine & Catherine White
|     |     |     (4) Frances Arnwine & Peter Stryker
|     |     |     |     (5) Mary Catherine Stryker (1835 – 1902) & Shf Wesley Bellis (1822 – 1884)
|     |     |     |     (5) George Stryker (1842 – 1925) & Caroline M. Brink (1846 – 1909)
|     |     |     |     (5) Elizabeth Stryker (c.1845 – ?) & Simeon R. Opdycke (1841 – ?)
|     |     |     |     (5) Keziah Stryker (c.1847 – ?)
|     |     |     |     (5) Frances Stryker (c.1849 – ?)
|     |     |     (4) Opdycke Arnwine & Sarah Bethany/Parthania Trimmer
|     |     |     |     (5) George T. Arnwine (1840 – after 1910) & Sarah T. Bush (1843 – after 1910)
|     |     |     |     (5) Hon. John C. Arnwine (1843 – 1930) & Sarah E. Vanderbilt (1844 – 1915)
|     |     |     |     (5) Albert Judson Arnwine (1850 – 1909)
|     |     |     |     |     m. 1) Sarah Ann Allegar (c.1845 – bef. 1875)
|     |     |     |     |     m. 2) Emma J. Allegar (1853 – ?)
|     |     |     |     (5) Thomas Arnwine (1846 – )
|     |     |     |     |     m. 1) Anna E. (c.1847 – after 1880)
|     |     |     |     |     m. 2) Christiana L. Picker (c.1848 – ?) – these two spouses may be the same
|     |     |     |     (5) Perthamy Catherine Arnwine (1852 – 1854)
|     |     |     |     (5) Mary Arnwine (c.1854 – 1854)
|     |     |     |     (5) Susan E. Arnwine (c.1855 – after 1900) & Joseph S. Warne (1846 – after 1900)
|     |     |     |     (5) Artense Arnwine (1858 – 1886)
|     |     |     |     (5) Keziah Arnwine (1866 – 1922) & Joseph Barrick (1862 – 1925)
|     |     |     |     (5) Chamberlain Arnwine (1864 – 1918) & Emma Burgstresser (1865 – 1960)
|     |     |     |     (5) Uriah Arnwine (c.1867 – ?)
|     |     |     |     (5) Uralia C. Arnwine (1869 – 1909) & William M. Gordon (1855 – 1931)
|     |     |     (4) George T. Arnwine & Nancy Opdycke
|     |     |     |     (5) Margaret Arnwine (1838 – 1895)
|     |     |     |     |     m. 1) Asa R. Sine (1837 – 1865)
|     |     |     |     |     m. 2) George D. Conklin (c.1838 – after 1870)
|     |     |     |     (5) Charles Arnwine (1840 – 1898) & Josephine Lawrence (1846 – 1933)
|     |     |     |     (5) Arietta Arnwine (1845 – 1898) & William Taylor Barber (1841 – 1910)
|     |     |     |     (5) Dunham Conklin Arnwine (1850 – 1866)
|     |     |     |     (5) Lillian Arnwine (1852 – ) & Harlem G. Chamberlin (1850 – 1912)
|     |     |     |     (5) Thania Arnwine (c.1857 – after 1920) & David Miller Jones (c.1855 – after 1920)