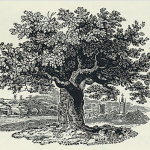 The first of the Poulson family to appear in Hunterdon County was Rev. Israel Poulson, born in Somerset County. He must have arrived in Hunterdon by the mid 1790s, for he married a Hunterdon woman, Esther Moore, about 1794.
Rev. Israel Poulson was one of those people with enormous influence on those who lived anywhere near him. He must have been fairly charismatic, considering how many people who were named after him. There are ten that I am aware of, not including his son Israel P. Poulson, Jr.
Israel P. Waterhouse (c.1800-?)
Israel P. Brewer (1818 – 1852), grandson
Israel P. Wagner (1829-1852), grandson
Israel P. Hoppock (1830-1895)
Israel P. Poulson (1843-1923), grandson
Israel P. LaRue (c.1850-?)
Israel P. Williamson (1850-1932)
Israel P. Trimmer (1854-1888)
Israel P. German (1857-1863)
Israel P. Huffman (c.1861-1944)
Israel P. Shepherd (1863-1953)
Israel Poulson, Sr. did not become minister to the Amwell German Baptist Church, known as the Dunkards, until about 1810, when he was 40 years old. His first appearance in Hunterdon County land records is in 1801, when he gave Abraham Hagaman a receipt for construction of a house and barn.1
His first wife was Esther Moore, daughter of Daniel Moore and Catharine Stout. She died childless, shortly after her marriage, when she was only 24. Poulson's second wife Hannah Moore was Esther's step-sister, daughter of Daniel Moore and his second wife Elizabeth Rouser. She and Israel Poulson married in 1797.
First Generation:
(1) Rev. Israel Poulson (1770 – 1856) & Hannah Moore (1776 – 1839)
Possible sister?
(1) Rachel P. Poulson (c.1778 – 1811) & Elias Hubbard Conover Esq. (1796 – 1871)2
Second Generation:
|     (2.1) Hester M. Poulson (1798 – 1843) & Thomas West Brewer (1792 – 1857)
|     (2.2) Charles Poulson (1802 – 1885) & Sarah (c.1805 – after 1885)3
|     (2.3) Elizabeth Rouser Poulson (1805 – 1889) & Jacob Wagner (1802 – 1879)
|     (2.4) John Poulson (1810 – 1873) & Sarah J. Carkhuff (1813 – 1893)
|     (2.5) Daniel Poulson (1813 – 1890) & Lucy Emley Opdycke (1813 – 1898)
|     (2.6) Rhoda Poulson (1815 – 1874) & Paul K. Hoffman (1816 – 1895), m. 18404
|     (2.7) James P. Poulson (1818 – 1856)
|     |     m. 1) Rachel S. Trimmer (c.1822 – 1844), no children
|     |     m. 2) Mary ?
|     (2.8) Rev. Israel J. Poulson Jr. (1821 – 1896) & Harriet Johnson (1821 – 1908)
Third Generation:
|     (2.1) Hester M. Poulson & Thomas West Brewer
|     |     (3.1) Israel P. Brewer (1818 – 1852) & Elizabeth Runyon (c.1815 – 1843)
|     |     (3.2) William P. Brewer (1820 – 1871) & Susan M. Ott (c.1825 – ?), left Hunterdon
|     |     (3.3) Lorenzo D. Brewer (1823 – 1909) & Hannah Rittenhouse (1827 – 1895)
|     |     (3.4) Charles Poulson Brewer (1824 – 1907) & Mary Ann Hellerman
|     |     (3.5) Harriet P. Brewer (1826 – ?), no information
|     |     (3.6) Jerusha A. Brewer (1828 – 1914) & William Oscar Stout (1821 – 1907)
|     |     (3.7) Rachel P. Brewer (1831 – ?), no information
|     |     (3.8) George P. Brewer (1834 – 1837)
|     |     (3.9) David C. Brewer (1837 – ?) & Mary E. (c.1839 – ?)
|     |     (3.10) John Brewer (c.1839 – 1910) & Corinda A. __ (1841 – 1934)
|     |     (3.11) Hannah Elizabeth Brewer (1841 – 1842)
|     |     (3.12) Cornelia Brewer (c.1841 – ?), no further information
|     (2.3) Elizabeth Rouser Poulson & Jacob Wagner
|     |     (3.1) Catharine Wagner & Christopher Kuhl Johnson (1821 – 1911)
|     |     (3.2) Israel P. Wagner (1829 – 1852 LAOY), never married
|     |     (3.3) Hannah P. Wagner (1833 – 1916) & Paul Kuhl Hoffman (1816 – 1895), m. 1875
|     |     (3.4) Elizabeth Wagner (c.1836 – ?) & Daniel E. Polts, no information
|     |     (3.5) Sarah R. Wagner (1840 – 1903) & Peter Hulsizer (1833 – 1910)
|     |     (3.6) Rhoda H. Wagner (c.1843 – after 1920), never married
|     |     (3.7) George W. Wagner (1846 – 1927) & Ellen E. Merrell (1852 – 1914)
|     |     (3.8) Rachel P. Wagner (c.1850 – after 1920), never married
|     (2.4) John Poulson & Sarah J. Carkhuff
|     |     (3.1) John Poulson (1836 – 1902) & Catherine Opdycke (1834 – 1916)
|     |     (3.2) Margaretta Poulson (1840 – 1916)
|     |     (3.3) Rachel Poulson (1842 – 1842)
|     |     (3.4) Caroline Poulson (1851 – 1923) & Samuel Foreman Martindell (1842 – 1898)
|     (2.5) Daniel Poulson & Lucy Emley Opdycke
|     |     (3.1) Israel P. Poulson (1843 – 1923) & Catherine Rebecca Gerry (1854 – 1923), left H.C.
|     |     (3.2) George L. Opdycke Poulson (1844 – 1912 LAOY) & Ella G. Gaddis (1848 – after 1910)
|     |     (3.3) Charles Poulson (1846 – 1847 LAOY)
|     |     (3.4) Hannah Rebecca Poulson (1847 – 1914 LAOY) & Asa Robbins (1845 – 1916)
|     |     (3.5) Charles Poulson (1848 – 1930) & Laura __ (1880 – 1933)
|     |     (3.6) Winfield Scott Poulson (1851 – 1940) & Sarah E. Thatcher Reading (1857 – 1942)
|     |     (3.7) John Baker Poulson (1853 – after 1930) & Mary J. Shepherd (1857 – 1920)
|     |     (3.8) Daniel K. Poulson (1856 – 1920) & Lillie Robinson (1865 – 1949)
|     (2.6) Rhoda Poulson & Paul K. Hoffman
|     |     (3.1) Charles P. Hoffman (1844 – 1930) & Mary Ellen Titus (1852 – 1925)
|     |     (3.2) Hannah Elizabeth Hoffman (c.1848 – 1898 LANY) & George T. Thatcher (1842 – 1890)
|     |     (3.3) Anna Hoffman (1856 – 1947) & Henry S. VanDyke (1858 – 1943)
|     (2.7) James P. Poulson & Rachel S. Trimmer
|     |     (3.1) George A. Poulson (c.1843 – 1882) & Amy Hockenbury (1846 – 1926)
|     (2.8) Rev. Israel J. Poulson Jr. & Harriet Johnson
|     |     (3.1) Urania J. Poulson (1844 – 1926) & Andrew R. Dilts (1842 – 1908)
|     |     (3.2) infant Poulson (1847 – 1847 LAOY)
|     |     (3.3) William J. Poulson (1848 – 1848 LAOY)
|     |     (3.4) William J. Poulson (1849 – 1834) & Emma A. Hudnit (1849 – 1926)
Fourth Generation:
|     (2.1) Hester M. Poulson & Thomas West Brewer
|     |     (3.1) Israel P. Brewer & Elizabeth Runyon
|     |     |     (4.1) Sarah R. Brewer (1842 – 1842 LAOY)
|     |     |     (4.2) Esther Brewer (1843 – ?)
|     |     (3.2) William Poulson Brewer & Susan M. Ott, left Hunterdon
|     |     |     (4.1) Hon. John Hart Brewer (1844 – 1900) & Julia __ (c.1840 – ?)
|     |     |     (4.2) Anna Ott Brewer (1855 – after 1910) & James C. Thomas (c.1852 – ?), divorced
|     |     |     (4.3) Charles A. Brewer (1860 – 1903) & Anna L. Muirhead (1864 – 1890)
|     |     (3.3) Lorenzo D. Brewer & Hannah Rittenhouse
|     |     |     (4.1) Abijah Rittenhouse Brewer (1847 – 1919) & ?
|     |     |     (4.2) Wilson T. Brewer (1848 – aft 1890) & Martha J. Van Renssalaer
|     |     |     (4.3) Mary Esther Brewer (1851 – 1852)
|     |     |     (4.4) Ida A. Brewer (1857 – 1936) & George Hartpence (c.1845 – 1913)
|     |     |     (4.5) Allie/Alice B. Brewer (1857 – 1935) & John C. Hart (1856 – 1949)
|     |     |     (4.6) Sarah Etta Brewer (1862 – 1954) & Oliver N. Roberson (1859 – 1907)
|     |     (3.6) Jerusha A. Brewer & Wm Oscar Stout, left H.C.
|     |     |     (4.1) Charles Edward Stout (1847 – 1851)
|     |     |     (4.1) Rachel Caroline Stout (1850 – 1932) & Wm H. Young (1844 – 1929)
|     |     |     (4.1) Mary Alice Stout (1853 – 1950) & John Simpson VanDyke (1853 – 1950)
|     |     |     (4.1) Serena Bertha Stout (1866 – )
|     (2.3) Elizabeth Rouser Poulson & Jacob Wagner
|     |     (3.1) Catharine Wagner & Christopher Kuhl Johnson
|     |     |     (4.1) Elizabeth Wagoner Johnson (1860 – ?) & Clarence James Hamilton (1849 – ?)
|     |     |     (4.2) Jacob Wagoner Johnson (1863 – 1909)
|     |     |     (4.3) John Grandin Reading Johnson (1868 – 1945) & Catherine C. Smith (1870 – 1951)
|     |     |     (4.4) Mary J. Johnson (1872 – 1963)
|     |     (3.5) Sarah R. Wagner & Peter Hulsizer
|     |     |     (4.1) Rachel W. Hulsizer (1867 – 1920), never married
|     |     |     (4.2) George W. Hulsizer (1872 – 1919) & Ida D. Abbott (1876 – 1963)
|     |     |     (4.3) John Chamberlain Hulsizer (1874 – after 1930), never married
|     |     |     (4.4) Jacob W. Hulsizer (1876 – 1926), never married
|     (2.4) John Poulson & Sarah J. Carkhuff
|     |     (3.1) John Poulson & Catherine Opdycke
|     |     |     (4.1) Joseph Poulson (1859 – after 1940) & Catherine W. (c.1861 – bef. 1940)
|     |     |     (4.2) Georgeanna Poulson (1861 – after 1930) & Henry Hetzel (1861 – after 1930)
|     |     |     (4.3) Charles Poulson (c.1864 – 1945), unmarried
|     |     (3.4) Caroline Poulson & Samuel Foreman Martindell
|     |     |     (4.1) Samuel L. Martindell (1888 – 1893)
|     (2.5) Daniel Poulson & Lucy Emley Opdycke
|     |     (3.2) George L. Opdycke Poulson & Ella G. Gaddis
|     |     |     (4.1) Mattie Hart Poulson (1872 – 1937) & Frank Julius Eppele (1864 – 1936)
|     |     (3.4) Hannah Rebecca Poulson & Asa Robbins
|     |     |     (4.1) Judge Adam Opdycke Robbins (1876 – after 1940)
|     |     |     |     m. 1) Marion Blackwell Hunt (1893 – )
|     |     |     |     m. 2) Bertha Hunt
|     |     |     (42) Infant Robbins (1879 – 1879)
|     |     (3.6) Winfield Scott Poulson & Sarah E. Thatcher Reading
|     |     |     (4.1) Theodosia Y. Poulson (1881 – 1972) & James Mulheron
|     |     |     (4.2) Jonathan Opdycke Poulson (1885 – 1952) & Nora McDonnell, left H.C.
|     |     |     (4.3) Lucy E. Poulson (1889 – 1968) & Harry Wiese
|     |     |     (4.4) Mary H. Poulson (1893 – 1983) & George C. Gernhardt
|     |     |     (4.5) Anna O. Poulson (1897 – 1975) & Wilmer Ervin Mount (1889 – 1972)
|     |     (3.7) John Baker Poulson & Mary J. Shepherd
|     |     |     (4.1) Anna Poulson (1890 – 1969) & Carmen Wilson Larison (1884 – 1942)
|     |     |     (4.2) Blanche Poulson (1894 – 1984) & Russell Hoagland (1892 – 1961)
|     (2.8) Rev. Israel J. Poulson Jr. & Harriet Johnson
|     |     (3.4) William J. Poulson (1848 – 1848) & Emma A. Hudnut (1848 – 1926)
|     |     |     (4.1) infant Poulson (1875 – 1875)
|     |     |     (4.2) Edward A. Poulson (1883 – ?) & Elizabeth Hires (1881 – 1965)
Fifth Generation:
|     (2.5) Daniel Poulson & Lucy Emley Opdycke
|     |     (3.2) George L. Opdycke Poulson & Ella G. Gaddis
|     |     |     (4.1) Mattie Hart Poulson & Frank Julius Eppele
|     |     |     |     (5.1) Martha Eppele (~1917 – ) & unknown Fougere
|     |     |     |     (5.2) William Eppele (~1920 – 1945)
|     |     (3.4) Hannah Rebecca Poulson & Asa Robbins
|     |     |     (4) Judge Adam Opdycke Robbins & 1) Marion Blackwell Hunt
|     |     |     |     (5.1) Dorothy Eleanor Robins (1918 – )
|     |     (3.7) John Baker Poulson & Mary J. Shepherd
|     |     |     (4.1) Anna Poulson & Carmen Wilson Larison
|     |     |     |     (5.1) Martha P. Larison (1914 – 1998) & George A. Vocke (1906 – 1995)
|     |     |     |     (5.2) Mary Larison (no information)
|     |     |     (4.2) Blanche Poulson & John Russell Hoagland
|     |     |     |     (5.1) Virginia D. Hoagland (c.1923 – ?)
Footnotes: