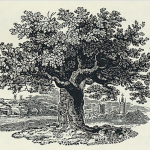 The first of the Godown family to appear in Hunterdon County was Jacob Godown, born about 1675. He was present in Burlington County in 1703 when he was listed in the accounts of the estate of Joseph Adams. But at the time, Hunterdon did not yet exist.
The first land purchase I am aware of took place in 1707, when Godown bought 200 acres from William Biddle.1 Unfortunately, I do not know if he wrote a will or not; there isn't one recorded in Hunterdon. So Jacob's wife is unknown. In fact, all I know about his family is that Jacob Sr. had a son, Jacob Jr., who will be considered "First Generation" for the purpose of this family tree.
Records pertaining to this Jacob Godown, Jr. are also frustratingly sparse. I get the feeling that the Godowns preferred to stay away from government offices.
As always, this is a work in progress. Any corrections or additions are welcome in the comments section. There are references to other family trees; some of them have not yet been published, but will be eventually.
First Generation:
Jacob Godown (c.1700 – ?) & Mary Evans (c.1705 – ?)
Second Generation:
|     (2) Catharine Godown (c.1724 – 1777) & Albertus Ringo (1722 – 1800) – no children
|     (2) Evans Godown (c.1723 – bef. 1779) & Mary
Third Generation:
|     (2) Evans & Mary Godown
|     |     (3) Evans Godown (c.1745 – 1790)
.     .     .     m. 1) Abigail Roberts (c.1750 – bef. 1779)
.     .     .     m. 2) Rachel Stout Rounsavel (1738 – 1818)
|     |     (3) John Godown (1749 – 1814) & Mary Rounsavel (1756 – 1845)
|     |     (3) Thomas Godown (c.1750 – 1841)
.     .     .     m. 1) Unknown
.     .     .     m. 2) Eve Sine (1764 – 1831, parents not identified)
|     |     (3) Catharine Godown (c.1750 – c.1820) & Daniel Thatcher (1747 – c.1812)
|     |     (3) Jacob Godown (c.1756 – 1831) & Sarah Lake (1760 – 1831)
|     |     (3) Elizabeth Godown (1763 – ?) & Isaac Lake (1757 – 1825)
|     |     (3) Allemina Godown (c.1759 – c.1792) & Freegift Rounsavel (1759 – 1797)
|     |     (3) Mary Godown (c.1751 – ?)
|     |     (3) Rebecka Godown (c.1750 – ?) & James Gano (c.1750 – ?)
|     |     (3) daughter Godown (c.1750 – bef. 1792) & Amos Thatcher (1748 – 1779)
|     |     (3) daughter Godown & Thomas Lanning
Fourth Generation:
|     |     (3) Evans Godown & Abigail Roberts
|     |     |     (4) Hannah Godown (1773 – 1859) & Joseph Mattison (1769 – 1831)
|     |     (3) John Godown & Mary Rounsavel
|     |     |     (4) Evan Godown (1778 – 1859)
.     .      .      m. 1) Elizabeth Hoagland (1780 – 1856)
.     .      .      m. 2) Fanny Opdyke Hoagland (1805 – 1878)
|     |     |     (4) Rachel Godown (1780 – 1828) & George Hice (c.1785 – ?)
|     |     |     (4) John R. Godown (1782 – 1842) & Letitia Rittenhouse (c.1785 – 1850)
|     |     |     (4) Mary Polly Godown (1784 – 1876) & Elder Jonathan Pidcock (1783 – 1861)
|     |     |     (4) Richard S. Godown (1787 – 1876) & Mary Rittenhouse (c.1790 – 1853)
|     |     |     (4) Sarah Godown (1789 – 1856) & Charles W. Kitchen (c.1785 – 1828)
|     |     |     (4) Anne Godown (1792 – 1875)
|     |     |     (4) Hon. Jacob Godown (1796 – 1848) & Ellen Evelyn Coryell (1796 – 1859)
|     |     |     (4) Peter Johnson Godown (1799 – ?) & Hannah McPherson (c.1805 – ?)
|     |     |     (4) Wilson Godown (1803 – 1813)
|     |     (3) Thomas Godown & Unknown
|     |     |     (4) Mary Godown (c.1780 – ?) & William Opdycke (c.1775 – ?)
|     |     (3) Thomas Godown & Eve Sine
|     |     |     (4) Adeline Godown (1804 – 1875) & Jonathan Hunter Rake (1802 – 1874)
|     |     (3) Catharine Godown & Daniel Thatcher – see the Thatcher Tree
|     |     |     (4) Catharine Thatcher (1774 – ?) & Everett Roberts (c.1770 – ?)
|     |     |     (4) Isaac Thatcher (c.1775 – ?) & Mary Gano (~1780 – ?)
|     |     |     (4) John Thatcher (1778 – ?) & Rachel
|     |     (3) Jacob Godown & Sarah Lake
|     |     |    (4) John A. Godown (1787 – c.1848) & Abigail Robins (c.1805 – ?)
|     |     |     (4) Isaac Godown (1788 – 1857) & Permelia Myers (1792 – 1870)
|     |     |     (4) Polly Godown (1790 – ?)
|     |     |     (4) Sarah Godown (1792 – ?)
|     |     |     (4) Evan Godown (1793 – after 1870)
|     |     |     (4) James Godown (1795 – ?)
|     |     |     (4) Rhoda Godown (1796 – ?) & Jonathan Reading Higgins (1792 – 1865)
|    |     (3) Elizabeth Godown & Isaac Lake – see the Lake Tree
|     |     |     (4) Margaret Lake (1784 – ?)
|     |     |     (4) John Lake (1786 – ?) & Sarah Wolverton (c.1795 – ?)
|     |     |     (4) Abigail Lake (1788 – ?)
|     |     |     (4) Sarah Lake (1790 – ?)
|     |     |     (4) Annie Lake (1793 – ?)
|     |     |     (4) Mary Lake (1793 – ?)
|     |     |     (4) Elizabeth Lake (c.1794 – ?)
|     |     |     (4) Susan Lake (1796 – ?) & Joseph Housel (1780 – 1872)
|     |     |     (4) Evan Godown Lake (1796 – 1859) & Margaret Moore Petty (1800 – 1892)
|     |     |     (4) Thomas Lake (1800 – 1883) & Frances Housel (1807 – 1868)
|     |     |     (4) Isaac Lake (1804 – 1825)
|     |     (3) Allemina Godown & Freegift Rounsavel – see The Rounsavell Tree
|     |     |     (4) Sarah Rounsavel (1780 – 1847) & Malcolm Fleming (c.1780 – ?)
|     |     |     (4) John Rounsavel (c.1780 – ?)
|     |     |     (4) Evan Rounsavel (c.1781 – ?)
|     |     |     (4) Rachel Rounsavel (c.1782 – ?) & Thomas Bowman
|     |     |     (4) Mary Jane Rounsavel (1785 – 1836) & William Lake (1786 – 1859)
|     |     |     (4) Richard F. Rounsavel (1789 – 1865)
.     .      .      .     m. 1) Rebecca (c.1797 – 1837)
.     .      .      .     m. 2) Sarah Ann McKinney (c.1800 – 1843)
.     .      .      .     m. 3) Elizabeth Case (1806 – 1875)
|     |     |     (4) Rebecca Rounsavel (1790 – 1844) & Benjamin Hulsizer (1788 – 1863)
|     |     (3) daughter Godown & Amos Thatcher
|     |     |     (4) Sarah Thatcher (1778 – 1852) & James Huff (c.1775 – ?)
Fifth Generation:
|     (2) Evans & Mary Godown
|     |     (3) Evans Godown & Abigail Roberts
|     |     |     (4) Hannah Godown & Joseph Mattison
|     |     |     |     (5) Abigail Mattison (1798 – 1883) & James Rittenhouse (1798 – 1873)
|     |     |     |     (5) Evan G. Mattison (1800 – 1880) & Eleanor Ellen Rockafellar (1794 – 1877)
|     |     |     |     (5) Rachel Mattison (1813 – 1860)
|     |     |     |     (5) Hannah Mattison (1813 – after 1870) & Elijah Rittenhouse Lair (1815 – 1874)
|     |     (3) John Godown & Mary Rounsavel
|     |     |     (4) Evan Godown & Elizabeth Hoagland
|     |     |     |     (5) Mary Ann Godown (1806 – 1873)
|     |     |     |     (5) Derrick H. Godown (1809 – 1863)
|     |     |     |     (5) John E. Godown (1811 – ?)
|     |     |     |     (5) George H. Godown (1813 – ?)
|     |     |     |     (5) Josiah Godown (1815 – ?)
|     |     |     |     (5) Elizabeth Godown (1817 – 1859)
|     |     |     |     (5) Rebecca Godown (1819 – 1853)
|     |     |     |     (5) Jacob S. Godown (1822 – ?)
|     |     |     (4) Rachel Godown & George Hice
|     |     |     |     (5) Mary A. Hice (1819 – 1903) & Peter V. Dalrymple (1811 – 1897)
|     |     |     (4) Mary 'Polly' Godown & Elder Jonathan Pidcock
|     |     |     |     (5) Martha Pidcock (c.1807 – ?)
|     |     |     |     (5) John Pidcock (c.1809 – ?)
|     |     |     |     (5) Johnson Pidcock (c.1811 – ?)
|     |     |     |     (5) Mary Pidcock (c.1814 – ?)
|     |     |     |     (5) Elizabeth Pidcock (c.1816 – ?)
|     |     |     |     (5) Charles Pidcock (1819 – 1900) & Mary Pyatt (1821 – 1892)
|     |     |     (4) Richard S. Godown & Mary Rittenhouse
|     |     |     |     (5) Sarah Godown (1811 – 1894) & David Pittenger (1810 – 1886)
|     |     |     |     (5) Livera Godown (c.1812 – bef. 1853) & David Pittenger (1810 – 1886)
|     |     |     |     (5) Elizabeth Godown (c.1819 – after 1870) & George Snyder (1810 – ?)
|     |     |     |     (5) Edmund Ingham Godown (1823 – 1914) & Mary B. Rockafellar
|     |     |     |     (5) Samuel Godown (1824 – 1878) & Elizabeth Vansyckle (1830 – ?)
|     |     |     (4) Sarah Godown & Charles W. Kitchen
|     |     |     |    (5) Jonathan P. Kitchen (1816 – 1860) & Catharine Agin (1820 – 1903)
|     |     |     (4) Hon. Jacob S. Godown & Ellen Evelyn Coryell
|     |     |     |     (5) Hon. Charles Wilson Godown (1824 – 1904) & Hester Ann Opdycke (1819 – 1904)
|     |     |     |     (5) John Alexander Godown (1825 – 1910) & Rebecca Ann Housel (1835 – 1921)
|     |     |     |     (5) William T. Godown (1825 – 1866) & Ann Wolverton (1836 – 1909)
|     |     |     |     (5) Andrew Dewitt Godown (1832 – 1908) & Caroline T.
|     |     |     |     (5) Mary Godown (1829 – 1861) & Richard S. Reed Esq. (1827 – 1886)
|     |     |     |     (5) Johnson Godown (1835 – 1850)
|     |     |     (4) Peter Johnson Godown & Hannah McPherson
|     |     |     |    (5) John McPherson Godown (1832 – 1911)
|     |     (3) Thomas Godown & Eve Sine
|     |     |     (4) Adeline Godown & Jonathan Hunter Rake
|     |     |     |     (5) Jacob Fox Rake (1826 – 1885) & Sarah Ann Case (1830 – 1887)
|     |     |     |     (5) Sarah A. Rake (c.1829 – 1852) & Pierson Matthews (1824 – 1872)
|     |     |     |     (5) Caroline Rake (c.1830 – 1834)
|     |     |     |     (5) Jonathan Hunter Rake Jr. (1830 – 1897)
|     |     |     |     (5) Susan E. Rake (1841 – 1917)
.      .     .      .      .    m. 1) Joseph Philkill; m. 2) Camille Grosjean
|     |     (3) Jacob Godown & Sarah Lake
|     |     |     (4) John A. Godown & Abigail Robins
|     |     |     |     (5) Jonathan Godown (1825 – 1853)
|     |     |     |     (5) Jacob Godown (1827 – 1888) & Caroline Louise Chapman
|     |     |     |     (5) Sarah Godown (1831 – 1901)
|     |     |     |     (5) John B. Godown (~1833 – ) & Mahala Hendershot (1844 – ) ????
|     |     |     |     (5) Charles Robbins Godown (1843 – 1919) & Alice Agnes Pursell
|     |     |     (4) Isaac Godown & Permelia Myers
|     |     |     |     (5) Pierson Godown (1816 – 1903)
|     |     |    |     (5) Elizabeth Godown (c.1820 – ?)
|     |     |     |     (5) Stryker Godown (~1829 – 1864)
|     |     |     |     (5) Matilda Godown (1833 – 1900) & John Pegg (1836 – 1911)
|     |     |     (4) Rhoda Godown & Jonathan Reading Higgins
|     |     |     |     (5) Sarah Jane Higgins & George Chamberlain
Recital, H. C. Deed Book 3 p. 297. ↩