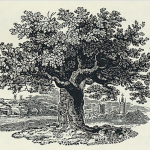 This is the family tree belonging to a branch of the Bodine family that lived in or near Delaware Township, Hunterdon County, NJ. The reason I specify that is because there are many earlier branches of the family living in other parts of Hunterdon County that I am not familiar with.
As is my practice, I will include the children of female Bodines, but not their grandchildren. I will make an exception to that rule if I have written about the grandchildren in one of my articles.
Also, please feel free to make additions or corrections in the comments section below.
First Generation:
(1) Peter Bodine (1756 – 1810) & Isabella Sabillah Ent (1759 – 1825)
Second Generation:
|     (2.1) Ann Bodine (1778 – 1837) & Adam Case (1770 – 1848), left HC
|     (2.2) Jacob Bodine (1781 – ?)
|     (2.3) Susanna Bodine (c.1784 – ?)
|     (2.4) William Bodine (c.1785 – ?) & Catharine Groendyke (c.1788 – ?) – no further information
|     (2.5) Sarah E. Bodine (1791 – 1878) & Jacob Warman (1789 – 1854)
|     (2.6) Peter Bodine (1793 – 1864) & Anna M. Vought (1804 – 1892) moved to PA
|     (2.7) Benjamin Bodine (1794 – 1875) & Catharine Ent (c.1792 – 1882) – see the Ent Family tree
Third Generation:
|     (2.5) Sarah E. Bodine & Jacob Warman
|     |     (3.1) Elisabeth B. Warman (1824 – 1893) & John Hoagland Wilson (1804 – 1892)
|     |     (3.2) Sabilla B. Warman (1826 – 1911)
|     |     (3.3) William S. Warman (1828 – 1908) & Catherine E. (1830 – 1926)
|     |     (3.4) Asher Worman (1830 – 1852)
|     |     (3.5) Sarah Catharine Worman (1833 – 1915)
|     |     (3.6) Lambert T. Worman (1836 – 1910) & Mary E. Craven (1843 – 1917)
|     (2.7) Benjamin Bodine & Catharine Ent
|     |     (3.1) William Bodine (1819 – 1886)
|     |     |     |   m. 1) Delilah Ann Rittenhouse (1821 – 1847)
|     |     |     |   m. 2) Mary Elizabeth Bellis (1824 – 1908)
|     |     (3.2) Cornelius W. Bodine (1823 – 1904) & Miriam Chapman Romine (1834 – 1900)
|     |     (3.3) Catherine H. Bodine (1826 – 1856) & Samuel Wolverton Reading (1822 – 1873)
|     |     (3.4) Lambert Bodine (1835 – 1863)
Fourth Generation:
|     (2.7) Benjamin Bodine & Catharine Ent
|     |     (3.1) William Bodine & 1) Delilah Ann Rittenhouse
|     |     |     (4.1) John E. Bodine (1842 – 1895) & Jane H. Everitt (1842 – 1931)
|     |     |     (4.2) Watson Rittenhouse Bodine (1844 – 1919) & Ann Elizabeth Sharp (1841 – 1916)
|     |     |     (4.3) Samuel Reading Bodine (1845 – 1920) & Sarah L. Larison (1844 – 1920)
|     |     |     (4.4) Charles W. Bodine (1847 – after 1910)
|     |     |     |     |   m. 1) Hannah R. Shadinger (c.1845 – 1874)
|     |     |     |     |   m. 2) Margaret J. (1859 – after 1910)
|     |     (3.1) William Bodine & 2) Mary Elizabeth Bellis
|     |     |     (4.5) Delia Catherine Bodine (1850 – 1930) & John Deremer Larison (1846 – 1907)
|     |     |     (4.6) Sybilla Bodine (c.1852 – ?)
|     |     |     (4.7) Emma E. Bodine (1852 – 1929) & George Washington Kugler (1846 – 1927)
|     |     |     (4.8) Marietta Bodine (1855 – 1926) & John R. Johnson (1854-1926), left HC
|     |     |     (4.9) William H. Bodine (c.1858 – aft 1886), left HC
|     |     |     (4.10) Wesley B. Bodine (1859 – 1910)
|     |     |     |     |    m. 1) Susan Jennie Hunt (1862 – 1891)
|     |     |     |     |    m. 2) Emma Wood (1872 – 1945)
|     |     |     (4.11) Jane Jennie Bodine (c.1861 – after 1910), never married
|     |     |     (4.12) Anna R. Bodine (c.1864 – ?) & Henry Rolle, left HC
|     |     |     (4.13) Carrie Bodine (c.1866 – ?)
|     |     |     (4.14) Ida Bodine (1868 – 1945) & Lousi/Lewis P. Naylor (c.1868 – after 1930), left HC
|     |     (3.2) Cornelius W. Bodine & Miriam Chapman Romine
|     |     |     (4.1) Laura Gordon Bodine (1862 – 1932) & William D. Axtell, left HC
|     |     |     (4.2) Martha D. Bodine (1867 – 1943) & Judson Rittenhouse (1855 – 1920)
|    |     (3.3) Catherine H. Bodine & Samuel Wolverton Reading
|     |     |     (4.1) Martha Reading (1847 – 1905) & William H. Lair (1840 – 1916)
|     |     |     (4.2) Asher Reading (1848 – 1900) & Lucy K. Reading (1847 – 1930)
|     |     |     (4.3) Mary Cook Reading (1850 – 1907) & George Washington Fulper (1848 –1919)
|     |     |     (4.4) Sybilla Bodine Reading (1852 – 1880) & Frank Pierce Wagner (1852 – 1922)
|     |     |     (4.5) Augustus Reading (1854 – 1855)
Fifth & Sixth Generations:
|     (2.7) Benjamin Bodine & Catharine Ent
|     |     (3.1) William Bodine & 1) Delilah Ann Rittenhouse
|     |     |     (4.1) John E. Bodine & Jane H. Everitt
|     |     |     |      (5.1) Achsah L. Bodine (1866 – ?) & William Johnson (1860 – ?), left HC
|     |     |     |      (5.2) Caroline Woolverton Bodine (1869 – 1950), never married
|     |     |     |      (5.3) Clara Bodine (c.1870 – 1924?), never married
|     |     |     |      (5.4) Delilah C. Bodine (1872 – 1954) & Frank Van Dyke Fisher (1870 – 1937)
|     |     |     |     |     |  (6.1) John B. Fisher (1895 – 1897)
|     |     |     |     |     |  (6.2) Everett Fisher (c.1899 – after 1954), left HC
|     |     |     |     |     |  (6.3) Arthur Fisher (c.1903 – after 1954), left HC
|     |     |     |     (5.5) Hannah R. Bodine (1875 – 1954) & Henry Wood (1876 – bef. 1910), left HC
|     |     |     (4.3) Samuel Reading Bodine & Sarah L. Larison
|     |     |     |     (5.1) Mary Hannah Bodine (1874 – 1943), never married
|     |     |     |     (5.2) Lucy L. Bodine (1876 – 1951), never married
|     |     |     (4.4) Charles W. Bodine & 1) Hannah R. Shadinger
|     |     |     |     (5.1) Lewis P. Bodine (c.1871 – bef. 1900?)
|     |     |     |     (5.2) Howard W. Bodine (1874 – aft 1949)
|     |     |     (4.5) Charles W. Bodine & 2) Margaret J.
|     |     |     |     (5.3) Essie M. Bodine (1887 – 1949) & Edward Samuel Keown (1888 – 1976)
|     |     |     |     |     | (6.1) Frank Keown
|     |     |     |     |     | (6.2) Marion Keown (1914 – 1981) & Roland T. Thornton (1914 – 1986)
|     |     |     |     (5.4) Samuel R. Bodine (1899 –1982) & Ruth Bright [?] (1902-?)
|     |     (3.1) William Bodine & 2) Mary Elizabeth Bellis
|     |     |     (4.5) Delia Catherine Bodine & John Deremer Larison
|     |     |     |     (5.1) Andrew Butterfoss Larison (1873 – 1941) & Estella V. Moore (1877 – 1974)
|     |     |     |     (5.2) William Bodine Larison (1877 – 1954) & Mary H. Crum (1880 – 1976)
|     |     |     |     (5.3) Anna M. Larison (1882 – 1962) & Edward Thomas Venable (1878 – 1970)
|     |     |     |     (5.4) Carmen Wilson Larison (1884 – 1942) & Anna Poulson (1890 – 1969)
|     |     |     |     |     (6) Martha P. Larison (1914 – 1998) & George A. Vocke (1906 – 1995)
|     |     |     |     |     (6) Mary Larison
|     |     |     (4.7) Emma E. Bodine & George Washington Kugler
|     |     |     |     (5.1) William Harvey Kugler (1878 – 1922) & Laura Hagar (1881 – 1949)
|     |     |     |     (5.2) Mary Elizabeth Kugler (1883 – 1972) & Preston S. Emmons (1876 – 1944)
|     |     |     |     (5.3) Addie K. Kugler (1887 – 1956) & Elmer Niece (1876 – 1956)
|     |     |     (4.8) Marietta Bodine & John R. Johnson
|     |     |     |     (5.1) Bessie K. Johnson (1879 – )
|     |     |     |     (5.2) Wilmot Quinby Johnson (1889 – )
|     |     |     |     (5.3) Raymond D. Johnson ( c.1890 – )
|     |     |     (4.10) Wesley B. Bodine & 1) Jennie Hunt
|     |     |     |     (5.1) Russell C. Bodine (1891 – ) & Ada M. Snyder (c.1901 – 1948)
|     |     |     (4.10) Wesley B. Bodine 2) Emma Wood
|     |     |     |    (5.2) Frank W. Bodine (1897 – 1977) & Elizabeth P. Prall (1899 – 1987)
|     |     |     |     |      (6.1) Wesley B. Bodine (1932 – 2008) & Elaine 'Dee' Starkey (c.1935 – )
|     |     |     |     |      (6.2) Prall Bodine (1935 – 1996) & Barbara Firczuk
|     |     |     |     (5.3) Edgar K. Bodine (1899 – 1922)
|     |     |     |     (5.4) Mary Gladys Bodine (1902- 1966)
|     |     |     |     (5.5) Alice C. Bodine (1904 – 1960) & Amos S. Allen (c.1895 – aft 1940)
|     |     (3.2) Cornelius W. Bodine & Miriam Chapman Romine
|     |     |     (4.1) Martha D. Bodine & Judson Rittenhouse
|     |     |     |     (5.1) Miriam Rittenhouse (1890 – 1971) & Bertram Reading Buchanan (1886 – 1969)
|     |     |     |     (5.2) Grace E. Rittenhouse (1892 – 1961) & Leon H. Niece (1890 – 1960)
|     |     |     |     (5.3) Emily Rittenhouse (1896 – 1969) & Archibald Gulick (1897 – 1958)
|     |     |     |     (5.4) Edwin Stanley Rittenhouse (1901 – 1961) & Dorothy Trout (1901 – 1987)