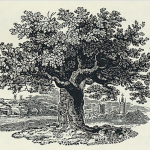 Hendrick Endt is said to have traveled from Rotterdam to America in 1733. He was accompanied by Rev. John Naas of the Amwell Brethren Church, his sons Valentine and Daniel, and a Catherine Endt who may have been his daughter. I do not know where he settled or when he died.
Many of the families that the Ents married into have family trees of their own published here, or else they are on my list of trees to publish in the future. I have included the children of female Ents, but not their grandchildren.
Please make additions or corrections in the Comments section, below.
First Generation:
(1) Endick Hendrick Ent (c.1685 – ?) [wife not known]
Second Generation:
|     (2) Valentine Ent (c.1715 – 1770) & Susannah Moore (c.1725 – after 1781)
|     (2) Daniel Ent (c.1726 – 1817)
.      .      m. 1) Elizabeth (c.1732 – 1815)
.      .      m. 2) Mary Severns (c.1788 – 1850)
Third Generation:
|     (2) Valentine Ent & Susannah Moore
|     |     (3) Ann Ent (c.1745 – ?) probably died as a child
|     |     (3) Jacob Ent (c.1748 – ) no further information
|     |     (3) Capt. Peter Ent (1749 – 1829) & Sarah Kent (1755 – 1821)
|     |     (3) Valentine Ent Jr. (1750 – ?) & Margaret
|     |     (3) Susannah Ent & John Ruckman (c.1740 – after 1833)
|     |     (3) Ann Ent (c.1752 – ?) & John Tyson (c.1740 – after 1787)
|     |     (3) Rachel Ent (c.1757 – 1849) & Robert Sharp (1748 – 1833)
|     |     (3) Esther Hester Ent (1757 – 1846) & Daniel Butterfoss Sr. (1742 – 1818)
|     |     (3) Daniel Ent (c.1757 – 1847) & Elizabeth Douglas (1762 – 1845)
|     |     (3) Isabella Sabillah Ent (1759 – 1825) & Peter Bodine (1756 – 1810, see Bodine Tree)
|     |     (3) Charles Ent (c.1767 – ?) and Mary, moved to Ohio1
|     |     (3) Jacob Ent, no further information
|     (2) Daniel Ent & Elizabeth
|     |     (3) John Ent Sr. (1766 – 1850) & Rebecca (c.1763 – 1855)
Fourth Generation:
|     (2) Valentine Ent & Susannah Moore
|     |     (3) Capt. Peter Ent & Sarah Kent
|     |     |     (4) Sarah Susannah Ent (1784 – 1854) & William S. Brewer (1782 – 1836), left HC
|     |     |     (4) Charles Ent (1788 – 1849) & Elizabeth Mears, left HC
|     |     (3) Rachel Ent & Robert Sharp
|     |     |     (4) Mary 'Polly' Sharp (1780 – 1832) & Daniel Lambert (c.1785 – ?)
|     |     |     (4) William Sharp (1782 – 1834) & Esther Hester Butterfoss (1788 – 1868)
|     |     |     (4) Silas Edward Giles Sharp (1784 – 1825) & Sarah Leah Holcombe (1790 – bef.1822)
|     |     |     (4) Jacob Runk Sharp (c.1786 – 1872) & Keziah Stevenson (1798 – 1861)
|     |     |     (4) Col. John Sharp (1792 – 1876) & Maria Holcombe (1805 – 1863)
|     |     |     (4) Thomas Sharp (1796 – 1800)
|     |     |     (4) Sealey Sharp (c.1799 – 1854), never married
|     |     |     (4) Thomas Sharp (1807 – 1884) & Rebecca Lambert (1813 – 1885)
|     |     (3) Esther Hester Ent & Daniel Butterfoss Sr.
|     |     |     (4) Jacob Butterfoss (1774 – c.1780)
|     |     |     (4) Anna Butterfoss (1776 – bef.1823) & Thomas Pidcock (1763 – 1850)
|     |     |     (4) Susanna Butterfoss (1778 – aft 1850) & William Wheaton (c.1774 – aft 1850), left HC
|     |     |     (4) Elizabeth Butterfoss (1780 – 1837) & Nehemiah Hunt (1782 – 1823)
|     |     |     (4) Mary Butterfoss (1783 – 1863) & Garret Vandolah Wilson (1781 – 1876)
|     |     |     (4) Catherine Butterfoss (1785 – 1851) & Capt. George Holcombe (1781 – 1855)
|     |     |     (4) Andrew Butterfoss (c.1794 – 1819), never married
|     |     |     (4) Valentine Ent Butterfoss (1797 – 1848) & Rachel Osburn (1797 – 1863)
|     |     |     (4) Rebecca Butterfoss (1804 – 1869) & Charles Brown (c.1790 – ?)2
|     |     |     (4) Sabilla Butterfoss (1804 – after 1860) & Jeremiah Matthews (c.1804 – after 1860)
|     |     (3) Daniel Ent & Elizabeth Douglas
|     |     |     (4) John Ent (1785 – 1852) & Mary Smith (1786 – 1850)
|     |     |     (4) Maj. Daniel Ent (c.1789 – 1866) & Ann Case (c.1790 – ?)
|     |     |     (4) Enoch Ent (c.1792 – ?) & Susan Gordon (c.1788 – ?)
|     |     |     (4) Amelia Ent (c.1796 – 1882)
|     |     |     (4) Elizabeth Ent (1794 – 1886) & Benjamin Opdycke
|     |     |     (4) Rebecca Ent (c.1795 – ?) & John Snyder (1786 – 1868) – left HC
|     |     |     (4) Achsah Ent (c.1801 – after 1850)
|     |     (3) Isabella Sabillah Ent & Peter Bodine
|     |     |     (4) Ann Bodine (1778 – 1837) & Adam Case (1770 – 1848)
|     |     |     (4) Jacob Bodine (1781 – probably died young)
|     |     |     (4) Susanna Bodine (c.1784 – probably died young)
|     |     |     (4) William Bodine (c.1785 – ?) & Catharine Groendyke (c.1788 – ?), no information
|     |     |     (4) Sarah E. Bodine (1791 – 1878) & Jacob Warman (1789 – 1854)
|     |     |     (4) Peter Bodine (1793 – 1864) & Anna M. Vought (1804 – 1892)
|     |     |     (4) Benjamin Bodine (1794 – 1875) & Catharine Ent, d/o John & Rebecca (c.1795 – 1882)
|     (2) Daniel Ent & Elizabeth
|     |     (3) John Ent Sr. & Rebecca
|     |     |     (4) Susan Ent (c.1789 – 1844) & Benjamin Swallow (1764 – 1844)
|     |     |     (4) Catharine Ent (c.1792 – 1882) & Benjamin Bodine (1794 – 1875)
|     |     |     (4) William Ent (c.1800 – after 1870), never married
|     |     |     (4) Ury Ann Ent (c.1813 – 1888) & Wilson B. Rittenhouse (1813 – 1881)
Fifth Generation:
|     (2) Valentine Ent & Susannah Moore
|     |     (3) Daniel Ent & Elizabeth Douglas
|     |     |     (4) John Ent & Mary Smith
|     |     |     |     (5) John Smith Ent (1821 – 1888) & Sarah Hoppock (1827 – 1913)
|     |     |     |     (5) Sarah Ent (1822 – 1887) & Josiah M. Reed (1825 – 1863)3
|     |     |     |     (5) Amy Ent (c.1820 – after 1850)
|     |     |     |     (5) Elizabeth Ent (1829 – 1850)
|     |     |     |     (5) Asher Ent (c.1831 – after 1860) & Adelaide Fenton
|     |     |     |     (5) Hiram Ent (abt 1838 – aft 1880)
|     |     |     |     (5) Mahlon Ent (abt 1824 – 1854)
|     |     |     (4) Maj. Daniel Ent & Ann Case
|     |     |     |     (5) Amanda Ent (1829 – 1917) & Victor Runyon (1828 – 1902)
|     |     |     (4) Enoch Ent & Susan Gordon, left HC
|     |     |     |     (5) Enoch Ent (c.1814 – 1889) & Louisa Snyder (c.1815 – after 1880), left HC
|     |     |     |     (5) Drucilla Ent (1836 – ?)
|     |     |     (4) Elizabeth Ent & Benjamin Opdycke
|     |     |     |     (5) Jane Opdycke (1818 – aft 1880) & William Runyon (c.1815 – 1886), left HC
|     |     |     |     (5) Hester Ann Opdycke (1819 – 1910) & Hon. Charles Wilson Godown (1824 – 1904)
|     |     |     |     (5) John Cavanaugh Opdycke (1820 – 1909) & Anna Marie Snyder (1823 – bef. 1900)
|     |     |     |     (5) William L. Opdycke (1823 – 1847) & Gertrude Conover (1824 – 1902), left HC
|     |     |     |     (5) Grace Elizabeth Opdycke (1825 – 1879) & Wilson Bray Everitt (1825 – 1907)
|     |     (3) Isabella Sabillah Ent & Peter Bodine
|     |     |     (4) Sarah E. Bodine (1791 – 1878) & Jacob Warman (1789 – 1854)
|     |     |     |     (5) Elisabeth B. Warman (1824 – 1893) & John Hoagland Wilson (1804 – 1892)
|     |     |     |     (5) Sabilla B. Warman (1826 – 1911)
|     |     |     |     (5) William S. Warman (1828 – 1908) & Catherine E. (1830 – 1926)
|     |     |     |     (5) Asher Worman (1830 – 1852)
|     |     |     |     (5) Sarah Catharine Worman (1833 – 1915)
|     |     |     |     (5) Lambert T. Worman (1836 – 1910) & Mary E. Craven (1843 – 1917)
|     (2) Daniel Ent & Elizabeth
|     |     (3) John Ent Sr. & Rebecca
|     |    |     (4) Susan Ent & Benjamin Swallow4
|     |     |     |     (5) Charles Rice Swallow (1812 – 1890) & Elizabeth Eliza Roberson (1818 – 1872)
|     |     |     |     (5) Eliza Case Swallow (1815 – 1906) & George Jackson Reading (1815 – 1885)
|     |     |     |     (5) Bartolette Swallow (c.1821 – 1853), never married
|     |     |     |     (5) Martha R. Swallow (1830 – 1914)
|     |     |     |     (5) Tacy Swallow (1834 – 1859)
|     |     |     (4) Catharine Ent & Benjamin Bodine (see Bodine Family Tree)
|     |     |     |     (5) William Bodine (1819 – 1886)
.      .     .      .      .     m. 1) Delilah Ann Rittenhouse (1821 – 1847)
.      .     .      .      .     m. 2) Elizabeth Bellis (1824 – 1908)
|     |     |     |     (5) Cornelius W. Bodine (1823 – 1904) & Miriam Chapman Romine (1834 – 1900)
|     |     |     |     (5) Catherine H. Bodine (1826 – 1856) & Samuel Wolverton Reading (1822 – 1873)
|     |     |     |     (5) Lambert Bodine (1835 – 1863)
|     |     |    (4) Ury Ann Ent & Wilson B. Rittenhouse (see Rittenhouse Family Tree)
|     |     |     |     (5) Newton B. Rittenhouse (1844 – 1912)
.      .     .      .      .     m. 1) Eleanor Fleming (1843 – 1897)
.      .     .      .      .     m. 2) Mary A. (c.1840 – ?)
|     |     |     |     (5) Rachel B. Rittenhouse (1846 – 1922) & Henry Lawshe Vandolah (1840 – 1901)
|     |     |     |     (5) Amy Rittenhouse (c.1848 – ?) & William H. Williamson (1846 – 1884)
|     |     |     |     (5) Cornelius Rittenhouse (1850 – 1912) & Alice Cynthia Cooley (1853 – 1938)
|     |     |     |     (5) Delilah Rittenhouse (1853 – 1925)
|     |     |     |     (5) Judson Rittenhouse (1855 – 1920) & Martha D. Bodine (1867 – 1943)
|     |     |     |     (5) Infant Rittenhouse
Sixth Generation:
|     (2) Valentine Ent & Susannah Moore
|     |     (3) Daniel Ent & Elizabeth Douglas
|     |     |     (4) John Ent & Mary Smith
|     |     |     |     (5) John Smith Ent & Sarah Hoppock
|     |     |     |     |     (6) Charles Ent (1850 – after 1910) & Mary Johnson (1856 – ?)
|     |     |     |     |     (6) Emeline Ent (1855 – after 1930) & Albert Hann (1854 – 1919)
|     |     |     |     |     (6) Jonathan Ent (1857 – bef. 1950) & Mary Jane Gano (1862 – 1950)
|     |     |     |     |     (6) Mary Ent (1858 – 1935) & George W. Hockenbury (1862 – 1907)
|     |     |     |     |     (6) Melinda Ent (1860 – 1941) & John Calvin Snyder (1859 – 1936)
|     |     |     |     |     (6) Davis Ent (1862 – 1935) & Amanda Smith (1871 – 1939)
|     |     |     |     |     (6) Jerusha Ent (c.1868 – after 1880)
|     |     |     |     (5) Sarah Ent & Josiah M. Reed
|     |     |     |     |     (6) Richard Reed (c.1847-1879), unmarried
|     |     |     |     |     (6) Charles D. Reed (1849-1864)
|     |     |     |     |     (6) Augustus S. Reed (c. 1852- 1864)
|     |     |     |     |     (6) Asa Reed (c.1852 – 1871)
|     |     |     |     |     (6) Mary Hannah Reed (1854 – 1932) & __ Brown
|     |     |     |     |     (6) Stella Reed (1858 – 1889)
|     |     |     (4) Maj. Daniel Ent & Ann Case
|     |     |     |     (5) Amanda Ent & Victor Runyon
|     |     |     |     |     (6) John T. Runyon (1853 – 1921) & Mary G. (1856 – 1927)
|     |     |     |     |     (6) Charles D. Ent (1854 – 1934) & Cornelia A. Dilley(1860 – 1929)
|     |     |     (4) Enoch Ent & Susan Gordon
|     |     |     |     (5) Enoch Ent & Louisa Snyder – left HC
|     |     |     |     |     (6) Hiram B. Ent (c.1834 – after 1900) & Jane M. (c.1830 – after 1900)
|     |     |     |     |     (6) Ada E. Ent (c.1840 – ?)
|     |     |     |     |     (6) Daniel Ent (c.1843 – ?)
|     |     |     |     |     (6) Sarah M. Ent (c.1847 – ?)
|     |     |     |     |     (6) James Ent (c.1853 – ?)
Footnotes: