The old house on Worman Road has been something of a mystery house for many years. Who built the house and when? These are the classic questions asked when starting work on a house history. In this case, finding the answer took some digging.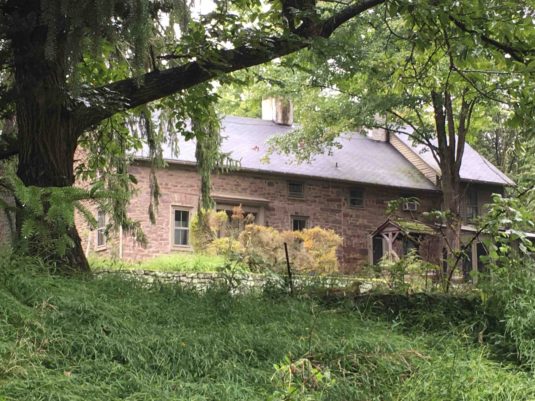 As we learned in Part One of "The Howell House," the old house on Worman Road was located on the huge John Reading Tract of 1708. It was inherited by Reading's daughter Mary and son-in-law Daniel Howell. Then Daniel and Mary's son Benjamin Howell acquired it and probably built the house in the mid 18th century.1 After Benjamin Howell's death in 1795, Benjamin Howell's property was divided between his two sons, Jacob and Joseph.
Determining what happened to the house and the land it sits on after Benjamin Howell's death was a challenge because it stayed in the family for many years. You'd think that would simplify things, but in this case it did not.
A Family Property Tree
Although I soon learned that the house remained in the Howell family for four generations, figuring out who owned what and when got to be very confusing. Finally, I decided to try a different approach. A little while ago, I published the Howell Family Tree. I thought—why not do a Howell Family Property Tree? This approach turned out to be very helpful.
So here is the tree in its essence, listing the Howell family members who owned the old house on Worman Road:
First Generation: Daniel Howell & Mary Reading. They owned the property, but probably did not build the house.
Second Generation: Benjamin Howell & Agnes Woolever, who built the earliest part of the house in the 1750s.
Third Generation: Jacob Howell (unmarried)
Fourth (and last) Generation: Great-Niece of Jacob Howell, Agnes Howell Hunt
Looks simple, right? Looks can be deceiving.
First Generation:
As shown in part one, Daniel Howell & Mary Reading acquired a large tract of land from the estate of Mary's father John Reading as early as 1719. It consisted of the eastern portion of old Mount Amwell, everything east of the road from Howell's Ferry to Baptistown (Route 519), except for the land given to William Rittenhouse & Catharine Howell (Daniel's sister).
Daniel and Mary Howell had six children. When Daniel Howell wrote his will in 1733, he divided up his Mount Amwell property between his four sons.
Sons Daniel, Jr. and John got the grist mill property. In 1750, they sold the mill lot and 73 acres to Charles Woolverton. After that date, they were no longer associated with their father's plantation.
Son Joseph got a tract of 250 acres bordering the river.
Son Benjamin, the youngest, got what was left over, some river frontage and more acres inland.
This was not specified in the will. What Daniel wrote was that sons Joseph and Benjamin were to receive "the remaining part of the plantacon whereon I now dwell with the buildings, improvements, to be divided between them share and share alike as Tenants in common and not as Joynt Tennants."
In 1744, the original deed to Daniel Howell, Sr. was voided and a new conveyance was made by John Reading's son and executor, John Reading, Jr. The conveyance has not been saved, but thankfully the survey map that went with it was, and shows exactly who got what. That map was featured in The Howell House, part one. and shows the evenly-drawn tract that Joseph Howell got, and the surrounding properties that went to Benjamin.
Second Generation:
About 1755, Benjamin Howell married Agnes Woolever. He needed a home for his new family, and built it on the property that he owned, which was north and east of the tract of land owned by his brother Joseph. He chose a location inland from the Howell's Ferry area. It was accessed from the road from Howell's Ferry to Sergeantsville (Skunktown at the time), today's Route 523. In 1755, Worman Road did not exist. (I will explain in part three how I know this. The evidence did not show up until the 1840s.)
Joseph Howell seems to have been unhappy with what he was given. In 1761 he sold his land to George Ely.2 The property bordered his brother Benjamin Howell's land and Route 523. In other words, everything between Route 523 and the mill property that had been sold to Charles Wolverton.
What surprised me about this deed is that it seems to show that the ferry and the tavern house were not owned by Joseph Howell, as I had originally thought. Both the ferry house and the tavern house were located on the south side of Route 523, whereas Joseph owned land on the other side of the road.
Joseph Howell used the proceeds of the sale to buy the mill property at the village of Headquarters. It took very little time for Joseph Howell to go into debt and lose that property in a sheriff's sale. In fact, it must have been a terribly sad situation, because the Sheriff seemed to have levied on everything Joseph owned. Along with the property and a large stone house, two overshot grist mills, barn, stable, cowhouse, milk house, orchard and meadow, and an additional frame house, the contents of the houses were also on sale including "Feather Beds and Furniture, Chests of Drawers, Tables, Chairs, Pewter, Iron Pots, Tramels, Candlesticks, two Horses, two Mares, two Cows and sundry other Things too tedious to mention here."3
So—by 1761, Joseph Howell was out of the picture. He died in 1766 and left no estate. It is thought he married a woman named Priscilla, but I am not away of any children.
With Joseph Howell's departure, his brother Benjamin was the only Howell left on the original plantation. In 1761, he leased the tavern to John Horn, and may also have leased the ferry, as I never found a tax record in which Benjamin Howell was taxed on a ferry.4
Third Generation (Joseph Howell)
It is important to keep Benjamin Howell's brother Joseph separate from his son Joseph. This section deals with Benjamin's son. Even though Joseph did not own the Benjamin Howell house, we need to know what happened to him and his family to understand the rest of the house's history.
Benjamin Howell died unexpectedly in 1795, without having written a will. Since he and wife Agnes only had two children, sons Jacob and Joseph, his property was divided between them. (Here is where I originally got off-track, mistakenly thinking son Joseph Howell had gotten the section with the old house.)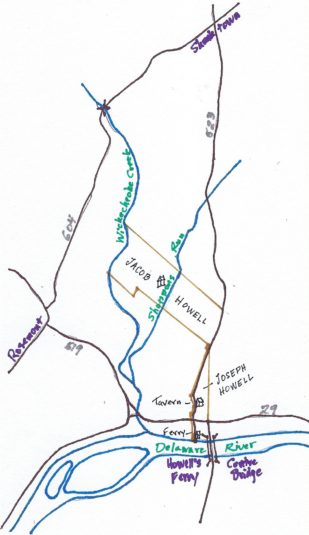 If only we had a survey map from the late 1790s showing how Joseph and Jacob divided the property. Whatever they decided on did not involve recorded deeds. I have had to rely on later deeds to reconstruct a map showing the properties owned by Jacob and Joseph.
There is some circumstantial evidence supporting my theory. First of all, in 1781, according to a paper in the Cathers-Davison collection, Benjamin Howell leased a farm of 83 acres to his son Joseph with the understanding that Benjamin Howell would "pay for the seed and teams" while Joseph was to pay the "land tax" and to give three-quarters of the harvest to his father.
In the tax ratables of 1790, Joseph Howell was taxed on 80 acres and one slave, no doubt the same property that his father had leased to him. Benjamin Howell and son Jacob were taxed together on 170 acres. Neither of them were taxed on a ferry or a tavern. However, it appears that Joseph's 80 acres did include the ferry and the tavern.
Benjamin Howell's widow Agnes did not die until 1820. Her son Jacob never married. I think we can be pretty certain that Agnes and son Jacob continued living in the Worman-Road house, while the other son, Joseph Howell, lived on the 80+ acres that had in effect been given to him. On March 4, 1797, two years after their father's death, Jacob Howell released to his brother Joseph, whatever legal claim he might have in the 80+ acres.5 There may have been an equivalent release by Joseph to Jacob, for the property that Jacob owned, but it has not turned up.
Joseph Howell & Sally Rittenhouse
Joseph Howell was born between 1759 and 1762, the second and last child of Benjamin and Agnes Woolever Howell.6 About 1785 he married Sarah (Sally) Rittenhouse, the daughter of Lott Rittenhouse and Hannah Higgins. (Hannah died young, about the time of daughter Sally's marriage.) This is especially interesting because Lott Rittenhouse was the one who remained on the original William Rittenhouse Rosemont tract. Lott Rittenhouse inherited his property in his father's will of 1767. In the 1780s, "Lott Rettenhousen" was taxed on a tract of 118 acres, which was just north of the Wickecheoke, basically across the creek from the land of Benjamin, and later, Jacob Howell.
Children of Joseph and Sarah
From 1785 to about 1798, Joseph and Sarah Howell had five children. The first was Mary Howell, born August 1, 1795. She married Mathias Case on February 5, 1806, son of Peter Case and Sarah Buchanan.7 Their daughter Eliza Ann is said to have been born on January 6, 1806, although I have not found an exact source for that date. It may have come from her gravestone, but that is not entirely legible. If she was born on that date, then her mother was pregnant for quite a long time before the wedding took place, which seems unlikely. The actual date may have been January 1807. Eliza is very important to this story, so do not forget her.
Next came Agnes Howell, about 1790, who married Samuel Hunt. (I regret to say I have not been able to link Samuel Hunt up with the many Hunt families in Amwell and Hopewell Townships.) It does not appear that Samuel and Agnes had any children. But Agnes is also important to this story.
The third child, Benjamin Howell, was born on May 9, 1794. He may have had a first wife named Mary Kelly, but next to nothing is known of her. One reason for thinking this is that he did not marry his second wife, Elizabeth Mathews, until he was 33 years old, in 1827.
There were two more daughters, Delilah and Clarissa, born in the mid- to late-1790s. It appears that both of them died before 1807.
Based on the property that Benjamin Howell leased to his son Joseph, and on the tax record of 1790, we can conclude that Joseph Howell was active on the ferry & tavern tract (land that ran from the ferry at Stockton and up along Route 523) as early as 1785. Charles S. Boyer claims that he was running the tavern that year after taking it over from Joseph Robeson/Robinson.8 Boyer wrote that George Hoppock took over the ferry in 1791. That might explain why Joseph was not taxed on it in 1790.
After his father Benjamin's death in 1795 Joseph Howell must have acquired the ferry rights. This is affirmed in a deed of 1799 in which John and Rachel Wolverton for £21 conveyed to Joseph Howell, "ferryman of Amwell," a lot of 8.25 acres, adjacent to John Prall's mill race, opposite Prall's saw mill.9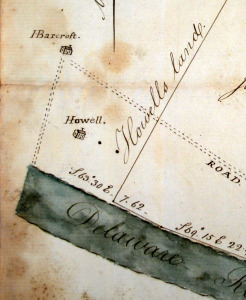 It is important to make a distinction between the ferry itself and the tavern house. Running a ferry and a tavern are two separate things, and a bit much for one person. In 1800, John Barcroft applied for a tavern license at the public house at Howell's Ferry. Hence the "J. Barcroft" shown on the survey map made by Nathaniel Saxton in 1801 for Joshua and John Anderson.10
Note the "Howell" house close to the river. That was the Ferry house. It still stands today on Ferry Road in Stockton. It was the home of the ferry operator, and at that time, 1801, the owner and likely resident was Joseph Howell.
Moving to Ohio
A significant event for southern Hunterdon County happened in 1812 when measures were taken to construct a bridge across the Delaware River that would replace the ferry run by the Howell family for 100 years. The bridge opened for traffic in 1814. After that the ferry was no longer needed, and Joseph Howell, then in his early 50s, was out of a job. Opportunity came along with the end of the War of 1812 in February 1815. That was when land in the Northwest Territory (i.e., the upper Midwest) became available and attractive to new settlers, including Joseph Howell and his family. They decided to settle in Pickaway County, which was established in 1810. But they probably did not leave Amwell Township until late in 1818.
In the meantime, Joseph Howell was investing in mortgages. On June 17, 1815, he loaned money to John Opdycke and Joseph Sergeant.11 Then on June 21, 1815, Joseph and Sarah Howell sold the tavern lot to Ezra Schamp, in trust for their heirs. By this time, those heirs would have been the three oldest children Mary, Agnes and Benjamin. On July 1st, Joseph and Sarah sold the 8.25-acre lot from the Wolvertons to their son-in-law Samuel Hunt.12
Lott Rittenhouse died intestate on August 23, 1813, age 76, and was buried in the family cemetery above Prallsville. His administrators were John L. Rittenhouse, Thomas Gordon and Achilles E. Large. His heirs found themselves in trouble when Joseph Howell, Lott's son-in-law (and himself one of the heirs), sued them for nonpayment of a mortgage. In 1818, the court agreed with Howell and ordered a farm of 74 acres to be sold at public auction, at which Howell was the highest bidder. The farm was taken out of the original Rittenhouse tract. It bordered "Reading's line," Shoppons Run, the Wickecheoke, and other land of Lot Rittenhouse.13
Sometime after October 1818, Joseph Howell, his son Benjamin and daughter Mary Case and their families moved west to Pickaway County, Ohio. Daughter Agnes Hunt remained in Amwell, as well as Mary's daughter Eliza, about age 11 or 12, who moved in with her great uncle Jacob Howell to work as his housekeeper.
The trip to Ohio and settlement in the wilderness may have been too much for middle-aged Joseph Howell. He died in Pickaway County in 1821 (exact date not known), age 59, without having written a will. Usually when someone dies in their 50s without writing a will, the death was caused by an accident rather than an illness, somewhat like Joseph's father Benjamin, who died from a rattlesnake bite.
Joseph's widow Sally survived until 1836, but it is not clear where she was living at the time of her death, in Ohio or in Hunterdon County.
Because Joseph Howell died intestate, it was left to his son Benjamin to sort out the estate. He was named administrator of the estate on September 18, 1821.14
This was a problem, because when Joseph Howell died he still owned property in New Jersey, which meant that his estate had to be administered there as well as in Ohio. It seems likely that Benjamin Howell settled his father's Ohio estate before turning his attention to the property in Amwell, with one exception. That was the purchase of a part of the ferry/tavern lot at a sheriff's sale in 1821, made by Edward Welsted, on behalf of Benjamin Howell, who was still in Ohio.15 But that is not part of this history. I will just observe that it was eventually sold to the Johnson family, who established the new tavern there, now known as the Stockton Inn, at the end of Bridge St.
The inventory of Joseph Howell's Amwell property was taken by Charles Sergeant and Elisha Reading. It included 40 shares in the Centre Bridge Company.16 This was probably how the company paid for the rights to the old ferry.
Benjamin Howell must have realized that dealing with his father's New Jersey estate from Ohio was an impractical arrangement, and eventually moved to back to Amwell Township.17 Exactly which house he occupied when he arrived is hard to say, since both tavern and ferry houses were probably leased out, and the old Benjamin Howell house was occupied by Jacob Howell.
While Joseph Howell's estate was being settled, his daughter Mary became a widow. Mathias Case died in Ohio in 1825. This makes me think that Benjamin Howell was also still in Ohio at the time. We know he left soon afterwards, because a deed of January 31, 1826 states that he was "of Amwell Township."18
One of the biggest challenges for Benjamin Howell and the other heirs of Joseph Howell was resolving ownership of the tavern & ferry lot, as that was apparently the most valuable part of Joseph Howell's estate. I will not attempt to sort out those deeds here, as that would result in a very long article. (Some of this history is described in "A House Divided.")
It took much of 1826 and 1827 for Benjamin Howell to settle his father's estate with his surviving sisters, Mary Case, now a widow, and Agnes Hunt, still married to Samuel Hunt. There were 13 deeds recorded during that time period. In the deeds of 1826, Benjamin Howell was identified as a resident of Amwell Township, with no spouse. In 1827, his wife Elizabeth was named, and their residence was Solebury Township, Bucks County, PA.
Because none of these transactions are related to the old Benjamin Howell house, I will set them aside for another time.
Third Generation (Jacob Howell)
Jacob Howell, son of Benjamin Howell & Agnes Woolever, was born in 1757.19 He never married. He also never purchased any property, at least not any with a deed that was recorded. He had enough land from his father's will, as can be seen from the map at the beginning of this article.
I cannot say much of anything about Jacob Howell during his lifetime as he shows up in very few records. The first mention of Jacob Howell was in 1790 when he was listed in the Amwell tax ratables with his father Benjamin Howell. They were taxed jointly on 170 improved acres and 36 unimproved. They had 4 horses, 4 head of cattle and a sleigh. What it rather odd here is that they were not taxed on either a ferry or a tavern house. I am guessing that is because in his later years, Benjamin Howell leased both businesses to others.
As mentioned before, Jacob and Joseph shared the job of administering their father's estate and dividing his property between them. Jacob remained in the family home with his widowed mother Agnes.
The next record we have for Jacob is in 1802 when he was listed in the ratables as a single man living in the household of John Bake. This threw me off a bit. It seems Jacob had moved out of his mother's house and taken up residence with the man who owned the tavern lot in trust for Joseph Howell's heirs. Jacob was 45 by that time, his mother was 68. His brother Joseph was still running the ferry.
What Jacob did with the rest of his life, I cannot say. But I can say that during the last years of his life, he was cared for by Eliza Case, daughter of his niece Mary Howell Case. This became evident from Jacob's will, written on March 26, 1835.20
According to the will, there was one person that Jacob Howell Howell cared about more than any others, and that was Eliza [Case] Scarborough "that lives in the house with me." He bequeathed her "the farm that I now live on that is mine by heirship of my father Benjamin Howell, dec'd." That is a little deceptive, because Jacob only left part of his farm to Eliza. Here is his description of the farm:
Beginning at a Red Oak tree, marked for a line tree between me and lands lately John Prall's on the south side of the creek, twenty yards more or less from the Creek, four chains on a southwardly course from said tree, on the line between me and said Prall, to the end of the line between me and him, to a corner in Romine's line, a space over the road leading from centre Bridge to Sergeantsville and thence on a northwardly course along Romine's line, between me and him to a line between me & Benjamin Bodine, thence along said line to the Creek a space below? Jacob Warman's (and a westerly course from him) thence down the creek in the middle thereof to the second fence from Warman's corner, thence south twenty yard more or less to a cherry tree marked on the south side of the creek on the bank, from thence on a westardly course down the creek to a chesnut marked sixty yards more or less from thence on a northardly course over the Creek twenty yards more or less to a Black Oak marked & from thence on the north side of the Creek and down the same twenty yards more or less to a hickory tree marked, thence Southardly across the creek eight yards more or less to a black oak, marked & from thence on a westardly course one hundred & twenty yards, more or less to the place of Beginning, suppose to contain sixty acres of land be the same more or less.
This very vague description continued to be used in subsequent deeds for Eliza's farm right up to 1881. It was not until Jacob W. Bowlby conveyed the farm of 64 acres to Richard Everitt on April 1, 1881,21 that the usual metes and bounds (exact directions and distances) was included in a deed. From that deed I was finally able to locate with certainty a part of the farm of Jacob Howell. Sixty-four acres was certainly less that the original amount of acreage allotted to Jacob Howell, but its location tells us much. It was bordered by Shoppons Run on the north, Benjamin Bodine on the east and Route 523 on the south.
There was another provision in Jacob's will that is especially important when it comes to the history of the Benj. Howell house:
The residue of my farm adjoining lands lately John Pralls, deceased, and lands lately Joseph Rittenhouse deceased & Ambrose Barcroft, Anna Reading, Andrew Larison & Jacob Warman & the aforesaid lands that I have set off to the said Eliza Ann Scarborough, [the original farm] supposed to contain two hundred acres of land be the same more or less.

I do hereby authorize my Executors herein after named together with two men that my devizees herein after named or a majority of them may appoint to devise the last mentioned part of my farm . . . equally between Mary Case, widow of Matthias Case, Agnes Hunt, widow of Samuel Hunt & Benjamin Howell (all children & heirs of my beloved Brother, Joseph Howell deceased.) Each their proportionate part, as my Executors and the men that are appointed shall think proper & to their heirs, Executors, administrators or assigns.
Before describing how the executors divided up this remaining part of Jacob's estate, it is worthwhile to learn more about Eliza Ann Scarborough and her farm, which will be tackled in the next article, along with a further history of the old Howell House.
Correction, 10/14/18: Bob Hornby pointed out to me that a will is probated and an estate is administered. I had written that Joseph Howell's estate in Ohio was probated, which was incorrect. Thanks, Bob.
Footnotes: