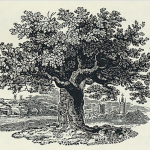 One of the early settlers in Amwell Township was Nicholas Sayn, who partnered with Johann Peter Sniter to purchase 1300 acres of the old Haddon Tract in 1748. The partners divided the property between them, and Nicholas settled down and raised a family and farmed his large property. But his son William did not wish to carry on the work, so Nicholas bequeathed his from to his nephew Honis.
This family tree was published some time ago, and has been updated somewhat. Regrettably, the Sine family did not leave many records. There is a lot of missing a lot of information with this tree.
Surnames of spouses whose families also have trees on this website are highlighted in green. Children of daughters are listed, but not grandchildren. If you see mistakes or would like to add information, please provide corrections and additions to the comments section below or by email.
Second Generation:
Children of Conrad Sine & unknown spouse.
|    (2.1) Conrad Sine Jr. (c.1682 – c.1730) & Elizabetha Christina (c.1685 – ?)
|    (2.2) Nicholas Sine (c.1700 – 1781) & Urseltje Maul (c.1705 – ?)
Third Generation:
|    (2.1) Conrad Sine Jr. & Elizabetha Christina
|    |    (3.1) Apollonia Sine
|    |    (3.2) Johann Phillip Sine
|    |    (3.3) Johann Peter Sine
|    |    (3.4) Eva Christina Sine
|    |    (3.5) John Honis Sine (c.1727 – c.1799) & Anna (c.1730 – after 1799)
|    |    (3.6) Anna Sine
|    |    (3.7) Ursula Sine (c.1729 – ?) & Elijah Budd
|    |    (3.8) Elizabeth Sine
|   (2.2) Nicholas Sine & Urseltje Maul
|   |    (3.1) William Sine (c.1725 – ?) & Gertrude Young
|   |    (3.2) Elizabeth Sine (c.1725 – ?) & Daniel Bartholomew (? – 1768)
|   |    (3.3) Ann Sine (c.1730 – ?)
Fourth Generation:
|    (2) Conrad Sine Jr. & Elizabetha Christina
|    |    (3) John Honis Sine & Anna
|    |    |    (4.1) Catharine Sine (1752 – 1823) & Garret Rittenhouse (c.1754 – 1819), left H.C.
|    |    |    (4.2) William Sine (c.1753 – 1837) & Mary
|    |    |    (4.3) Peter Sine (c.1757 – ?)
|    |    |    (4.4) John Sine (c.1760 – c.1806) & Elizabeth
|    |    |    (4.5) Christine Sine (? – bef. 1797) & unknown Whilton
|    |    |    (4.6) Eve Sine (1764 – 1831)
|    |    |    |    |  m. 1) Jacob Fox (c.1750 – 1795)
|    |    |    |    |  m. 2) Thomas Godown (c.1750 – 1841)
|    |    |    (4.7) Elizabeth Sine
|    |    |    (4.8) Susanna Sine
|    (2.2) Nicholas Sine & Urseltje Maul
|    |    (3.3) Elizabeth Sine & Daniel Bartholomew
|    |    |    (4.1) John Bartholomew
Fifth Generation:
(1) Johannes Sine & Christina
|    (2.1) Conrad Sine Jr. & Elizabetha Christina
|    |    (3.5) Johannes Honis Sine & Anna
|    |    |    (4.2) William Sine & Mary
|    |    |    |    (5.1) Catharine Sine (1779 – 1860) & Andrew Shepherd (1778 – 1862)
|    |    |    |    (5.2) Jacob Sine (c.1780 – ) & Hannah Robins (c.1785 – ), no further information
|    |    |    |    (5.3) Anna E. Sine (c.1780 – after 1873) & James Dalrymple (c.1783 – )
|    |    |    |    (5.4) Mary Sine (1784 – 1854) & Amos Thatcher (1779 – 1843)
|    |    |    |    (5.5) Elizabeth Sine (1789 – 1874) & Jacob Moore (1782 – 1858)
|    |    |    |    (5.6) Amy Sine (1799 – 1877) & Ezra Brown (c.1775 – 1848)
|    |    |    |    (5.7) Rosina Sine (c.1790 – ) & Daniel Brewer (c.1785 – after 1831)
|    |    |    |    (5.8) Amos Sine (c.1790 – ) & Achsah Golden (c.1790 – )
|    |    |    |    (5.9) Jerusha Sine (c.1795 – ) & Mahlon Taylor (c.1790 – )
|    |    |    |    (5.10) William Sine, Jr. (c.1797 – 1858) & Sarah Kyple (1790 – 1880)
|    |    |    (4.5) Christine Sine & unknown Whilton
|    |    |    |    (5.1) Anna Whilton (c.1785 – )
|    |    |    (4.6) Eve Sine & Jacob Fox
|    |    |    |    (5.1) Isaac Fox (c.1792 – 1843)
|    |    |    |    (5.2) Elizabeth Fox (1794 – 1861) & John A. Myers (1789 – 1879)
|    |    |    (4.6) Eve Sine & Thomas Godown
|    |    |    |    (5.3) Adeline Godown (1804 – 1875) & Jonathan Hunter Rake (1802 – 1874)
Sixth Generation:
(1) Johannes Sine & Christina
|    (2.1) Conrad Sine Jr. & Elizabetha Christina
|    |    (3.5) Johannes Honis Sine & Anna
|    |    |    (4.2) William Sine & Mary
|    |    |    |    (5.1) Catharine Sine & Andrew Shepherd
|    |    |    |    |    (6.1) Mahala Shepherd (1801 – 1823)
|    |    |    |    |    (6.2) Euphemia Shepherd (1802 – 1843) & Daniel J. Moore (1801 – 1886)
|    |    |    |    |    (6.3) Mary Shepherd (1802 – 1871) & Henry Buchanan M.D. (c.1801 – 1839)
|    |    |    |    |    (6.4) Riley Shepherd (1805 – 1806)
|    |    |    |    |    (6.5) Amos Shepherd (1807 – 1878) & Amelia (~1808 – )
|    |    |    |    |    (6.6) William Shepherd (1812 – 1873)
|    |    |    |    |    (6.7) Margaret Shepherd (1815 – 1816)
|    |    |    |    |    (6.8) Nancy (1819 – 1889)
|    |    |    |    |    (6.9) Catharine Shepherd (1821 – 1861) & Asa Baker (~1820 – <1860)
|    |    |    |    |    (6.10) David Shepherd (1818 – 1860) & Margaret (1819 – 1893)
|    |    |    |    (5.3) Anna E. Sine & James Dalrymple
|    |    |    |    |    (6.1) William S. Dalrymple (1799 – 1863) & Margaret Heath (1797 – 1868)
|    |    |    |    |    (6.2) Elizabeth Dalrymple (1801 – 1874) & Amos Hoppock (1802 – 1873)
|    |    |    |    |    (6.3) Mary Dalrymple (1806 – 1899) & William Moore Jr. (1798 – 1873)
|    |    |    |    (5.4) Mary Sine & Amos Thatcher
|    |    |    |    |    (6.1) Sarah Thatcher (1806 – 1872) & George M. Dalrymple (1806 – 1852)
|    |    |    |    |    (6.2) Jerusha Thatcher (1808 – 1879)
|    |    |    |    |    |    |  m. 1) Asher Lambert Esq. (1788 – 1850)
|    |    |    |    |    |    |  m. 2) William W. Wilson Esq. (1796 – 1875)
|    |    |    |    |    (6.3) Jacob N. Thatcher (1811 – 1884) & Sarah Ann Trout (1815 – 1900)
|    |    |    |    |    (6.4) Ann Thatcher (1813 – 1883) & John Reading Moore (1811 – 1887)
|    |    |    |    |    (6.5) LaReine Thatcher (1814 – 1848) & John T. Rowland (c.1815 – )
|    |    |    |    |    (6.6) Shf. Robert T. Thatcher (1819 – 1895) & Margaret Besson Trout (1821 – 1903)
|    |    |    |    |    (6.7) Amos Thatcher (1821 – 1862) & Elsa Jane Cowdrick (1820 – 1901)
|    |    |    |    (5.5) Elizabeth Sine & Jacob Moore
|    |    |    |    |    (6.1) Lavinia Moore (1806 – 1895) & John Boss (1802 – 1887)
|    |    |    |    |    (6.2) David Moore (1807 – 1869) & Mary Rounsavel (c1813 – )
|    |    |    |    |    (6.3) Amy Moore (c.1810 – 1894) & Caleb Farley Wolverton (1809 – 1878)
|    |    |    |    |    (6.4) Asa Moore (1811 – 1858) & Permelia L. Baldwin (1813 – 1884)
|    |    |    |    |    (6.5) Anna Moore (1813 – 1871) & Hon. Joseph B. Case (1811 – 1870)
|    |    |    |    |    (6.6) William S. Moore (1815 – 1889) & Susan A. Burroughs (1816 – 1873)
|    |    |    |    |    (6.7) Jacob Moore (c.1816 – )
|    |    |    |    |    (6.8) Henry Moore (c.1820 – )
|    |    |    |    |    (6.9) Mary Moore (c.1822 – 1886) & William Swallow (1820 – 1908)
|    |    |    |    |    (6.10) John Moore (1824 – 1902) & Louisa (1825 – 1907)
|    |    |    |    |    (6.11) Delilah Moore (1829 – 1905) & Thomas Dalrymple (1837 – 1910)
|    |    |    |    (5.7) Rosina Sine & Daniel Brewer
|    |    |    |    |    (6.1) Mary Mariah Brewer (1818 – 1890) & Amos Holcombe (1817 – 1897)
|    |    |    |    |    (6.2) Jerusha Brewer
|    |    |    |    (5.10) William Sine, Jr. & Sarah Kyple
|    |    |    |    |    (6.1) Sophia Sine (c.1812 – ) & Asa H. Niece (1819 – 1898)
|    |    |    |    |    (6.2) George W. Sine (1826 – 1848)
|    |    |    |    |    (6.3) Samuel C. Sine (c.1829 – 1853) & Eliza Bird (~1830 – )
|    |    |    |    |    (6.4) Clarissa Augusta Sine (1833 – after 1920) & John Henry Bodine (1832 – 1904)
|    |    |    (4.6) Eve Sine & 1) Jacob Fox
|    |    |    |    (5.2) Elizabeth Fox (1794 – 1861) & John A. Myers (1789 – 1879)
|    |    |    |    |    (6.1) Lucinda Myers (c.1817 – 1897) & Samuel Davenport (c.1815 – 1899)
|    |    |    |    |    (6.2) Samuel Myers (c.1827 – )
|    |    |    |    |    (6.3) Rebecca Myers (c.1833 – )
|    |    |    (4.6) Eve Sine & 2) Thomas Godown
|    |    |    |    (5.3) Adeline Godown (1804 – 1875) & Jonathan Hunter Rake (1802 – 1874)
|    |    |    |    |    (6.1) Jacob Fox Rake (1826 – 1885) & Sarah Ann Case (1830 – 1887)
|    |    |    |    |    (6.2) Sarah A. Rake (c.1829 – 1852) & Pierson Matthews (1824 – 1872)
|    |    |    |    |    (6.3) Caroline Rake (c.1830 – 1834)
|    |    |    |    |    (6.4) Jonathan Hunter Rake Jr. (1830 – 1897)
|    |    |    |    |    (6.5) Susan E. Rake (1841 – 1917) &
|    |    |    |    |    |    |  m. 1) Joseph Philkill (c.1829 – )
|    |    |    |    |    |    |  m. 2) Camille Grosjean