For the final installment of my study of the Haddon Tract,1 I am turning to the remainder of the property that was left to Nicholas Sine. As a reminder, Nicholas Signe/Sayn/Sine was a partner with another German immigrant, Jacob Sniter, in the 1748 purchase of 1300 acres of the Haddon Tract, a 2,000-acre plot that was surveyed for John Haddon in 1711. Daniel Robins had purchased the other 700 acres.
In "Haddon Tract, part one", I described Nicholas Sine's last will and testament, written on November 7, 1778 with these provisions: To his son William he left £5 as a birthright. To his daughters Elizabeth Bartholomew and Ann Sine, he left £5 each, and the residue of his estate to his "cousin" John Sine.
Who was "cousin" John Sine?
Nicholas was the son of Conrad Sine and brother of Conrad Sine, Jr. According to Henry Z. Jones,2 Conrad Jr. and wife Elizabetha Christina Sine had eight children, one of them being Honis (John) Sine, who was christened at Tarrytown, NY in 1727. Thus, John was actually Nicholas Sine's nephew, in our modern terminology, rather than his cousin. In the 18th century, people used the word "cousin" far more loosely than we do.
Very little is known about Conrad Sine, Jr. His son John probably married his wife Anna about 1750, but where they lived at that time is not known.
The earliest record I have for John Sine in Hunterdon County is the 1780 tax ratables for Amwell Township. In January and June he was taxed on 195 acres. In January he had 3 horses, 4 cattle and 1 hog. In June, the had lost 2 horses and his hog. In 1786, John Sine was taxed on 195 acres worth £40, 2 horses, 3 cattle. His tax came to £162.16.6. Son William Sine was taxed as a householder (no acreage), but was taxed on 1 horse and 2 cattle.
In 1790, John Sine had only had 97 acres, and his son William had 98. They each had 3 horses and 5 cattle; their taxes came to £40.3.0 for William and £48.14.0 for John. It appears that John had divided his farm in half.3 John's son Peter was taxed on 167 acres that year.
In 1796, as described in "Haddon Tract, part one," John Sine, who was then in his late 60s, conveyed 106 acres to his son William (who was in his mid 40s) for £260.4 The property was bordered by Jacob Sutton, Henry Moore and Samuel Kitchen. As we have seen, William had been farming part of this land for many years.
The Sine Plantation Divided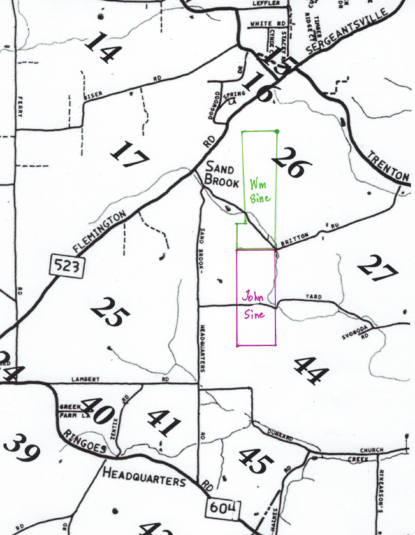 To Review: John (Honis) Sine inherited the land of his uncle Nicholas Sayn (Conrad's brother) in Amwell, just east of the village of Sand Brook. It was part of the 1300 acres sold by Elizabeth Haddon Estaugh to Jacob Snyder and Nicholas Sayn, and consisted of the share that went to Sayn in the division between Sniter and Sayn. (See "Hoppock Farm Over 600 Acres" for a map of the whole Haddon Tract.)
John (Honis) Sine, son of Conrad and Elizabeth Sine, and wife Anna had three sons: William (c.1753-1837), Peter (c.1757-?), and John, Jr. John (Honis) Sine wrote his will in 1797 leaving his plantation to son John, Jr. He also mentioned in that will that his sons William and Peter already had their share.
It is clear from later deeds that William Sine got the northern half of the Sine plantation and John, Jr. got the southern half. I have not located son Peter's property. As you can see from the map, William's share ran from Britton Road north to almost the intersection of Routes 523 and 579. John, Jr.'s share ran south from Britton Road almost all the way to Dunkard Church Road.
William Sine's Farm
William Sine, the eldest son of John and Anna, was born about 1753. Sometime in or before 1779, he married a woman named Mary. Their first child Catharine was born on December 9, 1779. They had nine more children after that.
The first appearance of William Sine in the records was on December 30, 1779 when he served as a juror for a coroner's inquest into the death of John Reading, who drowned in Philip Colvin's well. Colvin lived in the Sand Brook neighborhood. Serving with him on the jury was his brother Peter Sine. Both William and Peter had not learned to write because they signed their marks, rather than write their names.
One would think that William learned to write later on because he made the inventory for Mary Kitchen, widow of Samuel Kitchen of Sand Brook in 1805, and gave an account of his father's estate in 1812. But he was unable to sign his own will, so it appears he managed without that skill.
As mentioned in "Haddon Tract part one," his father's will of 1797 left William provided for and named him executor of the estate along with Andrew Bearder, who later declined to act. This was just one year after Honis Sine had conveyed the 106.5-acre farm to son William, who had to pay £260 for it. It bordered Jacob Sutton, Henry Moore and Samuel Kitchen. You can see that land outlined in green in the map above.
In 1831, when William Sine was 78 years old, he gave a deposition in the case of George Rea v. Philip Rake, concerning the mill property in Sand Brook. He stated that he had lived on land adjoining the mill from 1775 to the present. The suit concerned the diversion of water caused by John Rockafellar's dam many years previously.5
William Sine's Will
William Sine, Sr. wrote his will on June 10, 1833 when he was about 80 years old. From it we learn about his many children and how particular he was about how they would receive their bequests. These are the children and their spouses.
Catharine Sine, born Dec. 9, 1779, married Andrew Shepherd
Jacob Sine, born about 1780, married Hannah Robbins
Anna Sine, born about 1780, married William Dalrymple, Sr.
Mary Sine, born July 30, 1784, married Amos Thatcher
Elizabeth Sine, born Nov. 2, 1789,married Jacob Moore
Amy Sine, born abt 1790, married Ezra Brown
Rosina Sine, born about 1790, married Daniel Brewer
Amos Sine, born about 1790, married Achsah Golden
Jerusha Sine, born abt 1795, married Mahlon Taylor
William Sine, Jr., born abt 1797, married Sarah Kyple
Readers who have been following my articles over the years will recognize many of the names of the ten spouses. They all come from prominent early families in southern Hunterdon County.
In terms of William Sine's farm, only one item in Sine's will is pertinent, which was that one year after his death his executors were to sell the property conveyed to him by his father in 1796. (The full list of items in the will is appended at the end of this article.) I do not know exactly when William Sine died. It was sometime before April 23, 1837 when his will was recorded. Very soon afterwards, his executors sold his farm to George M. Dalrymple.
George M. Dalrymple & Sarah Thatcher
On Nov. 9, 1831, George M. Dalrymple (1806-1852) married Sarah Thatcher (1806-1872), daughter of Amos Thatcher and Mary Sine. Sarah was therefore the granddaughter of William Sine, dec'd. But who was George M. Dalrymple?6 I can make a guess, but as yet have found no proof. My suspicion is that he was the son of George Dalrymple, Sr. (c.1773-1854) and Anna Maxwell (c.1780-1827).
One reason for this notion is George's middle initial. Unfortunately, I have not yet found a record in which the middle name is spelled out. But given that his possible mother was a Maxwell, it seems likely that the M in George's name stood for Maxwell. Anna was the daughter of William Maxwell (1745-1811) and Susanna Kitchen, and granddaughter of James Kitchen and Elizabeth Furman. The Maxwells lived in Bethlehem Township and William died intestate, which makes it hard to link George with William. However, researcher Fred Sisser found that among the estate papers was a reference to his son-in-law, George "Dalrimple."
Another clue comes from the fact that William Maxwell owned property in Sand Brook, which bordered the farm of William Sine's brother John. More about that below.
And finally, George and Anna Maxwell Dalrymple had a daughter named Susanna, no doubt after Anna's mother, Susanna Kitchen Maxwell. Pretty sketchy, I admit. Fred Sisser wrote that the family of George and Anna (Maxwell) Derumple/Dalrymple is difficult to construct as no church register, Family Bible, civil or private record seems to have survived that names their children. So, I cannot say for sure that Susanna was their daughter. She married William H. Dilts on Oct. 27, 1821 at the Baptist Church in Kingwood.
George Dalrymple, Sr., husband of Anna Maxwell, was a tavernkeeper, first at the Boarshead in the 1820s, later in Locktown in the 1830s. There isn't much in his history to link him with the Thatchers and the Sandbrook neighborhood. He was living in Kingwood when he died intestate in 1854, age 81. His wife Anna had predeceased him by 27 years. She was 47 when she died in 1827. The location of their graves is not known.
George M. Dalrymple was not interested in the Sine farm. The same day that he purchased it from the executors of William Sine dec'd, he turned it over to his father-in-law Amos Thatcher, who happened to be one of Sine's executors, and therefore unable to purchase it outright.7
In 1844, Amos Thatcher sold to George N. Holcombe the 106 acres he had bought from George M. Dalrymple.8
George N. Holcombe
Studying the property of anyone named George Holcombe is a daunting task. One of them was a sheriff (George B. Holcombe) which means his name shows up in the index countless times. Two of them were a profligate investors—the George Holcombe described above and a George M. Holcombe. Fortunately, we are concerned with George N. Holcombe, whose deeds are limited to a reasonable number. (I mentioned Mr. Holcombe previously in the article "A 1777 Campground".)
George Nelson Holcombe was a lifelong resident of the Sandbrook area. He was named an overseer of roads when Delaware Township was organized in 1838. In 1867-1869 he was elected freeholder from Delaware, and in 1880 he served as the town clerk.
He was born December 12, 1808 to Robert Holcombe and Elizabeth Pidcock. On December 8, 1832, when he was 24, he married Matilda Case (1809-1879), eldest child of John Case and Mary Rounsavel, and granddaughter of Isaac Rounsavel and Catharine Larew.9
George Nelson Holcombe died on December 23, 1900, age 92 years and 11 days. He was buried in the Sandy Ridge Cemetery next to his wife Matilda, who died in 1879.10 His obituary in the Hunterdon Republican read:
He was one of the best known men in this section. He leaves three sons who lament his departure—Horace, of Plainfield, Hiram and George of Sand Brook. The Rev. S. H. Potter of Ringoes, a friend of the family, conducted the funeral service at the residence of the deceased on Wednesday last, assisted by Rev. Mr. Moore, of Sand Brook, and Rev. Mr. Smith, of Sergeantsville. Mr. Potter preached on "Life a Journey," from Job, 16 : 22. He spoke of the perils and privileges of this journey. He urged all to guard themselves against the perils, and to improve the privileges of life. The remains were then deposited in the Sandy Ridge cemetery, to await "the resurrection of the just."
John Sine, Jr.'s Farm
John Sine, Jr. did not live very long. He inherited his portion of his father's farm about 1799. But by 1805, he had sold it. He died intestate six months later, about October 1806. By 1812, his estate was still not settled. On May first of that year, his administrators, John Robbins and James Gregg, were ordered by the Orphans Court to sell some of his land to satisfy outstanding debts. The purchaser was his brother William Sine who paid $30/acre for a woodlot of 2.95 acres that bordered own property.11
But going back to the sale of his farm, on March 1, 1805, John Sine, Jr. and wife Elizabeth of Amwell sold to George Holcombe of same a tract of 100 acres for $3,666.67.12 It was described as "All that messuage or plantation where the said John Sine now lives." The bordering owners were William Sine, Widow Kitchen, John Rake and John Hise. In the next deed, John, Jr.'s mother Ann Sine quit claimed all manner of dower right in the land of her husband (and John Sine's father), for $16.00.13
In exchange, John Sine purchased from George Holcombe the Boarshead Tavern lot on Route 579. A deed of August 22, 1806 for 40 acres sold to Richard and Andrew Shepherd stated that it was on "the road from John Sine's Tavern to Baptistown," i.e., Route 579.14
George and Samuel Holcombe
The George Holcombe who bought Sine's 100 acres was a land speculator. He started in 1793 when he bought the mill lot at Headquarters from Thomas Opdycke. Not long afterward he bought the farm of Samuel Kitchen, millwright of Sand Brook, from William Maxwell (father-in-law of George M. Dalrymple). Holcombe managed to get into big trouble very quickly. On October 17, 1815, George Holcombe, "late of the City of New Brunswick but now of the Township of Amwell, Merchant," was forced to assign all his real estate and personal property to several men, some of them relatives, some of them friends, i.e. his brother Samuel Holcomb Jr. of New Brunswick, Daniel La Tourette, a merchant of Somerville, Nathaniel Saxton, Esq. of Lebanon, and Alburtus King of Amwell.15 On April 11, 1816, George Holcombe conveyed the Sine farm of 100 acres to his brother Samuel Holcombe for $400.16
Both George and Samuel Holcombe were sons of Samuel Holcombe, Sr. and Mary Stillwell, who died in 1770. Samuel Sr. then married Sarah Emley and had eight more children, including Robert Holcombe (1783-1825). I have had some trouble sorting out land purchases between Samuel, Sr. and Samuel, Jr. But it appears that Samuel, Jr. was living in the Sand Brook area by 1805, because that year he was bordering property of John Rake.17
Samuel Holcombe, Jr. had married Mary Moore in 1794. She was the daughter of Theophilus Moore and Rhoda Phillips. Surprisingly, there is no relation between Theophilus Moore and Hiram Moore, unless I've missed something. Anyway, at some point, Samuel and Mary Holcombe moved to New Brunswick, where Samuel died in 1838.
It turns out that it was Samuel's father Samuel Sr. who owned the John Sine farm. Samuel Sr. wrote his will on October 26, 1813 and left the farm of 126 acres to his son Robert, "where he lives." This was Block 27 lot 20 and Block 44 lot 15, with the house located on the north side of Yard Road where it takes a sharp bend.
Apparently the Sine farm come into possession of Samuel Holcombe, Sr. well before his son George was forced to assign all his property in 1815. This is a missing link in the chain of title.
Robert Holcombe died intestate on Nov. 27, 1825, and his administrators conveyed his farm to Elizabeth Holcombe in 1827.18 This was his wife, Elizabeth Pidcock, whom he married in 1802. Elizabeth died in 1843, and her many heirs (ten of her eleven children and their spouses) conveyed Robert and Elizabeth's farm of 41.5 acres to Hiram Moore for $1,032.75.19 This was the northern half of the original 126 acres bequeathed to Robert by his father, and bordered George N. Holcombe's farm on the north, across Britton Road.
The other half was sold to Robert's son Robert Holcombe, Jr. on the same day.20
Addendum: William Sine's Will
William Sine wrote his will on June 10, 1833. It was recorded on April 23, 1837. The following is a transcription of the will, with excess verbiage left out. First item was an order to his executors to sell his
"moveables as soon as may suit after my decease and all my lands in one year after my decease, the land to be sold to the best advantage some part of the woodland to be sold in lots if thought best by my executors and to be sold in three payments without interest, . . . and money arising from the sale of all my property after paying my just debts and funeral expenses I do give devise and bequeath in the following manner:

– to my beloved wife Mary Sine $400, $100 to be paid her in one year after my decease, and the remainder in two equal payments yearly, and likewise I give her as much of my household and kitchen furniture as she thinks she stands in need of;

– to son Jacob Sine or his legal representatives $50 within 3 years after my decease;

– to my beloved son Amos Sine or his legal representatives $100, one half to be paid within two years after my decease, and the other half within three years;

– to my beloved grandchildren(descendants of my beloved daughter Anna Dalrumple) as follows:

– to William Dalrumple $40; to Elizabeth wife of Amos Hoppock and Mary wife of William Moore Jr. each $30 to be paid within 3 yrs of my decease, the last mentioned legacies to be paid to them or their legal representatives and the remainder of my estates to be equally divided between my beloved children or their legal representatives share and share alike as follows:

– to Catherine wife of Andrew Shepherd, to Jerusa wife of Mahlon Taylor, to Mary wife of Amos Thatcher, to Elizabeth wife of Jacob Moore and to Catherine Marcia and Jerusa ? Ann (children of my beloved daughter Rozina Brewer, wife of Daneil Brewer, one share and to Amy wife of Ezra Brown, and my beloved son William Sine, to be paid to them or their legal representatives by my Executors equally share and share alike one half _- __ two years after my decease, and the other half within three years;

– the aforesaid legacies that I have given my beloved wife Mary Sine I give her in lieu of her right of Dower in my estates and if she accepts it __? well, and if not then that part of my will to be void.

– and it is my will that the produce of my farm the last year to belong to my son William Sine, and I give & bequeath to sd son my waggon, plow and harnes with the implements and gears belonging to same, and my son William Sine to keep my wife as long as he lives on my farm;

– the shares for daughters Jerusa and Amy to be paid to them and to them only and not to their husbands, unable to pay their debts __ under their controle, and at this time I stand bound to pay $200 and if it so happens that I have that money to pay for Daniel Brewer for whom I am bound that sum if so much falls to their share to be deducted out of same; that is the children of my beloved daughter Rozina Brewer that is already mentioned in the foregoing part of my will the $200 to be deducted out of their share

– and it is my will that my beloved grandson Jacob Brown son of Ezra and Amy Brown to have $20 paid him by my executors out of the share that I have devised to his mother;
Sine named Andrew Shepherd, Amos Thatcher (who signed his mark), and son William Sine, Jr. his executors. He signed his will with a mark rather than a signature. Witnesses were Cornelius Lake, Henry H. Fisher, John Gordon. The will was recorded on April 23, 1837.
Note: I do not have any photographs of the people involved in this story. It appears that most of them did not live long enough to be photographed. The exception, of course, is George Nelson Holcombe, who surely must have a picture somewhere. If any of you happen to come across one, I hope you will share it with us.
Footnotes: