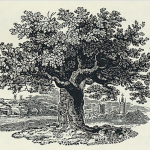 Some time ago, I published a family tree for the Fishers of Amwell, because they figured in my article on the Hart-Taylor Cemetery. Then I began researching the area that was taken from Delaware Township and given to East Amwell Township in 1896 (A Shrinking Township, parts 1 and 2), and learned that a large part of that area was owned by the Fisher family.
This prompted me to take another look at the Fishers, and reconsider that original tree. It needed some updating.
Despite new information gained from my research into the owners of that area that went to East Amwell, I still am lacking much information on this very wide-spread family. Just to complicate things a little, the Fishers seemed fond of reusing given names, and they were lax about recording documents.
In order to make it practical to publish a Fisher tree, in the first version I stopped after four generations. This time, I've decided to go on to five, but I am not including the children of daughters. That would be too much. Eventually I will add the sixth generation.
Remember, that Fisher being a rather common name, there are several different Fisher Families in Hunterdon County that are quite unrelated. This particular tree concerns the family that settled in East Amwell at a very early date. Some readers may recall that I published a few articles in which one Henry H. Fisher of Sergeantsville figured prominently. He is not a member of this branch of Fishers.
Feel free to offer additions or corrections, but please do it in the comments section below so other readers can share the information.
First Generation:
(1) Johannes Peter Fisher (1698 – 1775) & Anna Maria Young (1701 – 1775)
This is the immigrant couple, who came from the Palatine region of Germany in the 1720s. After a few moves, they settled on land at the village of Rocktown in East Amwell, Hunterdon County, NJ.
Second Generation:
|     (2.1) Anthony Tunis Fisher (1725 – 1800) & Margaret Elizabeth Snyder (1731 – 1799)
|     (2.2) William/Wilhelm Fisher (c.1727 – 1806) & Charity Youngblood (c.1730 – ?)
|     (2.3) Elizabeth Fisher (1729 – 1760) & Jacob B. Snyder (1731 – 1819)
|     (2.4) Peter Fisher (c.1730 – 1816) – no further information
|     (2.5) Anne Fisher (c.1733 – bef. 1836) & Christopher M. Kuhl (c.1735 – 1827)
|     (2.6) Christopher Fisher (c.1730 – 1787)
|     |    m. 1) Mary Lequear (c.1740 – 1821), d/o Garrardus Lequear & Anetje Cortelyou
|     |    m. 2) Mary Young (1736 – 1821)
|     (2.7) Jacob Fisher Sr. (c.1735 – c.1821)
|     |    m. 1) Sarah Hoppock (c.1740 – after 1788), d/o Tunis Hoppock & Antje Boss
|     |    m. 2) Margaret
|     (2.8) Mary Fisher (c.1735 – bef. 1810) & Barnet Bellis (c.1730 – c.1810)
|     (2.9) John Fisher (c.1737 – 1789) & Frances Kuhl (c.1740 – 1830), d/o Johannes Paul Kuhl & Eva Marya Case; left H.C. after marriage
Third Generation:
|     (2.1) Anthony Tunis Fisher & Margaret Elizabeth Snyder
|     |     (3.1) Joseph Fisher (1750 – 1835) & Rebecca Blum (no further information)
|     |     (3.2) Mary Fisher (1751 – 1829) & Jacob Housel (1764 – 1825)
|     |     (3.3) John Fisher (1758 – 1826) & Mary Hoagland (c.1752 – ?)
|     |     (3.4) Tunis Fisher (1759 – 1832), left H.C.
|     |     |   m. 1) Sarah Meloby (c.1755 – c.1800)
|     |     |   m. 2) Mary Larew (c.1775 – ?)
|     |     (3.5) Christopher Fisher (1760 – 1804) & Charity Boss (c.1758 – ?)
|     |     (3.6) Margaret Fisher (1764 – 1820) & __ Stryker, removed to Baltimore
|     |     (3.7) Jacob Fisher (1768 – 1855) & Ann Wilson (1768 – 1839)
|     |     (3.8) Elizabeth Fisher (1773 – 1855) & George E. Lott (1773 – 1846)
|     (2.2) Wilhelm William Fisher & Charity Youngblood
|     |     (3.1) Mary Fisher (1753 – 1829) & Sgt. Abraham Adrian Hagaman (1751 – 1836)
|     |     (3.2) Elizabeth Fisher (c.1755 – 1792)
|     |     (3.3) Peter Fisher (1758 – 1821) & Alice Johnson (1763 – 1821)
|     |     (3.4) Sarah Fisher (1767 – 1792) & Lewis Chamberlain (1750 – 1813)
|     |     (3.5) William Fisher (1768 – 1842) & Lucretia Slack (1771 – 1847)
|     |     (3.6) Ann Fisher (1769 – 1846)
|     |     |   m. 1) Lewis Chamberlain (1750 – 1813)
|     |     |   m. 2) Jonathan Hoagland (1778 – 1851)
|     |     (3.7) John Fisher (c.1770 – ?) & Sarah Prall (c.1774 – ?), left H.C.
|     |     (3.8) Hannah Fisher (c.1770 – ?) & Lewis Ketchum (c.1770 – ?)
|     (2.6) Christopher Fisher & 1) Mary Lequear
(I have very little information on the families of Christopher Fisher.)
|     |     (3.1) Elizabeth Fisher (c.1755 – ?) & Daniel Griggs (c.1750 – ?)
|     |     (3.2) Mary Fisher (c.1758 – ) & John Hortman (c.1755 – 1820)
|     |     (3.3) Anne Fisher (1764 – 1856) & William Case (1760 – 1853), left H.C.
|     (2.6) Christopher Fisher & 2) Mary Young
|     |     (3.4) Christopher Fisher Jr. (1779 – 1804) & Jane Stout (c.1780 – ?)
|     (2.7) Jacob Fisher Sr. & 1) Sarah Hoppock
|     |     (3.1) Peter Fisher Esq. (1765 – 1829) & Anna Runk (1764 – 1850)
|     |     (3.2) Anna Fisher (1767 – 1851) & Caleb Farley (1757 – 1808)
|     |     (3.3) Tunis Fisher (1769 – ?), left H.C.
|     |     (3.4) Mary Fisher (1772 – 1852) & Nathaniel Wilson (1767 – 1811)
|     |     (3.5) Sarah Fisher (1775 – 1831) & Abraham Prall (1770 – 1851)
|     |     (3.6) Jacob Fisher Jr. (1779 – 1813)
|     |     |   m. 1) Anne Anna Chamberlin (1784 – 1855)
|     |     |   m. 2) Anna __ (1814 – 1885)
|     |     (3.7) John Fisher (1788 – before 1814)
|     (2.9) John Fisher & Frances Kuhl
|     |     (3.1) Peter Fisher (c.1761 – 1841) & Deborah Warford (c.1765 – ?)
|     |     (3.2) Mary Fisher (c.1763 – c.1810)
|     |     (3.3) Paul Fisher (c.1765 – 1793)
|     |     (3.4) John Fisher (c.1767 – ?)
|     |     (3.5) Anne Fisher (c.1770 – c.1840) & Abraham Hess
|     |     (3.6) Margaret Fisher (c.1772 – 1858)
|     |     (3.7) Jacob Fisher (c.1773 – 1846)
|     |     (3.8) Ruhamah Fisher (c.1775 – bef. 1820)
Fourth Generation:
|     (2.1) Anthony Tunis Fisher & Margaret Elizabeth Snyder
|     |     (3.3) John Fisher & Mary Hoagland, left H.C.
|     |     |   (4.1) John Fisher (c.1770 – ?) & Anne Leonard (c.1780 – ?), moved west
|     |     |   (4.2) Tunis Fisher (c.1770 – ?) & __ Coogle
|     |     |   (4.3) Joseph Fisher (c.1780 – 1862) & Elizabeth Leonard (c.1788 – 1850, sister of Anne Leonard, above)
|     |     (3.4) Tunis Fisher & Sarah Meloby, left Hunterdon
|     |     |     (4.1) George Fisher (~1775 – )
|     |     |     (4.2) Henry Fisher (~1775 – )
|     |     |     (4.3) Grace Fisher (~1780 – )
|     |     |     (4.4) James Fisher (~1780 – )
|     |     |     (4.5) Jacob Fisher (~1780 – )
|     |     |     (4.6) Jefferson Fisher (~1785 – )
|     |     (3.5) Christopher Fisher & Charity Boss
|     |     |     (4.1) Catherine Fisher (c.1774 – 1867) & William Culver (1772 – 1829), left H.C.
|     |     |     (4.2) Joseph Fisher (c.1788 – ?)
|     |     |     (4.3) Peter Fisher (c.1779 – ?)
|     |     |     (4.4) Hannah Fisher (c.1781 – ?)
|     |     |     (4.5) Tunis Fisher (1783 – ?) & Phoebe Everitt (1779 – 1870)
|     |     |     (4.6) Elizabeth Fisher (c.1785 – ?)
|     |     |     (4.7) Charity Fisher (c.1790 – ?)
|     |     (3.7) Jacob Fisher & Ann Wilson
|     |     |     (4.1) Wilson Fisher (1790 – 1860) & Mary McConnell (1783 – 1865)
|     |     |     (4.2) Charity Fisher (c.1792 – 1873) & Uriah Phillips (c.1782 – 1851)
|     |     |     (4.3) Rebecca Fisher (1794 – 1873) & John Carroll Holcombe (1793 – 1882)
|     |     |     (4.4) Abigail Fisher (c.1798 – 1863) & Hon. John Lambert (1791 – 1882)
|     (2.2) Wilhelm William Fisher & Charity Youngblood
|     |     (3.3) Peter Fisher & Alice Johnson
|     |     |     (4.1) Hon. James J. Fisher (1784 – 1870) & Rebecca Pidcock (1789 – 1854)
|     |     |     (4.2) Elizabeth Fisher (1786 – ?) & Mahlon Wambough (c.1780 – ?)
|     |     |     (4.3) Charity Fisher (1788 – 1878)
|     |     |     (4.4) Ann Anna Fisher (1790 – 1863)
|     |     |     (4.5) William Peter Fisher (1793 – 1876) & Sarah Wilson (1802 – 1845)
|     |     |     (4.6) Cornelius Q. Fisher (1799 – 1887) & Gertrude Young (1803 – 1883)
|     |     (3.5) William Fisher & Lucretia Slack
|     |     |     (4.1) Amos Fisher (1795 – 1856) & Mary Quick (1796 – 1835)
|     |     |     (4.2) __ Fisher (1797 – 1811)
|     |     |     (4.3) William Fisher (1798 – 1870) & Mary Dilts (1802 – 1881)
|     |     |     (4.4) James Slack Fisher (1800 – 1879) & Catharine Ann Stout (1816 – 1901)
|     |     |     (4.5) Charity Fisher (1803 – 1881) & Judiah Jedediah Higgins (1799 – 1890)
|     |     |     (4.6) Mary Ann Fisher (1808 – 1892) & Capt. Nathan Stout (1812 – 1891)
|     (2.6) Christopher Fisher & 2) Mary Young
|     |    (3.4) Christopher Fisher Jr. & Jane Stout
|     |    |     (4.1) Christopher Fisher (c.1804 – 1879) & Elizabeth Stevenson (1792 – 1875)
|     (2.7) Jacob Fisher Sr. & 1) Sarah Hoppock
|     |     (3.1) Peter Fisher Esq. & Anna Runk
|     |     |     (4.1) Jacob P. Fisher Esq. (1786 – 1845) & Sarah Stevenson (1786 – 1864)
|     |     |     (4.2) Sarah Fisher (1788 – 1859) & John H. Hoffman (1796 – 1868)
|     |     |     (4.3) Ann Nancy Fisher (1790 – 1869) & Thomas T. Holcombe (1795 – 1838)
|     |     |     (4.4) Frances Fisher (1791 – 1865) & Elias Holcombe (1793 – 1865)
|     |     |     (4.5) Rachel Fisher (1794 – 1883) & Jacob Miller Kline (1799 – 1878)
|     |     |     (4.6) John Fisher (1796 – 1833) & Susan Runkle (1796 – 1875)
|     |     |     (4.7) Peter R. Fisher (1798 – ?)
|     |     |     |     m. 1) Mary Ann Honeyman (1802 – 1847)
|     |     |     |     m. 2) Francenka Lane (1823 – 1874)
|     |     |     (4.8) Hiram Fisher (c.1800 – c.1800)
|     |     |     (4.9) Julia Fisher (1804 – 1871) & Matthias S. Cramer (1800 – 1849)
|     |     |     (4.10) William Fisher (c.1805 – ?)
|     |     (3.6) Jacob Fisher Jr. & 2) Anne Anna Chamberlin
|     |     |     (4.1) Sarah Fisher (1801 – 1837) & Gideon Quick (1793 – 1872)
|     |     |     (4.2) Maria L. Fisher (1803 – 1886) & John Wilson Larison (1801 – 1889)
|     |     |     (4.3) John Chamberlain Fisher (1806 – 1874)
|     |     |     |    m. 1) Cornelia M. Skillman (1809 – 1844)
|     |     |     |    m. 2) Adaline (c.1817 – ?)
|     |     |     (4.4) Caleb Farley Fisher (1809 – 1892) & Rebecca Ann Holcombe (1810 – 1883)
|     |     |     (4.5) Lucretia Ann Fisher (1811 – 1813)
Fifth Generation:
|     (2.1) Anthony Tunis Fisher & Margaret Elizabeth Snyder
|     |     (3.3) John Fisher & Mary Hoagland
|     |     |     (4.2) Tunis Fisher & __ Coogle
|     |     |     |     (5.1) Peter Fisher
|     |     |     (4.3) Joseph Fisher & Elizabeth Leonard
|     |     |     |     (5.1) Wilson Fisher (1807 – 1859) & Ann __
|     |     |     |     (5.2) Mahlon Fisher (1810 – 1874) & Mary Ann Stires (1811 – 1873)
|     |     |     |     (5.3) Nelson W. Fisher (1815 – 1909) & Rebecca Anderson (1813 – 1880)
|     |     |     |     (5.4) Johnson Fisher (c.1816 – 1859) & Anna Gearhart (1822 – 1896)
|     |     (3.5) Christopher Fisher & Charity Boss
|     |     |     (4.5) Tunis Fisher (1783 – 1862) & Phoebe Everitt (1779 – 1870)
|     |     (3.7) Jacob Fisher & Ann Wilson
|     |     |     (4.1) Wilson Fisher & Mary McConnell
|     |     |     |     (5.1) Jacob Fisher (1811 – 1814)
|     |     |     |     (5.2) Marcus A. Fisher (1818 – 1872)
|     |     |     |     (5.3) Melissa Fisher (1824 – 1906) & George R. Fox (1819 – 1906)
|     (2.2) Wilhelm William Fisher & Charity Youngblood
|     |     (3.3) Peter Fisher & Alice Johnson
|     |     |     (4.1) Hon. James Johnson Fisher & Rebecca Pidcock
|     |     |     |     (5.1) Charles Johnson (1832 – 1890) & Martha Rebecca Fisher (1833 – 1908)
|     |     |     (4.5) William Peter Fisher & Sarah Wilson
|     |     |     |     (5.1) Alice Ann Fisher (1823 – 1912) & Isaac W. Matthews Jr. (1818 – 1884)
|     |     |     |     (5.2) James Johnson Fisher* (1824 – 1897) & Mary Higgins (1829 – 1871)
|     |     |     |     (5.2) James Johnson Fisher* (1824 – 1897) & Sarah E. Sutton (1835 – 1894)
|     |     |     |     (5.3) Peter Fisher (1825 – 1883) & Ann Holcombe (1827 – 1919)
|     |     |     |     (5.4) Martha W. Fisher (1827 – 1875) & Jordan Matthews (1822 – 1898)
|     |     |     |     (5.5) John G. Fisher (1830 – 1920) & Martha H. Fisher (1837 – 1906)
|     |     |     |     (5.6) Israel Fisher (1834 – 1892) & Mary Schenck Quick (1837 – 1903)
|     |     |     |     (5.7) William P. Fisher Jr. (1837 – 1869) & Elizabeth Manners (1843 – 1903)
|     |     |     |     (5.8) Sarah Lucretia Fisher (1844 – 1923) & Aaron Barcroft (1835 – 1880)
|     |     |     (4.6) Cornelius Q. Fisher & Gertrude Young
|     |     |     |     (5.1) Maria Fisher (1823 – 1903)
|     |     |     |     (5.2) Catharine Fisher (1831 – 1851)
|     |     |     |     (5.3) Harriet Fisher (1835 – 1895) & Oliver P. Case (1833 – >1900)
|     |     |     |     (5.4) James Q.. Fisher (1840 – 1908)
|     |     |     |     |     m. 1) Ida Manners (1845 – 1868)
|     |     |     |     |     m. 2) Catharine A. Skillman (1839 – 1922)
|     |     (3.5) William Fisher & Lucretia Slack
|     |     |     (4.1) Amos Fisher & Mary Quick
|     |     |     |     (5.1) Peter Prall Fisher (c.1815 – 1893)
|     |     |     |     |     m. 1) Ann Aller (1817 – 1851)
|     |     |     |     |     m. 2) Ellen __
|     |     |     |     (5.2) Fanny Fisher (1820 – 1843)
|     |     |     |     (5.3) Catharine Fisher (c.1825 – ?)
|     |     |     |     (5.4) Mary Fisher (c.1825 – ?)
|     |     |     (4.3) William Fisher & Mary Dilts
|     |     |     |     (5.1) Mary Dilts Fisher (c.1819 – 1844) & Theodore W. Young (c.1815 – ?)
|     |     |     |     (5.2) William Fisher (c.1822 – ?)
|     |     |     (4.4) James Slack Fisher & Catharine Ann Stout
|     |     |     |     (5.1) Nathan Stout Fisher (1836 – 1836)
|     |     |     |     (5.2) William H. Fisher (c.1838 – ?)
|     |     |     |     (5.3) James S. Fisher (c.1840 – ?) & S. Jennie Smith
|     |     |     |     (5.4) Claudius R. P. Fisher
|     |     |     |     (5.5) Ellen S. Fisher
|     |     |     |     (5.6) Rebecca S. Fisher (? – 1866)
|     |     |     |     (5.7) Caroline Stout Fisher (1841 – 1911)
|     |     |     |     (5.9) Emma Z. Fisher (1850 – 1850)
|     |     |     |     (5.10) Mary Fisher (1851 – 1863)
|     |     |     |     (5.11) Kate Fisher (c.1855 – ?)
|     |     |     |     (5.12) Claudine Fisher (c.1857 – ?)
|     (2.6) Christopher Fisher & Mary Young
|     |     (3.4) Christopher Fisher Jr. & Jane Stout
|     |     |     (4.1) Christopher Fisher & Elizabeth Stevenson
|     |     |     |     (5.1) Jane Fisher (1829 – 1866) & James W. Hoppock (c.1823 – 1882)
|     (2.7) Jacob Fisher Sr. & Sarah Hoppock
|     |     (3.1) Peter Fisher Esq. & Anna Runk
|     |     |     (4.1) Jacob P. Fisher Esq. & Sarah Stevenson
|     |     |     |     (5.1) Mary Ann Fisher (1814 – 1878) & Henry Mathews (1812 – 1886)
|     |     |     (4.6) John Fisher & Susan Runkle
|     |     |     |     (5.1) Frances Fisher (1822 – 1870) & Derrick Sutphen (1814 – 1891)
|     |     |     |    (5.2) Jacob Runkle Fisher (c.1827 – ?) & Dinah H. Van Doren (1825 – 1890)
|     |     |     |     (5.3) William Fisher (1826 – ?) & Mary Elizabeth Sieg (1825 – ?)
|     |     |     (4.7) Peter R. Fisher & Mary Ann Honeyman
|     |     |     |     (5.1) Margaret Fisher (c.1820 – 1844) & William Duyckinck (c.1820 – ?)
|     |     |     (4.7) Peter R. Fisher & Francenka Lane
|     |     |     |     (5.2) Mary Fisher & Horace Lobb
|     |     |     |     (5.3) Kate Fisher & Erwin O. Blair
|     |     (3.6) Jacob Fisher Jr. & Anne Anna Chamberlin
|     |     |    (4.3) John Chamberlain Fisher & Cornelia M. Skillman
|     |     |     |     (5.1) Jacob James Fisher (1828 – 1900) & Louisa Hunt (1837 – 1906)
|     |     |     |     (5.2) Anna Mary Fisher (1833 – 1901) & Capt. John Milton Bowne (1831 – 1863)
|     |     |     |     (5.3) Martha H. Fisher (1837 – 1906) & John G. Fisher (1830 – 1920)
|     |     |     |     (5.4) Thomas S. Fisher (1839 – 1850)
|     |     |     |     (5.5) Cornelia Fisher (c.1844 – ?)
|     |     |     (4.3) John Chamberlain Fisher & Adaline __
|     |     |     |     (5.6) Jeannie Fisher (c.1849 – ?)
|     |     |     |     (5.7) James Oswald Fisher (1852 – 1917)
|     |     |     |     (5.8) Charles W. Fisher (1829 – 1857)
|     |     |     (4.4) Caleb Farley Fisher & Rebecca Ann Holcombe
|     |     |     |     (5.1) Jacob Farley Fisher (1830 – 1897) & Emma Carver (c.1830 – ?)
|     |     |     |     (5.2) Ann Elizabeth Fisher (1831 – 1883) & Wm Frederick Holcombe (1830 – 1919)
|     |     |     |     (5.3) Martha Rebecca Fisher (1833 – 1908) & Charles Johnson (1832 – 1890)
|     |     |     |     (5.4) James Johnson Fisher (1835 – 1874) & Sarah S. Servis (1842 – 1907)
|     |     |     |     (5.5) Sarah Quick Fisher (1837 – 1907) & George Holcombe Larison (1831 – 1892)
|     |     |     |     (5.6) Emma Fisher (1839 – 1884) & John N. Golden (c.1835 – ?)
|     |     |     |     (5.7) Farley Fisher M.D. (1841 – 1891) & Ann Rebecca Sutphin (c.1848 – ?)
|     |     |     |     (5.8) Robert Holcomb Fisher (1843 – 1919) & Cornelia B. Wilson (1847 – 1926)
|     |     |     |     (5.9) Lewis Chamberlain Fisher (1845 – ?) & Christiana Nixon (c.1850 – ?)
|     |     |     |     (5.10) John Larison Fisher (1847 – 1876)
|     |     |     |     (5.11) Alida Fisher (1850 – ?) & Jacob S. Sutphin (1845 – ?)
|     |     |     |     (5.12) Maria Lucretia Fisher (1853 – ?) & Reuben Bird (c.1850 – ?)