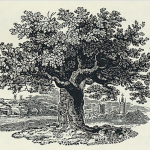 Johann George Hoppough and wife Anna Magdalena came from Seelbach, Germany to Hunterdon County with their six children. They settled in Lebanon Township and worshipped at the Readington Reformed Church. In 1745, "Jurey Happach" became a naturalized New Jersey citizen. The best source for information on this immigrant family is More Palatine Families by Henry Z. Jones.
Like many other family names, this one was spelled in a variety of ways: Habbaugh, Hausbach, Hopbach, Hobbach, Hoppaugh are just a few.
This tree has been updated (11/20/2020) since its original publication, thanks to new information. There are certain rules for family trees published here:
1)  Children of daughters are included but not grandchildren.
2)  Surnames of spouses whose families have published trees on this website as of the date this tree is published are highlighted in green.
3)  My trees are more or less limited to residents of Hunterdon County. This is not a strict rule, but a guideline, and a way for me to limit the length of these trees.
4)  Additions and/or corrections welcome, either in comments below or by email.
And finally, because long lines on family trees do not wrap nicely, I have tried to keep names as short as possible. Middle names now are mostly initials. To view the tree without wraps, drag your screen to a wide view.
First Generation:
(1) Johann George Hoppough (c.1675 – after 1748) & Anna Magdalena
Second Generation:
(1) Johann George Hoppough & Anna Magdalena
|   (2.1) Jost Henrich Hoppough (c.1700 – 1765)
|   |   |  m. 1) Anna Magdalena Schu (c.1703 – c.1740)
|   |   |  m. 2) Mary (c.1710 – after 1767)
|   (2.2) Anthony Tunis Hoppock Sr. (1703 – 1779)
|   |   |  m. 1) Antje Ann Boss (c.1715 – )
|   |   |  m. 2) Elizabeth
|   (2.3) Elizabeth Margaretha Hoppock (c.1705 – )
|   (2.4) Anna Catharine Hoppock (1711 – )
|   (2.5) Johann Peter Hoppough (1713 – after 1777)
|   |   |  m. 1) Maria (c.1720 – bef. 1738)
|   |   |  m. 2) Catharine Berg
|   (2.6) Cornelius Hoppock (1716 – ) & Maria Magdalena Göbler (c.1720 – )
Third Generation:
|   (2.1) Jost Henrich Hoppough & 1) Anna Magdalena Schu
|   |   (3.1) John Hoppock (1726 – 1816) & Mary (c.1741 – 1838)
|   |   (3.2) Leanah Hoppock (c.1728 – ~1780) & Peter S. Young (1693 – bef. 1786)
|   |   (3.3) Elizabeth Hoppock (c.1730 – 1812) & Peter Hann (c.1730 – c.1811)
|   |   (3.4) Peter Hoppough (1733 – 1809) & Catharine Dalrymple (c.1741 – 1809)
|   |   (3.5) Ann Hoppock (1734 – 1803) & Peter Aller (c.1724 – 1813)
|   (2.2) Anthony Tunis Hoppock Sr. & 1) Antje Ann Boss
|   |   (3.1) Johann George Hoppock (c.1734 – bef. 1771)
|   |   (3.2) Maria Mary Hoppock (c.1736 – 1817) & Peter Housel (c.1736 – 1784)
|   |   (3.3) Elsa/Eliza Margaretha Hoppock (c.1738 – ) & William Kuhl (c.1745 – ?)
|   |   (3.4) Capt. Cornelius Hoppock (1739 – c.1813)
|   |   |   |  m. 1) Catherine Corle (c.1740 – c.1782)
|   |   |   |  m. 2) Jemima Barber (1751 – )
|   |   (3.5) Sarah Hoppock (c.1740 – after 1788) & Jacob Fisher Sr. (c.1735 – c.1821)
|   |   (3.6) Anna Hoppock (c.1740 – ) & George Trimmer (c.1725 – 1807)
|   |   (3.7) Leanah Hoppock (c.1742 – ) & Martin Bughner (c.1740 – )
|   |   (3.8) Catharine Hoppock (c.1750 – ?) & Jacob Fulper (1755 – 1814)
|   |   (3.9) Tunis Hoppock Jr. (1762 – 1838) & Eleanor Holcombe (1765 – 1859)
|   (2.2) Anthony Tunis Hoppock Sr. & 2) Elizabeth
|   |   (3.10) Jacob Hoppock (1775 – 1866)
|   |   |   |  m. 1) Bertha Wilson (c.1780 – )
|   |   |   |  m. 2) Bernice Williamson (1775 – 1868)
|  (2.5) Johann Peter Hoppough & 2) Catharine Berg
|   |   (3.1) Catharine Hoppock (c.1742 – )
|   |   (3.2) Mary Anna Maria Hoppock (c.1745 – )
|   |   (3.3) Elizabeth Hoppock (c.1748 – )
|   |   (3.4) John Jacob Hoppock (c.1753 – after 1789)
|   |   |   |  m. 1) Elizabeth Rockafellar (c.1761 – c.1810)
|   |   |   |  m. 2) Agnes Westbrook
Fourth Generation:
|   (2.1) Jost Henrich Hoppough & Anna Magdalena Schu
|   |   (3.1) John Hoppock & Mary
|   |   |   (4.1) Cornelius Hoppock (c.1769 – 1835) & Rachel
|   |   |   (4.2) John R. Hoppock (1769 – 1853)
|   |   |   |   |  m. 1) Leanah Huffman (c.1775 – after 1840)
|   |   |   |   |  m. 2) Margaret Buchanan (c.1795 – bef. 1850)
|   |   |   (4.3) Jacob Hoppock (c.1770 – after 1845) & Rachel
|   |   |   (4.4) Sarah Hoppock (1775 – 1873) & Jonathan Moore (1772 – 1840)
|   |   (3.3) Elizabeth Hoppock & Peter Hann
|   |   |   (4.1) John Hann (c.1758 – 1831) & Catharine Eliz. Gottschall (1750 – 1841)
|   |   |   (4.2) William Hann (1759 – after 1850) & Mary Case (c.1760 – after 1840)
|   |   |   (4.3) Anne Hann (1760 – 1841) & Albertus Myers (1751 – 1839)
|   |   |   (4.4) Mary Hann (c.1760 – ) & George Kyple (c.1749 – 1821)
|   |   |   (4.5) Catharine Hann (c.1760 – ) & William Mettler (c.1755 – )
|   |   |   (4.6) Jacob Hann (c.1765 – 1859)
|   |   |   |   |  m. 1) Anna Dilts (c.1781 – bef. 1802)
|   |   |   |   |  m. 2) Susannah Fields (c.1775 – )
|   |   |   (4.7) Margaret Hann (1766 – c.1809) & Garret Lake (1777 – 1849)
|   |   |   (4.8) Peter Hann (1769 – 1853) & Catharine Dilts (c.1776 – 1862)
|   |   |   (4.9) Else Hann (c.1770 – ) & William Lake (c.1760 – )
|   |   |   (4.10) Henry Hann (c.1773 – 1817) & Mary (c.1775 – )
|   |   |   (4.11) Elizabeth Hann (c.1780 – ) & Jacob Stenebaugh (c.1775 – )
|   |   (3.4) Peter Hoppough & Catharine Dalrymple
|   |   |   (4.1) John Hoppock (1760 – 1831) & Sarah Tayor (1772 – 1836)
|   |   |   (4.2) Joseph Hoppock (c.1765 – 1819) & Anne Moore (1767 – 1866)
|   |   |   (4.3) Catharine Hoppock (1767 – 1854) & John Cregar Jr. (1770 – 1853)
|   |   |   (4.4) Mary Hoppock (c.1768 – 1828) & Jacob Corshon (c.1765 – bef. 1819)
|   |   |   (4.5) Elizabeth Hoppock (1770 – 1823) & Barnet Fox (1766 – 1825)
|   |   |   (4.6) Sarah Hoppock (1779 – 1813) & Cornelius Williamson (1771 – 1835)
|   |   |   (4.7) George Hoppock (1765 – ) & Ann Cregar (1772 – after 1804)
|   |   |   (4.8) Peter Hoppock (1781 – 1860) &
|   |   |   |   |  m. 1) Ann Hummer (c.1760 – )
|   |   |   |   |  m. 2) Mary Ann Dalrymple (1786 – 1857)
|   |   |   (4.9) Anne Hoppock (c.1782 – ) & William Harris
|   |   (3.5) Ann Hoppock & Peter Aller
|   |   |   (4.1) Peter Aller (1756 – 1839)
|   |   |   (4.2) William Aller (1786 – 1874) & Mary Dalrymple (1789 – )
|   |   |   (4.3) Anne Aller (c.1758 – after 1808)
|   |   |   (4.4) Henry Aller Esq. (1763 – 1855)
|   |   |   |   |  m. 1) Mary Welch (1783 – 1819)
|   |   |   |   |  m. 2) Mary Kuhl (1798 – 1851)
|   |   |   (4.5) John Aller (c.1765 – after 1808)
|   |   |   (4.6) Catherine Aller (c.1760 – after 1808)
|   |   |   (4.7) Mary Maria Aller (c.1766 – after 1808)
|   (2.2) Anthony Tunis Hoppock Sr. & 1) Antje Ann Boss
|   |   (3.2) Maria Mary Hoppock & Peter Housel
|   |   |   (4.1) Jacob Housel Esq. (1764 – 1825)
|   |   |   |   |  m. 1) Ruth Roberts (c.1763 – c.1784)
|   |   |   |   |  m. 2) Mary Fisher (1751 – 1829)
|   |   |   |   |  m. 3) Rosanna Snyder (c.1795 – )
|   |   |   (4.2) Catharine Housel (1777 – 1868) & William Marsh (1759 – 1839)
|   |   (3.4) Capt. Cornelius Hoppock Sr. & 1) Catherine Corle
|   |   |   (4.1) Anne Nancy Hoppock (1762 – 1797) & Samuel Barber (1756 – 1847)
|   |   |   (4.2) George Hoppock (1763 – 1798) & Amy Lambert (1769 – 1848)
|   |   |   (4.3) Sarah Hoppock (1764 – )
|   |   |   (4.4) Catharine Hoppock (1766 – bef. 1787)
|   |   |   (4.5) Mary Hoppock (1766 – 1813) & Samuel Barber (1756 – 1847)
|   |   |   (4.6) Cornelius Hoppock Jr. (1769 – ) & Elizabeth
|   |   |   (4.7) Elizabeth Hoppock (1772 – ) & Joshua Anderson (1773 – after 1830)
|   |   |   (4.8) Frances Hoppock (1774 – ) & David Magill (c.1770 – )
|   |   |   (4.9) Julia Hoppock (1776 – ) & Cyrenius Vanmarter Anderson (1773 – 1835)
|   |   (3.4) Capt. Cornelius Hoppock Sr. & 2) Jemima Barber
|   |   |   (4.10) John Hoppock Esq. (1784 – 1866) & Rebecca Wilson (c.1785 – ~1861)
|   |   |   (4.11) Catharine Hoppock (1787 – ) & John Rose (1781 – 1870)
|   |   (3.5) Sarah Hoppock & Jacob Fisher Sr.
|   |   |   (4.1) Peter Fisher Esq. (1765 – 1829) & Anna Runk (1764 – 1850)
|   |   |   (4.2) Anna Fisher (1767 – 1851) & Caleb Farley (1757 – 1808)
|   |   |   (4.3) Tunis Fisher (1769 – )
|   |   |   (4.4) Mary Fisher (1772 – 1852) & Nathaniel Wilson (1767 – 1811)
|   |   |   (4.5) Sarah Fisher (1775 – 1831) & Abraham Prall (1770 – 1851)
|   |   |   (4.6) Jacob Fisher Jr. (1779 – 1813)
|   |   |   |   |  m. 1) Anne Anna Chamberlin (1784 – 1855)
|   |   |   |   |  m. 2) Anna (1814 – 1885)
|   |   |   (4.7) John Fisher (1788 – bef. 1814)
|   |   (3.6) Anna Hoppock & George Trimmer
|   |   |   (4.1) Sarah Trimmer (c.1760 – ) & William Risler (1759 – 1836)
|   |   |   (4.2) Elizabeth Trimmer (1769 – 1832) & Dea. Jacob Bearder (1768 – 1838)
|   |   (3.7) Leanah Hoppock (c.1742 – ) & Martin Bughner (c.1740 – )
|   |   |   (4.1) Sebastian Boughner (1768 – 1854) & Elizabeth Young (c.1775 – )
|   |   |   (4.2) Jacob Bughner (c.1770 – ) & Moicah Hull (c.1770 – )
|   |   |   (4.3) Samuel Bughner
|   |   (3.8) Catharine Hoppock (c.1750 – ) & Jacob Fulper (1755 – 1814)
|   |   |   (4.1) Elizabeth Fulper (1781 – 1846) & George Buchanan (1773 – 1826)
|   |   |   (4.2) Peter Fulper (1785 – 1840) & Jerusha Larew (1788 – 1870)
|   |   |   (4.3) Jacob Fulper (1787 – 1798)
|   |   |   (4.4) William Fulper (1795 – 1882)
|   |   |   (4.5) Amy Fulper (c.1793 – after 1880) & Jacob F. Rake (c.1801 – after 1882)
|   |   |   (4.6) Sarah Fulper (1795 – 1866) & John Gordon (1786 – 1865)
|   |   (3.9) Tunis Hoppock Jr. & Eleanor Holcombe
|   |   |   (4.1) Elizabeth Hoppock (1783 – )
|   |   |   (4.2) Asher Hoppock (1787 – 1811) & Caty Catharine Wambough (~1788 – )
|   |   |   (4.3) Mahlon Hoppock (1788 – 1814)
|   |   |   (4.4) Ely Hoppock (1791 – ) & Anna Bloom (c.1795 – )
|   |   |   (4.5) Jacob Hoppock (1793 – ) & Rachel Allen (c.1790 – )
|   |   |   (4.6) Josiah Hoppock (1797 – 1805)
|   |   |   (4.7) Catharine Hoppock (1799 – 1840) & Richard Kuhl (c.1795 – )
|   |   |   (4.8) Howell Hoppock (1802 – )
|   |   |   (4.9) Richard Hoppock (1804 – 1842) & Sarah Quick (1805 – 1840)
|   (2.2) Anthony Tunis Hoppock Sr. & 2) Elizabeth
|   |   (3.1) Jacob Hoppock & 2) Bernice Williamson
|   |   |   (4.1) Cornelius W. Hoppock (1803 – 1879) & Mary P. Snyder (1809 – 1887)
|   |   |   (4.2) Mary Hoppock (1806 – 1887) & Cornelius Williamson (1806 – 1890)
|   |   |   (4.3) Patience Hoppock (1808 – 1869)
|   |   |   (4.4) John W. Hoppock (1810 – 1874) & Elizabeth Sassaman (1822 – 1871)
|   |   |   (4.5) Sarah Hoppock (1812 – 1894) & Tobias Walter (1818 – 1901)
|   |   |   (4.6) Moykee Hoppock (~1816 – 1845) & Jacob M. Vanderbelt (1817 – 1883)
|   (2).5 Johann Peter Hoppough & 2) Catharine Berg
|   |   (3.4) John Jacob Hoppock & 1) Elizabeth Rockafellar
|   |   |   (4.1) Catherine Hoppock (1778 – 1869)
|   |   |   (4.2) William Hoppaugh (1789 – 1849) & Jane (1800 – 1870)
|   |   |   (4.3) Peter Hoppough (1780 – 1844) & Margery Westbrook (1785 – 1856)
Fifth Generation:
|   (2.1) Jost Henrich Hoppough & 1) Anna Magdalena Schu
|   |   (3.1) John Hoppock & Mary
|   |   |   (4.1) Cornelius Hoppock & Rachel
|   |   |   |   (5.1) Elizabeth Hoppock (c.1798 – after 1850)
|   |   |   |   |   |  m. 1) Thomas Sherman (1794 – 1820)
|   |   |   |   |   |  m. 2) Elijah Rittenhouse (c.1795 – 1867)
|   |   |   (4.2) John R. Hoppock & 1) Leanah Huffman
|   |   |   |   (5.1) Henry J. Hoppock (1797 – 1879) & Lydia Wolverton (1804 – bef.1879)
|   |   |   |   (5.2) Margaret Hoppock (1800 – 1879) & Peter Kinney (c.1795 – 1851)
|   |   |   |   (5.3) Amos Hoppock (1802 – 1873) & Elizabeth Dalrymple (1801 – 1874)
|   |   |   |   (5.4) Charlotte Hoppock (c.1802 – )
|   |   |   |   (5.5) Mahalah Hoppock (c.1804 – 1887)
|   |   |   (4.4) Sarah Hoppock & Jonathan Moore
|   |   |   |   (5.1) Henry Moore (1797 – bef. 1840)
|   |   |   |   (5.2) Mary Moore (1799 – 1875) & William P. Dilts (1796 – 1882)
|   |   |   |   (5.3) Josiah Moore (1805 – 1884) & Deborah Fauss (1804 – 1877)
|   |   |   |   (5.4) Acker Moore (1803 – 1882) & Phebe Miller (1805 – 1897)
|   |   |   |   (5.5) Jerusha Moore (1807 – 1867) & Charles Hoppock (1800 – 1876)
|   |   |   |   (5.6) John Reading Moore (1811 – 1887) & Ann Thatcher (1813 – 1883)
|   |   (3.4) Peter Hoppough & Catharine Dalrymple
|   |   |   (4.1) John Hoppock & Sarah Taylor
|   |   |   |   (5.1) Elizabeth Hoppock (c.1790 – ) & Gabriel Cooper (1763 – 1817)
|   |   |   |   (5.2) Else Hoppock (c.1790 – ) & Daniel Cooper (1767 – 1832)
|   |   |   |   (5.3) Peter Hoppock (1793 – 1872) & Susannah (1789 – 1868)
|   |   |   |   (5.4) Catherine Hoppock (c.1795 – )
|   |   |   |   (5.5) Jerusha Hoppock (c.1797 – )
|   |   |   |   (5.6) Sarah Hoppock (1799 – 1880) & Benjamin Philkill (1796 – 1870)
|   |   |   |   (5.7) Ann Hoppock (c.1805 – ) & Benjamin Carter
|   |   |   |   (5.8) John Hoppock (1806 – 1868) & Margaret Hacket (1805 – 1884)
|   |   |   |   (5.9) Jacob Hoppock
|   |   |   |   (5.10) Cornelius Hoppock (c.1820 – )
|   |   |   (4.2) Joseph Hoppock & Anne Moore
|   |   |   |   (5.1) Peter Hoppock (c.1790 – 1875)
|   |   |   |   (5.2) Henry Hoppock (1791 – 1860) & Mary Moore (1787 – 1865)
|   |   |   |   (5.3) Charles Hoppock (1800 – 1876) & Jerusha Moore (1807 – 1867)
|   |   |   |   (5.4) Mary Hoppock (1804 – 1869) & Alexander McClanen (c.1795 – 1845)
|   |   |   (4.3) Catharine Hoppock & John Cregar Jr.
|   |   |   |   (5.1) Elizabeth Cregar (1795 – 1892) & Peter H. Hoffman (1794 – 1867)
|   |   |   |   (5.2) Mary Cregar (1807 – 1885) & Archibald Hoffman (1807 – 1879)
|   |   |   (4.4) Mary Hoppock & Jacob Corshon
|   |   |   |   (5.1) Catharine Corshon (c.1780 – ) & William H. Yawger (c.1755 – )
This William Yawger is problematic. A Wm Yawger married Anna Besson on May 22, 1778, and was mentioned in her father's will of 1794: "Daughter Anna"Yawyer" £250 after wife's decease, but should I owe William Yawyer anything at time of my death and he should recover anything out of my estate it is to be deducted from the legacy to his wife, as Anne has already been given a considerable share." It is possible that he was also married to Jacob and Mary Corshon's daughter Catharine.
|   |   |   |   (5.2) Peter Corson (1787 – 1826) & Margaret Moore (1786 – 1859)
|   |   |   |   (5.3) John Corson (1787 – 1848)
|   |   |   |   |   |  m. 1) Mehitable Dalrymple (c.1785 – )
|   |   |   |   |   |  m. 2) Esther (c.1787 – 1859)
John Corson married Mehitable Dalrymple on Nov. 14, 1812. Her death date is not known. Wife Esther survived him and was buried with him in the Moore Family Burying Ground in Delaware Township.
|   |   |   |   (5.4) Anna Corshon (1798 – 1816)
|   |   |   |   (5.5) Jacob Corshon Jr. (c.1801 – 1875)
|   |   |   (4.5) Elizabeth Hoppock & Barnet Fox
|   |   |   |   (5.1) Mary C. Fox (1792 – 1865) & Joseph R. Plum (1788 – 1852)
|   |   |   |   (5.2) Catharine Fox (1795 – 1870)
|   |   |   |   (5.3) Charles Fox (1800 – 1880) & Eliza Gano (1805 – 1890)
|   |   |   |   (5.4) Jacob Fox (1814 – 1892) & Sarah Spangenberg (1821 – 1900)
|   |   |   (4.6) Sarah Hoppock & Cornelius Williamson
|   |   |   |   (5.1) Catharine Williamson (1803 – 1891) & John Buchanan (1800 – 1890)
|   |   |   |   (5.2) Bernice Williamson (1804 – )
|   |   |   |   (5.3) Anna Williamson (1805 – )
|   |   |   |   (5.4) Cornelius Williamson (1806 – 1890) & Mary Hoppock (1806 – 1887)
|   |   |   |   (5.5) Peter Williamson (1808 – )
|   |   |   |   (5.6) Sarah A. Williamson (1809 – 1853) & Samuel A. Carrell (1814 – 1861)
|   |   |   |   (5.7) Wm W. Williamson (1811 – 1901) & Sarah Young (c.1823 – after 1880)
|   |   |   |   (5.8) Asher Williamson [Jr.] (1812 – )
|   |   |   (4.7) George Hoppock & Ann Cregar
|   |   |   |   (5.1) Elizabeth Hoppock (1792 – 1876)
|   |   |   |   |   |  m. 1) William Osmun (c.1790 – c.1832)
|   |   |   |   |   |  m. 2) Samuel Hamilton (1790 – 1847)
|   |   |   |   (5.2) Catherine Hoppock (1795 – 1884) & James Stevenson (c.1790 – 1857)
|   |   |   |   (5.3) Peter H. Hoppock (1798 – 1878) & Susannah (c.1796 – )
|   |   |   (4.8) Peter Hoppock & 2) Mary Ann Dalrymple
|   |   |   |   (5.1) Elias Hoppock (1814 – 1884)
|   |   |   |   |   |  m. 1) Ann Van Arsdale (1812 – 1850)
|   |   |   |   |   |  m. 2) Rebecca Godown (1820 – 1881)
|   |   |   |   (5.2) Elder John D. Hoppock (1819 – 1906) & Ann Moore (1825 – 1880)
|   (2.2) Anthony Tunis Hoppock Sr. & 1) Antje Ann Boss
|   |   (3.4) Capt. Cornelius Hoppock Sr. & 1) Catherine Corle
|   |   |   (4.1) Anne Nancy Hoppock (1762 – 1797) & Samuel Barber (1756 – 1847)
|   |   |   |   (5.1) John Barber Esq. (1787 – 1867) & Anne S. Skillman (1790 – 1867)
|   |   |   |   (5.2) William Barber (1789 – 1866) & Catharine C. Corle (c.1794 – 1849)
|   |   |   |   (5.3) Catherine Barber (1791 – 1871) & Solomon Holcombe (1789 – 1871)
|   |   |   |   (5.4) Johnson Barber (1793 – 1860)
|   |   |   |   |   |  m. 1) Elitta Craven (c.1795 – bef. 1820)
|   |   |   |   |   |  m. 2) Rhoda 'Letty' K. (1794 – 1830)
|   |   |   |   |   |  m. 3) Sarah (1785 – 1866)
|   |   |   |   (5.5) Ann Nancy Barber (c.1797 – ) & Hiram Price (1799 – 1879)
|   |   |   (4.2) George Hoppock & Amy Lambert
|   |   |   |   (5.1) Capt. John Lambert Hoppock (1789 – 1813)
|   |   |   |   (5.2) William L. Hoppock Sr. (1792 – 1874)
|   |   |   |   |   |  m. 1) Jane Heed (1794 – 1834)
|   |   |   |   |   |  m. 2) Hannah Liverton (1798 – 1871)
|   |   |   |   (5.3) Susanna M. Hoppock (1798 – 1883) & David Wilson (1793 – 1857)
|   |   |   (4.5) Mary Hoppock & Samuel Barber
|   |   |   |   (5.1) Cornelius H. Barber (1804 – 1884)
|   |   |   |   |   |  m. 1) Sarah Lanning Britton (1810 – 1836)
|   |   |   |   |   |  m. 2) Cornelia Maria Britton (c.1813 – after 1884)
|   |   |   |   (5.2) Samuel C. Barber (1806 – 1900)
|   |   |   |   |   |  m. 1) Rhoda J. Prall (c.1810 – 1842)
|   |   |   |   |   |  m. 2) Caroline Holcombe (1819 – 1887)
|   |   |   |   |   |  m. 3) Della (1831 – 1901)
|   |   |   |   (5.3) Alfred H. Barber (c.1809 – 1898)
|   |   |   |   (5.4) Mary S. Barber (1811 – 1842) & Joseph G. Bowne (1804 – 1888)
|   |   |   (4.7) Elizabeth Hoppock & Capt. Joshua Anderson
|   |   |   |   (5.1) Catharine Corle Anderson (c.1797 – ) & Joseph McNeilly (c.1820 – )
|   |   |   |   (5.2) Eliza Anderson (1799 – 1826) & Samuel D. Stryker (1790 – 1863)
|   |   |   |   (5.3) John Hoppock Anderson (1801 – 1877)
|   |   |   |   |   |  m. 1) Mary Hart (c.1805 – 1827)
|   |   |   |   |   |  m. 1) Mary Martha Alexander (c.1812 – )
|   |   |   |   (5.4) Sarah Anderson (c.1803 – bef. 1810)
|   |   |   |   (5.5) Rebecca C. Anderson (1816 – 1863) & Nelson L. Large (1809 – 1860)
|   |   |   (4.9) Julia Hoppock & Cyrenius Vanmarter Anderson
|   |   |   |   (5.1) George H. Anderson (1799 – aft 1870) & Caroline Robbins (c.1807 – )
|   |   |   |   (5.2) Cornelius H. Anderson (1800 – 1875) & Prudence Jones (c.1802 – )
|   |   |   |   (5.3) Hannah S. Anderson (1803 – ) & Solomon Wombaugh
|   |   |   |   (5.4) John B. Anderson (1805 – aft 1884) & Rebecca A. Forman (c.1805 – 1873)
|   |   |   |   (5.5) Elizabeth Anderson (c.1810 – )
|   |   |   |   (5.6) Clotilda Anderson (c.1810 – ) & John P. Combs
|   |   |   |   (5.7) Margaritte Anderson (c.1815 – ) & Joseph H. Hough
|   |   |   |   (5.8) Mary C. Anderson (1822 – 1896) & John F. Shepherd (1823 – 1903)
|   |   (3.4) Capt. Cornelius Hoppock Sr. & 2) Jemima Barber
|   |   |   (4.10) John Hoppock Esq. & Rebecca Wilson (c.1785 – c.1861)
|   |   |   |   (5.1) William Hoppock (1815 – 1894) & Rebecca Wilson (1818 – 1866)
This is a first for me—a son marrying a woman with the same maiden name as his mother. The two Rebeccas were second cousins twice removed. Rebecca married to John Hoppock was the daughter of James & Margaret Wilson, while the Rebecca married to Wm Hoppock was the daughter of Thomas & Susannah Hoppock.
|   |   |   |   (5.2) James W. Hoppock (c.1824 – 1882) & Sarah Lambert (1841 – 1888)
|   |   |   (4.11) Catharine Hoppock & John Rose
|   |   |   |   (5.1) Jemima Ann Rose (1815 – 1905) & Nathaniel Smith (1813 – 1897)
|   |   (3.9) Tunis Hoppock Jr. & Eleanor Holcombe
|   |   |   (4.4) Ely Hoppock & Anna Bloom
|   |   |   |   (5.1) James W. Hoppock (c.1823 – 1882) & Jane Fisher (1829 – 1866)
|   |   |   (4.7) Catharine Hoppock & Richard Kuhl
|   |   |   |   (5.1) Richard H. Kuhl (1827 – 1870) & Ellen VanDoren (1826 – 1923)
|   |   |   (4.9) Richard Hoppock & Sarah Quick
|   |   |   |   (5.1) Jane Elizabeth Hoppock (c.1832 – 1833)
|   |   |   |   (5.2) Fanny Hoppock (c.1836 – 1838)
|   (2.2) Anthony Tunis Hoppock Sr. & 2) Elizabeth
|   |   (3.1) Jacob Hoppock & 2) Bernice Williamson
|   |   |   (4.2) Mary Hoppock & Cornelius Williamson
|   |   |   |   (5.1) son Williamson (1838 – 1838)
|   |   |   |   (5.2) Bernice Williamson (1839 – 1864)
|   |   |   |   (5.3) Asher V. Williamson (1841 – 1926) & Anna J. Hummer (1842 – 1929)
|   |   |   |   (5.4) Jacob H. Williamson (1844 – 1906)
|   |   |   |   (5.5) Cornelius Williamson (1846 – 1915) & Mary J. (c.1842 – )
|   |   |   |   (5.6) Israel P. Williamson (1850 – 1932)
|   |   |   (4.5) Sarah Hoppock & Tobias Walter
|   |   |   |   (5.1) Asher B. Walter (1853 – 1930) & Amy Elizabeth Kugler (1856 – 1942)
|   |   |   (4.6) Moykee Hoppock & Jacob Morgan Vanderbelt
|   |   |   |   (5.1) Elizabeth B. Vanderbelt (1844 – )
|   (2.5) Johann Peter Hoppough & Catharine Berg
|   |   (3.4) John Jacob Hoppock & 1) Elizabeth Rockafellar
|   |   |   (4.3) Peter Hoppough & Margery Westbrook
|   |   |   |   (5.1) Westbrook G. Hoppock (1804 – 1880)
|   |   |   |   (5.2) Marquis DeLafayette Hoppock (1807 – 1889)
|   |   |   |   (5.3) David Hoppock (1809 – 1871)
|   |   |   |   (5.4) Decker B. Hoppaugh (1813 – 1892) & Lydia Noble (1821 – 1904)
|   |   |   |   (5.5) Horace P. Hoppough (1825 – 1909) & Sarah Pulver (1829 – 1909)
Sixth Generation:
|   (2.1) Jost Henrich Hoppough & 1) Anna Magdalena Schu
|   |   (3.1) John Hoppock & Mary
|   |   |   (4.1) Cornelius Hoppock & Rachel
|   |   |   |   (5.1) Elizabeth Hoppock* & 1) Thomas Sherman
|   |   |   |   |   (6.1) Rachel Sherman (c.1816 – )
|   |   |   |   |   (6.2) Cornelius Sherman (1818 – c.1895) & Ruth Smith
|   |   |   |   (5.1) Elizabeth Hoppock & 2) Elijah Rittenhouse
|   |   |   |   |   (6.3) Caroline Rittenhouse (1841 – )
|   |   |   (4.2) John R. Hoppock & 1) Leanah Huffman
|   |   |   |   (5.1) Henry J. Hoppock & Lydia Wolverton
|   |   |   |   |   (6.1) Israel P. Hoppock (1830 – 1895) & Susan C. Bodine (1841 – 1896)
|   |   |   |   |   (6.2) Caroline Hoppock (1832 – 1910) & Thomas W. Brewer (1829 – 1914)
|   |   |   |   |   (6.3) George H. Hoppock (1834 – 1895) & Hannah D. Bush (1835 – 1915)
|   |   |   |   |   (6.4) Jonathan M. Hoppock (1838 – 1906) & Elizabeth Cain (c.1845 – )
|   |   |   |   |   (6.5) Henry W. Hoppock (1841 – 1933) & Cornelia Housel (1847 – 1931)
|   |   |   |   |   (6.6) Mary Elizabeth Hoppock (1842 – 1843)
|   |   |   |   (5.3) Amos Hoppock & Elizabeth Dalrymple
|   |   |   |   |   (6.1) Margaret Hoppock (1826 – 1859) & Joseph Haines (1828 – 1901)
|   |   |   |   |   (6.2) Ann Hoppock (c.1827 – )
|   |   |   |   |   (6.3) Mary M. Hoppock (1829 – 1914) & Joseph Haines (1828 – 1901)
|   |   |   |   |   (6.4) Lucinda Lucy Hoppock (1831 – 1906)
|   |   |   |   |   (6.5) Amy Hoppock (1834 – 1906) & Kinney
|   |   |   |   |   (6.6) Rensalear Hoppock (1835 – 1864) & Mary Moore (c.1841 – )
|   |   |   |   |   (6.7) Howell Hoppock (1848 – 1849)
|   |   (3.4) Peter Hoppough & Catharine Dalrymple
|   |   |   (4.1) John Hoppock & Sarah Taylor
|   |   |   |   (5.6) Sarah Hoppock m. 1818 Benjamin Philkill
|   |   |   |   |   (6.1) Catharine Philkill (1820 – 1897) m. Ambrose Fox (1809 – 1876)
|   |   |   |   |   (6.2) John H. Philkill (1822 – after 1900) & Elizabeth (c.1824 – c.1885)
|   |   |   |   |   (6.3) Joseph Philkill (c.1829 – ) & Susan E. Rake (1841 – 1917)
|   |   |   |   |   (6.4) Elizabeth Philkill (c.1830 – )
|   |   |   |   |   (6.5) Sarah Ann Philkill (c.1834 – )
|   |   |   |   |   (6.6) Mary Philkill (1835 – 1876) & Samuel Stout Jr. (1827 – 1907)
|   |   |   |   |   (6.7) Amy Jane Philkill (1838 – 1919) & Samuel Stout Jr. (1827 – 1907)
|   |   |   |   |   (6.8) William Philkill (c.1841 – ) & Hannah M. Roberts (1841 – 1930)
|   |   |   |   (5.8) John Hoppock & Margaret Hacket
|   |   |   |   |   (6.1) Sarah Hoppock (1827 – ) & Charles T. Fulper (1820 – )
|   |   |   (4.2) Joseph Hoppock & Anne Moore
|   |   |   |   (5.2) Henry Hoppock & Mary Moore
|   |   |   |   |   (6.1) Ely Hoppock (1816 – 1873) & Ann Moore (1815 – 1895)
|   |   |   |   |   (6.2) Sarah A. Hoppock (c.1817 – after 1880)
|   |   |   |   |   (6.3) Wm M. Hoppock (1822 – 1898) & Sarah Sherman (1823 – 1888)
|   |   |   |   |   (6.4) Margaret L. Hoppock (1826 – ) & Charles C. Bowne (1820 – 1882)
|   |   |   |   |   (6.5) Abraham Hoppock (1829 – 1911) & Amy C. Everitt (1829 – 1899)
|   |   |   |   (5.3) Charles Hoppock & Jerusha Moore
|   |   |   |   |   (6.1) Sarah Hoppock (1827 – 1913) & John Smith Ent (1821 – 1888)
|   |   |   |   |   (6.2) Anna Hoppock (1832 – 1922) & David A. German (1817 – 1894)
|   |   |   |   |   (6.3) John M. Hoppock (1833 – 1909) & Mary S. (1838 – 1910)
|   |   |   |   |   (6.4) Lemuel Hoppock (1839 – 1868)
|   |   |   |   |   (6.5) Joseph Hoppock (c.1846 – )
|   |   |   |   (5.4) Mary Hoppock & Alexander McClanen
|   |   |   |   |   (6.1) Elizabeth McClanen (c.1826 – ) & Frazer M. Servis (c.1822 – )
|   |   |   |   |   (6.2) John McClanen (1827 – 1845)
|   |   |   |   |   (6.3) Joseph McLannin (c.1827 – ) & Rebecca (c.1833 – )
|   |   |   |   |   (6.4) Charles H. McClanen (1833 – 1912) & Rebecca Agin (1831 – 1915)
|   |   |   |   |   (6.5) Mary Ann McClanen (c.1835 – )
|   |   |   |   |   (6.6) Wilson McClanen (1838 – 1895) & Mary E. Girton (c.1839 – )
|   |   |   (4.7) George Hoppock & Ann Cregar
|   |   |   |   (5.1) Elizabeth Hoppock & 1) William Osmun
|   |   |   |   |   (6.1) Mary Osman (1812 – 1900) & Isaac Hoppock (1798 – 1869)
|   |   |   |   |   (6.2) George Osman (1813 – 1882)
|   |   |   |   |   (6.3) Ann Osman (1816 – 1865)
|   |   |   |   |   (6.4) Peter Osmun (1818 – 1883) & Elizabeth Slater (1818 – 1871)
|   |   |   |   (5.1) Elizabeth Hoppock & 2) Samuel Hamilton
|   |   |   |   |   (6.5) Lucinda Hamilton (c.1833 – )
|   |   |   |   (5.2) Catherine Hoppock & James Stevenson
|   |   |   |   |   (6.1) Sarah E. Stevenson (1836 – 1896) & Mancius H. Neighbor (1829 – 1876)
|   |   |   |   (5.3) Peter H. Hoppock & Susannah
|   |   |   |   |   (6.1) William W. Hoppock (1837 – ) & Ellen E. Waldron (1839 – 1925)
|   |   |   (4.8) Peter Hoppock & 2) Mary Ann Dalrymple
|   |   |   |   (5.1) Elias Hoppock & 1) Ann Van Arsdale
|   |   |   |   |   (6.1) Peter Hoppock (1842 – 1916) & Rhoda Anderson (1844 – 1935)
|   |   |   |   |   (6.2) Sarah Marie Hoppock (c.1846 – )
|   |   |   |   (5.1) Elias Hoppock & 2) Rebecca Godown
|   |   |   |   |   (6.3) William S. Hoppock (1855 – 1880)
|   |   |   |   |   |   |  m. 1) Elizabeth Horne (c.1860 – after 1910)
|   |   |   |   |   |   |  m. 2) Lizzie A. Hillier
|   |   |   |   |   (6.4) Mary C. Hoppock (1856 – 1919) & Jacob Suydam (c.1855 – )
|   |   |   |   |   (6.5) John M. Hoppock (c.1859 – )
|   |   |   |   (5.2) Elder John D. Hoppock & Ann Moore
|   |   |   |   |   (6.1) Hannah M. Hoppock (1848 – 1908)
|   |   |   |   |   (6.2) Mary Ellen Hoppock (1850 – 1851)
|   |   |   |   |   (6.3) Sarah M. Hoppock (1852 – 1915) & Lambert M. Hyde (1852 – 1922)
|   |   |   |   |   (6.4) Hiram D. Hoppock (1858 – 1920) & Sarah E. Horne (1861 – 1934)
|   (2.2) Anthony Tunis Hoppock Sr. & 1) Antje Ann Boss
|   |   (3.4) Capt. Cornelius Hoppock Sr. & 1) Catherine Corle
|   |   |   (4.2) George Hoppock & Amy Lambert
|   |   |   |   (5.2) William L. Hoppock Sr. & 1) Jane Heed
|   |   |   |   |   (6.1) Achsah Hoppock (1818 – 1851) & Richard C. Everitt (1822 – 1866)
|   |   |   |   |   (6.2) George H. Hoppock (1820 – 1905) & Jane E. Wolverton (1822 – 1902)
|   |   |   |   |   (6.3) John L. Hoppock (1820 – 1903) & Elizabeth K. Bray (c.1828 – 1900)
|   |   |   |   |   (6.4) Caroline M. Hoppock (1823 – 1909) & Maurice Wolverton (1827 – 1904)
|   |   |   |   |   (6.5) Samuel C. Hoppock (c.1826 – 1893) & Sarah (c.1830 – )
|   |   |   |   |   (6.6) William L. Hoppock Jr. (1828 – 1912) & Rebecca Johnson (1834 – 1901)
|   |   |   |   |   (6.7) Jonathan H. Hoppock (1831 – 1915) & Ann Matilda Price (1836 – 1915)
|   |   (3.4) Capt. Cornelius Hoppock Sr. & 2) Jemima Barber
|   |   |   (4.10) John Hoppock Esq. & Rebecca Wilson
|   |   |   |   (5.1) William Hoppock & Rebecca Wilson
|   |   |   |   |   (6.1) Caroline R. Hoppock (c.1841 – ) & Harrison Sutphin (1843 – 1926)
|   |   |   |   |   (6.2) Theodore Hoppock (c.1845 – )
|   |   |   |   |   (6.3) Mary Hoppock (1848 – 1920) & Augustus B. Blackwell (1844 – 1930)
|   |   |   |   |   (6.4) John Hoppock (c.1851 – )
|   |   |   |   |   (6.5) Liziana Hoppock (c.1852 – )
|   |   |   |   |   (6.6) Susanna Hoppock (c.1853 – after 1880)
|   |   |   |   |   (6.7) Jane Jenna F. Hoppock (c.1856 – )
|   |   |   |   (5.2) James W. Hoppock & Sarah Lambert
|   |   |   |   |   (6.1) James W. Hoppock (1864 – 1913)
|   |   (3.9) Tunis Hoppock Jr. & Eleanor Holcombe
|   |   |   (4.4) Ely Hoppock & Anna Bloom
|   |   |   |   (5.1) James W. Hoppock & Jane Fisher
|   |   |   |   |   (6.1) Louisa F. Hoppock (1852 – 1913) & Calvin F. Solliday (1851 – 1913)
|   (2.5) Johann Peter Hoppough & 2) Catharine Berg
|   |   (3.4) John Jacob Hoppock & 1) Elizabeth Rockafellar
|   |   |   (4.3) Peter Hoppough & Margery Westbrook
|   |   |   |   (5.4) Decker B. Hoppaugh & Lydia Noble
|   |   |   |   |   (6.1) Decker B. Hoppaugh Jr. (1853 – 1914) & Elizabeth L. Campbell (1861 – 1934)