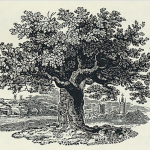 Johann George Hoppough and wife Anna Magdalena came from Seelbach, Germany to Hunterdon County with their six children. They settled in Lebanon Township and worshipped at the Readington Reformed Church. In 1745, "Jurey Happach" became a naturalized New Jersey citizen. The best source for information on this immigrant family is More Palatine Families by Henry Z. Jones.
Like many other family names, this one was spelled in a variety of ways: Habbaugh, Hausbach, Hopbach, Hobbach, Hoppaugh are just a few.
Missing from this tree are families that left Hunterdon County and grandchildren of female Hoppocks. Please feel free to make additions or corrections in the Comments section below.
First Generation:
(1) Johann George Hoppough (c.1675 – after 1748) & Anna Magdalena
Second Generation:
(1) Johann George Hoppough & Anna Magdalena
|     (2) Jost Henrich Hoppough (c.1700 – 1765)
.     .     m. 1) Anna Magdalena Schu (c.1703 – c.1740)
.     .     m. 2) Mary (c.1710 – after 1767)
|     (2) Anthony Tunis Hoppock Sr. (1703 – 1779)
.     .     m. 1) Antje Ann Boss (c.1715 – ?)
.     .     m. 2) Elizabeth
|     (2) Elizabeth Margaretha Hoppock (c.1705 – ?)
|     (2) Anna Catharine Hoppock (1711 – ?)
|     (2) Johann Peter Hoppough (1713 – bef. 1777)
.     .     m. 1) Maria (c.1720 – bef. 1738)
.     .     m. 2) Catharine Berg
|     (2) Cornelius Hoppock (1716 – ?)
Third Generation:
|     (2) Jost Henrich Hoppough & Anna Magdalena Schu
|     |     (3) John Hoppock (1726 – 1816) & Mary (~1741 – 1838)
|     |     (3) Leanah Hoppock (c.1728 – c.1780) & Peter S. Young (1693 – bef. 1786)
|     |     (3) Elizabeth Hoppock (c.1730 – 1812) & Peter Hann (c.1730 – c.1811)
|     |     (3) Ann Hoppock (1734 – 1803) & Peter Aller (c.1724– 1813)
|     |     (3) Peter Hoppough (c.1733 – bef. 1809)
.     .     .   m. 1) Catharine Dalrymple (c.1741 – after 1806)
.     .     .   m. 2) Ann Hummer (c.1760 – ?)
|     (2) Anthony Tunis Hoppock Sr. & Antje Ann Boss
|     |     (3) Johann George Hoppock (c.1734 – bef. 1771)
|     |     (3) Maria Mary Hoppock (c.1736 – 1817) & Peter Housel (c.1736 – 1784)
|     |     (3) Elsa/Eliza Margaretha Hoppock (c.1738 – ?) & William Kuhl (c.1745 – ?)
|     |     (3) Capt. Cornelius Hoppock (1739 – c.1813)
.     .     .     m. 1) Catherine Corle (c.1740 – c.1782)
.     .     .     m. 2) Jemima Barber (1751 – ?)
|     |     (3) Sarah Hoppock (c.1740 – after 1788) & Jacob Fisher Sr. (c.1735 – c.1821)
|     |     (3) Anna Hoppock (c.1740 – ?) & George Trimmer (c.1725 – 1807)
|     |     (3) Leanah Hoppock (c.1742 – ?) & Martin Bughner (c.1740 – ?)
|     |     (3) Catharine Hoppock (c.1750 – ?) & Jacob Fulper (1755 – 1814)
|     |     (3) Tunis Hoppock Jr. (1762 – 1838) & Eleanor Holcombe (1765 – 1859)
|     (2) Anthony Tunis Hoppock Sr. & Elizabeth
|     |     (3) Jacob Hoppock (1775 – 1866)
.     .     .     m. 1) Bertha Wilson (c.1780 – ?)
.     .     .     m. 2) Bernice Williamson (1775 – 1868)
|    (2) Johann Peter Hoppough & Catharine Berg
|     |     (3) Catharine Hoppock (c.1742 – ?)
|     |     (3) Mary Anna Maria Hoppock (c.1745 – ?)
|     |     (3) Elizabeth Hoppock (c.1748 – ?)
|     |     (3) John Hoppock (c.1753 – ?) & Elizabeth Rockafellar (c.1761 – ?)
Fourth Generation:
|     (2) Jost Henrich Hoppough & Anna Magdalena Schu
|     |     (3) John Hoppock & Mary
|     |     |     (4) Cornelius Hoppock (c.1769 – 1835) & Rachel
|     |     |     (4) John R. Hoppock (1769 – 1853)
.      .     .      m. 1) Leanah Huffman (c.1775 – after 1840)
.      .     .      m. 2) Margaret Buchanan (c.1795 – bef. 1850)
|     |     |     (4) Jacob Hoppock (c.1770 – ?)
|     |     |     (4) Sarah Hoppock (1775 – 1873) & Jonathan Moore (1772 – 1840)
|     |     (3) Elizabeth Hoppock & Peter Hann
|     |     |     (4) William Hann (1759 – after 1850) & Mary Case (c.1760 – after 1840)
|     |     |     (4) Anne Hann (1760 – 1841) & Albertus Myers (1751 – 1839)
|     |     |     (4) Mary Hann (c.1760 – ?) & George Kyple (c.1749 – 1821)
|     |     |     (4) Catharine Hann (c.1760 – ?) & William Mettler (c.1755 – ?)
|     |     |     (4) Jacob Hann (c.765 – 1859)
.      .     .      m. 1) Anna Dilts (c.1781 – bef. 1802)
.      .     .      m. 2) Susannah Fields (c.1775 – ?)
|     |     |     (4) Margaret Hann (1766 – c.1809) & Garret Lake (1777 – 1849)
|     |     |     (4) Peter Hann (1769 – 1853) & Catharine Dilts (c.1776 – 1862)
|     |     |     (4) Else Hann (c.1770 – ?) & William Lake (c.1760 – ?)
|     |     |     (4) Henry Hann (c.1773 – 1817) & Mary (c.1775 – ?)
|     |     |     (4) John Hann (c.1775 – ?) & Catharine
|     |     |     (4) Elizabeth Hann (c.1780 – ?) & Jacob Stenebaugh (c.1775 – )
|     |     (3) Ann Hoppock & Peter Aller
|     |     |     (4) John Aller (c.1750 – c.1817) & Coziah Keziah (? – c.1830)
|     |     |     (4) Peter Aller (1756 – 1813)
|     |     |     (4) Philip Aller
|     |     |     (4) Catherine Aller
|     |     |     (4) Elizabeth Aller
|     |     |     (4) Mary Aller (c.1760 – ?)
|     |     |     (4) Anne Aller (c.1761 – ?)
|     |     |     (4) Rebekah Aller
|     |     |     (4) Rachel Aller
|     |     |     (4) Sarah Aller
|     |     (3) Peter Hoppough & Catharine Dalrymple
|     |     |     (4) John Hoppock (1760 – 1831) & Sarah Taylor (1772 – 1836)
|     |     |     (4) Elizabeth Hoppock (c.1762 – after 1806) & Barnet Fox (c.1750 – bef. 1806)
|     |     |     (4) Joseph Hoppock (c.1765 – after 1819) & Anne Moore (1767 – 1866)
|     |     |     (4) Catharine Hoppock (1767 – 1854) & John Cregar Jr. (1770 – 1853)
|     |     |    (4) Mary Hoppock (c.1768 – after 1822) & Jacob Corshon (c.1765 – bef. 1819)
|     |     |     (4) Sarah Hoppock (1779 – 1813) & Cornelius Williamson (1771 – 1835)
|     |     |     (4) George Hoppock (c.1780 – ?) & __ Cregar
|     |     |     (4) Peter Hoppock (1781 – 1860) & Mary Ann Dalrymple (1786 – 1857)
|     |     |     (4) Anne Hoppock (c.1782 – ?) & William Harris
|    (2) Anthony Tunis Hoppock Sr. & Antje Ann Boss
|     |     (3) Maria Mary Hoppock & Peter Housel
|     |     |     (4) Jacob Housel Esq. (1764 – c.1825)
.      .     .      m. 1) Ruth Roberts (c.1763 – c.1784)
.      .     .      m. 2) Mary (c.1765 – 1841)
.      .     .      m. 3) Rosanna Snyder (c.1795 – ?)
|     |     |     (4) Catharine Housel (1777 – 1868) & William Marsh (1759 – 1839)
|     |    (3) Capt. Cornelius Hoppock & 1) Catherine Corle
|     |     |     (4) Anne Nancy Hoppock (1762 – 1797) & Hon. Samuel Barber (1756 – 1847)
|     |     |     (4) George Hoppock (1763 – 1798) & Amy Lambert (1769 – 1848)
|     |     |     (4) Sarah Hoppock (1764 – ?)
|     |     |     (4) Catharine Hoppock (1766 – bef. 1787)
|     |     |     (4) Mary Hoppock (1766 – 1813) & Hon. Samuel Barber (1756 – 1847)
|     |     |     (4) Cornelius Hoppock (1769 – ?)
|     |     |     (4) Elizabeth Hoppock (1772 – ?) & Capt. Joshua Anderson (1773 – ?)
|     |     |     (4) Frances Hoppock (1774 – ?) & David Magill (c.1770 – ?)
|     |     |     (4) Julia Hoppock (1776 – ?) & Cyrenius Vanmarter Anderson (1773 – 1835)
|     |   (3) Capt. Cornelius Hoppock & 2) Jemima Barber
|     |     |     (4) John Hoppock Esq. (1784 – 1866) & Rebecca Wilson (c.1785 – c.1861)
|     |     |     (4) Catharine Hoppock (1787 – ?) & John Rose
|     |     (3) Sarah Hoppock & Jacob Fisher Sr.
|     |     |     (4) Peter Fisher Esq. (1765 – 1829) & Anna Runk (1764 – 1850)
|     |     |     (4) Anna Fisher (1767 – 1851) & Caleb Farley (1757 – 1808)
|     |     |     (4) Tunis Fisher (1769 – ?)
|     |     |     (4) Mary Fisher (1772 – ?) & Nathaniel Wilson (c.1770 – 1811)
|     |     |     (4) Sarah Fisher (1775 – 1831) & Abraham Prall (1770 – 1851)
|     |     |     (4) Jacob Fisher Jr. (1779 – 1813) & Anne Anna Chamberlin (1784 – 1855)
|     |     |     (4) John Fisher (1788 – bef. 1814)
|     |    (3) Anna Hoppock & George Trimmer
|     |     |     (4) Sarah Trimmer (c.1760 – ?) & William Risler (1759 – 1836)
|     |     |     (4) Elizabeth Trimmer (1769 – 1832) & Dea. Jacob Bearder (1768 – 1838)
|     |     (3) Leanah Hoppock & Martin Bughner
|     |     |     (4) Sebastian Boughner (1768 – 1854) & Elizabeth Young (c.1775 – ?)
|     |     (3) Catharine Hoppock & Jacob Fulper
|     |     |     (4) Elizabeth Fulper (1781 – 1846) & George Buchanan (1773 – 1826)
|     |     |     (4) Peter Fulper (1785 – 1840) & Jerusha Larew (1788 – 1870)
|     |     |    (4) Jacob Fulper (1787 – 1798)
|     |     |     (4) William Fulper (1790 – 1882)
|     |     |     (4) Sarah Fulper (1795 – 1866) & John Gordon (1786 – 1865)
|     |     (3) Tunis Hoppock Jr. & Eleanor Holcombe
|     |     |     (4) Elizabeth Hoppock (1783 – ?)
|     |     |     (4) Asher Hoppock (1787 – 1811) & Caty Catharine Wambough (c.1788 – ?)
|     |     |     (4) Mahlon Hoppock (1788 – 1814)
|     |     |     (4) Ely Hoppock (1791 – ?) & Anna Bloom (c.1795 – ?)
|     |     |     (4) Jacob Hoppock (1793 – ?) & Rachel Allen (c.1790 – ?)
|     |     |     (4) Josiah Hoppock (1797 – 1805)
|     |     |     (4) Catharine Hoppock (1799 – 1840) & Richard Kuhl (c.1795 – ?)
|     |     |     (4) Howell Hoppock (1802 – ?)
|     |     |     (4) Richard Hoppock (1804 – 1842) & Sarah Quick (1805 – 1840)
|     |     (3) Jacob Hoppock & Bernice Williamson
|     |     |     (4) Mary Hoppock (1806 – 1887) & Cornelius Williamson (1806 – 1890)
|     |     |     (4) Moykee Hoppock (c.1816 – 1845) & Jacob Morgan Vanderbelt (c.1817 – 1883)
Fifth Generation:
(1) Johann George Hoppough & Anna Magdalena
|     (2) Jost Henrich Hoppough & Anna Magdalena Schu
|     |     (3) John Hoppock & Mary
|     |     |     (4) Cornelius Hoppock & Rachel
|     |     |     |     (5) Elizabeth Hoppock (c.1798 – after 1850)
.      .     .      .     m. 1) Thomas Shearman (1794 – 1820)
.      .     .      .     m. 2) Elijah Rittenhouse (c.1795 – after 1850)
|     |     |     (4) John R. Hoppock & Leanah Huffman
|     |     |     |     (5) Henry J. Hoppock (1797 – 1879) & Lydia Wolverton (1804 – after 1879)
|     |     |     |     (5) Margaret Hoppock (1800 – 1879) & Peter Kinney (c.1795 – 1851)
|     |     |     |     (5) Amos Hoppock (1802 – 1873) & Elizabeth Dalrymple (1801 – 1874)
|     |     |     |     (5) Charlotte Hoppock (c.1803 – ?)
|     |     |     |     (5) Mahalah Hoppock (c.1804 – 1887)
|     |     (3) Peter Hoppough & Catharine Dalrymple
|     |     |     (4) John Hoppock & Sarah Taylor
|     |     |     |     (5) Peter Hoppock (1793 – 1872) & Susannah (1789 – 1868)
|     |     |     |     (5) Catherine Hoppock (c.1795 – ?)
|     |     |     |     (5) Jerusha Hoppock (c.1797 – ?)
|     |     |     |     (5) Sarah Hoppock (1799 – 1880) & Benjamin Philkill (1796 – 1870)
|     |     |     |     (5) John Hoppock (1806 – 1868) & Margaret Hacket (1805 – 1884)
|     |     |     |     (5) Ann Hoppock & Benjamin Carter
|     |     |     |     (5) Jacob Hoppock
|     |     |     |     (5) Elizabeth Hoppock & Gabriel Cooper
|     |     |     |     (5) Else Hoppock & Daniel Cooper
|     |     |     |     (5) Cornelius Hoppock (c.1820 – ?)
|     |     |     (4) Joseph Hoppock & Anne Moore
|     |     |     |     (5) Peter Hoppock (c.1790 – 1875)
|     |     |     |     (5) Charles Hoppock (1800 – 1876) & Jerusha Moore (1807 – 1867)
|     |     |     |     (5) Mary Hoppock (1804 – 1869) & Alexander McClanen (c.1795 – 1845)
|     |     |     (4) Peter Hoppock & Mary Ann Dalrymple
|     |     |     |     (5) Elder John D. Hoppock (1819 – 1906) & Ann Moore (1825 – 1880)
|     |     |     |     (5) Elias Hoppock (1814 – 1884)
|     |     |     |     |    m. 1) Ann Van Arsdale (1812 – 1850)
|     |     |     |     |    m. 2) Rebecca Godown (1820 – 1881)
|     (2) Anthony Tunis Hoppock Sr. & Antje Ann Boss
|     |    (3) Capt. Cornelius Hoppock & 1) Catherine Corle
|     |     |     (4) Anne Nancy Hoppock & Hon. Samuel Barber
|     |     |     |     (5) John Barber Esq. (1787 – 1867) & Anne S. Skillman (1790 – 1867)
|     |     |     |     (5) William Barber (1789 – 1866) & Catharine C. Corle (~1794 – 1849)
|     |     |     |     (5) Catherine Kitty Barber (1791 – 1871) & Solomon Holcombe Esq. (1789 – 1871)
|     |     |     |     (5) Johnson Barber (1793 – 1860)
.      .     .      .      m. 1) Elitta Craven (~1795 – bef. 1820)
.      .     .      .      m. 2) Rhoda Letty K. (1794 – 1830)
.      .     .      .      m. 3) Sarah (1785 – 1866)
|     |     |     |     (5) Ann Nancy Barber (c.1797 – ?) & Hiram Price (1799 – 1879)
|     |     |     (4) George Hoppock & Amy Lambert
|     |     |     |     (5) Capt. John Lambert Hoppock (c.1790 – 1813)
|     |     |     |     (5) William L. Hoppock Sr. (1792 – 1874)
.      .     .      .      m. 1) Jane Heed (1794 – 1834)
|     |     |     |     |     (6) George H. Hoppock (1820 – 1905) & Jane Elizabeth Wolverton (1822 – 1902)
.      .     .      .      m. 2) Hannah Liverton (1798 – 1871)
|     |     |     |     (5) Susanna M. Hoppock (1798 – 1883) & David Wilson (1793 – 1857)
|     |    (3) Capt. Cornelius Hoppock & 2) Jemima Barber
|     |     |     (4) John Hoppock Esq. & Rebecca Wilson
|     |     |     |     (5) William Hoppock (1815 – 1894) & Rebecca Wilson (1818 – 1866)
|     |     |     |     (5) James W. Hoppock (c.1820 – ?) & Sarah
|     |     (3) Tunis Hoppock Jr. & Eleanor Holcombe
|     |     |     (4) Richard Hoppock & Sarah Quick
|     |     |     |     (5) Jane Elizabeth Hoppock (c.1832 – 1833)
|     |     |     |     (5) Fanny Hoppock (c.1836 – 1838)
|    (2) Anthony Tunis Hoppock Sr. & Elizabeth
|     |   (3) Jacob Hoppock & Bernice Williamson
|     |     |     (4) Mary Hoppock & Cornelius Williamson
|     |     |     |     (5) son Williamson (1838 – 1838)
|     |     |     |     (5) Bernice Williamson (1839 – 1864)
|     |     |     |     (5) Asher Voorhees Williamson (1841 – 1926) & Anna Jane Hummer (1842 – 1929)
|     |     |     |     (5) Jacob H. Williamson (1844 – 1906)
|     |     |     |     (5) Cornelius Williamson (1846 – 1915) & Mary J. (c.1842 – ?)
|     |     |     |     (5) Israel P. Williamson (1850 – 1932)
|     |     |     (4) Moykee Hoppock & Jacob Morgan Vanderbelt
|     |     |     |     (5) Elizabeth B. Vanderbelt (1844 – ?)