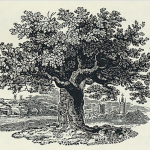 This is an updated version of the Reading Family Tree, which was first published in 2018. It is still incomplete, as is the nature of family trees.
This Family Tree focuses on the Reading family that remained in Hunterdon County. Children of those who left for parts west are not listed. As you will see, there are several branches of this tree that I know next to nothing about. If you know more, please add information (or make corrections) in the comments below.
Considering how long the Reading family has lived in Hunterdon County—since before there even was a Hunterdon County (established in 1714), it surprises me how many names of spouses are not familiar to me. The names of spouses those families have published trees on this website have been highlighted in green. You will have to return to the Families page to get a link to those families.
First Generation:
(1) Gov. John Reading (1686 – 1767) & Mary Martje Ryerson (1699 – 1774)
Gov. John Reading was the son of Col. John Reading and wife Elizabeth, first of the family to settle in Hunterdon County, as early as 1703. Since the couple had only one son, I am designating him as the First Generation.
Second Generation:
(1) Gov. John Reading & Mary Martje Ryerson of Amwell (Raritan) Township
|    (2.1) John Reading iii (1722 – 1766) & Isabella Montgomery (1727 – 1800)
|    (2.2) Ann Reading (1723 – 1768) & Rev. Charles Beatty (1712 – 1772)
|    (2.3) Hon. George Reading Esq. (1725 – 1792) & Rebecca Mullen (c.1730 – c.1780)
|    (2.4) Capt. Daniel Reading (1727 – 1768) & Euphemia Reid (1735 – 1768)
|    (2.5) Hon. Joseph Reading Esq. (1728 – 1806) & Amy Pierson (c.1735 – c.1829)
|    (2.6) Elizabeth Reading (1730 – c.1781) & John Hackett Esq. (c.1730 – 1766)
|    (2.7) Richard Reading (1732 – 1781) & Catharine Reid (c.1733 – after 1786)
|    (2.8) Capt. Thomas Reading Esq. (1734 – 1814) & Rebecca Ellis (1738 – 1808)
|    (2.9) Mary Reading (1736 – 1794) & Rev. William Mills (1739 – 1774)
|    (2.10) Sarah Reading (1738 – 1809) & Augustine Reid (1731 – 1807)
|    (2.11) Samuel Reading (1741 – 1749)
Third Generation:
(1) Gov. John Reading & Mary Martje Ryerson
|    (2.1) John Reading & Isabella Montgomery
|    |    (3.1) Capt. John Reading Jr. (1751 – 1820) & Elizabeth Hankinson (1748 – 1817)
|    |    (3.2) Maj. Charles Reading (1753 – 1820) & Abigail

Hunt

(c.1755 – c.1800)
|    |    (3.3) Rebecca Reading (c.1756 – ) & William Bennet Jr. (c.1750 – )
|    |    (3.4) Montgomery Reading (1758 – 1815) & Sarah Reid (1768 – 1844)
|    |    (3.5) Alexander Reading (1759 – 1820)
|    |    (3.6) Mary Reading (1761 – 1837)
|    |    (3.7) Theodosia Reading (c.1763 – )
|    (2.2) Ann Reading & Rev. Charles Beatty
|    |    (3.1) Mary Beatty (1747 – 1842) & Rev. Enoch

Green

(1734 – 1776)
|    |    (3.2) Christina Reading Beatty (1748 – c.1764)
|    |    (3.3) John Beatty (1749 – 1826)
|    |    |    |   m. 1) Mary Longstreet (c.1755 – 1815)
|    |    |    |   m. 2) Catharine de Klyn Lalor (c.1773 – 1861)
|    |    (3.4) Elizabeth Beatty (1752 – 1825)
|    |    |    |   m. 1) Rev. Philip Vicers Fithian (1747 – 1776)
|    |    |    |   m. 2) Hon. Joel Fithian (1748 – 1821)
|    |    (3.5) Matthew Beatty (c.1753 – )
|    |    (3.6) Martha Beatty (1754 – )
|    |    (3.7) Charles Clinton Beatty (1756 – 1777)
|    |    (3.8) Reading Beatty (1757 – 1831) & Christina Wyncoop (c.1760 – 1841)
|    |    (3.9) Erkuries Beatty (1759 – ) & Susanna Ewing (c.1765 – )
|    |    (3.10) George Beatty (1763 – )
|    |    (3.11) William Pitt Beatty (1766 – ) & Eleanor Polk
|    (2.3) Hon. George Reading Esq. & Rebecca Mullen
|    |    (3.1) Samuel Reading (c.1758 – 1838) & Sarah Gouverneur (c.1760 – )
|    |    (3.2) John Mullen Reading (c.1760 – 1833) & Mary Porter (c.1760 – )
|    |    (3.3) George Reading (1762 – )
|    |    (3.4) William Reading (c.1755 – )
|    |    (3.5) Elizabeth Reading (c.1758 – bef. 1792)
|    |    (3.6) Amelia Reading (c.1759 – ) & Albert Joost Zabriskie (c.1755 – )
|    (2.4) Capt. Daniel Reading & Euphemia Reid
|    |    (3.1) John Reid Reading (1756 – 1821) & Mary Ann Kennedy (c.1767 – 1844)
|    |    (3.2) Mary Reading (c.1757 – 1816) & Arthur Gray (1746 – 1809)
|    |    (3.3) Ellen Reading (c.1760 – )
|    |    |    |   m. 1) Benjamin Rogers (c.1760 – c.1794)
|    |    |    |   m. 2) Lt. James Montgomery (1755 – 1832)
|    |    (3.4) Euphemia Reading (1761 – 1837)
|    |    |    |   m. 1) Maj. Barzillai Newbold (1759 – 1815)
|    |    |    |   m. 2) Thomas Grey (c.1760 – )
|    |    (3.5) Daniel Reid Reading (1765 – 1834) & Jane Kennedy (1770 – 1840)
|    |    (3.6) Ann Reading (c.1766 – after 1817) & Thomas Newbold Wood (1761 – 1823)
|    |    (3.7) Sarah Reading (c.1767 – )
|    |    |    |   m. 1) Ferdinand Reading (c.1760 – c.1801)
|    |    |    |   m. 2) Benjamin Wallace (c.1770 – )
|    |    (3.8) Theodosia Reading (c.1768 – c.1804) & Rev. Thomas Grant (1763 – 1811)
|    (2.5) Hon. Joseph Reading Esq. & Amy Pierson
|    |    (3.1) William Reading (c.1754 – 1788) & Ann Nancy Emley (1757 – 1847)
|    |    (3.2) Lt. John Reading (1756 – 1802) & Mary Harrison (c.1758 – 1845)
|    |    (3.3) Elizabeth Reading (1758 – 1765)
|    |    (3.4) Joseph Reading Jr. (1760 – 1810) & Lucy Emley (1762 – 1831)
|    |    (3.5) Sarah Reading (c.1764 – ) & Fincher Helms
|    |    (3.6) Samuel Ryerson Reading (1771 – 1838)
|    |    |    |   m. 1) Eleanor Ellen Anderson (1771 – 1807)
|    |    |    |   m. 2) Susannah Susan

Rittenhouse

(1778 – 1849)
|    |    (3.7) Mary Reading (c.1772 – 1841)
|    |    (3.8) Pierson Reading (c.1775 – 1847)
|    |    |    |   m. 1) Mary

Opdycke

(1782 – c.1815)
|    |    |    |   m. 2) Charity Guild (1781 – 1864)
|    |    (3.9) Amy Reading (1776 – 1856)
|    |    |    |   m. 1) Cornelius Harrison (c.1780 – 1797)
|    |    |    |   m. 1) George

Wolverton

(c.1769 – )
|    |    (3.10) Rebecca Reading (c.1778 – ) & John Anderson Jr. (c.1775 – 1828)
|    |    (3.11) Theodosia Reading (c.1790 – )
|    (2.6) Elizabeth Reading & John Hackett Esq.
|    |    (3.1) Samuel Reading Hackett (1767 – 1791)
|    (2.7) Richard Reading & Catharine Reid
|    |    (3.1) James Reading (c.1759 – 1768)
|    |    (3.2) Ferdinand Reading (c.1760 – c.1801) & Sarah

Reading

(c.1767 – )
|    (2.8) Capt. Thomas Reading Esq. & Rebecca Ellis
|    |    (3.1) George Reading (c.1760 – ) & Anastasia Reid (c.1760 – )
|    |    (3.2) Thomas Reading (1764 – 1784)
|    |    (3.3) Mary Reading (1766 – ~1793) & Capt. Jonathan

Higgins

(1756 – 1829)
|    |    (3.4) Joseph Reading (1767 – 1808) & Martha

Hill

(c.1770 – )
|    |    (3.5) James Reading (c.1768 – ) & Sarah
|    |    (3.6) Ellis Reading (c.1770 – ~1808) & Catherine Hicks
|    |    (3.7) Polly Reading (c.1772 – )
|    |    (3.8) Francis Reading (c.1775 – ) & Nancy
|    |    (3.9) Deborah Reading (1777 – 1818) & David Bertron M.D. (1763 – 1826)
|    |    (3.10) Elizabeth Reading (1778 – 1784)
|    |    (3.11) Sarah Reading (c.1780 – 1836) & Joseph Phillips (1772 – ~1823)
|    |    (3.12) Harriet Reading (c.1790 – 1820) & Jeremiah King Jr. (1786 – 1851)
|    (2.10) Sarah Reading & Augustine Reid
|    |    (3.1) Mary Reid (c.1758 – ) & Moses Baldwin (c.1755 – )
|    |    (3.2) Anastasia Reid (~1760 – ) & George

Reading

(c.1760 – )
|    |    (3.3) Sarah Reid (1768 – 1844) & Montgomery

Reading

(1758 – 1815)
|    |    (3.4) John Reading Reid
|    |    (3.5) Augustine Reid (c.1770 – ) & Sophia Corwin
Fourth Generation:
(1) Gov. John Reading & Mary Martje Ryerson
|    (2.1) John Reading & Isabella Montgomery
|    |    (3.1) Capt. John Reading Jr. & Elizabeth Hankinson
|    |    |    (4.1) Mary Reading (1773 – 1825)
|    |    |    (4.2) William Reading (1773 – 1793)
|    |    |    (4.3) John Reading (1775 – 1821)
|    |    |    (4.4) Ann Reading (1777 – 1861)
|    |    |    (4.5) Joseph Reading (1778 – 1853) & Eleanor N. Grandin (1786 – 1873)
|    |    (3.2) Maj. Charles Reading & Abigail

Hunt


|    |    |    (4.1) Henry Reading (c.1776 – after 1812) & Susan

Dilts

(c.1780 – )
|    |    |    (4.2) Sydney Reading (c.1777 – )
|    |    |    (4.3) Bernard Reading (c.1778 – )
|    |    |    (4.4) John Reading (c.1779 – )
|    |    |    (4.5) Thomas Reading (1780 – 1853) & Mary King (1783 – 1845)
|    |    |    (4.6) Maria Reading (c.1781 – ) & Robert Anderson (c.1780 – )
|    |    |    (4.7) Charles Reading (c.1785 – ) & Gordiana Wyckoff (c.1785 – )
|    |    |    (4.8) Jemima Reading (1788 – 1853) & George Risler (1789 – 1826)
|    |    (3.4) Montgomery Reading & Sarah Reid
|    |    |    (4) William Reading (1786 – 1835) & Sarah Lanning (1788 – 1864)
|    (2.3) Hon. George Reading Esq. & Rebecca Mullen
|    |    (3.1) Samuel Reading & Sarah Gouverneur
|    |    |    (4.1) Nicholas Gouverneur Reading (c.1790 – ) & Sophia Atwood (c.1795 – )
|    (2.4) Capt. Daniel Reading & Euphemia Reid
|    |    (3.1) John Reid Reading & Mary Ann Kennedy
|    |    |    (4.1) Robert Kennedy Reading Esq. (1790 – 1853) & Catharine Maria Henry (1799 – 1874)
|    |    |    (4.2) Theodosia Reading (1791 – 1858)
|    |    |    |    |   m. 1) Nicholas DePuy (c.1790 – ~1818)
|    |    |    |    |   m. 2) Hon. Isaac Gray Farlee (1787 – 1855)
|    |    |    (4.3) John Reading (c.1794 – )
|    |    |    (4.4) Daniel Reid Reading (1796 – 1868)
|    |    |    (4.5) Eliza Reading (1799 – 1818)
|    |    |    (4.6) Maria Reading (1802 – 1865) & Henry Disborough Esq. (1803 – 1890)
|    |    (3.2) Mary Reading & Arthur Gray
|    |    |    (4.1) Euphemia Gray (c.1779 – ) & Benjamin Dean Esq. (c.1775 – )
|    |    |    (4.2) Jesse Gray (c.1780 – )
|    |    |    (4.3) Theodosia Gray (c.1782 – ) & Isaac How (c.1780 – )
|    |    |    (4.4) Rebecca Gray (c.1785 – 1871) & Jacob Edw.

Hoagland

(1783 – 1861)
|    |    (3.5) Daniel Reid Reading & Jane Kennedy
|    |    |    (4.1) Elizabeth H. Reading (1796 – 1842) & John F. Grandin Jr., Esq. (1792 – 1884)
|    |    |    (4.2) Daniel Kennedy Reading (1804 – 1835) & Mary Kennedy (1806 – 1885)
|    |    |    (4.3) Mary Kennedy Reading (1806 – 1833)
|    |    |    (4.4) Euphemia Reading (1811 – 1850) & William Kennedy (1798 – 1868)
|    |    (3.6) Ann Reading & Thomas Newbold Wood
|    |    |    (4.1) Hannah B. Wood (1803 – ) & Gen. William Reading Montgomery (c.1800 – )
|    |    (3.7) Sarah Reading & 1) Ferdinand

Reading


|    |    |    (4.1) Theodocia Ann Reading (c.1785 – c.1816)
|    |    (3.8) Theodosia Reading & Rev. Thomas Grant
|    |    |    (4.1) Catharine Stevens Grant (1793 – ) & Abraham Schuyler Neilson Esq. (1792 – 1861)
|    |    |    (4.2) Theodosia Grant (c.1795 – ) & Rev. William Whitehead (~1795 – )
|    (2.5) Hon. Joseph Reading Esq. & Amy Pierson
|    |    (3.1) William Reading & Ann Nancy Emley
|    |    |    (4.1) Elisha Emley Reading (1776 – 1821) & Anna

Reading

(1785 – 1843)
|    |    |    (4.2) Joseph Reading (1778 – 1858) & Nancy Doyle (c.1783 – )
|    |    |    (4.3) George Reading (c.1783 – 1824)
|    |    |    (4.4) Asher Reading (1784 – 1864) & Margaret

Wolverton

(1788 – 1883)
|    |    |    (4.5) William Reading (1787 – 1831) & Elizabeth

Sergeant

(1793 – 1873)
|    |    (3.2) Lt. John Reading & Mary Harrison
|    |    |    (4.1) Amy Harrison Reading (1786 – 1843) & Henry Mallet-Prevost (1783 – 1819)
|    |    |    (4.2) Susan Reading (1791 – 1877) & Peter

Heath

(1794 – 1843)
|    |    (3.4) Joseph Reading Jr. & Lucy Emley
|    |    |    (4.1) Anna Reading (1785 – 1843) & Elisha Emley

Reading

(1776 – 1821)
|    |    |    (4.2) Amy Reading (1787 – 1858) & George

Opdycke

Jr. (1775 – 1831)
|    |    |    (4.3) John Reading (1789 – 1871) & Martha

Sergeant

(1790 – 1883)
|    |    |    (4.4) Sarah Reading (1791 – 1842) & Charles

Sergeant

(1785 – 1863)
|    |    |    (4.5) Hannah Reading (1794 – 1854) & Edmund

Rittenhouse

(c.1785 – )
|    |    |    (4.6) Maria Reading (1797 – 1869) & Joseph West (1794 – 1837)
|    |    |    (4.7) Theodosia Reading (1800 – 1875) & Larison Stryker (1797 – 1881)
|    |    |    (4.8) Lucy Emley Reading (1803 – 1847)
|    |    |    |    |   m. 1) William Kugler (~1800 – 1847)
|    |    |    |    |   m. 2) William Johnson (1782 – 1869)
|    |    (3.6) Samuel Ryerson Reading & 1) Eleanor Ellen Anderson
|    |    |    (4.1) William Anderson Reading (1793 – 1878) & Deborah

Coryell

(1804 – 1881)
|    |    |    (4.2) Joshua Anderson Reading (1795 – 1796)
|    |    |    (4.3) Pierson Anderson Reading (1797 – 1884) & Mary B.

Hoagland

(1804 – 1884)
|    |    |    (4.4) Anderson Reading (1800 – 1825)
|    |    |    (4.5) Elizabeth Harrison Reading (1802 – 1889)
|    |    |    |    |   m. 1) Joseph

Lambert

(1801 – 1826)
|    |    |    |    |   m. 1) Hon. John Suydam Wilson (1791)
|    |    |    (4.6) Lucy E. Reading (1804 – 1843) & John Romine (1806 – 1892)
|    |    |    (4.7) Ellen Anderson Reading (1806 – 1859) & Joseph

Reading

(1811 – 1880)
|    |    (3.6) Samuel Ryerson Reading & 2) Susannah Susan

Rittenhouse


|    |    |    (4.1) Lewis Reading (1811 – 1838)
|    |    |    (4.2) Theodosia Grant Reading (1816 – 1873) & Judge Henry Pool Cullen (1824 – 1907)
|    |    (3.8) Pierson Reading & 1) Mary

Opdycke


|    |    |    (4.1) Mary Reading (c.1804 – c.1810)
|    |    |    (4.2) Susan Reading (1805 – 1853) & Robeson Rockhill, Esq. (1794 – 1867)
|    |    |    (4.3) Amy Reading (c.1806 – ) & Rev. Eli F. Cooley (1781 – 1860)
|    |    |    (4.4) Joseph Reading (c.1808 – 1825)
|    |    |    (4.5) Mary Reading (c.1812 – 1890) & George Washington Mason (1815 – 1908)
|    |    (3.8) Pierson Reading & 2) Charity Guild
|    |    |    (4.6) Maj. Pierson Barton Reading (1816 – 1868) & Fannie Wallace Washington (c.1820 – )
|    |    |    (4.7) John Guild Reading (1818 – 1850) & Caroline Burton (1826 – )
|    |    |    (4.8) Alfred Reading (1820 – 1894) & Bridget Conner (1836 – )
|    |    (3.9) Amy Reading & 2) George

Wolverton


|    |    |    (4.1) George Wolverton (1799 – ) & Edith

Johnson

(c.1785 – )
|    |    (3.10) Rebecca Reading & John Anderson Jr.
|    |    |    (4.1) Joshua Anderson (c.1800 – )
|    |    |    (4.2) Robert Anderson (c.1805 – )
|    |    |    (4.3) John Anderson (c.1805 – )
|    |    |    (4.4) Theodocia Anderson (c.1810 – ) & unknown Cramer (c.1805 – )
|    |    |    (4.5) Sarah Ann Anderson (c.1810 – ) & unknown King
|    |    |    (4.6) Jane Anderson (1811 – 1813)
|    (2.7) Richard Reading & Catharine Reid
|    |    (3.2) Ferdinand Reading & Sarah Reading
|    |    |    (4.1) Theodocia Ann Reading (c.1785 – c.1816)
|    (2.8) Capt. Thomas Reading Esq. & Rebecca Ellis
|    |    (3.1) George Reading & Anastasia Reid
|    |    |    (4.1) George R. Reading (1781 – 1811) & Jane Simpson (1786 – )
|    |    |    (4.2) Augustine R. Reading (1802 – 1882) & Catharine Ann

Reading

(c.1815 – 1885)
|    |    (3.3) Mary Reading & Capt. Jonathan

Higgins


|    |    |    (4.1) Jonathan Reading Higgins (1792 – 1865) & Rhoda

Godown

(1796 – bef. 1831)
|    |    (3.4) Joseph Reading & Martha

Hill


|    |    |    (4.1) Anna M. Reading (1789 – 1821) & Daniel H. Anderson (1787 – 1861)
|    |    |    (4.2) Thomas W. Reading (1792 – 1860)
|    |    |    |    |    m. 1) Esther Moore (1792 – 1820)
|    |    |    |    |    m. 2) Mary Waldron (1799 – 1846)
|    |    |    (4.3) Francis Reading (1798 – 1863) & Anne Bowne (1798 – 1861)
|    |    (3.6) Ellis Reading & Catherine Hicks
|    |    |    (4.1) Thomas H. Reading (1793 – 1859) & Elizabeth Runkle (1796 – 1871)
|    |    (3.9) Deborah Reading & David Bertron, M.D.
|    |    |    (4.1) Eliza Bertron (1793 – 1873) & William Porter (c.1790 – )
|    |    |    (4.2) Maria Conover Bertron (1804 – 1852) & John Mulford Jr. (1800 – )
|    |    |    (4.3) George Bertron (c.1805 – ) & Henrietta Rohrman
|    |    |    (4.4) Samuel Reading Bertron (1806 – 1878)
|    |    (3.11) Sarah Reading & Joseph Phillips
|    |    |    (4.1) Phoebe Howell Phillips (1808 – 1892) & Rev. Joseph Barlow (c.1805 – )
|    |    |    (4.2) Joseph Reading Phillips (c.1810 – 1873) & Elizabeth VanKirk
|    |    |    (4.3) John Howell Phillips (1814 – 1878) & Elizabeth A. Carson (c.1815 – )
|    |    |    (4.4) Mary Phillips (c.1815 – ) & John W. Phillips (c.1810 – )
|    |    (3.12) Harriet Reading & Jeremiah King Jr.
|    |    |    (4.1) Victoria King (c.1812 – ) & Samuel Wilson (c.1810 – )
Fifth Generation:
(1) Gov. John Reading & Mary Martje Ryerson
|    (2.1) John Reading & Isabella Montgomery
|    |    (3.1) Capt. John Reading Jr. & Elizabeth Hankinson
|    |    |    (4.5) Joseph Reading & Eleanor N. Grandin
|    |    |    |    (5.1) Col. James Newell Reading (1808 – 1884) & Sarah Celia A. Southard (1815 – 1896)
|    |    |    |    (5.2) Mary Ann Reading (1810 – 1869) & William Woodhull Hedges (1809 – 1879)
|    |    |    |    (5.3) John Grandin Reading (1812 – 1891) & Sarah Forman Woodhull (1812 – 1887)
|    |    |    |    (5.4) Joseph Hankinson Reading (1814 – 1857) & Sarah Anderson Evans (1814 – 1866)
|    |    |    |    (5.5) Philip Grandin Reading (1816 – 1885) & Eveline Evans (1822 – after 1885)
|    |    |    |    (5.6) Sidney Reading (c.1818 – ) & Harriet N. VanDerveer (c.1820 – )
|    |    |    |    (5.7) Elizabeth Hankinson Reading (1821 – 1828)
|    |    |    |    (5).8 William Reading (1822 – 1897) & Sarah Matilda Capner (1825 – 1911)
|    |    (3.2) Maj. Charles Reading & Abigail

Hunt


|    |    |    (4.5) Thomas Reading & Mary King
|    |    |    |    (5.1) Jeremiah King Reading (1804 – 1836) & Ann Case (1810 – )
|    |    |    |    (5.2) Abigail Reading (1806 – 1887) & Jacob

Buchanan

(1803 – 1886)
|    |    |    |    (5.3) Mary Reading (1809 – ) & Joseph Hibbs (c.1807 – )
|    |    |    |    (5.4) Sarah Reading (1811 – 1836) & Joseph Hibbs (c.1807 – )
|    |    |    |    (5.5) Jemima Reading (1815 – 1883)
|    |    |    |    (5.6) Montgomery Reading (1818 – 1895) & Lydia Clutch (1825 – )
|    |    |    (4.7) Charles Reading & Gordiana Wyckoff
|    |    |    |    (5.1) Abigail Reading (~1805 – ) & David Huff
|    |    |    (4.8) Jemima Reading & George Risler
|    |    |    |    (5.1) Sarah Ann Risler (1809 – 1856) & James Capner (1803 – 1860)
|    |    |    |    (5.2) Catherine Mary Risler (1811 – 1871) & John DeMott Post (c.1806 – 1884)
|    |    |    |    (5.3) William R. Risler (1813 – 1881) & Eliza Ewing (1812 – 1890)
|    |    |    |    (5.4) Charles Reading Risler (1815 – 1818)
|    |    |    |    (5.5) Hon. George W. Risler (1817 – 1894) & Mary Ann

Barber

( – 1845)
|    |    |    |    (5.6) Theodore H. Risler (1819 – 1867) & Elizabeth Hoffman (c.1820 – )
|    |    |    |    (5.7) Mahlon R. Risler (1821 – 1878)
|    |    |    |    (5.8) Rebecca B. Risler (1823 – 1887) & George A. Evans (c.1820 – )
|    |    |    |    (5.9) Susan Risler (c.1825 – ) & Capt. William Horner Slater (1818 – 1900)
|    (2.4) Capt. Daniel Reading & Euphemia Reid
|    |    (3.1) John Reid Reading & Mary Ann Kennedy
|    |    |    (4.1) Robert Kennedy Reading Esq. & Catharine Maria Henry
|    |    |    |    (5.1) Eliza Reading (1824 – 1897) & Edward P. Remington (1814 – 1888)
|    |    |    |    (5.2) Almira Reading (1827 – 1913) & Alexander Gulick (1820 – 1884)
|    |    |    |    (5.3) Mary Henry Reading (1827 – 1914) & John Piatt Grandin M.D. (1825 – 1876)
|    |    |    |    (5.4) Franklin Reading (1829 – 1891) & Mary Rebecca Hepburn
|    |    |    |    (5.5) Harrison Reading (1831 – ) & Harriet Morrison
|    |    |    |    (5.6) Jane Arnett Reading (1834 – 1863)
|    |    |    |    (5.7) Symmes Henry Reading Esq. (1837 – 1905) & Sarah
|    |    |    |    (5.8) Robert Charlton Reading (1844 – 1924) & Elizabeth Grier Sproul
|    |    |    (4.2) Theodosia Reading & 1) Nicholas DePuy
|    |    |    |    (5.1) Eleanor DePuy (1813 – 1813)
|    |    |    |    (5.2) John Reading DePuy (1813 – 1814)
|    |    |    |    (5.3) Robert Reading DePuy (1814 – 1898) & Matilda R.
|    |    |    (4.2) Theodosia Reading & 2) Hon. Isaac Gray Farlee
|    |    |    |    (5.1) Annie Gray Farley (1822 – ) & Augustus Godley Richey Esq. (1819 – 1894)
|    |    |    |    (5.2) John Reading Farlee (1823 – 1878) & Hannah Maria Scudder (c.1825 – )
|    |    |    |    (5.3) Eliza Reading Farlee (1826 – 1857) & Peter S. Cox (1821 – 1866)
|    |    |    |    (5.4) George W. Farlee (1832 – 1897) & Mary Elizabeth

Opdycke

(c.1835 – )
|    |    (3.5) Daniel Reid Reading & Jane Kennedy
|    |    |    (4.1) Elizabeth H. Reading & John F. Grandin Jr., Esq.
|    |    |    |    (5.1) Daniel Reading Grandin (1817 – 1892)
|    |    |    |    (5.2) Mary Newell Grandin (1820 – 1845) & George F. Slocum
|    |    |    |    (5.3) Elizabeth Grandin (1823 – 1832)
|    |    |    |    (5.4) Jane Elizabeth Grandin (c.1830 – )
|    |    |    |    (5.5) Dr. John Forman Grandin (1827 – ) & Julia Frances

Johnson

(1850 – 1924)
|    |    |    (4.2) Daniel Kennedy Reading & Mary Kennedy
|    |    |    |    (5.1) Daniel Kennedy Reading Jr. (1827 – 1853)
|    |    |    (4.4) Euphemia Reading & William Kennedy
|    |    |    |    (5.1) William Reading Kennedy (1830 – ) & Matilda T. Nellis (1833 – )
|    |    |    |    (5.2) Jane E. R. Kennedy (1838 – ) & L. M. Hayes
|    (2.5) Hon. Joseph Reading Esq. & Amy Pierson
|    |    (3.1) William Reading & Ann Nancy Emley
|    |    |    (4.1) Elisha Emley Reading & Anna

Reading


|    |    |    |    (5.1) Anastasia Reading (1806 – 1881)
|    |    |    |    (5.2) William Reading (1808 – 1858) & Mahala

Rittenhouse

(1816 – 1893)
|    |    |    |    (5.3) Joseph Reading (1811 – 1880)
|    |    |    |    |     m. 1) Mary Rodman (1803 – 1848)
|    |    |    |    |     m. 2) Ellen Anderson

Reading

(1806 – 1859)
|    |    |    |    |     m. 3) Catharine Case (c.1825 – after 1880)
|    |    |    |    (5.4) Lucy Emley Reading (1813 – 1863) & Jonathan Thomas Comly (1811 – 1865)
|    |    |    |    (5.5) George Jackson Reading (1815 – 1885) & Eliza Case

Swallow

(1815 – 1906)
|    |    |    (4.3) George Reading & unknown spouse
|    |    |    |    (5.1) William Reading (c.1800 – ) & Mary Lacy
|    |    |    |    (5.2) George Reading (c.1804 – )
|    |    |    (4.4) Asher Reading & Margaret

Wolverton


|    |    |    |    (5.1) Mary Reading (1809 – 1876) & John Golden (1803 – 1880)
|    |    |    |    (5.2) John Woolverton Reading (1812 – 1898) & Lucinda

Gordon

(1817 – 1897)
|    |    |    |    (5.3) Kensyl Reading (1815 – 1900) & Hannah Risler (1822 – 1888)
|    |    |    |    (5.4) Mary Reading (1817 – 1848) & Aaron H. Cook (1814 – 1850)
|    |    |    |    (5.5) Sarah Wolverton Reading (1820 – after 1860) & Joseph Reading

Opdycke

(1815 – 1870)
|    |    |    |    (5.6) Samuel Wolverton Reading (1822 – 1873)
|    |    |    |    |     m. 1) Catherine H.

Bodine

(1826 – 1856)
|    |    |    |    |     m. 1) LaReine Cline (1833 – 1903)
|    |    |    |    (5.7) Rachel Wolverton Reading (1826 – 1910) & Manuel S.

Green

(1823 – 1889)
|    |    |    |    (5.8) Margaret F. Reading (1828 – 1871) & Asa E. Cronce (1820 – 1902)
|    |    |    (4.5) William Reading & Elizabeth

Sergeant


|    |    |    |    (5.1) Charles Sergeant Reading (1814 – 1890)
|    |    |    |    |     m. 1) Hannah S.

Reading

(1819 – 1845)
|    |    |    |    |     m. 2) Rebecca E. Young (1823 – 1912)
|    |    |    |    (5.2) Joseph Reading (1817 – 1887) & Sarah

Fox

(1819 – 1869)
|    |    |    |    (5.3) Sarah Reading (1819 – 1884) & Ogden Robinson (1812 – 1888)
|    |    |    |    (5.4) Amelia Permelia Reading (1822 – 1890) & Edward Knowles (1812 – 1892)
|    |    |    |    (5.5) Emma Sergeant Reading (1825 – 1887)
|    |    |    |    |     m. 1) Nathaniel

Higgins

(c.1821 – 1846)
|    |    |    |    |     m. 2) Asher

Hill

(1796 – 1879)
|    |    |    |    |     m. 3) William Conover (c.1829 – 1887)
|    |    |    |    (5.6) Theresa Reading (1828 – ) & Amos Golden
|    |    |    |    (5.7) Asher Reading (1830 – ) & Lucy
|    |    (3.2) Lt. John Reading & Mary Harrison
|    |    |    (4.1) Amy Harrison Reading & Henry Mallet-Prevost
|    |    |    |    (5.1) John Harrison Prevost (1805 – 1845)
|    |    |    |    (5.2) Jane Lydia Prevost (1807 – 1865) & Robert H. Small (c.1805 – )
|    |    |    |    (5.3) Harriet Clifton Prevost (1809 – 1829)
|    |    |    |    (5.4) Augustine Waterhouse Prevost (1811 – )
|    |    |    |    (5.5) Paul Henry Mallet-Prevost (1814 – 1848) & Sophie Hough (1819 – 1883)
|    |    |    |    (5.6) Lewis Andrew Prevost (1818 – 1852)
|    |    |    (4.2) Susan Reading & Peter

Heath


|    |    |    |    (5.1) Anna Heath (c.1815 – )
|    |    |    |    (5.2) William Heath (c.1815 – )
|    |    |    |    (5.3) Reading Heath (1818 – 1896) & Susannah B. Bowden (c.1818 – 1888)
|    |    |    |    (5.4) Elisha Heath (1821 – 1883) & Cynthia Ott (1828 – 1923)
|    |    (3.4) Joseph Reading Jr. & Lucy Emley
|    |    |    (4.1) Anna Reading & Elisha Emley

Reading


|    |    |    |    (5.1) Anastasia Reading (1806 – 1881)
|    |    |    |    (5.2) William Reading (1808 – 1858) & Mahala

Rittenhouse

(1816 – 1893)
|    |    |    |    (5.3) Joseph Reading (1811 – 1880)
|    |    |    |    |     m. 1) Mary Rodman (1803 – 1848)
|    |    |    |    |     m. 1) Ellen Anderson

Reading

(1806 – 1859)
|    |    |    |    |     m. 1) Catharine Case (c.1825 – after 1880)
|    |    |    |    (5.4) Lucy Emley Reading (1813 – 1863) & Jonathan Thomas Comly (1811 – 1865)
|    |    |    |    (5.5) George Jackson Reading (1815 – 1885) & Eliza Case

Swallow

(1815 – 1906)
|    |    |    (4.2) Amy Reading & George

Opdycke

Jr.
|    |    |    |    (5.1) Nancy Opdycke (1809 – 1828)
|    |    |    |    (5.2) Sophie Baker Opdycke (1811 – 1860) & Asa

Ent

(c.1810 – )
|    |    |    |    (5.3) Lucy Emley Opdycke (1813 – 1898) & Daniel Poulson (1813 – 1890)
|    |    |    |    (5.4) John Bellis Opdyke (1812 – 1888)
|    |    |    |    |     m. 1) Ann Nancy Roberson (1814 – 1843)
|    |    |    |    |     m. 2) Rachel Ann Eick (1820 – 1846)
|    |    |    |    |     m. 3) unknown
|    |    |    |    (5.5) Joseph Reading Opdycke (1815 – 1870) & Sarah Wolverton

Reading

(1820 – after 1860)
|    |    |    |    (5.6) Theodosia Reading Opdycke (1818 – 1901)
|    |    |    |    (5.7) George W. Opdycke (1826 – ) & Selina Horner (c.1839 – )
|    |    |    (4.3) John Reading & Martha

Sergeant


|    |    |    |    (5.1) Mary Ann Reading (1809 – 1881) & Asher

Johnson

(1803 – 1884)
|    |    |    |    (5.2) Lucy Reading (1810 – 1845)
|    |    |    |    (5.3) Lorania Reading (c.1814 – 1894) & George W. Gaddis (1806 – 1886)
|    |    |    |    (5.4) Clarissa Reading (1817 – 1865) & Charles Romine (1811 – 1890)
|    |    |    |    (5.5) Hannah S. Reading (1819 – 1845) & Charles Sergeant

Reading

(1814 – 1890)
|    |    |    |    (5.6) Joseph H. Reading (1823 – 1874) & Maria Wilson (1825 – 1891)
|    |    |    |    (5.7) Jane Reading (1824 – after 1910) & Daniel B. Roberson (1821 – 1896)
|    |    |    |    (5.8) George Lohman Reading (1829 – 1893) & Harriet Eisenbrey (1837 – 1932)
|    |    |    |    (5.9) Theodosia Stryker Reading (1832 – ) & Arthur Wellington Lundy (1816 – )
|    |    |    (4.4) Sarah Reading & Charles

Sergeant


|    |    |    |    (5.1) Reading Sergeant (c.1810 – )
|    |    |    (4.6) Maria Reading & Joseph West
|    |    |    |    (5.1) Elisha Emley West (1817 – )
|    |    |    |    (5.2) John Reading West (1819 – 1889)
|    |    |    |    (5.3) Wiliam Anderson West (1821 – 1893)
|    |    |    |    (5.4) Thomas Holcombe West (1823 – 1860)
|    |    |    |    (5.5) Lucy Ann West (1825 – 1860)
|    |    |    |    (5.6) Joseph Atkinson West (1827 – 1891)
|    |    |    |    (5.7) Tacy Jane West (1830 – ) & Amos Carlisle Albertson (1828 – )
|    |    |    |    (5.8) Andrew Jackson West (1832 – 1877)
|    |    |    |    (5.9) Cornelia Hart West (1834 – 1838)
|    |    |    (4.7) Theodosia Reading & Larison Stryker
|    |    |    |    (5.1) Kezia Davis Stryker (1821 – ) & John A. Young (1811 – )
|    |    |    |    (5.2) James Reading Stryker (1823 – 1851) & Mary C. Dunham (1827 – )
|    |    |    |    (5.3) Peter Taylor Stryker (1825 – 1875) & Elizabeth Race (c.1825 – )
|    |    |    |    (5.4) Joseph R. Stryker (1827 – ) & Elizabeth Gardner (c.1825 – )
|    |    |    |    (5.5) Eliza C. Stryker (1829 – 1875)
|    |    |    |    (5.6) William Marshall Stryker Esq. (1832 – 1889) & Elizabeth Sharp (c.1840 – )
|    |    |    |    (5.7) George T. Stryker (1834 – ) & Martha Daws (c.1830 – )
|    |    |    |    (5.8) Larison Stryker Jr. (1836 – ) & Lucy Butler (c.1840 – )
|    |    |    |    (5.9) John Stryker (1838 – ) & Ellen Hebler (c.1835 – )
|    |    |    |    (5.10) Moses T. Stryker (1842 – 1889) & Mary H. Bowman (1844 – )
|    |    (3.6) Samuel Ryerson Reading & 1) Eleanor Ellen Anderson
|    |    |    (4.1) William Anderson Reading & Deborah

Coryell


|    |    |    |    (5.1) Samuel Ryerson Reading (1826 – ) & Mary Eloise Lynde (1833 – 1861)
|    |    |    |    (5.2) Sarah Coryell Reading (1827 – 1892) & George Lefler Horn (1825 – )
|    |    |    |    (5.3) Augustus Bertron Reading (1829 – 1909) & Mary Elizabeth

Barber

(1832 – 1919)
|    |    |    |    (5.4) Ann Eliza Reading (1830 – 1832)
|    |    |    |    (5.5) Camilla Reading (1834 – 1836)
|    |    |    |    (5.6) Emma Moore Reading (1837 – 1893)
|    |    |    |    (5.7) Joanna Reading (1846 – ) & Millard Fillmore Berger (1849 – )
|    |    |    (4.3) Pierson Anderson Reading & Mary B.

Hoagland


|    |    |    |    (5.1) Anderson Baker Reading (1828 – 1887)
|    |    |    |    (5.2) Ellen Reading (1830 – 1879)
|    |    |    |    (5.3) Lewis Elwood Reading (1831 – 1895)
|    |    |    |    |     m. 1) Isabella Foster (1828 – 1865)
|    |    |    |    |     m. 2) Louise Bartine (1840 – )
|    |    |    |    (5.4) Victoria A. Reading (1833 – 1862)
|    |    |    |    (5.5) Pierson Baker Reading (1835 – 1889)
|    |    |    |    (5.6) Olivia Reading (1837 – ) & Hon. William McCready (1817 – 1895)
|    |    |    |    (5.7) Charles Biddle Reading (1840 – ) & Catharine Stevenson (1844 – 1894)
|    |    |    (4.5) Elizabeth Harrison Reading &  1) Joseph

Lambert

(1801 – 1826)
|    |    |    |    (5.1) Joseph A. Lambert (1826 – 1870)
|    |    |    (4.5) Elizabeth Harrison Reading & 2) John Suydam Wilson
|    |    |    |    (5.2) Ellen R. Wilson (1835 – 1891)
|    |    |    |    (5.3) Cornelius Wilson (1837 – 1916) & Amelia Permelia

Dilts

(1837 – 1922)
|    |    |    |    (5.4) Israel Wilson (1845 – 1845)
|    |    |    (4.6) Lucy E. Reading & John Romine
|    |    |    |    (5.1) Martha Ann Romine (1833 – 1915)
|    |    |    |    (5.2) George Holcombe Romine (1834 – 1856)
|    |    |    |    (5.3) Mary Hannah Romine (c.1841 – ) & Edward C.

Green

(c.1836 – )
|    |    |    (4.7) Ellen Anderson Reading & Joseph

Reading


|    |    |    |    (5.1) Ellen Reading (c.1854 – )
|    |    (3.6) Samuel Ryerson Reading & 2) Susannah Susan

Rittenhouse


|    |    |    (4.2) Theodosia Grant Reading & Judge Henry Pool Cullen
|    |    |    |    (5.1) Henry Reading Cullen (1852 – 1853)
|    |    |    |    (5.2) Theodore Large Cullen (1854 – 1947) & Mary Ann

Bonham

(1855 – 1948)
|    |    |    |    (5.3) Susan Reading Cullen (1855 – 1949)
|    |    |    |    (5.4) Joseph Cullen (1857 – 1862)
|    |    |    |    (5.5) Hervey Cullen (1859 – 1859)
|    |    (3.8) Pierson Reading & 1) Mary

Opdycke


|    |    |    (4.2) Susan Reading & Robeson Rockhill Esq.
|    |    |    |    (5.1) John Clayton Rockhill II (1829 – )
|    |    |    |    |     m. 1) Caroline Burton (1826 – )
|    |    |    |    |     m. 2) Emanuella Eugenia Trego
|    |    |    (4.3) Amy Reading & Rev. Eli F. Cooley
|    |    |    |    (5.1) Sarah Lucinda Cooley & Morgan Scudder (c.1792 – 1868)
|    |    |    (4.5) Mary Reading & George Washington Mason
|    |    |    |    (5.1) John B. Mason (1839 – 1886)
|    |    |    |    |     m. 1) Catharine K. Boss (1836 – 1873)
|    |    |    |    |     m. 2) Annie E. Niece (c.1836 – )
|    |    |    |    (5.2) Susan Mason (~1840 – 1902) & Francis C. Roberson (1837 – )
|    |    (3.8) Pierson Reading & 2) Charity Guild
|    |    |    (4.6) Major Pierson Barton Reading & Fannie Wallace Washington
|    |    |    |    (5.1) Jeannette Reading (c.1840 – )
|    |    |    |    (5.2) Anna Reading (c.1840 – )
|    |    |    |    (5.3) Alice Reading (c.1845 – )
|    |    |    |    (5.4) Robert Reading (c.1845 – )
|    |    |    |    (5.5) Richard Reading (c.1845 – )
|    |    |    |    (5.6) Nina Reading (c.1850 – )
|    |    |    (4.7) John Guild Reading & Caroline Burton
|    |    |    |    (5.1) Robert Reading (c.1840 – )
|    (2.8) Capt. Thomas Reading Esq. & Rebecca Ellis
|    |    (3.4) Joseph Reading & Martha

Hill


|    |    |    (4.1) Anna M. Reading & Daniel H. Anderson
|    |    |    |    (5.1) William Hawks Anderson (1812 – 1862)
|    |    |    |    (5.2) William H. Anderson (1812 – 1857) & Mary Force (1821 – 1887)
|    |    |    |    (5.3) Henry Van Liew Anderson (1814 – 1869) & Margaret (1813 – 1862)
|    |    |    |    (5.4) Sarah Ann Anderson (1816 – )
|    |    |    |    (5.5) John Brinton Anderson (1818 – )
|    |    |    |    (5.6) Jacob Reading Anderson Jr. (1821 – 1895) & Jane (c.1825 – )
|    |    |    (4.2) Thomas W. Reading & 2) Mary Waldron
|    |    |    |    (5.1) Jonathan Reading (1825 – ) & Catharine Perdunn (1839 – )
|    |    |    (4.3) Francis Reading & Anne Bowne
|    |    |    |    (5.1) Anne Reading (1819 – 1819)
|    |    |    |    (5.2) Joseph Reading (1820 – 1833)
|    |    |    |    (5.3) William Reading (1824 – 1881) & Mary Burns (~1825 – )
|    |    |    |    (5.4) Mary Amanda Reading (~1825 – ) & Augustus Conover (~1818 – )
|    |    |    |    (5.5) Martha Reading (1828 – 1867)
|    |    |    |    (5.6) Oscar F. Reading (1830 – ) & Hannah Elizabeth Bowman (~1830 – )
|    |    |    |    (5.7) Ann Reading (1832 – 1845)
|    |    |    |    (5.8) Henry S. Reading (1834 – 1888) & Sarah Townsend (1841 – )
|    |    |    |    (5.9) John B. Reading (1836 – 1904) & Anne Elizabeth

Williamson

(1842 – 1921)
|    |    |    |    (5.10) Gideon Ewing Reading (1838 – 1920) & Frances Elizabeth Griffith (1849 – )
|    |    |    |    (5.11) Miller Kline Reading M.D. (1840 – 1918) & Mary Hannah Young (1846 – 1924)
|    |    |    |    (5.12) Elizabeth Reading
|    |    (3.6) Ellis Reading & Catherine Hicks
|    |    |    (4.1) Thomas H. Reading & Elizabeth Runkle
|    |    |    |    (5.1) Catharine Ann Reading (c.1815 – 1885) & Augustine R.

Reading

(1802 – 1882)