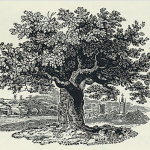 The Buchanan family in Hunterdon County begins with the Scottish immigrants, Samuel and Jane or Janet Buchanan, whose name was frequently spelled "Bohannon." It is not known whether they had any more than one child. Only their son John left a family with a history that can be traced.
John Buchanan became a well-known figure in 18th century Amwell Township, especially because of his popular tavern located at the intersection of today's Route 523 and 579. I have written at some length about this tavern. Click on "taverns" under Topics in the right-hand column, and scroll down to the second page. Or search on Buchanan's Tavern.
Please keep in mind that my focus is always on residents of Hunterdon County, which means that my knowledge of family members who have moved away is not very thorough. I am happy to receive corrections and additions in the comments section below to this and all the family trees on this website.
As an example, in July 2020 a descendant sent me her information on the family of John Buchanan (1800-1890) and Catherine Williamson (1803-1891), which I did not have when I first published this tree. It has since been added, and related corrections made.
First Generation:
(1) Samuel Buchanan (c.1710 – c.1774) & Jane Janet (c.1710 – after 1781)
Second Generation:
|     (2.1) John Buchanan Sr. (c.1740 – 1818)
|     |       m. 1) Sarah Opdycke (1741 – bef. 1786)
|     |       m. 2) Azubah Lake (1766 – 1847)
Third Generation:
(1) Samuel Buchanan & Jane Janet
|     (2.1) John Buchanan Sr. & 1) Sarah Opdycke
|     |     (3.1) Margaret Buchanan (1761 – 1808) & Matthias Case (c.1760 – ?)
|     |     (3.2) Samuel Buchanan (c.1764 – 1846)
|     |     |     m. 1) Ann Case (c.1765 – c.1800)
|     |     |     m. 2) Margaret Arnwine (c.1779 – 1855)
|     |     (3.3) Sarah Buchanan (c.1765 – bef. 1796) & Peter Case (1751 – 1796)
|     |     (3.4) John Buchanan Jr. (c.1772 – 1818) & Elizabeth Rockafellar (c.1778 – 1853)
|     |     (3.5) George Buchanan (1773 – 1826) & Elizabeth Fulper (1781 – 1846)
|     (2.1) John Buchanan Sr. & 2) Azubah Lake
|     |     (3.6) Archibald Buchanan Sr. (1790 – 1819) & Delilah Sutton (c.1790 – bef. 1850)
Fourth Generation:
|     (2.1) John Buchanan Sr. & 1) Sarah Opdycke
|     |     (3.1) Margaret Buchanan & Matthias Case
|     |     |     (4.1) Jacob Case (c.1781 – 1821) & Unknown
|     |     |     (4.2) John Case (c.1782 – ?)
|     |     |     (4.3) William Case (c.1788 – ?)
|     |     |     (4.4) Godfrey Case (c.1790 – after 1856) & Unknown
|     |     |     (4.5) Catharine Case (c.1790 – ?) & John Case (c.1788 – ?)
|     |     |     (4.6) Mary Case
|     |     |     (4.7) Margaret Case & David Stem (1838 – 1910)
|     |     |     (4.8) Elizabeth Case (c.1795 – ?)
|     |     |     (4.9) Peter I. Case (1797 – 1877)
|     |     |     |     m. 1) Sarah Holcombe (1804 – 1866)
|     |     |     |     m. 2) Mrs. Sally Pickel (~1795 – )
|     |     |     (4.10) Charity Case (1798 – 1849)
|     |     |     |     m. 1) Lewis Rope [?]
|     |     |     |     m. 2) William H. Johnson (1789 – 1872)
|     |     (3.2) Samuel Buchanan & 1) Ann Case
|     |     |     (4.1) Margaret Buchanan (1781 – 1855)
|     |     |     |     m. 1) Daniel G. Pegg (1779 – 1807)
|     |     |     |     m. 2) Lawrence Opdycke (c.1780 – 1854)
|     |     |     (4.2) John Buchanan (c.1783 – bef. 1855)
|     |     |     (4.3) Matthias Buchanan (1784 – 1872) & Elizabeth Kuhl (1789 – 1858)
|     |     |     (4.4) Sarah Buchanan (c.1785 – ?) & Samuel Barrick Sr. (1779 – 1860)
|     |     |     (4.5) Samuel Buchanan (c.1787 – 1864)
|     |     |     |     m. 1) Sarah
|     |     |     |     m. 2) Hannah (c.1789 – 1875)
|     |     |     (4.6) Mary Buchanan (c.1788 – ?) & John Henry (c.1785 – c.1819)
|     |     |     (4.7) Elizabeth Buchanan (1793 – 1868) & Tunis B. Hummer (1789 – 1862)
|     |     |     (4.8) Ann Buchanan (c.1790 – ?) & Isaiah Matthews (1785 – 1858)
|     |     (3.2) Samuel Buchanan & 2) Margaret Arnwine
|     |     |     (4.1) Jacob Fulper Buchanan (1804 – 1894) & Mary Gordon (1807 – 1882)
|     |     |     (4.2) Jane C. Buchanan (1809 – 1893) & Asher Larew Fulper (1810 – 1895)
|     |     |     (4.3) Catharine Buchanan (1807 – 1889) & John P. Yawger (1801 – 1858)
|     |     (3.3) Sarah Buchanan & Peter Case
|     |     |     (4.1) Henry Case (c.1778 – c.1815)
|     |     |     (4.2) Anne Case (c.1780 – ?) & James Clark (c.1755 – 1828)
|     |     |     (4.3) Mathias Case (1782 – 1825) & Mary Howell (1785 – bef. 1844)
|     |     |     (4.4) Elizabeth Case (c.1785 – ?)
|     |     (3.4) John Buchanan Jr. & Elizabeth Rockafellar
|     |     |     (4.1) Sarah Buchanan (1794 – ?)
|     |     |     (4.2) Margaret Buchanan (c.1795 – <bef. 1850) & John R. Hoppock (1769 – 1853)
|     |     |     (4.3) Jane Buchanan (c.1796 – ?)
|     |     |     (4.4) George Buchanan (1797 – ?) & Hester Scout (c.1805 – ?)
|     |     |     (4.5) John Buchanan (1800 – 1890) & Catherine Williamson (1803-1981)
|     |     |     (4.6) Henry Buchanan M.D. (c.1801 – 1839) & Mary Shepherd (1802 – 1871)
|     |     |     (4.7) Jacob Buchanan (1803 – 1886) & Abigail Reading (1806 – 1887)
|     |     |     (4.8) Philip C. Buchanan (c.1804 – 1852)
|     |     |     (4.9) Peter Buchanan (c.1805 – ?)
|     |     |     (4.10) Elizabeth Buchanan (c.1808 – 1844)
|     |     |     (4.11) Samuel Rockafellow Buchanan (1811 – 1883) & Elizabeth Chandler (1810 – 1887)
|     |     |     (4.12) John K. Buchanan (c.1814 – 1893)
|     |     |     (4.13) Asher Buchanan (1818 – ?)
|     |     (3.5) George Buchanan & Elizabeth Fulper
|     |     |     (4.1) Amy Buchanan (1808 – 1868)
|     |     |     (4.2) Samuel Buchanan (c.1811 – ?) & Elizabeth (1816 – 1901)
|     |     |     (4.3) John Buchanan (c.1815 – ?) & Ann Wyckoff (c.1820 – ?)
|     |     |     (4.4) Jacob T. Buchanan
|     (2.1) John Buchanan Sr. & 2) Azubah Lake
|     |     (3.6) Archibald Buchanan Sr. & Delilah Sutton
|     |     |     (4.1) Lucretia Buchanan (c.1812 – ?)
|     |     |     (4.2) Amos Sutton Buchanan (c.1815 – ?)
|     |     |     (4.3) Harriet Buchanan (1817 – 1853) & Asher Trout (1807 – 1897)
|     |     |     (4.4) Archibald Buchanan Jr. (c.1815 – 1879) & Sarah Ann Housell (c.1825 – ?)
Fifth Generation:
|     (2.1) John Buchanan Sr. & 1) Sarah Opdycke
|     |     (3.2) Samuel Buchanan & Ann Case
|     |     |     (4.1) Margaret Buchanan & 1) Daniel G. Pegg
|     |     |     |     (5.1) Mary Pegg (c.1803 – ?)
|     |     |     |     (5.2) Jesse Pegg (1804 – 1879)
|     |     |     |     |     m. 1) Anna Buchanan (1805 – ?)
|     |     |     |     |     m. 2) Sarah Elizabeth (c.1830 – 1885)
|     |     |     |     (5.4) John Pegg (1805 – 1862) & Mary Pierson (1808 – 1887)
|     |     |     |     (5.5) Mahlon Pegg (1805 – 1876)
|     |     |     |     |     m. 1) Elizabeth Sebold (1810 – 1848)
|     |     |     |     |     m. 2) Dinah Hockenbury (1813 – 1906)
|     |     |     |     |     m. 3) Elizabeth Hockenbury
|     |     |     (4.1) Margaret Buchanan & 2) Lawrence Opdycke
|     |     |     |     (5.1) Laurence Opdycke (c.1815 – ?)
|     |     |     (4.3) Matthias Buchanan & Elizabeth Kuhl
|     |     |     |    (5.1) Anna Buchanan (1805 – 1890) & Jesse Pegg (1804 – 1879)
|     |     |     |     (5.2) Mary Buchanan (1808 – ?)
|     |     |     |     (5.3) Samuel Buchanan (1810 – 1882) & Charity West (1818 – 1894)
|     |     |     |     (5.4) John K. Buchanan (1813 – 1893) & Catharine E. Swallow (1816 – 1891)
|     |     |     |     (5.5) Margaret Buchanan (1817 – 1846)
|     |     |     |     (5.6) Amanda Buchanan (1820 – 1891) & Abraham Kise (1817 – 1890)
|     |     |     |     (5.7) Lucinda Buchanan (1822 – 1891) & Abraham Servis (c.1824 – ?)
|     |     |     |     (5.8) Mathias Buchanan (1824 – 1894) & Elizabeth (c.1834 – ?)
|     |     |     |     (5.9) Alexander Buchanan (1827 – 1858)
|     |     |     |     (5.10) Alfred Buchanan (1829 – 1907) & Maria Elizabeth Butterfoss (1828 – 1898)
|     |     |     |     (5.11) Elizabeth E. Buchanan (1836 – after 1900)
|     |     |     (4.4) Sarah Buchanan & Samuel Barrick Sr.
|     |     |     |     (5.1) Deborah Barrick (1800 – 1851)
|     |     |     |     (5.2) Samuel Barrick (c.1812 – ?) & Euphemia Sheppard (1813 – 1887)
|     |     |     |     (5.3) Sarah Barrick (1827 – 1854)
|     |     |     (4.5) Samuel Buchanan & Hannah __
|     |     |     |     (5.1) Mary Ann Buchanan (c.1819 – ?) & Joseph Mires (c.1815 – ?)
|     |     |     |     (5.2) Jane F. Buchanan (c.1826 – ?)
|     |     |     (4.7) Elizabeth Buchanan & Tunis B. Hummer
|     |     |     |     (5.1) Catherine Hummer (1815 – 1859) & William I. Cole (1782 – 1873)
|     |     |     |     (5.2) Sarah Ann Hummer (1828 – 1859)
|     |     |     (4.8) Ann Buchanan & Isaiah Matthews
|     |     |     |     (5.1) Samuel B. Mathews (1817 – 1870) & Mary Ann (1821 – 1898)
|     |     |     |     (5.2) William R. Mathews (1830 – 1907) & Rebecca H. (1833 – 1914)
|     |     (3.2) Samuel Buchanan & 2) Margaret Arnwine
|     |     |     (4.1) Jacob Fulper Buchanan & Mary Gordon
|     |     |     |     (5.1) Ann E. Buchanan (c.1837 – bef. 1860)
|     |     |     |     (5.2) Gordon Buchanan (1841 – 1921) & Anna Ellen Hughes (1839 – 1917)
|     |     |     |     (5.3) George Buchanan (c.1845 – c.1851)
|     |     |     |     (5.4) Elizabeth Buchanan (c.1840 – ?)
|     |     |     (4.2) Jane C. Buchanan & Asher Larew Fulper
|     |     |     |     (5.1) Samuel Fulper (c.1832 – 1898)
|     |     |     |     (5.2) Peter Fulper (1833 – 1863)
|     |     |     |     (5.3) Jerusha Fulper (1833 – 1904)
|     |     |     |     (5.4) John B. Y. Fulper (1844 – 1895) & Arenia Ashcroft (c.1825 – ?)
|     |     |     |     (5.5) Margaret A. Fulper (c.1841 – ?)
|     |     |     |     (5.6) James Buchanan Fulper (1850 – 1922) & Sarah P. (1849 – 1895)
|     |     (3.4) John Buchanan Jr. & Elizabeth Rockafellar
|     |     |     (4.5) John Buchanan & Catherine Williamson
|     |     |     |     (5.1) Sarah Ann Buchanan (1826 – 1901)
|     |     |     |     |     m. 1) Benjamin Franklin German (~1825 – <1860)
|     |     |     |     |     m. 2) Daniel Bloom (1822 – 1899)
|     |     |     |     (5.2) Cornelius W. Buchanan (1828 – 1902) & Amy Brittain Lewis (c.1830 – 1906)
|     |     |     |     (5.3) Elizabeth Furman Buchanan (1829 – 1926) & Napoleon Bonaparte German (1813 – 1856)
|     |     |     |     (5.4) John Hoppock Buchanan (1830 – 1907)
|     |     |     |     |        m. 1) Elizabeth Carkhuff (1833 – 1870)
|     |     |     |     |        m. 2) Editha Bush (1850 – 1923)
|     |     |     |     (5.5) Harriet Susan Buchanan (1832 – 1885) & John C. Hillier (1828 – 1883)
|     |     |     |     (5.6) Catharine Buchanan (1834 – 1926) & Edward Hillier (1836 – 1906)
|     |     |     |     (5.7) Euphemia Fanny Buchanan (1836 – 1838)
|     |     |     |     (5.8) Amy Buchanan (1839 – 1904) &
|     |     |     |     |     m. 1) Izer Isaiah G. Rake (1837 – 1875)
|     |     |     |     |     m. 2) William Swallow (1820 – 1908)
|     |     |     |     (5.9) Margaret Buchanan (1842 – 1917) & Gershom McPherson (1842 – 1906)
|     |     |     |     (5.10) Peter Buchanan (1843 – 1922) & Angeline Moore (1835 – 1925)
|     |     |     |     (5.11) George Buchanan (1845 – 1856)
|     |     |     (4.6) Henry Buchanan M.D. & Mary Shepherd
|     |     |     |     (5.1) Mary Jane Buchanan (c.1835 – ?)
|     |     |     (4.7) Jacob Buchanan & Abigail Reading
|     |     |     |     (5.1) Hannah Elizabeth Buchanan (c.1845 – 1907) & Hiram N. Opdycke (1849 – ?)
|     |     |     |     (5.2) John Buchanan (c.1846 – ?)
|     |     |     |     (5.3) Samuel Buchanan (c.1857 – ?) & Sarah R. Prickett (c.1855 – ?)
|     |     |     (4.11) Samuel Rockafellow Buchanan & Elizabeth Chandler
|     |     |     |     (5.1) Mary Ann Buchanan
|     |     |     |     (5.2) Hannah Chandler Buchanan (1832 – 1891) & Daniel Hebron Pierson (1826 – 1881)
|     |     |     |     (5.3) Hon. James Buchanan (1839 – 1900)
|     |     |     |     |     m. 1) Mary Isabel Bullock (1842 – 1886)
|     |     |     |     |     m. 2) Irene S. Koones
|     |     |     |     (5.4) Rev. Joseph Chandler Buchanan (1841 – 1917) & Hannah Stevenson Rea (c.1844 -?)
|     |     (3.5) George Buchanan & Elizabeth Fulper
|     |     |     (4.2) Samuel Buchanan (c.1811 – ?) & Elizabeth (1816 – 1901)
|     |     |     |     (5.1) Mary Ann Buchanan (c.1830 – 1844)
|     |     |     |     (5.2) Hannah Buchanan (c.1833 – ?)
|     |     |     |     (5.3) Julia Buchanan (c.1840 – ?) & Henry Rowland (c.1840 – ?)
|     (2.1) John Buchanan Sr. & 2) Azubah Lake
|     |     (3.6) Archibald Buchanan Sr. & Delilah Sutton
|     |     |     (4.3) Harriet Buchanan & Asher Trout
|     |     |     |     (5.1) Annie B. Trout (1835 – 1922) & Edward Mason Heath (1837 – 1916)
|     |     |     |     (5.2) Archibald Buchanan Trout (1836 – 1915) & Mary A. Lee (1833 – 1914)
|     |     |     |     (5.3) John Trout (c.1839 – c.1915)
|     |     |     |     |     m. 1) Mary Elizabeth Lawshe (1840 – 1884)
|     |     |     |     |     m. 2) Lucy E. Thing (c.1848 – ?)
|     |     |     |     (5.4) Mary R. Trout (1842 – 1911) & Hon. George W. Scott (1835 – 1909)
|     |     |     |     (5.5) Amos S. Trout (1847 – 1911) & Anna C. Hughes (1848 – 1931)
Sixth Generation:
|     (2.1) John Buchanan Sr. & 2) Sarah Opdycke
|     |     (3.2) Samuel Buchanan & Ann Case
|     |     |     (4.3) Matthias Buchanan & Elizabeth Kuhl
|     |     |     |    (5.3) Samuel Buchanan & Charity West
|     |     |     |     |     (6.1) William Kuhl Buchanan (1840 – 1859)
|     |     |     |     |     (6.2) Joseph Buchanan (c.1844 – ?) & Harriet Hewitt (c.1845 – ?)
|     |     |     |     |     (6.3) Mathias W. Buchanan Jr. (1845 – 1902)
|     |     |     |     |     |     m. 1) Ettie Hight (c.1855 – bef. 1887)
|     |     |     |     |     |     m. 2) Mary Hannah Sharp (1847 – 1930)
|     |     |     |     |     (6.4) Lemuel L. Buchanan (1849 – c.1922) & Caroline Bosenbury (1850 – ?)
|     |     |     |     |     (6.5) John Rockafellar Buchanan (1850 – 1913) & Elizabeth C. Closson (1857 – 1916)
|     |     |     |     |     (6.6) James P. Buchanan (1851 – 1929) & Anna Horn (1848 – 1919)
|     |     |     |     |     (6.7) Elizabeth Ann Buchanan (1851 – 1883) & Charles Augustus Butterfoss (1851
|     |     |     |     |     (6.8) Peter Buchanan (1853 – 1879)
|     |     |     |     |     (6.9) Samuel F. Buchanan (c.1860 – 1891) & Emma J. Anderson (1865 – 1945)
|     |     |     |     (5.4) John K. Buchanan & Catharine E. Swallow
|     |     |     |     |     (6.1) Sarah Buchanan (1838 – bef. 1850)
|     |     |     |     |     (6.2) William S. Buchanan Sr. (1849 – c.1918) & Catherine K. Deats (1849 – )
|     |     |     |     |     (6.3) Mathias Buchanan (1854 – 1925) & Henriette Hight (1856 – 1933)
|     |     |     |     (5.6) Amanda Buchanan & Abraham Kise
|     |     |     |     |     (6.1) Lewis Kise (1857 – 1932)
|     |     |     |     (5.7) Lucinda Buchanan & Abraham Servis
|     |     |     |     |     (6.1) Elwood S. Servis (c.1848 – 1912) & Amy Horner (c.1851 – ?)
|     |     |     |     (5.8) Mathias Buchanan & Elizabeth
|     |     |     |     |     (6.1) Lewis A. Buchanan (c.1855 – ?) & Urania Fauss (c.1854 – 1897)
|     |     |     |     (5.10) Alfred Buchanan & Maria Elizabeth Butterfoss
|     |     |     |     |     (6.1) James B. Buchanan (1860 – 1935) & Elizabeth J. Dallas (1862 – ?)
|     |     |     |     |     (6.2) John L. Buchanan (c.1864 – ?)
|     |     |     |     |     (6.3) Emma Dora Buchanan (c.1867 – 1876)
|     |     (3.2) Samuel Buchanan & 2) Margaret Arnwine
|     |     |     (4.1) Jacob Fulper Buchanan & Mary Gordon
|     |     |     |     (5.2) Gordon Buchanan & Anna Ellen Hughes
|     |     |     |     |     (6.1) George H. Buchanan (1867 – 1939) & Malinda Voorhees (1868 – 1944)
|     |     |     |     |     (6.2) Willis Buchanan (1871 – after 1910)
|     |     |     |     |     (6.3) Charles B. Buchanan (1873 – after 1900)
|     |     |     |     |     (6.4) Ella Irene Buchanan (1879 – 1939) & John Kunsman (1864 – 1946)
|     |     |     (4.10) Samuel Rockafellow Buchanan & Elizabeth Chandler
|     |     |     |    (5.2) Hannah Chandler Buchanan & Daniel Hebron Pierson
|     |     |     |     |     (6.1) Rev. Judson Pierson (c.1855 – 1895)
|     |     |     |     |     (6.2) Elizabeth Pierson (c.1857 – ?) & Frank Bailey (c.1855 – ?)
|     |     |     |     (5.3) Hon. James Buchanan & 1) Mary Isabel Bullock
|     |     |     |     |     (6.1) Jessie Buchanan (1871 – 1875)
|     |     |     |     |     (6.2) Malcolm G. Buchanan (c.1875 – ?)
|     |     |     |     |     (6.3) Arthur Buchanan (c.1880 – ?)
|     |     (3.4) John Buchanan Jr. & Elizabeth Rockafellar
|     |     |     (4.5) John Buchanan iii & Catharine Williamson
|     |     |     |     (5.1) Sarah Ann Buchanan & 1) Benjamin Franklin German
|     |     |     |     |     (6.1) Cornelius German (1846 – 1935) & Rebecca Gary (1855 – 1918)
|     |     |     |     |     (6.2) John German (1848 – 1851)
|     |     |     |     |     (6.3) James C. German (~1852 – )
|     |     |     |     |     (6.4) Margaret German (~1854 – ) & Elias Conover (1854 – 1877)
|     |     |     |     |     (6.5) George B. German (~1858 – )
|     |     |     |     |     (6.6) William Bloom (~1858 – )
|     |     |     |     (5.1) Sarah Ann Buchanan & 2) Daniel Bloom
|     |     |     |     |     (6.7) Frederick Bloom (~1867 – )
|     |     |     |     |     (6.8) Mary C. Bloom (1868 – 1956) & George W. Hill (1863 – 1941)
|     |     |     |     |     (6.9) Matilda Bloom (~1869 – ) & John B. Stone (~1865 – )
|     |     |     |     (5.3) Elizabeth F. Buchanan & Napoleon B. German
|     |     |     |     |     (6.1) John M. Buchanan German (1848 – 1851)
|     |     |     |     |     (6.2) Eveline Estelle German (1851 – 1931) & Snyder Curtis (1850 – 1930)
|     |     |     |     |     (6.3) Yardley Reeder German (1853 – 1926) & Deborah Ann Stout (1860 – 1928)
|     |     |     |     |     (6.4) Israel Poulson German (1857 – 1863)
|     |     |     |     (5.4) John Hoppock Buchanan & 1) Elizabeth Carkhuff
|     |     |     |     |     (6.1) Margaret Buchanan (1856 – ~1904) & George W. Shepherd Jr. (~1844 – )
|     |     |     |     |     (6.2) John Grandin Buchanan (1858 – 1858)
|     |     |     |     |     (6.3) Mary Augusta Buchanan (1866 – ~1939) & Theodore Allen Mount (1860 – 1934)
|     |     |     |     (5.5) Harriet Susan Buchanan & John C. Hillier
|     |     |     |     |     (6.1) Harriet Hellier (~1859 – )
|     |     |     |     |     (6.2) Alice Hellier (~1866 – )
|     |     |     |     (5.6) Catharine Buchanan & Edward Hillier
|     |     |     |     |     (6.1) Son Hillier (1855 – )
|     |     |     |     |     (6.2) Elizabeth Hoppock (~1857 – )
|     |     |     |     (5.8) Amy Buchanan & 1) Izer Isaiah G. Rake
|     |     |     |     |     (6.1) Lemuel Rake (1858 – )
|     |     |     |     |     (6.2) Andrew Rake (1859 – ~1920)
|     |     |     |     |     (6.3) Lambert Rake (1861 – 1945)
|     |     |     |     |     (6.4) Amy Catharine Rake (1864 – 1944) & George W. Horten (1861 – 1949)
|     |     |     |     |     (6.5) Aaron R. Rake (1865 – 1935)
|     |     |     |     |     |     m. 1) Lizzie Alles (1868 – 1916)
|     |     |     |     |     |     m. 2) Annie Alles (1872 – 1952)
|     |     |     |     |     (6.6) Edward Henry Rake (1866 – 1916)
|     |     |     |     |     (6.7) Sarah Etta Rake (1867 – )
|     |     |     |     |     (6.8) William Curtis Rake (1872 – 1949) & Luella Olive Winters (~1875 – )
|     |     |     |     |     (6.9) Theodore J. Rake (1873 – 1947) & Bridget Kilheaney
|     |     |     |     |     (6.10) Lewis B. Rake (1875 – 1942)
|     |     |     |     (5.9) Margaret Buchanan & Gershom McPherson
|     |     |     |     |     (6.1) John B. McPherson (~1867 – ) & Martha
|     |     |     |     |     (6.2) Susan B. McPherson (1868 – 1875)
|     |     |     |     |     (6.3) George McPherson (~1871 – )
|     |     |     |     |     (6.4) Nora McPherson (1872 – 1886)
|     |     |     |     |     (6.5) Arthur K. McPherson (~1875 – )
|     |     |     |     |     (6.6) Sheridan L. McPherson (~1879 – ) & Harriet
|     |     |     |     (5.10) Peter Buchanan & Angeline Moore
|     |     |     |     |     (6.1) Martha M. Buchanan (1865 – 1929) & William S. Crips (1854 – 1905)
|     |     |     |     |     (6.2) Catherine Buchanan (1866 – 1953) & William McPherson (1854 – 1924)
|     |     |     |     |     (6.3) Annie Buchanan (~1869 – ) & John Wesley Bush (1865 – )
Seventh Generation:
|     (2.1) John Buchanan Sr. & 1) Sarah Opdycke
|     |     (3.2) Samuel Buchanan & Ann Case
|     |     |     (4.3) Matthias Buchanan & Elizabeth Kuhl
|     |     |     |     (5.3) Samuel Buchanan & Charity West
|     |     |     |     |     (6.2) Joseph Buchanan & Harriet Hewitt
|     |     |     |     |     |     (7.1) George W. Buchanan (c.1870 – 1949)
|     |     |    |     |     (6.4) Lemuel L. Buchanan & Caroline Bosenbury
|     |     |     |     |     |     (7.1) William K. Buchanan (1871 – ?) & Jenness L. Baldwin (1875 – ?)
|     |     |     |     |     |     (7.2) Mathias Buchanan (1877 – ?)
|     |     |     |    |     (6.5) John Rockafellar Buchanan & Elizabeth C. Closson
|     |     |     |     |     |     (7.1) Harlem Chamberlin Buchanan (1877 – 1964) & Elizabeth R. (c.1878 – ?)
|     |     |     |     |     |     (7.2) Isaac Crammer Buchanan (1880 – 1958)
|    |     |     |     |     |     (7.3) Ross Lake Buchanan (1881 – 1924)
|     |     |     |     |     |     (7.4) Susan Closson Buchanan (1883 – 1978) & Carson Van Horn (1885 – 1959)
|     |     |     |     |     |     (7.5) Elizabeth Buchanan (1885 – 1964) & __ Griffin (c.1885 – ?)
|     |     |     |     |     |     (7.6) John C. Buchanan (1886 – 1940)
|     |     |     |     |     |     (7.7) Howard L. Buchanan (1892 – 1954)
|     |     |     |     |     |     (7.8) Eleanor S. Buchanan (1895 – 1971) & __ Sproul (c.1890 – ?)
|     |     |     |     |     |     (7.9) Lemuel H. Buchanan (1898 – 1944)
|     |     |     |     |     |     (7.10) Mary Edith Buchanan (1901 – 1991) & __ Bice (c.1900 – ?)
|     |     |     |     |     (6.7) Elizabeth Ann Buchanan & Charles Augustus Butterfoss
|     |     |     |     |     |     (7.1) Della Butterfoss (1878 – ?)
|     |     |     |     |     (6.9) Samuel F. Buchanan & Emma J. Anderson
|     |     |     |     |     |     (7.1) Alvah Buchanan (1885 – 1964) & Mary Sheridan (1885 – 1967)
|     |     |     |     |     |     (7.2) Lizzetta Buchanan (1888 – 1960) & John V. Hoagland (c.1875 – 1952)
|     |     |     |     (5.4) John K. Buchanan & Catharine E. Swallow
|     |     |     |     |     (6.3) Mathias Buchanan & Henriette Hight
|     |     |     |     |     |     (7.1) John Hight Buchanan (1880 – 1958) & Julia Etta Best (1882 – 1940)
|     |     |     |     |     |     (7.2) William Swallow Buchanan (1882 – 1949) & Geneva Eva Johnson (1876 – 1935)
|     |     |     |     (5.10) Alfred Buchanan & Maria Elizabeth Butterfoss
|     |     |     |     |     (6.1) James B. Buchanan & Elizabeth J. Dallas
|     |     |     |     |     |     (7.1) Frank Buchanan Rittenhouse (c.1886 – ?)
|     |     |     |     |     |     (7.2) Bertram Reading Buchanan (1886 – 1969) & Miriam Rittenhouse (1890 – 1971)
|     |     |     |     |     |     (7.3) Charles J. Buchanan (1888 – 1920)
|     |     |     |     |     |     (7.4) Edgar G. Buchanan (1893 – 1951) & Amy Ruth Shultis
|     |     |     |     |     |     (7.5) Alfred J. Buchanan (1897 – 1988) & Carolyn Hixson
|     |     |     |     |     |     (7.6) Prudence A. Buchanan (1900 – 1990) & John Schooly Young
|     |     |     |     |     |     (7.7) Earl Cornelius Buchanan (c.1904 – 1967) & Lorena T. Anderson
|     |     (3.2) Samuel Buchanan & 2) Margaret Arnwine
|     |     |     (4.1) Jacob Fulper Buchanan & Mary Gordon
|     |     |     |     (5.2) Gordon Buchanan & Anna Ellen Hughes
|     |     |     |     |     (6.4) Ella Irene Buchanan & John Kunsman
|     |     |     |     |     |     (7.1) Warren Kunsman (c.1911 – ?)
|     |     (3.4) John Buchanan Jr. & Elizabeth Rockafellar
|     |     |     (4.5) John Buchanan iii & Catharine Williamson
|     |     |     |     (5.1) Sarah Ann Buchanan & 2) Daniel Bloom
|     |     |     |     |     (6.8) Mary C. Bloom & George W. Hill
|     |     |     |     |     |     (7.1) Henrietta B. Hill (1886 – 1982) & George Best Barrick (1886 – 1949)
|     |     |     |     |     |     (7.2) Margaret S. Hill (1891 – 1981) & Oscar Heath Snyder (1891 – 1983)
|     |     |     |     |     (6.9) Matilda Bloom & John B. Stone
|     |     |     |     |     |     (7.1) Edward Stone (1887 – )
|     |     |     |     (5.4) John Hoppock Buchanan & 1) Elizabeth Carkhuff
|     |     |     |     |     (6.1) Margaret Buchanan & George W. Shepherd Jr.
|     |     |     |     |     |     (7.1) Mary B. Shepherd (1881 – )
|     |     |     |     |     |     (7.2) Irina C. Shepherd (1892 – )
|     |     |     |     (5.10) Peter D. Buchanan & Angeline Moore
|     |     |     |     |     (6.1) Martha M. Buchanan & William S. Crips
|     |     |     |     |     |     (7.1) Charles J. Crips (1892 – 1962) & Sarah V. Gordon (1903 – 1977)
|     |     |     |     |     |     (7.2) Elizabeth Crips (1903 – 1998) & Thomas E. Burns (1900 – 1981)
|     |     |     |     |     (6.2) Catherine Buchanan & William McPherson
|     |     |     |     |     |     (7.1) Sarah L. McPherson (1886 – )
|     |     |     |     |     |     (7.2) John B. McPherson (1887 – 1967) & Rebecca J. Pegg (1889 – 1985)
|     |     |     |     |     |     (7.3) Emma McPherson (1889 – )
|     |     |     |     |     |     (7.4) Elizabeth McPherson (1891 – )
|     |     |     |     |     |     (7.5) Reuben Jacob McPherson (1895 – 1985)
|     |     |     |     |     |     |    m. 1) Elizabeth Rea (1893 – 1932)
|     |     |     |     |     |     |    m. 2) Anna Louisa Leeds (1909 – 1999)
|     |     |     |     |     |     (7.6) Fannie J. McPherson (1897 – )
|     |     |     |     |     (6.3) Annie Buchanan & John Wesley Bush
|     |     |     |     |     |     (7.1) Peter Bush (1886 – ) & Ida C. (~1889 – )
|     |     |     |     |     |     (7.2) Walter Bush (1897 – ) & Emma Sperling (1893 – )