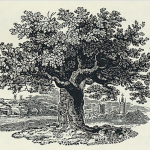 This family tree should be considered a work in progress, as the Higgins family of Raritan Township, Hunterdon County, New Jersey is large and complex, more than enough to work on without including Higgins family members who migrated west. They are for the most part left out. 
My original version of a Higgins tree began with Jediah Higgins and Hannah Stout, who figured in the story related in "Carman, Hoagland & Higgins." But while researching a neighbor of those families, Samuel Hill and his father Jonathan Hill, I realized that Hill family members were married to descendants of Jediah Higgins' brother Joseph. So, it just made sense to publish a new tree that includes both. However, I do not have information on their siblings, other than sister Mary, who married Freegift Stout. The Stout family is so huge that I must postpone attempting that tree.
As usual, children of daughters are included, but not grandchildren. Surnames of spouses who also have published family trees on Goodspeed Histories are highlighted in green. Also, additions and corrections are always welcome, either as comments or as emails. Family Trees are best viewed with your screen widened so that lines do not wrap.
First Generation:
(1) Jediah Higgins (1656 – 1715) & Mary Newbold (1661 – 1715)
The parents of Jediah Higgins, Richard and Mary Higgins, were among the Puritans who emigrated to Massachusetts in the mid 17th century. They had 11 children, but only one of them interests me—Jediah, who settled in Kingston, Middlesex County, NJ. He married English immigrant Mary Newbold in 1684, and the couple matched Jediah's parents by having 11 children of their own. They are listed below, but the rest of the Higgins tree will only concern sons Jediah and Joseph. I have included their sister Mary Higgins, wife of Freegift Stout, in the third generation to show how many other Hunterdon families she was connected with.
Second Generation:
|   (2.1) Anne Higgins (1685 – 1702)
|   (2.2) Rose Higgins (1686 – 1715) & Timothy Bloomfield
|   (2.3) Mary Higgins (1688 – bef. 1699)
|   (2.4) Thomas Higgins (1690 – after 1715)
|   (2.5) Jediah Higgins (1691 – 1772) & Hannah Stout (1694 – 1779)
|   (2.6) James Higgins (1692 – c.1718)
|   (2.7) Joshua Higgins (1694 – bef. 1715)
|   (2.8) Phoebe Higgins (1696 – bef. 1715)
|   (2.9) Michael Higgins (1698 – ) & Anne Bryant (c.1700 – )
|   (2.10) Mary Higgins (1700 – 1773) & Freegift Stout Sr. (1693 – 1766)
|   (2.11) Joseph Higgins (c.1702 – 1782) & Unknown
I have not been able to track the families of the younger daughters. Note that Hannah Stout, wife of Jediah Higgins, and Freegift Stout, husband of Mary Higgins, were first cousins.
Third Generation:
|   (2.5) Jediah Higgins & Hannah Stout
|   |   (3.1) Joseph Higgins (1716 – 1790)
|   |   |   |  m. 1) Mary Phillips (1717 – 1778)
|   |   |   |  m. 2) Elizabeth ( – after 1790)
|   |   (3.2) Mary Higgins (1718 – 1789) & Benjamin Stout (1707 – 1789)
|   |   (3.3) Anne Higgins (c.1722 – bef. 1768) & Robert Davison
|   |   (3.4) Jonathan Higgins (1725 – 1813) & Ann Britton (1730 – 1811)
|   |   (3.5) Joshua Higgins (c.1732 – 1804) & Mary Quick (1726 – 1803)
|   |   (3.6) James Higgins (c.1733 – 1779) & Sarah Stout
|   |   (3.7) Rachel Higgins (c.1738 – ) & James Stout (1728 – 1777)
|   |   (3.8) Hannah Higgins (c.1740 – ) & Henry Gulick (c.1740 – 1826)
|   (2.10) Mary Higgins & Freegift Stout Sr.
|   |   (3.1) Sarah H. Stout (c.1720 – 1768) & Ephraim Oliphant (c.1717 – 1795)
|   |   (3.2) Jediah Stout (c.1720 – 1782) & Philina Chamberlain (1721 – )
|   |   (3.3) Rebecca Stout (1722 – ) & Edward Taylor (c.1730 – after 1786)
|   |   (3.4) Freegift Stout (1724 – 1798) & Elizabeth Stout (c.1732 – )
|   |   (3.5) Mary Stout (c.1726 – ) & Richard Chamberlin (1722 – )
|   |   (3.6) James Stout (1728 – 1777)
|   |   |   |  m. 1) Mary Mattison (c.1740 – )
|   |   |   |  m. 2) Rachel Higgins (c.1738 – )
|   |   (3.7) Joshua Stout (1734 – c.1821) & Mary Haines (c.1740 – )
|   |   (3.8) Rachel Stout (1738 – bef. 1797)
|   |   |   |  m. 1) Richard Rounsavell Jr. (1734 – 1777)
|   |   |   |  m. 2) Evans Godown (c.1745 – 1790)
|   |   (3.9) Isaac Stout (1740 – 1823) & Mary Quinby (1745 – 1793)
|   |   (3.10) Obadiah Stout (1745 – 1830) & Mary McBride (1756 – )
|   (2.11) Joseph Higgins & Unknown
|   |   (3.1) Rachel Higgins (c.1725 – aft 1777) & Joseph Hill (c.1720 – 1777)
If any readers can identify the parents of this Joseph Hill, please share. Despite much work on the Hill family of Hunterdon County, I could not find Joseph's connection
|   |   (3.2) Hannah Higgins (c.1728 – c.1785) & Lott Rittenhouse (1737 – 1813)
|   |   (3.3) Anne Higgins (1729 – 1779) & Benjamin Runyon (1727 – 1776)
|   |   (3.4) Joshua Higgins (c.1730 – )
|   |   (3.5) Jediah Higgins (c.1740 – )
|   |   (3.6) Ruth Higgins (c.1750 – ) & Ephraim Taylor Corle (c.1750 – )
|   |   (3.7) Azariah Higgins (c.1755 – 1812) & Sarah Stout (c.1764 – 1828)
|   |   (3.8) Elizabeth Higgins (c.1755 – ) & William Halliday (c.1755 – )
Fourth Generation:
|   (2.5) Jediah Higgins & Hannah Stout
|   |   (3.1) Joseph Higgins & 1) Mary Phillips
|   |   |   (4.1) Sarah Higgins (c.1723 – 1763) & David Stout (1719 – 1781)
|   |   |   (4.2) Michael Higgins (1739 – 1818)
|   |   |   |   |  m. 1) Mary (1734 – 1770)
|   |   |   |   |  m. 2) Ruth Brush (1757 – 1843)
|   |   (3.2) Mary Higgins & Benjamin Stout
|   |   |   (4.1) Mary Stout (c.1756 – 1826) & Garrison Prall (c.1757 – 1793)
|   |   |   (4.2) Jediah Stout (1757 – 1820) & Mary Polly Stout (c.1760 – )
|   |   |   (4.3) Rachel Stout (1760 – 1820) & Paul Hill (1751 – 1824)
|   |   |   (4.4) Benjamin Higgins Stout (1762 – 1822)
|   |   |   (4.5) Sarah Stout (1764 – 1782) & Elijah Stout (1761 – 1838)
|   |   |   (4.6) Anne Stout (1766 – 1842) & Elijah Stout (1761 – 1838)
|   |   |   (4.7) David Stout (1769 – 1806) & Elizabeth Stout (1767 – 1844)
|   |   (3.4) Jonathan Higgins & 1) Ann Britton
|   |   |   (4.1) Judiah Higgins (1750 – 1820)
|   |   |   |   |  m. 1) Mary Hill (1751 – 1800)
|   |   |   |   |  m. 2) Rachel McPherson (1767 – 1848)
|   |   |   (4.2) Capt. Jonathan Higgins (1756 – 1829)
|   |   |   |   |  m. 1) Mary Reading (1766 – c.1793)
|   |   |   |   |  m. 2) Eleanor Polhemus (1776 – 1815)
|   |   |   (4.3) Nathaniel Higgins (1760 – 1823) & Martha Perrine (1763 – 1835)
|   |   |   (4.4) Martha Higgins (1762 – 1833) & John Covenhoven (1760 – 1812)
|   (2.11) Joseph Higgins & Unknown
|   |   (3.2) Hannah Higgins & Lot Lott Rittenhouse
|   |   |   (4.1) David Rittenhouse (c.1758 – )
|   |   |   (4.2) Joseph Rittenhouse (c.1759 – 1821) & Mary Ann Wright (c.1760 – )
|   |   |   (4.3) William Rittenhouse (c.1761 – 1831) & Eunice Keen (1770 – )
|   |   |   (4.4) Sarah Rittenhouse (c.1763 – 1836) & Joseph Howell (1762 – 1821)
|   |   |   (4.5) John Lott Rittenhouse (c.1765 – 1839)
|   |   |   |   |  m. 1) Mary Stull (c.1775 – )
|   |   |   |   |  m. 2) Maria Green (1762 – 1836)
|   |   |   (4.6) Jesse Rittenhouse (c.1765 – 1813) & Mary Schamp
|   |   |   (4.7) Elisha Rittenhouse (c.1768 – 1806) & Elizabeth Rake (1773 – 1846)
|   |   |   (4.8) Rebecca Rittenhouse (c.1770 – )
|   |   |   (4.9) Nancy A. Rittenhouse (1772-1852) & William J. Werts (c.1770-1812)
|   |   |   (4.10) Mary Rittenhouse (c.1774 – ) & Hugh Magee (c.1770 – 1827)
|   |   (3.3) Anne Higgins & Benjamin Runyon
|   |   |   (4.1) Sarah Runyon (c.1750 – ) & unknown Roberson (c.1750 – )
|   |   |   (4.2) Elizabeth Runyon (c.1760 – ) & unknown Mathis
|   |   |   (4.3) Piety Runyon (1764 – 1844)
|   |   |   |   |  m. 1) Elijah Rittenhouse (1758 – 1796)
|   |   |   |   |  m. 2) Benjamin Wright (1747 – 1826)
|   |   |   (4.4) Joseph Runyon & Elizabeth Sutton
|   |   |   (4.5) Reuben Runyon
|   |   |   (4.6) Mary Runyon
|   |   |   (4.7) Anne Runyon
|   |   (3.7) Azariah Higgins & Sarah Stout
|   |   |   (4.1) James Higgins (1776 – 1865) & Alice Snook (1783 – 1849)
|   |   |   (4.2) Azariah Stout Higgins (1781 – 1845)
|   |   |   (4.3) Gideon Higgins (1782 – 1833) & Mary Dilts (1781 – 1858)
|   |   |   (4.4) Lot Higgins (1784 – 1809)
|   |   |   (4.5) Jesse Higgins (c.1785 – )
|   |   |   (4.6) William Higgins (c.1787 – )
|   |   |   (4.7) Grace Higgins (c.1789 – )
|   |   |   (4.8) Ida Higgins (c.1790 – )
|   |   |   (4.9) Catharine Higgins (c.1792 – )
|   |   |   (4.10) Margaret Higgins (c.1794 – )
Fifth Generation:
(1) Jediah Higgins & Mary Newbold
|   (2.5) Jediah Higgins & Hannah Stout
|   |   (3.1) Joseph Higgins & 1) Mary Phillips
|   |   |   (4.1) Sarah Higgins & David Stout
|   |   |   |   (5.1) James Stout (1750 – 1819)
|   |   |   |   (5.2) John Stout (c.1752 – bef. 1781) & daughter Stout (c.1755 – )
|   |   |   |   (5.3) Jacob Stout (c.1754 – ) & Abigail Hance (c.1756 – )
|   |   |   |   (5.4) Sarah Stout (1756 – 1847) & Abraham Runkle (1757 – 1845)
|   |   |   |   (5.5) David Stout (c.1757 – ) & Sarah Acker (c.1760 – )
|   |   |   |   (5.6) Joshua Stout (c.1757 – 1806) & Catherine Servis (c.1765 – )
|   |   |   |   (5.7) Amos Stout (c.1758 – )
|   |   |   (4.2) Michael Higgins & 1) Mary
|   |   |   |   (5.1) Andrew Higgins (1761 – )
|   |   |   |   (5.2) Keziah Higgins (1763 – 1811) & Robert Meldrum (1763 – 1841)
|   |   |   |   (5.3) Mary Higgins (1765 – ) & Henry Bake (c.1757 – )
|   |   |   |   (5.4) Joseph Higgins (1767 – 1855) & Sarah Cornell (1775 – 1853)
|   |   |   |   (5.5) Zelotes Higgins (1770 – )
|   |   |   (4.2) Michael Higgins & 2) Ruth Brush
|   |   |   |   (5.6) Aaron Higgins (1771 – )
|   |   |   |   (5.7) Job Higgins (1774 – )
|   |   |   |   (5.8) Sarah Higgins (1786 – 1826) & Ephraim Smith (c.1780 – 1882)
|   |   |   |   (5.9) Jonathan M. Higgins (1787 – 1861)
|   |   |   |   |   |  m. 1) Eliza Ann Howell (c.1790 – 1854)
|   |   |   |   |   |  m. 2) Mary Austen
|   |   |   |   (5.10) Elizabeth Higgins (1789 – 1842) & Daniel A. Kershow
|   |   |   |   (5.11) Michael Higgins (1791 – 1851) &
|   |   |   |   |   |  m. 1) Ann Brokaw (c.1795 – )
|   |   |   |   |   |  m. 2) Dorothea White
|   |   |   |   (5.12) Israel Higgins (1794 – 1865) &
|   |   |   |   |   |  m. 1) Mary Polly Holcombe (1796 – 1825)
|   |   |   |   |   |  m. 2) Rebecca Taylor (1806 – 1847)
|   |   |   |   |   |  m. 3) Martha Ann Hagaman (1815 – 1893)
|   |   |   |   (5.13) Ruth Higgins (1797 – 1876) & Nathaniel L. Furman (1805 – 1883)
|   |   (3.4) Jonathan Higgins & Ann Britton
|   |   |   (4.1) Judiah Higgins (1750 – 1820) & 1) Mary Hill (1751 – 1800)
|   |   |   |   (5.1) Anne Higgins (1774 – 1861) & William Bishop (1774 – 1842)
|   |   |   |   (5.2) Hannah Higgins (1779 – 1857) & Paul Kuhl Jr. (1773 – 1861)
|   |   |   |   (5.3) Martha Higgins (1781 – 1802) & John Hummer (~1775 – )
|   |   |   |   (5.4) Sarah Higgins (1783 – 1867) & Gilbert Barton (1777 – 1852)
|   |   |   |   (5.5) Judiah Higgins Jr. (1785 – 1824) & Mary Quick (1792 – 1858)
|   |   |   |   (5.6) Asher Higgins (1787 – 1823) & Margaret Merrill (1797 – 1875)
|   |   |   |   (5.7) Jonathan J. Higgins (1789 – 1840) & Eleanor Voorhees (1787 – 1848)
|   |   |   |   (5.8) John Higgins (1791 – 1851) & Rebecca Schenck (1800 – 1835)
|   |   |   |   (5.9) Richard Higgins (1794 – 1829) & Elizabeth Eliza Brittain (1803 – )
|   |   |   |   (5.10) Jesse Higgins (1796 – 1848) & Elizabeth L. Clark (1801 – 1890)
|   |   |   (4.1) Judiah Higgins & 2) Rachel McPherson
|   |   |   |   (5.11) Samuel McPherson Higgins (1802 – 1878)
|   |   |   |   (5.12) Martha M. Higgins (1804 – 1894) & John W. Kuhl (1803 – 1846)
|   |   |   |   (5.13) Mary Higgins (1805 – after 1880)
|   |   |   |   (5.14) Rebecca Higgins (1806 – ) & George Huffman (c.1798 – c.1882)
|   |   |   (4.2) Capt. Jonathan Higgins & 1) Mary Reading
|   |   |   |   (5.1) Jonathan R. Higgins (1792 – 1865) & Rhoda Godown (1796 – )
|   |   |   (4.2) Jonathan Higgins & 2) Eleanor Polhemus
|   |   |   |   (5.2) Polhemus Higgins (1796 – 1831) & Frances Quick (1798 – 1868)
|   |   |   |   (5.3) Jedediah Higgins (1799 – 1890) & Charity Fisher (1803 – 1881)
|   |   |   |   (5.4) David C. Higgins (1802 – 1830) & __ Carhart
|   |   |   |   (5.5) Elizabeth Higgins (1805 – 1865) & Lewis Chamberlain (1797 – 1846)
|   |   |   |   (5.6) Sarah Ann Higgins (1808 – 1852) & Frederick Van Fleet
|   |   |   |   (5.7) Martha Higgins (1810 – 1849) & Aaron Carman Hill (c.1808 – 1880)
|   |   |   |   (5.8) Henry Polhemus Higgins (1814 – 1830)
|   |   |   (4.3) Nathaniel Higgins & Martha Perrine
|   |   |   |   (5.1) Jonathan Higgins (1785 – 1803)
|   |   |   |   (5.2) Nicholas B. Higgins (1787 – 1851) & Hannah Hill (c.1789 – 1846)
|   |   |   |   (5.3) James Higgins (1789 – 1839) &
|   |   |   |   |   |  m. 1) Phoebe Still (1801 – 1826)
|   |   |   |   |   |  m. 2) Elizabeth Still (c.1810 – 1833)
|   |   |   |   |   |  m. 3) Sarah Ann Stille (1814 – 1861)
|   |   |   |   (5.4) Mary Stout Higgins (1793 – 1864) & Samuel C. Hill (1786 – 1870)
|   |   |   |   (5.5) Asa Higgins (1796 – 1871) & Eurah Wilson (1803 – 1847)
|   |   |   |   (5.6) Uriah Higgins (c.1798 – 1816)
|   |   |   |   (5.7) Anna Higgins (1799 – 1800)
|   |   |   |   (5.8) Nancy C. Higgins (1803 – ) & Jonathan Wilson (c.1800 – )
|   |   |   (4.4) Martha Patty Higgins & John Covenhoven Esq.
|   |   |   |   (5) David Covenhoven (1783 – 1801)
|   |   |   |   (5) Nancy Covenhoven (1786 – 1801)
|   |   |   |   (5) Jonathan Higgins Conover (1787 – 1849) &
|   |   |   |   |   |  m. 1) Ann Schenck (1789 – 1831)
|   |   |   |   |   |  m. 2) Ann Sutphin (1794 – 1867)
|   |   |   |   (5) Catharine Hill Covenhoven (1789 – 1826)
|   |   |   |   (5) John W. Conover (1792 – 1854)
|   |   |   |   (5) Isaac Britton Conover (1794 – 1882) &
|   |   |   |   |   |  m. 1) Margaret Pettit (1802 – 1894)
|   |   |   |   |   |  m. 2) Mary Severs
|   |   |   |   (5) Elias Hubbard Conover Esq. (1796 – 1871)
|   |   |   |   |   |  m. 1) Rachel P. Poulson (c.1778 – 1811)
|   |   |   |   |   |  m. 2) Mary Servis (1817 – 1882)
|   |   |   |   (5) Anna Covenhoven & Bishop
|   |   |   |   (5) Hannah Covenhoven & Kuhl
|   (2.11) Joseph Higgins & Unknown
|   |   (3.7) Azariah Higgins & Sarah Stout
|   |   |   (4.1) James Higgins & Alice Snook
|   |   |   |   (5.1) Margaret Higgins (1802 – 1877) & Aaron Wyckoff
|   |   |   |   (5.2) Amos Higgins (1803 – )
|   |   |   |   (5.3) John W. Higgins (1806 – 1887) & Ellen Smith (1809 – 1871)
|   |   |   |   (5.4) Lewis Higgins (1809 – 1864)
|   |   |   |   |   |  m. 1) Ann Barbara Cramer (c.1804 – )
|   |   |   |   |   |  m. 2) Mahala Hummer (c.1810 – )
|   |   |   |   (5.5) Jonathan Higgins (1811 – 1878) & Ann Holcombe (1803-1890)
|   |   |   |   (5.6) Catharine Higgins (1815 – ) & John Cook (c.1810 – )
|   |   |   |   (5.7) Ida Higgins (1815 – 1868) & Hon. John H. Horn (1813 – 1895)
|   |   |   |   (5.8) David B. Higgins (1817 – ) & Jane Amelia Servis (c.1840 – )
|   |   |   |   (5.9) Asher Higgins (1819 – 1902)
|   |   |   |   |   |  m. 1) Sarah Maria Conover (1825 – 1852)
|   |   |   |   |   |  m. 2) Jane Voorhees (1825 – 1910)
|   |   |   |   (5.10) Nath'l H. Higgins (1824-1894) & Rebecca Young (1822-1892)
|   |   |   (4.3) Gideon Higgins & Mary Dilts
|   |   |   |   (5.1) Achilles Higgins (1803 – 1825)
|   |   |   |   (5.2) Ann Higgins (1805 – 1873) & Joseph Taylor (c.1800 – bef. 1860)
|   |   |   |   (5.3) Mahlon Higgins (1808 – 1881) & Ann W. Everitt (c.1810 – )
|   |   |   |   (5.4) Amy Higgins (1812 – 1898) & Aaron Carman Hill (c.1808 – 1880)
|   |   |   |   (5.5) Dilts A. Higgins (1814 – 1854) & Elizabeth Rockafellar (c.1819 – )
|   |   |   |   (5.6) Elizabeth Higgins (1816 – ) & Christopher K. Johnson (1821-1911)
Sixth Generation:
(1) Jediah Higgins & Mary Newbold
|   (2.5) Jediah Higgins & Hannah Stout
|   |   (3.1) Joseph Higgins & 1) Mary Phillips
|   |   |   (4.2) Michael Higgins & 1) Mary
|   |   |   |   (5.4) Joseph Higgins (1767 – 1855) & Sarah Cornell
|   |   |   |   |   (6.1) Mary Higgins (1798 – 1812)
|   |   |   (4.2) Michael Higgins & 2) Ruth Brush
|   |   |   |   (5.11) Michael Higgins & 1) Ann Brokaw
|   |   |   |   |   (6.1) Amanda Higgins (1812 – 1886) & Mahlon Pettit (1804-1849)
|   |   |   |   |   (6.2) Hiram Higgins (c.1820 – )
|   |   |   |   (5.12) Israel Higgins & 1) Mary Polly Holcombe
|   |   |   |   |   (6.1) Jos. H. Higgins (1820-1884) & Margaret R. Bellis (1824-1911)
|   |   |   |   |   (6.2) Harriet Higgins (1821 – 1890) & Azariah P. Hunt (c.1820 – )
|   |   |   |   (5.12) Israel Higgins & 2) Rebecca Taylor
|   |   |   |   |   (6.3) Mary Higgins (1828 – 1830)
|   |   |   |   |   (6.4) Levi H. Higgins (1830 – 1846)
|   |   |   |   |   (6.5) Elizabeth Higgins (1833 – 1908) & Jesse M.Hunt (1835-1900)
|   |   |   |   |   (6.6) Israel Higgins (1835 – )
|   |   |   |   |   (6.7) Jonathan Mitchell Higgins (1839 – 1864)
|   |   |   |   |   (6.8) Sarah Matilda Higgins (1845 – ) & Hon. Simeon R. Huselton
|   |   |   |   |   (6.9) William B. Higgins (1842 – )
|   |   |   |   (5.13) Ruth Higgins & Nathaniel Lanning Furman
|   |   |   |   |   (6.1) Nathaniel Higgins Furman (1837 – )
|   |   (3.4) Jonathan Higgins & Ann Britton
|   |   |   (4.1) Judiah Higgins & 1) Mary Hill
|   |   |   |   (5.2) Hannah Higgins & Paul Kuhl Jr.
|   |   |   |   |   (6.1) Mary Kuhl (1798 – 1799)
|   |   |   |   |   (6.2) Leonard P. Kuhl (1800-1857) & Dorothy T. Sutphin (1809-1893)
|   |   |   |   |   (6.3) Martha Higgins Kuhl (1802 – 1886)
|   |   |   |   |   (6.4) Margaret Y. Kuhl (1804 – 1873)
|   |   |   |   |   (6.5) Maria Kuhl (1806 – 1830)
|   |   |   |   |   (6.6) Judiah H. Kuhl (1808-1871) & Catharine Y. Sutphin (1818-1886)
|   |   |   |   |   (6.7) William B. Kuhl (1811 – 1870) & Ellen Sutphin (1814-1878)
|   |   |   |   |   (6.8) Sarah Kuhl (1813 – 1814)
|   |   |   |   |   (6.9) Alpheus C. Kuhl (c.1815 – bef. 1870)
|   |   |   |   |   (6.10) George Kuhl (1818 – 1879) &
|   |   |   |   |   |   |   m.  1) Mary Y. Chamberlin (1819 – 1847)
|   |   |   |   |   |   |   m. 2) Henrietta VanLiew (1827 – 1903)
|   |   |   |   (5.4) Sarah Higgins & Gilbert Barton
|   |   |   |   |   (6.1) Asher Barton (1814 – 1829)
|   |   |   |   |   (6.2) John Higgins Barton (1817 – 1829)
|   |   |   |   |   (6.3) Jemima Barton (1819 – 1829)
|   |   |   |   |   (6.4) Jediah S. Barton (1824 – 1885) & Susan S. Merrill (c.1825 – )
|   |   |   |   (5.5) Judiah Higgins Jr. & Mary Quick
|   |   |   |   |   (6.1) Mary A. Higgins (1810 – 1891) & David R. Bodine (1808-1867)
|   |   |   |   |   (6.2) Hannah K. Higgins (1811 – 1891) & John G. Ewing (1810 – 1874)
|   |   |   |   |   (6.3) John Higgins (1813 – 1889) & Rhoda Carkhuff (1814-1895)
|   |   |   |   |   (6.4) Martha Higgins (1815 – 1900) & William Britton (1817-1864)
|   |   |   |   |   (6.5) Cornelius Q. Higgins (1817-1883) & Eliz. R. Bartolette (1813 – )
|   |   |   |   |   (6.6) Judiah J. Higgins (1820-1882) & Phoebe A. Mulford (c.1825- )
|   |   |   |   |   (6.7) Jonathan B. Higgins (1822 – 1829)
|   |   |   |   |   (6.8) Ellen Higgins (1824-1897) & Benjamin L. Pimm (1829-1886)
|   |   |   |   (5.6) Asher Higgins & Margaret Merrill
|   |   |   |   |   (6.1) William M. Higgins (1819-1850) & Ann E. Drake (1824-1854)
|   |   |   |   |   (6.2) Asher Higgins (1821 – 1890) & Anna G. Case (1826-1906)
|   |   |   |   (5.7) Jonathan J. Higgins & Eleanor Voorhees
|   |   |   |   |   (6) William B. Higgins (1813-1869) & Eleanor H. Cole (1813-1868)
|   |   |   |   |   (6) Catherine Higgins (1815-1884) & George Gano (1811-1890)
|   |   |   |   |   (6) Rebecca Higgins (1820-1862) & Hiram E. Deats (1810-1887)