part two in the series, The Route Not Taken
This is part two of my series on the Delaware Flemington Railroad Company. Part One was Egbert T. Bush's history of how this company failed. He provided us with lots of information derived from the company papers that had been saved. But so many questions were raised, and not addressed, starting with the people who thought up the idea and promoted the company.
Let's start with the man I consider the instigator of the business, and the one who had the most to gain.
Lemuel O. Kessler
Lemuel Ora Kessler was the owner of the village of Prallsville. I am not exaggerating—his deed explicitly stated that he was purchasing the whole village.
In 1860, Kessler (1831-1901) was a 24-year-old "liquor dealer" in Philadelphia, living with wife Mary 23 and daughter Catherine, 3 months old. He was still living in Philadelphia in 1870, but the census-taker for that year and place did not list people's occupations.
We do know that by the 1870s, Kessler had been bitten by the railroad bug. He wasn't the only one. Following the end of the Civil War, investment banks that had been printing paper money to help the government pay for the war looked for another opportunity to invest. Railroads seemed ideal—the country was ready for peace-time activities, and for opening up new areas for settlement, and establishing new businesses. Railroads embodied that go-ahead, young-country spirit. It seemed down-right patriotic to invest in them.
In March 1872, Kessler and others applied to the Pennsylvania legislature for license to create the "Keystone Passenger Railway Company of Philadelphia," which would run through the city. But the application failed to win approval.1
Ashbel Welch & the Bel-Del
I suspect that when Kessler bought Prallsville, in March 1873, he wanted to do for that village what Ashbel Welch had done for Lambertville—make it a business center focused on the transport of coal and quarry stone, along with agricultural goods, by way of the canal and the rail lines intersecting there.
Welch was not only responsible for getting the canal built in the 1830s, but also for the Belvidere-Delaware Railroad in 1854 (generally known as the "Bel-Del"), and at nearly the same time the rail line for the Flemington Railroad and Transportation Company, a branch line that connected the Bel-Del at Lambertville to Flemington. In addition, Welch was responsible for negotiating the 999-year lease of the United New Jersey Railroad and Canal Companies to the Pennsylvania Railroad Co. in 1871, which brought the Bel-Del under the control of the PRR.2
Once the lease of the Bel-Del to the Pennsylvania Railroad Co. was formalized in April, 1872, the amount of coal being transported on the Bel-Del increased dramatically. According to Warren E. Lee, the amount of coal transported in 1872 was 333,073 tons more than in 1871. That coal was moved on 1,660 trains with almost 100 cars per train.3 To meet the increased demand, the company had to add locomotives and begin operating around the clock. This must have contributed to Kessler's optimism about the likely success of a line from Prallsville to Flemington.
But it also must be said that the people of Delaware Township were known for their eagerness to have a railroad built to connect Flemington with the Delaware River by way of Sergeantsville. On January 12, 1870, the Hunterdon County Democrat reported on a:
Great Railroad Meeting in Delaware. Pursuant to notice a large and enthusiastic Railroad meeting of the inhabitants of the township of Delaware, was held at the Military Hall, in Sergeantsville, January 3, 1870. On motion Joshua Primmer was chosen Chairman, and Dr. I. S. Cramer, Secretary. A. V. Van Fleet, Esq., being present, addressed the meeting, showing forcibly, among other things, the advantages of railroads to the communities through which they pass, and expressed the opinion, founded on good authority, that if a charter can be obtained from the Legislature, the road will be built within twelve months from the passage of such grant.
And on September 30, 1873, not long after the Delaware Flemington Railroad Company announced its organization, the Democrat's editor wrote:
Our neighbors down in Delaware township are extremely anxious that this road shall be built, and we expect that they will be the happiest lot of folks in the country when the first whistle of the locomotive is heard sounding through their own "Skunktown."
Prallsville
That same year, 1872, Kessler began negotiating with William L. Hoppock, owner of the Prallsville Mills, store and quarry. By November, an agreement had been reached. On November 14, 1872, this item appeared in the Hunterdon Republican:
Sale of Property. William L. Hoppock, Sr., of Prallsville, has sold his valuable farm, quarries, store and mill property, and a number of houses for the sum of $40,000, which is considered to be a low price. The purchasers are Kessler & Co., of Philadelphia, PA, composed of Lemuel O. Kessler and William P. Corney of Philly.
The actual date of the deed was not until March 27, 1873. What was conveyed was a tract of 120.87 acres (described in 43 courses!) and an entire village, as was explicitly stated in the deed.4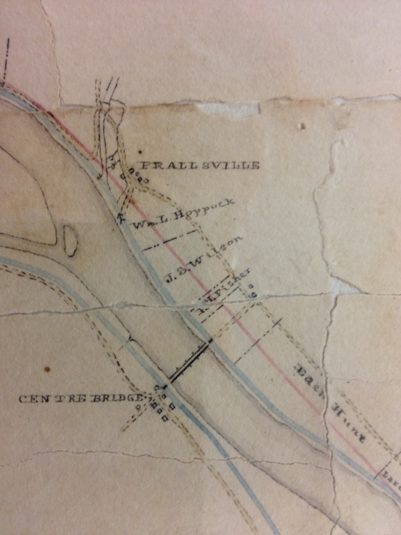 Prallsville was located at the mouth of the Wickecheoke Creek as it entered the Delaware River. The mill had been in operation since the 18th century, under the ownership of John Prall, Jr., who also opened a store there, and built himself a beautiful stone house across from the mill. After Prall's death, the property was acquired by William L. Hoppock, Sr. who ran his businesses well. In his old age, when he finally sold the property to Kessler, it was a going concern, and well worth more than the $40,000 that Kessler and his partner William Corney paid for it.5
On the right is a detail from a map of the Bel-Del Railroad dating to the mid 1850s, showing the line running through Prallsville.
And below is a detail of the proposed Delaware-Flemington Railroad line, from a survey made in 1873, also focused on Prallsville.6 (Apologies for the shadow caused by my iPhone. The map is so large I could not prop it up.) I will discuss the route in more detail in a future article.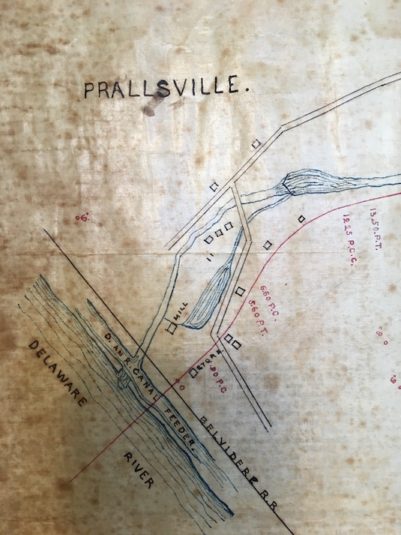 Since Lemuel O. Kessler, William P. Corney and another investor, William A. Baillie, were all from Philadelphia, I began to think about how they got to Prallsville. They probably took the Pennsylvania Railroad to Trenton and switched over to the Belvidere-Delaware Railroad, which took them north to the Stockton Railroad Station. They probably put up at the Stockton Inn, and rented a horse & carriage to take them north to Prallsville, where they met with the owner, William L. Hoppock. This sort of investigative journey probably took place in 1872 while Kessler was also promoting the Keystone Tramway, and while Ashbel Welch was negotiating the lease of the Bel-Del to the PRR.
The Panic of 1873
Investing in railroads was a good idea for awhile, but building railroads was not cheap, and eventually the investment firms became overextended. Europe was also experiencing financial challenges at this time, but the trigger that set off the Panic in America happened on September 18, 1873, when the firm of Jay Cooke & Co., a banking firm heavily invested in railroads, closed its doors.
By itself this might not have mattered, but it was the Company's partnership with the government in funding new rail lines that made investors worry: if a big concern like Cooke was folding, what did that mean for those investments? It meant trouble. A large number of investment banking firms followed suit. And a large number of railroad companies went bankrupt. People who had bought bonds now found they were worthless. Credit dried up. Foreclosures became common. Banks closed because people no longer trusted them and demanded their money back. The Panic of 1873 lasted for almost five years. Unemployment rose to 14 percent, partly due to the large number of railroad workers who had been laid off.
One sign of the hard times was an increase in theft. This item appeared in the Hunterdon Democrat on October 5, 1873:
BE PREPARED — Many robberies and attempts at robbery are being made now, and it behooves all housekeepers to have their clubs and pistols ready for uninvited guests. On Sunday night, a party of burglars made two attempts to enter the dwelling of Rev. Israel Poulson, near Ringoes.
Sheriffs' Sales
Another indication of troubling times was the number of sheriff's sales. Tabulating 19th century sheriff's sales can tell us a lot about the economy. I found that the number of sheriffs' sales made a steady increase from 1800 to 1872, and then suddenly exploded. The sheriff with the most sales, Heber C. Belden, served from 1878 to 1881. The second highest was Wesley Bellis whose term ran from 1874 to 1878. And these sales were twice and three times the number of sales by previous sheriffs. Clearly, the first Great Depression in America hit Hunterdon County hard.
Descriptions of the Panic seem to suggest that bankruptcies, foreclosures and other dire events happened almost immediately, but that was not the case. Many businesses soldiered along, never realizing how bad things would get, or how long it would take to recover. The best example of this inappropriate optimism is the promotion of the Delaware Flemington Railroad Company.
Bad Timing
Less than a week before Jay Cooke & Co. closed their doors, the Delaware Flemington Railroad Company was organized, on September 12, 1873 at the hotel of Jacob K. Wilson in Sergeantsville. Articles of Incorporation were submitted to the Secretary of State in early November of that year. The incorporators must have thought they would have no trouble raising the necessary funds to build the rail line.
Actually, it is hard for me to see why anyone would have invested in the railroad company to begin with. There was already a way to get Prallsville quarry stone to the eastern markets. In December 1872, the New Republican newspaper of Camden, NJ reported:
Railroad matters are pretty lively in this state. . . . A connection has been made between the tracks of the South Branch road and the Flemington Railroad in Flemington. Both roads have been running to Flemington for a number of years, but the connection between the tracks has never been made. It is now done in order to haul stone from the Prallsville quarries to Bound Brook, for the use of the contractors on the new road from Easton to Perth Amboy.
Even Kessler understood the advantage of this connection. On May 16, 1874, and several times thereafter, he advertised in the Camden Democrat:
To Builders and Contractors. 20,000 perch of first-class building stone; a portion of trade will be taken in part payment. Can be shipped by rail or water. Address Kessler's Prallsville Quarries, Hunterdon Co., NJ.
William P. Corney
One person who figured out that the rail line would probably not get built was Kessler's partner, William P. Corney. On October 21, 1873, Corney bailed out, selling his half interest in Prallsville to Kessler for $4,500.7
Corney was a young man when he linked up with Lemuel O. Kessler. He was born in 1842 to Joseph Corney and Effie Uber. In the 1870 census, when William was 27 years old, he was still living with his parents. His father was a butcher, but William was operating a wholesale produce business, with his brothers employed as produce clerk and bookkeeper. In 1872, Corney, along with Kessler, was on the list of incorporators for the failed Keystone Passenger Railway proposal.
After the Prallsville business, Corney acquired a hotel in Philadelphia, and became known as "Frozen Bill," because in his hotel restaurant he served oysters on ice all through the year.8 He died in 1922 at the age of 79, several years after the death of his wife Angelina.
The Railroad Company Fails
By 1874, sales of stock in the proposed railroad company were slowing down. And to add to Kessler's woes, in the summer of 1874, the gristmill at Prallsville burned down. I was very surprised that the Hunterdon Republican took no notice of this—not until 1875 when it mentioned "the destruction of Kessler's Mill" when Hiram Deats began to set up a grist mill at Brookville.9
But Kessler and company kept on. As mentioned in the previous article, it was not until March 1875 that the Directors decided the effort was hopeless.
But there were signs of trouble by early 1875. On February 9, 1875, the Democrat's editor complained about the lack of support from Delaware residents. In his colorful way he wrote: "There can be no doubt that it is greatly to their [the Delaware farmers] advantage to have the road built, but it is next to impossible to make them comprehend it. They hold a sixpence so close to their eyes that it obstructs their vision, and the dollar beyond is not seen at all." But after all, the Panic of 1873 had been going for a year and a half by then. No wonder they were reluctant.
The editor constantly pleaded with Delaware residents to invest in the railroad and buy the remaining stock. His frustration with them got more and more intense. For instance, on March 9, 1875 he wrote:
Have our rich Delaware friends concluded that they do not want the road, or is it because they are asked to contribute a few dollars all around? Either be a pig or a pup or a long-tailed rat. Come down with the stamps and no more "to-morrow" promises.
It was not until June 2, 1875, that the editor of the Democrat announced the company's demise, in his usual hyperbolic style:
Obituary.—Died, on Tuesday, 1st inst., the proposed extension of the South Branch Railroad through to Stockton, aged somewhere about six months. The cause of the demise of this sickly youngster, as near as we can learn, was the inability of those who had partly agreed to suckle the infant, to see sufficient "pap" at the other end for its sustenance. And thus, the pride of old Delaware, and the infant upon which many fond hearts doted has "turned up its toes." Its death, though sudden, was not altogether unexpected. From its incipiency it had shown a weakness which baffled the skill of at least two eminent physicians, and more than once we have heard say that its parents were poor and ragged, and perhaps its legitimacy was questionable. But let us speak kindly of the dead. We noticed at its funeral Drs. Cramer and Sproul, and Messrs. Peter Best and John Donohoe. May these gentlemen also be present at its resurrection. Tread lightly over the sod which covers the inanimate form of this worthy project, and with the lapse of time it may take root and rise again.
With the end of his dreams for a rail line from Prallsville to Flemington, Lemuel O. Kessler had to sell the property. He had taken out a mortgage of $30,000 to William L. Hoppock when he bought it, and with the prospect of a rail line removed, he could not make the businesses in Prallsville provide the income he needed to meet the payments scheduled in the mortgage.10
It was not until 1876 that Kessler found a buyer. On March 20, 1876, Kessler and wife Mary, "formerly of Philadelphia, now of Prallsville," conveyed the mill & quarry tract to John Ramsey of Flemington for only $5,000,11 "the within described premises to be subject to all present encumbrances." But the actual mortgage was not mentioned in the deed.
I am very surprised that John Ramsey of all people would buy such a troubled property. He was a smart real estate investor as can be seen from the long list of deeds recorded for him.12 So why did he buy this property with that huge unpaid mortgage hanging over it?
Like many others, he had seen the success of the Bel-Del after 1872 and knew of the high demand for coal and quarry stone. And he was right that the quarry at least would be profitable. But his timing was off by seven years. The following was reported in the Hunterdon Republican on June 20, 1883:
It is said that great activity prevails in the Stockton Stone Quarries. The Prallsville Quarries, formerly owned by William L. Hoppock, then by Lemuel O. Kessler, and now by Stephen B. Twining and Edward W. Twining, of Yardley, PA., are very busy. We are informed by Reading M. Dilts, chief of the Stockton Station, that 100 car loads of stone were shipped by them the first 2 weeks in May.
William L. Hoppock, Sr. wrote a lengthy will on April 25, 1873, naming his sons Samuel C. Hoppock and William L. Hoppock, Jr., and son-in-law Maurice Wolverton, his executors. Hoppock, Sr. died on February 19, 1874, age 81. It appears that shortly afterward, the executors sued Kessler, Ramsey and others in the NJ Chancery Court for that unpaid mortgage.
The Court ruled that the Prallsville property should be seized and sold to benefit the complainants. The Court named Edward P. Conkling, who was only 30 years old at the time, Master in Chancery to carry out this order. The property was described in a notice published in the Hunterdon Republican on May 24, 1877 as consisting of 120.87 acres which included "a large farm with mansion house, saw mill with excellent water power, one of the best grist mills in the County, large and extensive stone quarries, several dwelling houses and a large store house."
With the Prallsville property no longer in his hands, Kessler went on to deal with other, more serious problems.
William A. Baillie
William. A. Baillie was originally a strong supporter of the proposed rail line. You may recall that in November 1873, "Capt. William A. Baillie was unanimously elected" Vice President of the Delaware Flemington Railroad Co.
Captain William A. Baillie, born in England in 1819, was a mariner who had traveled to Japan in the late 1850s and remained there for several years, collecting fine art and antiques. He made the mistake of shipping them back to American while the Civil War was still going on. As the ship Adriatic approached New York, it was captured and burned by the Confederate Navy, destroying all its cargo, including 44 packages of Baillie's collectibles, estimated to be worth about $100,000. After the war ended, Baillie sued the State of Alabama for restitution. The case dragged on in the courts for many years and was apparently followed closely by the press. When Baillie's obituary was published in the Philadelphia Inquirer on July 19, 1883, it was all about this lawsuit; hardly anything was written about Baillie himself.
Although the obituary tells us little about Baillie's life, it does show us that Baillie was something of a litigious character, which was unfortunate for his one-time friends. Apparently, he sued William P. Corney in 1876, and the court ruled that Sheriff Bellis should seize his property, being his share of the Prallsville complex. But Corney had conveyed his rights in the property to Lemuel O. Kessler three years earlier, on October 21, 1873. I can see Baillie suing Corney for some loan that went unpaid, but why seize the mill property? It makes no sense.
Nevertheless, on July 20, 1876, this item appeared in the Hunterdon Republican:
Sheriff's Sale, to be held on 21 Aug. 1876. Wesley Bellis, Sheriff of Hunterdon County, will sell at the Court House in Flemington, all the right, title and interest said defendant has in all that property conveyed to him by Lemuel O. Kessler, by deed given by William L. Hoppock, Sr., and recorded in Vol. 153, page 122, situate in Delaware Township, adjoining lands of Cornelius Wilson, Morris Wolverton and others. Seized as the property of William P. Corney, and taken in execution at the suit of William A. Baillie.
This is odd, because no deeds were recorded in Hunterdon County for William P. Corney as Grantee or Grantor in 1876 or afterwards.
While he was at it, Baillie also sued his other friend, Lemuel O. Kessler. Baillie had loaned Kessler about $2,000, which Kessler could not pay when it came due in 1876. In court, Baillie claimed that Kessler had persuaded him to put off the deadline for two years because Kessler "had contracts on hand which would be embarrassed by an execution. Kessler wanted a two-years' extension, because his other creditors had agreed to that."13 When the two years ended, Baillie sued Kessler in the Hunterdon Court of Common Pleas.
Baillie won that suit. The Court ruled that Kessler had to pay twice the amount owed, plus $4 court costs, for a total of $4561,16. It seems very unlikely that that amount got paid.14
The affidavit that Kessler filed in that case became the basis for a claim by Baillie that Kessler had committed perjury. Kessler was charged in a Philadelphia court and given $600 bail, which, of course, he could not pay. While in custody, he attempted suicide twice, first by swallowing "a strong dose of laudanum." His guard got him to a nearby drug store in time to give him an antidote. Afterward, on the way over to the Central Station, Kessler tried to cut himself with a knife, but was prevented by the Constable.
That must have been the nadir of Kessler's life, having lost his reputation as well as his assets. The Baillie case was not heard until January 1880, during which time Kessler was confined to jail. Then came along the first piece of good news in a long time: the jury ruled that he was not guilty. After this Kessler moved to Camden, NJ, and then to a boarding house in Westchester, NY.
I am a little confused by the 1900 census for Westchester, which says that Kessler 69, a builder, was widowed. The death date I have for his wife Mary Elizabeth Ascough is 1915. Kessler died at the home of his daughter Katherine Webster (wife of Ellwood) in Merchantville, NJ. Both Mary and Lemuel were buried in the Colestown Cemetery in Camden.
In September 1877, when Edward P. Conkling was selling off lots divided out of the Prallsville tract, Baillie purchased three small lots for $2,250.15 He and wife Elizabeth Hall Baillie sold one of them to Jane H. Bodine in November 1877. Another lot was sold to the Hoppock executors in 1881 and the third to Jane H. Bodine.16
Meanwhile, Baillie's case against Alabama for the loss of his collectibles continued, and was dutifully reported on by the Philadelphia Inquirer. But Baillie did not live to see a resolution. He died on July 18, 1883 in Philadelphia, from asthma, according to his obituary, which provided this assessment of his character:
He was a gentleman of rare qualities, frank and kindly in his manner, and mentally as well as physically a noble specimen of manhood. His genial nature won for him hosts of friends, whose reverence and affection were secured by the high tone of his character and by the genuine kindness of his generous heart.
I suspect that Lemuel O. Kessler did not share those sentiments. Baillie's widow, Elizabeth Hall, was eventually awarded $13,000 for the loss of the goods on the ship Adriatic. As it turned out, "The whole fund is swallowed up by existing claims against the estate, but there is considerable real estate which, under the will, will go to the wife."17
Two Other Officers
I have spent a lot of time on Mr. Kessler, because I believe he was the guiding spirit behind the railroad proposal, and also because his unfortunate life serves as a good example of the willingness of certain 19th-century men to stake everything on a risky gamble—in Kessler's case, buying a very expensive property based on the assumption that he could get a railroad built to bring in the business needed to pay off an enormous mortgage. Kessler's partners William P. Corney and William A. Baillie were also willing to take that risk, but soon realized it was a bad one.
The other men who signed up as Directors of the Company were not invested the way Kessler was, and most of them were not greatly hurt when the company folded. There were a few, however, who suffered serious financial losses.
David Van Fleet, Treasurer
The Hon. David Van Fleet (1819-1890), attorney and judge, was an Assemblyman in the 1840s. He married Susan A. Cole about that time, daughter of David O. Cole & Agnes Cutter of Readington Township.18 By 1860, the Van Fleets were living in Flemington. The census of that year identified Van Fleet as "Surrogator," which meant County Surrogate, an elective office which he won in 1859. By 1870, he was employed as a "claims agent and public administrator." He was very well-to-do by then, with real estate worth $20,000 and personal property worth $2500.
Van Fleet appears frequently in the pages of the Hunterdon Republican. An item from 1859 shows that Van Fleet had a long-standing interest in railroads. That year a petition was submitted to the state legislature to extend the line of the Central Railroad Co. from Elizabethport to Jersey City. It was signed by several Hunterdon residents (mostly from Readington), including David Van Fleet. One wouldn't think a railroad issue focused on Jersey City would be of much interest to a Hunterdon resident, but that ignores how much rural people relied on the new railroads to transport their goods. In 1861, Van Fleet and many other Hunterdon residents signed a petition to extend the Millstone and New Brunswick Railroad into Hunterdon County.
Van Fleet was one of the incorporators in 1870 of a proposed railroad company, petitioning the state legislature "to authorize construction from Flemington to some point on the Delaware River between Brookville and Bull's Island." The petition was rejected. But again, it shows Van Fleet's long-standing interest in expanding rail lines in Hunterdon.
In 1873, Van Fleet was a judge of the Court of Common Pleas and a director of the Hunterdon County National Bank. But he must have been over-extended because Van Fleet went into debt after the railroad company collapsed. In 1878, he had to sell most of his property and died an insolvent debtor in 1890, age 70.
This seeming disgrace was ignored by the person who wrote his obituary, in which he was praised for his long public service. His widow Susan died in 1897; the couple is buried in the Prospect Hill Cemetery.
William V. Case, President
William Voorhees Case (1830-1898), son of Henry Case & Mary Eliza Voorhees, and husband of Sarah Warne (1829-1917), moved from Alexandria Township to Stockton in 1865, when he and his brother Henry W. Case bought the sawmill of well-known lumberman John Finney.19 (See Biggest Log Ever Brought to Stockton.) The Beers Atlas of 1873 shows the Spoke Factory in Stockton run by W. V. Case & Bro. (Apologies for the poor copy. W. V. Case & Bro. can be seen along the feeder canal a short distance south of Bridge Street.)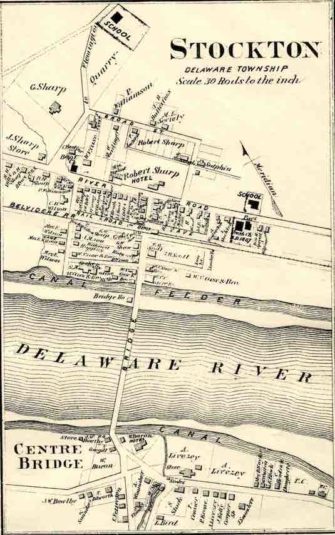 Owning a lumber mill and spoke factory made Case a prime customer for the proposed rail line. In 1874, Case was elected president of the Company's board of directors, replacing Lemuel O. Kessler.
Despite the worsening economy, Case enlarged his mill in 1874. He was probably counting on new business from the proposed rail line. Apparently Case also wanted a new road built that would probably make access to his mill easier. He had a survey made on December 23, 1873, and applied to the county to have the proposed road made public. But William L. Hoppock and Lemuel O. Kessler appealed to the court for a "rule to show cause," in other words, they wanted Case to present to the court depositions and witnesses to prove the need for this road. Perhaps they thought this new road might interfere with the proposed railroad. In any case, the Court ruled in Hoppock & Kessler's favor, and Case's application was ruled "null and void."20
Following the failure of the railroad, Case suffered a greater loss on April 19, 1877, when "A fire broke out at the Spoke Works of William V. Case at Stockton. The building and a large stock of spokes were totally destroyed at a value of about $10,000."21 Case recovered and in 1878 received an order for 50,000 spokes from the British Government! (as reported in the Hunterdon Republican). But according to Egbert T. Bush, "the bubble burst" that year. That order from the British Government may have been the only big order the company received, given the downturn in the economy.
Case was taken to court for unpaid obligations and in December 1878, Wm V. & Henry W. Case were forced to assign their property over to (none-other-than) Edward P. Conkling and David Van Fleet, for the benefit of their creditors. On February 6, 1879, Conkling advertised the sale of the saw mill lot which included the mill, its fixtures, a double stone dwelling house, barn, sheds, ice house, office, blacksmith shop, etc. Also for sale were four dwellings in Stockton, a grain & storehouse and lot, and a vacant lot with a barn. Oddly enough, it was Edward P. Conkling's father, Rev. Cornelius S. Conkling who bought the property.
After this, William V. Case and wife Sarah moved with their children to Philadelphia. They were counted there in the 1880 census where Case was still working as a "lumber merchant." He died in Philadelphia on March 31, 1898, age 67. His wife Sarah Warne survived him until 1917 when she died age 87. The couple are buried in the Presbyterian Cemetery in Mount Pleasant, Alexandria Twp.
It is very tempting to go from here to an examination of the industrial development of the village (later the Borough) of Stockton, because Edward P. Conkling was another man who took a gamble on an industrial property and lost, this being his purchase of the factory and machinery belonging to the Stockton Paper Ware Manufacturing Company.
But that will have to wait. The railroad company and its planned route from Prallsville to Flemington will take several articles to describe. The previous article in the series was "The Railroad That Wasn't Built," and the next is titled "The Route Not Taken, part one," which focuses on the impressive survey map prepared for the Delaware Flemington Railroad Company in 1873.
Many thanks to John W. Kuhl for sharing with me his clippings from the Hunterdon County Democrat.
Footnotes: