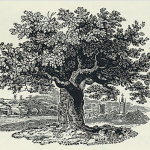 First Generation:
(1) Francis Besson (c.1720 – bef. 1798) & Anna Elizabeth Case (c.1725 – 1798)
According to the will of Tunis Case in 1769, Francis Besson was married to Tunis' daughter, Elizabeth. But according to the will of Adam Hummer written in 1781 Besson was married to his daughter Elizabeth Hummer. Besson was named executor of Hummer's estate along with Hummer's son Cort.
According to Henry Z. Jones, about 1750, Besson migrated to NJ from Germany with wife Elizabeth Hummer, daughter of Adam Hummer, and her ten children. They came in a group of other Germans, including Abraham Shurts. Besson "settled 4 miles from Flemington, near where Mr. Peartree [Andrew Bearder] lives."
Besson is a name that unfortunately had many many variations one would hardly recognize, including Pysong, Batson, Polson, Pozon, on and on.
Francis Besson built his house on land that was later owned by the Flemington Water Co., according to a descendant. It is long gone.
I only know of three of the ten children of Francis Besson, the most important being his son John who Besson named in his will dated August 11, 1794. (For mores on John Besson's property, see "Pysong & Peartree.") He also named daughters Anna Yawyer (Yawger) and Catherine Mires. If he had other children, they had either died or moved west (which was sometimes the same thing).
Second Generation:
|   (2.1) John Besson Sr. (1750 – 1842) & Margaret Opdycke (1751 – 1820)
|   (2.2) Anna Besson (c.1760 – bef. 1850) & William Yawger (c.1755 – )
|   (2.3) Catharine Besson (c.1770 – after 1794) & Petrus/Peter Myers (1773 – )
Third Generation:
|   (2.1) John Besson Sr. & Margaret Opdycke
|   |   (3.1) John Besson Jr. (1773 – 1838) & Rachel Trout (1777 – 1866)
|   |   (3.2) Thomas Besson (1774 – bef. 1842)
|   |   (3.3) Francis Franklin Besson (1776 – 1815) & Elizabeth Lewis Thatcher (1778 – 1810)
|   |   (3.4) Samuel Besson (1779 – 1869) & Zeruviah Sophie Opdycke (c.1782 – )
|   |   (3.5) William Besson (1781 – )
|   |   (3.6) Ann Besson (1783 – 1866) & 1) John Trout (1779 – 1808)
|   |   (3.6) Ann Besson (1783 – 1866) & 2) George Trout Jr. (1773 – 1843)
|   |   (3.7) Margaret Besson (1787 – after 1852) & John Hughes (c.1775 – )
|   |   (3.8) Agesilaus Besson (1790 – bef. 1852) & Elizabeth Hummer (c.1794 – 1841)
|   |   (3.9) Mary Besson (1793 – 1857) & Andrew Bearder (1794 – 1865)
|   (2.2) Anna Besson & William Yawger
|   |   (3.1) William Yawger (c.1780 – ) & Catharine Corshon [?] (c.1786 – )
Fourth Generation:
|   (2.1) John Besson Sr. & Margaret Opdycke
|   |   (3.1) John Besson Jr. & Rachel Trout
|   |   |   (4.1) Samuel Besson (1796 – 1869)
|   |   |   (4.2) Margaret Besson (1797 – )
|   |   |   (4.3) George Besson (1799 – 1877) & Mahala Little (1814 – 1900)
|   |   |   (4.4) Hannah Besson (1801 – 1886) & Jonathan Odell Pickel (1798 – 1869)
|   |   |   (4.5) John Besson (1803 – 1863) & Frances Taylor (1828 – 1861)
|   |   |   (4.6) Cathrine Besson (c.1804 – 1824)
|   |   |   (4.7) Anna Besson (1805 – )
|   |   |   (4.8) William Besson (1807 – 1894) & Margaret A. Case (1816 – 1868)
|   |   |   (4.9) Rachel Besson (1809 – ) & David Austin Jr.
|   |   |   (4.10) Jacob Besson (1811 – 1890) & Sarah Carhart Runkle (1816 – 1896)
|   |   |   (4.11) Rebecah Besson (1813 – 1900) & David Austin
|   |   |   (4.12) Jeremiah Besson (c.1815 – 1886) & Rebecca Jane Brady (~1822 – )
|   |   |   (4.13) Theodore Besson (1818 – )
|   |   |   (4.14) Fanny Besson (1822 – 1891) & Sylvester Apgar (1821 – 1874)
|   |   (3.3) Francis Franklin Besson & Elizabeth Lewis Thatcher
|   |   |   (4.1) Joseph Besson (1800 – 1849) & Catharine S. Jones (1819 – 1889)
|   |   |   (4.2) Margaret Besson (1802 – 1876) & Richard Green Sergeant Esq. (1795 – 1878)
|   |   |   (4.3) Elizabeth Eliza Besson (1804 – 1853) & Henry Rockafellar (1806 – 1868)
|   |   |   (4.4) Mary A. Besson (1806 – 1861) & Jonas Sutton (1804 – 1879)
|   |   |   (4.5) Rebecca Jane Besson (1807 – 1870) & Jacob Rockafellar (1800 – 1893)
|   |   |   (4.6) Julia Ann Besson (1808 – 1847) & William Dilts (1793 – 1850)
|   |   |   (4.7) Elizabeth Besson (1810 – 1866) & Maj. John Aller (1803 – 1878)
|   |   (3.6) Ann Annie Besson & 1) John Trout
|   |   |   (4.1) Jeremiah Trout (1805 – 1896) & Mary Ann Dunn (1808 – 1900)
|   |   |   (4.2) Asher Trout (1807 – 1897) & Harriet Buchanan (1817 – 1853)
|   |   (3.6) Ann Annie Besson (1783 – 1866) & 2) George Trout Jr. (1773 – 1843)
|   |   |   (4.3) John Trout (1812 – 1903)
|   |   |   |   |  m. 1) Mary Hannah Abbott (1816 – 1861)
|   |   |   |   |  m. 2) Mary Y. Boughner (1815 – 1900)
|   |   |   |   |  m. 3) Mary Y. Brewer (1815 – 1900)
|   |   |   (4.4) Sarah Ann Trout (1815 – 1900) & Jacob N. Thatcher (1811 – 1884)
|   |   |   (4.5) Margaret Besson Trout (1821 – 1903) & Shf. Robert T. Thatcher (1819 – 1895)
|   |   |   (4.6) Lucretia P. Trout (1824 – 1914) & Ephraim Robbins (1821 – 1849)
|   |   (3.8) Agesilaus Besson & Elizabeth Hummer
|   |   |   (4.1) Asa Besson (c.1818 – 1892) & Rebecca Simerson (c.1825 – bef.1870)
|   |   |   (4.2) Matilda Besson (c.1823 – bef. 1900) & Azariah Stout (c.1819 – )
|   |   |   (4.3) Delilah Besson (c.1825 – 1883) & Eli Wolverton (c.1824 – 1862)
|   |   |   (4.4) William Besson (1829 – 1880) & Sophia Hartpence (1827 – 1921)
|   |   |   (4.5) Margaret Maggie Besson (1838 – aft 1900) & William Rake (1833 – aft 1900)
|   |   (3.9) Mary Besson & Andrew Bearder
|   |   |   (4.1) Lucretia Bearder (1814 – 1849) & Caleb Farley Wolverton (1809 – 1878)
|   |   |   (4.2) John Bearder (1817 – 1885) & Mary Boeman (1827 – 1907)
|   |   |   (4.3) Margaret Bearder (1822 – 1893) & Joseph Robbins (1824 – 1912)
|   |   |   (4.4) Lafayette Bearder (c.1825 – 1888) & Ann Matilda Leonard (1831 – 1920)
|   |   |   (4.5) Washington Bearder (c.1825 – )
|   |   |   (4.6) Mary Bearder (1828 – 1891) & Gideon M. Brewer (1827 – 1900)
|   |   |   (4.7) Cyrenus Bearder (1831 – 1903) & Emily Bosenbury (1842 – )
Fifth Generation:
|   (2.1) John Besson Sr. & Margaret Opdycke
|   |   (3.1) John Besson Jr. & Rachel Trout
|   |   |   (4.4) Hannah Besson & Hon. Jonathan Odell Pickel
|   |   |   |   (5.1) Elizabeth Pickel (1827 – 1827)
|   |   |   |   (5.2) Mary Ann Pickel (1828 – 1920) & John B. Alpaugh (1827 – 1895)
|   |   |   |   (5.3) Hon. Baltus Pickel (1824 – 1890)
|   |   |   |   |   |  m. 1) Alice Allagar
|   |   |   |   |   |  m. 2) Marinda (c.1837 – 1860)
|   |   |   |   |    m. 3) Elizabeth Kase Holcombe (1827 – 1882)
|   |   |   |   (5.4) Samuel Besson Pickel (1830 – 1913) & Elizabeth Warne (1832 – 1899)
|   |   |   |   (5.5) Caroline Carrie Pickel (1833 – ) & Truman Curtis (c.1830 – )
|   |   |   |   (5.6) George W. Pickel (1835 – 1921) & Catherine T. Stryker (1846 – 1896)
|   |   |   |   (5.7) Rachel Pickel (1838 – ) & Jordan Stover (1833 – )
|   |   |   |   (5.8) Deborah Pickel (c.1840 – ) & George W. Weller (c.1840 – )
|   |   |   |   (5.9) Jennie Pickel (c.1840 – ) &
|   |   |   |   |   |  m. 1) Henry Cole (c.1840 – )
|   |   |   |   |   |  m. 2) Lambert Conover
|   |   |   (4.8) William Besson & Margaret A. Case
|   |   |   |   (5.1) Mary Elizabeth Besson (1836 – )
|   |   |   |   (5.2) John Case Besson (1838 – 1894) & Hassaltine J. Nice (c.1840 – )
|   |   |   |   (5.3) Hannah Ann Besson (1840 – 1868)
|   |   |   |   (5.4) Godfrey Besson (1843 – 1845)
|   |   |   |   (5.5) Catharine Frances Besson (1847 – )
|   |   |   |   (5.6) Robert Besson (1851 – 1853)
|   |   |   |   (5.7) Samuel Austin Besson (1853 – 1937) & Arabella Roseberry (1854 – 1941)
|   |   |   (4.14) Fanny Besson & Sylvester Apgar
|   |   |   |   (5.1) Elizabeth Mettlar Apgar (1858 – ) & John Stanford Hunt (1848 – 1924)
|   |   (3.3) Francis Franklin Besson & Elizabeth Lewis Thatcher
|   |   |   (4.2) Margaret Besson & Richard Green Sergeant Esq.
|   |   |   |   (5.1) Sarah Sergeant (c.1826 – 1881) & George S. Johnson, Jr. (1818 – 1905)
|   |   |   |   (5.2) George Sergeant (1829 – 1906) & Lillie English
|   |   |   |   (5.3) Charles Sergeant (c.1830 – 1868) & Elizabeth Juliana Watson (c.1840 – )
|   |   |   (4.3) Elizabeth Eliza Besson & Henry Rockafellar
|   |   |   |   (5.1) George T. Rockafellar (1829 – 1832)
|   |   |   |   (5.2) Joseph B. Rockafellar (1831 – 1832)
|   |   |   |   (5.3) Ellen Besson Rockafellar (1836 – 1864) & James Fonner (1830 – 1864)
|   |   |   |   (5.4) Emma Rockafellar (1844 – 1908) & Sgt. James O. Bellis (1839 – 1912)
|   |   |   (4.4) Mary A. Besson (1806 – 1861) & Jonas Sutton (1804 – 1879)
|   |   |   |   (5.1) Amos Sutton (1834 – 1909)
|   |   |   |   |   |  m. 1) Caroline Jones Anderson (1840 – )
|   |   |   |   |   |  m. 2) Mary Ellen Meade (c.1858 – )
|   |   |   |   (5.2) Elizabeth B. Sutton (c.1835 – 1891) & Gideon Moore (1837 – 1904)
|   |   |   |   (5.3) Theodore Sutton (c.1839 – )
|   |   |   |   (5.4) William Sutton (c.1841 – )
|   |   |   |   (5.5) Joseph S. Sutton (c.1843 – )
|   |   |   |   (5.6) Jane Sutton (c.1847 – 1872) & John Trimmer Aller (c.1842 – 1915)
|   |   |   (4.5) Rebecca Jane Besson & Jacob Rockafellar
|   |   |   |   (5.1) John Besson Rockafellar (1827 – 1885) & Sarah Ann Suydam (1821 – 1880)
|   |   |   |   (5.2) Joseph B. Rockafellar (1832 – )
|   |   |   |   (5.3) George T. Rockafellar (1839 – )
|   |   |   |   (5.4) William J. Rockafellar (c.1840 – )
|   |   |   |   (5.5) Electa Lettie Rockafellow (1850 – 1946) & Sylvanus Shaw Higgins (1846 – 1920)
|   |   |   |   (5.6) Emeline Rockafellar
|   |   |   |   (5.7) Catherine Rockafellar
|   |   |   (4.6) Julia Ann Besson & William Dilts
|   |   |   |   (5.1) Maryann Dilts (1830 – )
|   |   |   |   (5.2) Elizabeth B. Dilts (1836 – )
|   |   |   |   (5.3) Daniel Dilts (c.1837 – aft 1900) & Lydia Rake (c.1837 – )
|   |   |   |   (5.4) Charles Green Dilts (1838 – )
|   |   |   |   (5.5) Margaretta M. Dilts (1841 – 1906) & John D. Cox (1844 – 1932)
|   |   |   (4.7) Elizabeth Besson & Maj. John Aller
|   |   |   |   (5.1) Margaret Aller (c.1830 – ) & John S. Lloyd (c.1830 – )
|   |   |   |   (5.2) Elizabeth Aller (c.1835 – c.1860)
|   |   (3.8) Agesilaus Besson & Elizabeth Hummer
|   |   |   (4.1) Asa Besson & Rebecca Simerson
|   |   |   |   (5.1) Elizabeth Besson (c.1849 – )
|   |   |   |   (5.2) Mary Besson (c.1851 – )
|   |   |   |   (5.3) Emma Besson (c.1855 – )
|   |   |   |   (5.4) John Besson (1858 – c.1876)
|   |   |   |   (5.5) Margaret Besson (c.1862 – )
|   |   |   (4.2) Matilda Besson & Azariah Stout
|   |   |   |   (5.1) Theodore Stout (c.1843 – )
|   |   |   |   (5.2) Andrew Stout (c.1844 – )
|   |   |   |   (5.3) Emma Stout (c.1850 – )
|   |   |   |   (5.4) Mary Stout (c.1852 – )
|   |   |   |   (5.5) Azariah Stout (c.1867 – )
|   |   |   (4.3) Delilah Besson & Eli Wolverton
|   |   |   |   (5.1) Amos Wolverton (c.1846 – )
|   |   |   |   (5.2) Elizabeth Wolverton (1848 – 1881) & Emanuel L. Dilts (1847 – 1921)
|   |   |   |   (5.3) George V. Wolverton (1857 – )
|   |   |   |   (5.4) Lafayette Wolverton (c.1854 – )
|   |   |   |   (5.5) Matilda Wolverton (1861 – 1896) & Peter Hockenbury (1858 – )
|   |   |   (4.4) William Besson & Sophia Hartpence
|   |   |   |   (5.1) Hart Besson (1851 – 1851)
|   |   |   |   (5.2) Thomas E. Besson (1853 – 1933) & Mary E. Brewer (1853 – 1946)
|   |   |   |   (5.2) Thomas Elwood Besson* (1853 – 1933) & Mary H. Trout (c.1854 – )
|   |   |   |   (5.3) Everetta Besson (1854 – 1862)
|   |   |   |   (5.4) Charles Moore Besson (1862 – 1863)
|   |   |   |   (5.5) Arabella Besson (1863 – 1918) & Israel Poulson Shepherd (1863 – 1953)
|   |   |   |   (5.6) Mary Besson (c.1865 – )
|   |   |   (4.5) Margaret Maggie Besson & William Rake
|   |   |   |   (5.1) William Besson Rake (c.1875 – )
Sixth & Seventh Generations:
|   (2.1) John Besson Sr. & Margaret Opdycke
|   |   (3.1) John Besson Jr. & Rachel Trout
|   |   |   (4.8) William Besson & Margaret A. Case
|   |   |   |   (5.2) John Case Besson & Hassaltine J. Nice
|   |   |   |   |   (6.1) Lonidas H. Besson (c.1865 – )
|   |   |   |   |   (6.2) John William Rufus Besson (c.1865 – )
|   |   |   |   (5.7) Samuel Austin Besson & Arabella Roseberry
|   |   |   |   |   (6.1) Col. Harlen Besson (1887 – 1949) & Addie Case (1883 – 1968)
|   |   |   |   |   |   (7.1) Roberta Besson (1914 – 2005) & Emile Robert Grauert (1905 – 1990)
|   |   (3.8) Agesilaus Besson & Elizabeth Hummer
|   |   |   (4.4) William Besson & Sophia Hartpence
|   |   |   |   (5.2) Thomas Elwood Besson & 1) Mary Esther Brewer
|   |   |   |   |   (6.1) Georgie Lulu Besson (1879 – 1980) & Joseph Johnson (1875 – 1954)
|   |   |   |   |   |   (7.1) Elwood B. Johnson (c.1900 – 1973) & Elsie M. Venable (1900 – 1989)
|   |   |   |   (5.5) Arabella Besson & Israel Poulson Shepherd
|   |   |   |   |   (6.1) Jessie Shepherd (1884 – ) & Carl Anderson (c.1880 – )
|   |   |   |   |   (6.2) Sarah Shepherd (1885 – )
|   |   |   |   |   (6.3) Olive H. Shepherd (1889 – 1971) & Frank W. Venable Jr. (1886 – 1974)
|   |   |   |   |   (6.4) Mary Shepherd (1893 – )
|   |   |   |   |   (6.5) Merton Leroy Shepherd (1894 – )