In part one of Summit School, Mr. Bush talked about "the meanest hill that old-timers had to travel on their way to Flemington." Actually, going TO Flemington wasn't so bad since it was all downhill. But returning UP the hill was no picnic. In fact, it was a "hard scrabble."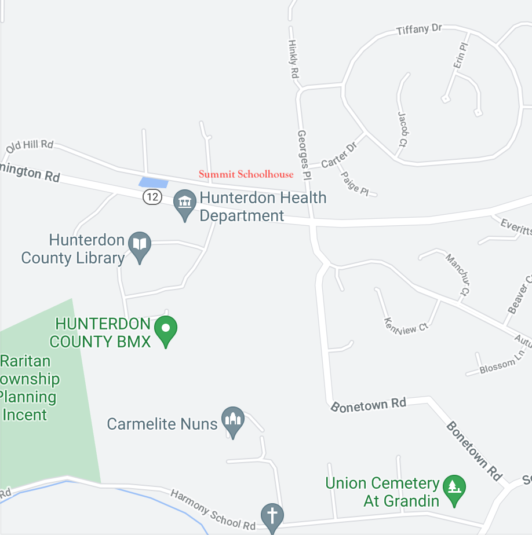 In part one I included the topographical map from 1888 but forgot to identify it as such. It shows the hills to the north and west of Flemington as quite substantial.
I also included a detail from the 1851 Cornell Map of Hunterdon County, showing the roads as they were then. They are so different now that I must include a current map of the area from Google showing Bonetown road and the location of the Summit Schoolhouse..
While working on part one of this story, I was quite puzzled about the location of the Summit School. Mr. Bush and Mr. Conkling both said there was a school in 1850, but the only school that appeared on the Cornell Map of 1851 was on the more southern end of Bonetown Road closer to Route 523 rather than on the road from Flemington to Croton.
The Higgins Schoolhouse
That got me thinking that the first version of the Summit School was on Bonetown Road, but that was a mistake. The school located there was more likely the first version of the Higgins schoolhouse, so named because of its proximity to Higgins farmland (see "Carman, Hoagland & Higgins").
I checked the report issued by Supt. Cornelius S. Conkling in 1876, shortly after the Beers Atlas was published. The Higgins school's clerk stated that the current schoolhouse had replaced a much older one:
Previously it stood one mile north of its present site. The moving of the house resulted in a lawsuit. Years ago, the southern end of the district was stronger, and all the trustees lived there, so they hooked the building up to several yoke of oxen, put the building on wheels and moved it to where it now stands. The northern part sued and was given damages of half the value of the building which was appraised at $80.
The new location of Higgins School was quite a distance south of its original location, along Route 579 across from the intersection with Yard Road in Delaware Township.
The Origin of Bonetown Road
Perhaps you are wondering how Bonetown Road got its name. According to a historic marker that happens to be located just across the road from the location of the earlier schoolhouse, a family used to live on the road that was in the habit of stealing neighborhood chickens. When they finally moved away, piles of bones were found on the property, supposedly in the vicinity of the sign, which did not identify the purloining family. Those piles of bones must have made quite an impression.
Unfortunately, the Cornell Map of 1851 did not name roads, and neither did the Beers Atlas. What a bonus that would have been for us researchers.1 The 1850 residents nearest to the old schoolhouse were A. Everitt, H. Hoppock, J. Higgins, and E. Lake. They would have been Abel Everitt (1785-1872), Henry Hoppock (1791-1860), probably Judiah Higgins (1799-1890), and, probably, Evans Godown Lake (1796-1859). I have no reason to think any of them were stealing chickens. The family must have been tenants.
The Summit Schoolhouse Lot
Let us look at Supt. Conkling's report on the Summit School:
The first house erected in this district was built of stone, in 1850, and stood near the site of the present building; the present school lot includes all the former ground. The size of the first house was 20 ft by 22. And although the former structure had stood but 20 years, it had become sadly dilapidated. Hence in 1872, the New House was built which is a frame building 26 ft by 30, well finished and furnished with good seating accommodations.

The Summit School House is another ornament meeting the eye of the passerby to the county seat only two miles from which it stands.
This newer schoolhouse was located at the corner of today's George's Place and Old Hill Road, as shown on the Google map above, and where a 19th-century house is still standing. This was probably the home of "E. Baker," according to the Beers Atlas. I'll have more to say about "E. Baker" below.
Owners of the Schoolhouse Lot
In 1851, when the Cornell Map was published, the future location of the Summit schoolhouse was north of Old Croton Road, bordered on the north by Peter H. Baker and the south by Tunis Case. By 1873, the Beers Atlas shows us that the Baker lot was owned by "E. M. Rake" and the Case property to the south by "E. Baker."
In part one, I quoted Mr. Bush who wrote that "the school grounds as now known were conveyed, March 7, 1873, by Peter R. [should be H.] Baker, to the 'Trustees of the School District No. 90,' that being its legal destination at the time."
That deed of 1873 from Peter H. Baker to the trustees of Raritan Township School District #90 did not give the size of the schoolhouse lot or of the property he was conveying. It was bordered by the road from Croton to Flemington, the road to Cherryville, Peter H. Baker's other land, and "the schoolhouse lot."2
Could that be a mistake? Was Baker conveying land adjacent to the school lot? If so, who sold the schoolhouse lot itself? It turns out—no one.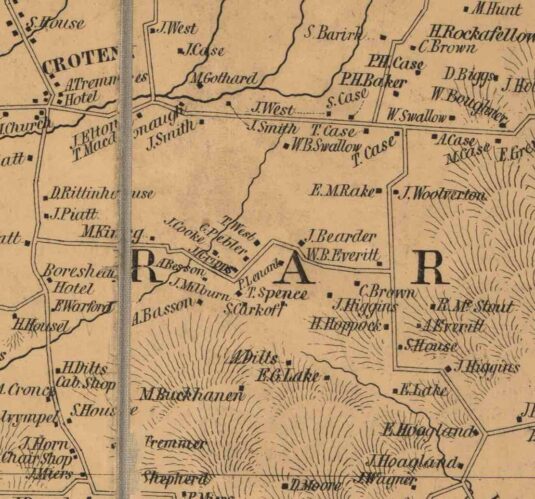 Not all conveyances for schoolhouse properties got recorded. For instance, according to Mr. Bush, Tunis Case conveyed property for a schoolhouse to trustees of Summit School District No. 3 back in 1854. But there is no recorded deed for that transaction, because the lot was leased to the trustees, not sold. Mr. Bush wrote that at the time, the lot was bordered by Peter H. Baker on the west and east, and Tunis Case on the south, just as they appear on the Cornell map.3
Estate of Tunis Case, Jr.
The fact that Tunis Case leased the lot in 1854 explains why no schoolhouse appeared on the 1850 map. Case kept ownership of the school lot and surrounding property until his death on Dec. 13, 1859 at the age of 62. He had written his will previously on Nov. 11, 1857, naming his son, Samuel F. Case, his sole executor. He directed that his property should be evenly divided between his widow Catharine (nee Woodhume) and his surviving children.
However, even though the widow lived on until 1876, dying at the age of 57, Samuel F. Case, acting as executor, sold his father's real estate in 1861. He sold two lots, of 8+ and 9+ acres, to Enoch Hartpence for $32.50 an acre, suggesting the properties were woodlots. He sold another four lots to John Hill of Raritan Township. This conveyance included a large farm of 69.5 acres and two smaller lots of 8.9 acres and 4.3 acres which each had recitals explaining who sold them to Tunis Case. Then there was a fourth lot of 2.69 acres. There was no recital for it, but its description was interesting: it bordered the road to Flemington, land of Samuel F. Case and Peter H. Baker, and the schoolhouse lot.4
Next Door to the Schoolhouse
That lot got even more interesting when I found that John Hill immediately sold the 2.69 acres back to Samuel F. Case, for $143.5
Because this was the only property I found that bordered the schoolhouse, I tracked its chain of title. Five years after buying it, Samuel F. Case and wife Maria sold it to George Cronce for $500, with the proviso that Case reserved to himself "the rent issuing out of said lot . . . as well as the right for Case and his tenant to occupy said lot" until April 1, 1866.6
Samuel F. & Mariah Case named one of their children Samuel Cronce Case (1850-1926). This was probably in remembrance of Samuel F. Case's sister Elizabeth Rhoda Case who married Samuel Cronce (1819-1882) in 1845. But she died only two years later, probably in childbirth, and Samuel Cronce then moved to Pennsylvania.
The question is whether Samuel Cronce might have been related to George Cronce (1836-1917). I do not know who the parents of Samuel Cronce were, but the age differences between George and Samuel make it unlikely they were siblings. George is thought to have been the son of John J. Cronce (1800-1854) and Sarah Smith (1799-1857).
George Cronce married Mary Ellen Baker, daughter of Peter H. Baker & Matilda Dilts in 1864. In the census of 1870, George Cronce, age 43, was identified as a "huckster," living with wife Mary age 33, and son Peter L. Cronce 14, who was later called Lambert P. Cronce.
That year, on April 1, 1870, the Cronce's sold the lot in Raritan to Mary's father, Peter H. Baker, for $700, which is the highest price anyone ever paid for it in the 19th century.7 After that the Cronce's ran a store in Kingwood.
On September 22, 1879, Peter H. & Matilda Baker sold that same lot for only $450.8 (I will have much more to say about the Baker family below.) The buyer was Barbara Ann Cronce of Raritan Township.
Another Cronce! Actually, she was Barbara Ann Roe (born 1849 in Pennsylvania), daughter of Benjamin and Sarah Roe of Solebury, PA. She married Leonard L. Cronce (1838-1910) in 1867, the son of Henry Barton Cronce and Mary A. Rockafellar of Raritan Twp. Which raises the next question, was Leonard Cronce related to George Cronce or to Samuel Cronce? George and Leonard were related, but only distantly—they were second cousins. And the final question, why was the land sold to Barbara Ann rather than to Leonard. It might have had something to do with his Civil War service. He was listed in Co. F, 9th Reg., NJ Volunteers.
The Cronces kept the lot for many years, raising four children, and finally moving to Kingwood Township in the 1890s, where they probably rented their home. On December 14, 1899, they sold the lot, now reduced to 2.3 acres, to William Antes for only $275.9 It seems that the Cronces had given a mortgage to one Harned Hoff in 1890 for $250, and Antes assumed responsibility for it.
And here we come to one more connection. William Antes (1830-1910) was a German immigrant who married Alice Ann Rake (1840-1928), the daughter of Elias M. Rake and Catharine Wolverton. By 1899, their five children had grown, so it seems likely the couple spent their later years on this property. Alice Rake's family was well-established in this neighborhood, as will be seen below.
The question is, who actually owned the schoolhouse lot? It turns out, it had to be the heirs of Tunis Case. He had leased the lot to the school trustees for a period of 99 years, which would end in 1953. I will have to make a trip to the Clerk's Office to see what happened to the lot after that year, but I am certain the school itself was long gone by that time.
The Neighborhood Families
The families Mr. Bush was concerned with in the second half of his article are the Cases, the Bakers, the Barracks and the Buchanans who lived in the part of old Amwell Township that later came to be called "West Raritan." I confess that although I am also interested in the Cases and Bakers, I must leave the Barracks and Buchanans alone for now, as I have not researched them enough. However, in their place I will discuss the Rake and Wolverton families.
One of the biggest challenges in researching properties in this area, known today as the Croton Plateau, is the fact that it was not great farming land. (As a current resident of this area, I can attest that the earlier name of "Great Swamp" was appropriate for a place where heavy clay soil covers dense argillite bedrock.) The area was long used for woodlots, and most of the deeds in the 19th century were for 2, 3 or 5-acre lots, some even as small as one acre. This means that property owners here had many more deeds recorded than those in areas with better soil. And there is no way to know if a property is a woodlot until you look up a deed.
Peter H. Baker and Family
It took me awhile to figure out that the parents of Peter H. Baker (1824-1894) were Christopher Baker (1799-1855) & wife Sarah (1801-1861). I had thought it might have been Joseph H. Baker (1802-1888) & Azubah Case (1804-1881). The first property that Peter H. Baker acquired was sold to him in 1845 by Joseph H. & Azubah Baker. It was only 0.7 acres, but it bordered land of Christopher Baker and likely brother-in-law James Benward. In 1855, Joseph and Azubah sold Peter another lot, this time of 3.66 acres. During his life, Peter H. Baker acquired many properties, but those were the only two deeds from anyone named Baker.
Baker & Bake
There is something to be said for looking at every deed—one never knows when an essential piece of information will pop up. In this case, it was a deed from Peter H. Baker and his wife Matilda dated March 3, 1862. They were conveying two small lots in Raritan Township to a certain Isaiah Baker, and at the end of the description, the deed stated that the lots were "land and premises of which Christopher Baker the father of the parties to these presents died seized."10 So, it turns out that Joseph H. Baker's brother Christopher was the father of Peter H. Baker. His mother was one Sarah Case (1801-1861), but I have not figured out how she connects with the ubiquitous Case family of Amwell. She may have been the sister of the Tunis Case who was discussed in part one, as she is almost the same age. After Christopher Baker died in 1855, Sarah went to live with her son Isaiah and his family. They were counted in the 1860 census, and Sarah died the next year, on May 26, 1861. She was buried in the Mountainview Cemetery near Cherryville, next to her husband.
Christopher Baker (1799-1855) was the son of the Henry Baker and Mary Bake who first settled in this area of Raritan Township before the Revolution. A deed of 1798 indicates that Mary was the daughter of one Christian Bake; her mother is not known.11 Christian or Christopher Bake was an immigrant from Switzerland. A family tree on Ancestry.com claims that he was the son of Johann Sebastian Bach, yes—that Bach, and Bach's wife Anna Magdalena. I am skeptical, of course, and only include this for its entertainment value.
Dilts & West
On Feb. 15, 1845, Peter H. Baker married Matilda Dilts (1826-1903), most likely the daughter of Amos Dilts and Elizabeth West of Raritan Twp. Amos Dilts was one of the original trustees of the Summit School. Elizabeth West was the daughter of Joseph S. West, Sr. and Anna Rockafellar, residents of Raritan Township and owners of quite a lot of property in the neighborhood we're discussing.
Peter H. and Matilda Baker had four children: three daughters and in 1860 a son they named Lambert Boeman Baker who died when only 3 years old. Their daughters were Mary Ellen (1846-1937, married to George Cronce), Rachel V. (1855- 1944, married Jeremiah Slack), and Sarah M. (1859- after 1920, married Geo. W. Ellicott).
When Peter & Matilda Baker sold that lot of 2.69 acres to the Summit school trustees, their children had already grown, so it was less a parental duty than a civic one. For quite awhile, I could not figure out who Baker got the lot from, because I was mistakenly looking for the school lot itself. Since Baker had a long list of deeds, I chose to examine the bordering owners, "E. Baker" and "E. M. Rake."
Who Was "E. Baker"?
Good question. One would think that "E. Baker" would be related to Peter H. Baker, since it was Peter who kept showing up in deeds for the vicinity around the school lot. But the Bakers did not have a son whose name began with an E, or a daughter-in-law. Peter's brother Isaiah did own property in that area. In fact, Peter sold him a lot or two, but not this one.
The only E. Baker who fits the time period is Elijah Baker (1776-1863), but he lived in Readington Township, the son of Timothy & Deborah Baker, also of Readington. Since Elijah died in 1863, it's not likely he was owning property in Raritan in 1873.
I am inclined to think that Beers made a mistake and should have written "P. Baker" instead of "E. Baker."
Who Was E. M. Rake?
E. M. was Elias M. Rake (1808-1873),12 the son of Henry Casper Rake, Sr. and Catherine Kalthoff of Amwell, who had moved to Pennsylvania by 1820. Elias remained in (or returned to) Hunterdon County and married his wife, Catharine Ann Wolverton (1811-1897), in 1834.
The only deed recorded between Peter H. Baker and Elias M. Rake was dated April 1, 1862, when the Bakers sold two lots to Rake for $85.13 But neither of these lots were the one next to the schoolhouse. Both lots, one of 2.25 acres and one of 5.25 acres had belonged to William Rake (1781-1850), the uncle of Elias M. Rake. They appear to have been woodlots that Sheriff Cavanagh seized under court order and sold to Joseph West in 1825. But I cannot say how they got from West to Peter H. Baker.
The deed from Baker to Rake is a good example of the type of deed I kept running across in my research. Woodlots, woodlots, nothing but woodlots.
We are left to wonder—where were the Rakes living between 1834 & 1862? The Cornell Map of 1851 shows "E. M. Rake" on Bonetown Road, across the road from "J. Wolverton." That property was sold to Rake's wife—and John Wolverton's daughter, Catharine Ann Wolverton—in 1847.
The Wolvertons
Catharine Ann Wolverton, daughter of John Wolverton and Elizabeth Roads, was the aunt, by her brother Wm W. Wolverton, of the John Wolverton (1834-1906) who was written about in She Has Her Mother's Laugh by Carl Zimmer. To learn more about her and the reprehensible way a eugenicist depicted her family, see "Wolvertons aka Kallikaks."
The Cornell Map shows the location of the Wolverton and Rake homes on Bonetown Road. I found the deed dated March 2, 1847 wherein John Wolverton conveyed a half-acre lot to daughter Catharine, "wife of Elias Rake," and her son John Wolverton Rake, "in joint tenancy." He charged them $8 for the lot.14
The deed was intriguing and frustrating; it stated that it was "part of the farm whereon the said Tunis Case, Jr. now lives," but said nothing about how Wolverton got the property from Tunis Case. It is also curious that John Wolverton conveyed the lot to his daughter and grandson, who was then only twelve years old, and omitted mention of his son-in-law, Elias Rake.
Elias and Catharine had two other sons, Izer Rake and Aaron H. Rake. Mr. Bush had a lot to say about Aaron Rake in part one. The tale of his brother Izer is not as happy.
Izer Rake
Elias and Catharine Rake's second eldest son was named Isaiah G. Rake—Izer for short. He was born in 1837 and in 1856 married Amie Buchanan, daughter of John Buchanan and Catharine Williamson.
Rake acquired some property in the Locktown neighborhood, but never was more than a "laborer" or "working on farm," according to the census records of 1860 and 1870. Izer and Amie had ten children from 1858 to 1875, only one of whom died as a child. Perhaps supporting a family that large was more than Izer could handle. One December night in 1875, he was working as a wood chopper, and came to a sad end.
The obituary published in the Hunterdon Co. Democrat on Dec. 7, 1875 was shared with me by Geoff Raike:
Joseph Sherman and Iser Rake living in the vicinity of Locktown, and whose occupations were that of wood-choppers, started out on Monday morning to look at some pieces of timber with a view of working it out. On their return, they came by way of Sergeantsville where one of them made some purchases at the store, and both were at different places in the village during the evening. The last place that they visited was the saloon where, after eating some oysters, started for their homes. It is supposed that when they came to the schoolhouse (it was raining at the time) they had concluded to go in and stay awhile. From appearances, the stove had been filled with coal and they laid down on the benches alongside of the stove and went to sleep from which they never awoke. A joint in the stove pipe was separated from which the gas had escaped and filled the room, causing their death by suffocation. Sherman leaves a wife and a grown up daughter and Rake a wife and nine children. They were buried on Friday.
I am assuming that the "saloon" referred to was the Inn in central Sergeantsville, although it might have been the tavern in Rosemont. The schoolhouse that Rake & Sherman stopped in was located on the north side of the Sergeantsville-Rosemont Road, some distance east of the covered bridge. Bush called it "the Sergeant Schoolhouse."15
In 1880, Amie/Amy Buchanan Rake was living in North Delaware Township (the Locktown neighborhood) with her sons William, Theodore and Lewis, all under the age of 10. Seven years later, in 1887, she married widower William Swallow, who lived along Route 579 in Raritan Township near the newer Higgins schoolhouse, and was a widower. (See "From Sand Brook to Raritan.") The couple died in the early 1900s and were buried in the Holcombe-Riverview Cemetery.
Eli Wolverton
One name that came up often in researching the deeds of Peter H. & Matilda Baker was Eli Wolverton. I thought perhaps since he owned land in this neighborhood, he might be closely related to Catharine Wolverton Rake and her father John Wolverton. But as it turned out Eli and John Wolverton were only second cousins.
Eli Wolverton (c.1824-1862), son of Aaron Wolverton & Susan Kels, married in 1846 Delilah Besson (c.1825-1883), daughter of Agesilaus Besson and Elizabeth Hummer. As you can see, Eli was quite young when he died—only 38 years old, leaving four minor children. Delilah carried on. By the 1880 census, she and daughter Matilda were living with Delilah's son George V. Wolverton. In 1883, she was 58 years old and died suddenly, as described in her obituary, published August 1, 1883 in the Hunterdon Republican:
On Sunday afternoon, Mrs. Delilah Woolverton, widow of Levi Woolverton, dec'd, residing near Croton, left her home to visit her neighbor, Peter H. Baker. Later that afternoon, he went out into one of his fields to fix a fence that his cattle had broken. In going down the path to the field, he discovered the body of Mrs. Woolverton lying near the path. A messenger was sent to Flemington and Justice William S. Riley and Dr. John H. Ewing were summoned. They determined that she had died of apoplexy. She was about 60 years of age.
It had been so long since Delilah's husband Eli had died, 21 years, that people had forgotten his name. It was not Levi. It interested me to learn that she was on her way to visit neighbor Peter H. Baker. That helps to tie things together. Baker and wife Matilda were about the same age as Delilah, and like Delilah and Eli, they were buried in the Cherryville Mountainville Cemetery.
The cemetery is a fairly large one, located at 593 Cherryville Road, just north of the Cherryville Baptist Church at the corner of Route 617 Cherryville Road and the Quakertown Road in Franklin Township, well to the north of the Summit School neighborhood.
Rake Relations: Antes, Hinkley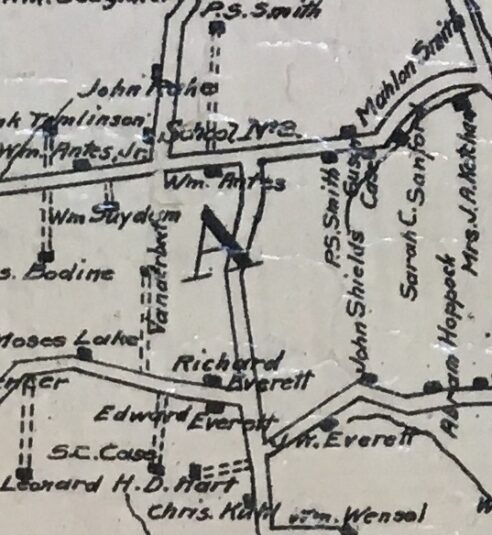 The Hunterdon County Map of 1902 shows "School No. 8" on the north side of Old Croton Rd, and on the west side of today's Hinkley Rd., with John Rake owning property on the north and Wm Antes, Jr. to the southwest of the school lot.
That John Rake was John W. Rake, son of Elias M. & Catharine Wolverton Rake. William Antes was the husband of John Rake's sister Alice A. Rake (1840-1928). He was a Bavarian or German immigrant who first appeared in the 1870 census, at the age of 39. At that time, he and Alice had two children, William, age 2, and Lewis, 3 months. They were listed in the census near John and Jane Hinkley and John and Caroline Lacey.
The property they owned in 1902 was that very same 2.69-acre lot that had been sold to them by Barbara Ann Cronce and husband Leonard in 1899, the owners described above who acquired the lot from Peter H. & Matilda Baker in 1879.
Catharine Wolverton Rake's sister was Jane E. Wolverton (1814-1900), who married John Hinkly (or Hinkley) about 1840. John Hinkley (1810-1878), for whom the Raritan Twp. road was later named, bucked the trend, having been born in Ohio, but moving east instead of west, to settle in Hunterdon County.
In 1848, John Hinkley advertised his services in the Hunterdon Gazette this way:
LOOK AT THIS. The subscriber offers his services to Jerseymen in general for Sutling [sic] and Ditching. All orders left with A. [Alexander] V. Bonnell, Flemington, will be promptly attended to JOHN HINKLEY.
This ad was repeated in 1850:
LOOK AT THIS. The subscriber offers his services to Jerseymen in general for SUFFING [sic, sutling] and DITCHING. Also, Shaftsinking. All orders will be promptly attended to by calling on the subscriber residing near Flemington. John Hinkley.
In 1860, he advertised his services as a well digger. Digging seems to have been his special skill. However, this conflicts with the assessment of the census taker, who described him as 'no occupation' in 1850 and 'farm laborer' in 1860.
Despite the fact that he was a married man with young children, Hinkley volunteered to serve in the Union Army, with Co. D, 31st Infantry. While he was in uniform, in 1862, the heirs of John Wolverton named Elias M. Rake as their attorney, who proceeded to sell two of John Wolverton's properties to Jane Wolverton Hinkley.16 The property was probably sold to Jane because John Hinkley was away. In the Beers Atlas of 1873, the Hinkley name was written as "J. Inkly." It referred not to John, but to Jane.
After his death in 1878, at the age of 68, John Hinkley's grave at the Flemington Presbyterian Church was regularly honored with a wreath. An additional honor was the naming of a road after him.
Neighborhood Crime
Jane Wolverton Hinkley survived many years after her husband died. In the census for West Raritan in 1880, she was living with her grandson Joseph, age 10, who was listed as adopted. She had a little trouble making ends meet, as she was listed as a delinquent taxpayer in 1881, owing Raritan Twp. all of $1.93. By 1897, she had taken on a boarder, with unfortunate results, as reported in the Hunterdon Republican on January 20th:
Arrested for Theft. Uriah Larue, who resides near the Hardscrabble school house, about 1 mile from Croton, was arrested last Wednesday on a warrant issued by Justice Abraham C. Hulsizer, of Flemington. Larue is charged with stealing a horse and buggy, the property of Alexander Rockafellow of Raritan Tp., from the sheds in the rear of the store of Hall & Son, in Flemington. When Mr. Rockafellow went to the sheds he found his property missing and learned that Mr. Larue had taken the horse and buggy. John Rockafellow, son of Alexander, and William Hulse went to the home of Larue and found the horse and wagon, but not the harness. While searching about the barn for the harness, Mrs. Jane Hinkley, with whom Larue makes his home, appeared and demanded to know the object of their visit. When told, she summoned Larue and a lively tilt took place. As he refused to tell where the harness was, the men took the horse and wagon back to Flemington. A warrant was issued, and Mr. Larue was arrested with bail set at $1,000. Judiah H. Ewing of Flemington appeared as bondsman.
Curiously, despite this incident, Uriah LaRue was still boarding with Mrs. Hinkley when the 1900 census was taken. He was listed as a fish huckster, age 54 and unmarried. Mrs. Hinkley's age was not given, although she was 86 years old by then, having been married for 8 years, with five children, three of whom were still living. She died on Christmas Day, 1900 and was buried next to her husband.
As for her property, I assume Mrs. Hinkley still owned it when she died. One of her children, most likely Sarah Matilda (1851-1918), wife of Joseph C. Pedrick, may have inherited the house and lot.
Returning to E. T. Bush
I have left out some of Mr. Bush's article since I have already gone on longer than usual. I will end, though with Mr. Bush's last two paragraphs.
Those who particularly remember things in connection with the school tell us that singing schools and debates were held in the old house. Also, that at times of fine coasting, the boys gallantly gave over to the girls the use of the only sled among them, the boys taking slab benches from the schoolhouse and coasting merrily on them down the big hill. Whether benches stood up or were turned over is not in evidence. But anything in any position was likely to go booming down that hill in an icy time, and it would be strange if the boys did not have to rush headlong down the hill sometimes "on horseback."

A Case Neighborhood

This was emphatically a Case neighborhood. Cases were all around, doing all kinds of business. But other old names were well represented. How changed today! Probably neither the school register nor the voting list for a mile around, is carrying any of the following names: Case, Baker, Hartpence, Buchanan, Barrick or others prominent in generations' past. The growing habit of restless change has done for this rural community what it has done for so many others—robbed it not only of the old people but also of the old names.

But do not suppose that good old "I-Hardscrabble" is either dead or dying. Nothing of the kind. It is merely changing—taking on new and somewhat different life. In a few more years that curve of the new road, already modestly bidding for some such designation, may be widely known as "Arc of Beauty."17
I do not know what Mr. Bush meant by "I-Hardscrabble." Keeping in mind that he was writing in the early 1930s, we can be assured it had nothing to do with technology. Any guesses?
Footnotes: