part nine of The Route Not Taken
In this episode of the saga of the unbuilt rail line we travel from Sand Brook into Raritan Township, on our way to Walnut Brook. Here is a detail of the railroad survey map.
The rail line was expected to run from Sand Brook, across the large farm of Jonas Sutton to the boundary line between Delaware and Raritan Townships, then across Route 579 and the front yard of William Swallow. From there it would proceed through another large empty space to Walnut Brook just north of Copper Hill.
Jonas Sutton & Mary Besson
Jonas Sutton was the long-time owner of the very large farm that lay between Sand Brook and Route 579. His name was shown on the railroad survey map and on the list of landowners prepared by engineer S. C. Slaymaker for the Delaware Flemington Railroad Company, but he was not included in the Cramer survey, nor was he shown on the Beers Atlas. One would think that a farmer who possessed such a large acreage for so many years (45 years since his purchase in 1828) would be included in the Atlas. But that is not the case. However, the railroad survey map compensates for that omission.
Jonas Sutton (1804-1879), son of Amos Sutton and Jane Robins, and husband of Mary A. Besson, has been written about previously in my article "The Sutton Farm." Also, if you click on FAMILIES in the right column, you will find 14 stores that concerns the Suttons. Included in the article on the Sutton farm is a detail from the 1906 topographical map, showing how far from the road the old Sutton house was. Perhaps that is why Beers missed it.
It is noteworthy, I think, that another Jonas Sutton was there as early as 1744 when he got a mortgage from the Hunterdon County Loan Office for 81 acres in the Daniel Robins proprietary tract. His son Amos succeeded him as owner of the farm in 1797, and his son Jonas (1804-1879) was the last of the Suttons to own it.
Raritan Township Landowners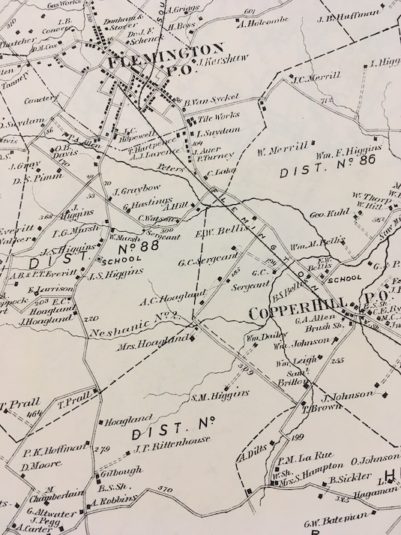 Of the many Raritan landowners listed by Slaymaker, only four of them appeared on the survey map. Here is the list of landowners in Raritan Township taken from the Slaymaker list. Those who also appear on the survey map get an asterisk; those who also appear on the Beers Atlas get a + sign.
William Swallow*
"Susan" Chamberlin (It should be Sarah.)
Charlotte Moore
S. [Susan] Hampton +
Hoagland +
Aaron C. Hoagland*
Sergeant* +
S. Higgins +
Watson +
Hastings* +
C. Hopewell +
Samuel Hill
As you can see, only "J. Sergeant," and "G. Hastings" show up on all three sources, and only seven of the twelve names appear on the Beers Atlas. In my previous article I mentioned Alexander Higgins, who was also listed by Slaymaker but omitted from the survey map. These omissions make it more challenging to guess at the route that was planned for the rail line. Perhaps the surveyor did not think it necessary to include all the names of landowners on his map, but only those whose houses were located near the route.
William Swallow & Mary Moore
The first landowner we come to in Raritan Township is William Swallow (1820-1908), son of Nicholas Swallow and Mary Bower. About 1850, he married Mary Moore (c.1822-1886). I had some difficulty identifying Mary's family, but eventually found the will of Jacob Moore (1782-1858) of Delaware Township dated June 7, 1858 in which he bequeathed a share of his estate to his daughter Mary Swallow. Mary's mother was Elizabeth Sine (1789-1874).
William & Mary Swallow had two daughters, Anna M. (1851-bef. 1920), who married William F. Dilts, and Elizabeth, born 1854. After Mary Moore Swallow's death in 1886, William Swallow married second Amy Buchanan (1839-1904), daughter of John Buchanan & Catharine Williamson, and widow of Izer G. Rake.1
The railroad survey map shows the rail line coming rather close to the Swallow house. That farm had been owned by William's father Nicholas Swallow up until his death in 1856.
Nicholas Swallow & Mary Bower
Nicholas Swallow (1780-1856), son of John Swallow and Catharine Bowers, married in 1800 Mary Bower (c.1780-1871), daughter of Philip Bower & Catharine Brungart.2 Nicholas and Mary had seven children, including William, as well as Charlotte Swallow who married Daniel Moore, Jr., Esq.,3 Susan B. Swallow who married Joseph Hampton, and Enoch Swallow who married Hannah Elizabeth Higgins, daughter of Mahlon Higgins and Ann Wynkoop Everitt.
When Philip Bower died in 1800, his estate was insufficient to cover his debts, so his real estate was divided into small lots, some of them set aside for Bower's ten children and the rest put up for public sale. From 1806 to 1810, Nicholas Swallow purchased nine of these lots from the heirs and from others.
But the property shown on the survey map did not come from the Bower estate. It was purchased by Nicholas Swallow from the administrators of William Bishop's estate in 1849. Tracing the property back to its earliest deed we find that Jonas Sutton, Sr., mentioned above, sold a tract of land to Thomas Merrill in 1760, that Thomas Merrill and wife Dorothy sold part of that land to their son William Merrill in 1796. In 1811, William & Jane Merrill sold 14+ acres to Nicholas Swallow. In 1814, the Merrills sold a lot of 31+ acres to Rev. Charles Bartolette, which William Bishop purchased in 1817, along with a couple more adjacent lots in 1819 and 1829.
When William Bishop died in 1842, he was, like Philip Bower, in debt. It wasn't until 1848 that his "homestead farm" consisting of three separate but adjoining lots was sold to Nicholas Swallow for $2,760.4 Its architecture suggests the house was built around 1780. If that is the case, then the house must have been built by Thomas and Dorothy Merrill, who owned the lot from 1760 to 1796.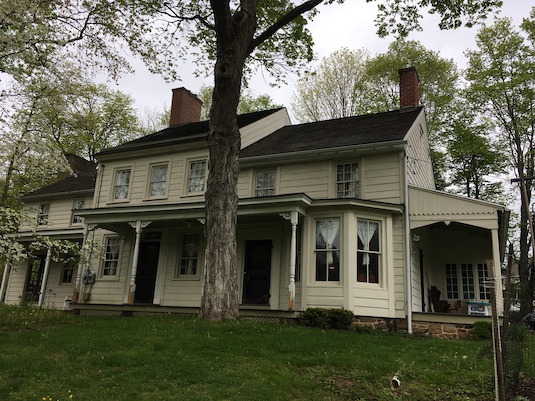 Tracing the chain of title back from Nicholas Swallow was not easy. In fact, when I first tried it, I got the property confused with the farm directly to the north, once owned by George Trout and at a later date by Robert Thatcher. Fortunately, Carla Cielo, the current owner of the Swallow house, figured it out and generously shared her research with me. She was also able to provide the architectural date of construction.
Nicholas Swallow wrote his will on February 8, 1856 leaving the use of his dwelling house to his wife Mary during her widowhood, and "the premises on which I now reside now in the occupancy of my son William," plus livestock and household goods. After Mary's death, "all my lands and tenements" were bequeathed to his two sons William and Enoch, "share and share alike." To his five daughters he left the sum of $1,000 each, to be paid to them by their brothers.
Nicholas Swallow died four days later, on February 12, 1856, at the age of 75. His widow Mary survived him until 1871, dying on the homestead farm at the remarkable age of 91. (I do not know where they were buried.)
William Swallow, continued
Researching this family can get confusing. Nicholas Swallow named his brother, William Swallow, Sr. (1794-1869), executor of his estate, along with his sons, William Swallow, Jr. (1820-1908) and Enoch Swallow (1822-1868). It is not always clear which William Swallow is being referred to in deeds of this time period. One of these William Swallows served as Raritan Township Town Clerk in 1858 and was elected to the Town Committee from 1860 to 1862.
Shortly after the death of Nicholas Swallow, William Swallow, Jr. conveyed to his brother Enoch, his rights to a farm of 57.97 acres, which was the homestead farm referred to in their father's will. William and Mary Swallow may have left Hunterdon for a time after that. They were counted in the Hopewell Twp. census of 1870. But things changed radically when Enoch Swallow, who had married Hannah E. Higgins in 1862, died intestate six years later at age 45.
Enoch's widow went to live with her parents, Mahlon & Ann Higgins, and remained a childless widow for the rest of her life. The Swallow property seems to have reverted to brother William. On December 22, 1870, Clarissa Swallow of Raritan Township conveyed her interests in the estate of Nicholas Swallow, who had died 14 years previously, to brother William.
According to the survey taken by Isaac Cramer, William Swallow was a serious farmer. His record book shows that Swallow owned 115 acres, from which he sold 1200 bearing peach trees, 2200 baskets of peaches, 1800 young peach trees, 550 lb. of grain & hay, 420 cans milk, 6 calves, 450 lb. of chickens, 2000 lb. of pork, and 20 bushels of potatoes, which he transported on the Pennsylvania R.R. To do this, he used in the previous year (1873) 5 tons of coal, 300 tons of lime, and 3 tons of fertilizer. (This was the William Swallow I have been writing about, and not his uncle, who had died in 1869.)
In July 1873, he ran into bad luck, as reported in the Hunterdon Democrat:
"While some men were mowing grass in a field of Mr. William Swallow, near Sand Brook, a flint stone was struck by a scythe. It emitted fire and ignited the dry grass, burning the entire field and extending to the woods adjoining and burning the outer edge. The fire was only extinguished by the rain which came in the evening. This is the first instance of that kind that has ever come to our knowledge."
This field may have been located along the path of the proposed rail line. Unfortunately, William and his sisters, as heirs of Nicholas Swallow, found themselves in debt and taken to court several times over the years.
Too Many Swallow Houses
I mentioned above my confusion when researching the history of the William Swallow house. One reason I got confused was the appearance of "N. Swallow" in two places in early maps.
The earliest available map is the Raritan Township map of 1850. It shows "N. Swallow" occupying two houses in Raritan, one of them close to Hampton Corner Road and the other further north. And just north of that second house is "Jacob Thatcher."5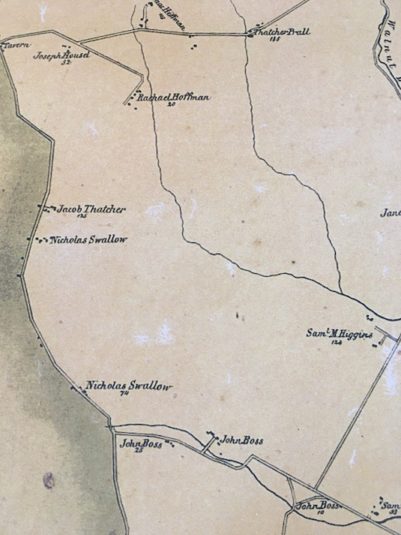 The Cornell Map of 1851, only one year later, shows the two "N. Swallow" houses, but "J. Thatcher" has disappeared. And then the 1860 Philadelphia Map of Hunterdon Co. shows "E. Swallow" at the house near Hampton Corner Road and "W. Swallow, Jr." at the house further north. It also shows "Mrs. Swallow" across the road from "W. Swallow, Jr."
The Beers Map of 1873 is the most disappointing. It doesn't show anything at all for the houses we know were standing along either side of Route 579 between the intersection with Route 523 and Hampton Corner Road.
Finally, there is the railroad survey map, shown at the beginning of this article. Like the Beers Atlas it was surveyed in 1873. It shows the rail line passing close to the "W. Swallow" house, but, other than Jonas Sutton, it does not show any neighbors, including the house that is still standing across the road, previously occupied by Mrs. Swallow. Nor does it show the intersection with Hampton Corner Road. Without the appearance of that house on the survey map, there is no way to know if the Swallow house shown on the map is the one across Mrs. Swallow or the one further south.
Another cause for confusion is the location of "E. Swallow" in the southern Swallow house near Hampton Corner Road. I had thought that William Swallow had sold the homestead house to his brother, that therefore, E. Swallow must be occupying that house. Apparently, he was not.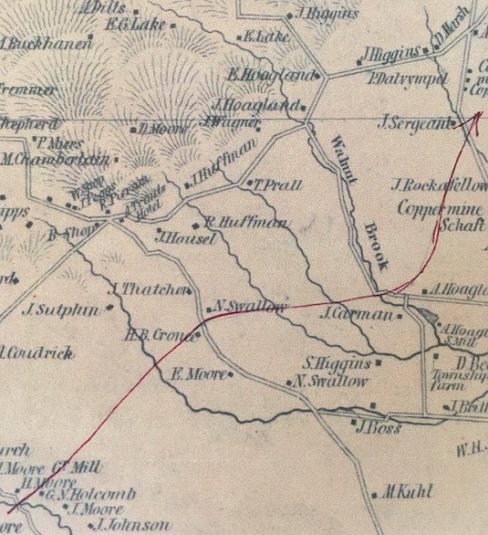 Here is a detail of the Cornell map of 1851 showing the likely route of the proposed rail line. I would have used the Beers Atlas of 1873, which was contemporary, but since it doesn't show any houses in this area, there is not much point.
After passing the Swallow property, the railroad survey goes a long distance without showing any property owners. There is no one named until Walnut Creek, also known as "Neshanic No. 2" on the Beers map. The Cornell Map is a little misleading. The route from Swallow's lot to Walnut Brook actually runs in a far more northeasterly direction than the map suggests.
The Trout-Lequear Farm
I've spent some time explaining my confusion over the Swallow houses because originally, I was convinced that the rail line passed in front of the southern Swallow house, the once closer to Hampton Corner Road. That meant that the next property to the east might also have been crossed by the rail line, and so I researched that too.
Once I discovered my error, and that the rail line traveled further north, I realized that it was the farm to the north of the Swallow lot that was probably traversed through its southeast corner. That farm was originally owned by George Trout and his wife Hannah or Johanna Lequear.
As it happened my research into the other farm, the one on Hampton Corner Road, also involved a member of the Lequear family—one John Lequear. So, the two properties, separated by the land of Nicholas Swallow, had a connection, since John and Hannah turned out to be siblings.
Since John Lequear's farm was not traversed by the proposed line, I will set aside the farm's history and focus on the farm owned by his sister and her husband George Trout. (You can read the history of John's farm here: The Old Lequear Farm.)
The Trout house cannot be dated because it is gone, replaced by a modern housing development. It's earliest history differs from that of the Swallow farm. The Trout and Swallow farms are separated by a boundary line that dates back to 1712, when proprietary tracts were surveyed. Swallow's farm is located on the 800 acres surveyed to John Cook, while the Trout farm is on the 133 acres surveyed to Daniel Robins, property that included the old Buchanan Tavern at the corner of Routes 523 and 579.
There is no deed to show how the property came into the hands of George Trout (1729-1809). As far as I can tell, Daniel Robins was still in possession at the time of his death around 1737, and his son John (1694-1777) was the most likely of his five sons to inherit it.
George Trout's origins are unknown, although there is some evidence that he was born in New Germantown, Pennsylvania, and that he had a sister Catherine who married in 1756 Elder Johann George Bechtelsheimer of the Amwell Church of the Brethren (also known as the Dunkards, whose church was located on Sandbrook-Headquarters Road). He was preaching to them as early as 1733.6
George Trout appeared in the Ringoes area as early as 1748 when he was working for Henry Landis as a saddle-tree maker. In 1753 he was able to purchase a 3-acre lot in Ringoes, and in 1757 he married Hannah/Johanna Lequear (1737-1825), daughter of Gerardus Lequear (c.1710-1755) and Anetje Cortelyou (c.1712-1800). As mentioned before, she was the sister of John Lequear (1744-1828) who never married, as well as Joseph Lequear (1754-1804), who also never married. When both brothers wrote their wills, they left bequests to the eleven children born to Hannah and George Trout.
The earliest evidence I could find of Trout's ownership of the farm bordering Nicholas Swallow was in 1776 when Trout mortgaged 181 acres to the Hunterdon County Loan Office for £67 (Loan No. 98, March 25, 1776). It was described as bordering "land formerly surveyed to John Cook" and an "old line," which was a boundary with the proprietary tract of Mahlon Stacy.
Postscript:  Although there were houses located on either side of Rte 579 on the Trout property, both are gone. The one on the Raritan side was taken down by Adam Wengryn who estimates its age as 1800-1840. It is thought that the house on the Delaware Township side was considerably older, and therefore must have been the house built and lived in by George & Hannah Trout.
When he wrote his will on December 16, 1800, George Trout left "the plantation on which I now live" of 181 acres to his sons George and John. (The other nine children were all daughters.)
According to Egbert T. Bush (See Buchanan's Tavern), John Trout was killed at the age of 28 by a bolt of lightning. This obliged his father to make a codicil to his will, which he did, a month later on April 13, 1809. He ordered that John's two son, Jeremiah and Asher Trout, were to inherit 80 acres "off the east end of my plantation," and his son George, Jr. was to receive the remainder of the farm.
George Trout, Sr. died on August 30, 1809, age 79, and was buried in the family burying ground on the Trout Farm. His widow Hannah survived until March 16, 1825, when she died at the age of 88 and was buried with her husband. (See The Trout Cemetery.)
George Trout, Jr. (1773-1843) married on February 20, 1811, Annie Besson (1783-1866), daughter of John Besson, Sr. and Margaret Opdycke, and widow of his brother John. In addition to Ann's two sons, Jeremiah & Asher, she and George Trout had four children: John (m. Mary Hannah Abbott), Sarah Ann (m. Jacob N. Thatcher), Margaret Besson Trout (m. Robert T. Thatcher), and Lucretia (m. Ephraim Robbins).
I must now skip over George Trout, Jr.'s history and jump ahead to 1835 when his nephews, Jeremiah and Asher, and their wives Mary Ann (Dunn) and Harriet (Buchanan) conveyed to their uncle George Trout for $1900 those 80 acres that George Sr. had bequeathed to them.7 The deed listed landowners bordering the property as Elijah Carman, David Bellis, Samuel Higgins and George Trout. The first three will appear in the next chapter of this tale.
George Trout died at the age of 70 on October 23, 1843. It appears that he wrote a will because after his death, his executors sold his property. The deed of November 16, 1843 named them as John Besson, Jacob Thatcher and Robert Thatcher, i.e., George Trout's three sons-in-law. In that deed they conveyed to their brother-in-law John Trout a tract of 49+ acres owned by his father up in the swamp, near Boarshead Road. The previous day, John Trout had conveyed his rights in this parents' farm on Route 579 to his siblings and their spouses for $1,000.8 Three years later, John's sister Lucretia and husband Ephraim Robbins sold their share in the farm to Jacob and Robert Thatcher for $800.9
The Thatchers
On April 3, 1848, Robert and Margaret Thatcher of Delaware Township conveyed their half share in the Trout farm to Robert's brother Jacob Thatcher, also of Delaware Township, for $3,400.10
Figuring out which brother was occupying the Trout farm over the next 20 years is difficult. For instance, in the 1850 map of Raritan Township, "Jacob Thatcher" is shown at the location of the old Trout farmhouse, but the census of 1850 stated that Jacob Thatcher was a resident of Delaware Township, and his brother Robert was living in Raritan Township.
The Cornell Map of 1851 is no help, as it does not show the Trout house at all, but it does show "J. Thatcher" occupying the house in Delaware Township located across from the Trout house (and not to be confused with the farmstead of Jonas Sutton, which was far off the road).
Then in 1858, Jacob & Sarah Ann Thatcher sold their share of the 181 acres of George & Annie Trout to Robert Thatcher for $3,620.11 The next year, as a resident of Raritan Township, Robert Thatcher ran for a seat on the Raritan Town Committee and won. But that was not enough for him. In September 1859, he put himself forward as a Democratic candidate for county sheriff. He won against several candidates in the Democratic caucus in October, which left him with only the "Opposition" candidate, "A. J. Holcombe" (i.e., Atkinson J. Holcombe), to defeat. Thatcher won handily, losing only East Amwell and Lebanon Townships.
An interesting item appeared in the Gazette of April 4, 1860:
Last Thursday the old Sheriff moved out and the new one moved in. The new one is much the size and shape of the old one, and we have no doubt about the same kind of a man our [sic, out?] and out, and consequently as good as they make them. While we are pleased to have Mr. Thatcher one of us, we regret to part company with Sheriff [George B.] Holcomb. He moved to Reaville, four miles from here and we congratulate the people of that town upon a valuable accession to their number, in the person of the Ex-Sheriff. May he ever flourish.
Surprisingly, the Philadelphia Map of 1860 shows "R. Thatcher" still in possession of the Trout farmhouse. But the census of 1860 located Robert Thatcher in Flemington and his brother Jacob in Raritan Township.
Thatcher got reelected in 1862, so it was clear to him that his farming days were over for the time being. In 1863, Robert and Margaret Thatcher sold their share of the farm back to Jacob Thatcher.12 They also advertised the sale of a considerable amount of personal property on March 18, 1863. I suspect this was an effort to raise cash for the purchase of the County House in Flemington, perhaps the most important hotel in the town. Interesting that a sheriff would own a popular hotel in the county seat. No doubt that situation did much to encourage patronage. Enough said.
Meanwhile, brother Jacob and wife Sarah Ann remained in possession of the old Trout farm in Raritan Township, and were still there in 1873 when the railroad survey map was drawn, but they were not shown because their house was well to the north of the rail line.
In 1878, Jacob Thatcher was sued for debt by his sister Ann Moore (1813-1883), wife of John Reading Moore (1811-1887). The court sided with Ann and the sheriff (Wesley Bellis, not Robert Thatcher) seized the farm of 181 acres, the same size as the original farm. He offered it at a public sale, at which Ann Moore was the highest bidder at $900, which was slightly more than the debt she was owed. Almost immediately Ann sold the farm to Henry Barnes of Rhode Island, who sold it the same day to Jacob Thatcher's wife Sarah Ann Thatcher.13 This looks suspiciously like a way to get around a financial awkwardness.
Jacob Thatcher died in 1884 and was given a warm obituary in the Hunterdon Democrat, May 20, 1884:
"We greatly regret to announce the death of our old friend and patron, Mr. Jacob Thatcher, of Sand Brook vicinity. His death was sudden and unexpected. He had been complaining slightly for some weeks but was not considered dangerously ill. But on Friday afternoon last it was noticed that he suddenly began to fail, and before all his family could be summoned, he was a corpse. He was a brother of ex-Sheriff Thatcher, of this place."
In 1889, Sarah A. Thatcher, widow, conveyed the farm of 181 acres to her daughters Kate, Melissa and Lizzie, and this is where my research ends for now.
After passing through the east end of the old Trout farm, the rail line probably ran through the northwest corner of the farm of Samuel M. Higgins.
Samuel M. Higgins
Once again, we have a case of a landowner not being included in the railroad survey, and also not listed on Slaymaker's list of landowners. That did surprise me since Higgins had been located near the path of the proposed rail line for several years. He is shown on the 1850 Raritan Map as "Sam'l M. Higgins;" on the Cornell Map as "S. Higgins;" on the 1860 Philadelphia Map as "S. M. Higgins;" and on the Beers Atlas as "S. M. Higgins."
Samuel McPherson Higgins (1802-1878) was the son of Judiah Higgins of Amwell Twp. and his second wife, Rachel McPherson. His first wife was Mary Hill (1751-1800), daughter of Jonathan Hill and Sarah Smith of Amwell. Mary Hill Higgins had ten children before her death in 1800 at the age of 48.
A side note:  Mary's son Asher Higgins (1787-1823) married Margaret Merrill (1797-1875) in 1818, the daughter of William and Jane Merrill, the couple who sold the lot on Route 579 to Nicholas Swallow. Another coincidence was Mary's eldest child Anne Higgins, who was married to William Bishop, the previous owner of the Swallow lot.
In 1827, when he was only 25 years old and still unmarried, Samuel M. Higgins bought a farm of 123.75 acres from Neal Hart for $3,000.14 It was described as bordering George Trout, Elijah Carman and John Aller. Hart had purchased it at a sheriff's sale in 1821. It had been owned by Jephtha & Isabella Arrison, but they had been unable to meet their mortgage payments. The Arrison's had purchased the farm of 123.75 acres in 1818 from John and Catharine Leigh for $6,813.12.15
That farm of John Lequear's, next to the Nicholas Swallow farm, was sold by Lequear's executors to David Bellis in 1829, and the deed mentioned Samuel Higgins as bordering owner on the north.16 A year after that, Bellis and Higgins made a boundary adjustment between their two farms, in which, for $29, the Bellises conveyed a half acre to Higgins "on the road from the Flemington to Trenton road to the Pittstown and Trenton Road, corner to Asher Kuhl, other land of David Bellis, Paul Kuhl, Jr." This is a great example of the peculiar road names, or lack of names, in use in the 19th century: "the road from the Flemington to Trenton road" was Route 31 and the Pittstown-Trenton Road was Route 579. Hampton Corner Road connects these two north-south roads.
Samuel M. Higgins, who never did marry, also acquired several other properties, many of them in the Village of Flemington. There are many deeds recorded in which Higgins served as a commissioner to divide the real estate of deceased landowners, like his neighbors John Aller and William Marsh.
From deeds it's hard to tell where he was living at times—in Flemington or on his Raritan Township farm. In 1850, he was living with the family of William & Martha Britton in Raritan Township, with no occupation, but assets worth $6,000. In 1870 he was listed as a 67-year-old lumber and coal dealer, living with Sarah B. Higgins 41, housekeeper, and Joanna C. Higgins 34, a school teacher.
Like so many others, by 1877, Higgins had gone deeply into debt. The sheriff seized his Raritan Twp. farm and on March 15, 1877 conveyed it to Flemington attorney, William D. Allen.17 (This was the same William Allen who sued William Swallow for debt the same year.)
Higgins was almost 75 years old when this happened. It was probably pretty devastating. He died the next year, on April 17, 1878, and was buried in the cemetery attached to the Flemington Baptist Church.
Being the investor that he was, William D. Allen quickly sold the farm to someone else, in this case, Theodore R. Young of Readington Township, who purchased it on May 17, 1877 for $6,275.18 This deed gave a very extensive recital of all the previous owners. Young kept the farm for less than ten years before selling it to another investor, Edward Conkling of Flemington. Here I will stop because Conkling owned a great many properties, most of which I cannot research because the Search Room is closed for now.
And here I will close. I had hoped to get further along the rail line to discuss the next properties that belonged to Mary Hoagland and her son, Aaron C. Hoagland, but they will have to wait.
Footnotes:
Izer & Amy Rake had ten children from 1858 to 1875, as you can see on the Rake Family Tree. Also see the Swallow Family Tree. ↩
I am not certain about Catharine's maiden name; it came from an Ancestry.com family tree. The question is, who was the Catharine Bowers who married John Swallow about 1770? Was she the sister of Philip Bower? They were contemporary. ↩
Daniel Moore, Jr. was first cousin twice removed from Mary Moore who married William Swallow. ↩
H.C. Deed Book 93 p.218. ↩
Many thanks to Pete Kinsella for giving me a copy of this map. ↩
See Joseph R. Klett, Genealogies of New Jersey Families, from the Genealogical Magazine of NJ, vol. 2 p.803. Also, research provided by Craig Trout on Find-a-Grave (memorial ID 51700597). ↩
H.C. Deed Book 61 p. 381. ↩
H.C. Deeds Book 81 pp. 20, 50. ↩
H.C. Deed Book 89 p. 272. ↩
H.C. Deed Book 91 p. 320. ↩
H.C. Deed Book 186 p.549. ↩
H.C. Deed Book 130 p.613. ↩
H.C. Deeds Book 177-598, 179-269 185-341. ↩
H.C. Deed Book 43 p. 295. ↩
H.C. Deeds Book 28 p. 522, Book 32 p. 434. ↩
H.C. Deed Book 46 p. 164. ↩
H.C. Deed 168-527. The deed gives a long list of Higgins' creditors. ↩
H.C. Deed Book 168 p.550. ↩