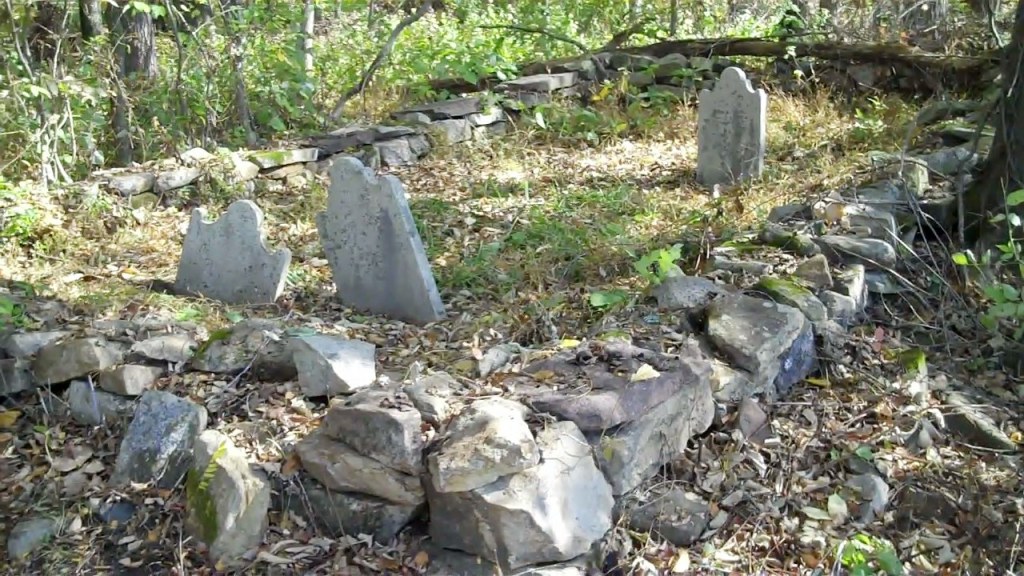 Awhile ago, I wrote about the families that lived in the vicinity of old Buchanan's Tavern, at the intersection of Routes 523 and 579. (You can find a list of those stories with this link.)
The Buchanan family ran taverns here from 1774 to the 1840s. It was thought that some of those Buchanans were buried in a little cemetery off in the woods—at least it used to be off in the woods until the land surrounding it was developed in the 1990s. Carla Cielo took me to see it and I was pretty disappointed. There were three nice marble stones standing there in a small yard surrounded by a stone wall, but the stones were so worn down that the inscriptions were illegible to me.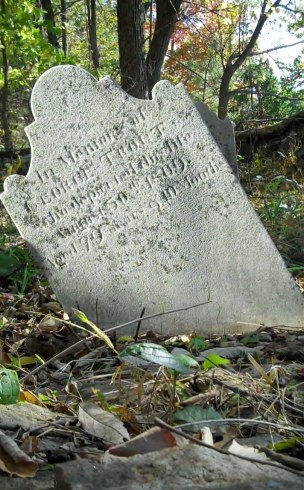 Along come Bob and Leslie Leith, graveyard aficionados extraordinaire.1 They have mastered the art of lighting the stones so that the inscriptions become legible in photographs, and that's just what they did with the so-called Buchanan cemetery. Lo and behold—it was not the Buchanans, but the Trout family that was buried there, which makes sense since the Trouts owned the land where the cemetery is located, just south of the Buchanan farm. This solves the riddle (for me) of why Buchanans would be buried on Trout property—they weren't.2
Here is the information Bob and Leslie found on the three stones:
In memory of
George Trout
who departed this life
August 30th 1809
Aged 79 years
Johanna Trout
who departed this life
March 16, 1825
In the 89th year of her life
 John Trout
who departed this life
March 9, 1808
Aged 28 years 8 months and 6 days
It is thought that George Trout, born on October 30, 1729, came from Germantown, Pennsylvania, and was the son of Hans Georg Traut Sr.3 In 1733 a group of German Baptists, also known as Dunkards, established a church for themselves in Amwell Township. Among that first congregation were the Trauts—Johann, Jeremias, Balser and Madalena.4 Could Hans George Traut Sr. have been the "John Traut" who was a practicing Dunkard?
George Trout first appears in Amwell Township as a young man in 1748 when he was working as a saddletree maker for Henry Landis in Ringoes. I had to look up "saddletree" on Wikipedia, not being a horse person myself, and learned it is the underlying structure of the saddle that keeps the rider's weight from putting too much pressure on the horse's spine. Saddletrees were nothing new; they were first used by the Romans.
On October 30, 1757, George Trout married Johanna Lequear (1737-1825), daughter of Garrardus Lequear and Anne Cortelyou. She was baptized at the Dutch Reformed Church in New Brunswick on February 19, 1738. Shortly afterwards, the Lequears, a French Huguenot family, settled in Ringoes, which is where Johanna Lequear met George Trout.
In 1760, Trout bought land on the north side of Ringoes from Garret Williamson, and in 1764, he bought a lot across from Henry Landis on the Old York Road. Sometime shortly before the Revolution began, George Trout, his wife and their first four children moved north to a new home. In 1776, Trout mortgaged 181 acres in the John Cook proprietary tract, which was bisected by Route 579.5 This was the property near Buchanan's tavern.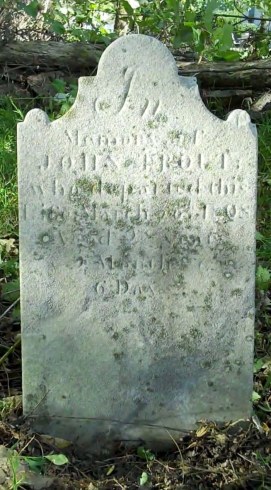 From 1758 to 1781, George and Johanna Trout had eleven children. All of them lived to adulthood, and all of them married. Their son John was born June 14, 1779, and on January 10, 1805, he married Annie Besson (1783-1866), daughter of John Besson and Margaret Opdycke. They had two children, Jeremiah (born 1805) and Asher (born 1807; Asher Trout married a Buchanan and figures prominently in the story of Buchanan's Tavern). The family might have been much larger had John Trout not been hit by lightning when he was only 28 years old. He died on March 8, 1808, and was buried in the Trout family burying ground, as noted above. Administration of his estate was granted to the widow Anna and her brother John Besson Jr. on April 12, 1808. Their bond was $2,000, and sureties were Anna's father George Trout, and John Besson's father John Besson Sr.
John Besson Jr. was not only the brother of Anna Besson Trout, he was also, in a sense, her brother-in-law since he married John Trout's sister Rachel Trout.
Bob Leith shared with me a copy of John Trout's inventory. There were promissory notes and book debts against Bartholomew VanCamp, Bartholomew Thatcher, George Trout Jr., Samuel Holcombe, William Bishop, Paul Cool, Andrew Hoagland, George Holcombe Junr., William Merrell, Philip Swallow, Peter Aller, John Woolverton and John Leigh. Also a Demand against George Trout Sen'r for flax $12.37 and on partnership account $3.20, suggesting that the father and son had established a business relationship.
John Trout had the typical furnishings, livestock and crops, but there were also some interesting items I don't usually see in inventories of this time: "Linen in rolls $7.47, 1 Roll of tow & linen $3.45, whip & cane $2, Razor & Shaving box 75 cents, several books 50 cents, Ink horn, slate and penknives $1, Spectator 8 volumes $4, 1 Book title New Jersey Justice $2.50, Manuscript cyphering books $1." It appears that John Trout was an educated man. He also had a gun worth $4.
One day after administration was granted on the estate of John Trout, on April 13, 1808, his elderly father George wrote a codicil to his will. He had named his son John one of his executors. But since he had named two others to share the work (son-in-law Martin Johnson and brother-in-law John Lequear), he did not name a substitute. However, he cancelled the bequest he had made to his two sons to share his plantation of 181 acres, and set aside 80 acres "off the east end of my plantation in a line parallel to John Leigh's line" for his grandsons Jeremiah and Asher, son of "my deceased son John." And the balance was to go to son George, if he had "legitimate issue," which he did after marrying John Trout's widow, Annie Besson, in 1811.
George Trout died on August 30, 1809 at the age of 79. The Inventory of his estate was an interesting one. He loaned a considerable amount of money to his neighbors, as well as four of his nine sons-in-law, Peter Prall, Samuel Hill, William Schenk and John Huffman. Since there were no commercial banks at this time, people relied on their wealthy neighbors for loans needed to purchase land and livestock, and George Trout was certainly wealthy. His inventory totaled an impressive $6,078.83 and one half cent, well above the norm. The list of people who owed him money is a long one, which I will attach to the end of this article, since it will be of use to Hunterdon genealogists.
Besides the long list of debtors, the inventory also shows that George Trout, or members of his household, were occupied in the production of cloth. His will did not identify his occupation; he was by that time "weak in body" and aged.6 So the loom and spinning wheels were either no longer being used by him, or were being used by his wife and children, including son John, who had 'Linen in rolls' and a 'roll of tow & linen' in his inventory. George Trout's inventory listed a loom and 'tackling' worth $22, woolen wheel, spinning wheel, spools and linen yarn, linen and tow yarn, baskets and wool, baskets, spools and linen yarn, more spinning wheels, a flax mill, and flax in the sheaf.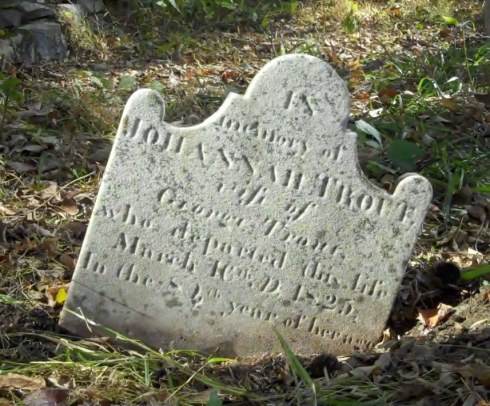 On August 17, 1812, George's wife Johanna, whom he called Hannah in his will, wrote her own will, in which she named her eight daughters—Sarah Hill (wife of Samuel), Mary Schenck (wife of William), Catharine Huffman (wife of John), Rebeckah Young (wife of Jacob S.), Johannah Moore (wife of John), Elizabeth Rockafellar (wife of David), Rachel Besson (wife of John) and Lucretia Prall (wife of Peter). By the time Johanna Trout wrote her will, daughter Anna Trout, wife of Martin Johnson, had died in February 1812, and Anna's daughter Mary died in March 1812, the 23-year-old wife of Samuel Wolverton.
Johanna Trout left her wearing apparel to her surviving daughters, and also the residue of her property. She made special bequests to her grandchildren, as follows:
To granddaughter Rebeckah Huffman, daughter of John & Catherine, her looking glass;
To granddaughter Elizabeth Moore, daughter of John and Johannah, half dozen silver teaspoons marked J H T, and the use of said spoons to Elizabeth's mother Johannah Moore during her lifetime;
To granddaughter Johannah Rockafellar the other half dozen teaspoons and the smoothing irons, and the use of these items to Johannah Rockafellar's mother Elizabeth;
To granddaughter Johannah Besson, daughter of John and Rachel, her breakfast table.
Joanna Trout stated that she was aged and weak when she wrote her will in 1812, but she was also tough, and survived her husband by 16 years, dying on March 16, 1825, at the age of 88. Her son George and his family may have been living in the same house with her, but just as possible they lived in separate houses on the same farm. Joanna's inventory included rent due to her from George Trout of $50.
Johanna Lequear Trout's inventory was taken on March 29, 1825 by William Bishop and William P. Young. (Once again, thanks to Bob Leith for sharing this with me.) It showed that she was very well-to-do for an elderly widow. Her purse and apparel were worth $358.28, and she had bonds and notes due her of $1,067.82, plus $14 owed to her by her son George.
The breakfast table designated for granddaughter Johannah Besson was not specified in the inventory. It listed tables, chairs and other furniture in groups, not as specific items. I did not know until now that people had breakfast tables in 1812. Presumably the table was kept in a small room used for breakfast. I would love to have seen Johanna Trout's home.
When George Trout Jr. died in 1843, at age 70, he was buried in the Lower Amwell Old Yard (the cemetery attached to the Amwell Church of the Brethren), and his wife, Annie Besson, joined him there when she died in 1866, at the age of 83.
With eleven children who survived to adulthood, married and had children, you can be sure that George and Johanna Trout had a large number of descendants. I am aware of 51 grandchildren, although there may be more. And at least 107 great-grandchildren.
And now we know the location of their resting place.
From the Inventory of George Trout Sr., Sept. 21, 1809:
Listed alphabetically, rather than as in the original inventory. Amounts do not include interest due. Some of these were promissory notes, being loans from Trout. Others were book accounts, which were sums due from purchases made, probably of the linen cloth that was woven in the Trout household.
Ezekiel Anderson $64
James Anderson $12.93 ½
Wood Barcroft $6.49
Mahlon Cooper and George Holcombe $115
James Dalrymple 16 ½ cents
John El Gordon 43 cents
William Emmonds $2.58
neighbor Jacob Fulpert $60
Peter Geary $40
Evan Godown $70
Joseph Heath and David Heath $66.67
son-in-law Samuel Hill $10
Andrew Hogeland $86.40
Holcombe $196.98, $171.27, and $147
due bill agst George Holcomb $17.76 + int. $0.44
son-in-law John Huffman $266.67
James Johnson $2.20
Cornelius Lake and Jos. Sergeant $160
Joseph Lambert $66.13
Promissory note agst John Leigh $100
Ballance due on William Merrels note $17.70; book account of $2.22
Andrew Myers & Simon Myers $25.47
Elijah Myers and Cornelius Myers $200
neighbor Simon Myers $240
Robert Nailor $200
Peter Prall $149.33, $93.33, $48 and $20.60 ½
bal due on Moses Quinby's bond $171.25
John Rake $1.93 ½
neighbor John Robins $40
Samuel Rockafellar $266.67 (son of John Rockafellar of Sand Brook)
son-in-law Peter Prall $182.43
neighbor Elisha Rittenhouse and his father Lot Rittenhouse $124.67
son-in-law William Schenk $80
Amos Sutton (neighbor) $266.67, $108.55 and $89.39
neighbor Nicholas Swallow $17.33 and $35.26 ½
William Williamson $8
Footnotes:
Bob and Leslie are members of the Hunterdon County Historical Society Cemetery Committee whose goal is to identify all the private cemeteries in the county and the people buried there. Also to clean up these often neglected places and restore broken stones whenever possible. If you know of such a place that has not yet been discovered, please contact Bob at bolleith@comcast.net.  ↩
Archibald Buchanan was buried in the Sutton graveyard, but none of the other members of that family have known grave sites. See my article The Sutton Family Burying Ground. ↩
This information comes from research done by Craig Trout. ↩
History of East Amwell, 1700-1800, Ringoes NJ, 1976, p. 195. Regrettably, Henry Z. Jones in his More Palatine Families has nothing to say about Hans Georg Traut or Trout. ↩
Hunterdon Co. Loan Office, NJ State Archives, Trenton 1776, No. 98. ↩
Occupations are sometimes given in wills, but not in the case of George Trout. They also show up sometimes in lists of tax ratables, in deeds, mortgages and court cases. ↩