As I have mentioned in previous posts,1 many wonderful documents can be found in the Cathers-Davison collection that has recently been donated to the Hunterdon County Historical Society. I was very fortunate to get a look at some of them beforehand, and among the earliest documents was a gem.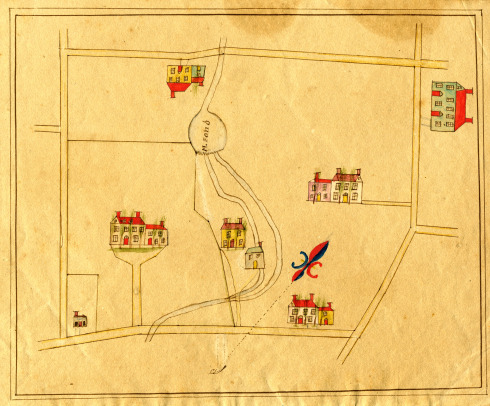 Such a wonderful drawing, but to my dismay, there is nothing written on the front or the back to identify where this little hamlet is located. I suppose the artist figured that anyone looking at the picture would know right away where it was and would have no need of labels.
As you can see, I like it so much, I've made it the heading for my website, but what place it depicts has me and others truly stumped. I thought it might be Prallsville since it was found among papers pertaining to Prallsville families, but it just isn't right for that place.
If you have an idea of where this might be, please let us know. Clearly it has to be somewhere near an old mill site, but it could just as well be in Bucks County as in Hunterdon. A mystery waiting to be solved.