The following article by Egbert T. Bush describes an old farm with a distillery located near Sandbrook. The village of Sandbrook is located in what was once the Haddon Proprietary Tract. Just east of the Haddon Tract was the Cook Proprietary Tract, and that is where the distillery farm was located.
During the 18th and 19th centuries, most villages could boast of a tavern of some kind. That was not the case for Sandbrook village itself, which Mr. Bush thought an interesting exception to the rule.1
The property was long known as the Sutton Farm. You will find articles on this website about the old cemeteries located on the farm, and in them I have quoted parts of this article by Mr. Bush. (See The Kitchen Cemetery, The Sutton Family Burying Ground, and The Rake Cemetery, part one.) What I have not yet covered was history of the farm itself.
Today I will publish that part of Mr. Bush's article that deals with farm, with only two interruptions, and follow with my own history of the Sutton Farm.
Sand Brook Had A Tavern Close By
Village Never Boasted One
Some Ancient Burying Grounds
The "Moorite" Church
by Egbert T. Bush, Stockton, N.J.
Hunterdon Co. Democrat, October 22, 19312
We find neither trace nor tradition of any tavern in Sand Brook.

But the vicinity did not necessarily suffer much from the dearth. Buchanan's Tavern was only a mile away, and an active distillery was close by. This was operated for 50 years by Jonas Sutton on the farm lying back of the Hiram Holcombe farm, now owned by Stephen Knoll.
I must interject here. It is important to note what Mr. Bush said–the Jonas Sutton distillery was not located on the farm of Stephen Knoll, but "lying back of" it. It took me awhile to figure this out. Knoll's distillery is better known because it operated during Prohobition. The property belonged to George N. Holcombe and then his son Hiram M. Holcombe.
Some say that Amos Sutton, father of Jonas, carried on the business at this famous old distillery before his son took hold of it. Anyhow, the farm was evidently lying in the Sutton name—though at times temporarily out of it—from very early days. We find that by deed dated Nov. 22, 1760, John Taylor conveyed to one Jonas Sutton of Amwell, a tract of land "supposed to contain 110 acres and is part of 400 acres conveyed to said John Taylor by Abraham Borden, by Indenture Dated the fourth day of February, 1741." By careful comparison, this seems to be the Sutton distillery farm of later days. The deed was not recorded here until April 16, 1817. An additional 10-acre lot was bought much later, touching this farm and land of John Buchanan, and partly confirming the location.

Since the death of Jonas Sutton in 1879, the property has had several owners, none of them approximating his long term, beginning with a deed from Gabriel Hoff, Sheriff, to Jonas Sutton and John Sutton, dated Aug. 4, 1828, they being the complainants in the suit and Amos Sutton the defendant. The description given, together with the included 10-acre lot seems to fix positively the identity of the 110-acre farm conveyed so long ago.

Amos Sutton and John P. Rittenhouse, executors of Jonas Sutton, conveyed the farm to Runkle Rea, March 29, 1860; the heirs-at-law of Runkle Rea conveyed it to David Carrell in 1883.
The date is in error; it was 1880, not 1860. The date of 1883 is correct.
After this it was shifted about until Anna Moore and husband conveyed it to Susan C. Johnson in 1902. She and her husband, Holcombe W. Johnson, conveyed it to Conrad Liedel in 1918.

It is now owned by John Mason, who also owns the big Thatcher farm adjoining. During the ownership of the Johnsons, the barn burned down. The fire was started by the explosion of a gas engine working in the barn. By this explosion the son Paul was very seriously burned.

Before this farm was noted for its distillery, it was noted for the extensive tannery thereon. Some of the old vats can be located even now. The tannery and the distillery building are both gone, and the barn has never been rebuilt. The dwelling is very old, but how old there is no way of determining. It has been a house of considerable pretensions in its day, a part of it doubtless dating back of the year 1700.
At this point Mr. Bush goes on to discuss the cemeteries located on the old Sutton farm, so I will proceed to describe the history of the farm, as I have found it. I confess that when I read Mr. Bush's words, "After this it was shifted about," I had to find out just how it was shifted about.
But first to clarify—Mr. Bush began his article with Amos Sutton, father of Jonas Sutton. It is important to know that Amos Sutton (1765-1828) was the son of the original settler, Jonas Sutton (1721-1797). And the Jonas Sutton who owned the farm for so many years was the son of Amos Sutton.3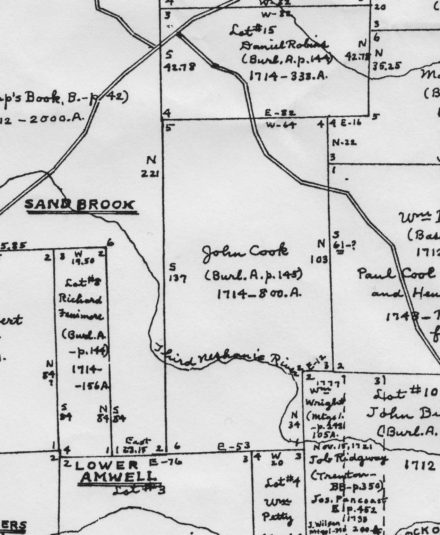 As mentioned before, the property, which is now a part of the large development known as Robin Hill, was located in the northern section of the 800-acre Cook Proprietary Tract. John Taylor had acquired the northern 400 acres at an early date. But by 1744, the north-easternmost corner had been sold to Jonas Sutton. That was 81 acres on the east side of Route 579, which Sutton mortgaged to the Hunterdon County Loan Office in 1744 for £24.15.4 It as described as bordering "D. Robins (now Andrew Pettit)" and is located in present-day Raritan Township, across Route 579 from the Robin Hill development.
The Swamp Road & Robin Hill
The road that ran between Sutton's 81 acres and the rest of the Cook-Taylor tract was known as The Swamp Road. The Amwell Township minutes indicate that in 1753 John Taylor was named an overseer of the Swamp Road. In February 1770, George Trout was named to oversee "the Swamp Road from Ringoes to Robins Hill." This road is County Route 579, and "Robin's Hill" is the steep incline leading up to Route 523 and then further up to the Croton Swamp. The Robin Hill development is thus aptly named.
Origins of Jonas Sutton
Jonas Sutton was born in Piscataway, NJ on April 18, 1721, the eighth child of Richard Sutton and Sarah Runyon. His second wife, Elizabeth Runyon, born about 1731, was his cousin once removed. Her parents were Peter Runyon & Providence Blackford. Peter and Sarah Runyon were siblings, children of Vincent Runyon and Ann or Martha Boucher.
Jonas Sutton had four children by his first wife, whose name is not known, and five children with Elizabeth Runyon. There is little doubt that the graves of his two wives are located in the Sutton Burying Ground, but their stones are gone. One gravestone in that cemetery reads: "J S 1795". This belongs to John Sutton, who was born on July 25, 1748, the son of Jonas Sutton, Sr. and his first wife. This John Sutton bought himself a farm and raised his family in Kingwood Township, a mile west of Locktown, but was buried on the farm where he was born.
Given that Jonas Sutton owned land in Amwell Township as early as 1744, when he was only 23 years old, it seems likely that he came to Amwell shortly after marrying his first wife. Their children were born from 1748 to about 1755. Jonas and Elizabeth Runyon did not marry until September 22, 1764, at the Seventh Day Baptist Church in Piscataway, strongly suggesting that Sutton had maintained his connections to his Piscataway relatives during these years. The children of Jonas and Elizabeth were born from 1765 to about 1768.
Sutton's 110-acre Purchase & the Old House
On November 22, 1760, four years before Jonas Sutton married Elizabeth Runyon, John Taylor sold a tract of 110 acres to Sutton, bordering his other land, i.e., the lot on the east side of Route 579.5 In 1778, Nicholas Sine wrote his will and mentioned that Jonas Sutton bordered his property on the east.6
Presumably, Sutton and his family had been living on the 81 acres up until 1760. But subsequent records show that Sutton did move to this 110-acre tract and built himself a very large house. The house was still standing in 1935, when Olive Barrick Rowland wrote her Genealogy of the Sutton and Rittenhouse Families. Here is how she described it:
" . . . a long inn-like structure, the first story built of stone surfaced with plaster, and the second story of wood. There is a verandah the full length of the second story front, the house being built on the side of a hill. Originally a lane led from the buildings to the Flemington highway [Rte 579]; but the only present [1935] approach is by way of another long and neglected lane, a continuation of the lane of a neighboring farm, in from Sand Brook."7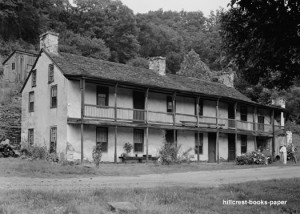 If someone took a picture of this magnificent old house, I have yet to find it. Perhaps it will turn up someday. However, the description is specific enough to know that it resembled the Saxtonville Tavern in its early days, when it still had its porch.8
In 1994, I had the good fortune to interview Marjorie Stangle Mason and her brother-in-law Charlie Mason, whose family lived on the old Sutton farm.9 According to Marjorie, the first story or cellar of the house was divided into two rooms with a big hearth in one end. There were two bedrooms in the gabled attic at the top. The house had gingerbread trim that was stolen after it was vacated.
Where was the house located? There are no ruins left to identify where it was—the farm has been completely worked over to create the Robin Hill development. It was important to me to establish whether the house was on the Cook tract, and therefore on the 110 acres sold by Taylor to Sutton, or on the other side of the line on the Haddon Tract and the farm later owned by Nicholas Sine.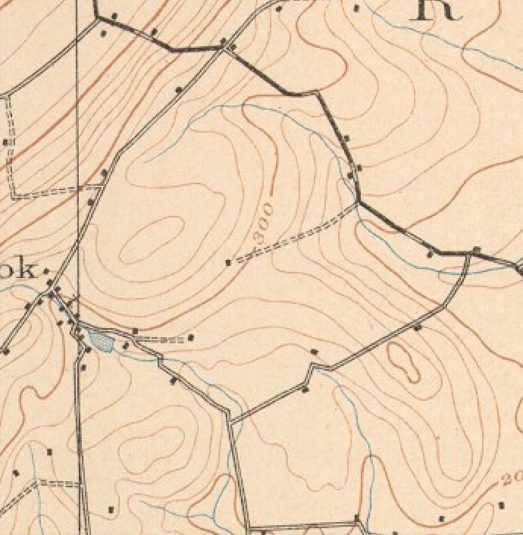 Fortunately, the 1906 USGS topographical map shows us its location, right in the middle of the property surrounded by Routes 579 and 523, and Britton Road, at the end of a very long drive.10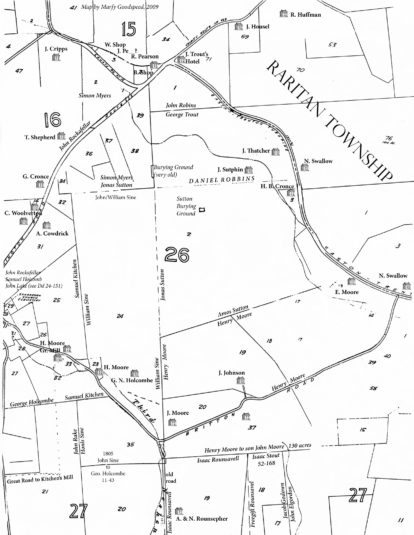 But I cannot tell whether the house shown on the topographical map was located on the Cook or Haddon side of the dividing line. As it happens, the house also appears on the 1860 Philadelphia map which shows the house a little further to the east, and that definitely puts it on the Cook side of the line. (I am not producing the 1860 map here because my copy is too unfocused. However, this map (on the right) based on an early tax map shows how close the house must have been to that dividing line.
In his article, Mr. Bush wrote: "The dwelling is very old, but how old there is no way of determining. It has been a house of considerable pretensions in its day, a part of it doubtless dating back of the year 1700." Clearly, that is not the case. No European settled on this property before the 1740s. It is possible that the house was first built by John Taylor, but without material evidence, there is no way to know. If not Taylor, then it certainly was built by Jonas Sutton in 1760, which is early enough.
With the purchase of the 110 acres, Sutton was now in possession of a total of 191 acres, being nearly half of the Taylor farm. The owner on the south of Sutton's 110 acres was John Taylor's son Edward Taylor. Jonathan Furman bordered Sutton on the north. On the east was a tract originally surveyed to Mahlon Stacy, and another surveyed for William Burge (according to the Hammond Map). On the west was "an old line," i.e., the line separating the Cook Proprietary Tract from the Haddon Tract.
Jonas Sutton's Successor
Jonas Sutton wrote his will on March 25, 1797, leaving his property to his wife Elizabeth. His gravestone can still be found in the graveyard located in the Robin Hill development. The engraving reads: "J S / 1797 / Agd 76.".11
I do not know when Elizabeth Sutton died, but her son Amos had probably taken over the running of the farm well before his father died. Amos Sutton was born in 1765, and in 1785 married his neighbor, Jane Robins, daughter of John Robins and Elizabeth Taylor, granddaughter of the John Taylor who sold 110 acres to Jonas Sutton.12 (Curiously, Jane had a brother named Amos Robins.)
Prior to his marriage, Amos Sutton served in the Amwell militia during the Revolutionary War. His experience was not pleasant. He was only 15 years old at the time and while stationed in Bergen County, he deserted.13 Apparently, this was not held against him by his neighbors, as he was often called on to participate in court cases and witnessed several deeds and wills. And he also became a well-known distiller and tanner.
The Distillery and the Tannery
Following the war, Amos and Jane Sutton had ten children, from 1789 to 1804. (One of those children was Delilah Sutton, who married Archibald Buchanan, and became a well-known tavern-keeper on the property just north of the Sutton farm.[#. See Buchanan's Tavern.])
With such a large family, it seems likely that Amos Sutton was obliged to enlarge the original house, but that is only conjecture. Sutton probably took advantage of the fact that he had a work force on hand. He and Jane had four sons (and six daughters) who undoubtedly helped to run the farm, and perhaps made it possible for their father to establish a distillery and a tannery. (It is possible that these two endeavors were begun by Amos' father Jonas, but Jonas said nothing about them in his will.)
We know for certain that Amos Sutton was running both of these operations because of an advertisement he ran in the Hunterdon Gazette on December 29, 1825,
For PRIVATE SALE–The subscriber offers for sale, that Valuable Plantation, On which he now lives, situate in the township of Amwell, on the road leading from Flemington to Centre Bridge, about three and one half miles from the former place, containing 110 acres, in a high state of cultivation; a good proportion of Woodland and meadow, and that more meadow may be easily made and watered at any time, by never-failing streams, which supply water to every field; and orchard in its prime of bearing, of choice fruit of about 500 trees. There are on the premises two dwelling houses, two good Barns, a waggon house, two spring houses, a distillery, a tan yard with about 30 vats, [emphasis added] and every thing necessary for the tanning business, being also in a good neighborhood for Bark. There are many other advantages attached to this place, but the proprietor thinks it unnecessary to enumerate them, as persons wishing to purchase will first call and view the premises, Amos Sutton.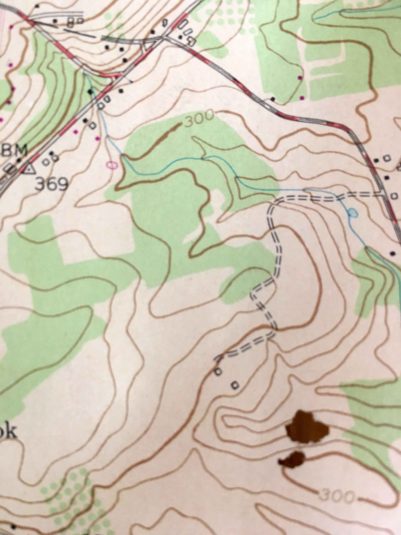 Notice that the advertisement mentioned both a distillery and a tan yard on the property, and that there were "two good dwelling houses." It may be that by 1825, one or more of Amos & Jane's children had set up housekeeping on the family farm, in a house separate from the original one. As to where that house might have been located, the 1954 USGS topographical of the Stockton area shows us the two houses. But it also shows the long drive as far more twisting than the direct line shown in 1906. Either the route was changed, or the 1906 map was only an approximation.
Another hint comes from a 1931 aerial photo that shows the old house and the farm complex, which would include the distillery and the tannery, in an area surrounded by today's Mason Farm Road and Sutton Farm Road. That area, which is accessed by Knoll Tavern Road, is now entirely divided into housing lots. Finding the original homestead or remains of the distillery or the tannery would require an archeological dig, probably under someone's cellar.
Sale of the Sutton Farm
Why was Amos Sutton offering his farm for sale? Because he had gone into debt. Surprisingly, his creditors were his sons, John and Jonas Sutton. Apparently the advertisement of 1825 did not elicit any buyers. So, in 1827, John and Jonas took their father to court, to recover a debt of $2020. The State Bank of New Brunswick also sued Sutton for a debt of $800. The court issued a writ of fieri facias ordering Sheriff Gabriel Hoff to put the farm "where he [Amos] lived" up for sale.14 John and Jonas Sutton were the highest bidders, at $57 an acre. The deed of conveyance was dated August 4, 1828. This was four months after the death of Amos Sutton, on April 6, 1828. We know this from his gravestone in the Sutton Family Burying Ground, which states that he was 63 years old. His wife Jane survived him, dying on March 15, 1834, age 69.
Following the sale, it appears that Amos' son John Sutton took over operation of the distillery, which was very popular in those days, as shown in an article written by Cornelius Larison. Be forewarned—Larison preferred to spell phonetically:
John Sutton . . . was the sun of Amos Sutton who formerly ownd and lived upon the tract so long known as the Sutton homested, near Sandbrook, in Delaware Township, of this county. Upon this tract is a famous cold spring, the water from which for more than a hundred years has been uzed in the process of distiling Apl Brandy. In erly times the product of the Sutton Distilery was far famed, and the brandy made by the Suttons was reekond the best that was produced, and always found a redy sale at the highest price. John was bred up to the art of distiling, and for a number of years pursued it as a vocation.15
By 1832, John Sutton had given up on the distillery. He sold his share of the farm to his brother Jonas,16 and moved to Hopewell Township, where he was counted in the 1850 census and died there in 1885.
Jonas Sutton, youngest son of Amos Sutton and Jane Robins, was born in May 1804. About 1830 he married Mary A. Besson, daughter of Francis Besson and Elizabeth Thatcher.17 Their six children were born from 1834 to 1847.
In census records of 1850, 1860 and 1870, Jonas Sutton was always listed as a farmer, never as a tanner or a distiller. But the distillery did not go out of business. In fact, after his death, the property was advertised in the Hunterdon Democrat (on Jan. 20, 1880) by his executors as "a Valuable Farm and Distillery."
"Executors' Sale of a Valuable Farm and Distillery. Also Personal Property. The subscribers, Executors of Jonas Sutton, late of the township of Delaware, county of Hunterdon, deceased, will sell at Public Sale on the premises, on Tuesday, February 3, 1880, the Homestead Farm of said deceased, situated in the said township of Delaware, adjoining lands of Nelson Holcombe, Jacob Thatcher, Daniel Ege and others, containing 115 & 48-100 acres of land, 12 acres of which are timber. The personal property consists of 1 cow, about 20 tons of hay, 1 spring wagon, 1 sleigh, green grain in the ground, five or six hundred gallons of cider [emphasis added], household goods – consisting of beds, bedding, bureaus, tables, chairs, carpets, 1 good old-fashion 8-day clock, stone earthen, glass and tin ware, &c.  Amos Sutton, John P. Rittenhouse, executors."
The 500 or 600 gallons of cider suggest that the distillery was still in operation during Jonas Sutton's lifetime, but ceased after his death which occurred on December 18, 1879, when Sutton was 75 years old. His wife Mary had predeceased him, dying on September 27, 1861. They were buried together, not in the old Sutton Family Burying Ground, but in the Presbyterian Cemetery in Flemington.
Jonas Sutton wrote his will on December 20, 1878, in which he named his son Amos Sutton of Sandbrook and John P. Rittenhouse his executors. He also named his daughter Elizabeth, wife of Gideon Moore, son Theodore Sutton, son Joseph Sutton of Sacramento, California, son William Sutton of Sandbrook, and William Aller, son of his daughter Jane who had married Trimmer Aller and died in 1872, age 25.
As Mr. Bush related, the purchaser of the Sutton property in 1880 was Runkle Rea, who then sold it to David Carrell, and later on that Anna Moore sold it to Susan C. Johnson. This was all a bit too vague for me, so I had to look into it. But that will have to wait for the next post.
In the meantime, feel free to consult The Sutton Family Tree to see how everyone was related.
Addendum:  If you would like more information on the Sutton family tree, check out this website: http://njsuttonfamily.org/
Footnotes: