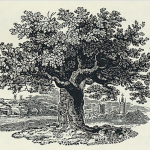 The Trout family has gotten a fair amount of attention on this website. Please click on Families in the right-hand column, and scroll down to the Trout name, where you will see seven articles on the family.
Because Hannah Lequear and George Trout had so many children, there are a great many families that are connected with them. Some of the family trees for those families have been published, but quite a few are still in the works, such as Besson, Buchanan, Robins, and Thatcher families. Please be advised that I do not publish the grandchildren of daughters, only their own children.
First Generation:
(1) George Trout (1729 – 1809) & Hannah Johanna Lequear (1737 – 1825)
For the origins, to the extent they are known, of George and Hannah, see Route Not Taken, part six and The Old Lequear Farm.
Second Generation:
|     (2.1) Anna Trout (1758 – 1812) & Martin Johnson (1754 – 1828)
|     (2.2) Sarah Trout (1761 – 1854) & Samuel Hill (c.1745 – 1824)
|     (2.3) Mary Trout (1763 – 1841) & William W. Schenck (1764 – 1833)
|     (2.4) Catharine Trout (1766 – 1845) & John Huffman (c.1765 – 1843)
|     (2.5) Rebecca Trout (1768 – 1857) & Jacob P. Young (1768 – 1835)
|     (2.6) Hannah Trout (1771 – 1865) & John Moore (c.1775 – 1847)
|     (2.7) George Trout Jr. (1773 – 1843) & Ann Besson (1783 – 1866)
|     (2.8) Elizabeth Trout (1775 – after 1812) & __ Rockafellar
|     (2.9) Rachel Trout (1777 – 1866) & John Besson Jr. (1773 – 1838)
|     (2.10) John Trout (1779 – 1808) & Ann Besson (1783 – 1866)
|     (2.11) Lucretia Trout (1781 – 1839) & Peter Prall (1777 – 1848)
Third Generation:
|     (2.1) Anna Trout & Martin Johnson (See the Johnson Tree)
|     |     (3) Hannah Johnson (1780 – 1855) & James Clark (c.1775 – 1861)
|     |     (3) William Johnson (1782 – 1869)
|     |     |    m. 1) Urania Sergeant (1788 – 1872)
|     |     |    m. 2) Lucy Emley Reading (1803 – 1847)
|     |     (3) John Johnson (1785 – 1829) & Sarah E. Bray (c.1784 – 1867)
|     |     (3) Mary Johnson (1788 – 1812) & Samuel Wolverton (1779 – 1841)
|     |     (3) George Johnson (1790 – 1872)
|     |     |    m. 1) Ann Nancy Kugler (1800 – 1830)
|     |     |    m. 2) Mary Kugler (1802 – 1885)
|     |     (3) Sarah Johnson (1793 – ) & Joseph Heed
|     |     (3) Amos Johnson (1795 – )
|     |     (3) Asher Johnson (1803 – 1884) & Mary Ann Reading (1809 – 1881)
|     |     (3) Lucinda Johnson (c.1800 – )
|     (2.2) Sarah Trout & Samuel Hill
|     |     (3) Asher T. Hill (c.1788 – after 1840) & Susan Wyckoff (1799 – 1847)
|     |     (3) Hannah Hill (c.1789 – 1846) & Nicholas Britton Higgins (1787 – 1851)
|     |     (3) Elizabeth Hill (c.1794 – after 1860) & Paul Kuhl Dilts (c.1793 – 1828)
|     |     (3) John Hill (c.1800 – )
|     (2.3) Mary Trout & William W. Schenck
|     |     (3) Ann Schenck (1789 – 1831) & Jonathan Higgins Conover (1787 – 1849)
|     |     (3) Garret Schenck (1798 – 1802)
|     |     (3) Josiah Schenck (1799 – 1847)
|     |     (3) Mahlon Schenck (1800 – 1880) & Hannah Maria Schenck (1808 – 1870)
|     (2.4) Catharine Trout & John Huffman
|     |     (3) George Huffman (c.1797 – after 1880) & Rebecca Higgins (1806 – 1855)
|     |     (3) Aaron Hoffman (1799 – 1887)
|     |     |    m. 1) Thisba Britton (c.1815 – )
|     |     |    m. 2) Hannah Kugler (1809 – 1884)
|     |     |    m. 3) Harriet Hoffman (c.1815 – )
|     |     (3) Rebecca Huffman (c.1800 – )
|     |     (3) Sarah Huffman (1803 – 1875) & Cornelius Wilson (1798 – 1877)
|     |     (3) Letitia Huffman (c.1809 – 1833)
|     |     (3) John Huffman
|     |     (3) Jacob Huffman
|     |     (3) Catharine Huffman
|     |     (3) Hannah Huffman & Amos Armitage
|     (2.5) Rebecca Trout & Jacob P. Young
|     |     (3) Peter J. Young (1797 – 1879) & Elizabeth Guthrie (1791 – 1864)
|     |     (3) John Young (c.1798 – )
|     |     (3) Hannah Young (c1800 – )
|     |     (3) George Young
|     |     (3) Jeremiah Young
|     |     (3) Elizabeth Young[#. The last three children of Jacob P. Young were named in the will of John Lequear, but I have no further information on them.]
|     (2.6) Hannah Trout & John Moore (See the Moore Family Tree)
|     |     (3) Joseph L. Moore (1797 – 1828)
|     |     (3) Mary Moore (1800 – 1876) & Isaac Gray (1795 – 1874)
|     |     (3) Elizabeth Moore (1803 – 1864)
|     |     (3) John Moore (1805 – 1816)
|     |     (3) Henry Moore (1807 – 1828)
|     (2.7) George Trout Jr. & Ann (Annie) Besson
|     |     (3.1) John Trout (1812 – 1903)
|     |     |    m. 1) Mary Hannah Abbott (1816 – 1861)
|     |     |    m. 2) Mary Y. Boughner (1815 – 1900)
|     |     |    m. 3) Mary Y. Brewer (1815 – 1900)[#. It may be that the two Mary Y.'s were the same person.]
|     |     (3.2) Sarah Ann Trout (1815 – 1900) & Jacob N. Thatcher (1811 – 1884)
|     |     (3.3) Margaret Besson Trout (1821 – 1903) & Shf. Robert T. Thatcher (1819 – 1895)
|     |     (3.4) Lucretia P. Trout (1824 – 1914) & Ephraim Robbins (1821 – 1849)
|     (2.8) Elizabeth Trout & David Rockafellar Esq. (See the Rockafellar Tree)
|     |     (3) Peter Rockafellar (c.1795 – after 1865)
|     (2.9) Rachel Trout & John Besson Jr.
|     |     (3) Samuel Besson (1796 – 1869)
|     |     (3) Margaret Besson (1797 – )
|     |     (3) George Besson (1799 – 1877) & Mahala Little (1814 – 1900)
|     |     (3) Hannah Besson (1801 – 1886) & Hon. Jonathan Odell Pickel (1798 – 1869)
|     |     (3) John Besson (1803 – 1863) & Frances Taylor (1828 – 1861)
|     |     (3) Catharine Besson (c.1804 – 1824)
|     |     (3) Anna Besson (1805 – )
|     |     (3) William Besson (1807 – 1894) & Margaret A. Case (1816 – 1868)
|     |     (3) Rachel Besson (1809 – ) & David Austin Jr.
|     |     (3) Jacob Besson (1811 – 1890) & Sarah Carhart Runkle (1816 – 1896)
|     |     (3) Rebecah Besson (1813 – 1900) & David Austin
|     |     (3) Jeremiah Besson (c.1815 – 1886) & Rebecca Jane Brady (c.1822 – )
|     |     (3) Theodore Besson (1818 – )
|     |     (3) Fanny Besson (1822 – ) & Sylvester Apgar
|     (2.10) John Trout & Ann Annie Besson
|     |     (3.1) Jeremiah Trout (1805 – 1896) & Mary Ann Dunn (1808 – 1900)
|     |     (3.2) Asher Trout (1807 – 1897) & Harriet Buchanan (1817 – 1853)
|     (2.11) Lucretia Trout & Peter Prall
|     |     (3) Asa Prall (c.1800 – 1830)
|     |     (3) Susan Prall (c.1805 – 1802)
|     |     (3) Mary S. Prall (1807 – 1847) & Isachar Hoagland (1803 – 1878)
|     |     (3) Rhoda J. Prall (c.1810 – 1842) & Samuel C. Barber (1806 – 1900)
|     |     (3) Jemima H. Prall (1817 – 1855) & Alexander Pike Holcombe (1816 – 1889)
Fourth Generation:
|     (2.7) George Trout Jr. & Ann Annie Besson
|     |     (3) John Trout & 1) Mary Hannah Abbott
|     |     |     (4) Elias Abbott Trout (1839 – 1917)
|     |     |     (4) George Trout (1841 – 1892)
|     |     |     (4) Anne Trout (1848 – )
|     |     (3) John Trout & Mary Y. Brewer or Boughner
|     |     |     (4) Mary H. Trout (c.1854 – ) & Thomas Elwood Besson (1853 – 1933)
|     |     (3) Sarah Ann Trout & Jacob N. Thatcher
|     |     |     (4) Harriet F. Thatcher (1838 – 1912) & Jacob Rynear Lawshe (1837 – 1914)
|     |     |     (4) Catherine B. Thatcher (1839 – 1911)
|     |     |     (4) George T. Thatcher (1842 – 1890) & Hannah Elizabeth Hoffman (c.1848 – 1898)
|     |     |     (4) Melissa R. Thatcher (1845 – 1926) & Abraham Runkle Hope (1849 – 1926)
|     |     |     (4) Mary Thatcher (1847 – 1863)
|     |     |     (4) Lareine R. Thatcher (1850 – 1939) & Isaac Haines (1854 – 1925)
|     |     |     (4) Elizabeth G. Thatcher (1852 – 1925)
|     |     |     (4) Asher Lambert Thatcher (1857 – 1891)
|     |     |     |    m. 1) Sarah C. Barber (1859 – 1891)
|     |     |     |    m. 2) Kate Murray
|     |     (3) Margaret Besson Trout & Shf. Robert T. Thatcher
|     |     |     (4) daughter Thatcher (1843 – 1843)
|     |     |     (4) Amos Thatcher (1843 – 1940) & Isabella Capner (1845 – 1913)
|     |     |     (4) Anna Besson Thatcher (1845 – 1925) & Chester Van Syckel Dilley (1847 – 1913)
|     |     |     (4) Jeremiah T. Thatcher (c.1848 – )
|     |     |     (4) Charles S. Thatcher (1851 – 1929) & Clara Gartner (1853 – 1934)
|     |     |     (4) Laura Thatcher (c.1855 – )
|     |     (3) Lucretia P. Trout & Ephraim Robbins
|     |     |     (4) Asa Robbins (1845 – 1916) & Hannah Rebecca Poulson (1847 – 1914)
|     (2.10) John Trout & Ann Annie Besson
|     |     (3.1) Jeremiah Trout & Mary Ann Dunn
|     |     |     (4.1) Rev. Henry Fisher Trout (1829 – 1872)
|     |     |     |    m. 1) Mary Catherine Vandolah (1835 – 1868)
|     |     |     |    m. 2) Mary M. Case (1841 – 1910)
|     |     |     (4.2) Hugh D. Trout (c.1831 – after 1900) & Rachel A. Bearder (1834 – after 1900)
|     |     |     (4.3) George F. Trout (1834 – 1904) & Sarah Moore (1835 – 1914)
|     |     |     (4.4) Mary Louise Trout (1837 – 1917) & John Rodebock Case (1840 – 1919)
|     |     |     (4.5) Jeremiah H. Trout (1840 – 1926) & Sarah Johannah Dougherty (1843 – 1926)
|     |     |     (4.6) Sarah H. Trout (1843 – 1876) & George S. Trimmer (1834 – 1901)
|     |     |     (4.7) Margaret T. Trout (1848 – 1927)
|     |     (3.2) Asher Trout & Harriet Buchanan
|     |     |     (4.1) Annie B. Trout (1835 – 1922) & Edward Mason Heath (1837 – 1916)
|     |     |     (4.2) Archibald Buchanan Trout (1836 – 1915) & Mary A. Lee (1833 – 1914)
|     |     |     (4.3) John Trout (c.1839 – c.1915)
|     |     |     |    m. 1) Mary Elizabeth Lawshe (1840 – 1884)
|     |     |     |    m. 2) Lucy E. Thing (c.1848 – )
|     |     |     (4.4) Mary R. Trout (1842 – 1911) & Hon. George W. Scott (1835 – 1909)
|     |     |     (4.5) Amos S. Trout (1847 – 1911) & Anna C. Hughes (1848 – 1931)
Fifth Generation:
|     (2.7) George Trout Jr. & Ann Annie Besson
|     |     (3) John Trout & 1) Mary Hannah Abbott
|     |     |     (4) George Trout &  ?
|     |     |     |     (5) John Scott Trout (1869 – )
|     (2.10) John Trout & Ann Annie Besson
|     |     (3.1) Jeremiah Trout & Mary Ann Dunn
|     |     |     (4.1) Rev. Henry Fisher Trout & 1) Mary Catherine Vandolah
|     |     |     |     (5) G.W. Melville Trout (1858 – 1872)
|     |     |     |     (5) Mary Louise Trout (1860 – 1958) m. John L. Larason (1862 – 1905)
|     |     |     (4.2) Hugh D. Trout & Rachel A. Bearder
|     |     |     |     (5) Mary B. Trout (c.1858 – bef. 1900) & Godfrey Melick (1856 – )
|     |     |     |     (5) William B. Trout (c.1859 – bef. 1870)
|     |     |     |     (5) George B. Trout (1860 – )
|     |     |     (4.3) George F. Trout & Sarah Moore
|     |     |     |     (5) Matilda Trout (c.1859 – )
|     |     |     |     (5) son Trout (c.1860 – 1860)
|     |     |     |     (5) Josephine Trout (c.1865 – 1865)
|     |     |     (4.5) Jeremiah H. Trout & Sarah Johannah Dougherty
|     |     |     |     (5.1) Anna T. Trout (1865 – 1865)
|     |     |     |     (5.2) John D. Trout (1864 – 1939) & Laura Deborah Vail (1867 – 1966)
|     |     |     |     (5.3) George Henry Trout (1866 – 1962)
|     |     |     |     |    m. 1) Emma J. Housel (~1865 – )
|     |     |     |     |    m. 2) Mary Elizabeth Case (1865 – 1918)
|     |     |     |     |    m. 3) Edna Elizabeth Ammerman (1881 – 1965)
|     |     |     |     (5.4) Minnie T. Trout (1868 – 1868)
|     |     |     |     (5.5) Isaac C. Trout (1873 – 1946) & Lizzie R. Chamberlin (1870 – 1949)
|     |     |     |     (5.6) Margaret T. Trout (1874 – 1952) & Andrew R. Allen (1872 – 1929)
|     |     |     |     (5.7) Jeremiah T. Trout (1875 – 1932)
|     |     |     |     (5.8) Theodore Horn Trout (1876 – 1965) & Nellie Servis (1875 – 1972)
|     |     |     |     (5.9) Samuel Teats Trout (1881 – 1968) & Daisy Opdyke (1885 – 1936)
|     |     |     (4.6) Sarah H. Trout & George S. Trimmer
|     |     |     |     (5) William R. Trimmer (1862 – )
|     |     |     |     (5) Robert T. Trimmer (1864 – 1864)
|     |     (3.2) Asher Trout & Harriet Buchanan
|     |     |     (4.1) Annie B. Trout & Edward Mason Heath
|     |     |     |     (5) Robert T. Heath (1866 – 1938)
|     |     |     |     |    m. 1) Elizabeth Lizzie Ruple (1867 – 1900)
|     |     |     |     |    m. 2) Elizabeth Fisher (1881 – 1958)
|     |     |     (4.2) Archibald Buchanan Trout & Mary A. Lee
|     |     |     |     (5) Infant Trout (1860 – 1860)
|     |     |     |     (5) Frank Lee Trout (1868 – 1932) & Winifred F. Bellis (1869 – 1939)
|     |     |     (4).4 Mary R. Trout & Hon. George W. Scott
|     |     |     |     (5) Belle Scott (c.1862 – ) & Charles W. Brewer (c.1854 – )
|     |     |     |     (5) John W. Scott (1864 – 1940)
Sixth Generation:
|     (2.10) John Trout & Ann Annie Besson
|     |     (3.1) Jeremiah Trout & Mary Ann Dunn
|     |     |     (4.5) Jeremiah H. Trout & Sarah Johannah Dougherty
|     |     |     |     (5.2) John D. Trout & Laura Deborah Vail
|     |     |     |     |     (6) Infant Trout (1892 – 1892)
|     |     |     |     (5.3) George Henry Trout & 1) Emma J. Housel
|     |     |     |     |     (6) Edward Case Trout (1888 – 1973)
|     |     |     |     |     (6) Arthur Slater Trout (1891 – 1919)
|     |     |     |     |     (6) Emma Trout (1892 – 1979) & Harvey Hackett (1890 – 1951)
|     |     |     |     |     (6) Laura M. Trout (1896 – 1948) & Earl D. Wene (1891 – 1979)
|     |     |     |     |     (6) Philip Dougherty Trout (1898 – 1926)
|     |     |     |     |     (6) Ezra L. Trout (1902 – 1958)
|     |     |     |     |     (6) Melvin Eick Trout (1904 – 1978)
|     |     |     |     |     (6) Leroy D. Trout (1905 – 1990)
|     |     |     |     |     (6) Charles H. Trout (1908 – 1908)
|     |     |     |     (5.8) Theodore Horn Trout & Nellie Servis
|     |     |     |     |     (6) Harrry S. Trout (c.1904 – )
|     |     |     |     (5.9) Samuel Teats Trout & Daisy Opdyke
|     |     |     |     |     (6) Samuel T. Trout (1919 – 1997)
|     |     |     |     |     (6) Allen Clifford Trout (1921 – 2011)
|     |     |     |     |     (6) Lawrence O. Trout (1925 – 2007)
|     |     (3.2) Asher Trout & Harriet Buchanan
|     |     |     (4.1) Annie B. Trout & Edward Mason Heath
|     |     |     |     (5) Robert T. Heath & 2) Elizabeth Fisher
|     |     |     |     |     (6) Edward M. Heath (1911 – 1995) & Pauline (c.1918 – )
This following family was corrected May 17, 2020 from info provided by Lora L. Olsen:
|     |     |     (4.2) Archibald Buchanan Trout & Mary A. Lee
|     |     |     |     (5) Francis Lee Trout & Winifred F. Bellis
|     |     |     |     |     (6) Francis Leroy Trout (1892 – 1934)
|     |     |     |     |     (6) Arthur Bellis Trout (1895 – 1963)
|     |     |     |     |     (6) David Earl Trout (1898 – 1992) & Eleanor Hoff (1895 – 1977)
|     |     |     |     |     (6) Russell Winfield Trout (1905 – 1980) & Elizabeth Rose Niece (1904-1980)