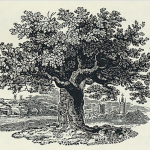 The Rockafellar family is enormous, and not just in Hunterdon County. Like many of my trees, this one features branches of the family that I have come across in my research. But there are many others I know little about. They have been left out until I learn more about them.
As all Rockafellar researchers know, the name had many alternate spellings, Rockafeller and Rockafellow being the most common. Incorporating all of them is too much, so they're all Rockafellar here. You may notice that many of these Rockafellars had very large families. Perhaps it was a family trait. Jacob Rockafellar and Charity Snyder take the cake, with 15 children. Which is why, for now, I am not including the sixth generation.
Like the rest of my trees this one lists the children of daughters, but not their grandchildren. Also, a reminder that to find out what other families have trees published here, go to the Families page where names in caps indicate families with published trees.
This version of the tree is an update to one I first published and contains some additions and corrections. If you have any additions or corrections of your own, you are welcome to use the comments section or make use of the Contact page.
First Generation:
Johann Pieter Rockafeller, Sr. (1681 – c.1766) &
|     m. 1)  Anna Maria Remagen (1684 – 1719)
|     m. 2)  Elizabeth Christina Runkle (c.1695 – c.1730)
Immigrants from Segendorf, Germany, Johann Pieter and sons John and Peter were naturalized in 1730. Johann's first known land purchase was made in Amwell Township, Hunterdon County in 1729.
Second Generation:
(1) Johann Peter Rockafellar Sr. & (1) Anna Maria Remagen of Amwell Twp.
|     (2.1) Johann Wilhelm Rockafellar (1708 – 1709)
|     (2.2) Johann Peter Rockafellar Jr. (1711 – c.1787)
|     |      m. 1) Margaret Peters (c.1720 – c.1740 or after 1753), d/o Godfrey & Anna Margaret Peters1
|     |      m. 2) Mary Bellis (1723 – 1772), d/o William Bellis
|     |      m. 3) Elizabeth Peterson (c.1740 – c.1809)
|     (2.3) Catharina Rockafellar (1713 – 1713)
|     (2.4) Anna Christine Rockafellar (1714 – )
|     (2.5) Johannes Rockafellar (1716 – bef. 1763)
|     (2.6) Maria Eva Rockafellar (1718 – ) & John Gaber (c.1715 – ), no information
(1) Johann Peter Rockafellar Sr. & (2) Elizabeth Christina Runkel
|     (2.7) Catharine Rockafellar (1722 – )
|     (2.8) Anna Rockafellar (1724 – 1771) & Jacob Runk (1716 – 1771), immigrant, parents unknown
|     (2.9) Elizabeth Rockafellar (1725 – ) & Johannis Johnson (c.1720 – ), no information
|     (2.10) Alice 'Elsie' Rockafellar (1727 – bef. 1763) & John Snook (c.1722 – 1794), s/o Wm Snook & Catharine Ketcham
|     (2.11) Wilhelm Rockafellar (1729 – 1783) & Magdalena Quick (c.1730 – c.1790)
Third Generation:
(1) Johann Peter Rockafellar Sr. & (1) Anna Maria Remagen
|     (2.2) Johann Peter Rockafellar Jr. & (1) Margaret Peters of Amwell Township
|     |     (3.1) Peter Rockafellar (c.1740 – 1806) & Catharine Catian Larew (c.1740 – ), d/o Abraham & Harmechie Larew
|     (2.2) Johann Peter Rockafellar Jr. & (2) Mary Bellis of Amwell Township
|     |     (3.2) John Rockafellar (1742 – 1832)
|     |     |      m. 1) Margaret Kitchen (1742 – bef. 1799), d/o Samuel & Mary Kitchen
|     |     |      m. 2) Catharine Larew (1768 – 1859), d/o Moses Larew & Urenia Thatcher
|     |     (3.3) Capt. Godfrey Rockafellar (c.1745 – c.1816)
|     |     |      m. 1) Margaret Lewis (1759 – c.1790), parents unknown
|     |     |      m. 2) Esther Beatty (1767 – 1841), parents unknown
|     |     (3.4) Capt. Henry Rockafellar (1747 – 1841) & Anna Kitchen (1751 – 1827), sister of Margaret Kitchen
|     |     (3.5) William Rockafellar (c.1750 – 1793) & Christina Rockafeller (1754 – 1793), left H.C.
|     |     (3.6) Mary Rockafellar (c.1753 – 1843) & Johann Adam Bellis Jr. (1753 – 1808)
|     |     (3.7) Jacob Bellis Rockafellar Sr. (1756 – 1813)
|     |     |      m. 1) Charity Snyder (1770 – 1836), d/o Jacob Peter Snyder & Lenah Young
|     |     |      or m. 1) Charity LaRue
|     |     (3.8) David Bellis Rockafellar Esq. (1759 – 1833)
|     |     |      m. 1) Hannah Phillips (c.1760 – bef. 1784), parents unknown
|     |     |      m. 2) Margaret Risler (1761 – 1826), d/o Hanteel & Catharine Risler
|     |     (3.9) Elizabeth Rockafellar (c.1761 – c.1810) & John Jacob Hoppock (c.1753 – after 1789)
(1) Johann Peter Rockafellar Sr. & (2) Elizabeth Christina Runkel
|     (2.8) Anna Rockafellar & Jacob Runk of Amwell Township
|     |     (3.1) John Runk (1742 – )
|     |     (3.2) Peter Runk (c.1745 – )
|     |     |      m. 1) Olive Farley (c.1752 – ), d/o Caleb Farley & Mary Gray
|     |     |      m. 2) Eleanor Farley (1745 – 1810), parents unidentified
|     |     (3.3) William Runk (c.1748 – 1791)
|     |     (3.4) Jacob Runk (1750 – 1787) & Eleanor Farley (1745 – 1810), parents unidentified
|     |     (3.5) Rachel Runk (1753 – 1849) & Robert Sharp (1748 – 1833), immigrant
|     |     (3.6) Samuel Runk Sr. (1755 – 1847) & Margaret Snyder (c.1761 – 1847), unknown
|     |     (3.7) Anna Runk (1764 – 1850) & Peter Fisher Esq. (1765 – 1829), s/o Jacob Fisher, Sarah Hoppock
|     (2.10) Elsie Alice Rockafellar & John Snook of Amwell Township
|     |     (3.1) Mary Snook (c.1740 – 1763) & Benjamin Abbott (c.1729 – 1820)
|     |     (3.2) George Snook (1742 – 1807) & Anne Corwin (1745 – 1820), no information
|     |     (3.3) Capt. Philip Snook (1745 – 1816)
|     |     (3.4) William Snook (c.1750 – )
|     |     (3.5) John Snook Jr. (c.1750 – ) & Hannah Coolbaugh (c.1760 – ), no information
|     |     (3.6) Anna Snook (c.1760 – ) & Henry Wambough (c.1755 – 1787)
|     |     (3.7) Peter Snook (1762 – 1843) & Rebecca (c.1765 – )
|     |     (3.8) Elizabeth Snook (c.1760 – ) & Col. William Marts (c.1764 – after 1832), no information
|     (2.11) William Wilhelm Rockafellar & Magdalena Quick of Amwell Township
|     |     (3.1) Peter Rockafellar (1759 – 1847) & Abigail Large (c.1760 – ), parents unknown
|     |     (3.2) Christopher Rockafellar (c.1760 – 1800) & Anna Quick (c.1760 – ), parents unknow
|     |     (3.3) Andrew Rockafellar (1763 – 1811) & Hannah Hixon (1765 – 1853), parents unknown
|     |     (3.4) Anna Rockafellar (1765 – 1799) & Jacob Race (1764 – 1857), s/o Jacob Race & Charity Bosenbury
|     |     (3.5) Tunis Rockafellar (c.1766 – ) & Polly
|     |     (3.6) Elsie Rockafellar (c.1768 – )
|     |     (3.7) Ann Nancy Rockafellar (c.1778 – 1882) & George Hall, no information
|     |     (3.8) Hiram Rockafellar (1778 – ) & unknown
|     |     (3.9) William Rockafellar (c.1780 – ) & Aletta Ann Ditmars, no information
|     |     (3.10) Magdalena Rockafellar (c.1780 – )
|     |     (3.11) Mary Eliza Rockafellar (1781 – 1828) & George Johnson (1781 – 1831), no information
|     |     (3.12) Sarah Rockafellar (c.1782 – ) & Charles Johnson (c.1775 – ), brother of George ?
|     |     (3.13) Catharine Rockafellar (c.1782 – ) & Jonathan Naylor (c.1785 – ), no information
Fourth Generation:
(1) Johann Peter Rockafellar Sr. & (1) Anna Maria Remagen
|     (2.2) Johann Peter Rockafellar Jr. & (1) Margaret Peters
|     |     (3.1) Peter Rockafellar & Catharine Catian Larew
|     |     |     (4.1) Philip Rockafellar (c.1765 – )
|     |     |     (4.2) Sarah Rockafellar (c.1770 – ) & David Fox (c.1760 – after 1830)
|     |     |     (4.3) Elizabeth Rockafellar (1770 – 1831) & James I. Larew (1758 – 1841)
|     |     |     (4.4) Daniel Rockafellar (1772 – 1861) & Rebecca Gano (1778 – 1836)
|     |     |     (4.5) Abraham Rockafellar (1774 – 1835) & Jerusha Gano (1777 – 1854)
|     |     |     (4.6) Jacob S. Rockafellar (1777 – c.1855) & Mary Polly Larew (c.1778 – bef. 1850)
|     |     |     (4.7) Nancy Rockafellar
|     (2.2) Johann Peter Rockafellar Jr. & (2) Mary Bellis
|     |     (3.2) John Rockafellar & (1) Margaret Kitchen
|     |     |     (4.1) Mary Rockafellar (1768 – ) & George Werts (c.1750 – after 1809)
|     |     |     (4.2) Godfrey Rockafellar (1769 – 1814) & Anne Gordon (1770 – 1807)
|     |     |     (4.3) Samuel Rockafellar (1771 – 1865) & Elizabeth Trout (1775 – 1859)
|     |     |     (4.4) Peter M. Rockafellar (1772 – 1832) & Elizabeth Aller (1776 – 1853)
|     |     |     (4.5) Margaret Rockafellow (1774 – 1810) & Henry Werts (c.1770 – after 1850)
|     |     |     (4.6) Elizabeth Rockafellar (1776 – 1853) & John Buchanan Jr. (c.1772 – 1818)
|     |     |     (4.7) Anna Rockafellar (1778 – 1851) & Isaac Larew (c.1775 – after 1816)
|     |     |     (4.8) John Rockafellar Jr. (1779 – c.1811) & Elizabeth Mathews (1779 – 1811)
|     |     |     (4.9) Henry Rockafellar (1781 – 1863) & Susanna Sukie Taylor (1781 – 1835)
|     |     |     (4.10) William Rockafellar (1784 – 1853) & Rachel Thatcher (1786 – 1870)
|     |     (3.2) John Rockafellar & (2) Catharine Larew
|     |     |     (4.11) Delilah Rockafellar (1805 – 1891) & George Fauss (1804 – 1877)
|     |     |     (4.12) Sarah Rockafellar (1808 – 1835)
|     |     (3.3) Capt. Godfrey Rockafellar & (1) Margaret Lewis
|     |     |     (4.1) Margaret Lewis Rockafellar (1777 – 1863) & John Jones (1770 – 1844)
|     |     |     (4.2) William Lewis Rockafellar (1779 – 1841) & Drucilla VanKirk ( – 1841)
|     |     |     (4.3) Henry D. Rockafellar (c.1780 – 1866) & Elizabeth Lockwood Patton (c.1780 – 1846)
|     |     |     (4.4) Peter Lewis Rockafellar (1781 – 1809)
|     |     |     (4.5) Jacob Lewis Rockafellar (c.1780 – c.1850) & Mary Larew (c.1781 – )
|     |     |     (4.6) John Lewis Rockafellar (1783 – 1827) & Elizabeth Moore ( – 1834)
|     |     |     (4.8) Elizabeth Rockafellar (1773 – 1866) & Jacob Emery (1770 – 1830)
|     |     |     (4.9) Charity Rockafellar (1785 – 1865) & William Farrow (1778 – 1853)
|     |     |     (4.10) Mary Rockafellar (1787 – ) & John Dilts (c.1785 – )
|     |     |     (4.11) Catherine Rockafellar (c.1790 – )
|     |     (3.4) Capt. Henry Rockafellar & Anna Kitchen
|     |     |     (4.1) Samuel Rockafellar (1768 – 1845) & Mary Allen (1767 – 1839)
|     |     |     (4.2) Margaret Rockafellar (1770 – 1777)
|     |     |     (4.3) Charles Rockafellar (1772 – 1854) & Charity Alpaugh (1775 – 1858)
|     |     |     (4.4) Mary Rockafellar (1774 – 1850) & Daniel Brink (1769 – 1820)
|     |     |     (4.5) Elizabeth Rockafellar (1776 – 1847) & John Peter Bunn (1770 – 1839)
|     |     |     (4.6) John Rockafellar (1779 – 1827) & Mary Sharp (~1780 – )
|     |     |     (4.7) Rebecca A. Rockafellar (1781 – 1862) & David Lequear Pinkerton (1775 – 1851)
|     |     |     (4.8) Henry Rockafellar Jr. (1784 – 1807) & Mary Race (1790 – 1873)
|     |     |     (4.9) David Rockafellar (1787 – 1869) & Elizabeth Houghamont (1788 – 1850)
|     |     |     (4.10) Eleanor Rockafellar (1790 – 1874) & Allan Queen (1793 – 1833)
|     |     |     (4.11) Peter Rockafellar (1792 – 1872)
|     |     |     (4.12) Catherine Rockafellar (1794 – 1849) & David Apgar (1772 – )
|     |     (3.6) Mary Rockafellar & Johann Adam Bellis Jr.
|     |     |     (4.1) Margaret Bellis (c.1774 – 1858) & Abraham Allen (1770 – 1837)
|     |     |     (4.2) John Bellis Sr. (c.1775 – <1840) & Rachel
|     |     |     (4.3) Charity Bellis (1779 – 1872) & Nathaniel Britton (1783 – 1867)
|     |     |     (4.4) Peter Bellis (c.1780 – ) & Areante
|     |     |     (4.5) William Rockafellar Bellis (1785 – 1855) & Mary Ellen Cramer (1793 – 1850)
|     |     |     (4.6) Adam Bellis (1788 – 1850) & Rachel Wolverton (1791 – 1876)
|     |     (3.7) Jacob Bellis Rockafellar Sr. & (1) Charity Snyder
|     |     |     (4.1) Joseph Rockafellar (1785 – 1825) & Elizabeth Ott
|     |     |     (4.2) Margaret Rockafellar (1790 – 1872) & Joseph Huff Leigh (1790 – 1870)
|     |     |     (4.3) Anna Rockafellar (1791 – 1873) & Joseph S. West Sr. (1789 – 1873)
|     |     |     (4.4) Peter Stout Rockafellow (1793 – 1835) & Ann Cowens (~1789 – 1872)
|     |     |     (4.5) Magdalina Rockafellar (1794 – <1820) & Evan Madison
|     |     |     (4.6) Mary Rockafellow (1795 – 1856)
|     |     |      |      m. 1) William Garretse Schenck (1765 – 1840)
|     |     |      |      m. 2) William Taylor Sr. (c.1785 – 1864)
|     |     |     (4.7) Elizabeth Rockafellar (1797 – 1807)
|     |     |     (4.8) William S. Rockafellow (1798 – 1888) & Catherine M. Emmons (1809 – 1872)
|     |     |     (4.9) Jacob Rockafellar (1800 – 1893) & Rebecca Jane Besson (1807 – 1870)
|     |     |     (4.10) Charity Rockafellar (1801 – 1848) & Thomas West (~1789 – 1855)
|     |     |     (4.11) Sarah Rockafellar (1803 – 1804)
|     |     |     (4.12) Hannah Rockafellar (1803 – 1804)
|     |     |     (4.13) John S. Rockafellow (1804 – 1895) & Harriet Bartolette (1809 – 1891)
|     |     |     (4.14) Henry Rockafellar (1806 – 1868) & Elizabeth Eliza Besson (1804 – 1853)
|     |     |     (4.15) Elizabeth Rockafellar (1808 – 1831)
|     |     (3.8) David Rockafellar Esq. & (1) Hannah Phillips
|     |     |     (4.1) Peter Rockafellar (1782 – 1848) & Sarah Ellen Rinehart (1786 – 1837)
|     |     (3.8) David Rockafellar Esq. & (2) Margaret Risler
|     |     |     (4.2) Henry D. Rockafellar Esq. (1785 – 1875) & Catherine Shurts (1789 – 1871)
|     |     |     (4.3) Hon. John Rockafellar Esq. (1787 – 1848) & Ann Cramer (1791 – 1872)
|     |     |     (4.4) Catherine Rockafellar (1792 – 1849) & James Best (~1790 – 1847)
|     |     |     (4.5) Eliza Ann Rockafellar (1792 – 1864) & Peter Emery (1791 – 1876)
|     |     |     (4.6) Margaret Rockafellar (1789 – ) & Abraham Shurts (1787 – 1837)
|     |     |     (4.7) Emma Rockafellar (1823 – 1907) & Peter VanSyckel Eckel (1815 – 1881)
|     |     (3.9) Elizabeth Rockafellar & John Jacob Hoppock
|     |     |     (4.1) Catherine Hoppock (1778 – 1869)
|     |     |     (4.2) William Hoppaugh (1789 – 1849) & Jane (1800 – 1870)
|     |     |     (4.3) Peter Hoppough (1780 – 1844) & Margery Westbrook (1785 – 1856)
(1) Johann Peter Rockafellar Sr. & (2) Elizabeth Christina Runkel
|     (2.11) William Wilhelm Rockafellar & Magdalena Quick
|     |     (3.1) Peter Rockafellar & Abigail Large
|     |     |     (4.1) William Rockafellar (c.1779 – )
|     |     |     (4.2) Samuel Rockafellar (c.1780 – )
|     |     |     (4.3) Nathan Rockafellar (1789 – )
|     |     (3.3) Andrew Rockafellar & Hannah Hixon
|     |     |     (4) Elsie Rockafellar (c.1793 – )
|     |     (3.4) Anna Rockafellar & Jacob Race
|     |     |     (4.1) William Race (1788 – ) & Elizabeth Wilson
|     |     |     (4.2) Mary Race (1790 – 1873)
|     |     |      |      m. 1) Henry Rockafellar Jr. (1784 – 1807)
|     |     |      |      m. 2) David Chambers Davis ( – 1866)
|     |     |     (4.3) Jacob Race (c.1796 – )
|     |     |      |      m. 1) Anna Stull
|     |     |      |      m. 2) Charity Carrie Snyder (1796 – 1886)
|     |     |     (4.3) John Race (c.1790 – ) & Elizabeth Stiger (~1795 – )
|     |     |     (4.4) Andrew Race (c.1799 – )
|     |     |      |      m. 1) Elizabeth Thompson
|     |     |      |      m. 2) Agnes Alpaugh (~1825 – )
|     |     |     (4.5) George Race
|     |     (3.7) Ann Nancy Rockafellar & George Hall
|     |     |     (4) Eliza Ann Hall (1818 – 1900) & John Knowles Large (1810 – 1879)
|     |     (3.8) Hiram Rockafellar & unknown
|     |     |     (4) John VanRensselaer Rockafellar (1821 – 1902)
|     |     (3.11) Mary Eliza Rockafellar & George Johnson
|     |     |     (4) Eliza Johnson (1807 – 1817)
|     |     |     (4) William Johnson (1812 – 1812)
|     |     (3.12) Sarah Rockafellar & Charles Johnson
|     |     |     (4) Jacob Johnson (1810 – 1882) & Elizabeth Hann (~1825 – 1883)
|     |     (3.13) Catharine Rockafellar & Jonathan Naylor
|     |     |     (4) Harriet Naylor (1817 – 1888)
|     |     |    |      m. 1) John Atkinson Holcombe (1799 – 1840)
|     |     |    |      m. 2) John S. Holcombe (1830 – 1888)
Fifth Generation:
(1) Johann Peter Rockafellar Sr. & (1) Anna Maria Remagen
|     (2.2) Johann Peter Rockafellar Jr. & (1) Margaret Peters
|     |     (3.1) Peter Rockafellar & Catharine Catian Larew
|     |     |     (4.3) Elizabeth Rockafellar & James I. Larew
|     |     |     |     (5.1) Joseph Larew & Priscilla Larew (c.1795 – )
|     |     |     |     (5.2) William Larew (1789 – 1814)
|     |     |     |     (5.3) Catherine Larew (1791 – 1802)
|     |     |     |     (5.4) Peter J. Larew (1793 – 1860) & Jane Stout (1796 – 1878)
|     |     |     |     (5.5) Jacob Larew (1794 – ) & Sarah A. (c.1806 – )
|     |     |     |     (5.6) Jerusha Larew (1796 – 1835) & George Woodruff (~1795 – )
|     |     |     |     (5.7) Josiah Larew (1799 – )
|     |     |     |     (5.8) Isaac Larew (1801 – 1834) & Marie Hart (1810 – 1836)
|     |     |     |     (5.9) Lambert Larew (1803 – 1859)
|     |     |     |     (5.10) Mark Larew (1805 – 1901)
|     |     |     |     |       m. 1) Eliza Ann Geary (1810 – 1845)
|     |     |     |     |       m. 2) Lavinia Shepherd (c.1814 – 1864)
|     |     |     |     (5.11) John B. Larew (1808 – 1834) & Joanna Maline (1811 – 1894)
|     |     |     |     (5.12) Sarah Larew (1810 – 1873) & Aaron Malin (1793 – 1868)
|     |     |     |     (5.13) George Washington Larew (1814 – 1871) & Anna Jacoby (1813 – 1870)
|     |     |     (4.4) Daniel Rockafellar & Rebecca Gano
|     |     |     |     (5.1) Catharine Rockafellar (1800 – 1879)
|     |     |     |     |      m. 1) Jonathan Servis (c.1795 – bef. 1828)
|     |     |     |     |      m. 2) Job Wolverton (1788 – 1864)
|     |     |     |     (5.2) Elizabeth Rockafellar (1801 – 1887) & Uriah Larew (1794 – 1859)
|     |     |     |     (5.3) Peter Rockafellar (1811 – 1885) & Lydia Ann Hudnit (1813 – 1891)
|     |     |     |     (5.4) Philip Rockafellow (1817 – 1880) & Mary H. Wolverton (1818 – 1901)
|     |     |     (4.5) Abraham Rockafellar & Jerusha Gano
|     |     |     |     (5.1) Isaac Rockafellar (1799 – 1874) & Catherine Tower (1822 – 1890)
|     |     |     |     (5.2) Philip Rockafellar (1803 – )
|     |     |     |     (5.3) Margaret Rockafellar (1805 – )
|     |     |     |     (5.4) Daniel Rockafellar (1810 – )
|     |     |     |     (5.5) Beulah Rockafellar (1813 – 1894) & Isaac J. Naylor (1814 – 1896)
|     |     |     (4.6) Jacob S. Rockafellar & Mary Polly Larew
|     |     |     |     (5) Lucinda Rockafellar (c.1815 – ) & Joel Wolverton (c.1811 – 1871)
|     (2.2) Johann Peter Rockafellar Jr. & (2) Mary Bellis
|     |     (3.2) John Rockafellar & (1) Margaret Kitchen
|     |     |     (4.2) Godfrey Rockafellar & Anne Gordon
|     |     |     |     (5.1) Mary Polly Rockafellar (1795 – )
|     |     |     |     (5.2) Margaret Rockafellar (1797 – )
|     |     |     |     (5.3) John Gordon Rockafellar (1799 – 1852) & Mary Patience Dilts (1797 – 1882)
|     |     |     |     (5.4) Susanna Rockafellar (1801 – )
|     |     |     |     (5.5) Agesilaus Rockafellar (1805 – 1892)
|     |     |     |     |      m. 1) Parmelia Young (c.1812 – )
|     |     |     |     |      m. 2) Mary Jane Wright (1819 – 1904)
|     |     |     |     (5.6) Ann Nancy Rockafellar (1807 – 1888) & Isaac N. Lawshe (1803 – 1865)
|     |     |     |     (5.7) Samuel Rockafellar (c.1790 – )
|     |     |     |     (5.8) Henry Rockafellar (c.1790 – )
|     |     |     (4.3) Samuel Rockafellar & Elizabeth Trout
|     |     |     |     (5.1) Mahlon Rockafellar (1799 – 1830)
|     |     |     |     (5.2) John Rockafellar (1801 – )
|     |     |     |     (5.3) Johanna Rockafellar (1803 – 1864) & Joseph Fraley
|     |     |     |     (5.4) George Rockafellar (1805 – )
|     |     |     |     (5.5) Sarah Rockafellar (~1807 – ) & C. Cornwell
|     |     |     |     (5.6) Samuel Rockafellar (1808 – )
|     |     |     |     (5.7) Margaret Rockafellar (1810 – 1832) & Abel Barrow
|     |     |     |     (5.8) Rachel Rockafellar (1813 – 1840) & Hiram Cornwell
|     |     |     |     (5.9) Elizabeth Rockafellar (1816 – ) & Abraham Howell
|     |     |     |     (5.10) Mary Rockafellar (1819 – )
|     |     |     (4.4) Peter M. Rockafellar & Elizabeth Aller
|     |     |     |     (5.1) William Rockafellar (c.1805 – ) & Elizabeth Trimmer (c.1805 – )
|     |     |     |     (5.2) Susan Rockafellow (1807 – 1870) & Aaron Carman Hoagland (1805 – 1883)
|     |     |     |     (5.3) Rachel Rockafellar (1809 – 1882) & George W. Rittenhouse (1810 – 1862)
|     |     |     |     (5.4) Mary A. Rockafellar (1811 – 1857) & Henry Barton Cronce (1810 – 1869)
|     |     |     |     (5.5) Sarah Ann Rockafellow (1813 – 1837) & Thomas V. Roberson (1802 – 1871)
|     |     |     |     (5.6) Rhoda Rockafellar (1816 – 1889) & Robert E. Hartpence (1810 – 1859)
|     |     |     (4.5) Margaret Rockafellow & Henry Werts
|     |     |     |     (5.1) Margaret Werts (1799 – ) & Mahlon Fox (1787 – )
|     |     |     |     (5.2) Samuel Werts (c.1802 – )
|     |     |     |     (5.3) Sarah Werts (c.1805 – 1860)
|     |     |     (4.6) Elizabeth Rockafellar & John Buchanan Jr.
|     |     |     |     (5.1) Sarah Buchanan (1794 – )
|     |     |     |     (5.2) Margaret Buchanan (c.1795 – bef. 1850) & John R. Hoppock (1769 – 1853)
|     |     |     |     (5.3) Jane Buchanan (c.1796 – )
|     |     |     |     (5.4) George Buchanan (1797 – ) & Hester Scout (~1805 – )
|     |     |     |     (5.5) John Buchanan iii (1800 – 1890)
|     |     |     |     |      m. 1) Sarah (c.1800 – bef. 1825)
|     |     |     |     |      m. 2) Catharine Williamson (1803 – 1891)
|     |     |     |     (5.6) Henry Buchanan M.D. (c.1801 – 1839) & Mary Shepherd (1802 – 1871)
|     |     |     |     (5.7) Jacob Buchanan (1803 – 1886) & Abigail Reading (1806 – 1887)
|     |     |     |     (5.8) Philip C. Buchanan (c.1804 – 1852)
|     |     |     |     (5.9) Peter Buchanan (c.1805 – )
|     |     |     |     (5.10) Elizabeth Buchanan (c.1808 – 1844)
|     |     |     |     (5.11) Samuel Buchanan (1811 – 1883) & Elizabeth Chandler (1810 – 1887)
|     |     |     |     (5.12) Asher Buchanan (1818 – )
|     |     |     (4.8) John Rockafellar Jr. & Elizabeth Mathews
|     |     |     |     (5.1) Elias Rockafellar (1803 – 1887) & Catherine Thatcher (1807 – 1879), left H.C.
|     |     |     |     (5.2) Margaret Rockafellar (1804 – 1879) & Leonard Neighbor Bowman (1798 – 1880)
|     |     |     |     (5.3) Elijah Allen Rockafellar (1806 – )
|     |     |     |     (5.4) Jeremiah Mathew Rockafellar (1810 – )
|     |     |     (4.9) Henry Rockafellar & (1) Susanna Sukie Taylor
|     |     |     |     (5.1) David J. Rockafellar (1805 – 1842) & Clarissa Clara Bosenbury (1813 – 1898)
|     |     |     |     (5.2) Daniel B. Rockafellar* (1808 – 1842)
|     |     |     |     |      m. 1) Iva Warford (~1812 – )
|     |     |     |     |      m. 2) Elsa Jane Cowdrick (1820 – 1901)
|     |     |     |     (5.3) Margaret A. Rockafellar (1810 – 1907) & David J. Blair (1807 – 1861)
|     |     |     |     (5.4) Asa Jones Rockafellar (1813 – 1844) & Mary M. Freys (1817 – 1887)
|     |     |     |     (5.5) Hiram Rockafellar (1815 – 1845) & Susan B. Little (~1815 – )
|     |     |     |     (5.6) John Jones Rockafellar (1818 – 1866) & Elizabeth Hammond Wright (1821 – 1893)
|     |     |     |     (5.7) Lambert T. Rockafellar (1820 – )
|     |     |     |     (5.8) Elizabeth Ann Rockafellar (1823 – )
|     |     |     |     (5.9) Samuel Lodeski Rockafellar (1826 – )
|     |     |     (4.9) Henry Rockafellar & (2) unknown Kendell
|     |     |     |     (5.10) Charles H. Rockafellar (1837 – )
|     |     (3.2) John Rockafellar & (2) Catharine Larew
|     |     |     (4.11) Delilah Rockafellar & George Fauss
|     |     |     |     (5.1) Samuel F. Fauss (1826 – 1897)
|     |     |     |     |      m. 1) Mary Case (c.1829 – 1859)
|     |     |     |     |      m. 2) Elmyra Lair (1832 – 1863)
|     |     |     |     |      m. 3) Jemima Phillips (1841 – 1904)
|     |     |     |     (5.2) Mary Catharine Fauss (1831 – 1904) & Edward Housel (1831 – 1909)
|     |     (3.3) Capt. Godfrey Rockafellar & (1) Margaret Lewis
|     |     |     (4.1) Margaret Lewis Rockafellar & John Jones
|     |     |     |     (5.1) Henry Jones (c.1798 – )
|     |     |     |     (5.2) Catharine Jones (c.1799 – bef. 1812) & unknown Smith
|     |     |     |     (5.3) Benjamin Jones (c.1800 – )
|     |     |     |     (5.4) John Jones (c.1802 – bef. 1812)
|     |     |     (4.7) Godfrey Lewis Rockafellar & Lucy Avery
|     |     |     |     (5.1) William Avery Rockafellar (1810 – 1906) & Eliza Davison (1813 – 1889)
|     |     |     (4.8) Elizabeth Rockafellar & Jacob Emery
|     |     |     |     (5.1) Catherine A. Emery (1795 – 1876) & Peter Shurts (1794 – 1873)
|     |     |     |     (5.2) Anne Nancy Emery (1796 – 1832) & Capt. Benjamin Fritts (c.1810 – )
|     |     |     |     (5.3) Peter Emery (1798 – 1874) & Sarah Bloom (1801 – )
|     |     |     |     (5.4) Mary Emery (1800 – 1844)
|     |     |     |     (5.5) Godfrey R. Emery (1802 – 1844) & Jane Aller (1811 – 1890)
|     |     |     |     (5.6) Christianna Emery (1804 – 1885) & Jacob M. Johnson (1801 – 1885)
|     |     |     |     (5.7) Elizabeth Emery (1806 – 1897) & James Smith (1801 – 1877)
|     |     |     |     (5.8) Jacob B. Emery (1808 – 1890) & Nancy Hulsizer (1813 – 1894)
|     |     |     |     (5.9) John Rockafeller Emery (1810 – 1878) & Mary C. Wilson (1817 – 1872)
|     |     |     |     (5.10) William A. Emery (1813 – 1878) & Celinda Bird (1814 – )
|     |     |     |     (5.11) Charles C. Emery (1815 – 1888) & Lavinia Boss (1817 – 1885)
|     |     |     |     (5.12) Nicholas A. Emery (1817 – 1875)
|     |     (3.4) Capt. Henry Rockafellar & Anna Kitchen
|     |     |     (4.1) Samuel Rockafellar & Mary Allen
|     |     |     |     (5.1) Rebecca Rockafellar (1808 – 1881)
|     |     |     (4.3) Charles Rockafellar & Charity Alpaugh
|     |     |     |     (5.1) Carrie Rockafellar (1798 – 1835)
|     |     |     |     (5.2) Mary Rockafellar (1799 – 1835)
|     |     |     |     (5.3) Hannah Rockafellar (1801 – 1856)
|     |     |     |     (5.4) Margaret Rockafellar (1802 – 1802)
|     |     |     |     (5.5) Henry Rockafellar (1803 – 1873)
|     |     |     |     (5.6) Elizabeth Rockafellar (1806 – 1820)
|     |     |     |     (5.7) Catharine Rockafellar (1808 – 1881)
|     |     |     |     (5.8) William Rockafellar (1810 – 1886)
|     |     |     |     (5.9) Peter Rockafellar (1811 – 1886)
|     |     |     |     (5.10) Eleanor Rockafellar (1813 – 1902)
|     |     |     |     (5.11) Rebecca Rockafellar (1815 – 1862)
|     |     |     |     (5.12) Charles Rockafellar (1819 – 1820)
|     |     |     (4.4) Mary Rockafellar & Daniel Brink
|     |     |     |     (5.1) Henry R. Brink (1795 – 1861) & Rachel Cowdrick (1806 – 1882)
|     |     |     |     (5.2) Nathaniel Brink (1803 – 1843)
|     |     |     |     (5.3) Isaac Brink (1805 – 1875)
|     |     |     |     (5.4) John Brink (1806 – 1843)
|     |     |     |     (5.5) Anna Brink (1807 – )
|     |     |     |     (5.6) Robert Kennedy Brink (1808 – 1897)
|     |     |     |     (5.7) Eleanor Matilda Brink (1810 – 1893) & William Welch (1804 – 1854)
|     |     |     (4.5) Elizabeth Rockafellar & John Peter Bunn
|     |     |     |     (5.1) Peter Bunn (c.1795 – after 1870) & Margaret Lance (c.1797 – )
|     |     |     |     (5.2) Mary Bunn (1798 – 1872) & Elder Frederick Bloom (1795 – 1878)
|     |     |     |     (5.3) Mathias Bunn (1800 – 1858)
|     |     |     |     (5.4) Anna Bunn (1802 – )
|     |     |     |     (5.5) Charlotte Bunn (1804 – )
|     |     |     |     (5.6) Eleanor R. Bunn (1806 – 1883) & Paul P. Apgar (1797 – 1874)
|     |     |     |     (5.7) John E. Bunn (1807 – ) & Sarah Conover (1816 – )
|     |     |     |     (5.8) Elizabeth Bunn (1809 – 1820)
|     |     |     |     (5.9) Henry Bunn (1811 – 1820)
|     |     |     |     (5.10) Hannah Matilda Bunn (1814 – )
|     |     |     |     (5.11) Mahala A. Bunn (1817 – ~1890) & Runyon Wolverton (c.1815 – )
|     |     |     |     (5.12) Jacob R. Bunn (1820 – )
|     |     |     |     (5.13) Mary Elizabeth Bunn (1827 – 1878) & Casper C. Lindaberry
|     |     |     (4.7) Rebecca A. Rockafellar & David Lequear Pinkerton
|     |     |     |     (5.1) Unknown daughter & William Sipes
|     |     |     |     (5.2) Henry Pinkerton (c.1810 – ) & Julia (c.1820 – )
|     |     |     |     (5.3) John Pinkerton (c.1820 – ) & Mary Horner (c.1820 – )
|     |     |     |     (5.4) David Rockafeller Pinkerton (1826 – 1896) & Hannah Kressler (1828 – 1875)
|     |     |     (4.8) Henry Rockafellar Jr. & Mary Race
|     |     |     |     (5.1) Mary Ann Rockafellar (1807 – ) & Tunis H. Tunison (c.1805 – )
|     |     |     (4.9) David Rockafellar & Elizabeth Houghamont
|     |     |     |     (5.1) Jacob Van Renselaer Rockafellar (1813 – 1852) & Mary Riley (1821 – 1898)
|     |     |     |     (5.2) Ann Rockafellar (1815 – )
|     |     |     |     (5.3) Grace M. Rockafellar (1818 – 1903) & Joseph Everitt (~1815 – )
|     |     |     |     (5.4) Mary Brink Rockafellar (1820 – 1901) & Ingham Godown (1823 – 1914)
|     |     |     |     (5.5) Emma Rockafellar (1823 – )
|     |     |     |     (5.6) Samuel Rockafellar (1825 – )
|     |     |     (4.10) Eleanor Rockafellar & Allan Queen
|     |     |     |     (5.1) Mary Ann Queen (1823 – 1875) & William Henry Dawes (1818 – 1909)
|     |     |     |     (5.2) John Wahl Queen (1826 – 1917) & Liveria Sutphen Apgar (1824 – 1898)
|     |     |     |     (5.3) Henry R. Queen (1828 – 1905) & Sophia Teets (1825 – 1908)
|     |     |     |     (5.4) Catherine H. Queen (1830 – 1883) & John White (c.1830 – )
|     |     |     |     (5.5) Eleanor Ellen Queen (1832 – 1892) & William S. Kinney (1825 – 1872)
|     |     (3.7) Jacob Bellis Rockafellar Sr. & Charity Snyder
|     |     |     (4.1) Joseph Rockafellar & Elizabeth Ott
|     |     |     |     (5.1) John Ott Rockafellar
|     |     |     (4.2) Margaret Rockafellar & Joseph Huff Leigh
|     |     |     |     (5.1) Deborah Leigh (1816 – 1886) & John M. Naylor (1812 – 1888)
|     |     |     (4.3) Anna Rockafellar & Joseph S. West Sr.
|     |     |     |     (5.1) Rachel West (1808 – )
|     |     |     |     (5.2) Elizabeth West (1809 – 1873) & Amos Dilts (1804 – 1866)
|     |     |     |     (5.3) Jacob R. West (1811 – ) & Matilda Crosby (c.1813 – )
|     |     |     |     (5.4) Mary Polly West (1813 – ) & Amos Bowman (c.1806 – )
|     |     |     |     (5.5) Sarah Anna West (1816 – 1884) & Joseph Rodenbough (1808 – 1888)
|     |     |     |     (5.6) Charity West (1818 – 1894) & Samuel Buchanan (1810 – 1882)
|     |     |     |     (5.7) William West (1821 – )
|     |     |     |     (5.8) John S. West (1823 – after 1900) & Catharine Brown (1842 – )
|     |     |     |     (5.9) Joseph West Jr. (1827 – 1892) & Parthena Servis (c.1840 – 1887)
|     |     |     (4.4) Peter Stout Rockafellow & Ann Cowens
|     |     |     |     (5.1) Sarah L. Rockafellow (1815 – 1898) & Samuel Britton (1811 – 1874)
|     |     |     |     (5.2) James Stout Rockafellow (1816 – 1891) & Judith Ann Moore (1820 – 1881)
|     |     |     |     (5.3) Catherine Rockafellar (1819 – 1849) & Elisha B. Hummer (1816 – 1859)
|     |     |     |     (5.4) Charity Rockafellow (1819 – )
|     |     |     |     (5.5) Jane Rockafellar (c.1821 – 1826)
|     |     |     |     (5.6) Margaret Rockafellow (1821 – 1905) & Adam W. Bellis (1812 – 1876)
|     |     |     |     (5.7) Mary Caroline Rockafellar (c.1823 – 1832)
|     |     |     |     (5.8) Joseph B. Rockafellow (c.1827 – ) & Anna Rebecca (1860 – 1862)
|     |     |     |     (5.9) Jacob P. Rockafellow (c.1828 – )
|     |     |     |     (5.10) Elizabeth Ann Rockafellar (1833 – 1872) & William E. Shepherd (c.1833 – )
|     |     |     (4.8) William S. Rockafellow & Catherine M. Emmons
|     |     |     |     (5.1) Mary Eliza Rockafellow (1829 – 1863)
|     |     |     |     (5.2) Lemuel B. Rockafellow (1830 – 1903)
|     |     |     |     (5.3) Wilhelmina G. Rockafellow (1833 – 1892) & William B. Dilts (1826 – 1873)
|     |     |     |     (5.4) Catherine A. Rockafellow (1835 – 1862) & Amos H. McPherson (1833 – 1918)
|     |     |     |     (5.5) Jared E. Rockafellow (1837 – 1911) & Margaret A. Young (1843 – )
|     |     |     |     (5.6) William Emans Rockafellow (1839 – ) & Caroline Sailor (c.1840 – )
|     |     |     |     (5.7) Leah Rockafellow (1840 – ) & John Tunison (1838 – )
|     |     |     |     (5.8) Emeline Rockafellow (1843 – ) & Elisha Sharp (c.1835 – )
|     |     |     |     (5.9) Sarah Ellen Rockafellow (1845 – 1862)
|     |     |     |     (5.10) Harriet Arabella Rockafellow (1851 – 1929) & Aaron L. Mattis (1845 – 1897)
|     |     |     (4.9) Jacob Rockafellar & Rebecca Jane Besson
|     |     |     |     (5.1) John Besson Rockafellar (1827 – 1885) & Sarah Ann Suydam (1821 – 1880)
|     |     |     |     (5.2) Joseph B. Rockafellar (1832 – )
|     |     |     |     (5.3) George T. Rockafellar (1839 – )
|     |     |     |     (5.4) William J. Rockafellar (c.1840 – )
|     |     |     |     (5.5) Electa Lettie Rockafellow (1850 – 1946) & Sylvanus Shaw Higgins (1846 – 1920)
|     |     |     |     (5.6) Emeline Rockafellar
|     |     |     |     (5.7) Catherine Rockafellar
|     |     |     (4.10) Charity Rockafellar & Thomas West
|     |     |     |     (5.1) Thomas West (c.1823 – )
|     |     |     |     (5.2) Elizabeth West (1825 – 1879) & George W. Abel (1809 – 1910)
|     |     |     |     (5.3) William West (1826 – ) & Sarah Ann Burd (1830 – 1917)
|     |     |     |     (5.4) Elisha West (1833 – 1910)
|     |     |     |     (5.5) Mary West (1837 – 1857)
|     |     |     |     (5.6) John West (c.1839 – )
|     |     |     |     (5.7) Job H. West (1840 – 1933) & Amy Elizabeth Cheston (~1845 – 1907)
|     |     |     (4.13) John S. Rockafellow & Harriet Bartolette
|     |     |     |     (5.1) Albanis H. Rockafellar (1831 – 1858)
|     |     |     |     (5.2) Rose Emily Rockafellar (1833 – 1922)
|     |     |     |     (5.3) Martha B. Rockafellar (1834 – 1922)
|     |     |     |     (5.4) Virginia E. Rockafellar (1837 – 1906)
|     |     |     |     (5.5) Charles B. Rockafellar (1841 – 1842)
|     |     |     (4.14) Henry Rockafellar & Elizabeth Eliza Besson
|     |     |     |     (5.1) George T. Rockafellar (1829 – 1832)
|     |     |     |     (5.2) Joseph B. Rockafellar (1831 – 1832)
|     |     |     |     (5.3) Ellen Besson Rockafellar (1836 – 1864) & James Fonner (1830 – 1864)
|     |     |     |     (5.4) Emma Rockafellar (1844 – 1908) & James O. Bellis (c.1840 – )
|     |     (3.8) David Rockafellar Esq. & (2) Margaret Risler
|     |     |     (4.2) Henry D. Rockafellar Esq. & Catherine Shurts
|     |     |     |     (5.1) David Rockafellar (1806 – 1810)
|     |     |     |     (5.2) David R. Rockafellar (1808 – 1892)
|     |     |     |     (5.3) Catherine Rockafellar (1807 – 1889) & Abraham Lucas Voorhees (1808 – 1889)
|     |     |     |     (5.4) Ann Rockafellar (1810 – 1810)
|     |     |     |     (5.5) Peter Rockafellar (1811 – 1872) & Jerusha Yawger (1817 – 1895)
|     |     |     |     (5.6) Jacob Shurts Rockafellar (1813 – 1866) & Margaret Ann Sergeant (1814 – 1886)
|     |     |     |     (5.7) John H. Rockafellar (1815 – 1900) & Sarah Davis (1823 – 1897)
|     |     |     |     (5.8) Margaret Ann Rockafellar (1818 – 1896) & Peter Davis (1810 – 1897)
|     |     |     |     (5.9) Aletta Althea Rockafellar (1821 – 1855) & Daniel E. Potts (1817 – 1906)
|     |     |     |     (5.10) Mary Elizabeth Rockafellar (1826 – 1906) & Mathias C. Cramer (1825 – 1909)
|     |     |     |     (5.11) Sarah S. Rockafellar (1828 – 1910) & John Cregar Cramer (1827 – )
|     |     |     (4.4) Catherine Rockafellar & James Best
|     |     |     |     (5.1) Cornelius Best (1822 – 1897) & Elsie Alpaugh (1828 – 1908)
|     |     |     (4.5) Eliza Ann Rockafellar & Peter Emery
|     |     |     |     (5.1) Eliza Ann Emery (1813 – 1893)
|     |     |     |     (5.2) Margaretha Emery (1816 – 1893)
|     |     |     |     (5.3) David Rockafellar Emery (1821 – 1907) & Elizabeth Lane (1831 – 1903)
|     |     |     |     (5.4) Mary Ellen Emery (1823 – ) & John Hoppock (c.1820 – )
|     |     |     |     (5.5) John Rockafellar Emery (1827 – 1880) & Mary L. Cooper (1836 – 1890)
|     |     |     (4.6) Margaret Rockafellar & Abraham Shurts
|     |     |     |     (5.1) Michael Shurts (1807 – 1895) & Hannah Aller (1822 – 1878)
|     |     |     |     (5.2) Annie Shurts (1809 – )
|     |     |     |     |      m. 1) unknown Johnson (c.1805 – )
|     |     |     |     |      m. 2) Henry H. Fisher (c.1804 – )
|     |     |     |     (5.4) Catherine Shurts (1811 – ) & Henry A. Henry
|     |     |     |     (5.5) Margaret Shurts (1813 – c.1815)
|     |     |     (4.7) Emma Rockafellar & Peter VanSyckel Eckel
|     |     |     |     (5.1) Laura J. Eckel (c.1855 – )
|     |     |     |     (5.2) Peter Judson Eckel (c.1857 – )
Footnotes:
H. Z. Jones does not include Margaret Peters as a wife of Johan Pieter Rockafellar, but I believe there is some evidence to support her. ↩