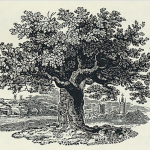 The first members of the Quinby family to settle in Hunterdon County were Ephraim Quinby and his brother Isaiah.
I have little information on Ephraim Quinby's family. He went into debt, and his children seem to have left Hunterdon County. His brother Isaiah remained and was farm more successful.
Please add comments, additions and corrections in the Comments section, below.
First Generation:
(1) Josiah Quinby (1663 – 1728) & Mary Mullineaux (1663 – 1728)
Second Generation:
|     (2) Eliza Dorcas Quinby (1690 – ?)
|     (2) Josiah Quinby (1692 – 1728) & Hannah Cornwell (1711 – 1765)
|     (2) Jonathan Quinby (1695 – 1696)
|     (2) Samuel Quinby (1697 – 1698)
|     (2) Ephraim Quinby (1700 – 1767) & Elizabeth Hall (c.1726 – 1810)
|     (2) Aaron Quinby (1702 – 1737)
|     (2) Moses Quinby (1704 – 1786)
|     (2) Martha Quinby (1706 – 1707)
|     (2) Daniel Quinby (1709 – 1795)
|     (2) Phebe Quinby (1711 – 1712)
|     (2) Isaiah Quinby (1716 – 1807)
.     .     m. 1) Rachel Warford (1725 – 1777)
.     .     m. 2) Hannah Kinsey (1720 – 1786)
.     .     m. 3) Miriam Betts (1739 – 1811)
Third Generation:
|     (2) Ephraim Quinby & Elizabeth Hall[#. I have not researched Ephraim & Elizabeth's family. It appears that their children left Hunterdon County.]
|     |     (3) Mary Quinby (1748 – c.1780)
|     |     (3) Elizabeth Quinby (c.1750 – bef. 1789) & Cornelius Quick (c.1750 – ?)
|     |     (3) Sarah Quinby (c.1750 – c.1820)
|     |     (3) Samuel Quinby (c.1756 – ?)
|     |     (3) Daniel Quinby (c.1755 – ?)
|     |     (3) Filenah Quinby (c.1755 – ?)
|     |     (3) Phoebe Quinby (c.1765 – ?)
|     |     (3) Ephraim Quinby, Jr. (1766 – ?)
|     (2) Isaiah Quinby & Rachel Warford
|     |     (3) Samuel Quinby (1743 – 1750)
|     |     (3) Mary Quinby (1745 – 1793) & Isaac Stout (1740 – 1823)
|     |     (3) Elizabeth Quinby (1748 – 1800)
.     .     .     m. 1) Joseph Brown (1737 – 1777)
.     .     .     m. 2) Jackson Holt (c.1740 – ?)
|     |     (3) Anne Quinby (1749 – 1831) & Jeremiah Croasdale (1751 – 1829)
|     |     (3) Phoebe Quinby (1750 – 1792) & Ambrose Barcroft (1748 – 1795)
|     |     (3) Rachel Quinby (1753 – 1842) & John Wolverton (1755 – 1837)
|     |     (3) Sarah Quinby (1755 – 1843) & Seneca Lukens (1751 – 1828)
|     |     (3) Aaron Quinby (1757 – 1849) & Lydia Balderston (1759 – 1820)
|     |     (3) Moses Quinby (1759 – 1824)
.     .     .     m. 1) Jane Fell (1761 – 1799)
.     .     .     m. 2) Hannah Good (1769 – 1832)
|     |     (3) Tabitha Quinby (1761 – 1855) & Joseph Chapman (1774 – 1864)
|     |     (3) Martha Quinby (1763 – 1813)
.     .     .     m. 1) John Blackfan (1762 – 1806)
.     .     .     m. 2) Isaac Chapman (1763 – 1837)[#. Isaac Chapman married 2d Mary Mott, daughter of Asher Mott and Ann Biles.]
|     |     (3) James Quinby (1765 – 1830) & Margaret Good (1773 – after 1830)
|     |     (3) Job Quinby (1768 – 1804) & Martha Cadwallader (1767 – after 1820)
Fourth Generation:
|     (2) Isaiah Quinby & Rachel Warford
|     |     (3) Mary Quinby & Isaac Stout
|     |     |     (4) Rachel Stout (1768 – 1787)
|     |     |     (4) Mary Stout (c.1770 – 1810) & Elisha Sharp Esq. (1767 – 1846)
|     |     |     (4) Sarah Stout (c.1770 – 1790) & Elisha Sharp Esq. (1767 – 1846)
|     |     |     (4) Josiah Stout (1780 – 1862) & Ann Nancy Prall (1780 – 1856)
|     |     |     (4) Isaiah Stout (1773 – 1811) & Catherine Kennedy (c.1780 – ?)
|     |     |     (4) Aaron Stout (1780 – 1864)
|     |     (3) Elizabeth Quinby & Jackson Holt
|     |     |     (4) Samuel Quinby Holt (c.1785 – after 1870) & Sophia Rittenhouse, left HC
|     |     (3) Rachel Quinby & John Wolverton
|     |     |     (4) Samuel Wolverton (1779 – 1841)
.     .     .     .     m. 1) Mary Johnson (1788 – 1812)
.     .     .     .     m. 2) Elizabeth Wilson (1788 – 1836)
|     |     |     (4) Mary Wolverton (1782 – 1817) & Joshua Opdycke (c.1780 – 1854)
|     |     |     (4) Sarah Wolverton (1784 – 1875)
.     .     .     .     m. 1) Joseph Stockton (c.1765 – c.1805)
.     .     .     .     m. 2) John King Stockton (1781 – 1850)
|     |     |     (4) Martha Wolverton (1787 – c.1808)
|     |     |     (4) Margaret Wolverton (1788 – 1883) & Asher Reading (1784 – 1864)
|     |     |     (4) James P. Wolverton (1791 – 1871) & Mary Ann Sergeant (1798 – 1853)
|     |     |     (4) Anna Wolverton (1794 – 1883)
.     .     .     .     m. 1) John Hoagland (c.1790 – bef. 1815)
.     .     .     .     m. 2) Ambrose Barcroft Jr. (1793 – 1881)
|     |     (3) Sarah Quinby & Seneca Lukens of Pennsylvania
|     |     |     (4) Jesse Lukens (1778 – 1803)
|     |     |     (4) Isaiah Quinby Lukens (1779 – 1846) & unknown
|     |     |     (4) Aaron Lukens (1781 – bef. 1829)
|     |     |     (4) Moses Lukens (1781 – 1862)
|     |     |     (4) Rachel Lukens (1784 – 1837)
|     |     |     (4) Joseph S. Lukens (1786 – 1875)
|     |     |     (4) Tacy Lukens (1787 – 1807)
|     |     |     (4) Tabitha Lukens (1789 – 1882)
|     |     |     (4) Martha Blackfan Lukens (1792 – 1884)
|     |     (3) Moses Quinby & Jane Fell (most of the children left H.C.)
|     |     |     (4) Isaiah Quinby (1783 – 1802)
|     |     |     (4) John Quinby (1785 – ?)
|     |     |     (4) Elizabeth Quinby (1786 – 1815)
|     |     |     (4) Joseph Quinby (1787 – 1836)
|     |     |     (4) Moses Quinby (1789 – 1834)
|     |     |     (4) Sarah Quinby (1791 – ?)
|     |     |     (4) David Quinby (1791 – ?)
|     |     |     (4) Rachel Quinby (1793 – 1864)
|     |     |     (4) Anna F. Quinby (1795 – 1837)
|     |     |     (4) Amos Quinby (1797 – ?)
|     |     |     (4) Ira Quinby (1799 – ?)
|     |     (3) Moses Quinby & Hannah Good, left Hunterdon County
|     |     |     (4) Jonathan Quinby (1801 – 1827)
|     |     |     (4) Ellen Eleanor Quinby (1803 – 1886)
|     |     |     (4) Miriam Quinby (c.1804 – after 1870) & James Chapman (c.1800 – bef. 1850)
|     |     |     (4) Jane G. Quinby (1805 – 1852) & George E. Lippincott (c.1800 – ?)
|     |     |     (4) Josiah Quinby (1808 – ?)
|     |     |     (4) Letitia G. Quinby (1813 – 1894) & Abraham W. Haines (c.1810 – ?)
|     |     (3) Tabitha Quinby & Joseph Chapman
|     |     |     (4) James Chapman (c.1800 – bef. 1850) & Miriam Quinby (c.1804 – after 1870)
|     |     |     (4) Sarah Quinby Chapman (1805 – 1886) & Deacon James Romine (1801 – 1878)
|     |     (3) James Quinby & Margaret Good
|     |     |     (4) Mary Quinby (1804 – 1882) & James Armitage (c.1800 – bef. 1874)
|     |     |     (4) Rachel Quinby (1805 – 1808)
|     |     |     (4) Martha Quinby (1808 – ?) & John E. Kenderdine (c.1805 – ?)
|     |     |     (4) Hannah Quinby (1810 – ?) & Thomas Atkinson (c.1805 – ?)
|     |     |     (4) Francena Quinby (1812 – 1854)
|     |     |     (4) Isaiah Quinby (1814 – ?) & Ruth Scarborough (1832 – ?)
|     |     |     (4) James R. Quinby (1817 – 1908) & Grace Ridge (c.1821 – ?)
Fifth Generation:
|     (2) Isaiah Quinby & Rachel Warford
|     |     (3) Mary Quinby & Isaac Stout
|     |     |     (4) Mary Stout & Elisha Sharp, Esq.
|     |     |     |     (5) Sarah Sharp (1793 – 1876) & Paul Kuhl Dilts (1788 – 1884)
|     |     |     |     (5) John Sharp (1795 – 1885) & Elizabeth Eliza Wert (1801 – 1887)
|     |     |     |     (5) Isaac Sharp (c.1801 – 1823)
|     |     |     |     (5) Susan Sharp (1809 – 1895) & Abraham Wearts (1804 – 1846)
|     |     |     |     (5) Mary Sharp (c.1798 – 1820)
|     |     |     (4) Isaiah Stout & Catherine Kennedy
|     |     |     |     (5) Isaac Stout (1800 – 1877)
.     .     .     .     .     m. 1) Mary Ann Johnson (c.1800 – ?)
.     .     .     .     .     m. 2) Hester Bennett
|     |     |     |     (5) Henry Kennedy Stout (1802 – 1868) & Rebecca Ann Ely (1812 – 1838)
|     |     |     |     (5) Elisha S. Stout (1803 – ?) & Abigail Grimes (1802 – ?)
|     |     |     |     (5) Joseph Stout (1806 – ?)
|     |     |     |     (5) Absalom Stout (1808 – ?)
|     |     |     |     (5) Moses Stout (1809 – ?)
|     |     |     |     (5) Isaiah Stout (1810 – ?)
|     |     (3) Elizabeth Quinby & Jackson Holt
|     |     |     (4) Samuel Quinby Holt & Sophia Rittenhouse, left H.C.
|     |     |     |     (5) Jackson Holt (c.1818 – ?)
|     |     |     |     (5) Samuel R. Holt (c.1837 – ?)
|     |     (3) Rachel Quinby & John Wolverton
|     |     |     (4) Samuel Wolverton & Mary Johnson
|     |     |     |     (5) John Wolverton (c.1811 – ?)
|     |     |     |     (5) Asher B. Wolverton (1812 – 1896) & Anna Gearhart (1822 – 1896)
|     |     |     (4) Samuel Wolverton & Elizabeth Wilson
|     |     |     |     (5) Maurice Wolverton (1827 – 1904) & Caroline M. Hoppock (1823 – 1909)
|     |     |     (4) Mary Wolverton & Joshua Opdycke
|     |     |     |     (5) Rachel Opdycke (1805 – 1888) & Maurice Cowdrick (1803 – 1869)
|     |     |     |     (5) Grace Opdycke (1807 – 1881) & John Vandolah (1804 – 1885)
|     |     |     |     (5) Sarah Opdycke (1812 – 1893) & Charles P. Holcombe (1811 – 1873)
|     |     |     |     (5) Martha Opdycke (1813 – 1883) & Pierson Williamson (1814 – 1895)
|     |     |     (4) Sarah Wolverton & John King Stockton
|     |     |     |     (5) Joseph Stockton (1807 – 1829)
|     |     |     |     (5) William Stockton (1809 – 1897) & Harriet (c.1815 – ?)
|     |     |     |     (5) Samuel Stockton (1812 – 1884)
|     |     |     |     (5) Hon. John P. Stockton (1814 – 1912)
.     .     .     .     .     m. 1) Lavinia Van Ness (1819 – 1841)
.     .     .     .     .     m. 2) Eliza Ann Holcombe (c.1820 – bef. 1843)
.     .     .     .     .     m. 3) Elizabeth Moore (1821 – 1885)
|     |     |     |     (5) Horatio Nelson Stockton (1817 – 1881) & Nancy Walker (1834 – ?)
|     |     |     |     (5) James W. Stockton (1820 – 1885) & Elizabeth Vanderbilt (1820 – 1899)
|     |     |     |     (5) Amy Stockton (1822 – 1822)
|     |     |     |     (5) Richard Stockton (1823 – ?) & Deborah Harrison (1823 – 1872)
|     |     |     |     (5) Rachel Stockton (1828 – 1829)
|     |     |     (4) Margaret Wolverton & Asher Reading
|     |     |     |     (5) Mary Reading (1809 – 1876) & John Golden (1803 – 1880)
|     |     |     |     (5) John Woolverton Reading (1812 – 1898) & Lucinda Gordon (1817 – 1897)
|     |     |     |     (5) Kensyl Reading (1815 – 1900) & Hannah Risler (1822 – 1888)
|     |     |     |     (5) Mary Reading (1817 – 1848) & Aaron H. Cook (1814 – 1850)
|     |     |     |     (5) Sarah W. Reading (1820 – after 1860) & Joseph R. Opdycke (1815 – 1870)
|     |     |     |     (5) Samuel Wolverton Reading (1822 – 1873)
.     .     .     .     .     m. 1) Catherine H. Bodine (1826 – 1856)
.     .     .     .     .     m. 2) LaReine Cline (1833 – 1903)
|     |     |     |     (5) Rachel Wolverton Reading (1826 – 1910) & Manuel Green (1823 – 1889)
|     |     |     |     (5) Margaret F. Reading (1828 – 1871) & Asa E. Cronce (1820 – 1902)
|     |     |     (4) James P. Wolverton & Mary Ann Sergeant
|     |     |     |     (5) Sarah Wolverton (1819 – 1896) & Elias S. Johnson (1810 – 1892)
|     |     |     |     (5) Rachel Wolverton (1820 – 1912) & Henry R. Fell (1814 – 1904)
|     |     |     |     (5) Jane Elizabeth Wolverton (1822 – 1902) & George H. Hoppock (1820 – 1905)
|     |     |     |     (5) John Wolverton (1825 – 1888) & Emma Van Cleve (1832 – 1856)
|     |     |     |     (5) Mary S. Wolverton (1828 – 1923) & Charles P. Jones (1824 – 1893)
|     |     |     |     (5) Permelia Wolverton (1833 – 1922) & Gardner Bowne Johnson (1831 – 1912)
|     |     |     |     (5) James Wolverton M.D. (1834 – 1861)
|     |     |     |     (5) Joseph Wood Wolverton (1836 – 1887) & Anna Maria Sims (1841 – 1881)
|     |     |     |     (5) Charles Sergeant Wolverton (1838 – 1908) & Elizabeth B. Fell (1843 – 1929)
|     |     |     |     (5) Samuel Wolverton (1843 – 1888) & Susanna Paul Lukens (1843 – 1919)
|     |     |     (4) Anna Wolverton & Ambrose Barcroft Jr.
|     |     |     |     (5) Dr. John Wolverton Barcroft (1817 – 1895) & Lucinda Bray (1817 – 1900)
|     |     |     |     (5) Elias Barcroft (1819 – 1877)
.     .     .     .     .     m. 1) Catherine Dayton Fisher (1819 – 1855)
.     .     .     .     .     m. 2) Lucinda (c.1825 – 1857)
.     .     .     .     .     m. 3) Nancy Myatt
|     |     |     |     (5) Fanny Barcroft (1821 – 1911) & Peter Ten Broeck Runk (1818 – 1860)
|     |     |     |     (5) Ambrose Barcroft (1826 – 1894) & Charlotte D. Woodward (1835 – 1904)
|     |     |     |     (5) Martha Hill Barcroft (1830 – 1921) & Alfred W. Rowell (1832 – 1877)
|     |     |     |     (5) Rachel Wolverton Barcroft (1832 – 1877) & Botsford Camp (1819 – 1904)
|     |     (3) Moses Quinby & Hannah Good
|     |     |     (4) Miriam Quinby & James Chapman
|     |     |     |     (5) Tabitha Chapman (c.1823 – ?)
|     |     |     |     (5) John Chapman (c.1826 – ?) & Catharine (c.1832 – ?)
|     |     (3) Tabitha Quinby & Joseph Chapman
|     |     |     (4) James Chapman & Miriam Quinby
|     |     |     |     (5) Tabitha Chapman (c.1823 – ?)
|     |     |     |     (5) John Chapman (c.1826 – ?) & Catharine (c.1832 – ?)
|     |     |     (4) Sarah Quinby Chapman) & Deacon James Romine
|     |     |     |     (5) Hannah A. Romine (1824 – 1894) & Thomas C. Wanamaker (1828 – 1889)
|     |     |     |     (5) Rachel W. Romine (1833 – 1883) & Hiram Johnson (1829 – 1903)
|     |     |     |     (5) Mary H. Romine (1831 – 1912) & Jacob S. Dalrymple (1820 – 1893)
|     |     |     |     (5) Miriam Chapman Romine (1834 – 1900) & Cornelius W. Bodine (1823 – 1904)
|     |     |     |     (5) Joseph Romine (c.1840 – ?) & Rachel Ely (c.1840 – ?)
|     |     |     |     (5) Rev. Edward C. Romine (c.1842 – 1911) & Carrie K. (c.1845 – ?)
|     |     |     |     (5) Sarah V. Romine (c.1847 – ?) & David R. Johnson (c.1845 – ?)
|     |     (3) James Quinby & Margaret Good
|     |     |     (4) Hannah Quinby & Thomas Atkinson
|     |     |     |     (5) Wilmer Atkinson
|     |     |     |     (5) Emma E. Atkinson (c.1838 – ?) & __ Smith (c.1835 – ?)
|     |     |     |     (5) James Q. Atkinson (c.1840 – ?)
|     |     |     (4) Isaiah Quinby & Ruth Scarborough
|     |     |     |     (5) Mary S. Quinby (c.1850 – ?)
|     |     |     |     (5) Margaret Quinby
|     |     |     |     (5) Wilmot Quinby