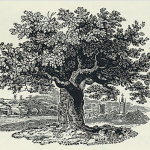 Normally I try to show six generations from the first settler in Hunterdon County. But Holcombes are an exception, as there are so many of them! So, five generations is all I can handle.
Please, share any corrections or additions you might have. And remember, I list the children of daughters, but not their grandchildren.
Also, in many cases, I have numbered the Holcombe children  because of the confusion caused by Thomas and Mary T. Holcombe, first cousins who married. And also because Holcombes tended to have very large families.
First Generation:
(1) John Holcombe (1682 – 1743) & Elizabeth Woolrich (1683 – 1761)
John Holcombe, a Quaker who was born in Tiverton, Devonshire, England, appeared in Philadelphia in the late 1600s, and married wife Elizabeth Woolrich in Abington, Bucks County, Pennsylvania in 1707. Not long afterwards, in 1710, he appeared in Amwell Township, serving as a Justice when the township was still part of Burlington County. It appears that all his children were born there.
Second Generation:
|     (2.1) John Holcombe (bef. 1710 – c.1711)
|     (2.2) Samuel Holcombe (1711 – 1769) & Eleanor Barber (c.1704 – 1793)
|     (2.3) Grace Holcombe (c.1718 – bef. 1794) & Philip Calvin Sr. (c.1717 – 1794)
|     (2.4) Mary Holcombe (c.1720 – ) & Samuel Furman (1720 – c.1794)
|     (2.5) Julia Anne Holcombe (c.1722 – after 1743) & Daniel Howell (c.1718 – 1790)
|     (2.6) Richard Holcombe (1726 – 1783)
|     |      m. 1) Mary Harvey (c.1730 – c.1760)
|     |      m. 2) Ann Atkinson (1729 – 1803)
Third Generation:
|     (2.1) Samuel Holcombe & Eleanor Barber
|     |     (3.1) John Holcombe (1739 – 1818) & Mary Green (1741 – 1828)
|     |     (3.2) Jacob Holcombe (1741 – 1820) & Rachel Hyde (1741 – 1814)
|     |     (3.3) Phoebe Holcombe (1743 – 1806) & Henry Lott (c.1740 – 1797)
|     |     (3.4) Samuel Holcombe (1745 – 1817)
|     |     |      m. 1) Mary Stillwell (1735 – 1770)
|     |     |      m. 2) Sarah Emley (1759 – 1832)
|     |     (3.5) Major George N. Holcombe (1747 – 1811) & Achsah Knowles (1754 – )
|     |     (3.6) Elijah Holcombe (1750 – 1822) & Ann Nancy Britton (c.1746 – 1824)
|     |     (3.7) Richard Holcombe (1752 – 1835) & Hannah Emley (1755 – )
|     |     (3.8) Thomas Holcombe (1754 – 1822) &
|     |     |      m. 1) Leah Deremer (~1755 – 1781)
|     |     |      m. 2) Mary T. Holcombe (1767 – 1835)
|     |     (3.9) Elizabeth Holcombe (1758 – 1843) & John Bellis (1756 – 1829)
|     (2.3) Grace Holcombe & Philip Calvin Sr.
|     |     (3) Sarah Colvin (1740 – ) & Joseph Landis (1750 – )
|     |     (3) Philip Calvin Jr. (c.1742 – bef. 1794)
|     |     (3) Grace Colvin (c.1744 – )
|     |     (3) Mary Colvin (c.1745 – ) & Anderson (c.1740 – )
|     |     (3) Rebecca Colvin (c.1746 – bef. 1794) & John Haviland (c.1740 – c.1795)
|     (2.4) Mary Holcombe & Samuel Furman
|     |     (3) Samuel Furman (c.1745 – 1794) & Sarah Stout (c.1745 – 1794)
|     |     (3) Rebecca Furman (c.1750 – ) & Rynear Vansyckle (c.1749 – 1823)
|     |     (3) Daniel Furman (1753 – 1823)
|     |     (3) William Furman (1757 – 1826) & Rachel Wolverton (c.1754 – )
|     |     (3) Benjamin Furman (1759 – after 1832) & Else Allen (1752 – )
|     |     (3) Elizabeth Furman (c.1761 – 1827) & Oliver Hunt (1754 – )
|     |     (3) Sarah Furman & Benjamin Hunt (1758 – )
|     (2.5) Julia Anne Holcombe & Daniel Howell
|     |     (3) John Howell (c.1740 – after 1804)
|     |     (3) Daniel Howell (c.1742 – after 1791)
|     |     (3) Reading Howell Esq. (c.1743 – 1827) & Catharine Yerkes (1755 – bef. 1821)
|     (2.6) Richard Holcombe & 1) Mary Harvey
|     |     (3.1) Sarah Sally Holcombe (1751 – 1825) & Isaac Leech (1754 – 1834)
|     |     (3.2) John Holcombe (1755 – ~1760)
|     (2.6) Richard Holcombe & 2) Ann Atkinson
|     |     (3.3) Mary T. Holcombe (1767 – 1835) & Thomas Holcombe (1754 – 1822)
|     |     (3.4) John Holcombe III (1768 – 1851) & Mary Naylor (c.1770 – bef. 1850)
|     |     (3.5) Ann Nancy Holcombe (c.1770 – )
|     |     (3.6) Lucy Holcombe (c.1772 – )
|     |     (3.7) Hannah Holcombe (c.1775 – )
Fourth Generation:
|     (2.2) Samuel Holcombe & Eleanor Barber
|     |     (3.1) John Holcombe & Mary Green
|     |     |     (4.1) Elizabeth Holcombe (1763 – 1855)
|     |     |     (4.2) Samuel Holcombe (1765 – 1855)
|     |     |     |       m. 1) Anna Amelia VanHorn (1775 – 1833)
|     |     |     |       m. 2) Elizabeth Naylor (1794 – 1856)
|     |     |     (4.3) Richard Holcombe (1767 – 1824) & Elizabeth Closson (bef. 1773 – 1825)
|     |     |     (4.4) Eleanor Holcombe (1770 – 1856) & Asher Ely (1768 – 1855)
|     |     |     (4.5) John Holcombe (1772 – 1820) & Mary Skelton (1778 – 1842)
|     |     |     (4.6) Sarah Holcombe (1775 – 1822) & Phineas Walker (1776 – 1848)
|     |     |     (4.7) Margaret Holcombe (1777 – 1854)
|     |     |     (4.8) Amariah Holcombe (1780 – 1792)
|     |     |     (4.9) Daniel Holcombe (1784 – 1806) & Margaret Worthington (c.1790 – )
|     |     (3.2) Jacob Holcombe & Rachel Hyde
|     |     |     (4.1) Mary Holcombe (1762 – 1837)
|     |     |     |       m. 1) Jonas Tyson (c.1760 – bef. 1785)
|     |     |     |       m. 2) Joseph Lambert (1749 – 1821)
|     |     |     (4.2) Eleanor Holcombe (1765 – 1859) & Tunis Hoppock Jr. (1762 – 1838)
|     |     |     (4.3) Keziah Holcombe (1767 – 1854) & James Larison (1765 – 1848)
|     |     |     (4.4) Elizabeth Holcombe (c.1770 – bef. 1802) & Jeremiah Lambert (1765 – 1844)
|     |     |     (4.5) Josiah Holcombe (1771 – 1811) & Lucretia Hoagland (1771 – 1858)
|     |     |     (4.6) William Jacob Holcombe Jr. (1778 – 1808) & Letitia Letty Moore (1768 – 1838)
|     |     |     (4.7) Amanda Holcombe (1780 – ) & Elijah Warford (1783 – 1833)
|     |     |     (4.8) Sophia Laviah Holcombe (1782 – 1810) & William Lanning (1774 – 1817)
|     |     (3.3) Phoebe Holcombe & Henry Lott
|     |     |     (4) Samuel Lott (1763 – 1768)
|     |     |     (4) Henry Lott (1765 – 1812)
|     |     |     (4) Zephaniah Lott (1768 – 1795)
|     |     |     (4) George E. Lott (1773 – 1846) & Elizabeth Fisher (1773 – 1855)
|     |     |     (4) Eleanor Lott
|     |     |     (4) Elizabeth Lott
|     |     |     (4) Elijah Lott
|     |     (3.4) Samuel Holcombe & 2) Mary Stillwell
|     |     |     (4.1) Samuel Holcombe Jr. (1769 – 1838) & Mary Moore (1775 – 1838)
|     |     |     (4.2) George Holcombe Jr. (1770 – 1845) & Mary Coate (c.1780 – bef. 1845)
|     |     (3.4) Samuel Holcombe Sarah Emley
|     |     |     (4.3) Mary S. Holcombe (1782 – 1867) & Abner Akers (~1775 – 1844)
|     |     |     (4.4) Robert Holcombe (1783 – 1825) & Elizabeth Pidcock (1783 – 1843)
|     |     |     (4.5) Capt. Elisha Holcombe (1785 – 1856) & Mary S (1782 – 1867)
|     |     |     (4.6) Atkinson Holcombe (1786 – 1850)
|     |     |     (4.7) Thomas A. Holcombe (1787 – 1825) & Mary Quick (1790 – 1837)
|     |     |     (4.8) Solomon Holcombe Esq. (1789 – 1871)
|     |     |     |       m. 1) Catherine Kitty Barber (1791 – 1871)
|     |     |     |       m. 2) Charity (1783 – 1863)
|     |     |     (4.9) Lewis Holcombe (1794 – 1831) & Mary L. Sutton (1797 – 1880)
|     |     |     (4.10) Hannah Holcombe (1798 – 1872) & Jesse H. Landis (1791 – 1875)
|     |     (3.5) Major George N. Holcombe & Achsah Knowles
|     |     |     (4.1) Joseph Holcombe (1771 – 1840) & Frances Drake (1769 – 1839)
|     |     |     (4.2) John Holcombe (1773 – )
|     |     |     (4.3) Samuel Holcombe (c.1775 – )
|     |     |     (4.4) Hon. George Holcombe M.D. (1786 – 1828) & Elizabeth Imlay (1793 – 1835)
|     |     |     (4.5) Achsah Holcombe (1788 – 1829) & George Neldon
|     |     |     (4.6) Hannah Holcombe
|     |     (3.6) Elijah Holcombe & Ann Nancy Britton
|     |     |     (4.1) Rev. John Brittain Holcombe (1770 – 1845) & Rachel Burrowes (1785 – 1845), left H.C.
|     |     |     (4.2) Joseph Holcombe (1775 – 1855) & Lucilla Lucy Holcombe (1779 – 1850), left H.C.
|     |     |     (4.3) Achsah Holcombe (1786 – 1865) & George Pidcock (c.1785 – )
|     |     |     (4.4) Jacob Holcombe (1788 – 1843) & Elizabeth Williams (1792 – 1838), left H.C.
|     |     |     (4.5) Mary Holcombe (1802 – )
|     |     (3.7) Richard Holcombe & Hannah Emley
|     |     |     (4.1) Ann Holcombe (1775 – 1852) & Furman Romine (1772 – 1847)
|     |     |     (4.2) Elder Emley Holcombe (1777 – 1846) & Mary Polly Skillman (1779 – 1842)
|     |     |     (4.3) Lucilla Lucy Holcombe (1779 – 1850) & Joseph Holcombe (1775 – 1855), left H.C.
|     |     |     (4.4) Capt. George Holcombe (1781 – 1855) & Catherine Butterfoss (1785 – 1851)
|     |     |     (4.5) Eleanor Holcombe (1783 – 1830) & Derrick Richard Hoagland (1787 – 1851)
|     |     |     (4.6) Theodosia Holcombe (1786 – 1787)
|     |     |     (4.7) Elisha Holcombe (1788 – 1835) & Anne Charity Brewer (1791 – 1878)
|     |     (3.8) Thomas Holcombe & 1) Leah Deremer
|     |     |     (4.1) Abraham Holcombe (1779 – 1782)
|     |     (3.8) Thomas Holcombe & 2) Mary T. Holcombe
|     |     |     (4.1) Richard Holcombe (1783 – 1859)
|     |     |     |       m. 1) Sarah Runkle (1781 – 1836)
|     |     |     |       m. 2) Sarah R. Landis (1798 – 1851)
|     |     |     (4.2) John Holcombe (1785 – 1858) & Sarah Butterfoss (1790 – 1890)
|     |     |     (4.3) Abraham Holcombe (1788 – bef. 1853)
|     |     |     (4.4) Sarah Leah Holcombe (1790 – bef. 1822) & Edward Giles Sharp (1784 – 1825)
|     |     |     (4.5) Elias Holcombe (1793 – 1865) & Frances Fisher (1791 – 1865)
|     |     |     (4.6) Thomas T. Holcombe (1795 – 1838) & Ann Nancy Fisher (1790 – 1869)
|     |     |     (4.7) Henry Holcombe M.D. (1797 – 1858) & Catharine Case (1799 – 1866)
|     |     |     (4.8) Ralph Holcombe (1799 – bef. 1848) & Lucretia Sutton (c.1801 – 1879)
|     |     |     (4.9) Ann Holcombe (1803 – 1890) & Jonathan Higgins (1811 – 1878)
|     |     |     (4.10) Maria Holcombe (1805 – 1863) & Col. John Sharp (1792 – 1876)
|     |     (3.9) Elizabeth Holcombe & John Bellis
|     |     |     (4) Grace Holcombe Bellis (1778 – 1880) & John Britton (c.1774 – 1844)
|     |     |     (4) Charlotte Bellis (1782 – 1823) & James Dalrymple (~1783 – )
|     |     |     (4) Mary Bellis (1784 – 1854) & Peter Bilby
|     |     |     (4) Eleanor Bellis (1786 – 1869)
|     |     |     |     m. 1) John Dalrymple (1777 – 1814)
|     |     |     |     m. 1) Asa Dalrymple (c.1785 – )
|     |     |     (4) Samuel Bellis (1787 – 1875)
|     |     |     |     m. 1) Mary Kels (1789 – 1860)
|     |     |     |     m. 2) Mary VanNorman (c.1794 – )
|     |     |     (4) Rebecca Bellis (1789 – 1860) & Amos Opdycke (1781 – 1864)
|     |     |     (4) Phebe Phoebe Bellis (1790 – ) & Luther Opdycke (1784 – 1867)
|     |     |     (4) Uriah Bellis (1792 – 1863) & Catharine VanNorman (1796 – 1886)
|     |     |     (4) Isaac Bellis (1794 – 1829) & Elizabeth Everingham (c.1794 – 1863)
|     |     |     (4) John H. Bellis (1797 – 1827) & Elizabeth Roberson (1804 – 1837)
|     (2.6) Richard Holcombe & 2) Ann Atkinson
|     |     (3.3) Mary T. Holcombe & Thomas Holcombe, son of Samuel Holcombe & Eleanor Barber,
|     |     |      |   See 2.2/3.8 above
|     |     (3.4) John Holcombe III & Mary Naylor
|     |     |     (4) John Atkinson Holcombe (1799 – 1840) & Harriet Naylor (1817 – 1888)
Fifth Generation:
|     (2.2) Samuel Holcombe & Eleanor Barber
|     |     (3.1) John Holcombe & Mary Green
|     |     |     (4.2) Samuel Holcombe & 1) Anna Amelia VanHorn
|     |     |     |     (5) Sarah Holcombe (1798 – ) & Samuel Ross
|     |     |     |     (5) Mary Holcombe (1799 – ) & Benjamin Beans Jr.
|     |     |     |     (5) Elizabeth Holcombe (1801 – )
|     |     |     |     (5) John Holcombe (1802 – )
|     |     |     |     (5) Anna Amelia Holcombe (1804 – )
|     |     |     |     (5) Hannah Holcombe (1806 – ) & William Martindell (c.1805 – )
|     |     |     |     (5) Samuel Holcombe (1807 – )
|     |     |     |     (5) Phoebe Holcombe (1809 – 1831) & B. Collins M.D.
|     |     |     |     (5) Matilda Holcombe (1811 – ) & Cary Longshore
|     |     |     |     (5) Dewitt Clinton Holcombe (1812 – 1843)
|     |     |     |     (5) George Holcombe (1815 – )
|     |     |     (4.3) Richard Holcombe & Elizabeth Closson
|     |     |     |     (5) John Carroll Holcombe (1793 – 1882) & Rebecca Fisher (1794 – 1873)
|     |     |     |     (5) Allen B. Holcombe (1795 – 1834) & Elizabeth Anderson Jones (1804 – 1892)
|     |     |     |     (5) David Holcombe (1797 – 1821)
|     |     |     |     (5) Charles Holcombe (1799 – )
|     |     |     |     (5) Thomas P. Holcombe (1801 – 1863)
|     |     |     |     |     m. 1) Mary Curry (1804 – 1840)
|     |     |     |     |     m. 2) Catherine Holcombe (1810 – 1846)
|     |     |     |     (5) Mary Holcombe (1804 – 1878) & Absalom Phillips (1799 – 1878)
|     |     |     |     (5) Elizabeth Ann Holcombe (1805 – )
|     |     |     |     (5) Aaron Holcombe (1812 – )
|     |     |     (4.4) Eleanor Holcombe & Asher Ely
|     |     |     |     (5) John Holcombe Ely (1792 – ) & Elizabeth Pownall (1786 – 1817)
|     |     |     |     (5) Mary Ely (1800 – ) & Thomas Ely (1798 – 1875)
|     |     |     (4.5) John Holcombe (1772 – 1820) & Mary Skelton (1778 – 1842)
|     |     |     |     (5) Pearson Holcombe (1813 – 1898) & Hannah Pickering
|     |     (3.2) Jacob Holcombe & Rachel Hyde
|     |     |     (4.1) Mary Holcombe & 1) Jonas Tyson
|     |     |     |     (5) Jonas Tyson (c.1782 – ) & Mary Heath (1785 – 1850)
|     |     |     (4.1) Mary Holcombe & 2) Joseph Lambert
|     |     |     |     (5) Jacob Lambert (1786 – 1839) & Letitia Prall (1785 – 1834)
|     |     |     |     (5) Wilson Lambert (1787 – 1878) & Sarah Ridgeway (1797 – 1868)
|     |     |     |     (5) Aaron Lambert (1789 – 1863)
|     |     |     |     |     m. 1) Eleanor Prall (~1790 – ~1816)
|     |     |     |     |     m. 2) Lydia Stiger (~1790 – 1847)
|     |     |     |     (5) Benjamin Lambert (1792 – ) & Deborah Johnes (1792 – )
|     |     |     |     (5) William Lambert (1794 – 1797)
|     |     |     |     (5) Permelia Amelia Lambert (1797 – 1850) & Capt. John Scott (1788 – 1846)
|     |     |     |     (5) Joseph Lambert (1801 – 1826) & Elizabeth Harrison Reading (1802 – 1889)
|     |     |     (4.2) Eleanor Holcombe & Tunis Hoppock Jr.
|     |     |     |     (5) Elizabeth Hoppock (1783 – )
|     |     |     |     (5) Asher Hoppock (1787 – 1811) & Caty Catharine Wambough (c.1788 – )
|     |     |     |     (5) Mahlon Hoppock (1788 – 1814)
|     |     |     |     (5) Ely Hoppock (1791 – ) & Anna Bloom (c.1795 – )
|     |     |     |     (5) Jacob Hoppock (1793 – ) & Rachel Allen (c.1790 – )
|     |     |     |     (5) Josiah Hoppock (1797 – 1805)
|     |     |     |     (5) Catharine Hoppock (1799 – 1840) & Richard Kuhl (c.1795 – )
|     |     |     |     (5) Howell Hoppock (1802 – )
|     |     |     |     (5) Richard Hoppock (1804 – 1842) & Sarah Quick (1805 – 1840)
|     |     |     (4.3) Keziah Holcombe & James Larison
|     |     |     |     (5) Lavinia Larison (1788 – after 1850) & Samuel Britton (1786 – 1841)
|     |     |     |     (5) Rachel Larison (1791 – ) & John Vansyckle (c.1786 – )
|     |     |     |     (5) Kezia Larison (1811 – ) & John Carhart (1804 – )
|     |     |     (4.4) Elizabeth Holcombe & Jeremiah Lambert
|     |     |     |     (5) Mary Lambert (1787 – 1874) & Asa Phillips (1792 – 1871)
|     |     |     |     (5) John H. Lambert (c.1791 – 1847) & Maria Carver (1810 – 1850)
|     |     |     |     (5) Zephaniah Lambert (1794 – 1880) & Anna Wilson (1798 – 1880)
|     |     |     |     (5) Keziah Lambert (c.1799 – ) & John Werts
|     |     |     |     (5) William Lambert (c.1800 – )
|     |     |     |     (5) Rachel Lambert (c.1805 – ) & Isaac Snook (c.1800 – )
|     |     |     (4.5) Josiah Holcombe & Lucretia Hoagland
|     |     |     |     (5) Jacob H. Holcombe (1795 – 1873) & Keturah Van Doren (1799 – 1874)
|     |     |     |     (5) Hiram Holcombe (1799 – 1823)
|     |     |     |     (5) Elizabeth Holcombe (1803 – 1864) & Robert Lanning (1800 – 1830)
|     |     |     |     (5) Lucretia Hetty Holcombe (1810 – ) & Joseph Huffman (c.1810 – )
|     |     |     (4.6) William Jacob Holcombe Jr. & Letitia Letty Moore
|     |     |     |     (5) Keziah Holcombe (1805 – 1843) & Joseph Reakirt (1778 – 1808)
|     |     |     |     (5) Maria Holcombe (1807 – ) & Dr. Joseph Landis (c.1805 – )
|     |     |     (4.7) Amanda Holcombe & Elijah Warford
|     |     |     |     (5) Holcombe Warford (c.1812 – 1886) & Margaret Case (c.1812 – 1879)
|     |     |     (4.8) Sophia Laviah Holcombe & William Lanning
|     |     |     |     (5) Hannah Lanning (1798 – 1878) & John S. Phillips (1795 – 1869)
|     |     |     |     (5) Jacob Holcombe Lanning (1799 – 1885)
|     |     |     |     |     m. 1) Theodosia Gray (1803 – 1863)
|     |     |     |     |     m. 2) Hannah Silver
|     |     |     |     (5) Hester Lanning (1800 – 1884) & Robert Liverton (~1795 – 1867)
|     |     |     |     (5) Judith Ann Lanning (1806 – 1831) & Judge Andrew S. Opdycke (1803 – 1874)
|     |     |     |     (5) Robert Baker Lanning (1809 – 1867) & Elizabeth Robinson (c.1814 – 1864)
|     |     (3.4) Samuel Holcombe & 1) Mary Stillwell
|     |     |     (4.1) Samuel Holcombe Jr. & Mary Moore
|     |     |     |     (5) Rhoda Moore Holcombe (1795 – ) & Peter V. Poole
|     |     |     |     (5) Elizabeth Stillwell Holcombe (1796 – 1850) & Rev. Stephen Meeker
|     |     |     |     (5) Theophilus Moore Holcombe (1799 – )
|     |     |     |     (5) Jane Maria Holcombe (1805 – 1853)
|     |     |     |     (5) Cornelia A. Holcombe (1809 – ) & Augustus R. Taylor M.D.
|     |     |     |     (5) Susan Jones Holcombe (1811 – ) & George Plum Molleson
|     |     (3.4) Samuel Holcombe (1745 – 1817) & 2) Sarah Emley (1759 – 1832)
|     |     |     (4.3) Mary S. Holcombe & Abner Akers
|     |     |     |     (5) Ruth Akers (c.1805 – c.1850) & Samuel Skillman (c.1797 – bef.1850)
|     |     |     |     (5) Cordelia Akers (c.1810 – 1906)
|     |     |     |     |     m. 1) Solomon Price (c.1810 – )
|     |     |     |     |     m. 2) Christopher Case Esq. (1797 – 1877)
|     |     |     |     |     m. 3) David Ballard
|     |     |     |     (5) Maria Akers (c.1815 – ) & Aaron Holcombe (c.1807 – )
|     |     |     (4.4) Robert Holcombe & Elizabeth Pidcock
|     |     |     |     (5) Martha Holcombe (1803 – 1880)
|     |     |     |     (5) Sarah Holcombe (1804 – 1866) & Peter J. Case (1794 – 1884)
|     |     |     |     (5) Elizabeth Holcombe (1806 – 1862) & John H. Smith (1804 – 1876)
|     |     |     |     (5) George Nelson Holcombe (1808 – 1900) & Matilda Case (1809 – 1879)
|     |     |     |     (5) Rebecca Ann Holcombe (1810 – 1883) & Elder Caleb Farley Fisher (1809 – 1892)
|     |     |     |     (5) Charles P. Holcombe (1811 – 1873) & Sarah Opdycke (1812 – 1893)
|     |     |     |     (5) Solomon Holcombe Jr. (1813 – 1879)
|     |     |     |     |     m. 1) Miranda Holcombe (1818 – 1843)
|     |     |     |     |     m. 2) Beulah Labaw (1823 – 1880)
|     |     |     |     (5) Atkinson J. Holcombe (1815 – 1887) & Mary Ann Webster (1821 – 1892)
|     |     |     |     (5) Amanda Holcombe (1817 – 1888) & Hiram Moore (1812 – 1893)
|     |     |     |     (5) Robert E. Holcombe (1819 – 1879) & Hannah E. Higgins (c.1823 – 1910)
|     |     |     |     (5) Mary Holcombe (1823 – 1849) & Samuel Lewis (1800 – after 1883)
|     |     |     (4.7) Thomas A. Holcombe & Mary Quick
|     |     |     |     (5) Samuel R. Holcombe (1811 – 1875) & Lavinia Levinia Larison (1811 – 1886)
|     |     |     |     (5) Charles Mortimer Holcombe (1812 – 1879)
|     |     |     |     |     m. 1) Martha A. Skillman (1818 – 1843)
|     |     |     |     |     m. 2) Stratira Clapp
|     |     |     |     (5) Tunis Quick Holcombe (1814 – 1880) & Lucretia Ann Romine (1816 – 1890)
|     |     |     |     (5) Ambrose Holcombe (1815 – 1889) & Ann Elizabeth Barber (1823 – 1901)
|     |     |     |     (5) Clarinda Holcombe (1818 – ) & Enoch Mettler (1814 – 1884)
|     |     |     |     (5) Caroline Holcombe (1819 – 1887) & Samuel C. Barber (1806 – 1900)
|     |     |     |     (5) Augustus S. Holcombe (1820 – 1845)
|     |     |     |     (5) Rhoda Holcombe (1821 – ) & William H. Skillman (c.1820 – )
|     |     |     |     (5) Capt. Elisha E. Holcombe (1823 – 1900) & Hannah C. Jones (1826 – 1902)
|     |     |     |     (5) Henry P. Holcombe (1824 – )
|     |     |     (4.8) Solomon Holcombe Esq. & 1) Catherine 'Kitty' Barber
|     |     |     |     (5) Alexander Pike Holcombe (1816 – 1889) & Jemima H. Prall (1817 – 1855)
|     |     |     |     (5) Ferdinand Shurman Holcombe (1818 – 1910) & Julia Wilson (1820 – 1903)
|     |     |     |     (5) Anna Matilda Holcombe (1819 – 1896)
|     |     |     |     |     m. 1) Benjamin Blackwell Sr. (1811 – 1861)
|     |     |     |     |     m. 2) Randolph Schenck Blackwell (1815 – 1891)
|     |     |     |     (5) Amy A. Holcombe (1821 – 1902) & Bloomfield Blackwell (1818 – 1890)
|     |     |     |     (5) Lucinda P. Holcombe (1823 – 1914)
|     |     |     |     |     m. 1) Asher Lambert (1831 – 1856)
|     |     |     |     |     m. 2) Jacob Anderson Wilson (1820 – 1886)
|     |     |     |     (5) Benjamin F. 'Frank' Holcombe (1825 – 1933) & Charity Higgins (1833 – 1911)
|     |     |     |     (5) Catharine Holcombe (1828 – 1892) & Caleb Farley Quick (1825 – 1905)
|     |     |     |     (5) William Frederick Holcombe (1830 – 1919) & Ann Elizabeth Fisher (1831 – 1883)
|     |     |     |     (5) Sarah Holcombe (1832 – 1832)
|     |     |     |     (5) Edward Barber Holcombe (1834 – 1919) & Emaline Dilts (1835 – 1933)
|     |     |     (4.9) Lewis Holcombe & Mary L. Sutton
|     |     |     |     (5) Amos Holcombe (1817 – 1897) & Mary Mariah Brewer (1818 – 1890)
|     |     |     |     (5) Sidney Holcombe (1819 – 1893)
|     |     |     |     |     m. 1) Theodore Barber (1818 – 1847)
|     |     |     |     |     m. 2) Jacob Skillman (1811 – 1892)
|     |     |     |     (5) Emeline Holcombe (1822 – 1899) & Edward Barber (1820 – 1847)
|     |     |     |     (5) Atkinson Holcombe (1825 – )
|     |     |     |     (5) Samuel Holcombe (1830 – )
|     |     |     (4.10) Hannah Holcombe & Jesse H. Landis
|     |     |     |     (5) Mary Landis (c.1821 – ) & David Henry Williamson (1820 – )
|     |     |     |     (5) Sarah H. Landis (1823 – 1909) & Horace Horatio Runkle Esq. (1814 – 1893)
|     |     |     |     (5) Henrietta Landis (1830 – )
|     |     |     |     (5) Elisha Emley Landis (1832 – 1865)
|     |     (3.5) Major George N. Holcombe & Achsah Knowles
|     |     |     (4.1) Joseph Holcombe & Frances Drake
|     |     |     |     (5) Mary Polly Holcombe (1796 – )
|     |     |     |     (5) Charles Holcombe (1798 – 1867) & Harriet (1801 – 1892)
|     |     |     |     (5) Wilson Holcombe (1800 – )
|     |     |     |     (5) Levi K. Holcombe (~1805 – 1830)
|     |     |     |     (5) Achsah Holcombe (1807 – )
|     |     |     |     (5) Hannah Anderson Holcombe (1810 – 1874) & Joseph Lambert Wilson (1810 – 1891)
|     |     |     |     (5) George Madison Holcombe (1812 – )
|     |     |     (4.4) Hon. George Holcombe & Elizabeth Imlay
|     |     |     |     (5) Imley Holcombe (1812 – 1842)
|     |     |     |     (5) Johnston Holcombe (1815 – 1836)
|     |     |     |     (5) Helena Holcombe (1817 – 1842) & Thomas B. Fidler (c.1811 – 1832)
|     |     |     |     (5) Elizabeth Holcombe (c.1820 – bef. 1856)
|     |     |     |     (5) George Holcombe (c.1823 – )
|     |     (3.6) Elijah Holcombe & Ann Nancy Britton
|     |     |     (4.3) Achsah Holcombe & George Pidcock
|     |     |     |     (5) Keturah Pidcock (1808 – )
|     |     |     |     (5) John Pidcock (1810 – )
|     |     |     |     (5) Eliza Pidcock (1813 – )
|     |     |     |     (5) Ann Nancy Pidcock (1826 – 1845)
|     |     |     |     (5) Ellen Pidcock (1828 – )
|     |     |     |     (5) Achsah Pidcock (1833 – )
|     |     (3.7) Richard Holcombe & Hannah Emley
|     |     |     (4.1) Ann Holcombe & Furman Romine
|     |     |     |     (5) Dea. James Romine (1801 – 1878) & Sarah Quinby Chapman (1805 – 1886)
|     |     |     |     (5) Hannah Romine (1804 – 1805)
|     |     |     |     (5) John Romine (1806 – 1892)
|     |     |     |     |     m. 1) Lucy E. Reading (1804 – 1843)
|     |     |     |     |     m. 2) Elizabeth Hann (c.1825 – )
|     |     |     |     (5) Sarah Romine (1806 – 1862) & Garret Vandolah Sr. (1797 – 1877)
|     |     |     |     (5) Charles Romine (1811 – 1890) & Clarissa Reading (1817 – 1865)
|     |     |     |     (5) Lucretia Ann Romine (1816 – 1890) & Tunis Quick Holcombe (1814 – 1880)
|     |     |     |     (5) Asa Romine (1820 – 1906) & Sarah Fulper (1815 – 1904)
|     |     |     (4.2) Elder Emley Holcombe & Mary Polly Skillman
|     |     |     |     (5) William Holcombe (1804 – )
|     |     |     |     (5) Elder John Emley Holcombe (1808 – 1859)
|     |     |     |     |     m. 1) Mary Quick (1815 – 1846)
|     |     |     |     |     m. 2) Sarah Meldrum Prall (1815 – 1864)
|     |     |     |     (5) Theodore B. Holcombe (1810 – 1898) & Sarah Ann Probasco (c.1820 – )
|     |     |     |     (5) Charles Ogden Holcombe (1813 – 1890)
|     |     |     |     |     m. 1) Ann Rebecca Barber (c.1817 – bef.1870)
|     |     |     |     |     m. 2) Catharine Young (c.1841 – )
|     |     |     |     (5) Isaac Skillman Holcombe (1816 – 1884)
|     |     |     |     (5) Mary Skillman Holcombe (1819 – 1894) & Lewis Johnson Titus (1817 – 1875)
|     |     |     |     (5) Alexander Henry Holcombe Esq. (1821 – 1885) & Malvina Kay Mentz (1839 – 1906)
|     |     |     |     (5) Alex T. Holcombe (1821 – 1886) & Jane Deremer Wilson (1834 – 1914)
|     |     |     (4.4) Capt. George Holcombe & Catherine Butterfoss
|     |     |     |     (5) Hettie Esther Holcombe (1805 – 1860) & John Hoagland Wilson (1804 – 1892)
|     |     |     |     (5) Samuel Holcombe (c.1805 – ) & Elizabeth Wildman (1794 – 1856)
|     |     |     |     (5) Eleanor Holcombe (1806 – 1881) & John Eckel Mathews (1808 – 1847)
|     |     |     |     (5) Hannah Ann Holcombe (1809 – 1869) & Benjamin Larison (1805 – 1892)
|     |     |     |     (5) Daniel B. Holcombe (1811 – 1891) & Mary J. Pidcock (1816 – 1894)
|     |     |     |     (5) Shf. George B. Holcombe (1815 – 1893)
|     |     |     |     |     m. 1) Louisa Holcombe (1818 – 1852)
|     |     |     |     |     m. 2) Anna Louisa Robbins (1833 – 1921)
|     |     |     |     (5) Athalinda Holcombe (1816 – 1889) & Samuel Wilson Dilts (1809 – 1874)
|     |     |     |     (5) Wilkinson J. Holcombe (1819 – 1891) & Roseanna Anna Matthews (1817 – 1900)
|     |     |     |     (5) Andrew B. Holcombe (1820 – 1889) & Sarah Shepherd (1824 – 1869)
|     |     |     |     (5) Catharine Holcombe (1823 – 1869) & John Hoagland Wilson (1804 – 1892)
|     |     |     (4.5) Eleanor Holcombe & Derrick Richard Hoagland
|     |     |     |     (5) Isachar Hoagland (1803 – 1878)
|     |     |     |     |     m. 1) Mary S. Prall (1807 – 1847)
|     |     |     |     |     m. 2) Rebecca Shepherd (c.1818 – )
|     |     |     |     (5) Hannah Hoagland (1805 – 1857) & Charles Corle (1798 – 1857)
|     |     |     |     (5) John Hoagland (1812 – ) & Leah
|     |     |     |     (5) Ellen Ann Hoagland (1818 – 1893) & Jacob Schanck (1803 – 1871)
|     |     |     (4.7) Elisha Holcombe & Anne Charity Brewer
|     |     |     |     (5) Catherine Holcombe (1810 – 1846) & Thomas P. Holcombe (1801 – 1863)
|     |     |     |     (5) Reading Holcombe (1815 – bef. 1880)
|     |     |     |     |     m. 1) Mary Case (c.1820 – 1842)
|     |     |     |     |     m. 2) Eliza West (c.1828 – bef. 1880)
|     |     |     |     (5) Hannah Holcombe (1817 – 1818)
|     |     |     |     (5) Allison Holcombe (1819 – 1889) & Amy Lake (1818 – 1874)
|     |     |     |     (5) Eliza Ann Holcombe (c.1820 – bef. 1843) & Hon. John P. Stockton (1814 – 1912)
|     |     |     |     (5) Cornelia Ann Holcombe (c.1822 – ) & Aleved Hunt (c.1820 – )
|     |     |     |     (5) Mary Wilson Holcombe (1824 – 1906) & Ely Kitchen (1815 – 1890)
|     |     (3.8) Thomas Holcombe & Mary T. Holcombe
|     |     |     (4.1) Richard Holcombe & 1) Sarah Runkle
|     |     |     |     (5) Mary Ann Holcombe (1805 – 1848) & Aaron Van Doren Lanning (1804 – 1867)
|     |     |     |     (5) John Runkle Holcombe Esq. (1811 – 1855) & Lucretia (1811 – 1855)
|     |     |     |     (5) Alfred Holcombe (1814 – 1889) & Catharine Atchley (c.1820 – 1885)
|     |     |     |     (5) Amanda Holcombe (1816 – 1851) & Horace Horatio Runkle Esq. (1814 – 1893)
|     |     |     |     (5) Charles Wesley Holcombe (1819 – )
|     |     |     |     (5) Thomas Holcombe (1822 – 1912) & Sarah Caroline Skillman (1816 – 1908)
|     |     |     |     (5) Hiram Holcombe (1829 – 1893) & Sarah Ann Hill (1828 – 1877)
|     |     |     (4.4) Sarah Leah Holcombe & Edward Giles Sharp
|     |     |     |     (5) Cornelia B. Sharp (c.1813 – 1885) & Gershom L. Larison (1812 – 1849)
|     |     |     (4.5) Elias Holcombe & Frances Fisher
|     |     |     |     (5) Leah Holcombe (1815 – ) & John Hoagland (c.1810 – )
|     |     |     |     (5) Peter Ogden Holcombe (1817 – 1886)
|     |     |     |     |     m. 1) Catherine Kline (1822 – 1848)
|     |     |     |     |     m. 2) Martha Higgins (1832 – 1913)
|     |     |     |     (5) Cornelia Ann Holcombe (1820 – 1884) & Joseph Chamberlain Sutphin (1817 – 1877)
|     |     |     |     (5) Frances Holcombe (1823 – 1908) & John Quick (1820 – 1900)
|     |     |     (4.6) Thomas T. Holcombe & Ann Nancy Fisher
|     |     |     |     (5) Miranda Holcombe (1818 – 1843) & Solomon Holcombe Jr. (1813 – 1879)
|     |     |     |     (5) Susanna Holcombe (1820 – ) & Philip H. Mathews (1814 – 1886)
|     |     |     |     (5) Ann Holcombe (1827 – 1919) & Peter Fisher (1825 – 1883)
|     |     |     |     (5) Thomas Newton Holcombe (1834 – 1855)
|     |     |     (4.7) Henry Holcombe M.D. & Catharine Case
|     |     |     |     (5) Elizabeth Kase Holcombe (1827 – 1882) & Hon. Baltus Pickel (1824 – 1890)
|     |     |     |     (5) Eleanor Holcombe
|     |     |     (4.8) Ralph Holcombe & Lucretia Sutton
|     |     |     |     (5) Thomas S. Holcombe (1821 – ) & Eliza Aurelia Runkle (c. 1833 – )
|     |     |     |     (5) Sarah S. Holcombe (1828 – 1855) & George Larison (1823 – 1892)
|     |     |     |     (5) John S. Holcombe (1830 – 1888) & Harriet Naylor (1817 – 1888)
|     |     |     |     (5) Mary Jane Holcombe (c.1836 – )
|     |     |     (4.9) Ann Holcombe & Jonathan Higgins
|     |     |     |     (5) Mary Ann Higgins (1836 – 1919) & William Hill (1831 – 1893)
|     |     |     |     (5) Cornelia L. Higgins (1841 – 1866)
|     |     |     |     (5) Sarah Catherine Higgins (1843 – 1866)
|     |     |     |     (5) Hannah M. Higgins (1845 – ) & Henry T. Rynearson
|     |     |     (4.10) Maria Holcombe & Col. John Sharp
|     |     |     |     (5) Daniel L. Sharp (1821 – 1834)
|     |     |     |     (5) Robert Sharp (1823 – 1881)
|     |     |     |     |     m. 1) Sarah Prall (1824 – 1851)
|     |     |     |     |     m. 2) Elizabeth Menaugh (~1821 – 1878)
|     |     |     |     (5) Caroline Sharp (c.1825 – )
|     |     |     |     (5) Mary Hannah Sharp (1827 – 1847)
|     |     |     |     (5) Thomas H. Sharp (c.1830 – 1830)
|     |     |     |     (5) Cornelia Ann Sharp (1843 – 1852)
|     (2.6) Richard Holcombe & 2)Ann Atkinson
|     |     (3.3) Mary T. Holcombe & Thomas Holcombe
|     |     |      See 2.2/3.8 above
|     |     (3.4) John Holcombe III & Mary Naylor
|     |     |     (4) John Atkinson Holcombe & Harriet Naylor
|     |     |     |     (5) Caroline Holcombe (1840 – 1912) & Gervase Ely (1837 – 1911)
|     |     |     |     (5) Mary C. Holcombe (1840 – 1857)