The Gordon-Fisher Homestead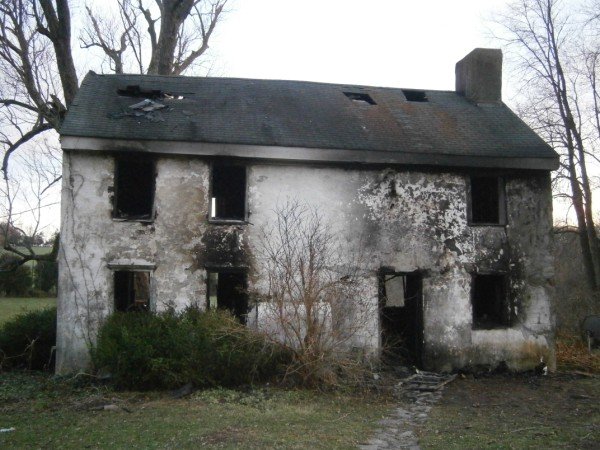 photograph found on NJ.com, taken by Renée Kiriluk-Hill for the Hunterdon County Democrat http://connect.nj.com/user/rbhill/photos.html
On November 13, 2012, the home of Brian McVey and his 11-year-old son Calvin was destroyed by fire. Not only did they lose all their possessions, they also lost their dog, who for reasons unknown ran back into the house while the McVeys were escaping. The community is coming together to help the McVeys get back on their feet. Gift cards to places like Target, Walmart, Lowes, etc. can be delivered to the Delaware Township school, in an envelope marked for Eileen Ventimiglia and Sue Whitlock.
This fire destroyed something else that can never be replaced—the 18th-century home of the Gordon family, who came to Delaware Township long before the Revolution. The fire completely gutted the house, leaving the stone walls standing in precarious condition. It is likely the structure will be demolished rather than restored.
This old house stands on the Fisher place, named Spring Meadow Farm, at the intersection of Locktown-Sergeantsville and Reading Road. Here is some of what I know about the Gordons.
Thomas and Margaret Gordon
Around 1696-97, Thomas Gordon (ii) was born to Thomas Gordon (i) and Janette Mudie. He was probably born in England, since his father had been sent there to represent the proprietors of East New Jersey, and returned to Perth Amboy around 1698-99. Thomas Gordon (i) was a man of consequence in the politics of East New Jersey, serving on the Governor's Council and as Attorney General.
In 1722, Thomas Gordon (ii) purchased 200 acres from Nathan Allen located "on either side of the Swamp Road," which meant the Locktown-Sergeantsville Road. He did not immediately move to this property; perhaps he saw it as an investment. Or, given the common names, perhaps it was his father Thomas who bought the land.
Sometime later, Thomas Gordon (ii) married his wife Margaret Oliphant, who was born in Staten Island, New York. She was the daughter of Duncan Oliphant and Mary Garrison. It appears the Gordons only had two children who survived to adulthood, since Thomas Gordon only named two children in his will of 1779. They were sons Franklin and Agesilaus, who were not born until the 1740s. By that time the family had moved to Amwell Township, where Thomas Gordon was listed as a freeholder in 1741. They settled on the farm on the "Swamp Road," so it is likely the old stone house was built in the early 1740s, making it one of the oldest left in the township.
It does seem surprising that the son of a prominent man in the more urban area of Perth Amboy would chose to move his family to a wilderness. And yet, Thomas Gordon (ii) was successful in his new home, and was able to bequeath his property to his eldest son in 1779 when he wrote his will. That son was Franklin Gordon, who was to receive the farm of 200 acres as a life-estate, and then it was to be divided between Franklin's sons, Othniel and Thomas (iii). He also left a tract of land at Lake Champlain to both his sons, Franklin and Agesilaus. And he ordered that his sons recover a debt owed by Benjamin Stevens of New York, now living at Maidenhead (Lawrenceville).
Thomas Gordon (ii) died on June 5, 1784. Although his wife Margaret was not mentioned in Gordon's will, it appears from her gravestone that she died the same year as her husband. They are both buried in Perth Amboy, in the family plot in St. Peter's Episcopal Church cemetery. Thomas Gordon (i) is also buried there.
The Gordon Homestead
The 200 acres purchased by Thomas Gordon made a neat square surrounding the intersections of Pavlica and Reading Roads with the Locktown-Sergeantsville Road. The Gordon homestead was built north of the small creek running along Reading Road, and facing south in the traditional manner. Access to the house was almost certainly from the "Swamp Road," as Reading Road was not put through until much later. The "Gordon Farmstead" is listed as D-30 in the old Hunterdon County Historic Sites Survey. In the Delaware Township survey of 1983, it is listed as 1007-30, part of a large farm complex.
The description of the stone house reads:
 "a stuccoed stone tenant house (evidently a 3 bay I-type with a 2 bay west exit) with brick-stacked gable end chimneys and small frame west gable end lean-to. Probably of 18th or early 19th century date, it has box cornices, flush raking eaves, 6/6 sash windows, two front entries and a shed-roofed front porch."
When Dennis Bertland wrote this description, he had not been able to see the inside of the house, which I expect would have convinced him that it was built before the Revolution. We'll never know for sure, now. As to its being a tenant house, that came about after Daniel Butterfoss built his handsome new house closer to the road, sometime around 1850.
Franklin Gordon and wife Ann
Thomas and Margaret Gordon's son Franklin was born about 1740, and had a wife named Ann, about whom I know next to nothing. (She might have been from the Rake family.) Together they had six children: Othniel (or Athniel) born 1774; Permeley (or Permelia) born 1776; Thomas born about 1779; Mary born about 1780; Franklin born about 1785; and Philip, born 1788. The next year, perhaps to accommodate this large family, Franklin Gordon built himself a new house, across the road, also of stone. The date stone reads 1789. It is now owned by Robert K. Hornby.
It is hard to say who might have occupied the original Gordon house after 1789. It was probably not Agesilaus Gordon, the brother of Franklin, for in 1780 he had come into possession of a tavern. In 1770 Franklin Gordon bought part of the estate of John Lewis, which comprised the northern half of today's Sergeantsville village. In 1780, Franklin Gordon sold to his brother Agesilaus a lot of 50 acres, on which Agesilaus built a stone building that came to be used as a tavern, and today is the municipal building. Agesilaus Gordon married about 1768 Mary Opdycke, daughter of John Opdycke Esq. and Margaret Green. This was a very prominent family in Amwell (Delaware) Township, and suggests that Agesilaus was held in some regard. Given the wedding date of 1768 and the land purchase of 1770, it is possible Agesilaus Gordon built his tavern right after marrying, and got title to the property ten years later. He died in 1815, without having written a will. Like many tavern owners, he did not die wealthy. It appears that he had no connection with the Gordon homestead farm.
Franklin Gordon died on July 6, 1793, at the age of 53. He had written a will on June 4, 1793 naming his wife Ann and son Othniel his executors. By that time, Othniel was only 19 years old. The will was witnessed by Peter Hoppock, Richard Heath, and James Dalrymple. Franklin's daughters Mary and Permeley were still single, but for some reason, only Permeley was to receive "a good set out when she marries." They both were given £100. The widow Ann was to have 2 cows, 6 sheep, 2 hogs, and all the furniture, and the use of a farm up on Pine Hill Road that Gordon had purchased, known as the Tead plantation (named for Jacob Tidd). Once the youngest son Franklin came of age, he and brother Philip were to share ownership of the Tead plantation with their mother.
Following the terms of this father's will, he left his home farm, the 200 acres, to his sons Othniel and Thomas, with Othniel having the use of it until Thomas turned 21, which happened around 1799. (I am not certain when Thomas was born.)
Franklin Gordon's will was recorded on July 25, 1793. It included an inventory made by Paul Kuhl and Andrew Bearder, which is surprising to me since both those men were not immediate neighbors of Gordon's. Franklin's will ordered that his clock be sold, which also surprises me. Why wouldn't he bequeath it to someone in his family?
Grandsons Franklin and Philip
It appears from a deed of 1817 that Franklin Gordon died before February of that year. He would only have been about 32 years old. I do not know if he had a family. After his death, the whole of the Tead plantation became the property of his brother, Philip.
Philip Gordon was born July 10, 1788, married on December 17, 1808 Elizabeth Harden, daughter of Martin Harden. They had four children: Sarah, Andrew, Mary and Henry. In a deed of 1801, his land along Pine Hill road was identified as belonging to "Widow Gordon," which would have been his mother Ann, widow of Franklin Gordon. Philip Gordon ran a distillery on this property, but in 1837, at age 48, he decided to leave for the west. He sold the farm and distillery to Jacob Hice, and moved his family to Darke County, Ohio, where he established the town of Gordon, and where he died two years later.
Granddaughters Permelia and Mary
Mary Gordon is a mystery to me. I have no information on her.
Permelia Gordon must have gotten that "set out" that was promised her, because in 1798 she married Uriah Larew, son of Abraham Larew and Mary Thatcher. As far as I can tell, they only had one child, Gordon Larew, born on June 21, 1800. Uriah Larew bought some of the land that had been owned by Thomas Larew in 1803. When his father died in 1806, he inherited some of his father's plantation, known today as the Donald Jones farm. Uriah Larew died intestate in 1814. Adminstration of the estate was granted to Thomas Gordon and Jacob Race. An inventory was made by Abraham Lawshe and Thomas Hoff. His wife Permelia Gordon survived him by many years. She died in 1851 at the age of 75, and was buried in the Rake Cemetery near Sand Brook, next to her husband.
Othniel Gordon and wife Mary Heath
The will of Franklin Gordon ordered that son Othniel would have the use of the home plantation until Othniel's brother Thomas reached the age of 21, and then it was to be divided as instructed in the will of Thomas Gordon Sr. In 1794, Othniel Gordon was obliged, along with his mother Ann, to administer the estates of both his father and his grandfather.
Othniel Gordon married Mary Heath, daughter of Capt. John Heath and Jane or Jean Lake, in 1797. They had nine children. In 1799, Ferry Road was surveyed and recorded as a public road, and Othniel Gordon was shown as a bordering owner. In 1803, the terms of Thomas Gordon's will were finally carried out, with the farm divided between the sons of Franklin Gordon. Brother Thomas took the western half, of 122 acres, where the Fisher-McVey house stands, and Othniel took the eastern half, which was 119 acres, where the Hornby house stands.
Thomas almost immediately sold his share of the property to his brother-in-law Uriah Larew. And here I find myself in the dark. I have not done the deed searches necessary to fill in the blanks after 1803. What I do know is that by 1851, Daniel Butterfoss had taken possession of this farm, and may have purchased it from John Sergeant. Later on, it came into the Fisher family. Rather than wait to fill in these blanks, I will post this story while the loss of this important old house is still on our minds.
If anyone has a photograph of the house before the fire and would be willing to share it, please let me know, so I can attach it to this story.
Note: Marilyn Cummings and Carla Cielo have documented this house, which means that drawings, photographs and physical description are on file at the township hall. Thank goodness.