Governors of New Jersey (revised and updated), Roadside Geology of New Jersey, Lambertville's Legacy and Land Records of Bucks County.
The Governors of New Jersey, Biographical Essays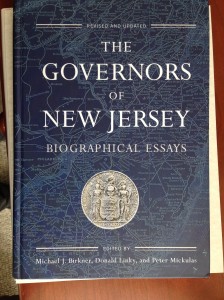 Michael J. Birkner, Donald Linky, and Peter Mickulas. The Governors of New Jersey, Biographical Essays. New Brunswick, NJ: Rutgers University Press, 2014, hardcover, 420 pages, index.
I have long depended on the predecessor to this book, edited by Birkner and Paul A. Stellhorn (now deceased), and published back in 1982. It ended with Gov. Cahill in 1974. The new book takes us up to Gov. Corzine, and also updates the previous entries with newer research. A must-have book. It's also printed on very nice paper. There is a nice review of this book by Jonathan E. Lazarus on NJ.com.
Roadside Geology of New Jersey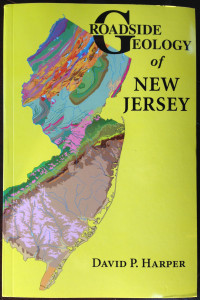 David P. Harper. Roadside Geology of New Jersey. Missoula, MT: Mountain Press Publishing Co., 2013, paper, 345 pages.
This is a surprisingly wonderful book for all of us non-geologists. It provides a great summary of our rather complicated geologic history, and shows how our State fits in with the larger picture of how our continent evolved. The book is loaded with maps and photographs, and includes some great road trips. It's a lovely book to thumb through and a seriously useful book to have on hand when exploring our interesting state.
 Lambertville's Legacy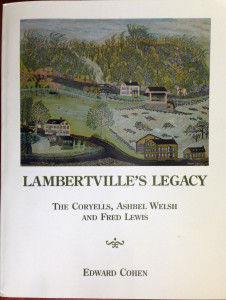 Edward Cohen. Lambertville's Legacy; The Coryells, Ashbel Welsh and Fred Lewis. Lambertville, NJ, 1999, paper, 217 pages, index. Available for $20 from the Hunterdon Co. Cultural & Heritage Commission.
It took me a long time to purchase this book. Now that I finally have a copy, I can fill in many blanks in the genealogy of the Coryell family, who arrived in Hunterdon County as early as 1728. Emanuel Coryell certainly qualifies as one of Hunterdon's earliest landowners. Dealing with the Coryell's would be enough for one book, but this one takes us all the way through the 19th century with its focus on Ashbel Welsh and the impact of the D&R Canal, and then on into the 20th century and that grand old man, Fred Lewis, owner of the last of the shad fisheries on the Delaware River.
 Bucks County Land Records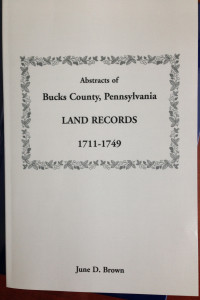 June D. Brown. Abstracts of Bucks County, Pennsylvania Land Records, 1711-1749. Heritage Books, 2008, paper, 224 pages, index.
Another useful book for researchers of families that straddled the Delaware River. It is surprising how often the clue to a Hunterdon family lies in Bucks County. Unlike the book by John David Davis called West Jersey New Jersey Deed Records, whose title is very strange and which I have found to be less than ideal, this one gives nicely laid out abstracts and references to the actual sources. Along with the abstracts Ms. Brown sometimes provides short biographies and background on the landowners mentioned. Very useful.