This is the next article in my series on the history of the Pauch farm in Delaware Township. In the previous post,1 Charles Sergeant had sold the old Richard Green farm to John R. Opdycke in 1805, and moved to the farm owned by Opdycke's father, Samuel Opdycke. John Opdycke had no need for the Green farm. He had married in 1803 and was living in Kingwood on land that came from his wife's family. Why did Opdycke make this swap? I suspect he wanted to close out his father's estate, and this was one way to do it. Or, perhaps Sergeant knew how eager Opdycke was to settle matters and proposed a swap instead of an outright purchase.
There is a third possibility—the swap may have been a way for Charles Sergeant to transfer ownership of the Green farm to his younger brother Joseph Sergeant. On April 29, 1806, when they were living in Kingwood, John R. Opdycke and wife Rebecca sold part of the Green farm (130.25 acres) to Joseph Sergeant for $4,600.2 Although Joseph Sergeant made the payment, I suspect his brother Charles had a hand in it. Just a year before, on January 13, 1805, Joseph Sergeant married Jane Quick, daughter of Tunis Quick (1731-1811) and Catharine Phillips (1732-1824). The farm may have been something of a wedding present. Joseph and Jane married late; they were both around 35 years old. Their first child (William Q. Sergeant) was born on October 28, 1805, and their youngest (John P. Sergeant) was born in 1813, which means that all the children were born and raised on the Pauch farm.
Before his marriage, Joseph Sergeant had gone into partnership with his brother John Sergeant. They ran the blacksmith shop in Sergeantsville that had been owned by their father Joseph Sr.3 In 1800, the brothers John and Joseph bought a small piece of land (38 perches) from Thomas and Catherine Lake that enlarged the lot.4 There was another lot that Charles Sergeant had probably acquired from Gabriel Covenhoven lying west of Sergeantsville, where the school is now located. It was 30 acres, which Charles Sergeant sold to John and Joseph in 1794, and to which they added 16 perches of land bought from Jonas Thatcher in 1802.5
In the 1803 tax ratables, the brothers were taxed as merchants owning 31 acres 3 horses and 3 cows. Soon afterwards, John and Joseph Sergeant branched out by purchasing a 145-acre farm on Strimples Mill Road for $2000 or $13.80 per acre, a very good price. It had been the property of the Kyple family. The same year, their brother Loman Sergeant bought an adjacent farm where he practiced blacksmithing.
In 1804, John and Joseph Sergeant got a tavern license, stating that there was a necessity for a tavern in the house where they lived.6 The records do not give the location of their house & tavern. The need for one is surprising, since their lot in Sergeantsville was very close to the tavern run by Agesilaus Gordon (which today is the township municipal building). Gordon himself applied for a license in 1804, but in September of that year he sold the property to Godfrey Rockafellar. Rockafellar did not get a license until 1805. Perhaps the Sergeant brothers were filling a gap, since a tavern at a crossroads was an essential institution in those days.
On January 29, 1806, the Sergeant brothers sold their farm on Strimples Mill Road to John Wolverton, for a modest profit. (Loman Sergeant remained on his property until 1827.) Four months later, on April 29, 1806, Joseph Sergeant bought the Green farm from John Opdycke. He did this on his own—not with his brother John.7 On the same day that Opdycke sold the 130.25 acres to Joseph Sergeant, he also sold a woodlot bordering Joseph Sergeant's farm to William Dilts.8 This was from the remainder of the farm that Opdycke had kept.
Slave Ownership
In 1807, Jane Sergeant's father Tunis Quick wrote his will, leaving her £300, the same amount as was left to Jane's sister Mary. This legacy would not come to her until 1811 when her father died. Tunis Quick's will also included "a negro woman named Sarah," who was left to his wife. This Sarah, owned by Tunis Quick Sr., had a daughter Ann born on August 31, 1808.9 Joseph Sergeant also owned a slave named Hannah who gave birth to a daughter named Juda on December 24, 1809.10 On December 18, 1811, a slave belonging to Catharine Quick, widow of Tunis, gave birth to a daughter Harriott Elizabeth.11 None of these slaves or their daughters appeared on the list of manumissions. If it weren't for these births, we would not know that the Quicks and Sergeants owned slaves. The State of New Jersey passed its law abolishing slavery in 1804. It required that female slaves could not be freed until they reached the age of 21, so a record of births was necessary.
Falling Into Debt
Joseph Sergeant was not as good with money as his brother Charles was. In 1808 he and wife Jane were obliged to get a mortgage from Jane's brother, Titus Quick.12 This mortgage is of especial interest because the description begins near "the dwelling house, corner to Ezra Brown." Brown's lot was just north of the driveway entrance to the Pauch property. The Pauch house is just south of the dividing line. This clearly establishes that the house was standing in 1808, although we have already determined it must have been built about 20 years earlier. Ezra Brown was married to Elizabeth Severns, great granddaughter of Samuel Green Sr.
Joseph Sergeant was probably hurt by the economy created by the War of 1812. On October 1, 1814, he was obliged to get another mortgage on the 130 acres and 8 perches whereon he lived. He got one from John Holcombe of Amwell for $500, but even though she was still alive, Joseph's wife Jane was not named as a mortgagor.13 The mortgage was not cancelled until 1825.
The next year, on June 17, 1815, Joseph Sergeant mortgaged 131 acres for $1,569.44 to his neighbor Joseph Howell.14 The mortgage did not give metes and bounds, but stated that the bordering owners were Daniel Rockafellar, Gershom Lambert, Ezra Brown, Henry "Vandoler," Charles Sergeant and Gershom Larason. Like John Opdycke, Charles Sergeant had held onto part of the old Green farm. The mortgage was cancelled on October 6, 1828.
I suspect that Joseph Sergeant could not keep up with his mortgage payments. After thirteen years, Joseph and Jane Sergeant conveyed the farm of 130 acres and 8 perches located on the road from Flemington to Howell's Ferry back to Charles Sergeant for $5,000. The sale took place on June 1, 1818. Charles Sergeant paid about $39 per acre.15 It was certainly an act of generosity on the part of Charles Sergeant, who had no need for the property. I suspect that while the farm's ownership was transferred to Charles Sergeant, his brother Joseph and his family continued to reside there, at least for a time.
Joseph and Jane Sergeant After 1818
By 1823, Joseph Sergeant had found a new home in Raritan Township. He bought a farm of 65.73 acres in the neighborhood of Copper Hill from Peter Taylor, which had belonged to Ezekiel Anderson. This is where Joseph and Jane Sergeant lived for the rest of their lives.16 But they continued to mortgage their property. First they mortgaged the Anderson-Taylor farm to Peter Taylor. Then, with brother John, Joseph mortgaged their Sergeantsville property to David Johnes in 1824, and again in 1826. And in 1828, Joseph mortgaged the Anderson-Taylor farm again, this time to John Barber, executor of the estate of David Johnes.17 Not surprisingly, Joseph Sergeant was sued for debt. His creditor was Gershom Lambert who took him to court in 1828 for a debt of $283.74.
Perhaps to satisfy this debt, on April 8, 1828, Joseph Sergeant and wife Jane sold to Joseph's brother John Sergeant for $866.67 their one-half share in the three lots in Sergeantsville they had acquired in 1794 and 1802. If that was the purpose, it did not succeed. In May 1828, the Court of Common Pleas seized Joseph Sergeant's goods and chattels, including 4 horses, 7 head of cattle, 10 hogs, 5 sheep, 1 farm 'waggon' & harness, 6 beds & bedding, and 2 tables, and offered them for public sale. Unless someone came to his rescue and bought these goods on his behalf, his house and farm must have been pretty bare after the sale.
Death of Joseph Sergeant Sr.
Sometime before 1828, a Joseph Sergeant died.18 It was not Jane Sergeant's husband and Charles Sergeant's brother. It had to be the father of Joseph, John, Loman and Charles who died, but he did not leave an estate.19 The only record of his death we have appears in May 1828, when some of the heirs of Joseph Sergeant petitioned the Court of Common Pleas for a division of his real estate, which consisted of "all that tract of land situate in the village of Sergeantsville, in the township of Amwell, in the county of Hunterdon, adjoining lands of Neal Hart, Thomas Godown and others, containing one acre, (as is said)." The heirs were the children of Mary Sergeant and Cornelius Lake, who lived across the road (Rte 604) from the blacksmith shop. Mary was the sister of Charles, Loman, John and Joseph Sergeant.20
The lot in question was the old blacksmith lot in Sergeantsville. Here is another description of the lot for sale in the Hunterdon Gazette, Aug 13, 1828:
"All that lot of land whereon John Sargent has long resided, consisting of one acre of land, be the same more or less, adjoining lands of Neal Hart, Jonas Thatcher & others. There is on said premises a large two story dwelling House, a good stone Blacksmith's shop, &c.; there is on said lot a spring of good water near the shop door, and as the property has long been occupied as by a blacksmith, is considered one of the best stands for that business."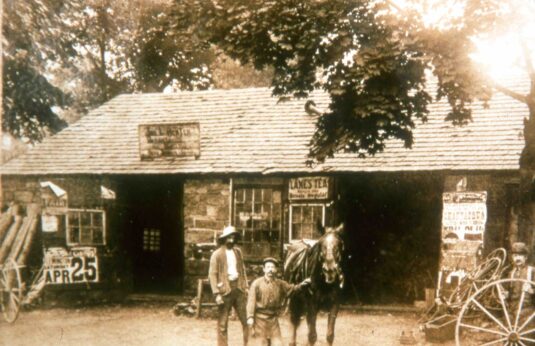 In the Gazette, this notice was followed by another one that read: "Wanted immediately, A good boy from 16 to 17 years old, as an apprentice to the blacksmithing business. Apply at the office of the Hunterdon Gazette. August 13, 1828."
Joseph Sergeant Jr., continued
Joseph Sergeant was counted in the Amwell census of 1830. He was in his 60s, living with a female in her 50s, two males in their 20s, one male age 15-19, and one free colored person. In the 1840 census for Raritan Township, Joseph Sergeant was in his 70s, with a female in her 60s, one male in his 20s and a boy age 5-9.
On April 24, 1835, Gershom C. Sergeant and wife Charity Ann sold 72.83 acres to Joseph Sergeant for $1200.21 The next day, Joseph and Jane Sergeant sold to their son Gershom C. Sergeant a lot of 76.4 acres for $2400.22 These lots consisted of the Peter Taylor farm at Copper Hill and other lands adjacent. Since the parcels were very similar, and were located in the same area, the difference in price must be attributed to improvements on the piece sold by Joseph and Jane Sergeant, or to Gershom's intention to support his parents. Both properties were bordered by land owned by the Hill family, land formerly Jacob Rockafellow, and Elijah Carman.
Ironically, just as we cannot say with certainty when Joseph Sergeant Sr. died, we also have no information on when Joseph Jr. died. Clearly it was sometime after 1840, but probably not long after. It was certainly before 1850 when his widow Jane, age 79, was counted with the family of her son Gershom C. Sergeant  age 43, his wife Charity 34, and their children (Mary Jane 12, Lambert 9, Joseph 7, Letitia 4, Garitha 1, Emeline 11 months). The son Joseph iii was born about 1843, and might have been named to honor a grandfather who had recently died. I cannot say. Joseph Sergeant's widow Jane died in 1851 at the age of 80. Gershom C. Sergeant served as Freeholder from Raritan Township in 1861, 1863 and 1864. His daughter Mary Jane Sergeant (born 1837) married Cornelius W. Larison, M.D. in 1863.
Note:  It is easy to confuse Joseph Sergeant, brother of Charles Sergeant and son of Joseph Sr., with the son of their brother Loman Sergeant and his wife Lydia Wolverton. That third Joseph, nephew of Charles and Joseph Sergeant, was born in the late 1790s and married Margaret Thatcher. Their daughter Mary Ann and her husband Jacob Wollery petitioned the Orphans Court in 1854 to divide a lot of 16 acres in Delaware Township bordering William A. Reading  for the benefit of Sergeant's heirs. This Joseph Sergeant was probably the one who was listed as an Overseer of Roads for Delaware Township in 1838.23
The following Descendancy List is offered in the hope that knowledgeable readers can fill in the blanks.
Children of Joseph Sergeant and Jane Quick
William Quick Sergeant 1805-bef 1902, no family known
Gershom Craven Sergeant 1807-bef 1902, married Charity Anne
Mary Catharine Sergeant 1808-bef 1902, no family known
Tunis Sergeant 1810-1887, married Catharine Choyce
John Philips Sergeant 1813-1902, married Mary Young
Children of Gershom C. Sergeant and Charity Anne
Mary Jane Sergeant 1837-?, married Cornelius Wilson Larison MD
Lambert H. Sergeant Esq. c.1841- ?, married Sarah P. Scarborough
Joseph Sergeant c.1843
Letitia Sergeant c.1846
Garitha Sergeant c.1847
Emeline Sergeant c.1849
Children of Tunis Sergeant and Catharine Choyce
William Sergeant c.1833
Mary E. Sergeant c.1838
Alexander Sergeant c.1841
Anna T. Sergeant c.1843
Caroline Sergeant c.1846
John Sergeant c.1849
Children of John Philips Sergeant and Mary Young
Cornelius Sergeant c.1843-? married John Wellwood Scott Carrell
George W. Sergeant 1844-?
William H. Sergeant 1847-aft 1900
Katherine Sergeant 1854-? married __ Sherwood
For an interesting picture of John and Mary Sergeant see Were The Sergeants English Or German?
Footnotes:
H.C. Deed, Bk 12 p. 378. Opdycke kept the balance to sell as woodlots. ↩
Joseph Sergeant purchased a half-acre lot at the center of the village of Sergeantsville from Elizabeth Kitchen in 1765, as described in the article on

Charles & Sarah Sergeant

. ↩
Deed Book 7 p. 242. ↩
Deed Book 7 p. 243; Book 44 p. 109. ↩
Minutes, Court of Common Pleas vol. 17 p. 65, Hunterdon Co. Clerk's Office, and Hunterdon Tavern License Applications, Box 1800-1806, folder 1804, NJ State Archives. Also in 1804, a Joseph Sergeant of Tewksbury bought a 15-acre lot there from Eve Teats for $150 in Deed 9-094. ↩
Deed 12-378. ↩
Deed 13-116. ↩
D'Autrechy, Some Records of Old Hunterdon, p. 164. ↩
D'Autrechy, Some Records, p. 165. ↩
D'Autrechy, Some Records, p. 166. ↩
Hunterdon County Mortgage Book 4 p. 238. ↩
H.C. Mortgage Book 6 p. 34. ↩
Mortgage Book 6 p. 143 ↩
Deed Book 29 p. 72. ↩
Deed Book 35 p. 85. ↩
H. C. Mortgages Books 9 p. 388; 10-240; 11-221; and 12-482. ↩
I have not located his grave or found an obituary for him, so the exact date of this death remains unknown. "Find-a-Grave" has a Joseph Sergeant buried (without dates) in the Kingwood Presbyterian Church cemetery, although the earlier listing published in the Hunterdon Historical Newsletter does not. ↩
I am assuming that Joseph Sr. was not the same as the Joseph Sergeant who died in Tewksbury in 1808. Perhaps that is a mistake. ↩
Partitions, Hunterdon Co. Archives, and Hunterdon Gazette, May 7, 1828. ↩
Deed 60-413. ↩
Deed 60-411. ↩
Snell, History of Hunterdon and Somerset Counties, p. 373. ↩