Bill Hartman was one of those people whose loss is deeply felt by anyone who knew him, including me. I have not yet seen an obituary for him in the Hunterdon County Democrat, which seems odd considering how important he was to so many of us.
According to the obituary published in the Palm Beach Post, Bill died on April 4, 2016 at his home in West Palm Beach, Florida at the age of 80. He was born in Florida, in Gainesville, but spent many years growing up in Flemington. He became fascinated by his family's genealogy and found the old Hunterdon Gazette (1825-1866) one of his most valuable resources.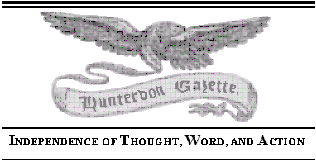 Bill decided to photograph all the pages of both the Gazette and also the Hunterdon Republican (1856-1953) from the bound books held in the archives of the Hunterdon County Historical Society, and then to select every story that mentioned a resident of Hunterdon County, abstract the articles and assemble them in a set of CD's (in the case of the Gazette) and into a pdf (in the case of the Republican). Readers of my articles will probably know how often I have depended on these transcriptions in my research. I can't imagine getting along without them. My debt to Bill and his volunteers (especially Marshall Lake) is enormous.
I had the good fortune to visit with Bill and his wife Valerie when they came to Hunterdon for a visit a few years ago. We enjoyed a lunch at the Sergeantsville Inn and talked Hunterdon history. For me, Bill will always be remembered not only for his enormous accomplishment, but for his charm and generosity. For anyone who knew him he is deeply missed.1
For an introduction to the Gazette project, go to: http://www.rootsweb.ancestry.com/~njhunter/HunterdonGazette/InternetIntro.PDF
To access the pdf of Bill's transcriptions of the Hunterdon Republican, go to: http://www.rootsweb.ancestry.com/~njhrna/
Bill was never able to complete the whole run of the Republican. The transcriptions end with 1900, with some additional items from 1930. But the rest of the paper was photographed and can be accessed on this website.
These two enormous projects are the most fitting memorial to a life well-lived.
Correction:
I originally wrote that Bill had died in 2009. Don't know how that happened. He died this year, 2016.
I am certain there was a story about Bill's project in the Hunterdon Co. Historical Society newsletter, but failed to find it. ↩