This is the story of an unusual school in the 1830s run by an eccentric visionary, who sadly failed to make a success of it.
Local schools were rare in Hunterdon County before the Revolution. It wasn't until the early 19th century that concerted efforts were made to establish neighborhood schools. By 1830, enthusiasm for reform movements of all kinds was running strong, including new ideas about education. Along came a young man with high ideals and ambitions. In 1831 he started up a new school on a property northwest of Sergeantsville that attempted to offer city boys a chance not only to learn Greek, Latin, and "the usual subjects," but also to get their hands dirty with some real work, work that city boys were rarely exposed to. That person was Robert M. Rittenhouse, and this is the story of his life and his school.
Considering how short-lived it was, Rittenhouse's "Mantua Manual Labour Institute" generated an enormous am­ount of interest. The first to write about it was Thomas Gordon in his Gazetteer of New Jersey published in 1834, in the section about Sergeantsville (p. 233):
"Sargeantsville [sic], p=t. of Amwell t-ship, Hunterdon co., . . . Near this village, on a farm of 150 acres, Mr. R. Rittenhouse has established the Mantua Manual Labour Institute, with accommodations for about 30 students, and the purpose to increase them as they may be required. At this institute are taught the Greek and Latin languages, and all other branches of learning, taught at similar institutions. About three hours every day, Saturday and Sunday excepted, are employed in manual labour, by the students, for which they receive reasonable compensation. The charge for tuition, board, washing, lodging, candles, and fuel, is $25 per quarter."
Greek and Latin languages along with three hours of manual labor. Today, a school like that would have a hard time finding pupils.
In the late 19th century, local historians became interested. It was the subject of a paper read before the Hunterdon County Historical Soci­ety in 1890 by the Rev. W. W. Bullock. (Unfortu­nately, the paper is not now in the Society's possession.) In 1891, John W. Lequear wrote a story about Robert Rittenhouse in "The Hunterdon Republican." The article wandered a bit, giving much information about the Rittenhouse family, and special attention to the famous astronomer David Rittenhouse of Philadelphia, but eventually providing many interesting details about Rittenhouse's life, which will be quoted in this article.
Another author who took notice of the school was Hubert G. Schmidt, in his column in "The Hunterdon County Democrat" published on October 2, 1947. He was inspired to write about the school by his discovery of a paper on file at Rutgers Library titled "Baptist Churches of New Jersey," which included a statement that "In 1830 the Rittenhouse Manuel [sic] Labor School was founded at Sandy Ridge. It did good work while it lived." As Schmidt observed, the date was wrong, but so was the location. I suspect this reference to the school appeared in that paper about Baptist Churches because of Robert Rittenhouse's father, Elisha Rittenhouse, who was actively involved in the Kingwood Baptist Church.1
Who was this Robert M. Rittenhouse?
Robert Miller Rittenhouse was born on May 3, 1801, the seventh of ten children, to Elisha Rittenhouse and Isabel Miller, hence the middle initial. The family lived close to the Wickecheoke Creek on Old Mill Road, where Elisha Rittenhouse successfully ran a milling operation.
Nearby there used to be a schoolhouse for local children, reputed to be the oldest school in that general area. It was known as the Risler School.2 That was probably where the children of Elisha and Isabel Rittenhouse got their education, primitive as it was. I suspect that Robert Rittenhouse learned as much at his father's mill as he did in the little schoolhouse. John W. Lequear speculated that Rittenhouse's education was supplemented with
"boyhood rambles along the creek watching the rushing waters, fishing or gazing at the motion of the wheels of the mills and studying their construction."
Luckily for us, Lequear provided us with a description of what Rittenhouse looked like and something of his personality.
When he grew to manhood, he was of medium stature, of light build and fair complexion, possessing a very active and observing mind, which led him to read and study to improve it after leaving school, teaching school a part of his time in the log school house near his father's, which is still standing, recalling old memories as we pass it.
Robert Rittenhouse and Matilda Blackwell married on Christmas Day, 1822, in Trenton.3 Could it be that in 1822 they were celebrating Washington's famous attack on the Trenton Barracks? Matilda happened to be the granddaughter of Daniel Bray, who was thought to be the hero of Washington's Crossing for his role in gathering and hiding the boats.4 Matilda's parents were Jonathan Blackwell and Hannah Bray.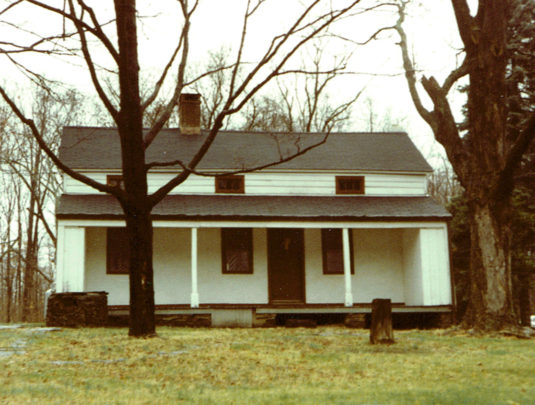 According to Lequear, Robert and Matilda Rittenhouse began their married life living with Robert's parents in their lovely stone house. In 1828, Robert's sister Keturah married John Taylor Risler. When they set up housekeeping with Keturah's parents, Robert and Matilda moved to the frame dwelling closer to Elisha Rittenhouse's mills. This complex, the two houses and the mills, was located on Old Mill Road where it crosses the Wickecheoke Creek. The houses there are still standing, and the mill has since been converted into a residence.5
Lequear provided us with an interesting description of Rittenhouse's wife Matilda Blackwell:
She [Matilda Blackwell] is spoken of as a woman of large and noble appearance, full of life and healthy energy, inheriting from her mother excellent business traits of character, possessing an amiable disposition and many other excellent traits of female character, so that all speak of her as a fine, noble woman.
Lequear wrote that Robert kept the two mills in working order, and often ran them both at the same time, "running from one to the other as attention demanded." From a source I picked up years ago, but neglected to identify, Rittenhouse was "Distinguished for his mechanical ability, an earnest Christian character . . . [He] improved his father's property by moving the sawmill downstream to sit adjacent to the gristmill." As an example of his ingenuity, sometime around 1830 he built "the first machine for hulling clover seed in this part of the country."
The 1830 census for Amwell Township listed Robert Rittenhouse in his 20s. In his household were both a male and female also in their 20s, one male between 15 and 20, one male between 5 and 10, and one female under five years of age. Judging by the names listed before and after his, Rittenhouse was at that time still living on his father's property.6
Somehow, while doing all this active work, Rittenhouse found time to study the subject of education. He seems to have developed some definite opinions about what the ideal school should be like, because sometime after 1830, he gave up milling for his father, and struck out on his own as a schoolmaster.
The Manual Labor Institute
I will deal with the manual labor part of the title later, but first, something must be said about the name "Mantua." I cannot say exactly why Mr. Rittenhouse chose that name. Hubert Schmidt ignored the name completely, and Mr. Lequear also failed to shed any light on the mystery. A Google search provided three meanings: 1) a woman's robe worn in the 17th century (not likely); 2) a town in Gloucester Co., NJ (probably not); 3) a city in Lombardy, northern Italy. That last one must be it, based on its fascinating history. In the 12th and 13th centuries, Mantua fought hard to maintain its independence from the Holy Roman Empire. During the Renaissance, Mantua became a cultural center for art and humanistic studies. In the 18th century Mantua underwent a revival and established the Royal Academy of Sciences, Letters and Arts, and the Scientific Theatre. One wonders if Robert Rittenhouse had been reading about this interesting place in his youth, and felt inspired by it. Unfortunately, we have no surviving papers of his in which he explains his purpose.
I did find an interesting item in Collection 82 of the Hunterdon County Historical Society Collections, which was the County Collector's Records for 1830, which included the expenses related to repair of the Bridge over "Plumb Creek" [probably either on Locktown-Sergeantsville Road or Pine Hill Road], the Bridge at Rittenhouse's mill [on Old Mill Road] and the Bridge at Swamp Meeting House [on Locktown Road going towards Kingwood]. Robert Rittenhouse would have still be living with his parents when the bridge on their road was repaired. No doubt he paid close attention to the work being done.
As for his plans for a new school, instead of his private papers, we have some advertisements he inserted in the Hunterdon Gazette:
November 2, 1831: "The Languages. The subscriber has employed a competent Teacher, who is now engaged in teaching a class at my house, – where he will commence on the 15th instant, with a new class in the Languages, and also a class in English Grammar and Geography; – at which time we will be provided for the reception of a few more young men or boys of moral habits. Price of tuition, board, and washing, $20 per term of twelve weeks. Books furnished at cost, which will not exceed $1 25 for Greek & Latin. Persons wishing for admission, will do well to apply soon. Robert Rittenhouse. Amwell, Nov. 2, 1831."
This advertisement was replaced on February 1, 1832 with a larger one that announced the increasing size of the school, and that the owner "in order to encourage educa­tion" was moving to new quarters on February 13th.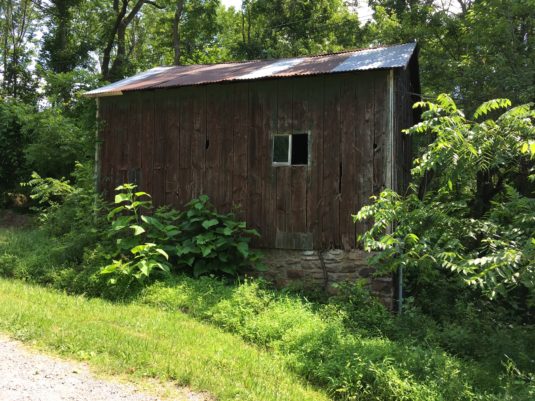 The mill property was located on Reading Road and had been owned by Garret Wilson since 1817. It is said that Wilson built a mill on this property that year, but by 1830 Wilson was preparing to move to Shekola, Pennsylvania to run a mill there. So Rittenhouse probably moved in when Wilson moved out, and made the purchase official two years later. On May 3, 1832, he bought 102.62 acres from Garret V. Wilson for $4,500, or $43.85 per acre.7 That's a little high, but the property included a house and barn as well as a working mill.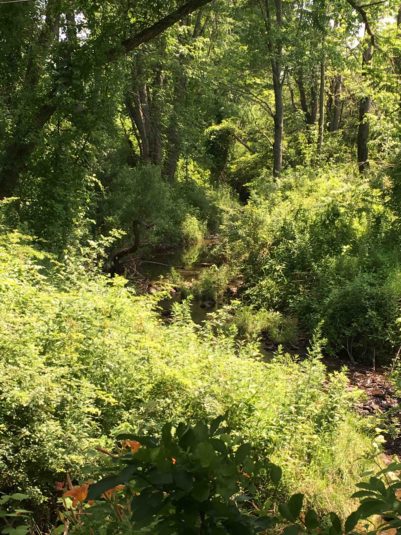 The property was located along Reading Road and included a tributary of the Wickecheoke Creek on which Wilson had been running his mill. This creek was probably a more impressive body of water than it is today, because near its end where it meets up with the Wickecheoke, it powered the mills of Charles Sergeant.8
Purchasing a valuable property like this was a daring move by a young man, especially because, as it turned out, he had no assets of his own other than his reputation. He financed the purchase by getting two mortgages, effective the same date as the purchase. The first was from Garret V. Wilson himself for $3,500, and the second was from Asher Williamson for $1,000.9
This property on Reading Road is an interesting one, as is the owner, Garret V. Wilson. He was the son of William Wilson and Sarah Vandolah, born on July 9, 1781. About 1810, he married Mary Butterfoss, daughter of Daniel Butterfoss and Esther Ent. In 1817, when he was about 31, Wilson began purchasing properties belonging to James Larew along Reading Road, first a lot of 36 acres with a house, and then a 50.1-acre plot bordering Charles Sergeant.
On May 1, 1817 he purchased additional acreage from Thomas Lake and eventually, acquired ownership of 102.62 acres, part of the 150 acres that was previously owned by James Larew. The property was located on both sides of Reading Road, with the creek running through it.10
On June 18, 1830, Wilson sold a lot for the purpose of erecting a schoolhouse. This was the Green Sergeant School at the corner of Reading Road and Route 604. In a previous article,11 I had written that Garret Wilson sold the school lot in 1830 but that the deed was not recorded until May 8, 1832. This was five days after selling his home farm to Robert Rittenhouse. As mentioned before, Wilson had decided to relocate to Shehola in Pike County, Pennsylvania to pursue his milling business there. But it was probably not until the Spring of 1832 that he made his move.
Robert Rittenhouse clearly did not have $4500 on hand to purchase the property outright. In fact, he financed the entire amount with two mortgages, the first to Garret Wilson for $3500, and the second for $1,000 to Asher Williamson.12 They both had to be paid off in only three years. Rittenhouse naively thought that income from student fees would provide him with the funds he needed to make these payments.
When Rittenhouse advertised that he was moving his school to larger quarters, he included a description of how the school would be managed.
February 1, 1832: "Manual Labor Academy. . . . The next quarter will commence on the 13th of February instant, when he will be prepared to receive more students. The whole expense hereafter for the Board and Tuition of a Student, will be 25 dollars a quarter – after which the best hands will be allowed six cents an hour for their labor; and others in proportion to the value of their work. It is intended to devote about three hours a day to labor; but none will be expected to labor against their wish. The healthy situation, good water, and other local advantages of this school, will, it is hoped, soon render it necessary to enlarge the buildings. – persons wishing to address the preparatory by letter, will please direct to Kingwood Post Office, New Jersey. [signed] Robert Rittenhouse
(I do not understand why Rittenhouse was obliged to use the Kingwood Post Office since the one at Sergeantsville, which opened in 1827, was much closer to his school.)
An editorial appeared in the February 8, 1832 Hunterdon Co. Gazette, praising the manual labor school as "most laudable and sure of success." The editor wrote that Rittenhouse himself was to have "general supervision of the school" and of the conduct of the students, and that the school was receiving "encouraging patronage."
Someone else who wrote about the Rittenhouse school was Clint Wilson, who authored many articles published in the Lambertville Beacon. In his article "The Manual Labor Institute on Cline Farm,"13 Wilson described how he learned about the Rittenhouse school from Erva Cline who was a member of the Green Sergeant's school board when Wilson was teaching there.
Erva Cline invited Wilson to see that part of his farm where the old school had been located. There was a machine shed there that had once been a sawmill, next to Cold Run and the mill race. Clint Wilson wrote about what he learned on his visit:
Back in 1831, a Robert Rittenhouse started a school on this farm for city boys. It was called the Manual Labor Institute. Evidently the school failed in less than five years. I read an article written by Johnny Hoppock, an early local teacher in Delaware Township schools, who wrote about his school.14 He told how the students were divided into classes for manual labor, each class doing a certain kind of work for a given period and then making way for another. They were taught to milk and churn and to do all manner of farm work. Besides this, in the sawmill, the boys were taught to cut logs into posts, boards and lath. They were also taught how to use a machine for hulling clover.

The tuition for the school was $25 per quarter and the best hands were allowed six cents per hour for their labor. There was also a teacher who taught languages, English grammar, and geography. The school had room for thirty boys and the third floor of the large stone house was used as a dormitory.
There are so many questions to ask about this school, for instance, how did Rittenhouse manage to find his city pupils? Jonathan M. Hoppock, wrote that the boys who attended the school were mostly from Philadelphia. Were they orphans or juvenile delinquents or just children of very poor families? It appears that not all the children were from the city. Two of them were the sons of Garret Wilson: William Vandolah Wilson and Charles E. Wilson. They were left with Rittenhouse while their father was in Pennsylvania.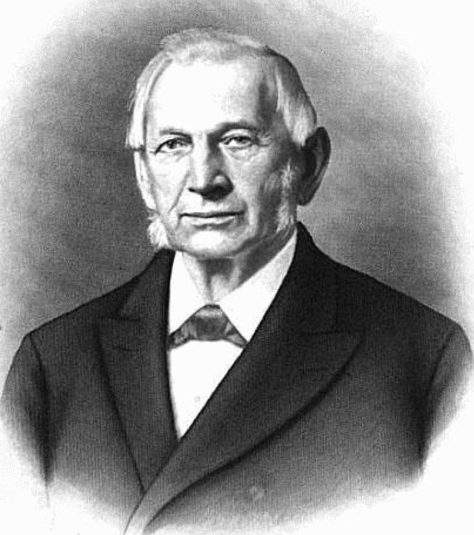 Rev. William Van Dolah Wilson, D.D. entered the school at the age of 19, became a Baptist minister, and later helped to save the Peddie School from bankruptcy and became its president. In an interview with Wilson when he was 96 years old, he recalled that the boys milked and churned, worked in the sawmill, helped hull clover at the custom mill, and did other "hard dirty work."
According to John W. Lequear, Rittenhouse "had about forty scholars, boarding them at $1.00 per week, and Mrs. Rittenhouse said that most of the manual labor fell upon her." Having the care and feeding of upwards of 40 boys, with very little assistance from her busy husband, amounted to quite a lot of manual labor. Lequear also reported that Robert Rittenhouse
. . . then turned his mechanical ingenuity to the construction of a machine for hulling clover seed. Those of us who were boys fifty years ago remember what a tedious, unpleasant process the hulling of clover seed was, as we trod for days on it with horses. Robert got out a patent for a revolving grated cylinder, the same as we use at this day. There was probably a mill at this place when Mr. Rittenhouse moved there, as Garret Wilson, was a millwright; but Robert soon after constructed a clover mill to run by water and farmers brought their clover many miles to have it hulled. He also made a machine for the purpose turned by hand, for farmers' home use. In 1834, he bought eight acres of wood land of his mother-in-law [Hannah Bray Blackwell] and sawed large quantities of oak lumber …"
The first principal, according to Thomas Lequear, was Thomas Brown, A.M., from Columbian College in Washington, D.C. After he became a minister, he was succeeded by William E. Lock, who also became a minister. And Garret Wilson's sons also became ministers. It appears that religion was an important part of the curriculum.
The Dream Ends
With such a dedicated and enterprising schoolmaster and such accomplished pupils, it comes as a surprise that the school only lasted about three years. Robert Rittenhouse lacked something very important for an endeavor like this—a good business plan, or else a wealthy supporter. Rittenhouse had gotten himself deeply in debt with his two heavy mortgages—so deeply, that even with the help of significant loans from his father, he was unable to meet his financial obligations. Lequear wrote that "all his enterprises proved to be failures financially."
Hubert Schmidt wondered if the problem might have been the reluctance of city boys to endure such hard work. Be that as it may, Rittenhouse gave up and took his family with him to Philadelphia, leaving his son Rufus behind to study with Rev. Joseph Wright at Sandy Ridge. On August 18, 1835, Rittenhouse sold his 102.6 acres with house and mill to Richard Morris of Philadelphia, who probably bought it as a favor to Rittenhouse. Morris in turn sold the property to Jonathan M. Higgins, also of Philadelphia. Both transactions were for the sum of $4000.15 Then eight days later on May 24, 1836, Higgins sold the farm back to Garret Wilson for $3,815.16
While in Philadelphia, Rittenhouse fell for a get-rich-quick scheme involving lands in Iowa where lead-mining was said to be available for exploitation. Rittenhouse bought some land claims near Dubuque, and, as John W. Lequear wrote:
" … in the spring of 1836, he gathered his family of wife and four small children and accompanied by his brother-in-law, Sidney Blackwell, set out for the long journey to the Dubuque country. The facilities for travel were not as now. On reaching Harrisburg they took passage on the canal for Pittsburg; then on a steamboat down the Ohio and up the Mississippi, hundreds of miles, arriving there near the middle of May."
The 1836 census for the State of Iowa counted Robert Rittenhouse living in Woolstock, Dubuque with his wife and four young people. Like other early censuses, this one did not name anyone other than the householder, but these youngsters seem to have been the four children of Robert and Matilda, including Rufus who had joined them.17 Life was not easy in Dubuque in 1836, as Lequear described it:
A few scattering log huts was all there was of the city. They moved into one of these with less than a dollar left (the claim he had bought proving worthless, for which he was to pay $15 a month rent and in a few days, Robert was taken sick with a fever. Finding the climate much colder than they expected, they suffered greatly from want and privation incident to their lack of bedding and clothing. They wrote back to his father, Elisha Rittenhouse, of their want. He at once filled a box with warm clothing and bedding and sent it on, but it never reached them. . . . Like other mining towns, women were few. No wonder she [Matilda] inquired, "Is this whence you have brought me to live?" Their youngest daughter died during their first year."
Rittenhouse died not long afterward, on January 13, 1837. He was only 36 years old.
"D I E D On the 13th ultimo, of consumption, in Wisconsin Territory, Mr. ROBERT RITTENHOUSE, in the 36th year of his age; leaving a wife and three children. The deceased was formerly of Hunterdon county."18
Rittenhouse's death left Matilda Blackwell Rittenhouse on her own with four young children and a terrible place to live. But she did not move back to New Jersey. Instead, her father-in-law, Elisha Rittenhouse, came to visit in 1838 to help the family out. By then Matilda was living in a new household, because on February 26, 1838 she had remarried to one Wesley Kyle, also of Dubuque, who was about ten years younger than Matilda. It may be that Matilda's new circumstances prompted her father-in-law to add this provision to the will he wrote on April 29, 1839:
"to my son Robert Rittenhouse departed this life in the far west, leaving a widow and children, while here in New Jersey I assisted him and before his removal to the West I became accountable to his creditors for large sums of money. I cannot therefor in this my will give anything to his widow and children." 19
When Matilda Blackwell Rittenhouse and husband Wesley Kyle were counted in the 1850 census, only son Judson was living with them, being age 17. Matilda died two years later in Dubuque on October 22, 1852, age 44.
As far as is known, none of the other local schools of the 1830s in Hunterdon County had as ambitious a program as did the Manual Labour Institute. It would have been a fine legacy for him if others had taken up his model, but none did.
Postscript for the Mill Property
As for the mill on Reading Road, according to an article in the Hunterdon Democrat on June 2, 1908, the mill was no longer in operation then, but was used as a storehouse for lumber by Joseph Smith & Co.
As mentioned above, Garret Wilson bought the farm back in 1836, after deciding that he preferred Delaware Township to Shamokin, PA, which was probably still a frontier community. He remained on the mill property on Reading Road until the 1840s when he moved to Brookville and took on the job of miller at Prallsville.
Wilson did not sell the Reading Road property until 1867 when the purchaser was his wife's nephew, Andrew Butterfoss.20 But Butterfoss was a bit like Robert Reading—too optimistic about his income. At a Sheriff's sale held in 1877, the farm was returned to the Wilson family when it was purchased by Garret Wilson's son Rev. William V. Wilson.21 The family allowed Garret Wilson's daughter Sarah and her husband Watson Rittenhouse (a second cousin once removed) to live on the farm.
Garret Wilson died on January 28, 1876, at the advanced age of 94.
Note: I took the picture of the Robert Rittenhouse house many many years ago, and when I found the photo in my files I was surprised to see how much it had degraded. I tried sharpening it up and toning down the orange cast, but the photo is still pretty poor. Still, it's always better to have an old photo than a new one.
Footnotes: