This past month there were several fires in southern Hunterdon County, all of them accidental. One of those fires gutted a house that I had researched many years ago, so I, along with current and past owners, feel somewhat heartbroken that this lovely home has been destroyed. It is located a short distance south of the village of Sand Brook, along the Sand Brook-Headquarters Road.
This is how it looked several years ago: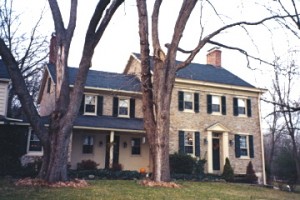 And how it looked while the firefighters were at work: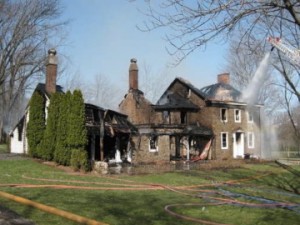 Another view of the house, before the fire: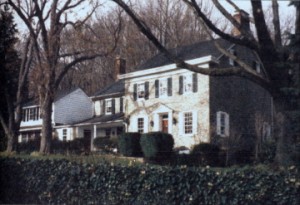 And this year: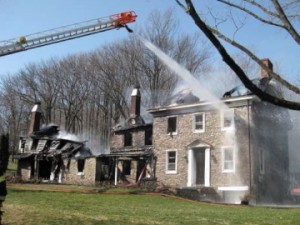 During my research, I took very few pictures of the interior, much to my regret. Here is one interior shot: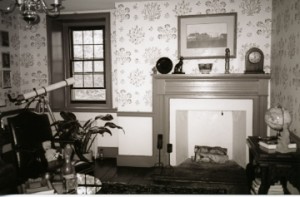 The property on which the house stands has a long pedigree, dating back to the earliest survey in 1711. Dating the house itself is another matter. The two-story main house probably dates to about 1830, when William Sergeant purchased the property from Cornelius and Rachel Hoppock of Kingwood. As far as I could tell, the Hoppocks never lived on the property. They had acquired it from the heirs of John Rake in 1815. When Sergeant bought the farm with 32 acres, he was already living across the road on the farm of his mother, Mary Lake's family. It seems likely that William Sergeant, who was 35 years old in 1830, may have been thinking of setting himself up in a more contemporary and fashionable house. He did not marry until 1837, his wife being Elizabeth Trimmer, daughter of John G. Trimmer and Mary Opdycke. Their only child, John Trimmer Sergeant, was born in 1838, the year that Delaware Township was created.
The smaller wing to the west may have been the original home of John and Elsa Rake, who probably came to Delaware Twp. (then part of Amwell) about 1760. Unfortunately, that original wing had been so much "improved" over the years, that very little of its original characteristics remained when I saw it, about ten years ago.
On the Delaware Township Post, I have written about the Rake Family Cemetery, which is located not far away. John and Elsa may have been buried there; John died in 1805, Elsa remarried and died as the wife of William Swallow sometime after 1815. I do not know the exact date. There is a certain amount of Rake Family history included in that post which you can find here. (The cemetery required five installments; the link starts you with the first one.) Much more can be written, of course, about both the Rakes and the Sergeants, but for now, I will include a final picture of the house, as seen from the old stone barn, ten years ago, barely visible behind some very old trees that have also been lost.