There is a tiny burying ground located on a plot of land across from the Delaware Township Municipal Building that is used during the summer by the Sergeantsville Farmers' Market. It is hidden in a clump of trees, and very few people know of its existence.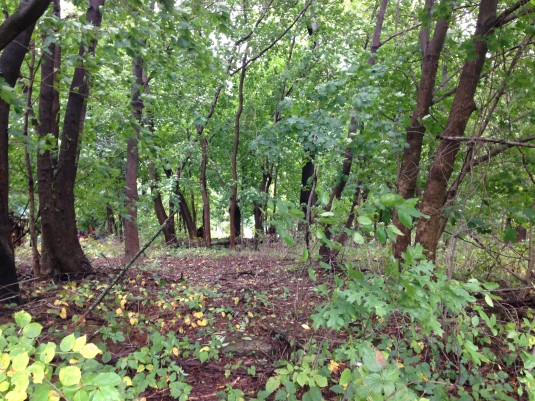 Recently, Steve Freedley, Jr. and the Sergeantsville Fire Department offered to clean it up. This offer was gratefully accepted by the burying ground's owner, the Township of Delaware. So this seems a good time to write about its history.
The cemetery is not in good shape. When I visited it back in 1995 I found all the stones lying flat on the ground and only the stone for Mariah Brewer Holcombe had a legible inscription. According to Egbert T. Bush, who visited it in 1930, the cemetery was 45 feet square; it is less than that now.1
In 1988, Richard Horoschak visited the lot and studied it extensively. He found seven unmarked fieldstones and pieces of at least three marble stones, the most complete one being that of Mariah Holcombe. It is sad that the stones that Bush could so easily read in 1930 were nearly obliterated by 1988.2
Ownership of the Cemetery
Last spring I wrote an article about this history of the Sergeantsville Inn. It began with the first known owners of the property, Amos Thatcher and wife Lydia Prall. They were the first to live on the southern half of Sergeantsville, and were present there in the 1730s. The Thatcher farm extended east all the way to Rittenhouse Road and included the cemetery plot.
Amos Thatcher died in 1798. He should be buried in the Thatcher Burying Ground, along with his wife Lydia, who died sometime before 1797. But their stones are long gone. After Thatcher's death, the farm passed to his son Daniel who sold it to his cousin Jonas Thatcher in 1800. Jonas Thatcher was living in Alexandria Township at the time. His first wife Margaret Trimmer died long before he acquired the farm of Amos Thatcher, so she would not be buried here. Margaret's children were Charles and Lucretia (who married Jacob Kemple). They apparently left New Jersey.
The oldest stone that Egbert T. Bush found in 1930 read:
"In Memory of Jonas, son of . . . and . . . Thatcher, who departed this life . . . A.D. 1775, aged 12 years, 11 months and 17 days." The first name of the parents and several other words are now illegible.
Some very important information has been lost from that stone, and today it cannot even be found. I have not been able to figure out who this Jonas belonged to. He was born too late to be a son of Amos and Lydia Thatcher, and too early to be a son of Jonas Thatcher Sr. and wife Margaret. My best guess is that he was the son of Amos and Lydia's eldest child, Joseph, about whom I know very little. He was taxed in Amwell on 180 acres in 1780, but in 1787, his father left only 5 shillings to Joseph's heirs, which suggests that Joseph had 1) died by then, and/or 2) had left Hunterdon County.
Jonas Thatcher married his second wife Sarah Lake sometime in the 1780s. They had eight children, but none of them seems likely to have been buried here, since most of them relocated to other places.
Jonas Thatcher, Sr. died in 1808, leaving his property to wife Sarah Lake and son Jonas Thatcher, Jr. I have not been able to identify Sarah Lake's family, but Jonas Thatcher, Jr. was married to Nancy Lake, daughter of Cornelius Lake and Mary Sergeant. Their oldest surviving son was Charles Thatcher (1812-1893).3
Ann (Nancy) Lake died in 1835, and was buried in the Thatcher graveyard. Mr. Bush found her gravestone and wrote the inscription: "In Memory of Ann, wife of Jonas Thatcher, who departed this life February 9, 1835, aged 42 years, 11 months and 16 days."
As mentioned before, Jonas and Nancy Thatcher had a son Charles Thatcher (1812-1893). On August 31, 1834, he married Juliet Fox, and Mr. Bush found her gravestone in this cemetery, along with her daughter Juliet. The two of them died in the summer of 1842, suggesting they succumbed to some infectious disease.
In Memory of Juliet, daughter of Charles and J. Thatcher, who departed this life, July 27, 1842, aged 5 months and 27 days.

In Memory of Juliet, wife of Charles Thatcher, who departed this life April 9, 1842, aged 30 years, 10 months and 9 days."
The widowed father married second Matilda Calvin on July 1, 1843, and was buried in the Prospect Hill Cemetery after his death in 1893.
Jonas Thatcher Jr. died intestate in 1852, and was buried at the Presbyterian Cemetery in Kingwood. By that time he and his third wife, Elizabeth Fox, had moved to Alexandria Township, after having sold their farm, with the cemetery, to Henry H. Fisher. Once possession passed out of the hands of the Thatcher family, it appears that no more burials took place there, with one exception.
There is a marble stone erected in 1890 for "Mariah Brewer, wife of Amos Holcombe, May 24, 1818 – November 23, 1890." Mariah married Amos Holcombe (1817-1897) on May 30, 1838. She may have been the daughter of Daniel Brewer and Rosina Sine who lived near Headquarters, and bordered Cornelius Lake (on the west) and James Jones (on the east). In 1830, Daniel Brewer was forced to assign his property for the benefit of his creditors, and the assignee was Jonas Thatcher. Another possible relative of Mariah's was Sergeantsville resident George Brewer, who was an old man in the early 20th century.
Amos Holcombe was the son of Lewis Holcombe (1794-1811) and Mary L. Sutton (1797-1880). He is buried in the Sandy Ridge Cemetery and, oddly enough, there is also a stone there for wife Mariah. I have heard of other cases in which a person has two gravestones in two different cemeteries. And so far, I've not come across any explanation for how this might happen. Unless excavations are made, there is no way to be sure where she is buried. Here is my theory: Mariah was buried in the Thatcher cemetery in 1890, it being not too far from her parents' home. Then in 1897 when Amos died, he or his heirs decided to bury the two together in the same place—so Mariah was exhumed and reburied at Sandy Ridge with a new stone. But her old stone was left where it still stands today.
At the time that Mariah Holcombe died, the cemetery was probably owned by Henry H. Fisher, and I know of no family connection between them.
Cemetery Owners After the Thatchers
A brief outline of the subsequent ownership goes like this:
Henry H. Fisher shared title with his partner and brother-in-law Amos Hoagland, who became postmaster of Sergeantsville in the 1840s. Hoagland went bankrupt, and at a sheriff's sale, Amos Hoagland's father Andrew Hoagland bought his son's 62.34-acre farm. Henry Fisher also sold his rights in the farm to Andrew Hoagland. Then Andrew & wife Mary sold the property to Andrew C. Hoagland, James Hoagland and Elijah C. Hoagland, all of Raritan Twp.4 Andrew Hoagland died on May 18, 1843, and on November 15, 1843, the same Andrew, James and Elijah Hoagland advertised the farm for sale in the Gazette. On April 1, 1844, they sold the property to Elijah Wilson Esq. of Raritan Township, and, once again, to Henry H. Fisher. Wilson and Fisher had established a partnership to run the old store that had once been run by Fisher and Hoagland.
Wilson later conveyed his interest to Henry H. Fisher, and after Fisher's death in 1882, ownership passed to his son William Fisher. Here is where I need to do more research. William Fisher must have sold the store to Amos Wilson.
According to E. T. Bush, Lewis C. Bird (1879-1953) bought the farm from Jacob K. and Gertrude Ent Wilson. Jacob K. Wilson was the long-time clerk of Delaware Township and had been living across the road from the township hall for many years. He died in 1927. In 1930, his widow Gertrude, age 53, was still at the Wilson house; living with her were brother-in-law Lewis C. Bird, age 50, farmer, and sister Mary Ent Bird age 49, and their son Stanley, age 20. They were next in the census list to Amos H. Wilson, age 50.
Jacob K. Wilson and Amos Wilson were only distantly related (4th cousins). Amos Wilson took over the store that was originally owned by Henry H. Fisher and Amos Hoagland back in the early 1840s. When Amos Wilson acquired the store, the lot must have been separated from the old Thatcher farm. But Amos had a connection with another early owner of the property—Elijah Wilson, who had partnered with Henry H. Fisher back in 1844.
Elijah and Elizabeth Skillman Wilson had a son James Wilson (1807-1865). James and wife Elizabeth Sutphin had a son Clinton B. Wilson (1855-1923). He married Mary Elizabeth Haines in 1878, and they had a son Amos H. Wilson, born about 1880, who took over the Sergeantsville store after Jacob Stryker retired. Their son, Clinton B. Wilson, Jr. (1908-1985) is still remembered today for carrying on the storekeeping business and writing much about Delaware Township history.
Voilá!
Just to round things out a little more, Betty Fleming and her brother Robert Bird, are the grandchildren of Lewis C. and Mary Ent Bird. Betty and husband Philip Fleming still live in the old farmhouse next to the field where the Thatcher cemetery is located, a house that was probably built in the mid-19th century.
Some time ago, I was given a copy of a photograph by Paul Kurzenberger. It was taken in the late 1890s on the front porch of a house in Sergeantsville. Betty Fleming was able to identify the gentleman on the far left as Jacob K. Wilson. The woman in the rocking chair was probably Wilson's first wife Rose, who died in 1897. The other two people are not known to Betty Fleming. Perhaps one of you can identify them.
Correction, 10/20/15:  Originally I had written that the house was the Fleming house next to the Post Office, but Betty Fleming realized that the porch does not match hers, and the house in the picture is most likely the old Wilson Store, and the view is of what is today's Nina's entrance. Back when the old store was in business, that entrance went to the residential half of the building; the store was next door (today's Salon G).
Footnotes: