Here's a special article by Egbert T. Bush in celebration of Easter. As usual, Mr. Bush manages to include some genealogy—this time the Case and Hewitt families.
Stockton Woman Has Old Easter Egg

Specimen Is Decorate With Many Flowers and Leaves

Marriage Record of 1760

by Egbert T. Bush, Stockton, NJ
Hunterdon Democrat, May 24, 1934

Mrs. Mary E. Batson of Stockton is the appreciative owner of an old Easter egg. It is a fine specimen of the old-time practice of decorating Easter eggs by boiling them wrapped in onionskin, carved to suit the taste of the artist. This specimen is adorned with flowering plants, stalks, Leaves and flowers all surprisingly fine and clear. It also bears a very distant date – 1840, thus proving its age to be 94 years.
Note that if that egg is still around, it is now 178 years old!
And about the age there can be no mistake, for this egg has an interesting history, which is well known. It was a present to Frances Hewitt when she was a toddler three years of age. Frances was a sister to Mrs. Batson's father, the late Holdron Hewitt, of Frenchtown. Frances grew up and married John Paustian, who came from Germany when a boy. After their marriage they made their home in Phillipsburg.
The Hewitt Family
Frances Hewitt was reported as being 25 years old in 1870, when she was living with her parents Daniel B. and Mary Hewitt of Alexandria Township. Find-a-Grave states that she was born on Feb. 5, 1839 and died Jan. 29, 1924. If she was born in 1839, then she would have been given the egg in 1842.
By 1885 Frances was married to John F. Paustian. It is a shame that Mr. Bush did not say or know who gave the egg to Frances Hewitt. Perhaps it was made by her mother Mary Hewitt, or perhaps an aunt.
Holdron Hewitt, otherwise known as Holloway H. Hewitt, or H. Holdron Hewitt, was born 1841 to Daniel and Mary O. Hewitt. He married Catharine Case about 1865, and had a daughter, Mary E. Hewitt, about 1867 (based on census records). Catharine Case was the daughter of John Case and Amy Hoff. Holdron and Catharine Hewitt lived in Alexandria Township, where Holdron was a farmer, until he moved to Frenchtown. The Hewitts were counted in the Frenchtown census in 1900, when Holdron was 59 years old, working as a night watchman, and Catharine was 54. Their son Roy Hewitt was 15.
From this aunt the egg came to Mrs. Batson's mother; and from her to the present owner, who prized it very highly. She says, however, that any careful person will be welcomed in coming to examine this rare specimen of old-time rural art.
Reminder: Frances Hewitt Paustian gave the egg to her sister-in-law Catharine Case Hewitt, possibly at the time of the birth of Catharine's daughter Mary, about 1867. I am puzzled by this Mrs. Hewitt, though. Catharine Case Hewitt's obituary in the Lambertville Beacon states that she died in 1925, age 80, and was survived by one daughter, Mrs. May E. Hunt of Stockton. May Hunt was not the same person as Mary Hewitt Batson, who lived until 1940.
The William & Anna Case Family
Mrs. Batson also has a framed marriage record and partial family history, beautifully penned and dating back to people of long ago:

"William Case, son of John and Margaret, commenced his existence on the first day of August in the year of our Lord, 1760. Joined hands and hearts together in holy matrimony with Anne Fisher in the eighth day of January in the year of our Lord 1785. Said Anne was born on the 16 day of January in the year of our Lord 1764.

"And thus have they born sons and daughters, according to the divine Command, be fruitful multiply replenish the earth and subdue it.

"William Case was born August the 19, 1786

"Mary Case was born December the 16, 1788

"John Case was born February the 28, 1801

"Christopher F. Case was born May the 25, 1804

"Mahlon Case was born March the 13, 1812

"Mary Case married Daniel Mash

"Margaret Case married Levi Metler."

This John Case married Amy Hoff, of the Quakertown-Pittstown vicinity. These were grandparents of Mrs. Batson; and their home was a half-mile from Everittstown, on the road to Milford.
I have not been able to sort this family out. It is not one that I am familiar with, and during the past week, I only had access to online records like the census and Find-a-Grave. Researching 18th century families like the Case's is very challenging, because names get repeated so often.
I do wonder if perhaps William Case was the son of Johannes Jacobus Case, born 1720 Germany, married about 1760 to Margaret/Margaretha Young. And perhaps Anna Fisher was the daughter of Christopher Fisher (c.1730-1787) and Mary Lequear (c.1740-1821).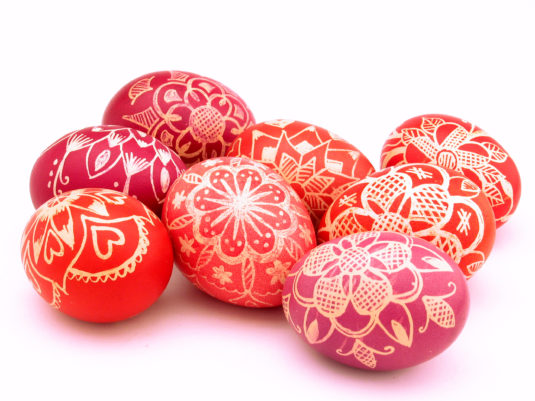 Egg carving is a practice that seems to have originated in eastern Europe, which makes one wonder about the inheritance of Frances Hewitt's egg-carver. Carved eggs can be quite elaborate, as a search on the internet will show. This photo shows eggs with a comparatively simple design.1 And here's a video featuring the practice as it came from Moravia. https://www.youtube.com/watch?v=xtjq0SF40K0
As for that marvelous egg, could it be hiding among the artifacts preserved at the Hunterdon County Historical Society? I certainly hope so. If I ever come across it, I will add a photo to this article.
 Easter Egg image courtesy of Dreamstime Stock Photos | ID 2495963 | © Siniša Šešlak. ↩