Sometimes in my researches on Hunterdon people of the past, odd things turn up. Something very odd turned up when I came across Cornelius H. Barber, who lived from 1804 to 1884. I had been asked about the Prall tanyard, which was located a short distance south of Sergeantsville in the early 1800s, and discovered that Barber had briefly been an owner.
So let me tell you a little about Cornelius Hoppock Barber before describing the odd thing I found.
The tanyard property was purchased by Peter Prall in 1800 and became a well known institution in the area.1 In 1834, Prall decided to retire from tanning, and advertised his farm and tanyard for sale in the Hunterdon Gazette. His buyer the next year, on May 1, 1835, was Cornelius H. Barber. But there is some confusion about this because an advertisement in the Gazette of April 22, 1835 stated that David Innes was running the tanyard, which he had purchased from Peter Prall. If he did, that deed was not recorded. Perhaps Mr. Innes could not come up with the purchase price, but Mr. Barber could. However, Barber doesn't seem to have been interested in running a tannery, and two years later, in April 1837, Innes bought the tanyard and 60 acres from Cornelius H. Barber for $3600.2
Before purchasing the tanyard, Cornelius H. Barber married Sarah Lanning Britton on March 31, 1831. She was born on May 23, 1810 to Samuel Britton and Sarah Curtis. The marriage was performed by Rev. Kirkpatrick of the Amwell Presbyterian Church.3
But Sarah died a year after Barber bought the tanyard, on January 4, 1836, when she was only 25 years old.4 Sarah had two children, Mary Elizabeth Barber in 1832 (m. Augustus Bertron Reading in 1851), and Sarah C. Barber, about whom I have no further information.
Following a pattern established by his father (more about that below), Cornelius' second wife was Sarah's step sister, Cornelia Maria Britton, daughter of Samuel Britton and Samuel's second wife Elizabeth Bodine.5 They were married about 1838 because their first child, Samuel Howard Barber, was born about 1839, followed by Matilda 1843, Emma C. about 1847 and Willard 1850. Unfortunately, dates for Cornelia's birth, death and marriage, and dates for her mother's birth are only estimates since they were not recorded.
How Cornelius came to meet the Britton family is something of a mystery, since the Brittons lived in Kingwood Township, and Barber was raised on a farm south of Headquarters. Samuel Britton died intestate in Kingwood Township in 1814, a year after Cornelia Britton was born. Perhaps the widow, Elizabeth Bodine Britton, was living somewhere closer to Headquarters, along with her daughter and step-daughter, when Cornelius met Cornelia.
Shortly after marrying Sarah Britton, Cornelius Barber paid $130 to Daniel Butterfoss and wife Sarah for a 5-acre woodlot, bordering property of John Barber. This was probably near the Barber homestead on Lambertville-Headquarters Road. Two years later, he bought another 5+ acre lot adjoining the first one from Andrew Larason. Butterfoss had purchase his 5-acre lot from James Larason.6 These were Barber's first recorded land purchases, other than the tanyard lot.
There was not much information to be gleaned about Cornelius H. Barber in the Hunterdon Gazette. What did appear was his involvement with the Amwell Whig party in the 1840s. This was probably inspired by his step-brother, John Barber, Esq., who ran a tannery at Headquarters and was very active in local Whig politics. Cornelius Barber also participated in the local militia; he was an "Ord. Sergeant" of the 2d Troop of Cavalry of the Hunterdon Squadron in 1840. 7 As to the purpose of the Hunterdon Squadron in 1840, the men met regularly for drilling and parading, usually at a local tavern, bringing their equipment and uniforms. Why there would be a Hunterdon militia in 1840 is a question answered by military historian, Joseph Bilby. He informed me that local militias were the way our penny-pinching Founding Fathers maintained a military without funding an army. The few "uniformed companies of amateur soldiers in the state . . . were largely social organizations."8
In 1845, Barber purchased from his brother-in-law Solomon Holcombe a lot of 22+ acres in Amwell Township that he was already in possession of.9 In 1853, when Barber was 49 years old, he and Adam Danberry switched properties. Barber sold two lots in West Amwell for $4500, (one of them the lot he bought from Solomon Holcombe), and Danberry sold Barber two lots also in West Amwell for $4600. The Danberry lots, which included 70.45 acres bordering Jacob Servis, were located just outside of Lambertville. But the next year, Barber sold the property to Dennis Conover for a loss of $1,000.10 That is the last deed listed for Cornelius H. Barber. He was only 50 years old at the time, which seems young to give up being a land owner. It may indicate that Barber was never cut out to be a farmer.11
By 1860, he had moved to Lambertville, where he rented his home. He was described as 56 years old, white, a "gas manufacturer," with personal property worth $300. Living with him were wife Cornelia M. age 38, and children Samuel H. Barber 21, clerk, and Emma A. Barber 14. Ten years later, Barber was still a resident of Lambertville, age 66, still a "gas manufacturer," with a personal estate of $150 and no real estate. By 1870, his children had left home; his wife Cornelia was 48 years old.12
Here's one oddity I find hard to believe: the census noted that neither Cornelius nor Cornelia could read or write. This is clearly an error because both of them were able to sign their deeds. Makes one wonder about the veracity of census records.
So far, though, nothing outlandish about Barber's history. The surprise came in his obituary. I found it in the abstracts of the Hunterdon County Democrat for years 1838 through 1888 compiled by Dennis Sutton. The obituary was published on October 14, 1884:
An old colored man named Cornelius Barber, of Lambertville, committed suicide at the residence of his son-in-law, Mr. Samuel Stockton, Saturday, 4th inst, by throwing himself into the well in the yard. He was in his 81st year.
An old colored man? Really? Barber came from a long-established white family in Amwell Township. In fact, his death record stated that he was a married "Gentleman," born about 1804, died Oct. 4, 1884, age 80 years 5 months at Lambertville.13 This demanded further investigation. Because of Barber's somewhat spectacular method of committing suicide, his obituary appeared in several other newspapers. The obituary published by The Republican on October 15th left out the matter of Mr. Barber's race:
On 4 Oct. 1884, Cornelius Barber, of Lambertville, committed suicide at the residence of his son-in-law, Samuel Stockton, where he made his home. He had been left alone in the house for a short time and during the interval, went into the back yard, uncovered the well and jumped in. It is said that at times when despondent, he had threatened to commit suicide. Years ago, he owned the farm adjoining the fair grounds above the city, but had become reduced in circumstances. He was in his 81st year. He leaves a wife, Cornelia M. Barber, of Lambertville.
Obituaries for "Mr. Barber" were also published in the Belvidere Apollo of Warren County, and the Trenton Times. Both repeated the circumstances of Barber's death, but did not identify him as "a colored man."
The census of 1880 put Cornelius and Cornelia Barber in the household of Samuel Stockton, age 36, undertaker, living at 7 ½ Main Street, Lambertville, along with his wife Emma A. Stockton, 33, keeping house, and their two young children, Harry and Irene. Emma was the daughter of the Barbers. Cornelius Barber, age 76, was identified as an "expressman," but at the time he was unemployed. (Samuel G. Stockton has his own interesting history as undertaker, but that must be put on the back burner.) The census did not distinguish between North Main St. and South Main St., but the Sanborn Map for Lambertville shows no housing on North Main, so the Stockton household must have been located on South Main Street.
Was Barber of Mixed Race?
So, this brings us to the big question—was Cornelius H. Barber of mixed race? That seems to be the only likely conclusion since he had spent most of his life passing as white. But the Democrat's obituary is the only place where he was identified as a "colored man."
I was almost ready to run with this story, of a member of the Barber family being of mixed race, but then I had the sense to look at the original issue of the Democrat, rather than rely on the abstract prepared by Dennis Sutton. Here's what I found: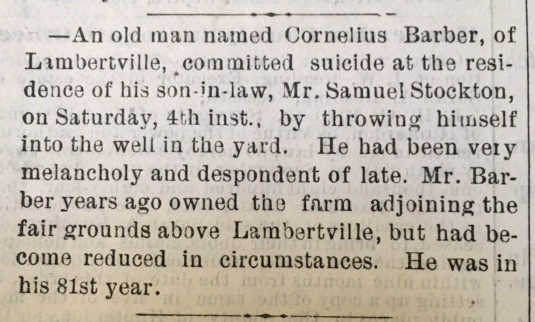 Clearly Mr. Sutton made a mistake. Considering that he had collected abstracts of births, marriage, deaths, and a few news items from 1838 through 1888—50 years worth—I think he should be pardoned for an occasional error. And I would certainly not wish to discourage anyone from using this valuable resource. But it seems that when something peculiar shows up, it is always a good idea to double check, just to make sure. In a way it's too bad—it would have been a fascinating story.
While checking out the obituary in the original Democrat, I happened to see another item that might have put the notion of being colored into Mr. Sutton's head.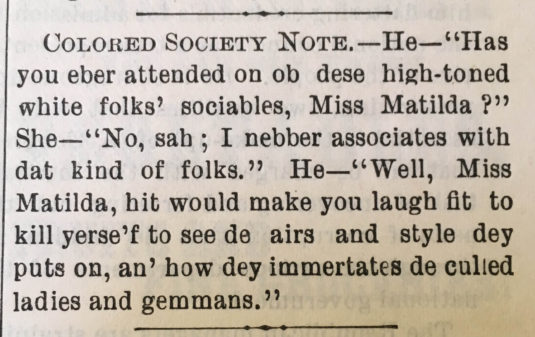 Recent controversies over the removal of statues of Civil War generals have called our attention to the lives of African Americans in 19th-century America, especially during the period after the Civil War, when racism took on a much more violent cast. Tolerance for African Americans rapidly declined, and this intolerance included people of mixed race. But the "Colored Society Note" ends up poking fun at both blacks and whites, and I'll bet Mr. Sutton was still mulling over that one as he plowed through the notices in the rest of the paper.
It appears from the obituary in the Republican that Barber had been suffering depression for some time. He may have also suffered from age-related dementia, given that he was usually not left alone. In any case, his was a sad story, of a man who started off well, but ended very unhappily.
Cornelius H. Barber's family
While I was still thinking that Barber might have been of mixed race, I went looking more closely at his parents and grandparents, wondering if there might have been a hint there of racial mixing. Of course, I found no such thing, but here is what I did find:
Cornelius Hoppock Barber was born on April 23, 1804 to the Hon. Samuel Barber and Mary Hoppock, residents of what was then Amwell Township but is now Delaware Township. The Barber farm was located on Lambertville-Headquarters Road, and had been inhabited by the Barber family since the middle of the 18th century. Cornelius was the oldest of four children, but his mother died in 1813 when Cornelius was nine years old. She was Samuel Barber's second wife. His first wife was Mary's sister Anne (Nancy) Hoppock, who died in 1797, leaving five children, for a total of nine Barber children. After Mary died, Samuel Barber married his third wife, Charity Wilson, but had no more children.
Charity Wilson Barber's family background is intriguing, and complex. I do not know who her parents were. But it's pretty clear that her sister was Rebecca Wilson, wife of John Hoppock, Esq., who was the son of Capt. Cornelius Hoppock and Jemima Barber, sister of Samuel Barber, and therefore, aunt of Cornelius H. Barber. Capt. Cornelius Hoppock's first wife Catherine Corle was the mother of Nancy and Mary Hoppock who both married Samuel Barber. Since Charity and Rebecca were born in the 1780s, we can assume their parents were born in the 1750s-60s, but I have not been able to identify them.
Samuel Barber, Esq.
One of the first questions that came to my mind was whether or not Samuel Barber owned slaves. I know of only a few ways to answer that question: from the late 18th century tax records, from the early 19th century manumission records or from court records. The tax records indicate that Barber did not own slaves, and his name appears in the manumission records only as a witness to the manumission of his neighbors' slaves.14 Also, his father John Barber (c.1720-bef. 1795) was not taxed on slaves.
But of course, Samuel Barber could have had a liaison with an African American woman, perhaps one of the slaves whose manumission Barber witnessed, but there would be no way to prove that without some written record. And then, would he have adopted the child? Probably not.
The Family Tree
Here is some information about Cornelius H. Barber's family. I found it impossible to list a simple family tree. The Barber, Hoppock, Lambert, Wilson and Anderson families are so intertwined they need family bushes rather than family trees.
The parents of Samuel Barber, Esq. were John Barber & Magdalen Johnson. They had nine children:
1) Margaret 1742
2) Susannah 1744
3) Jemima, born 1746, died a child
4) Eliada 1748
5) Jemima 1751 – ?
6) Mary 1753
7) Samuel 1756
8) Catharine 1758 – ?
9) Alexander Wilson abt 1760
1) Margaret Barber, born 1742 died 1828, m. Laughlin Curry of Philadelphia, born c.1737, died 1803. I suspect that they had a daughter who married Gershom Lambert, Sr. (1754-1847) around 1785. Gershom Lambert's first wife was Mary Barber (6).
2) Susannah Barber, born 1744 died 1779. She married the father of Gershom Lambert, Sen. John Lambert, about 1765. Susanna's daughter Amy Lambert married George Hoppock, son of Capt. Cornelius Hoppock, whose second wife was Jemima Barber (5)
4) Eliada/Sarah Barber, born 1748 died 1828, m. James Romine (1736-1817) who owned property between Sandy Ridge and Brookville.
5) Jemima Barber, born 1751, death date not known. She married Capt. Cornelius Hoppock (see below) about 1783.
6) Mary Barber, born 1753, died before 1785. She married Gershom Lambert, Sr. in 1776, but had no children.
7) Samuel Barber, father of Cornelius H. Barber, born 1756, died 1847. He married Nancy Hoppock about 1785 and Mary Hoppock in 1800. (See Hoppock Family below)
The parents of Nancy and Mary Hoppock were Capt. Cornelius Hoppock & Catherine Corle.
Capt. Cornelius Hoppock (1739-c.1813), grandfather of Cornelius H. Barber, was the son of Tunis Hoppaugh and Antje (Ann) Boss. Tunis Hoppaugh and his brothers Jost Hoppock, Johann Peter Hoppock and Cornelius Hoppock were sons of Johann George and Anna Magdalena Hoppough of Seelbach, Germany, and arrived with them in America in 1726. (I do not know what became of the two daughters.) Jost Hoppock is discussed in Egbert T. Bush's article "Hoppock Farm Was Once 600 Acres."
Capt. Cornelius and Catharine Corle Hoppock also had nine children:
1) Anne/Nancy, born 1762
2) George, born 1763
3) Sarah, born 1764
4) Catharine, 1766
5) Mary, 1766
6) Cornelius, 1769
7) Elizabeth, 1772
8) Frances, 1774
9) Julia, 1776
1) Anne/Nancy Hoppock, born 1762, died 1797. She married Samuel Barber about 1785 and had five children, including John Barber, Esq.
2) George Hoppock, born 1763 died 1798. He married Amy Lambert about 1789 and had three children. She was the daughter of Sen. John Lambert and Susanna Barber.
5) Mary Hoppock, born 1766 died 1813, second wife of Samuel Barber, whom she married in 1800. They had four children, including Cornelius H. Barber.
7) Elizabeth Hoppock, born 1772, death date not known. She married Capt. Joshua Anderson (born 1773) sometime about 1795, and had four children. They lived in the Brookville area, and then Lambertville.
9) Julia Hoppock, born 1776, married in 1797 Cyrenius Vanmarter Anderson, brother of Capt. Joshua Anderson above, and had eight children, including George Hoppock Anderson (born 1799), Cornelius Hoppock Anderson (1800-1875) and John Barber Anderson (born 1805).
Cornelia Maria Barber
After his death in 1884, Cornelius H. Barber was buried in the family cemetery, known as the Barber Burying Ground on Lambertville-Headquarters Road, next to his first wife, Sarah Lanning Barber. But his second wife Cornelia, who survived him, was not buried there, and in fact, I have not been able to find any record of what happened to her following her husband's death. She was not living with her son-in-law Samuel Stockton when the 1900 census was taken. Neither was her daughter Emma Stockton. Samuel died in 1909 and was buried in the Mt. Hope Cemetery in Lambertville. If Emma was buried there, her stone is not listed on Find-a-Grave, and Cornelia Barber is not there either.
The Barber family and their many interrelated families are deeply entrenched in the early history of Delaware Township. Had it turned out that Cornelius H. Barber was in fact of mixed race, the family history would have been even more interesting than it is. In the 19th century, a family historian would have done his or her best to keep it a secret. Today, I am glad to say that we see things very differently.
—————–
Many thanks to Becca Hoff for finding the deeds I needed and checking on the Court of Common Pleas minutes, to Donald Cornelius for lugging the heavy, fragile original volume of the Democrat from the HCHS Archives to the Doric house, and to Fred Eisinger of the Lambertville Historical Society for checking on Lambertville newspapers and the Sanborn Map, and to Joseph Bilby for providing me with an insight to the nature of Hunterdon militias in the 1840s.
Footnotes: