For anyone traveling north on Route 579 from the village of Ringoes in East Amwell, Hunterdon County, there is a landmark that will surely catch your eye, standing opposite the old Bel-Del railroad station. It is a three-story house that was once a showplace but has been deteriorating for at least 25 years. People like me who have been watching it all this time marvel that it is still standing.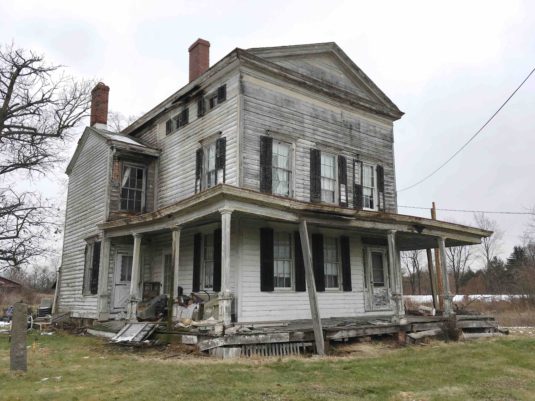 A house like this, with obvious architectural interest, begs to be explained. I was fortunate to discover some of its early history in an excellent book prepared by the East Amwell Bicentennial Committee back in 1976—The History of East Amwell, 1700-1800.1 In Chapter II (pp. 12-16), "this plantation whereon I now dwell" by Erica Margaret Bevis, there is a photograph of the house before it began its slow decline. The caption states that the rear section of the house, which is hard to see from the road, was David Bishop's 'homestead farm.' David Bishop was certainly the most prominent owner of this lot, so this article will focus on his life.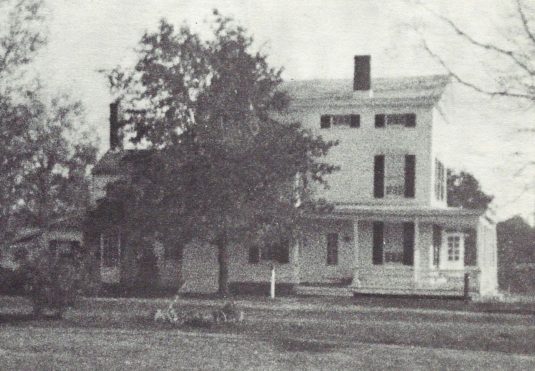 However, I should first take note of Bevis's research into the owners who preceded David Bishop. It appears that the earliest known owner was George Trout. Later in her chapter, Bevis wrote that on November 13, 1753, Nicholas Shoemaker sold a lot of 3 acres in Ringoes to George Trout, a saddletree maker who lived across the Old York Road from Henry Landis.2 Trout sold the property to Garret Williamson in 1760, Williamson being identified as a shopkeeper. Somehow the property came into possession of Ringoes merchant Jacob Corshon, who then conveyed it to David Bishop in April 1792.3 Since it appears that the owners before Bishop were merchants or shopkeepers, it seems likely that a store was located on this property from the middle of the 18th century.
Bishop's Parents
David Bishop was born in May 1750 to William Bishop (c.1710-1761) and Esther Henry (1718-c.1761), who probably married in the mid 1740s. Esther's father, Michael Henry, was a Scotch-Irish immigrant born in 1683. He and wife Jean settled in Readington Township with their eight or nine children in the 1730s.4 When he died in 1760, Michael Henry left to his heirs valuable books, real estate and £712.80 pounds sterling.
I have not been able to identify William Bishop's parents. However, when Michael Henry's widow Jean wrote her will in 1761, she left the residue of her estate to son-in-law William Bishop, suggesting that Michael and Jean Henry had come to rely on Bishop in their later years.
Esther Henry Bishop's brother William Henry married Hannah Cook in 1738 and moved to Greenwich in present Warren County. After William Henry died in 1756, his widow Hannah gave his land in Bethlehem Township and Greenwich, Sussex (now Warren) County to William Bishop in trust for her children.5 She died in 1759. By 1761, William Bishop himself was living in Greenwich; perhaps he was there to oversee the property. On April 8, 1761 while he was still in Greenwich, he wrote his will, ordering his own plantation to be sold and the proceeds given to his wife and his children: Joseph, William, David and John. Executors of his estate were his brothers-in-law David Henry and John Henry. This suggests to me that William's son David Bishop was named after his brother-in-law.
As mentioned above, William Bishop's mother-in-law Jean Henry left him the residue of her estate shortly before he died, which included property in Readington Township that she owned as her husband's widow. What William Bishop's own plantation consisted of is something of a mystery. The Greenwich property did not belong to him, except as trustee. Unfortunately, deeds recorded in the 18th century are scarce; the only one for William Bishop listed in "Colonial Conveyances" was the one from Hannah Henry dated Oct. 19, 1757 for land in Bethlehem Twp. and Greenwich Twp.
William Bishop must have died soon after writing his will, because an inventory of his estate was taken only 15 days later. The will was recorded on May 5, 1761, and the final account rendered on Nov. 19, 1766. It was probably about then that his widow Esther married second Jacob Mattison, who was born in Freehold, Monmouth County in 1709. By that time, the Bishop children were in their teens. Jacob Mattison was then a fairly successful yeoman of Hunterdon County. He lived to the advanced age of 95, dying in 1804. In his will, written in 1797, he named his son John and stepson David Bishop his executors. (I do not know when Esther Henry Bishop died.)
The Schenck Family
David Bishop was about 11 years old when his father died, which was probably somewhat traumatic. But his upraising must have been successful, judging by most of his adult life. On October 16, 1775, on the eve of the Revolution, Bishop married Ann Schenck, daughter of Amwell Township residents William Schenck (c.1721-1806) and Mary Winters (1732-1818). How Bishop came to be associated with Amwell instead of Readington or Greenwich is a question I cannot answer.6
David Bishop's wife Ann/Anne Schenck was the third of nine children. Curiously, three of her five brothers fought in the Revolution and afterwards departed for other places. Her oldest sibling was Ralph Schenck (1756-1836), who married Ann Taylor, daughter of Edward and Rebecca Stout Taylor. He later moved to Montgomery County, New York.7 Brother Josiah Schenck (c.1760-1824) married Alche Wyckoff and moved to Somerset County. The third brother John moved after the Revolution to Independence Township in Warren Co.
The fourth brother, William Schenck (1764-1833), was probably not quite old enough to serve in the Revolution. About 1787 he married Mary Trout (1763-1841), daughter of George Trout and Johannah Lequear; she was the third of 11 children. His father William Schenck, Sr. left the remainder of the farm where he lived to his son William, Jr., in his will written in 1806, in exchange for $5,334.34 paid to the estate. The residue of the estate was divided between sons Ralph, John and Josiah Schenck and daughter Mary Simpson. Unlike his elder brothers, William Schenck stayed in Hunterdon County, living his life in East Amwell Township. Ann's youngest brother Abraham, born about 1768, died only a couple months before his father William wrote his will, which made provisions for Abraham's widow and minor children.8
William Schenck, Sr.'s will named son-in-law David Bishop, Sr. of Amwell executor along with Schenck's son Josiah of Somerset County. He left a quarter of the residue of his estate to the children of his deceased daughter Anne Schenck Bishop. (She died in 1794, age 35.) The children named were David and Joseph Bishop, Esther Jewel, Mary Stout, Elizabeth Kershow, and Nancy Bishop. William Schenck died on December 15, 1806, age about 85, and was buried in Larison's Corner (Pleasant Ridge) cemetery. His widow Mary Winters Schenck, died on January 29, 1818, age 86, and was buried next to him.
Bishop's Siblings
David Bishop's eldest brother was Joseph Bishop, born December 29, 1746, and married about 1770 to Rachel Kline, daughter of Harmon and Maria Kline of Kingwood Township. Like the Schencks, Rachel was a member of a large family, having nine siblings, and, carried on the family tradition, having eight children of her own, from 1772 to 1794. David's other brothers, William, Jr., born about 1748, and John, born about 1752, are mysteries, which is surprising considering what a prominent person David Bishop became. (David Bishop had no sisters.)
The Bishop Children
David and Anne Schenck Bishop's six children were born from 1776 to about 1790. Their first child, Esther (Hetty) was born on September 27, 1776 when the Revolution was intensifying in New Jersey. She did not marry until she was around 36 years old, as the second wife of Thomas J. Skillman (1781-1858), a prosperous farmer. Their first child was named David Bishop Skillman (1814-1866). She died age 72 in 1849.
The second child, Ann (Nancy) Bishop, born 1779, married a man named Galpin. The third was Joseph Bishop, born about 1780, and the last child, Mary, married into the Stout family. I have no information about any of these children.
The fourth child, Elizabeth Bishop (1784-1839), was the one who really counted in her father's life, because she married Jeremiah Kershow, who became David Bishop's closest business associate. (More about them later.)
The fifth child, Rev. David Bishop, Jr., was born 1791. He married Sara Caroline Prall (daughter of John Prall, Jr. and Amelia Coryell) and moved to Easton where he served as pastor of the First Presbyterian Church there.9 Sadly, he died of consumption in 1822, when he was only 30 years old. Widow Sarah decided to move to Prallsville in 1831 and open a school for "Young Ladies," as seen in this charming item from the Hunterdon Gazette, published on March 31, 1831:
"Mrs S. C. P. Bishop, (Relict of the Rev. David Bishop, late of Easton, Penn) Intending to remove to Prallsville, New Jersey, respectfully informs her friends and the public, that she wishes to receive into her family, 10 or 12 Young Ladies, or little Misses, to be instructed both in the useful and ornamental branches of Female Education. Mrs. Bishop assures those parents who may feel disposed to entrust their daughters to her care, that she will carefully watch over their minds, their morals, and their health; and will endeavor, in every respect, to perform the part of a parent towards them. Terms–Board, Washing, and Tuition in Reading, Writing, Arithmetic, Lexicon, English Grammar, Geography, History, and Natural Philosophy, together with all the varieties of Ornamental Needle-work, $30 per quarter. – Music, $6. – Drawing, $3. – Wax Ornaments and Alum work, $3. -Half payable in advance. Books and stationery will be furnished by Mrs. B. at the expense of the parents. Pupils to find their own towels. Each session will consist of 12 weeks – the first to commence on the first day of May. Applications addressed to S. C. P. Bishop, and directed to the post office at Prallsville, N. J. after the first of April, will meet with immediate attention."
David Bishop in the Revolution and Afterwards
During the early years of his adult life, David Bishop lived on a four-acre lot next to the Presbyterian Church on Route 202 and Old York Road which he had purchased from Isaac Prall.10 In 1780, he was taxed in Amwell Township as a householder living on four acres with 3 cattle and £525 at interest. Clearly he was already exercising his business skills to have been able to loan so much money at the age of 30. Perhaps it was those skills that got him the position of adjutant to Col. David Chambers in the 3d regiment of the Hunterdon County Militia. He was later promoted to Second Major in the 2d Regiment, and then to First Major.11
After the war was over, in 1785, David Bishop sold his four-acre home at Pleasant Ridge to Jacob Williamson, and moved to Kingwood Township. He was living there by 1789 when he was taxed £0-11-0 in August of that year as a merchant with two horses and two cattle.12 Judging by the small amount of tax, it appears that Bishop lost money during the Revolution and had to build up his wealth again.
Bishop was still living in Kingwood on April 27, 1792 when he bought several lots in Amwell from Joshua Corshon, Esq. and wife Margaret for £760. Bishop probably got to know Corshon during the Revolution, for Corshon served as captain of the 3d regiment of the Hunterdon Militia, while Bishop was its Adjutant. In 1780, Corshon, who had to resign from the militia due to infirmity, was taxed in Amwell as a merchant with 100 acres and a slave.
The purchase from Corshon included the store lot where the decaying house now stands.13 The lot became known as "The Upper Store," suggesting either that Bishop ran another store further south in the Ringoes vicinity or that someone else did. The Upper Store did become a landmark—as Bevis wrote, several deeds for properties in the vicinity referred to a road running from Bishop's to Price's Tavern, which was located on today's Larison Lane.
It wasn't long after the Revolution ended that Bishop became one of the wealthiest men in the county. He held stock in numerous companies, like the New Hope Delaware Bridge and the Trenton State Bank, and he continued to invest in real estate.
In 1811, Bishop was one of the founding Trustees for the Amwell Academy, in charge of subscriptions for the building. The Academy was located on Route 179. The next year, in 1812, Bishop built a boarding house for the students, according to a brief history of Ringoes published in the Hunterdon Republican in 1882. This may well be the house that later became known as the Clawson house, which was becoming another ruin until the East Amwell Historical Society restored it.
Among his other activities, Bevis mentioned that Bishop was named "Commissioner of the General Assembly." I am not familiar with this position, and Bevis did not supply a date. I suspect the job involved clerical duties. However, it may have referred to the General Assembly of the Presbyterian Church, rather than the State of New Jersey.
Partnership with Jeremiah Kershow
Probably at about the peak of Bishop's career, in 1796, a fourteen-year-old named Jeremiah Kershow came to live in the Bishop household, undoubtedly to apprentice with David Bishop in his store. However, Jeremiah was neither an orphan nor a penniless boy. His father was Jacob Kershow, Sr., who had a large estate of 255 acres. On June 30, 1818, Jacob Kershow, Sr. wrote his will, "being advanced in years." As far as I can tell, Jeremiah was his only son, and received the residue of Jacob's estate after making provision for daughter Rebecah Kershow, wife of Henry Van Pelt.
In addition, Bevis surmises that Jeremiah Kershow may have been a nephew of Capt. Joshua Corshon, who had conveyed those small lots in Ringoes to David Bishop in 1792. I do not have proof of that relationship, and wonder if it might not be a simple confusion of similar-sounding names. It is surprising that given his situation, young Jeremiah would go to work for David Bishop. Perhaps the boy did not care for farm life, or, like Bishop, preferred to buy and sell farmland rather than work it.
In any case, both David Bishop and his daughter Elizabeth developed a fondness for the apprentice. About 1802, Jeremiah Kershow and Elizabeth Bishop were married. They had eight children, but only two of them reached old age; the rest died in their 20s. Deaths occurred in 1824, 1837, 1840, 1841, 1847 and 1849. Imagine what that must have been like for the Kershows.
Some interesting land transactions took place in 1807, as a result of the death of David Bishop's father-in-law, William Schenck, on December 15, 1806. Schenck had ordered that his farm of 106 acres in Amwell Township bordering Ralph Sutphin be sold by his executors. Bishop was apparently interested in owning that farm, but since he was one of the executors, he could not buy it outright. So he sold it to Jeremiah Kershow for $6,000, and on the same day bought it back from Kershow for the same $6,000.14 Also in 1807, David Bishop sold some property he owned in Kingwood Township. Perhaps he was raising funds to buy the Schenck property.
In 1810, Bishop bought a couple small lots in Ringoes bordering Henry Landis, deceased, who had operated a tavern on Larison Lane for many years. And in 1814 he bought a small lot nearby from Mary Pampas, plus other lots from James S. Manners and Peter Bellis. This was toward the end of the War of 1812, and makes me wonder if David Bishop was expecting to increase his own wealth from post-war inflation, which would enable him to pay for these land purchases. If so, he was unduly optimistic.
Bishop's Last Will & Testament
When he was 65 years old, David Bishop wrote his will. It was dated December 27, 1814, twenty years after his wife Anne had died, and it explained in some detail the business relationship he had with son-in-law Jeremiah Kershow.
– whereas my son-in-law Jeremiah Kershow came into my family at the age of 14 years and in the month of May in the year of our Lord 1807 put £500 into our joint stock in Trade which sum he has since increased to about the sum of $1600 which makes about the fourth part of our whole stock in trade and whereas his growing family has been literally supported out of the profits of our joint stock and out of my property since he was 17 years old and $900 has been expended out of said stock in buildings and improvements on our Kingwood farm one third of which was for his benefit, he being the owner of one third of said farm — and whereas out of our joint stock we __ __ [?] and have supported our joint stock on the Trenton state bank and the New Hope Delaware bridge and our teams and waggons on the swiftsure line of stages, and I consider his third only [share?] of said stock, teams and waggons, as being my property and one third as being the property of the said Jeremiah Kershow now it is my will and desire that the profits of our said joint stock in trade should be considered valued and appraised as part of my estate in lieu of my claims against him for the support of his family and otherwise, and that instead of the profits aforesaid, he should have possess and enjoy the devises and bequests in his farm on this my will —

– Item. Executors 1 year after my decease to pay to my son Jeremiah Kershow $1600 with interest from the date of my death, it being his part of our joint stock in trade; . . .
It is interesting that Bishop referred to Kershow as his "son," rather than his son-in-law.
Bishop left all his real & personal estate to his sons David and Joseph and to his son-in-law Jeremiah Kershow, as tenants in common. His daughters, Esther Skillman, Mary Stout, Nancy Galpin, each got a ninth share of the estate. This is odd if you consider that there were only six children, but it was a common practice in the early 19th century for sons to get two shares and daughters only one. He did also make a provision for daughter Elizabeth Kershow, in case her husband "claims the profits of the estate."
He named his two sons, Joseph and David, and son-in-law Jeremiah Kershow as his executors along with his "friend," the prominent Flemington attorney Samuel L. Southard. The will was witnessed by David Belles, William Thompson, and Peter Packer. Bishop died almost one year later, on December 22, 1815, and was buried next to his wife Ann in the cemetery at Pleasant Ridge. Bishop's Inventory was taken on Dec. 29, 1815 by Solomon Holcombe and Nathan Price, and amounted to $22,678; it included a schoolhouse valued at $50 and the contents of the general store.15
As it turned out, those bequests by David Bishop could not be carried out. Despite an inventory amounting to over $22,000, he died insolvent. Bevis wrote that "Debts due out of his estate amounted to $27,132.87," and that bills from other creditors amounted to an additional $35,316.80, creating a total debt of $62,449.67. Considering that this happened in 1815, that is a remarkable sum. But it was considerably devalued when "The court ordered that this total debt. . . should be paid at 76¢ and I mills per dollar." Clearly, the executors were given quite a burden.16
Given the prominence that David Bishop enjoyed during his life and the mess that he left behind, I was surprised that none of the New Jersey newspapers published an obituary for him. The Trenton Federalist only had a few notices mentioning Bishop in the early 1800s, long before his death.
There was a notice pertaining to Bishop's estate in the Hunterdon Gazette published on August 2, 1822, seven years after Bishop's death. It concerned a suit brought by one Thomas R. Grant against the estate of David Bishop, dec'd. The notice concerned the fact that by that time, all the surviving executors of the estate had left New Jersey. Samuel L. Southard had been elected to the U. S. Senate and moved to the District of Columbia;17 David Bishop's son David, Jr. had died; his son Joseph Bishop was living in Philadelphia, and Jeremiah Kershow had moved to the city of New-York. The Chancellor, Isaac H. Williamson, ordered that the defendants be found and served with orders to appear and answer the complaint, but nothing else was said of the matter in the Gazette. It requires a search of the Hunterdon court records to get the rest of the story. As for Bishop's son David, he had acted as executor in 1818 when he sold some of his father's properties.
I was also surprised that another of Bishop's executors was not named in the Grant suit. That was David H. Bishop, the son of Col. David Bishop's brother Joseph. It was David H. Bishop who was identified as an executor in the many deeds from 1815 to 1818 for sales of real estate owned by David Bishop deceased. I have not researched how he came to be the one to take on this responsibility. The situation is confused by the fact that David H. Bishop's father Joseph died in 1812, and David H. acted as executor for his property also, along with his brother William and brother-in-law William F. Fritts. David H. Bishop himself was not a financial success in life. The last record I have of him was in 1833 when a small lot he lived on in Kingwood was sold as the result of being sued for debt by Peter Cherry.
The Upper Store
Given the mess that Col. David Bishop left behind, I have not been able to identify exactly who came into possession of the store lot after his death. It would take more research efforts than I am willing to spend. However, the Beers Atlas of 1873 shows that A. H. Landis was operating a store in the same location.
This suggests that there was a store at this place for over 100 years. Curiously, the building today looks nothing like a store. This is probably due to the addition made to the front of the house, a fine example of Greek Revival architecture. (The porch appears to be a Victorian addition.) The Greek Revival style is frequently associated with the end of the War of 1812, and continued to popular for several decades thereafter. But as early as 1803, Benjamin Latrobe was designing buildings for the new capital of Washington, DC in the Greek style.
Could it be that toward the end of his life, Col. David Bishop took it upon himself to add such an elegant front to his old house? This is just speculation, but it strikes me as very much in character, and helps to explain why he was so much in debt when he died.
So, why is it such a wreck now? Sadly, not every owner of a fine old house has the interest or wherewithal to maintain it as it should be. And that is the case with this one. The house may very well be beyond the point of rescue.
Note: There are many historical resources to consult for more detail on this story, including the sources that Erica Bevis made use of. I have not obtained a copy of the inventory of Bishop's estate, nor have I consulted court records or family papers at the Hunterdon County Historical Society. One might conclude that this article was a shallow study of an interesting man's life, and I would have to agree. But I am going to move on to other subjects.
A blog like this must either focus on one particular subject or provide a more superficial survey of the many people and places of Hunterdon County that catch my attention. Either way, something is sacrificed. But a choice must be made, and I have chosen the more superficial approach. Anyone wishing to add insights into the life of David Bishop is cordially welcomed to comment.
Footnotes: