We are getting some warmer days this weekend, and they are welcome after the very cold weather we've had lately. But cold as it was, it was nothing compared to the Blizzard of 1888, apparently the most intense weather ever experienced in Hunterdon County history. There are many stories and photographs depicting it, including this letter by Egbert T. Bush describing how he tried to defy it.
Forty Years After
Letter to the Editor of The Democrat, by Egbert T. Bush
published about March 12 1928
I have read with much pleasure Mr. Todd's graphic account of his trip on the 12th day of March, 1888. It brings back with great force my own experience with that memorable blizzard. No attempt will be made to equal Mr. Todd's realistic description. Any such attempt on my part would be a failure.1

I was then serving as principal of Reading Academy, but living a mile and a half southwest of Quakertown, making the trip to Flemington on Monday mornings and to my home on Friday evenings. On the morning of the blizzard I got up at the usual time, feeling that I must be at my post, snow or no snow.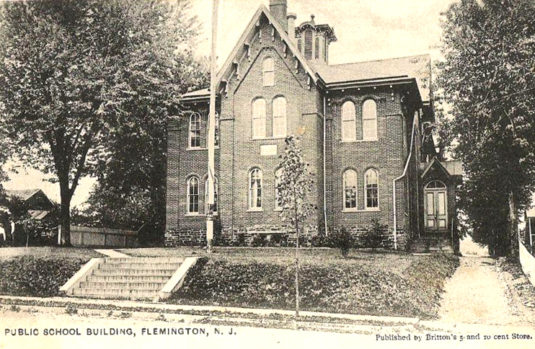 Reading Academy was located on Bonnell Street in Flemington. Daniel Kennedy Reading made a bequest of $10,000 in his will for construction of a public school in Flemington. He died in 1853, and the school was built in 1862.
"Impossible," said every one. "You can hardly get to the barn. You never saw the like of it."

"But I must get there somehow," I replied, feeling that it could hardly be an impossibility. Out I went to see for myself. Sure enough, the way to the barn was something of a sight, I am sure, tho no one could see it. The highest snowbank I had ever seen covered the entire lawn and extended over a peach nursery, in several rows of which, in settling, it subsequently broke off the trees just above the ground.2

My faith was somewhat shaken, but daylight might show things a little better. It failed to give relief.

"I can get there on foot."

"But you can't. It would be suicide to try. Go all those miles thru storm and snow that wear one out the first hundred yards! Not much sense in that."

I tried some of the hundred yard trips to prove the contrary, but succeeded in proving the assertion instead. On each trial the outlook seemed less encouraging. I postponed the trip to "later in the day."

But later in the day was just as bad. I stayed a prisoner at home, perhaps as unhappy as one on his first day in the penitentiary, barring his cause for regret and remorse. "Tomorrow morning I am going to try it." But the wind kept up and the air remained so thick that one could hardly tell whether it was partly from the clouds or wholly from what had already fallen.

Conditions were somewhat better on Tuesday morning, or so they appeared. At 7 a.m., with the mercury at zero and the wind a gale, I started for Quakertown. The spring election was to be held there, and one must vote, you see. We took our politics [more] seriously then than now; but with me on that day it was more a matter of personal friendship for one candidate. I reached Quakertown after a long fight, and surprised the Election Board. "Going on the Flemington," I remarked, as if this were only a trifling incident, but didn't feel that way.3

"You can't make it. It's foolish to try. Why you're likely to give out any time and anywhere, and freeze to death. Nobody will be out to find you or for anything else today."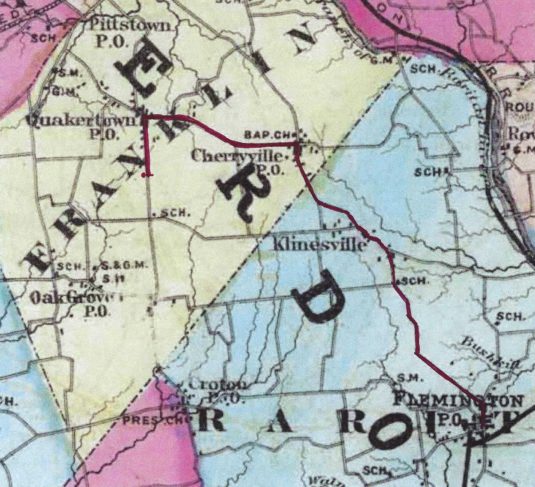 And it did seem that nobody was out. I went by way of Cherryville, Klinesville and Cox's Hill, as nearly as might be, now in the road, now away off where walking was possible. Many times I had reason to call myself a fool, particularly when, being confused and unable to see, I tumbled into a concealed ditch or got into snow so deep that it took several minutes and all my remaining strength to get out. I cannot see how Mr. Todd, with his burden of mail, made out as well as he did. I am glad that he came thru with no fatal mishap, and that he still lives to tell us of his experiences forty years after the occurrence.

The whole distance from my starting place to Flemington is nearly eight miles. How many miles were traveled to compass it, cannot be estimated. One had to work his way in and out and around so many impassable obstacles. I merely tried to keep near enough to the road and the principal landmarks to be sure of my general course.

On arriving at the Academy, I was surprised to find no signs of life. I had supposed that enough pupils could reach the building to justify holding school. I should have known better, but didn't.

Mr. Todd says he doesn't know why he defied the storm. I think it was because of the same feeling that impelled me, namely, that one must be on his job if possible to get there. Some of us were just cranks enough to feel that way. Shake, Brother Todd.
---
Here's something I find surprising. The Republican managed to get out an issue of the paper on March 14, 1888, at which time the effects of the blizzard were still being felt. So Mr. Bush and Mr. Todd were not the only ones whose duty made them defy the blizzard.
The paper did include a long story about the storm, which it stated occurred on March 11, 1888. The story was titled "A Great Storm; Roads Blockaded, Travel Suspended, Mails Cut Off," and included the adventures of Jacob Todd. I have already published the article, along with some great images from Google, here: A Great Storm.
Despite our relatively mild weather so far, it is still possible for us to get a monster blizzard before winter is over. Weather is getting warmer, but it is also getting weirder.
Footnotes:
Mr. Todd was a mailman who ventured to deliver the mail in the middle of the blizzard. ↩
Bush was intending to ride a horse into town. It is not clear whether he made it to the barn. I hope he did since there were animals there waiting for breakfast. ↩
Some credit should be given to those members of the Election Board, who also braved the weather to be at their posts. As for who Bush's political friend was, I cannot say. The Hunterdon Republican published only the results of the Raritan Twp. elections, and Snell's History of Hunterdon was published 7 years earlier, in 1881. ↩