Most of you, my dear readers, know that the famous Rockafellar family had its roots in Amwell Township, Hunterdon County. And we're all familiar with one particular descendant of this German immigrant family, a man who prospered hugely from the opportunities afforded him in America—the famous John D. Rockafellar. Another descendant, although not a direct ancestor of John D., became the tavernkeeper at Skunktown (now known as Sergeantsville), and I am much more interested in him.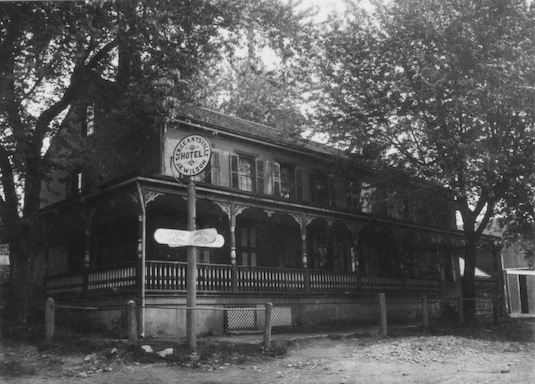 As I began work on this article I soon realized that I have neglected to publish an article on this website about the Skunktown Tavern itself, which later on got the title of the "Sergeantsville Hotel."1 That would have been after 1827, when the name Skunktown was changed to Sergeantsville. However, the hotel has shown up so often in my articles,2 that I'll leave it's full history for another time. Here my focus will be on Godfrey Rockafellar and his family, beginning with the earliest known Rockafellars, or Rockafellows, in Hunterdon County.3
The Rockafellars
The Hunterdon County Rockafellars descend from Goddard Rockenfeller, born about 1590 in the vicinity of Neuwied, in the Palatine region of Germany. That is fortunate, because it means that the family came to the attention of Henry Z. Jones who has written extensively on the immigrants from that region.4 From him we learn that the family lived in the village of Rockenfeld—hence the name Rockafellar.
Goddard Rockafellar had at least two sons, Johannes and Johan Wilhelm. One of the most confusing things about researching German ancestors is the naming system. It was a common practice to name male children Johann or Johannes, but to give them a second name, which would the one they were known by. Thus, Johannes kept that name, but the second son was known as Wilhelm.
It is son Johannes, born 1634 in Rockenfeld, that we are concerned with. He married Elisabetha Margaretha Remagen, and died in Germany on August 12, 1684. Their son Johann Peter Rockafellar, otherwise known as Peter or Pieter, born 1682 in Segendorf, Germany, made the trip to America about 1723. But before that happened, around 1707 he married a woman named Anna Maria Remagen (possibly a relative of his mother?), and had six children: Johann Wilhelm, who died an infant, Johann Peter, Catharine, Anna Christine, Johannes, and Maria Eva (note the several Johann's).
Anna Maria Remagen Rockafellar died in 1719, age 35. Shortly afterwards, Peter Rockafellar remarried, on October 29, 1720. This second wife was Elizabeth Christina Runkel, with whom he had an additional five children: four daughters (Catharine, Anna, Elizabeth and Elsie) and a son Wilhelm. In 1723, the family emigrated to America.
Peter Rockafellar seems to have been an appropriate ancestor for John D. Rockafellar because soon after arriving in Hunterdon County, he began buying properties, suggesting that he brought some resources with him when he migrated, and suggesting also that he did not leave Germany because he was impoverished. I suspect he was an ambitious man who thought he could prosper more quickly in America. Either that, or he and his family were experiencing religious persecution. In any case, Peter Rockafellar's success in America makes me think John D. Rockafellar inherited some of his skill in investing.
Peter Rockafellar wrote his will on December 6, 1763, in which he left his farm in the Rocktown area to William, his youngest child and husband of Magdalena Quick whom he married about 1758.
It is the second son, Johann Peter Rockafellar, Jr. that I am interested in, but he got little attention in his father's will. He was left £10, and was named executor along with one Philip Peters. Apparently, by the time the will was written, Peter Jr. was already well provided for. One can see how successful in life Peter Rockafellar, Jr. was by the provisions of his own will, which he wrote on March 22, 1787. He had seven sons to provide for, and he did so handsomely.
1) To son Peter Rockafellar, Jr. (actually Peter 3d), a farm of 150 acres located near Sergeantsville, on today's Lambert Road.
2) To son Godfrey a farm of 150 acres "where he lives in Kingwood by the South Branch, Philip Grandin and Charles Cox." This was in the vicinity of Hamden, which is now part of Clinton township. This Godfrey Rockafellar (c.1741-1818) remained there from the mid 1770s until 1789 when he moved to Shamokin Twp in Pennsylvania.5 He married Margaret Lewis about 1775, and died in 1818 in Snydertown, Northumberland Co., PA. He was the great great grandfather of John D. Rockafellar, which means that John D.'s connection with Hunterdon County ended in 1789.
3) To son John (father of the tavernkeeper Godfrey Rockafellar) a farm of 132 acres "where he lives" bounded by Frances Bersons [sic, Besson], Henry Dils [sic, Dilts], and Christopher Lawbocker [sic, Lawbacher]. More about him to follow.
4) To son Henry a farm of 180 acres in Alexandria Township, which Rockafellar had "lately bought of John Emley, attorney of Thomas & John Marston," where Abraham Young lives. This farm was not too far from Godfrey's, being somewhat northeast of the village of Mount Pleasant.
5-6) Sons Jacob and David got "my own farm" of 210 acres, divided between them. Because of all the real estate owned by Peter Rockafellar, I am not certain about the location of his own farm. But it was most likely in Raritan Township in the Copper Hill area, since it borders the Neshanic Creek. Another clue is a deed of 1767 for a lot of 52 acres to serve for the parsonage of the High Dutch Church at Larison's Corner. (Dutch was a corruption of Deutsch; the congregation consisted of Germans, not Dutch.) The lot was located on Johanna Farms Road just beyond its junction with Hampton Corner Road, and was bordered by Peter Rockafellar among others.6
7) Son William was the only one not to get real estate. He only got £60, and left no record behind that I am aware of.
John Rockafellar
John Rockafellar, 1742-1832, was the third son of prosperous parents, so his upbringing was probably somewhat privileged. Even so, it most certainly involved the kind of hard work that we can barely imagine. In 1767, he married Margaret Kitchen (1742-bef. 1799), daughter of Samuel Kitchen, miller of Sand Brook, and Mary Garrison. They had nine children, from 1769 to about 1789. Godfrey was their first child, born August 3, 1769.7 After his marriage, John Rockafellar lived in Sand Brook with his wife's parents.8 Even though the farm of 132 acres was not bequeathed to him until 1787, he seems to have been living there as early as 1779, when a survey was made for what became known as the Locktown-Flemington Road and identified the farm as in the possession of John Rockafellar, not Peter.9
Godfrey Rockafellar, eldest son of John and Margaret Rockafellar, grew up on the Locktown-Flemington Road farm and learned to work alongside his father. When the Revolution arrived, he was too young to be drafted or to volunteer, being only six years old in 1775. By the end of the war he was only fourteen, but it must have made a big impact on him, especially since his father served in the Amwell militia during the war. Late in her life, his mother applied for a pension, but was turned down.10
On March 20, 1794, Godfrey Rockafellar married Anne Gordon, daughter of Agesilaus Gordon and Mary Opdycke.11 Actually, knowledge of the existence of Anne Gordon is circumstantial, but pretty convincing.
Agesilaus Gordon and wife Mary Opdycke
Agesilaus Gordon (1745-1815) was the son of Thomas Gordon, Sr. and Margaret Oliphant. About 1768, he married Mary Opdycke, daughter of John Opdycke, Esq. and Margaret Green.12 Mary Opdycke (1747-aft 1830) was the fifth child out of nine. Given the prominence of her parents, hers must have been a privileged upbringing. She was about 19 years old when she married. The marriage was probably considered a good one, as the Gordons had established themselves and prospered on land just northwest of Skunktown.
The first known record of a real estate transaction for Agesilaus Gordon took place in 1780, when he was 35 years old. It was a transfer from his older brother Franklin of a lot of 51.5 acres. The original deed was not recorded. Information about this transaction comes from a later deed, dated Sept. 11, 1804.13 According to this deed of 1804, the sale from Franklin Gordon to Agesilaus Gordon took place Sept. 13, 1780, which was after the 1780 tax ratables were recorded, so they give us no insight into whether Agesilaus Gordon was operating a tavern. In fact, as far as I can tell, Gordon never applied for a tavern license. Franklin Gordon was taxed on 240 acres in June 1780, with considerable money at interest and a whopping tax of £146.11.1. But there was no mention of a tavern.14
The deed of 1804 stated that the property had originally belonged to John Lewis who had become an absconding debtor.15 The court assigned Asher Mott, Daniel Howell and Garret Lake, as auditors of Lewis's goods and chattels, and ordered the real estate of 103 acres, which consisted of the northern half of Skunktown, to be sold at public vendue in 1772, which is how it came to be owned by Franklin Gordon. Gordon sold one moiety, or half part of the 203 acres, to Garret Lake, one of the Lewis auditors, probably not long after 1772.16 In 1780 he sold the other moiety to his brother Agesilaus.
Although Agesilaus Gordon owned the tavern during the Revolution, there is no tavern application recorded for him. However, according to the Opdyke Genealogy,17
". . . a son-in-law of John Opdycke, who built the mills at Head Quarters in 1754, kept a hotel here [in Amwell] during the war, and that he was charged with harboring tories."
The author of the genealogy was known for passing along stories he had picked up from old-timers in the area, which tend to be more fanciful than correct. He also wrote that when the tax collector showed up, he was "lifted from the premises by the toe [of the innkeeper's] boot. But the author never stated when this happened or which innkeeper that was.
Early Tavern History
Agesilaus Gordon seems to have had a greater influence on Godfrey Rockafellar's life than his own father did. Rockafellar does not turn up in the 18th century tax ratables at all. The only tavern application I have found for him was dated 1794. The petition is intriguing. In it Rockafellar states: "Your petitioner has lately moved into the house where he now lives in Skunktown upon an Expectation that the Court . . . would grant him a license to keep a tavern or publick inn."18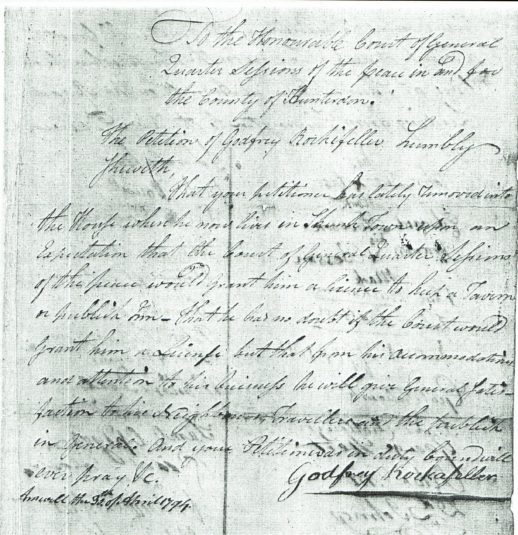 Dennis Bertland has observed that Rockafellar, as a militia captain, probably expected to hold the annual troop muster (a daily event usually held at a public house) at his new tavern. He also noted that there were 40 signatures on the petition, which suggested this was for a new tavern, since only six were required. Bertland found no evidence of a previous tavern at this location.
It just so happens that Godfrey Rockafellar married Anne Gordon the same year as his tavern application. It is as if he were following the pattern of his father John who also moved in with his in-laws right after his marriage. Godfrey and Anna Rockafellar had six children, Samuel, Henry, John Gordon, Polly, Nancy and Agesilaus. Surprisingly (to me), I have very little information about them.
But Rockafellar appears to have moved on very soon, for in 1796, the tavern license was issued to Agesilaus Gordon for "a public house or Inn in Amwell where he now lives." The application read: "at the house lately kept by Godfrey Rockafellar in Skunktown on the Great Road leading from Flemington to Howell's Ferry [Stockton] about seven miles from Flemington and three from the Ferry."19 The tavern continued to be issued to Gordon up through 1801.20.
In 1802, Agesilaus Gordon, who was by then 57 years old, let someone else run the tavern. On May 3, 1802, John Barcroft applied for a tavern license, stating that he "has been indulged with a license for several years past to keep a tavern & public house at different stands in this township [Amwell] . . . and has lately removed to the house lately occupied by Agesilaus Gordon in the township." The next year, the innkeeper was Cornelius Lake, as he "has taken the tavern in Skunktown lately kept by John Barcroft where he does wish to keep a tavern for the ensuing year."
Things changed quite a bit in 1804. In May of that year, Agesilaus Gordon applied for a license to keep a tavern in the house he currently occupied in Skunktown. In September, he and wife Mary sold two lots on what is now Sanford Road to Godfrey Rockafellar for $800,21 and on September 11th, they sold the tavern lot of 51.5 acres to him for $3400.22 The price for these properties was high, but Godfrey financed the purchases with mortgages to Agesilaus Gordon.23
To complete the transition, in the May term of the Court of Common Pleas for 1805, Godfrey Rockafellar applied for a tavern license, stating that he "had purchased the tavern by the name of Skoonktown in Amwell on the road from Flemington to Howell's Ferry (Route 523) and also from Price's Tavern [Ringoes] to Painters Ferry (Route 604). He continued to apply for licenses from 1806 to 1813.
At the time of the sale of the tavern, Godfrey and Anne Rockafellar were living in Bethlehem Township. In 1802 he had purchased a tract of land there from Gertrude Parker, widow of land speculator James Parker, dec'd. Rockafellar must have checked the property out first, because by the time of the sale, he had become a resident of Bethlehem Township. Remember that he gave up tavern-keeping back in 1795. The land he purchased was a tract of 135 acres in Alexandria Township for which he paid $812.94.24
This may have been more than the couple could afford. Soon after the purchase of their 135 acres, the Rockafellars began selling off lots. On June 4, 1804, Godfrey Rockafellar and wife Anna of Bethlehem sold to Samuel Titus of Hopewell a lot of 8.4 acres for $201.25
It appears from subsequent deeds that sometime after June 6, 1804 Anna Gordon Rockafellar died. That was the last deed in which her name appeared. But on May 4, 1807 when Godfrey Rockafellar of Amwell sold a lot of 5+ acres in Bethlehem to Joseph Smith, Anna was not included as grantor.26 The same day, Godfrey Rockafellar, again by himself, sold 10 acres in Bethlehem Township to John Bonnell for $180.27 And on May 1, 1808, he sold 100 acres in what was then Alexandria Township to Jeremiah Mathis for $1600.28 His final sale of Bethlehem Township property was made on May 3, 1809, when he sold 10+ acres to William Mitchell for $220.29
Note: From the addendum below we can now say that Anne Gordon Rockafellar died on February 8, 1807.
From this time on, Godfrey Rockafellar remained in Amwell township, operating the tavern at Skunktown. He never remarried. Whether he lived at the tavern or on one of the lots on Sanford Road that had belonged to George Sharpenstein is not possible to say. I would vote for the tavern, however.
There is very little record of activities at the tavern following 1804. In 1813, a notice was posted at Rockafellar's tavern regarding a petition for road to run from Centre Bridge (Stockton) to the road from Prall's store (at Prallsville) to Skunktown. (The road seems to have been intended to run from the bridge directly to Route 523, as pictured in this 1828/33 map. It was never built.)30
Although there was no military activity in Hunterdon County during the War of 1812, supplies for the military were transported through the area, according to Jonathan M. Hoppock who wrote:
"Just previous to the war of 1812 vast amounts of oak timber for ship building purposes was bought by the federal government in this part of the county, and carted through this village to the Delaware to be rafted to Philadelphia. The old inn then standing was a favorite resort for the teamsters, and others engaged in the work.31
Hoppock also noted that
". . . before railroads were known, numerous droves of horses, cattle and sheep were brought from the western States, and in those days this was a noted place for drovers to dispose of their stock. In "general training" times, battalion training was held in the field fronting the hotel in the spring of each year, and from what has been told about these old gatherings, they caused nearly as much noise and bloodshed as a general engagement between two hostile armies. As one old settler facetiously tells it, 'The way the spit and blood would fly was a sin to Davy Crockett.'"
I would be happy to entertain theories about the reference to Davy Crockett. And should also note that the field in front of the hotel had to have been across the road, behind the old Wilson store.
All this activity does not seem to have done much good for Godfrey Rockafellar. In 1814, he gave a second mortgage on the tavern property to George Holcombe, which was later assigned to William Mitchell.32. This mortgage would eventually cause problems for Rockafellar's estate because Rockafellar was never able to pay it off.
Not only did Rockafellar have to get a second mortgage on the tavern lot, he was obliged to sell the two lots on Sanford Road. The purchaser, on May 19, 1814, was none other than his father-in-law, Agesilaus Gordon who paid $800,33 and the next year sold the lots to his son John Gordon for the same amount.34
Rockafellar's Death and Estate
In July or early August, 1814, Godfrey Rockafellar died. He was only 44 years old at the time, suggesting that he died from an accident or sudden illness. It certainly took him by surprise because he had not yet written a will. The Orphans Court assigned administration of the estate to his sons Henry and Samuel Rockafellow.35
Inventory of the estate was appraised on August 4, 1814 by James Jones and Israel Poulson, and valued at $1082.76, with real estate encumbered by two mortgages. The biggest item in the inventory, worth $665.84, was 28 notes of hand "desperate and doubtful." Clearly Godfrey Rockafellar was not as successful in life as his father and grandfather were.
The items listed in the inventory make it clear that Rockafellar was still running the tavern at the time of his death. It included 2 decanters, 6 wine glasses & large plate worth $3; 5 glasses and one pint measure worth $1; 5 servers and snuffers worth $2; 2 decanters, one teapot, 3 kegs, jug, decanters, glasses and sundries worth $14; 1 barrel and remainder of whiskey worth $10; 6 chairs, tables and grog stand worth $8; 13 wine glasses, decanter and bottles worth $3, plus agricultural equipment and crops in the ground.
It wasn't until almost a year later that Godfrey's father and father-in-law petitioned the Orphans Court to have Cornelius Lake made guardian for the surviving minor children, probably the four youngest.36 By the time that Rockafellar died they were in their middle to late teens, so Lake was not taking on too much of a responsibility. He was a near neighbor, living in the southwest quadrant of Sergeantsville, and was also long-time commissioner of deeds, so he was perfect for the job.
Godfrey's father John died on December 19, 1832, at the impressive age of 90. He had written his will on July 1, 1828, and surprisingly made no provision for Godfrey's children. Not only that, but Godfrey's estate owed money to his father's estate. John Rockafellar's executors were son-in-law George Fauss and friend Samuel Fauss (George Fauss's father), residents of the Sand Brook area. Samuel Fauss died before Rockafellar did and was replaced by James J. Fisher. The two executors had plenty of work sorting out John Rockafellar's estate, which makes me wonder how hard they tried to collect from the administrators of Godfrey Rockafellar.
Agesilaus Gordon died about September 1815, age 69. He also failed to write a will. Administration of the estate was granted to Cornelius Lake. His inventory was taken by Isaac Larue and John Smith. Mary Opdycke Gordon survived him until sometime after 1830. She was probably buried in the old Opdycke Cemetery at Headquarters, where her parents lived. Her son John Gordon is known to be buried there. No doubt her gravestone and that of husband Agesilaus Gordon are missing. (Besides their daughter Anna, the Gordon children were Margaret c.1768-aft 1850, wife of Joseph Larew, and John (1786-1865) who married Sarah Fulper.)
Following Godfrey Rockafellar's death, the tavern remained in the family up until 1824. That history will have to wait for another time.
Addendum, Feb. 4, 2018:
One of my readers, in response to this article, sent me a copy of an article published in the St. Paul Globe (St. Paul, MN) dated May 26, 1888 concerning the life of Nancy Rockafellar Lawshe. It is a gem.
Nancy Rockafellar was the daughter of Godfrey Rockafellar and Anne Gordon, born Feb. 18, 1807, in the village of "Surgeonsville." The article stated that Nancy was only seven days old when her mother Anne died, giving us a death date for Anne Gordon Rockafellar of Feb. 8, 1807.
Nancy was only seven years old when her father Godfrey Rockafellar died. She was taken in by John Hice who
"reared and educated her in the good old common school, common sense manner. She was brought up in the school that lays more stress upon practical and useful information and training, backed by a firm adherence to moral principle than upon superficial display and conscience for convenience."
It is my suspicion that this John Hice was a resident of the Sandy Ridge area, and a member of the Baptist Church there. He was born May 4, 1758, and died on Oct 18, 1832, age 74. His wife Mary was born Nov. 29, 1757 and died Sept. 29, 1841, age 83. They had seven children, the youngest being born in 1805, so Nancy would have fit right in.
When Nancy was 19 years old, she married Isaac Lawshe, whom the article identified as "a cabinet maker by trade, and a preacher in the German Baptist church, to which faith Mrs. Lawshe has been a consistent and zealous devotee for fifty-six years. The marriage took place on Oct. 8, 1825. Isaac Newton Lawshe was born on Nov. 17, 1803 to Henry Lawshe and Mary Moore of Amwell (Delaware) township. He was the eldest of six children. Isaac and Nancy Lawshe had twelve children of their own, but only seven of them reached adulthood.
In 1844, the family moved to Bucks County, and then on to Philadelphia for a short time. Then they moved to Connersville, Union County, Indiana for five years, and in 1855 to Somerset in Wabash County, Indiana, and finally to Kosiusko county. Apparently this kind of restlessness was not at all uncommon in the 19th century.
Isaac N. Lawshe died on Jan. 21, 1865 when a team of horses was startled and ran over him. After that, Nancy Lawshe went to live with her youngest daughter, Rhoda Anderson in Brookings county, South Dakota, where she remained until her death at the age of 88, on April 8, 1888, a couple weeks before this article was published.
For more on the Sergeantsville tavern during the Civil War period, see Pole Raising in the Days of Lincoln.
Footnotes: