Burning of the Old Wagner Homestead Prompts
Mr. Bush to Cite Its History
Was Prized By Its Owners
by Egbert T. Bush, Stockton, N.J.
published in the Hunterdon Co. Democrat, January 19, 1933
Note: This article was published two years after Mr. Bush's previous article on the Moore homestead plantation, "Old Farms in Old Hunterdon."
On a kindly visit to me January 2, 1933, Rev. Henry T. Horne said: "The old house on the Wagner farm burned down today. It was a smoking ruin when I came past a short time ago." That gave me a peculiar shock. A feeling of personal loss was strangely mingled with a sense of irreparable loss to the community.

That old building stood on the site of the original log house built here so long ago by Jacob Moore. Jacob was the progenitor of the Moore family, still numerous in this vicinity and widely scattered. The Misses Rhoda and Catharine Wagner now owners of the farm, are lineal descendants of Jacob Moore, the first settler. They say: "We do not know just when Jacob came here, but we have evidence that it was between the years 1700 and 1705. We call it 1705 for safety."

This is very early for settlers in this vicinity; too early for those who came up the Delaware. But Jacob came from another direction. This was the Jacob Moore of whom, in an article published about two years ago, I told this tradition: He came here from New York, lived in a hollow tree while building his log house, then went back to New York to marry the rosey-cheeked German girl who had crossed the ocean on the same vessel that had carried him over.

The house that burned down was an extension of the original, enlarged very early as necessity required, and at various periods by small and curious additions, making it one of the most interesting of all the antiquated buildings that I have found in the county. I recall the fine old work, the curious divisions rare specimens of the blacksmith's art as expressed in locks and hinges. I also recall that I expressed the hope that this rare old building—then in good condition, with sound roof and substantial timbers—might stand for a generations as a relic of the past and a reminder of old-time life in Hunterdon County. Alas! Such was not to be the case.

After hearing of the fire, I watched the papers sharply, curious to see if any correspondent would think that fire worth reporting. So far as I could find, none did. I have seen no mention of it anywhere. To me that seemed surprising. But perhaps that was nothing surprising about it. My interest in old things is general and this building in particular magnified by my own feelings about its importance, just as a lack of such interest probably minimized the feelings of most people. It is not at all strange that, to the younger generation, that building appeared merely as "an old shack not worth mentioning." That is natural, quite as natural, I suppose as for us "old fossils" to feel that the loss is very great.

I know that the owners prized the old building highly. And there is no doubt that they could have realized much money for the antique parts and pieces that made a strong appeal to those who stand ready to pay well for such things. But nothing was for sale—oh no! They have my sympathy, with sincere regrets that the rare old house must be lost to them and to coming generations.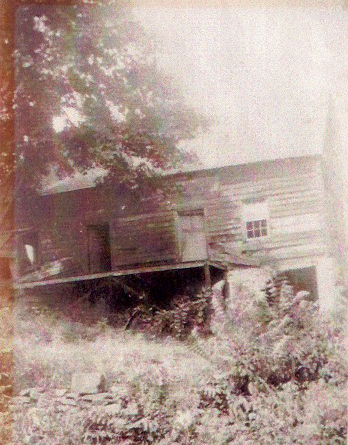 Here is a photograph of the old Jacob Moore house, according to Joe Maresca who gave it to the present owner several years ago. It was located just above the surviving ice house, but its foundation was demolished after fire destroyed the house.
At the time of the fire, the Wagner siblings were living in the house built by their grandfather, which is still standing today. Katherine was 59 years old, Rhoda was 54 and their brother Bert Wagner was 58. Bert died first, in 1950. Then Kate in 1962, and finally Rhoda in 1971, at the advance age of 92. Their history and their family are described in the previous article, "The Moore Family."
Below is an aerial view of the farmstead, with the surviving Wagner house and the various barns and outbuildings, some of which are no longer standing. The original Jacob Moore house would have been off to the lower left, out of the frame of this photograph. Many thanks to Bob Fusi, the present owner, for providing a tour of the Wagner house and copies of these wonderful photographs.