I learned yesterday that the owners of the old Rake house on Sandbrook-Headquarters Road had taken down the remains of the house after it had been gutted by fire. This is disappointing, as it appeared that there was enough of the old stone walls to incorporate into a new building. Clearly not everyone sees the value in preserving such things. You can see a picture of the house and get the story of the fire here.
Now that it is gone, I will post information on the second most important family to inhabit this farm–William Sergeant, wife Elizabeth Trimmer and their son John T. Sergeant. But not today.
Houses We've Lost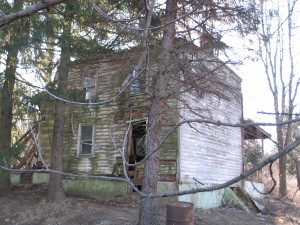 Today I'm thinking about houses that have been lost and those that might be. I've been told that an old house is lost in this township almost every year. Just a year ago, the Emmons house was taken down. It was located on Ferry Road near Plum Brook and had been abandoned for a long time. When the New Jersey Conservation Foundation acquired the old farm as part of its Wickecheoke Creek preservation project, it determined that the house was a hazard and a liability, so down it came. It was the home of Catherine Emmons, widow of William Emmons, for many years, and had an unusual roofline. There was one main room on the first floor, kitchen and living room in one, and a bedroom above.
Another house that disappeared was located on the Knipe property near Seabrook Road. It was almost certainly an 18th century house, but before it could be documented, the owner took it down. Now it's gone forever.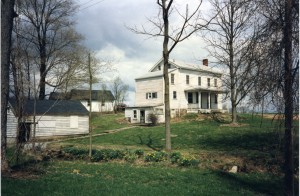 Also gone forever is the Sarah Dilts house. Actually, this was not the house she lived in. It was built about 1844 by Wilson B. Rittenhouse who left it to his son Judson Rittenhouse in 1881. Judson's daughter Miriam married Bert Buchanan, and they managed to acquire the farm by 1944, and lent their name to the road the farm is located on. The Buchanans sold the farm in 1963 to Foster C. Dilts. He in turn conveyed it to his father Granville Dilts and sister Sarah C. Dilts. Granville Dilts bequeathed his share of the farm to Sarah in 1978. When Sarah wrote her will the next year, she bequeathed the farm to the township.
The farm has become a beloved park. However, the township could not find a use for the old farmhouse. It had once been considered a showpiece, but eventually became a liability, so it was demolished.
Here's a picture of the old Carrell house on Lambert Road, which burned down and was replaced by a house owned by the Lamberts, the Upmeyers, and now by Chuck and Ravenna Taylor. The property once belonged to Peter Rockafellow as early as 1760, although I doubt that he lived there. Judging from old deeds, the house probably was built for Peter's grandson Daniel Rockafellow, who sold it to Daniel Carrell in 1809.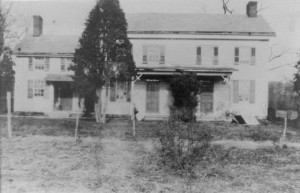 Here's another house now missing. It once stood on Route 523 near Covered Bridge Road. I confess I know next to nothing about it, but here is a picture that Paul Kurzenberger loaned me. It has the look of a house built around the middle of the 19th century, but the roofline on the left of the photo is very unusual.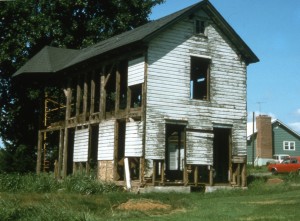 There's one house in particular I would love to have a picture of–the home of Col. John Reading, who came to Delaware Township between 1704 and 1708, and established a handsome farmstead on the hill north of Prallsville, overlooking the Delaware River. But that house was probably gone before cameras began to be used. John Reading died in 1717, and his children soon moved away from old Mount Amwell.
Surviving Ruins
A very familiar ruin to people who drive the Sergeantsville Road stands at the intersection of Rte 523 and Ferry Road. It was slowly falling down and was about to be lost, but once its top gable ends fell off, the owner decided to stabilize it by cementing the top of the walls. How much better it would have been if that had been done before the gables were lost. Here is a picture of how it used to look.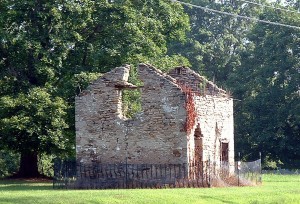 Unfortunately, I don't have a picture of how it looked when it was inhabited. It was probably stuccoed with a wood shingle roof. There may or may not have been shutters on the single window. The Cornell Map of 1851 shows that it was the home of 'M. Larew,' who was Margaret Gordon Larew, and the Beer's Atlas of 1873 indicates "G. Buchanan" as the owner. I believe that was Gordon Buchanan, a relative of Margaret Larew's. It is a tiny house, but then it was not originally meant to be a house. It was part of a farm complex at this intersection of Route 523 and Ferry Road, but all the buildings except this one have been demolished. Delaware Township resident Gloria Schellhorn recalled that the building was used for livestock. The Delaware Township historic sites survey also designates this as a stable, and reports that the original house on this lot "has not survived."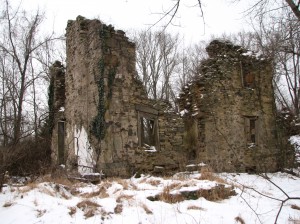 Another ruin, hiding in the woods, was once a handsome house belonging to James Barcroft (1797-1875) and wife Nancy Opdycke (c.1803-1870s). The stone walls and chimney can still be found, near Strimples Mill Road and Rte 519. This house was discovered by Buzz Woods, and was a stop on one of the recent Delaware Township Historical Society house & barn tours. Somehow, it seems almost majestic in its decay. James Barcroft was a prosperous farmer who lived to be 78 years old. His son William H. Barcroft was a member of the township committee in 1866.
Not Yet A Ruin: The 1744 Holcombe House
This landmark house is easily seen on Route 29 just north of Route 202. It was beautiful at one time and should be again. It still has a most impressive 18th-century hearth, and was probably built for Richard Holcombe, youngest son of John and Elizabeth Holcombe, among the earliest settlers of Delaware Township. Richard eventually moved to a handsome house closer to Lambertville, and it is uncertain who took over after he left. The State of New Jersey is now the owner, under the Green Acres program, and it is hoped that it will soon put the house up for public auction, and give it the resident owner it needs.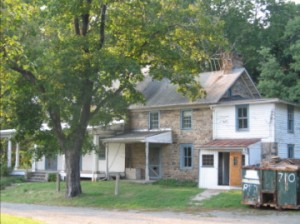 Do you have any ancient relics in your neighborhood? Please take a picture and let me know. Or if you know of other houses that have disappeared, please write what you know about them, and I'll try to provide some history to these vanished and vanishing treasures.
But that will have to wait in line while I work on a history of the old Saxtonville Tavern in Raven Rock. This house is also not yet a ruin, but it is vacant and it should not be. It has been someone's home since at least 1801 and has a lot of history, as does the neighborhood of Raven Rock.
Update, 7/1/2013: Added information to the paragraph on the ruin on Route 523.