The Martin Family History, vol. 1, Hugh Martin (1698-1761), Hunterdon County, NJ
by Francie Lane, 2014, in four volumes
This genealogy covers the family of Alexander Martin of Scotland or Northern Ireland, born about 1670, who emigrated to America with his second wife and his eight children. Each of these children gets a chapter describing their families based on Ms. Lane's extensive research. There is one extra chapter on Rev. Thomas Martin, son of Hugh, grandson of Alexander. Since so many members of this family lived in Hunterdon County, the index includes a list all the towns in Hunterdon that were mentioned, a feature I appreciate.
Like many others, Ms. Lane was frustrated by the lack of a good genealogy about her ancestors, so she remedied the omission by writing her own. Considering how important the Martin family is to Hunterdon's history, it's a good thing she did. The second volume will also be of interest to Hunterdon researchers. It covers descendants of Col. James Martin (1742-1834) and Martha Martin Rogers (1744-1825), children of Hugh Martin.
Copies of all four volumes may be obtained at the website www.lulu.com. Type "Francie Lane" in the search box. A fifth volume is in the works.
The Dog Head Sword of Succasunna; Forgotten Family Patriots and Loyalists in the Revolutionary War
by John Lawrence Brasher, self-published, 2016.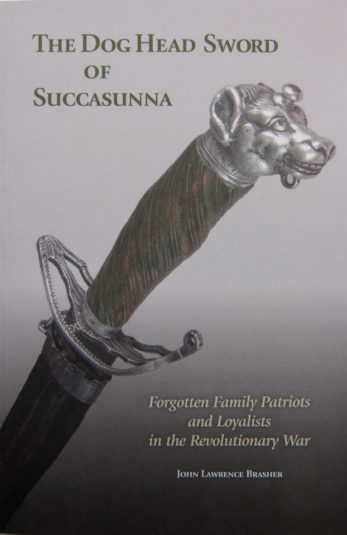 The focus of this family history is an heirloom sword that was used during the Revolution, and the families associated with it, some of them residents of Hunterdon County. It shows what can happen when someone gets curious about a family heirloom and hunts down the history associated with it. It should be an inspiration to anyone with such a treasure and the curiosity to discover the story behind it.
Copies are available available from Amazon.com for $19.99 plus shipping or from lbrasher@bsc.edu (1261 Greensboro Road, Birmingham, AL 35208) for $19 ($15.00 plus shipping).
William and Sarah Biddle, 1633-1711; Planting a Seed of Democracy in America
by C. Miller Biddle, self-published, 2012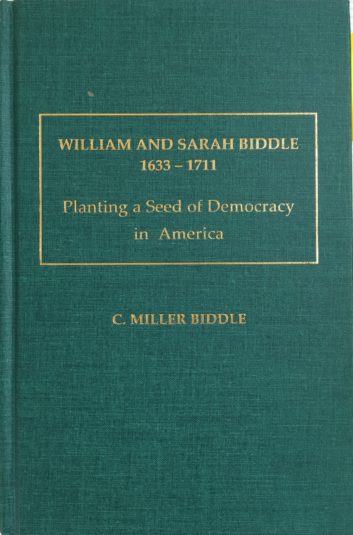 Anyone interested in the history of the Province of West New Jersey, and that definitely includes me, will find this book a wonder. I've always known that William Biddle was a significant landowner in Hunterdon County, but his and his family's own history was unknown to me until Mr. Biddle published this book. I've had it for awhile, and should have promoted it before. Highly recommended!
Copies may be obtained by writing to:  Biddle Biography. P. O. Box 714, Moorestown, NJ 08057
Genealogies of New Jersey Families
From the Genealogical Magazine of New Jersey, selected and Introduced by Joseph Klett, in two volumes, Genealogical Publishing Co., 1996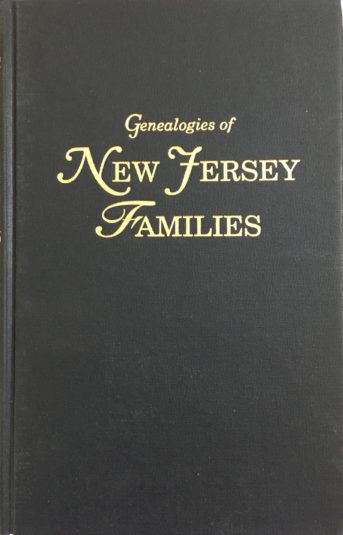 This has been available for a long time, but I did not get a copy until recently. It's another one of those essential books for researchers interested in NJ families who don't have a complete set of the Magazine of NJ.
Volume One includes "Pre-American Notes on Old New Netherland Families" by Louis P. de Boer, along with a wide-range of articles on various NJ families.
Volume Two consists of "A Genealogical Dictionary of New Jersey" by Charles Carroll Gardner, published in 1935, listing families whose surnames begins with A. Did he get any further? Also a selection of genealogical items, including Bible Records.
It will take me along time to work my way through all of this information; both volumes are quite thick. Unfortunately, the volumes are out of print; they are no longer offered on the GSNJ website. (I got mine on Ebay, thanks to a tip from Pam Robinson, librarian at the Hunterdon Co. Historical Society.) Next time you're at an historical library in NJ, check it out.
Envisioning New Jersey; An Illustrated History of the Garden State
by Maxine N. Lurie and Richard F. Veit, 2016.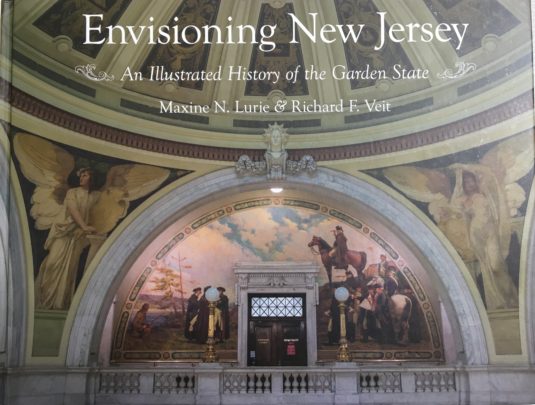 Boy is this a beauty! Anyone familiar with Maxine Lurie and Richard Veit will know that this is an excellent publication, loaded with wonderful photographs, ranging from the earliest historical period to "postwar New Jersey," ending with NJ's 350th anniversary in 2014.
You'll want the book for the fabulous photographs, but you will also appreciate the written history that is included with them. You can acquire this lovely book from Amazon.com as well as other booksellers.