In preparing to publish Mr. Bush's article on the Klinesville neighborhood, I found so many interesting people and places that it became too difficult to add all my comments as asides to the Bush article. So, I've collected some of them in a separate article. They are listed here in the order in which Mr. Bush mentioned them in Klinesville Once Had A Tavern.
Albert S. Cox & Margaret Runkle
Mr. Bush did not actually name Albert S. Cox, but he referred to Cox's Hill, and since I've seen that term used a few times in the past, it seemed like a good idea to figure out who the Cox of Cox's Hill was.
It was Albert Schenck Cox (1780-1853), son of John Cox and Maria Schenck, who came to the Flemington area from Somerville. Like many members of this family, his surname was spelled in whatever way the clerk of the time felt it should be spelled. In this case, it could be Cox or Coxe. Albert generally used 'Cox.'
There is some disagreement over where Cox's early life took place—some say it was Penns Neck in Mercer County and others claim it was Somerville or Bridgewater. His parents died in Bridgewater, John Cox in 1809 and Maria Schenck Cox in 1814.1
Albert S. Cox married Margaret Runkle (1785-1869), daughter of an old Hunterdon family, about 1816-17, but whether the marriage took place in Amwell, or Somerset I cannot say. The couple spent their early married life in the Bridgewater area where they had at least four children before coming to Hunterdon as early as 1823.
Margaret was the daughter of Abraham Runkle and Sarah Stout of East Amwell. Of her three siblings, Mary (1780-1868) married Wm H. Wert; Elizabeth (1782-1868) married George Rea, Esq.; and John Youngblood Runkle (1788-1857) married Eliza Higgins.2
Margaret's grandparents were Adam Runkle (1719-1800) & Mary Youngblood (c.1730-1805). That meant her uncle was William Runkle (c.1755-1839) who acquired the property of Moses Everitt of Klinesville, as described by E. T. Bush in "Kingwood Once Had A Tavern."
Albert S. Cox bought his farm of 157.82 acres at a sheriff's sale in 1823.3 The deed described Thatcher's Hill Road as "the road from Flemington to Mount Carmel," i.e., Klinesville. It had been owned by William & Elizabeth Taylor, but they had purchased for too high a price and got sued for debt. Previous to that it had been part of the extensive land holdings of Col. Charles Stewart.
Stewart had acquired a tract of 351.16 acres at Flemington in 1800 that had been sold by Thomas & Esther Lowrey to Henry Chapen in 1785. Stewart's youngest child, Sarah (1768-1824), had married Col. Ferrand Stranaham (c.1780-1826), and it was by the name Sarah S. Stranaham that she appeared in later deeds for the old Stewart property north of Flemington.
I have not studied the Cox family, but it appears that Albert and Margaret spent their lives on the farm and that after Albert's death in 1869, it was taken over by son Dickinson Miller Cox and his wife Mary Jane Sullivan.
Henry M. & Miller Kline
Notice must be taken of the name problem in the Kline family. Henry was a popular given name. Miller was just as popular a middle name. The earliest Henry in the Klinesville neighborhood was Henry Miller Kline (1783-1848), the son of Christian or Christopher Kline and Elizabeth Miller of Tewksbury. He married Sarah Ramsey (1789-1872) in 1806, and the couple's first child, Henry Miller Kline, Jr., was born in 1807.4
Henry's parents remained in Tewksbury, so I am puzzled by Mr. Bush's statement: "Be that as it may, there were many Klines hereabout, and the place was aptly named, whether for Miller or for the whole family." I suspect it was the many land purchases by Henry and son Miller that account for the multitude of Klines. Sarah and Henry had eight children, from 1807 to 1826. As far as I can tell, only son Henry, Jr. remained in the Klinesville area.
As it happens, the first purchase of real estate by Henry M. Kline, Sr. took place as early as May 1, 1811. He bought a lot of 12 acres from John & Theodore Schenck,5 located on "the great road from Flemington" to a tavern (whose name is illegible), bordering among others, Jacob and Cornelius Polhemus. (See the Polhemus family below.) There are so many subsequent deeds for Kline in this area that it is no surprise that the village got the name Klinesville long before 1836 when the Post Office was established. (It is here that I wish the Hunterdon deeds were digitized, which would make a search for the earliest use of the name Klinesville feasible.)
Once Henry M. Kline's son Henry Jr. became an adult, he also began investing in real estate. His list of deeds is probably as long as his father's, but because of the name problem, it is sometimes hard to distinguish them. In addition, Henry M. Kline, Sr. had a brother, Jacob Miller Kline (1799-1878), who also invested in real estate, and sometimes was listed as Miller Kline. He was primarily located in Lebanon Twp. and the town of Hamden, but he also bought properties in Amwell. On the Cornell Map of 1851 that appears on the next article, you will see "M. Kline" in several different locations. Because father and son were both active investors in real estate, Henry Jr. chose to go by the name of Miller Kline, to distinguish himself from his father and uncle.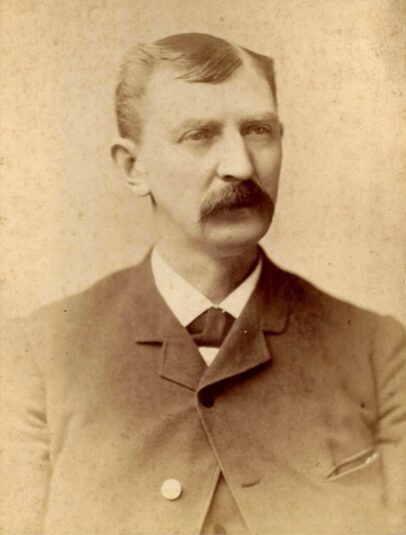 Miller Kline (1807-1884) was Henry M. & Sarah Kline's first child. In 1832, he married Rachel Ann Kuhl (1813-1838), daughter of Christopher Cool/Kuhle (1789-1836)6 and Sarah Johnson. Christopher Cool's father, Christopher Cool, Sr. (also known as 'Crest Cool'), was one of the earliest owners of real estate in the Klinesville area, having gotten his land from the Cox family.7
Rachel Cool Kline had two children, Mary and Sarah, before her early death at age 24. Miller Kline married second, in 1841, Mary Roberson (1820-1899), daughter of William Roberson and Sarah West of Kingwood, and with her had seven more children.
As Mr. Bush suggested, Miller Kline's activities in the Klinesville area and the county in general were extensive. He was running the Klinesville Tavern in the early 1830s, so it makes sense that a post office would be established in that location. For many years he was an active member of the Flemington Vigilant Society as well as a Director of the Flemington National Bank. He and wife Mary had been living in Flemington since 1859, although he kept his property in the Klinesville area.
His obituary, published in the Hunterdon County Democrat on March 11, 1884, described him as "one of the oldest and most widely known citizens of our county." (The obituary writer was under the impression that Klinesville was named for him rather than his father.)
Moses Everitt & Hannah Rittenhouse
I have had trouble identifying the Moses Everitt who invested in Klinesville property and for a time ran a tavern there. There were at least seven men named Moses Everitt in Hunterdon County, from 1711 to 1909. My best guess is that the Moses Everitt who purchased land at Klinesville was born c.1785 to Daniel Everitt & Rachel Howell, and married Hannah Rittenhouse (c.1784-after 1825), daughter of Joseph Rittenhouse and Mary Ann Wright of Amwell. This couple is surprisingly elusive in the records. I do not know when they married or whether they had children.
One reason it is very easy to be confused by this family is that Moses Everitt's sister was named Rachel (c.1765-1815) and she married a Darius Everitt (c.1755-1822) and had a son named Moses. He married Althea Ent and moved to Virginia where he died in 1837. (His estate was administered by Daniel Ent of Hunterdon County.) Another Moses Everitt married Beulah Pegg in 1818, and I know nothing else about him.
In 1804, Daniel Everitt, Sr. wrote his will, leaving to son Moses the part of his plantation in Kingwood that included the mansion house and barn and 162 acres, with the understanding that Moses would pay £100 to each of his four sisters. Daniel died about late August or early September 1807, and in 1808 his widow conveyed her dower right in some of the property. (I do not know when she died.)
In 1815, Moses and Hannah sold the Kingwood farm to John Stapler of Lower Makefield, Bucks County, and bought the 151+ acres in Amwell (Raritan) Township from Cornelius and Mary Ann Polhemus.8 That was when the Everitts moved to Amwell.
Moses Everitt paid a whopping $6,100 for the Amwell plantation. Three years later, on Sept 10, 1818, Everitt paid John Schenck, Jr. & wife of Hillsborough $4300 for an additional 86 acres on the road from Maxwell's Mills to Mount Carmel. No wonder he got into debt. Everitt was sued by Joseph Busenbarrick in the Court of Common Pleas in 1820 for payment of a debt of $355, while William Runkle sued Everitt for a debt of $1098.
His financial troubles may explain why he opened a tavern on his property, as a source of income. He got tavern licenses in Hunterdon for the years 1820 through 1822, but nothing in 1823 or thereafter.
In 1822, Moses & Hannah Everitt sold to Gilbert Barton a 75-acre tract, being part of their property near Klinesville, for $2,625.9 At the time, William Runkle had a lien on the 75 acres, having two judgments against Everitt.
The two properties were seized by Sheriff John Cavanagh and offered at public sale in August 1825.10 William Runkle was highest bidder, at $10. In fact, after the sale to Runkle in 1825, the Everitts disappear from the Hunterdon records.
The Polhemus Family
As mentioned above, the Polhemus who sold 151+ acres to Moses Everitt was Lt. Cornelius Polhemus (c.1755-1839), son of Cornelius Polhemus, Sr. and Neeltje (Eleanor) Anderson, who married in 1741 in New Jersey, but just when this couple came to Hunterdon, I cannot say.
The Polhemus family originated in Germany. Theodorus Polhemus was the first to immigrate to Long Island, New York, probably in the early to mid 1600s. His descendants bought property there and in Monmouth County before moving west into Somerset County. I have not searched deeds on record at the state archives to determine when Cornelius (1714-1783) settled in Hunterdon. However, the list of early New Jersey Marriages states that Eleanor Anderson, who married Cornelius Polhemus in 1741, was from Hunterdon County.
Jacob Polhemus
Cornelius & Eleanor Polhemus had a son Jacob Polhemus (c.1752-c1810) whose wife was named Sarah, but her family is not known to me. Jacob bought considerable land in the Klinesville neighborhood in the 18th century, but most of those deeds were not recorded.11 Jacob wrote his will on August 25, 1810, leaving his property to his heirs in the form of cash gotten from the sales of his real estate. His various properties were located in the area southwest of Klinesville, (between Allens Corner Rd, Featherbed Lane and Oak Grove Rd.)
Note that two of Jacob and Sarah's children, Daniel and Mary Polhemus, were married to siblings of Sarah Ramsey, wife of Henry M. Kline mentioned above. Daniel married Rachel Ramsey and Mary married Alexander Ramsey.
Lt. Cornelius Polhemus
The brother of Jacob Polhemus was named Cornelius, like his father. He was born about 1755 and in 1779 married Mary Ann Mershon, daughter of Henry Mershon, Jr. and Mercy Burroughs of Amwell. Like his brother Jacob, Cornelius was active in the Presbyterian Church of Flemington following his participation in the Revolution.
The deed from Cornelius and Mary Polhemus to Moses Everitt in 1815 for the tract of 151.7 acres described in Klinesville's Tavern does not say explicitly who Polhemus got the property from. Rather it says:
"being the same where the said Cornelius Polhemus became seized and possessed in fee simple by force and virtue of Divers Good and Sufficient Deeds and Conveyances in Law."12
Those divers deeds are not recorded in Hunterdon county and must have taken place before 1790. Given the location of the property, it seems likely to have come from heirs of Daniel Coxe, as it was part of the vast Mount Carmel tract. This was the last conveyance from Polhemus before the couple and one of their children (Henry, b.1782) left for upstate New York. Henry was married to Jane Anderson (1778-1853), daughter of tavernkeeper James Anderson & Mary Colvin. Jane's sister was Rebeccah Anderson (c.1776-1828) who married William Godley, and it was Godley and wife who accompanied Polhemus to NY State, and in 1820, sold him a 10-acre woodlot in Kingwood Township.13
Point Tavern (Peter C. Chery's Inn)
I was going to include a section here on Peter C. Chery and his tavern at "the Point," but decided to save it for a separate article, which will be published soon.
Anderson's Tavern
The Anderson of Anderson's Tavern was a hard one to pin down. But I am delighted say I have managed to find a chain of title for the tavern, and to identify the tavernkeeper as James Anderson (c.1765-1817), son of William Anderson and Jannette Best. And like the Point Tavern, this tavern deserves its own article, especially because it was located in Cherryville, not in Klinesville. See James Anderson's Tavern.
The Ewing Family
Rev. James Ewing of Scotland came to New Jersey and met up with Amelia Bailey of Hopewell, whom he married about 1783. The couple had eight children, the first of whom was Gideon DeCamp Ewing (1784-1871). Gideon came to Amwell Township where he worked as a blacksmith and met and married on Oct. 20, 1805, Mary Quick, youngest child of Jacob I. Quick and Jerusha Rose of Amwell.
Gideon Ewing's Property
A year later, Gideon Ewing bought a 3-acre lot in Amwell from Cornelius & Elizabeth Johnson on the great road from Abraham Wyckoff to Thomas Reading's mills.14 That same year, Gideon Ewing acted as administrator of his father's estate.
Then in 1818, Ewing bought a six-acre lot from Gideon & Mary Higgins that was part of land that Higgins had bought from Jacob Polhemus in the neighborhood of Klinesville, next to a lot they had sold to Henry M. Kline two years before on the road from Peter Chery's tavern to Flemington. That same year, Ewing bought a small lot from John Schenck, Jr. bordering Moses Everitt, and in 1821 another small lot from the estate of Henry Baker.
But it was not until 1831, that Ewing acquired the larger acreage that had been owned by Moses Everitt, as E. T. Bush described in his article on the Klinesville Tavern:
By deed dated May 3, 1831, William W. Schenck conveyed to Gideon Ewing 75.45 acres of land: "Beginning at a stone in line of Jacob Shafer and corner to John Risler's land, thence * * * to a corner in the road leading from formerly Everitt's Tavern to the South Branch of the Raritan." This lies east of the hamlet . . . Many other Ewings were in and about the hamlet, adding strength and solidity to the community. But this interesting old family is so numerous that to do half justice to it, would shut out everything else from this random sketch.
Some of Gideon Ewing's properties can be found on the 1850 Raritan Township Map.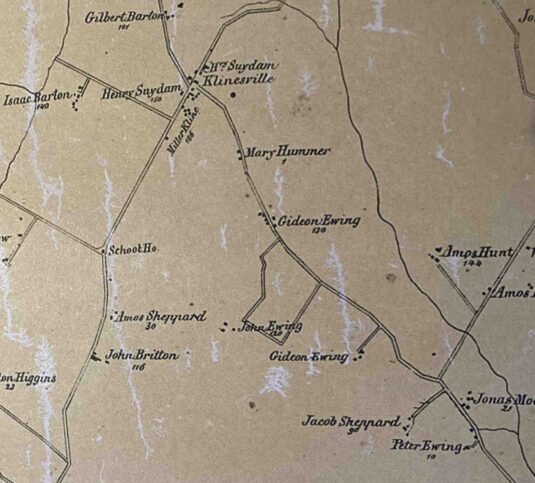 The map is a little confusing, as it is not laid out exactly north-south. What it shows is Gideon Ewing owning property on both the north and south sides of Sand Hill Road as it approaches Klinesville. Also shown is John Ewing owning property next to Gideon on the south side of the road and continuing east one comes to Peter Ewing's property.
The Ewing Family
Of the seven children of Gideon & Mary Ewing, two are noteworthy here. Daughter Amelia (1808-1876) married Amos Shepherd (1807-1853) in 1830. In 1845, Amos Shepherd acquired property from John B. & Sarah Ann McPherson on the road from Klinesville to Flemington. He can also be found on the 1850 Raritan map, above.
Son John G. Ewing (1810-1874) married Eleanor Creveling (1816-1842), daughter of George Creveling, in 1841. She died shortly after giving birth to son George in 1842, who died in 1864. After her death, Ewing married Hannah Kuhl Higgins (1811-1891), daughter of Judiah Higgins & Mary Quick in 1845. They had two children: a daughter Ellen, and son Judiah Higgins Ewing (1848-1909), who married Josephine Bellis (1851-1909), daughter of Adam Matthias Bellis & Ann Wilson.
John G. Ewing acquired a farm east of Klinesville from his father, where he remained for his life. The Atlas of 1873 shows "J. G. Ewing" on the south side of Sand Hill Road, east of Klinesville. He died age 64 and was buried with wife Hannah in the Baptist Cemetery in Flemington. (His first wife Eleanor was buried in the Presbyterian Cemetery in Flemington.)
The two properties Bush described that were sold to John G. Ewing by Henry M. Kline of Amwell were sold to Kline as early as 1811 by John Schenck, Jr. & wife Theodella Stout.15 John Schenck, Jr. carved them out of a much large tract of 98.5 acres which was sold to him a month before by his parents, John & Ede Schenck of Amwell for $2,001.67.16 The senior Schencks acquired the farm partly from Phillip & Catharine Yawger on 14 March 1801 and partly from Abraham & Isabella Wickoff on May 3, 1802. It was described as located on the great road from Flemington to the Union (being the Union Forge in High Bridge), and bordered by Jacob Polhamus, Elisha Barton, Cornelius Polhamus, Arthur Schanck, and Charles Reading, all early property owners at Klinesville.
The Barton Family
In his article, Klinesville Once Had A Tavern, Egbert T. Bush referred to "Capt. Elisha Barton of Revolutionary service. He spent most of his life on the big farm here, now owned by his three-times great-grandson, Jacob Barton." Elisha Barton died there in 1823 at the age of 93 and was buried in the family burying ground next to wife Jemima VanKirk. (A visit to Barton's page on Find-a-Grave will provide an extensive history of his Revolutionary War experience and his family genealogy, as well as notes on the old family burying ground.)
Mr. Bush mentioned that Elisha Barton bordered the property sold by Miller Kline to John G. Ewing in 1858, property that was sold to Miller Kline by his father Henry M. Kline in 1845. Actually, Capt. Elisha Barton owned land all around Klinesville, including property later owned by his son Gilbert Barton (1777-1852), on the north side of the road from Klinesville to Cherryville, as shown on the Raritan Map and the Cornell Map. (The "I. Barton" who appears on the Cornell map, on southwest side of Thatcher's Hill Road as it approaches the Klinesville intersection, was Isaac Barton, son of John Barton, and grandson of Elisha Barton.)
Edward Perlier
Edward Perlier shows up in several deeds as a bordering owner. I cannot say where he came from; according to one of his deeds, dated March 25, 1807, his wife's name was Elizabeth, and he had acquired 30 acres from Moses & Anna Esty. But nothing more is to be learned from that, other than that he operated a cooper's shop on the Klinesville Road.
Perlier failed to record all his deeds, but it seems that he got some of his property from the Reading tract that was inherited by Charles Reading. In 1801, Perlier bought a lot of 5 acres and 7 perches from Lemuel Pearson, who is also a mystery figure, but that deed is a treasure as it provides a lengthy recital explaining how the property was part of 533.5 acres surveyed for John Reading back in 1745.17
The Suydam Family
As can be seen on the Cornell Map of 1851, "H. Suydam" had taken over the buildings at the center of the village of Klinesville. This was Henry Suydam (1794-1854), son of John and Margaret Suydam of Amwell (Raritan). About 1819, he married Hannah Stires (1802-1873), daughter of Tunis J. Stires and Margaret Carkhuff of Bethlehem Township.
The surname Suydam is a fairly common one in early Hunterdon, which is why I was quite surprised that Henry Suydam was hard to find in the records. I did discover that Henry was the son of John Suydam by John's estate records. John died intestate in 1841 and Henry was named administrator. On Dec. 29, 1841, Henry announced an administrator's sale in the Hunterdon Gazette. The list of property offered for sale says a great deal about the way life was lived in Hunterdon County before the Civil War:
PUBLIC SALE. Will be sold at Public Vendue, at the late residence of John Suydam, dec'd., in the township of Raritan, on Thursday the 6th of January next, the following articles, viz: one horse, cows, young cattle, sheep, and swine; wagons, double and single harness, new patent plough, harrow, and all kinds of farming utensils not mentioned; a quantity of hay by the ton, corn in the ear, oats, potatoes, wheat, &c. &c; household furniture, consisting of an eight-day clock, desk, cupboards, beds and bedding, tables, chairs, ten plate stove, and various articles not enumerated. Also, one loom, reed gears, and contents. Sale to commence at 10 o'clock, A. M. Attendance and conditions, by HENRY SUYDAM, Administrator.
Henry Suydam's Early Career
Fortunately, deeds often tell us details we wouldn't find anywhere else, for instance:
In his early adulthood, in 1816, Henry Suydam purchased from Mindert & Ann Wilson the tavern in Flemington previously owned by Elnathan Moore.18 He paid a whopping $5,000 for it, which was just too optimistic. Three years later, Suydam found himself sued for debt, the tavern lot seized by the sheriff and sold back to Moore.19
Over fifteen years later, in 1833, Henry Suydam bought from William Runkle the two properties previously owned by Moses Everitt.20 Here he probably continued operation of the tavern/hotel, although I could not find a license petition for him in the records.
Klinesville Licenses
In fact, the tavernkeeper at Mount Carmel when Henry Suydam bought the property was none other than Miller Kline. He got licenses there in 1834 and 1835. He was followed in 1836, 1837 and 1838 by John Parker. The next year, Parker's tavern was taken over by Theodore Yard, his tavern being located in Klinesville, according to the petition. (Parker moved on to the tavern at Sergeantsville.) In the early 1840s, the tavernkeeper was Jacob Snyder. John Parker returned in 1844, 1845 and 1846, always to the tavern at Mount Carmel.
In the 1850 census, Henry Suydam, age 56, was identified as a Raritan Twp. farmer living with wife Hannah, age 47, and two boarders. Next on the list was Daniel Leydam [sic, Suydam] age 28, tavernkeeper, and after him, Miller Kline, age 40, farmer.
What is curious about Daniel Suydam is that although the census identified him as a tavernkeeper, the licenses granted him in 1850 and 1851 were for keeping a temperance house. (I have much more to learn about the disrepute that taverns fell into prior to 1850.)
Daniel Suydam (1820-1899) was the son of Henry Suydam and Hannah Stires, and in 1849 married Mary B. Jones (1821-1888), whose parents I have not identified. Considering that it was Daniel who was operating the tavern, it is surprising that the Cornell map identified "H. Suydam" as owner of the Klinesville hotel. "Henry Suydam" is clearly shown residing at the southwest corner of the Klinesville intersection on the Raritan Township map, and what looks like "H'ry. Suydam" on the northeast corner where the tavern was.
Henry Suydam died on Oct. 26, 1854, age 61. The following April, his son Daniel and wife Mary conveyed their rights in Henry's property to Daniel's brother Asa Suydam.21 The description used in the deed dated back to the early deed from Cornelius Polhemus to Moses Everitt.
That deed from Daniel to Asa Suydam stated that the property conveyed was the same property sold by William Runkle to Henry Suydam on May 25, 1833 and conveyed to Daniel and Asa Suydam by the last will & testament of Henry Suydam dec'd. (I regrettably have not visited the Surrogate's Court to look up Henry Suydam's will.)
Asa Suydam
Asa Suydam (1825–1908), second son of Henry and Hannah Suydam, married in 1848, Catharine Higgins (1822-1866), daughter of John Higgins and Rebecca Schenck. In the census of 1850, Asa & Catharine Suydam were living in the household of John Higgins of Raritan Twp., with their daughter Hannah age 6 months.
Catharine Higgins Suydam had four daughters before her death at the age of 43. She was buried in Flemington's Prospect Hill Cemetery. A year later, in 1867, Asa Suydam married Catharine's sister, Rachel Higgins (1834-1893). Rachel Higgins was only 58 when she died in 1893, but Asa lived to the age of 82, dying in 1908. The couple was buried in Flemington's Prospect Hill Cemetery along with Catherine Higgins Suydam.
It is "A. Sydam" who is shown on the Beers Atlas of 1873 where the Suydam hotel was located in the 1851 map. But nothing is said about a hotel or a tavern. The census records always listed Asa as a farmer. Given that Daniel Suydam got licenses for a temperance house, it seems likely that the tavern days in Klinesville came to an end with the Suydam family.
Footnotes: