A Genealogical Journey
Many descendants of the early settlers of old Amwell Township in Hunterdon County remained in Amwell. But many others chose to move on, always looking for new land to start afresh. Such is the case with my ancestors, who made the journey from Amwell to northwest New Jersey, then on into New York State, ending up in Michigan. Both grandparents on my father's side came from families who made that journey, the Goodspeeds through New York State, and the Rankins through Ohio.
I recently visited my mother in Grand Rapids, Michigan, and decided to take my grandfather's northern route out and my grandmother's southern route back. Since many of my readers also descend from migrating ancestors, I thought it might be appropriate to describe that journey here.
From New Jersey to New York
The journey begins with Samuel Green, about whom I have written often in the past.1
By the 1730s Samuel Green was getting restless. His second wife, Sarah Bull, had died. His children were reaching adulthood and were getting married. Together with John Reading, Jr., he had been surveying land in what was then Sussex County, in northwest New Jersey, and seems to have had his eye on a particular property. And in the late 1730's, he had acquired a new wife. When he was about 63 years old, he married 20-year-old Hannah Wright, the daughter of his neighbors, John & Orcha Wright.
The Wrights descended from Dutch immigrants. John was originally called Jan Reycht, and his wife was Orcha Bras. John Wright, who was born in Flatlands, NY about 1690, died in Amwell Twp. in 1732. His gravestone may be one of the oldest surviving gravestones in Hunterdon County.2
The Reycht family needs more research, but the Bras family is fairly well-known, settling in Flatbush in the 17th century. John and Orcha married in 1713, when they were living in Hackensack, NJ. By the 1720s, they were living in Amwell Township, when John Wright bought a farm from Samuel Green.
Hannah Wright married Samuel Green a few years after the death of her father. In 1738 the Greens departed Amwell, leaving the children of Sarah Bull behind. They began a new home in Greenwich Township in what was then Sussex County, and a new family, despite Samuel's advanced age.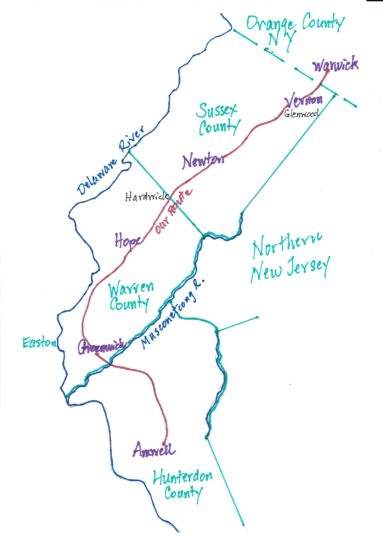 So the first leg of the journey took my husband and me from Amwell (Delaware) Township to Warren County, where Greenwich Township is located today. The Greens had 7 children, most of them sons. Their daughter Mary married a man from another family that migrated from Hunterdon to Sussex. He was Levi Howell, grandson of Hugh Howell.
Hugh Howell was probably from Wales. He came to Hunterdon County by way of Barbados, where he had emigrated in 1679. In 1705, he owned land bordering a tract owned by John Holcombe, near Lambertville in Amwell Twp. Very little is known of Hugh Howell and his family once he came to Hunterdon. But we do know that he died in 1745 at the age of 86, and was buried in the Kingwood Baptist Cemetery at Baptistown.3
Hugh's son Sampson Howell was born about 1718, when Hugh Howell was 56 years old. Not long after his father's death, Sampson Howell moved to the town of Hope in today's Warren County. Soon afterwards, he married Jane Vanderbilt, daughter of Jacob Aertse Vanderbilt and Neiltje Tunnisson. Once again—a Dutch family. Jacob Vanderbilt was the great-grandfather of Commodore Cornelius Vanderbilt, who created the great Vanderbilt fortune. Sampson and Jane Vanderbilt had 8 children, from 1746 to 1766, including the eldest son, Levi Howell, Esq. (1746-1825). Sampson Howell died in 1803, age 83, and his wife Jane died in 1805, also age 83. They were buried in the Union Cemetery at Hope, NJ.
Levi Howell married Mary Green, daughter of Samuel and Hannah Green, about 1768. This was after the death of Samuel Howell, Sr. in 1760, when he was about 85 years old. Levi and Mary Green Howell had 11 children, and lived in Hardwick Twp. in Warren County. Levi died in 1825 age 79, and was buried with his parents in the Union Cemetery in Hope. His wife Mary lived on until 1836, when she died age 87, and was buried next to Levi.
Of their 11 children, I claim their son Jonah, who also lived in Hardwick Township. He was born in 1781 and married Mary Pierson in 1804. My researches into her parentage have been inconclusive, although I suspect her father might have been Daniel Pierson. In any case, the couple moved to Pinckneyville, a few miles east of Newton, and raised a family of 7 children, including their youngest child, Samuel Green Howell, born in 1822.
Samuel G. Howell married Esther Bailey Edmonson in 1845 at Newton, Sussex Co. She was the daughter of Rev. Joseph Edmonson, a Methodist circuit-riding preacher, and Hulda Matilda Bailey. The Edmonson family had come to New Jersey from Warwick, Orange County, New York. Rev. Joseph's father was Benjamin Edmonson, an English immigrant. He had married Elizabeth Clark around 1790. Her family is not known to me. It appears that the family (Benjamin, Elizabeth and son Joseph Edmonson) moved to Sussex County around 1800. Benjamin Edmonson died there in 1818; his wife predeceased him, because she was not named in his will.
After Rev. Joseph Edmonson married Huldah Bailey about 1821, in Newton, Sussex County, he bought some property in Glenwood, near Vernon where he and Huldah raised their family of 15 children. Their daughter Esther, who married Samuel Green Howell, was born on January 26, 1827.
I have been unable to locate Rev. Edmonson in the 1840 and 1850 federal census records. But soon after the death of Huldah Bailey Edmonson in 1849, Rev. Edmonson moved to Michigan, according to a note in the family bible. He appears in the Michigan Land Records in 1852. Three years later, his daughter Esther, her husband Samuel Green Howell, and their four children followed him there, settling in Independence Township.
The New Jersey Families

:

Hugh Howell (1659-1745)
his son Sampson (1719-1803) m. Jane Vanderbilt (1722-1805)
their son Levi Howell (1746-1825) married Mary Green (1749-1836), daughter of
Samuel Green (c.1675-1760) and Hannah Wright (1716-1808)
daughter of John Wright (c.1690-1732) and Orcha Bras (c.1694-c.1750)

Levi & Mary Howell's son Jonah Howell (1781-1855) married Mary Pierson (1777-1852)
Their son Samuel G. Howell (1822-1866) married Esther Bailey Edmonson (1827-1899) and moved to Michigan
"Michigan Fever"
This would be a good place to describe a phenomenon that came to be known as "Michigan Fever."
Michigan became a separate territory under provisions of the Northwest Ordinance in 1805, with Detroit, its most populous settlement, designated as its capital. But settlement was difficult until after the War of 1812. It was hoped that veterans would be given Michigan land as compensation. But surveyors claimed that the interior of Michigan was not suitable for farmland, so settlement moved towards Illinois and Missouri. Michigan Gov. Lewis Cass struggled to create new roads that would help dispel this myth. It took several years to obtain title to the lands from the Indian tribes. Once this was achieved, a great inward migration began in the 1820s and 1830s, accelerated by the opening of the Erie Canal in 1825. It came to be known as "Michigan Fever." During this time, Michigan grew faster than any other part of the country. The population in 1830 was almost 32,000, but in just ten years it jumped to 212,267. In 1833, it had gained sufficient population to make it eligible to apply for statehood. The process was slow and not completed until 1837.
But why would so many families leave established settlements for a rough area without any basic facilities? This was the era of large families. Seven to fifteen children were not uncommon, which meant that parents could not provide for all their children. New lands had to be found, and the Northwest Territory offered these lands at very low prices, another important consideration.
So far, my journey has taken me from my hometown, formerly Amwell Township in Hunterdon County, to Hardwick and Hope in Warren County, and then Newton and Pinckneyville in Sussex County, New Jersey. The Bailey family was living nearby in Vernon Township. Huldah Bailey Edmonson's parents were Stephen Bailey and Huldah Whitney. They were both born in Warwick, NY, and came to Vernon Twp. about 1790, just after they married. They had ten children; Huldah being a middle child. Stephen Bailey died in 1819 in the town of Glenwood, near Vernon. He was only 54. His wife Huldah Whitney lived to the age of 83, dying at the home of her son Thomas W. Bailey in Troupsburg, NY.
I know little about Stephen Bailey's family. Huldah's family, however, is a well-documented one. She was the daughter of Daniel Whitney and Martha Burt of Connecticut. But a side-trip to Connecticut will have to wait for another time. My focus is on the migration from New Jersey and New York to Michigan, where I was born.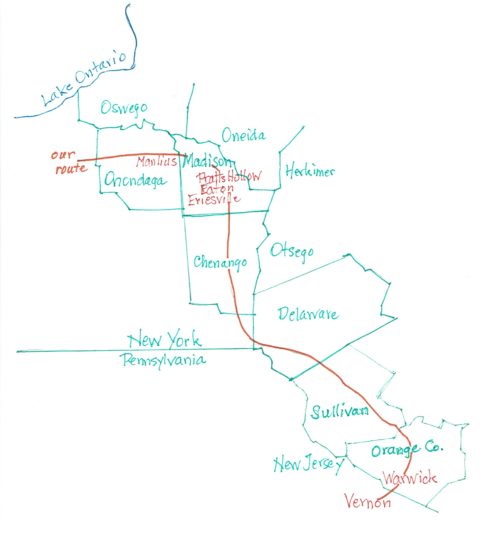 In Warwick, New York, we left the Baileys and Edmonsons behind, and proceeded north to Madison County, New York, and the home of ancestors who took the Erie Canal to get to Michigan. Construction on the canal started in 1817, and was completed in 1825. In the town of Eaton, in Madison County, I was looking for evidence of another English immigrant, Samuel Whitaker, who showed up at the end of the War of 1812, which makes me wonder if he might have been a war veteran. In 1815 he married a woman named Sarah Kern. Like Benjamin Edmonson and Samuel Green, Samuel Whitaker is a dead end for me. These single men who moved to America in the 18th and 19th centuries are the hardest to link with their European families.
However, my resourceful son Ben managed to identify Sarah as the daughter of John and Nancy Kern, who came to New York from Ireland with their eight young children. They left their home in County Wicklow, Ireland in 1806, in order to avoid having John conscripted into the British army to fight Napoleon. They settled in Pratts Hollow, in the northeastern section of the Town of Eaton, along with several other Protestant Irish families. John Kern died in 1841, and wife Nancy died in 1858; they are both buried in the Fairview Cemetery at Pratts Hollow. With the help of Google Maps we managed to locate the cemetery on a small ridge among rolling hills, woods and farmland. There are many lovely Greek Revival farmhouses in the area, testifying to the wave of new settlement from 1820 to 1840, but I did not have enough time to find the home of the Kerns; perhaps it is long gone.
Not far west of the town of Eaton is a place called Eriesville. A short distance north of the town, Jeremiah Clark set up the first sawmill. He had come there with his wife Amy Millington, about the same time as the Kern family arrived in Madison County. But the Clarks came by way of Vermont. While living near Eriesville, the Clarks may have become acquainted with the Whitakers, who lived about ten miles away. The reason I suspect that is because both families migrated to the same area of Michigan in the 1830s. It seems like too much of a coincidence.
Before moving to Michigan, Jeremiah and Amy Clerk moved a little further west to the town of Manlius, east of Syracuse, in Onondaga County. The town was created in 1813 and grew with the opening of the Erie Canal. The Clark family must have moved there after the 1830 census, when they were counted in the town of Nelson in Madison County. The Clarks had 14 children from 1781 to 1812. They did not stay long in Manlius, as they were present in Independence Township in Michigan in time for the 1840 census, when Jeremiah and Amy Clark were in their 70s. I shall leave them there for now.
Along the Erie Canal
The drive from Warwick to Eaton was a lovely one. That was also the case for the drive from Eaton north to the major east-west highway (I-90), paralleling the Erie Canal. About an hour and a half west of Manlius was the town of Riga. We did not stop there, but we should have because of other ancestors of mine who were living there for a time.
This was Amasa Frost and his wife Rebecca Nash, who had migrated from Massachusetts. Both Amasa and Rebecca have long family trees based in New England. They had six children, the eldest being a daughter named Submit. She is reported to have been a lovely woman, born in 1790, who was a schoolteacher in Riga when she met Jacob Albright, great grandson of a Swiss immigrant. Jacob's father Francis Albright had moved his family from Philadelphia north into New York State. One of the pupils of Submit Frost was Jacob's younger brother Amos, which is probably how Jacob and Submit met. They were married in 1809.

Jacob's father Francis had purchased a tract of land in the far northwest corner of New York State, in Niagara County on the shores of Lake Ontario, and that is where Jacob and Submit decided to make their home. They made the trip in March 1810 after their first child, Louisa, had been born. They traveled the 60 miles on horseback, with their belongings in an ox cart. When they arrived, there was nothing there but trees, just as there was nothing to greet Samuel and Hannah Green, or Sampson Howell, or Jeremiah and Amy Clark, or John and Nancy Kern when they came to their homes in New Jersey and New York.
What the Albrights did find under those trees was fine level farmland, the remains of the lakebed. Jacob Albright built a mill the next year, and prospered in his new home. So that was our next stop—the Town of Newfane on the southern coast of Lake Ontario. We had another reason for visiting Newfane. A certain fellow named Heman Goodspeed lived there.4
Heman Goodspeed was born in Barnstable, Massachusetts in 1794. His parents, Samuel and Sylvia Goodspeed moved their family to Pawlet, Vermont, near the border with New York State, between 1790 and 1800. Samuel Goodspeed died in 1816. Heman, being another young single man looking for opportunities, moved to New York State the next year. He got a job working on construction of the Erie Canal and is said to have been on the inaugural boat trip from Utica to Rome, along with Gov. Dewitt Clinton, in 1819.5
Before the canal was finished, Heman Goodspeed went to work on the farm of Jacob Albright. He remained there for several years, perhaps because the Albrights' daughter Louisa had caught his eye, even though she was 15 years younger than he was. They were married in 1824, and settled nearby on a 96-acre farm, which Heman Goodspeed purchased in 1837. The couple had 11 children, including a son named Herschell, born in 1829.
The New York Families:
Benjamin Edmonson (c.1780-1818) & Elizabeth Clark (c.1765-<1817) of Warwick, NY
had son Joseph Edmonson (1798-1883)
Stephen Bailey (1765-1819) & Hannah Whitney (1769-1852) also of Warwick
had a daughter Huldah Matilda Bailey (1798-1849) who married Jos. Edmonson
Their daughter Esther B. Edmonson (1827-1899) married Samuel G. Howell and moved to Michigan
Jeremiah Clark (1760-1840) and Amy Millington (1767-1845)
had a daughter Sarah Clark (1806-1872)
who married Jacob Walter (1804-1862) and moved to Michigan
John Kern (1751-1841) and Nancy Killion (c.1760-1858) from Ireland
had daughter Sarah Kern (1798-1850)
who married Samuel Whitaker (c.1793-1844) and moved to Michigan
Francis Albright (1762-1846) & Anne Wismer (1759-1883)
had son Jacob Albright (1787-1859)
Amasa Frost (1765-1829) & Rebecca Nash (1769-1823)
had daughter Submit Frost (1790-1823)
Jacob Albright and Submit Frost had a daughter
Louisa Albright (1809-1882) who married Heman Goodspeed (1794-1869)
Arriving in Michigan
Herschell Goodspeed became a skilled carpenter, with no interest in farming. Sometime in the 1850s he moved to Ypsilanti, Michigan where he soon developed a prosperous business, constructing several buildings in the town. He also became acquainted with the Whitaker family. Reminder: this was Samuel Whitaker and Sarah Kern from Eaton, NY, who probably came to Michigan along with Jeremiah and Amy Clark. More importantly, Herschell Goodspeed met the Whitaker's daughter Sarah, who had been born back in Eaton the same year as Herschell, in 1829. The couple married in 1854 and had six children. The second child was John Whitaker Goodspeed, born in 1859. As young adults, John W. and his brothers joined in partnership with their father to run a shoe store and other business ventures.
In the late 1880s, a young woman named Agnes Walter came to Ypsilanti to visit her aunt, Julia Bellows, who just happened to live a few blocks away from the Goodspeeds. The family story goes that John W. Goodspeed went to the theatre and sat in the balcony; from there he saw young Agnes seated below, and decided then and there that she would be his wife one day. Well, it took several years, perhaps because Agnes was 11 years his junior, but they did eventually marry, in 1892.
But who was Agnes Walter? She was the daughter of Harrison Walter and Mary Matilda (Tillie) Howell. Tillie Howell was the daughter of those New Jersey emigrants, Samuel Green Howell and Esther Bailey Edmonson. They had come to Michigan by way of the Erie Canal and settled in Independence Township in 1855. And what of the Clark family who may have come to Michigan at the same time as the Whitakers? Jeremiah and Amy Clark had a daughter Sarah Clark, born in 1806 in Nelson, NY, who married Jacob Walter, another English immigrant, in Manlius, New York in 1831. Jacob and Sarah Clark Walter followed her parents to Michigan, where Harrison Walter was born in 1840. Harrison Walter and Tillie Howell married in 1864. Their second child Agnes was born in 1870.
The final section of this leg of the journey took me to my hometown of Grand Rapids, where John W. and Agnes Goodspeed established a home, and where my grandfather, Harrison L. Goodspeed, was born. When he grew up he married his second cousin, Dorothy Rankin, in 1922. It is her family that I followed on the return trip to New Jersey, which will wait for a separate post.
 NY & NJ Families or Individuals who moved to Michigan:
Jeremiah & Amy Clark from Manlius, Onandaga Co., NY
Their daughter Sarah Clark & Jacob Walter from the same place; their son Harrison was born in Oakland Co., Michigan
Samuel Whitaker & Sarah Kern and their daughter Sarah from Eaton, Madison, NY
Herschell Goodspeed from the Town of Newfane, Niagara Co., NY; he married Sarah Whitaker
Samuel G. Howell & Esther B. Edmonson from Sussex Co., NJ and their daughter Tillie Howell who married Harrison Walter
Footnotes: