In my last post, I described a genealogical journey following my ancestors from my home in New Jersey through New York State into Michigan where I was born. That was the route taken by my grandfather's ancestors. On the return trip home, I followed part of the journey taken by my grandmother's ancestors.
Our first and only stop was also the half-way mark, at the town of Bellaire in Belmont County, Ohio where David K. Rankin and Mary S. Mercer, my grandmother's grandparents, lived. Bellaire is a town on the Ohio River across from Wheeling, West Virginia. David K. Rankin was born nearby in 1838 to Irish immigrant William Rankin and Mary Fulton. Once again, I have a dead end ancestor who came as a single man and married into a family that was already here. It is David Rankin's wife, Mary S. Mercer who gets me back to New Jersey. So it is her family I will discuss here, the emphasis being on her father, Joseph Mercer.
Joseph Mercer was born in 1805 in Westland, Washington Co., PA. He traveled 52 miles west from Westland to settle in Richland Township, Belmont County in the late 1820s, and married his wife Keziah Nace there. The town is located due west from Bellaire and was founded in 1802. The capital of Belmont County is located in Richland Township, in the town of St. Clairesville.
The Mercers were counted in the 1830 census for Richland. By 1840, the Mercers had moved to Union Township, which is closer to the town of Bellaire, and in 1860, the Mercers were residents of Bellaire. By that time, Joseph was a 54-year-old druggist. Wife "Keziriah" was 49, born in Maryland. Their children ranged in age from 31 to 12, all six of them born in Ohio. Their daughter Mary was 15.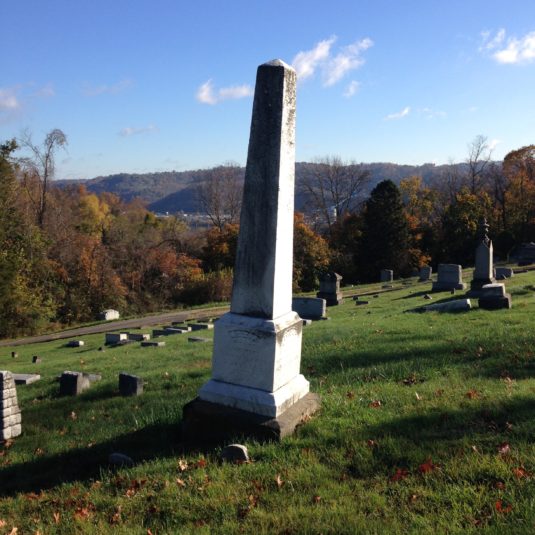 As you can see from the picture, the topography of Belmont Co. is so very different from the pancake-flat lands of lower Michigan, and also from the hilly regions of central New York. Belmont County seems to consist of a very large plateau intersected with many valleys and gullies, no doubt caused by streams running through sandstone and limestone. There are steep hills everywhere, but when you get to the top, you are not on a hill, but back on the plateau. It is hard to find a level spot on which to build a house.
Joseph Mercer became a successful merchant, running a wholesale and retail drug company with his son John T. Mercer. Joseph was a charter member of some of the lodges in Bellaire, and, in addition to his store, ran an ice-skating rink. When he died on February 3, 1885, a notice in the Wheeling Register stated that his funeral was well-attended, and the skating rink "was not opened for several days on account of the death of Joseph Mercer." His wife Keziriah predeceased him on January 8, 1871. Her obituary in the Wheeling Intelligencer noted that she "died after a long illness, loved & esteemed for her wifely, motherly & neighborly virtues." The couple were buried in the Greenwood Cemetery (above) overlooking the town of Bellaire. Their daughter Mary and son-in-law David Rankin are also buried there.
Mary Salena Mercer, born on January 15, 1845, married David Kearns Rankin on April 13, 1865. She had seven children, including Charles Mercer Rankin, born on July 19, 1867. Charles' uncle John Mercer established a company in Harvey, Illinois called the Bellaire Stamping Co., and Charles was working there by 1891 as a supervisor. He was living in Blue Island, Illinois when he married Leda Sarah Bellows in 1892, and his daughter Dorothy, my grandmother, was born in 1897.
I have debated with myself how to tell this story of traveling from Michigan back to New Jersey. Should I describe the families that lived at various places as we moved east or should I begin with Amwell Township and move west? Why not do both? From Ohio, I will jump back to Amwell Township, and even further back to Old England, and end up in the middle, at Bellaire, following the ancestors of Hephzibah Simcock.1 This genealogy tale begins with my grandmother, goes next to her grandmother, Mary Mercer Rankin, and links to New Jersey through Mary's grandmother Hephzibah. Nice.
Here is the family tree that will be followed here:
Rev. Thomas Budd and Susannah Prigge had
Elizabeth Budd who m. John Simcock and had
Jacob Simcock who m. Alice Maris and had
Jacob Simcock, Jr. who m. Sarah Waln and had
Joseph Simcock who m. Mary Harvey and had
Matthias Simcock who m. Anna Whitson* and had
Hephzibah Simcock who m. John Mercer
*Henry Whitson and Rebecca Foster had
Thomas Whitson who m. Martha Jones and had
Thomas Whitson, Jr. who married Elizabeth Abbott
daughter of James Abbott, granddaughter of James Abbott
Thomas & Elizabeth Abbott Whitson had
Anna Whitson, who married Matthias Simcock, above
The Budd Family
Let's go way back, to the beginning of the Quaker religion in England and the persecutions they suffered for their faith. I was very surprised to learn that one of my ancestors is none other than Thomas Budd (1617-1670), who converted to the faith in the 1640s. He resigned his position as minister in the Church of England and was eventually jailed for his Quaker beliefs in Ilchester prison where he died eight years later in 1670.2
Thomas Budd, Sr. and his wife Susannah Prigge (1611-1667) had at least nine children, most of them immigrants to America. Son Thomas brought his family to Burlington as early as 1678 and became prominent in the governance of the Province. He was one of the signers of the Concessions & Agreements in 1677.3 His sister Elizabeth (1635-1703) married another Quaker, John Simcock, about 1657.
The Simcock Family
John Simcock was born in Cheshire, England in 1630. He was the first of the Simcock family to immigrate to America and the first to become a Quaker.4 According to a history of the Quakers by John Beffe,
"Once he was imprisoned a year and three months, for accompanying his wife to a steeple house, for a sign and testimony against their false ways and worships. His persecutors at different times, distrained from him to the amount of several hundred pounds sterling, for preaching; taking nineteen cattle at one time, and twelve at another, besides corn, cheese, and other goods; all of which he bore patiently."
When William Penn began to prepare for a Quaker settlement in Pennsylvania, John Simcock signed on in a big way. No doubt he had heard reports from this brother-in-law Thomas Budd. On March 15, 1681, John Simcock purchased the rights to 5,000 acres in Penn's proprietary colony across the river from West New Jersey for £100. On May 3 & 4, 1682, Simcock bought an additional 2,875 acres located in "Hilltown." Some of this land can be seen in a survey of Chester, Pennsylvania made in 1683.5
John and Elizabeth Simcock came to Pennsylvania with all six of their children and settled in Chester county, Pennsylvania. In 1683, Simcock became one of Penn's five commissioners, and a member of the provincial council, serving until 1700. He was judge of Chester county from 1683 to 1686; puisine judge of province from 1686 to 1700; and speaker of assembly in 1696.6
John Simcock died on March 27, 1703, at his home in Ridley, Chester County when he was 73; Elizabeth Budd Simcock died age 68 a month later. Their eldest child was Jacob Simcock, who was born on January 6, 1658. He married another Quaker immigrant on November 15, 1684. She was Alice Maris, who was born on October 17, 1660 in Inkborough, Worcestershire, England.
Alice was the daughter of George Maris (1632-1706) and Alice Wilsmith (1632-1699), who came to Pennsylvania with the first of Penn's settlers, in 1682. Battle's History of Bucks County states that George Maris was a member of the governor's council in 1682, member of the Assembly 1684-85, and died in 1705. His wife Alice Wilsmith had died earlier in 1699 at their home in Springfield, Chester County.
Jacob Simcock and Alice Maris had seven children. Their second son Jacob was born on July 25, 1686 and married Sarah Waln in May 1711 at the Philadelphia Monthly Meeting. She was the daughter of Nicholas Waln (or Wain) and Jane Turner, also early Quaker immigrants to Pennsylvania. Interestingly, Sarah Waln's sister Mary married Jacob Simcock's brother John.
Jacob Simcock, Jr. and Sarah Waln had at least three children, including son Joseph, born 1713 in Delaware County, Pennsylvania. He married Mary Harvey on March 5, 1741 in Bucks County. She was the daughter of Mathias Harvey and Elizabeth Margerum. Elizabeth's parents immigrated to Burlington, West New Jersey before moving to Lower Makefield, Pennsylvania. Mathias Harvey's parents came to Makefield by way of New York where they married in 1689. Lower Makefield is across the Delaware River from Ewing Township, and about 17 miles southeast of Buckingham. Makefield was founded in 1692; Lower and Upper Makefield were established in 1737.
Joseph Simcock was only 35 when he died on October 2, 1748, leaving his widow with three children, including son Mathias, who was born in Lower Makefield in 1742. On June 20, 1764 at the Buckingham Monthly Meeting he married Anna Whitson, daughter of Thomas Whitson, Jr. and Elizabeth Abbot. Mathias and Anna were received into the Monthly Meeting of the Buckingham Friends at the time of their marriage. In 1772, they had moved to Falls Township where they were received at the Monthly Meeting there.7 (From hereon I will use the abbreviation of M.M. for Monthly Meeting.)
In 1775, Mathias Simcock bought some property in Amwell Township. It was the tavern property previously owned by John Throckmorton a few miles south of Ringoes. While Simcock owned it, the tavern was run by Capt. John Anderson, and it became known (and still is today) as Anderson's Tavern. It appears that Anderson himself bought the property by 1777, when he got a mortgage from Simcock (identified as "of Bucks County," along with Sarah Petit, Isaac Decow and David Brearly, Jr.8 But this seems odd since the 1780 tax ratables for Amwell Township show that John Anderson was taxed on 20 acres belonging to Mathias Simcock.9
On the 1st day of the 5th month 1776, Mathias Simcock was disowned by the Falls Twp. Friends for disunity. But his wife Anna was not disowned because on April 2, 1783, she was granted a certificate from Falls M.M. to Sadsbury M.M. Sadsbury is about 70 miles slightly southwest of Falls Township. Presumably Matthias had moved there along with his family. The next year, June 20, 1784, Mathias Simcock died, age 42. Anna Whitson Simcock did not remarry. On July 28, 1798, when she wrote her will, she was living at West Bradford in Chester County, Pennsylvania, leaving property to her five children, including her as yet unmarried daughter Hepzibah Simcock, who got £40.
The Whitson & Abbott Families
Anna Whitson Simcock was the daughter of Thomas Whitson, Jr. (1689-1761) and his second wife, Elizabeth Abbott. Anna was born in 1741 on Long Island, but in 1757, when she was only 16, she "declared herself" at the Kingwood Friends meeting.10 In 1746, her father was living in Huntingdon, Suffolk Co., NY when his brother-in-law, Benjamin Abbott of Makefield, Bucks County, wrote his will and named Thomas his executor along with father-in-law John Burroughs of Trenton.
The parents of Thomas Whitson, Jr. were Thomas Whitson, Sr. (1652-1742), a Quaker, and Martha Jones (c.1655-aft 1707). They moved to Long Island where Thomas Whitson purchased land in 1700. He died in Bethpage, Nassau County in 1742. Martha Jones Whitson had died sometime earlier.11 Martha Jones was the daughter of Thomas Jones, who emigrated to Massachusetts in 1637, and Catharine Estes whose parents came to Long Island from Salem, Massachusetts. Catharine was the widow of Henry Scudder before marrying Thomas Jones.
Elizabeth Abbott's brother James Abbott iii, born in 1691, lived in Amwell Township and died there in 1765.12 The father of Elizabeth and James Abbott iii was James Abbott ii who settled in Newtown, Long Island in the 1690s with his father James Abbott i. Elizabeth came to know her husband Thomas Whitson on Long Island, where they married.
On May 28, 1747, Thomas Whitson purchased land in Amwell from his daughter Elizabeth's spouse, Jacob Birdsall.13 In 1752, Thomas and Elizabeth Whitson attended the marriage of their daughter Martha at the M.M. of the Kingwood Friends. Martha's home was given as Amwell Township. She married Benjamin Canby of Solebury Twp., Bucks County.14
Whitson was a "yeoman" living somewhere in Amwell Township on November 13, 1758 when he wrote his will, leaving "the house I live in" to his wife Elizabeth. His children were left sums of money, including £100 to daughter Anna Whitson when she turned 18; his sons Thomas and Henry were each given half of his lands, presumably after the death of his widow. His executors were his wife Elizabeth, his son Thomas and John Arnwine. The will was recorded on March 5, 1761.15
The Mercer Family
As mentioned before, Matthias Simcock and Anna Whitson were married in 1764. Their daughter Hephzibiah, the last of five known children, was born about 1780, probably in Falls Township, Pennsylvania. Hephzibah Simcock was living in West Bradford in Chester County and as yet unmarried on July 28, 1798, when her mother Anna Simcock, then a widow, wrote her will. She left cash to each of her surviving children, including daughter Hepzibah Simcock who received £40. Clearly, Anna Simcock died wealthy for her time. In October 1798 Hephzibah Simcock married John Mercer in Chester County, PA.16
John Mercer was a great great grandson of Thomas Mercer (1652-1716) and Mary Greenaway (1664-1723). Thomas Mercer spent some time in an English jail for attending Quaker meetings and was excommunicated from the Church of England. Perhaps this encouraged him to leave his home in Aynhoe-on-the-Hill in Northamptonshire. Thomas and wife Mary were married in England in 1684. The couple probably emigrated shortly afterwards, settling in Chester County, Pennsylvania near the many other Quaker immigrants there.
There is evidence that Mercer bought land in a town called Westtown. However, when he wrote his will on March 17, 1715, he was living at Thornbury, PA, a few miles west of Philadelphia. His will provided for his wife Mary, and among other provisions, left half of a 500-acre tract in Marlborough Township to his grandson Daniel Mercer. Thomas Mercer died on Sept. 12, 1716; his wife Mary died on August 2, 1723. They were both buried in the Old Caln Friends Burying Ground in Coatsville, Chester County.
I am skipping a generation to describe Daniel Mercer, who settled in East Marlborough about 1735, shortly after his marriage to Rebecca Townsend, whom he married at the Kennett Friends M.M. East Marlborough is only about 12 miles southwest of Thornbury, PA, very close to Kennett Square, PA. Daniel Mercer died there in 1807. Wife Rebecca died in 1792. They were both buried in the Old Kennett Meeting house cemetery.
Their first child was Solomon Mercer (born 1736), whose first wife was Olive Pyle, daughter of John Pyle and Rachel Walter.17 Solomon and Olive Mercer lived in East Marlborough Township, and Solomon fought in the Revolution. (I have not yet researched his record.) Olive Pyle Mercer died at the age of 40 and was buried in the Kennett Friends cemetery. Solomon's second wife was Abigail Sharpless (1746-1818), whom he married at the Chester M.M. Like Olive Mercer, she had three children. She died age 72 and was buried in the Kennett Friends cemetery. Solomon died in 1828 at his home in East Marlborough, but I cannot say where he was buried. Find-a-Grave has not located him.
John Mercer was the third child of Solomon and Olive Mercer. He was born on April 8, 1775 and married Hephzibah Simcock in October 1798 at the Bradford M.M. in Chester County. The Mercer family was living at East Marlborough at this time, only about 15 miles southeast Sadsbury, so I suppose John and Hephzibah met at a Friends Meeting.
In 1807, the family received a certificate from the Kennett Monthly Meeting to remove to the Redstone Friends Meeting in Fayette County. Redstone is about 285 miles west of East Marlborough in the far southwestern corner of Pennsylvania, near the border with West Virginia. How they managed it is hard to say since they had to travel over the Alleghenies, where the roads were primitive at best. Clearly, they were as determined to settle on new land as any of the other ancestors I have written about here. It appears that their four children were not born until after they made the trip.
On Dec. 29, 1809, the Monthly Meeting at Redstone gave a certificate to the family of John Mercer. It named his children and gave their birth years: Mathias born 1801; Solomon born 1803; Joseph born 1805; and Daniel born 1808. Son Joseph Mercer later married Keziriah Nace. I am not certain that the Mercers were actually living at Redstone. In 1820, the family was in the town of Morris in Washington County, which is just northwest of Fayette County. Other family records say the family lived in the town of Westland in Washington County, which is not far from the Ohio River.
Hephzibah Simcock Mercer appears in many of the Quaker records earlier in her life, but once she moved west with her husband, all record of her vanishes. Exactly when John and Hephzibah died and where they were buried, I cannot say.
Joseph Mercer, son of John & Hephzibah, was born in 1805, possibly in Westland, Washington Co., PA. About 1828, he married Keziriah Nace (1811-1871) whose family moved west from Maryland. The Nace family settled in Richland Township in Belmont County, Ohio, and were probably living there when Keziriah married Joseph Mercer.
There is reason to think that Joseph and Keziriah were living in township 6 (section 14, range 4) when they got married or shortly afterward, as Joseph Mercer had land to sell that year in that place.18 Joseph and Keziah were counted in the 1830 census for Richland Township. But by 1840 they had moved to Union Township, and by 1860 were living in the town of Bellaire on the Ohio River.19
So we have come to the family of Joseph Mercer and Keziriah Nace, and their daughter Mary S. Mercer, my great great grandmother. Once my husband and I arrived home, we were back in Old Amwell Township, where the circle began. I could have spent much more time researching records for the families who lived along the way, but time and stamina are too short. It was a very satisfying trip, traveling a northerly route through New York State for my grandfather's family, and a southerly route through Ohio and Pennsylvania for my grandmother's, both ending up, or I should say beginning, in my own home in Delaware Township.
Footnotes: