Before I write about the new owners of the Raven Rock mills (Nathaniel Saxton and George Holcombe), I must give due notice to Moses Quinby and the remainder of his stay in Amwell (Delaware) Township.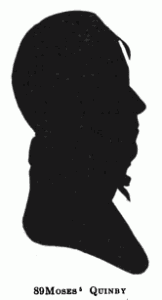 Moses Quinby (1759-1824), the son of Isaiah Quinby and Rachel Warford, acquired the land next to Bull's Island from George Wall in 1801. It amounted to 75 acres. In 1804, Quinby sold off lots from this property until he was left with about 16 acres, about which I will have more to say.
Quinby acquired and sold other properties beside the 75 acres. They were located in the same general area, but it is the 75-acre tract that concerns me here, since the entire village of Raven Rock is situated there. The 75 acres included the triangular 10-acre lot sold by Marmaduke Leet to Moses Quinby's father Isaiah.
Benjamin Longsstreath
On June 12, 1804, only three years after the 75 acres was acquired, Moses Quinby, yeoman of Amwell, and wife Hannah, sold  19 acres and 33 perches to Benjamin Longstreath, millwright of Amwell for £350.1 This lot ran from Bull's Creek back up a large hollow in the cliff to a line bordering the farm of Isaiah Quinby. Benjamin Longstreath was almost certainly a descendant of Benjamin Longstreath of Yorkshire, England, a Quaker born in 1679 who immigrated to Pennsylvania in 1698.2 The Benjamin Longstreath who bought land from Moses Quinby was married to Isabella Dennis on December 17, 1801 by John Lambert, Justice of the Peace in Amwell Township.3.
Longstreath the millwright may have done some work for Cooper and Curry, the millers of Raven Rock. A millwright was a carpenter, but also a mechanic who could set up and repair the driveshafts, gears and belts needed for any kind of mill, be it a sawmill, flour mill, linseed oil mill, plaster mill or clover seed mill. In Hunterdon County, millwrights also built the huge wheels that powered those mills. It appears that Longstreath purchased the lot on Bull's Creek as an investment, since he sold it after only two years. On May 1, 1806, Longstreath and wife Isabella of Amwell sold the lot to Jacob Hunt for $1,166.67 ($61 per acre).4 This was about $500 less than Longstreath had paid Moses Quinby, which is hard to explain. Jacob Hunt in turn divided the 19 acres into smaller lots facing the creek.
Robert Naylor
On August 27, 1804, Moses Quinby, yeoman of Amwell, and wife Hannah sold a 40-acre parcel just east of the Longstreath lot and bordering the Cooper-Curry mill lot. The purchaser was Robert Naylor, also yeoman of Amwell, who paid £4000, or £100 ($477) per acre.5 This is an extravagant price. Naylor seems to have been doing Quinby an enormous favor.
Just like Benjamin Longstreath's lot, the Naylor lot included what is now frontage along Highway 29 as well as land up on the plateau. Access to this back land could only be from the triangular 10-acre lot that fronts on today's Quarry Road, which may explain why Isaiah Quinby bought it in 1745.
Who was Robert Naylor?  That is hard to say. I know practically nothing of his family; he may well have been an English immigrant. He bought and sold properties in the Raven Rock area from the late 1700s through 1820, and was identified as a "yeoman of Amwell." He wrote his will on December 20, 1827, leaving only $10 to his wife Mary, and 50 cents to each of his children, who I believe were Mary, Robert, John, David, Jane and Sarah. All his real estate was left to his son Robert Jr., who sold a ten-acre lot in Kingwood that was his father's to Joseph Rodman.
After selling 40 acres to Naylor and 19 acres to Longstreath, Quinby had only 16 acres remaining, more or less. This remaining lot was the location of the future Saxtonville Tavern, and might have been where Quinby lived and was trying to keep his store. The sales to Naylor and Longstreath suggest Quinby was running short of cash.
Sale of the Tavern Lot, 1809-1810
Moses and Hannah Quinby apparently divided their time between Hunterdon and Bucks Counties, for in 1807, when they sold a lot of land to George Price, they were living in Plumstead, Bucks County. But by 1809, they were once again living in Amwell Township in Hunterdon Co. It was then that Moses Quinby was obliged to sell the last of his Amwell properties. On June 3, 1809, he signed a "Memorandum of Agreement" between himself and Nathaniel Saxton, in which Quinby agreed to sell to Saxton all that lot in Amwell on that part of the Delaware called Bulls Creek adjoining lands of Baker Phillips, James Quinby and Jacob Hunt of 15 to 17 acres, being the residue of lands owned by said Quinby at that place, for $400, $200 of which was to be paid on a mortgage owned by Mrs. Miriam Quinby, the remainder in two installments of $100 each, on May 1, 1810 and May 1, 1811. The memorandum was witnessed by John Beaumont and Henry Tomlinson.6
The fact that Moses Quinby was forced to borrow $200 from his stepmother Miriam Quinby shows how desperate his finances had become. The Quinby Genealogy states that Moses Quinby had taken up storekeeping at Raven Rock, but that he was not suited for that endeavor. Fortunately, Nathaniel Saxton gave him a way out. But Saxton drove a much harder bargain than Benjamin Longstreath did, paying only about $25 per acre, while Longstreath paid the equivalent of $87 per acre (based on a value of $4.77 per pound)..
The transaction was finalized in 1810 when a deed was signed on March 28th.7 At that time Moses Quinby and wife Hannah were still "of Amwell."
The next record I have for Moses Quinby is a certificate from the Buckingham Monthly Meeting of Friends dismissing Moses and Hannah Quinby and their minor children Jonathan, Ellinor, Jane and Josiah to the Falls Township Monthly Meeting. From this we know that Moses Quinby was still a practicing Quaker, and that he had taken his family to a new home in 1813. I cannot say where he was living between 1810 and 1813. In 1811, his stepmother Miriam wrote her will, leaving to the five daughters of Moses Quinby, her son, the money due her on a bond from said Moses. There was no other mention of Moses Quinby in her will.
The Quinby Genealogy speculates that he was living for a time in Brownsburg, Upper Makefield Township in Pennsylvania. By 1816 he and his family had removed to Wrightstown where they joined the Monthly Meeting there.8 Apparently life continued to be a struggle, but his son Dr. John Quinby was doing better. He had moved to the vicinity of Wilmington, Delaware, where he bought a farm for his father to retire to. Moses Quinby died near New Castle on November 1, 1824, age 65. His widow Hannah died there on June 22, 1832, age 62.
Although that was the last of the Quinby family at Raven Rock, there was still James Quinby, brother of Moses, living at the old farm up the hill on Federal Twist Road. James Quinby died in 1830, leaving his farm to his sons. But his estate was encumbered by debts, so the land was sold to satisfy creditors, and the Quinby children all moved west.
Addendum, 2/1/2012:  Added information about Moses Quinby's whereabouts in 1807.
Footnotes: